Timber frame houses in Ireland are getting more & more popular and you can see why. With many benefits for choosing the timber frame route, we bring you eighteen beautiful timber frame houses based right here in Ireland.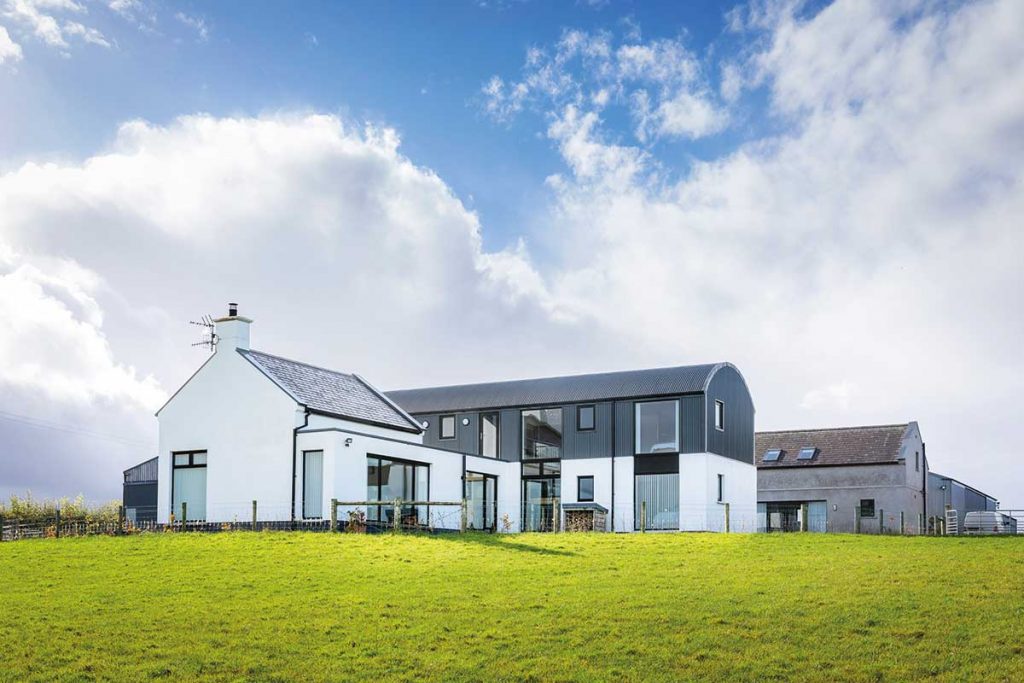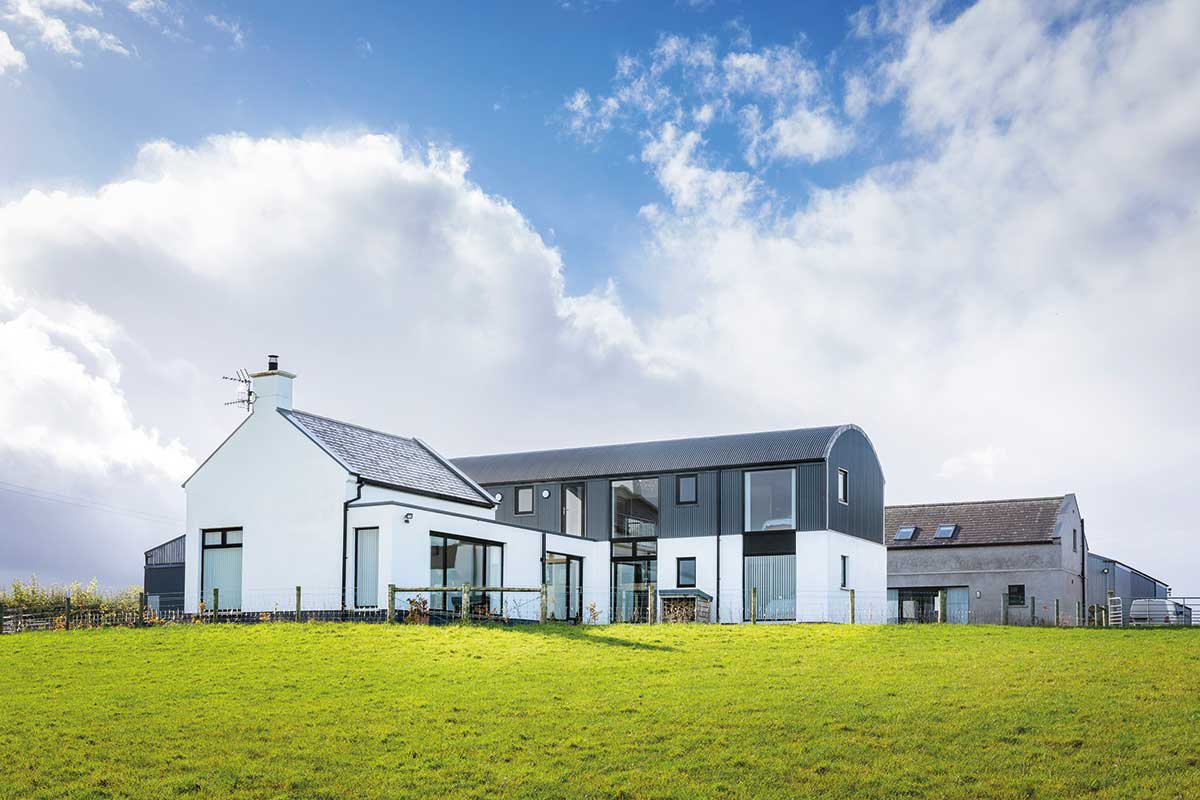 1 – County Tyrone Barrel Roof House
Serial self-builders Eric and Gladys Black built their barrel roofed house to make the most of the rolling countryside views.
House Size: 2500 sqft
Build Cost: £260,000
Plot Size: 1/2 acre
Construction: Timber frame, clad in corrugated metal with plastered blockwork, PIRinsulation
U-values: roof 0.16 W/sqmK, walls 0.17 W/sqmK, barrel roof 0.20 W/sqmK,floors 0.16 W/sqmK
---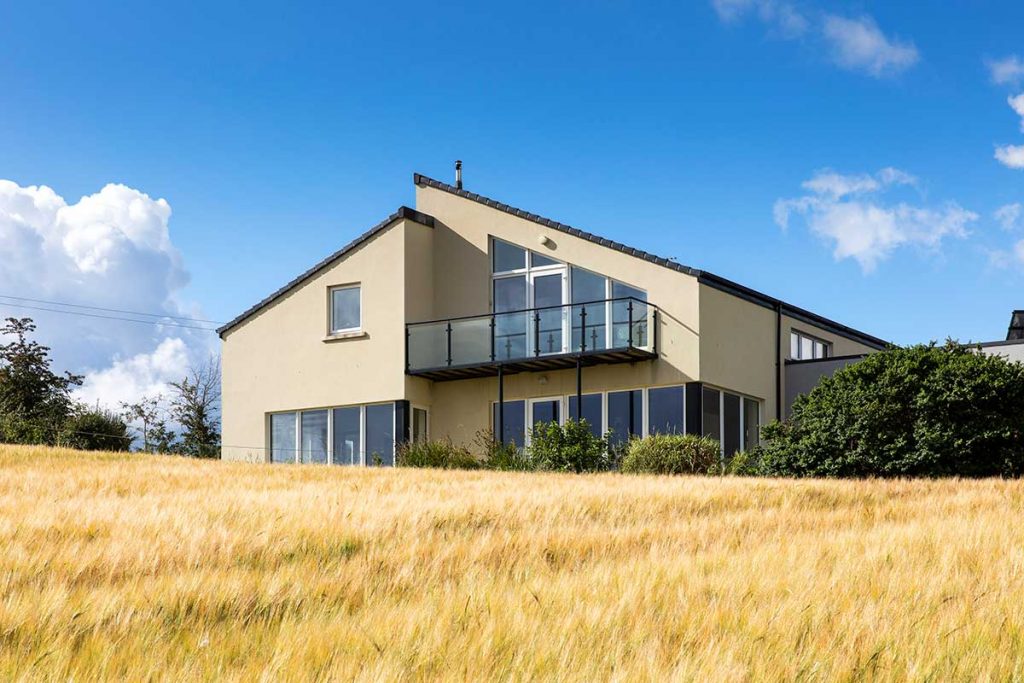 2 – Low Energy Timber Frame House
Peter Williams' spacious home only costs £40 a month to run, but that's excluding the telecoms bill…
Floors: standard build up with 150mm PIR insulation
Walls: timber frame construction, 50mm insulated plasterboard (PIR) on the inside, insulation between studs, finished on the outside with plastered blockwork.
Roof: 50mm glasswool, 100mm and 50mm PIR insulation, 50mm void and then 50mm PIR backed plasterboard.
Windows: uPVC, triple glazed, argon filled
House size: 300 sqm
---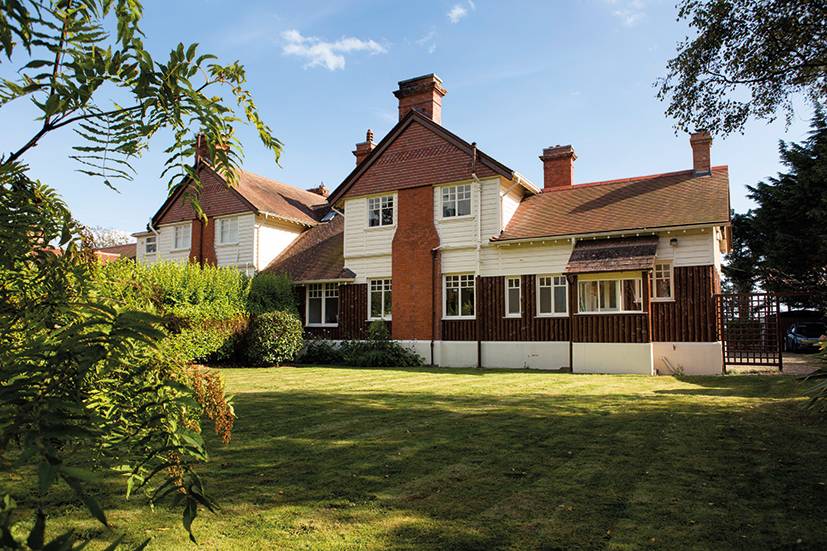 3 – Ireland's first timber kit house?
Offsite construction may seem like a modern building method but in Ireland it dates back to at least 1895, the year in which Ken and Patrice Brennan's unusual bungalow was built….
House: €200,000
Main contractor building work: €118,000 (with later work on the garage and repairs to the hall door costing €2,600)
Kitchen: €18,000
Appliances: €3,400
Lamps and lamp fittings (in total 34): €2,000
Victorian fireplace with wooden surround: €1,000
Value: €400,000
Insulation: suspended timber floor insulated with 180mm fibre insulation between joists and breather membrane attached to underside of joists, with 80mm non hygroscopic wood wool board on underside of joists. Poorly insulated central heating pipework in the underfloor void was absorbed into the insulated build-up of the floor to reduce heat losses.
Attic: top-up fibre insulation. Localised areas of dormer roofs were insulated with woodfibre boards where accessible.
U-values: Existing external walls with sawdust insulation 0.42 W/sqmK, floor 0.15 W/sqmK, attic 0.16 W/sqmK.
---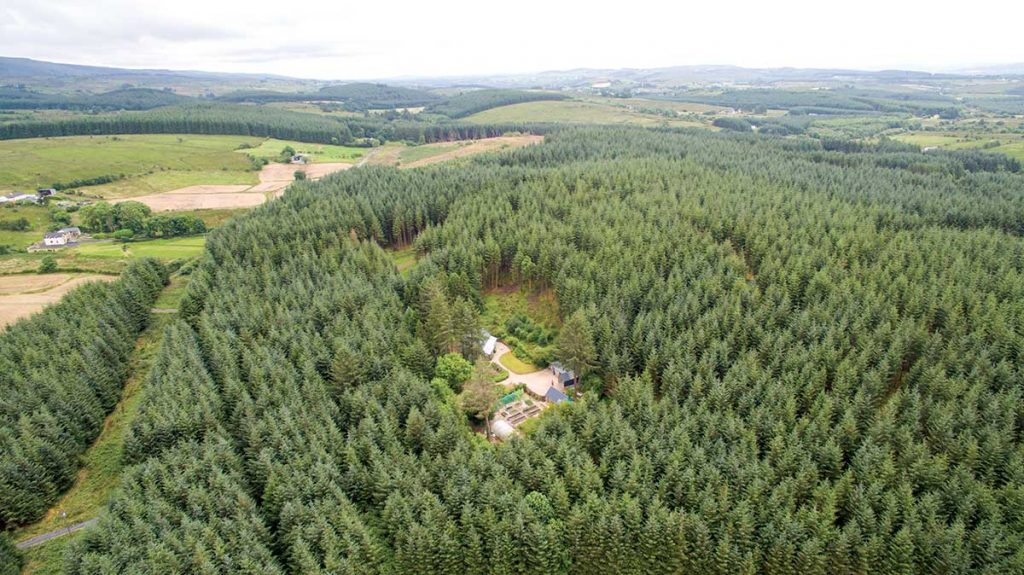 4 – DIY self-build on a budget
It wasn't by design that Paul and Rebecca O'Connor became largely self-sufficient, it was a by-product of their self-build.
House Size: 150 sqm
Plot Size: 1 acre
Bathroom Extension: €8,000
Garage Studio: €20,000
New structures stick build (timber) insulated with soy-based spray foam. Existing house insulation six inches of recycled wood pulp in the roof and timber walls "like a mattress cut with a saw" then breathable membrane. Foil backed PIR in the new floors with underfloor heating above.
---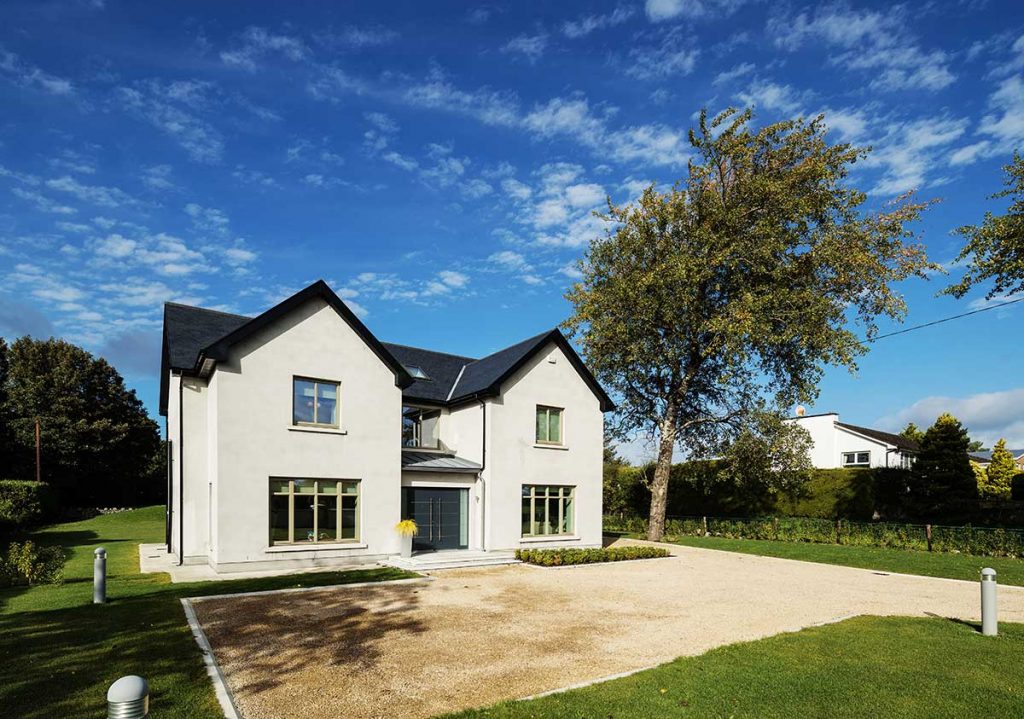 5 – Westmeath Build with Minimalist Finishes
The process started with a pre-planning meeting outlining what they had in mind, and an initial sketch. "We printed pictures of the houses on either side of the plot and discussed our local need. The planners were clear on what we could and couldn't do and very quickly we were on the same page," he adds.
House Size: 2,500 sqft
Plot Size: 0.6 acres
Walls: 300mm twin stud frame faced with 15mm OSB board internally with 45mm timber battens to create a service cavity for electrics and plumbing services, high density cellulose insulation pressure pumped and 12.5mm vapour permeable sheeting board externally. 50mm cavity and block external leaf finished with nap render. U-value 0.16 W/sqmK
Floor: 75mm screed with underfloor heating elements on 150mm PIR Insulation with 25mm perimeter insulation. U-value 0.12 W/sqmK
Main roof: 400mm mineral wool insulation insulated on ceiling, U-value 0.1 W/sqmK
Windows: triple glazed, argon filled, low-e, soft coat, overall U-value 0.82 W/sqmK, G-value 37 per cent
BER: A2
Airtightness: 0.6 ACH at 50Pa
Heating and hot water: air source heat pump, underfloor heating throughout
---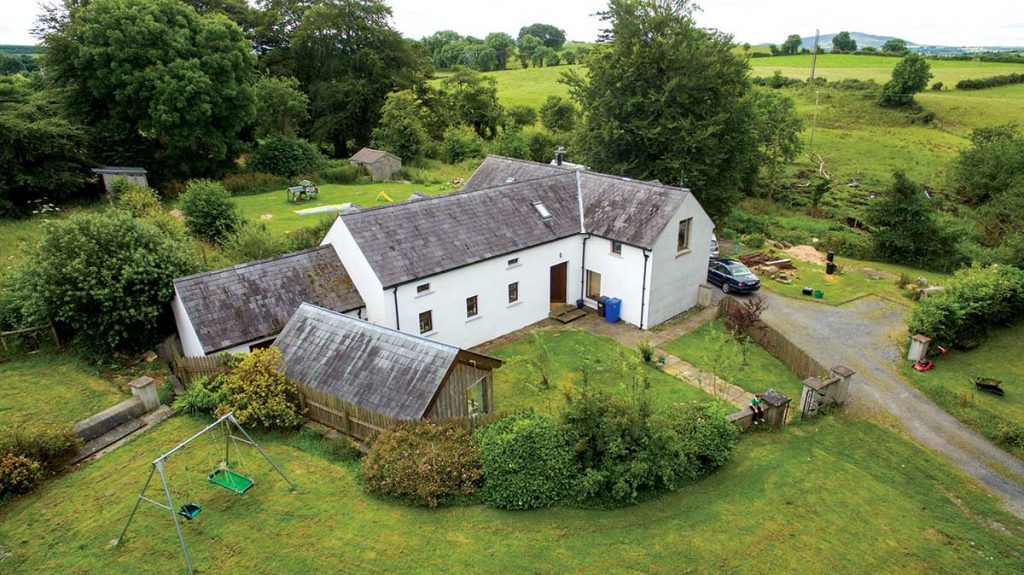 6 – 1860s Shed Renovation
An 1860s concrete shed is an unusual choice for a renovation project but Imelda and Matt Jones of Co Sligo were the perfect couple to take on the challenge.
House size: 325 sqm
Site size: ½ acre
Build cost: €200,000
House value: €300,000+
External wall insulation: 75mm phenolic board with polymer cover and lime/cement finish.
Timber frame extension: all first floor 9×3 timber joists slotted in with a joist hanger to carry concrete screed on OSB with blown newspaper, plasterboard ceiling, screed 2.5 inches for pipes.
Floors: Engineered oak.
Roof insulation: 300mm of hemp roll in the roof, and 100mm of phenolic board in the ground floor.
---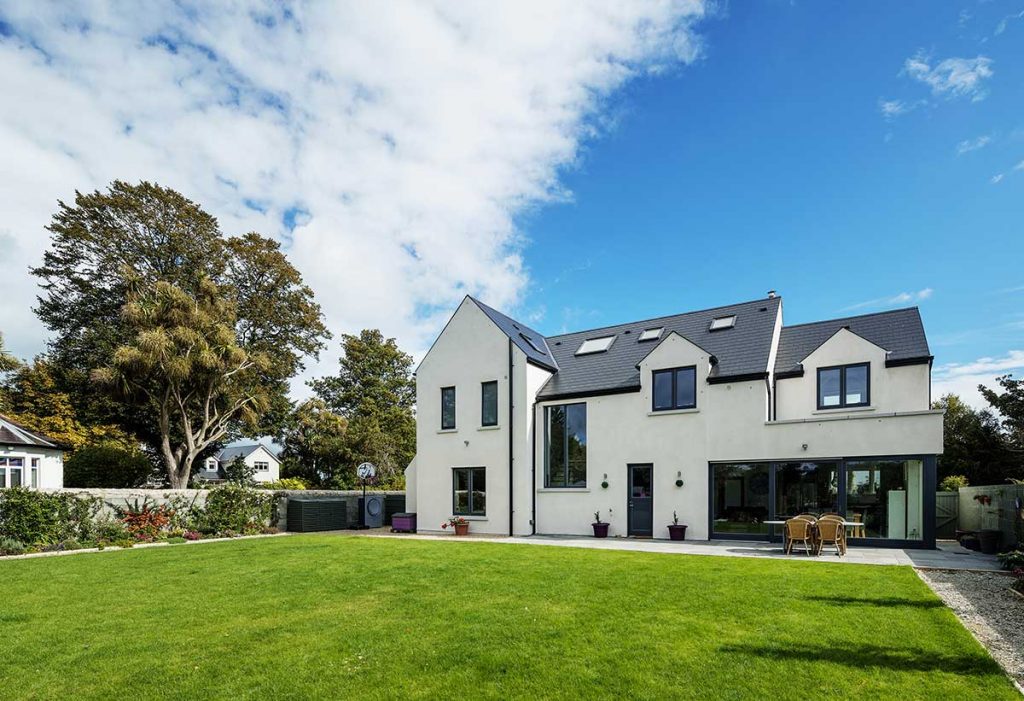 7 – The four-month self-build
It's perhaps little surprise Brian and Niamh McCann of Co Wicklow chose a rapid build kit house for their project. It took them two years to sell their house and another two to find a new place to call home…
House size: 270 sqm
Plot size: 1/3 acre
Project cost: €500,000 with architect and site costs
U-values: ground floor 0.15 W/sqmK, roof 0.13 W/sqmK, walls 0.12 W/sqmK
Windows: overall U-value 1.1 W/sqmK triple glazed
Heating: air to water heat pump
Airtightness test: 1.98 m3/(hr.m2)
BER: A3
Ventilation: demand controlled ventilation
---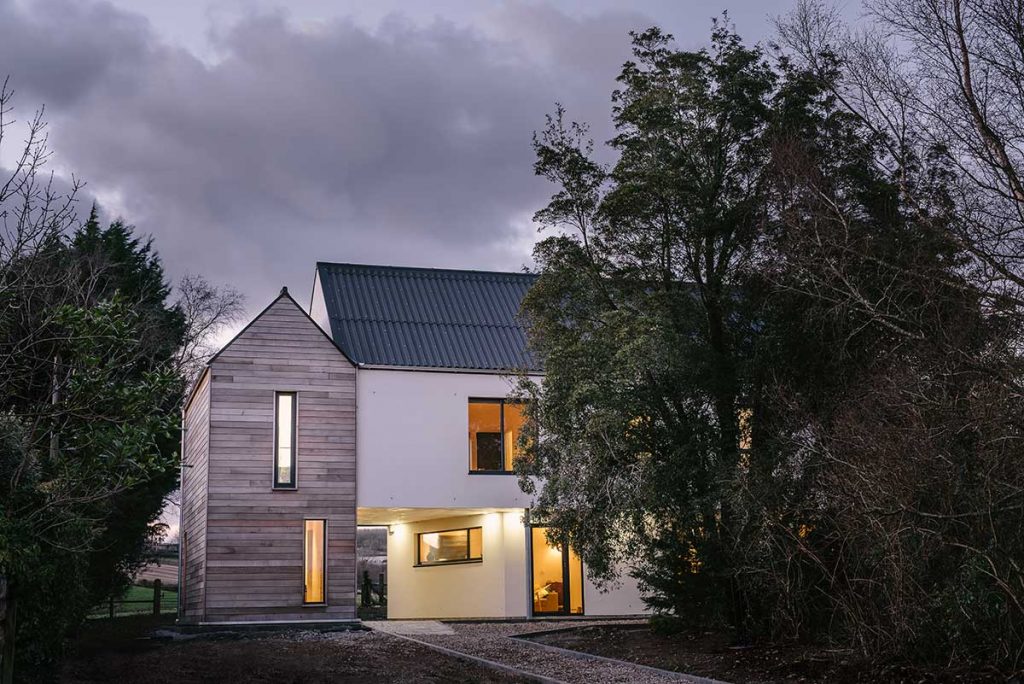 8 – Small modern family home in Co Down
Because John and Leanne O'Connor couldn't build their house to face the sun, for planning reasons, they used fin shaped walls to coax sunlight back inside.
Plot size: ¼ acre
House size: 1,800 sqft
Total cost: £240,000
Value: £325,000
Roofs: corrugated fibre cement roof finish on timber battens and counter battens, breather membrane, 80mm PIR insulation on 200mm roofing joists with PIR insulation in between, on vapour barrier on service void and 12.5mm plasterboard finish. U-value: 0.12 W/sqmK.
Walls: corrugated fibre cement cladding on timber horizontal battens on breather membrane on 9mm OSB on 140mm timber studs with PIR in between on vapour barrier on 60mm PIR insulation on 50mm service void on 12.5mm plasterboard. Cedar clad finish on timber battens and counter battens with continuous air space, rest of build up same as for corrugated fibre cement. U-value: 0.13 W/sqmK.
Floor: Hardcore, 100mm concrete slab, 200mm insulation, 100mm screed with underfloor heating. U-value: 0.1 W/sqmK.
Windows: triple glazed, overall U-value 0.8 W/ sqmK.
Airtightness test: 1.29 m3/sqm.h at 50Pa
EPC (SAP): B (86)
---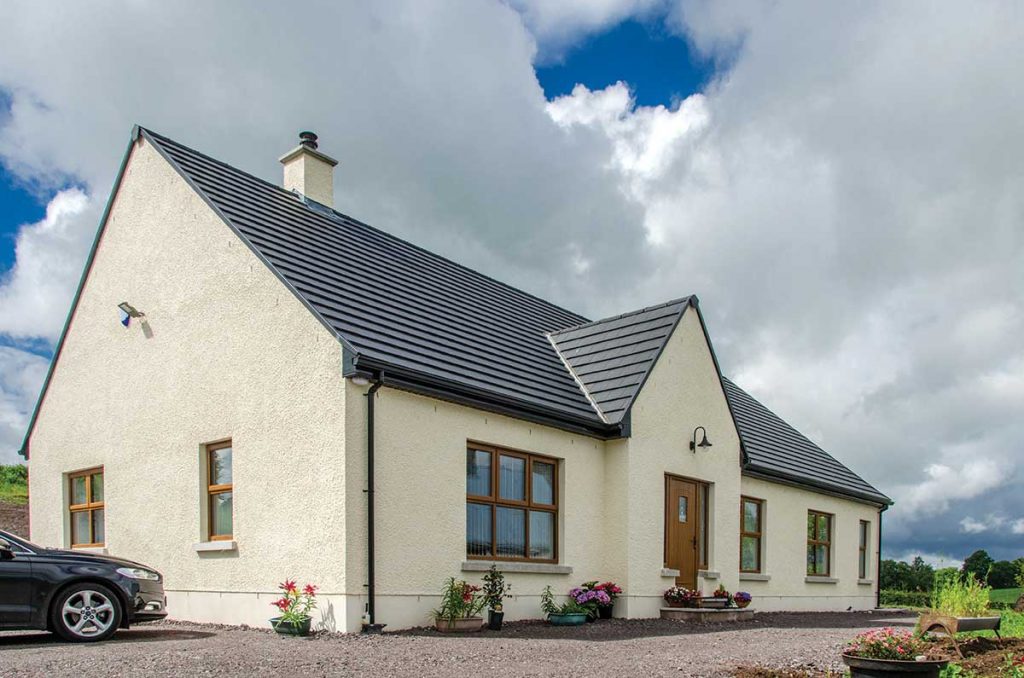 9 – The house with near-zero energy bills
Jim MacLane of Co Tyrone didn't set out to build himself a low energy house but thanks to clever design that follows the sun he's heating his retirement home for next to nothing.
House size: 190 sqm
Site size: ¼ acre
Build cost: £110,000 for a builder's finish (excludes kitchen/bathroom/flooring)
House value: £180,000 to £200,000
Airtightness: 0.3 air changes per hour @50Pa
Walls: proprietary timber frame construction with 320mm fibreglass insulation, U-value 0.11W/sqmK
Roof: 550mm of fibreglass insulation fitted in three layers, U-value 0.08 W/sqmK
Floor: cement sandwich type with build up of 175mm PIR insulation, U-value 0.13 W/sqmK
Windows and external doors: uPvC triple glazed, overall U-value 0.8W/sqmK, G-value 50 per cent
---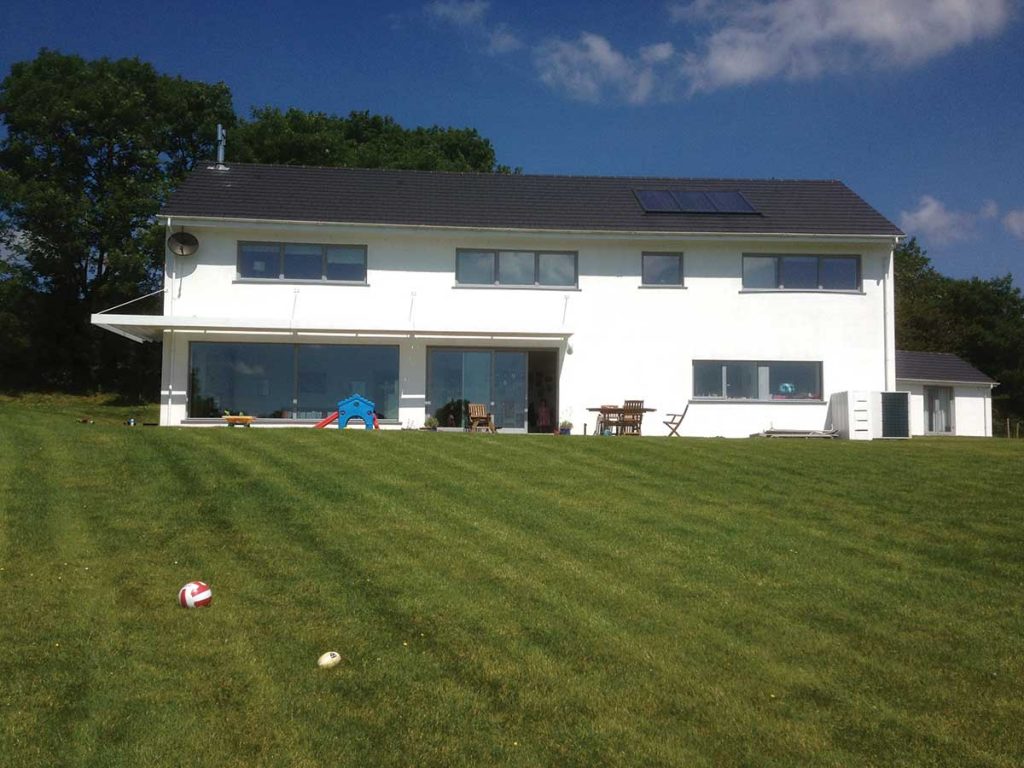 10 – Timber Frame Passive House
Emmanuelle Quinlivan of Co Cork had to juggle tricky soil conditions with her desire to build a passive house.
House size: 360 sqm
Site size: 1 acre
Build cost: €367,000
House value: €420,000
BER: A2
Airtightness: 0.4 ACH @50Pa
Structure: Timber frame
Ground floor: 300mm expanded polystyrene insulation on standard build up; U-value: 0.1 W/ sqmK
Walls: 100mm lightweight block work, 50mm cavity, 220mm factory-built timber frame insulated with high performance quilt insulation, 9mm OSB taped and sealed as air tight layer, 50mm PIR insulation, uninsulated 50mm service cavity and 12.5mm plasterboard. U-value 0.12 W/ sqmK
Flat roof: clay tiles externally on 50 x 35mm battens on breathable roofing membrane on pre-fabricated roof trusses filled with 400mm fibreglass Insulation, air tight membrane taped and sealed, 50mm service cavity and 12.5mm plasterboard, U-value 0.12 W/sqmK
Sloped roof: clay tiles externally on 50 x 35mm battens on breathable roofing membrane on 220mm rafter filled with 220mm high performance quilt insulation, air tight membrane taped and sealed, 50mm PIR insulation, 50mm service cavity and 12.5mm plasterboard. U-value 0.12 W/sqmK
Windows: Triple glazed laminated hardwood, overall U-value 0.8 W/sqmK
---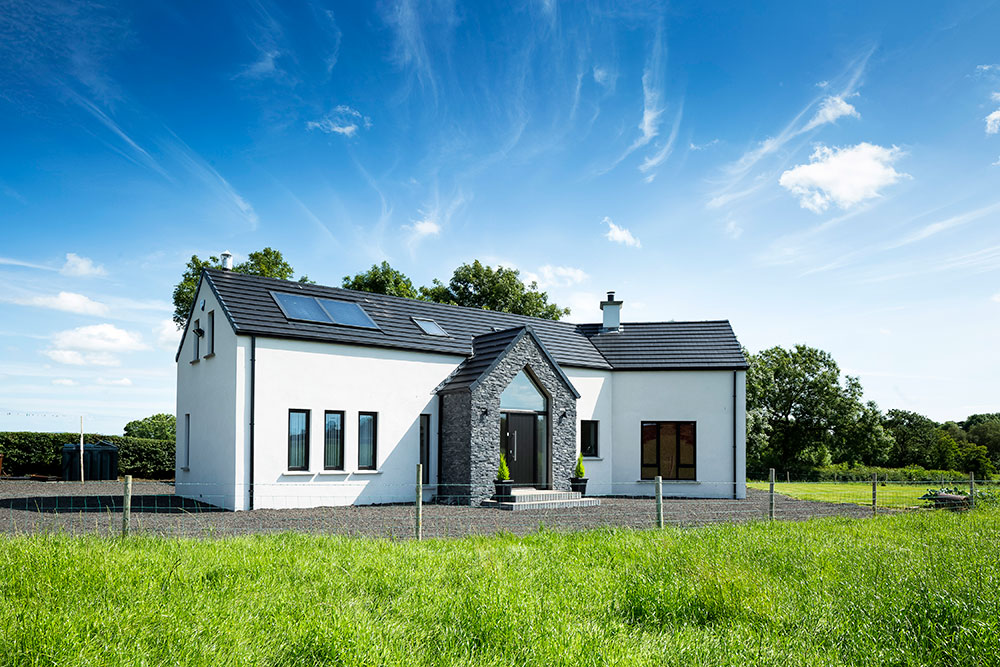 11 – The Contemporary Bungalow
For Rodney and Emma McKay of Co Down, building a 'traditional' bungalow was out of the question. And the result is very different indeed to what you'd expect a one and half storey house to look like…
Plot size: ½ acre
House size: 2,400 sqft
Cost: £160,000 + £10,000 in solicitor and designer fees
Value: £230,000
EPC (SAP rating): B (89)
Walls: 140mm timber frame with blockwork and weatherproof white render finish on outside, 140mm mineral wool fitted inside panel, 60mm PIR fitted to internal face of panel, plasterboard; U-value 0.15W/sqmK
Roof: 200mm mineral wool between rafters, 80mm PIR fitted to upper side of rafter, batten fitted on top ready for felt, lathe and tiles, airtight membrane to internal side of panels; U-value 0.12 W/sqmK
Floor: 150mm PIR, 60mm around perimeter of floor to minimise thermal bridging, cast finished floor in 30kn concrete; U-value 0.14W/sqmK
Windows: triple glazed, argon filled, uPVC black wood effect, U-value of units 0.8 W/sqmK
Air tightness: 0.686 m³/(h.sqm) @50Pa
---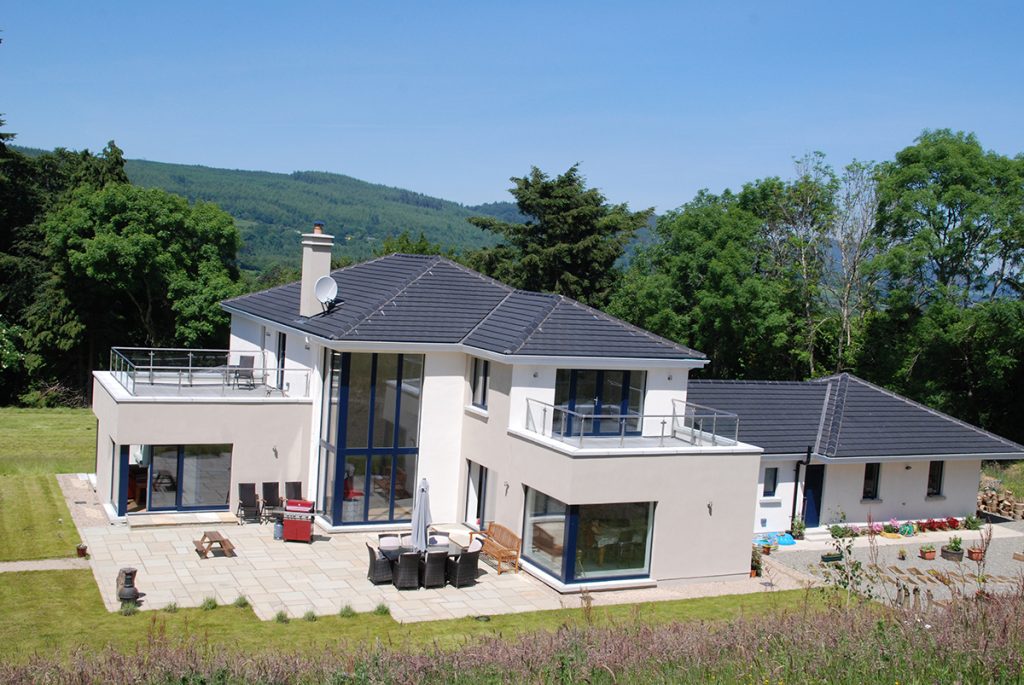 12 – Timber Frame House Trying to Achieve a Passivhaus Standard
Self-builders around the world are creating energy-efficient homes to ensure low running costs. In Ireland, a voluntary certification benchmark that's often followed to achieve this is Passivhaus, which Maija Tweeddale and Diarmaid O'Reilly of Co Wicklow strongly considered. However, due to cost they instead decided to adopt a 'pick and mix' policy suited to themselves, and to their house.
House size: 360 sqm
Site size: 7 acres
Build cost: €425,000
Construction type: timber frame with external block cladding, off-site construction
Insulation: mineral wool in walls 220mm; mineral wool in roof 300mm, floor PIR board 150mm
U-values: walls 0.12 W/sqmK, roof 0.15 W/sqmK, floor 0.15 W/sqmK
Windows: alu-clad, triple glazed, argon filled, U-value of units 0.8W/sqmK
BER: n/a (rating was calculated on basis of solar panels and air to water heat pump)
---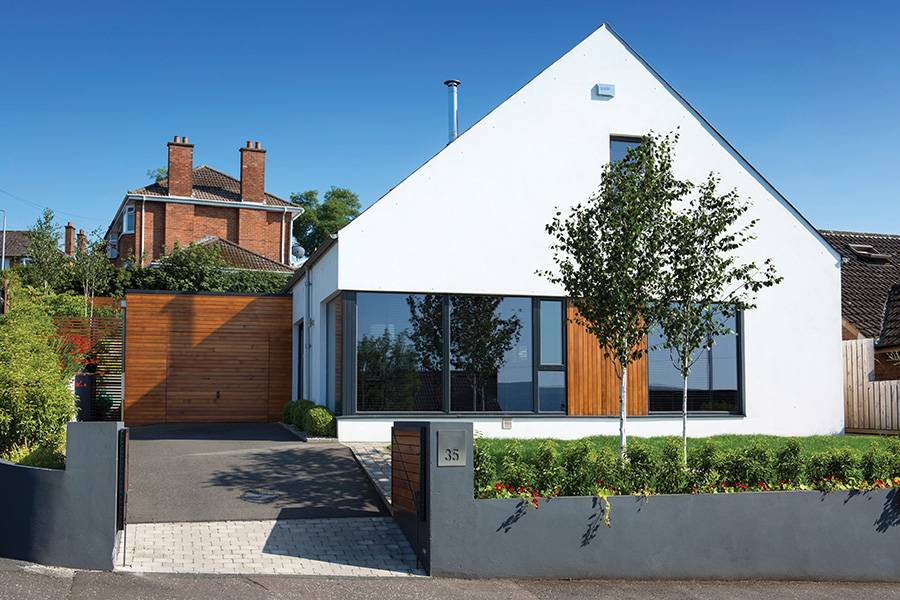 13 – Zero carbon home?
For Anna and Walt White of Co Antrim the prospect of living without central heating seemed too good to be true…
House size: 165sqm/ 1,850sqft
Plot size: 630sqm / 6,800sqft
Build cost: approx. £90/sqft including high specification envelope, finishes, demolition of existing building and external landscaping/planting
EPC rating before installation of PV panels: A (93)
Build up: floor 50mm screed laid on 500 gauge polythene vapour barrier on 100mm PIR rigid insulation on 1200 gauge DPM on 150mm reinforced concrete sub-floor slab on 25mm sand/blinding on 225mm compacted hardcore. Walls 100mm outer leaf concrete block finished externally, 50mm ventilated cavity; main structure 9mm OSB fixed to 140x38mm timber studs @ 400mm centres to 140mm mineral wool insulation between studs, vapour control layer fixed to inside of timber frame, 50x50mm counter battens fixed to timber studs with 50mm mineral wool insulation between counter battens with 37.5mm insulated plasterboard and skim finish. Flat roof 200mm mineral wool insulation in between collar ties and 200mm mineral wool insulation over at right angles to each other, vapour control layer pinned to underside of rafters with 50mm PIR rigid insulation and plasterboard screw fixed to underside of rafters. Pitched roof blue-black fibre cement slates on 38x25mm impregnated slating battens on breathable roofing membrane (10mm ventilated air space below breathable membrane). 225x50mm SW C16 grade kiln dried roof rafters @ 400mm centres with 125mm PIR rigid insulation with vapour control layer pinned to underside of rafters with 50mm PIR rigid insulation and plasterboard screw fixed to underside of rafters finished with skim finish.
U-values: floor 0.25 W/sqmK, walls 0.15 W/sqmK, flat and pitched roofs 0.11 W/sqmK
Windows: timber, double glazed, overall U-value 1.33 W/sqmK
Solar panels: aperture area 2.62 sqm, glazed flat plate, collector zero-loss efficiency: 0.75, collector heat loss coefficient: 6.00, solar panel ratio A/G: 0.90, orientation: South-West, elevation: 45°, overshading < 20%, electrically powered pump, 250 litres hot water tank.
Air permeability: 2.6 cum/h.sqm
---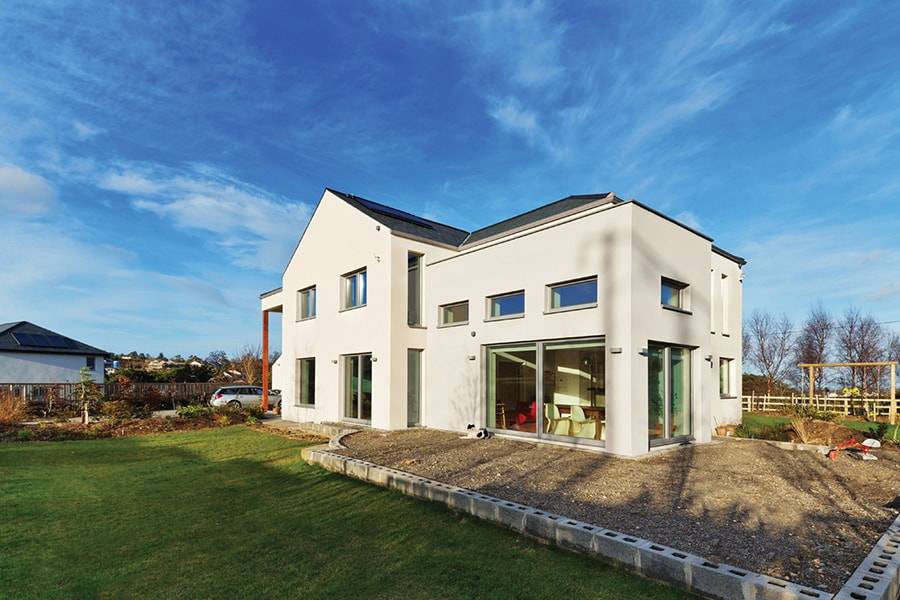 14 – Breaking even on a passive house
Building to the Passivhaus standard on a budget is not a challenge for the faint hearted, but for Justin O'Keeffe of Co Wicklow there was no other option. He was determined to build his own passive house for the same price it would have cost him to comply with the Building Regulations standards of the time.
Site size: 0.34 acre
House size: 350 sam
Build up and U-values: Walls 300mm double factory built timber frames, with thermal break between frames fully filled with fibreglass batts. Internal finish 13mm plasterboard, external render 20mm on cement board 13mm, U-value 0.102W/sqmK. Floor raft foundation insulated, 400mm extruded polystyrene, 150mm concrete slab, 15mm OSB board, 20mm wood flooring, U-value 0.074 W/sqmK. Warm roof construction (pitched and flat) fibreglass batts and insulated service cavity: 13mm plasterboard, 80mm rigid insulation PIR, 40mm air cavity, 225mm fibreglass insulation between rafters, 9mm sheathing board beneath battened slates, U-value 0.123 W/sqmK
Heat recovery ventilation: Counter current PHI certified unit with in line water to air duct heater and summer bypass, specific EHR 83%
Airtightness: n50 = 0.58/h
Windows: triple glazed, aluclad, argon filled, PHI certified
BER: A2
---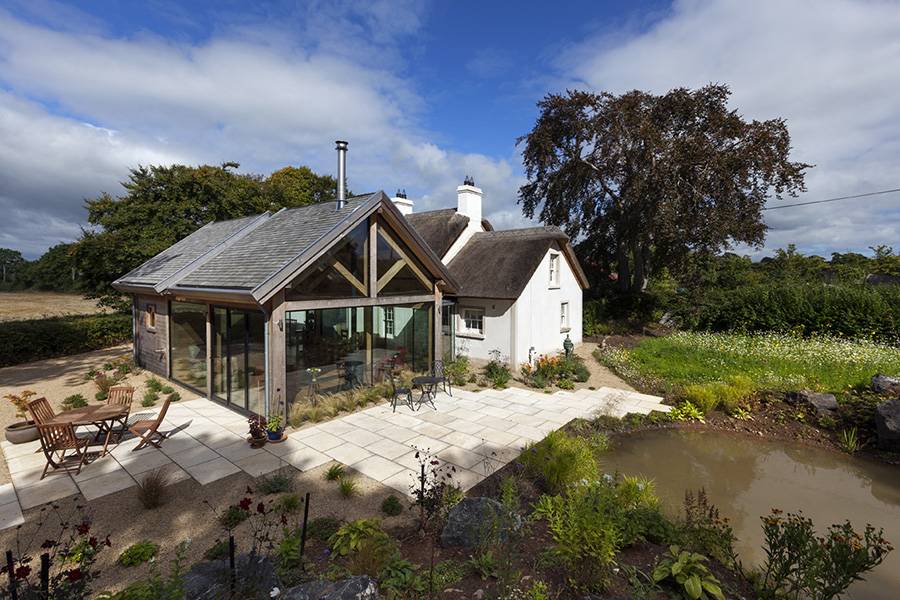 15 – History in the making
Conservation architects will tell you the best way to preserve an historic building is to live in it; the occupier is likely to spot and deal with things like leaky downpipes early on, thereby avoiding irreparable damage.
Construction: timber frame (air dried oak)
Insulation: rigid phenolic insulation boards throughout
U-values: walls 0.16 W/m2K, floor 0.18 W/m2K, flat-roofed links 0.14 W/m2K, main roof 0.19 W/m2K
Windows: aluminium-framed 70mm profile double glazing with 16mm argon gap and low-e coating, U-value of units 1.77 W/m2K
---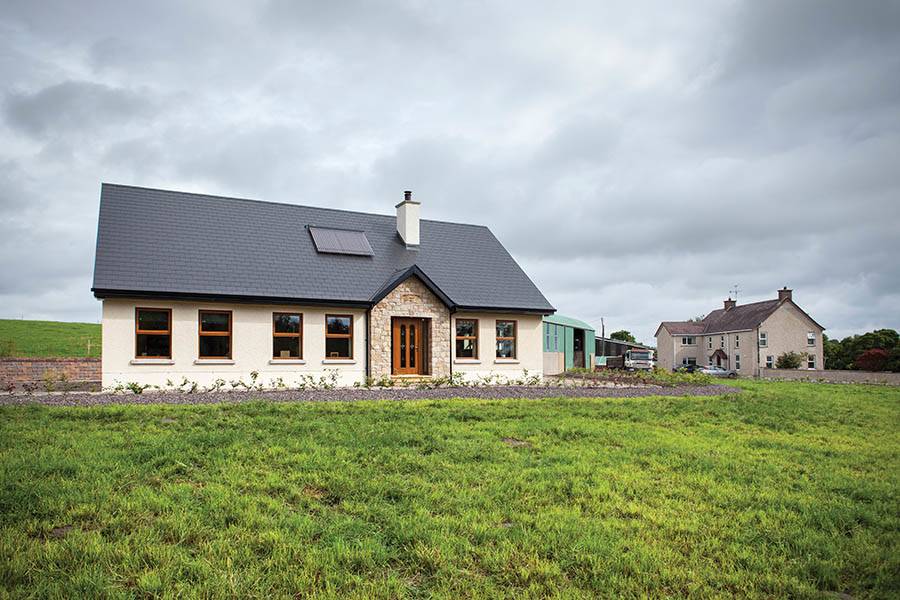 16 – County Tyrone Timber Frame Home
Violet Crosbie of Co Tyrone has lived and worked on the family farm her entire married life. And with two of her children marrying into construction, it's little wonder that the new home that was built for her, a stone's throw from the original cold and draughty farmhouse, is a true twenty first century build. The change couldn't be more dramatic, from energy hungry to one that's a certified passive house as well as zero carbon. Even better, she was able to take advantage of a special Government energy saving initiative which means she doesn't have to pay rates for five years, the equivalent of £5,000. All in all it's a great way to begin retirement!
House size: 186 m2
Site size: approx 1,000 m2
Build cost: £135,000 completed to turn key finish (estimated 10%-15% more expensive than if built to current building regulations standard; savings in energy usage estimated at £3,500 per year achieved through no oil requirement, based on average usage of 1,000 gallons per year, and reduced electricity costs, based on an average bill of £85/month). The photovoltaic (PV) panels cost £16,000 less a 20% grant of £3,200 and generate an income of at least £1,200 a year.
---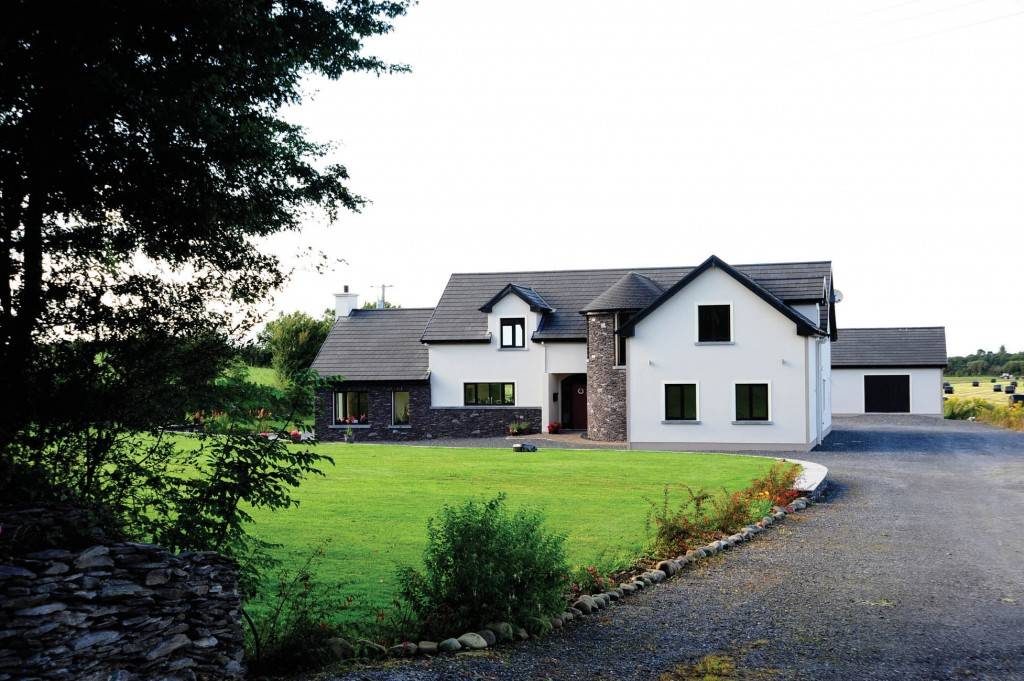 17 – Direct Labour Timber Frame Self-build
Going down the direct labour route with a self-build is both hugely rewarding… and incredibly time consuming! Despite working 300km away from his home-to-be, Sheamus Clifford still managed to do it thanks to his sheer passion and drive, as well as a lot of support from his wife Clare and help from his father who was down on site every day.
House size: 3,800 sqft
Site size: 0.75 acre
Total build cost: €320,000
BER: B1
---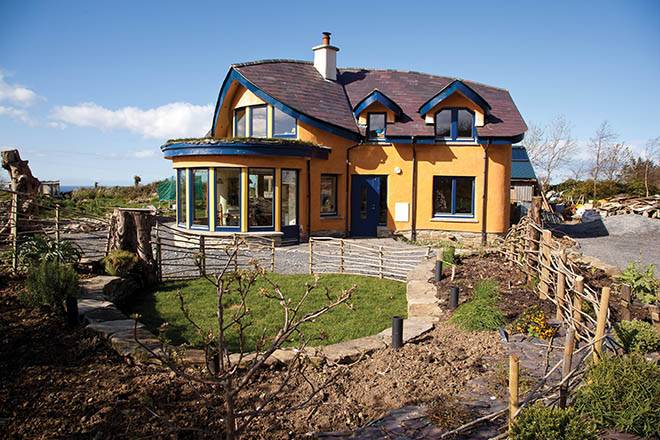 18 – Eco-build on a shoestring
Xavier Dubuisson dispels the myth that ecological building is an expensive endeavour out of the reach of the average self-builder. He reviews a number of notable Irish projects where committed homeowners have realised their hopes of building sustainably on a very tight budget, and explores the issues they faced.
---
Try our new 'Selfbuild Cost Calculator'. Fill in details and instantly get a rough estimate for your project