Back in 2010, Justin O'Keeffe of Co Wicklow was determined to break even and build his own passive house for the same price it would have cost him to comply with the building regulations standards of the time.
In this article we cover:
First steps to designing a passive house
Getting planning pemrsision
Putting together a tender pack
Decision to hire a project manager instead of a builder
Details of contract with the project manager
List of DIY tasks to save money
How the build went day to day on site
How the build stayed on budget and on track
Lessons learned and what he'd do differently
What it's like living in a passive house
Indoor air quality readings
Details of solar thermal system
Specification and full supplier list
Professional photographs
Site size: 0.34 acre 
House size: 350 sqm 
Windows: triple glazed, aluclad, argon filled, PHI certified 
BER: A2
"We had been looking at building our own house for a year," says Justin. "We went to shows to get ideas and finally ended up meeting low energy architects in a church where they were giving a lecture."
Justin had always been interested in low energy building so when it came to his own home he'd already done some research. "I considered my options and felt that the Passivhaus standard was the best methodology around," he says. "At the time the Building Regulations certainly didn't cut it in terms of energy use. The next question of course was how to do it economically."
First steps to a passive house
Hiring an architect with the required expertise was the first step. "We came to the architect with ideas on the layout, certain things were changed to optimise the energy savings. They used the PassivHaus Planning Package (PHPP) which proved the house would perform. Planning permission wasn't difficult to get."
"We got the go ahead in 2010 at which point we asked the architects to put together a tender pack, which was ready that summer," says Justin. "But when we looked at the prices that came back, we realised that by going down the contracting route the numbers weren't adding up. Because building to the Passivhaus standard was relatively new, they added a risk premium. We started by taking bits out of their scope but it still wasn't right."
"Contractors also couldn't accurately price the job because they assumed they'd hit bedrock, and therefore added a premium for all of the civil side of the works. We knew there would be no trouble with the ground conditions but there was no way to guarantee that." At this point Justin decided he would have to take a more hands-on approach to save on the build cost.
The detailed construction drawings, with exact specifications on everything from door handles to light switches, gave him the impetus to take on more responsibility himself.
"There were two options; either the direct labour route or hiring a project manager, our choice was for professional help because of his contacts. As a once-off client we wouldn't have the same kind of relationships he obviously had in the trade; when dealing with someone you trust there's repeat business for him and better quality for us."
Justin estimates that the self-build route with project manager was 15 to 20 per cent cheaper than if he had gone with a main contractor. "It gave us more control on quality and of course allowed us to go passive, which was the overall aim."
They broke ground in November 2010 the true self-build way. "There's nothing complicated to the civils side of things, it's a question of organising the diggers and dumpers and moving a lot of earth around."
"We got a civil engineering contractor for the hardcore and all of the specialised portions of the job but we basically did most of the work ourselves. We had to tarmac 200m of shared driveway and dig trenches to connect to the water, sewage and electricity mains as well as to the communications cables. Doing it ourselves saved a lot of money."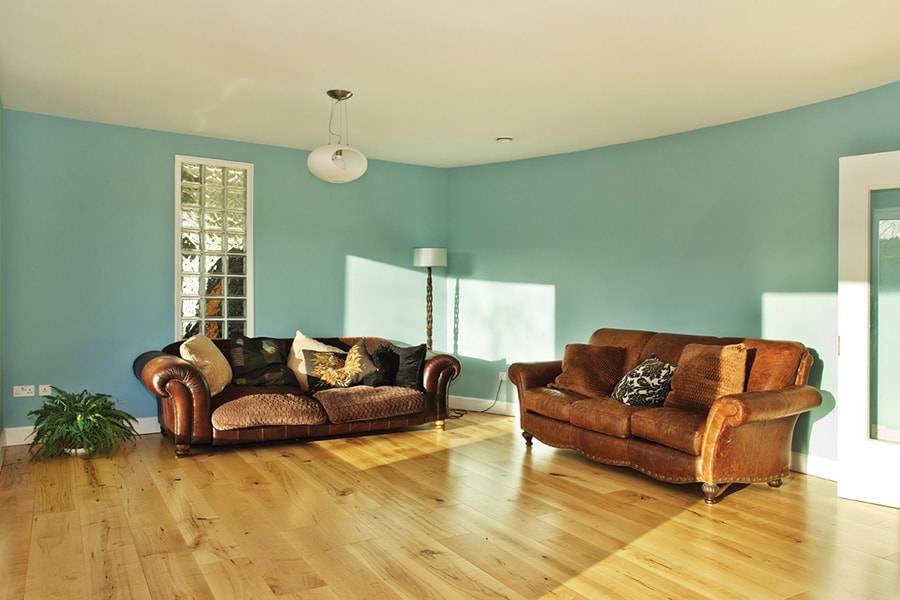 House building
Once the actual passive house building started, the project manager came on board. "He chose the companies that were going to do all the various jobs; some were more competent than others but we certainly couldn't have picked any better! Finding the right people for every job is no simple task. I have to say the company who did the insulation and airtightness were excellent.
Justin agreed to pay the project manager a fixed sum in stage payments, with six to eight payments evenly spread. The final one was when the wooden floors were laid. "We had a tender pack ready to go, and absolutely everything was in the drawings. We'd put a lot of thought before we went to see the architect as to what we wanted. Every new build we visited we got ideas from; down to the skirting boards, everything was itemised."
"Even though we had a clear set of plans, the tradesmen didn't necessarily follow them. For instance we'd specified Cat 6 for the communications cable but the builder installed Cat 5e instead. They made decisions that suited them as they felt they were putting in something equivalent. By installing something that's more readily available it allows them to move on to the next job. The same thing happened with the television points, we'd specified double points but got single ones."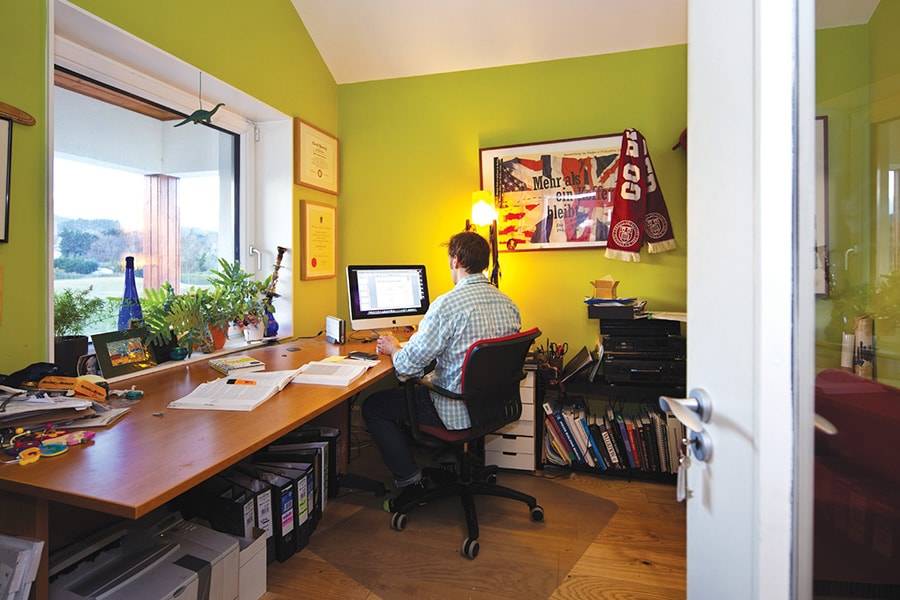 "Thankfully I caught many of the discrepancies, but only because I was there twice a day. At the time I was working from home and minding the children, as we were living only one kilometre away I was able to be there regularly."
"There's an awful lot of stress and loads of decisions to take very early on, you have to juggle payments, shipments, get water to site, then there's the design decisions on top of that. I even had to organise the site lo.! Even though we had a project manager, living down the road meant I ended up doing quite a few of these jobs."
Perks
Of course the benefit of living in a passive house is not only very low energy bills but high indoor air quality. The low energy bills are achieved by a high level of insulation and airtightness. "The insulation guys were great, they suggested we use mineral wool in sheets, a low cost solution that worked really well." According to the PHPP calculations, the yearly heating demand is only 7 kWh/sqm, the heating load 9 W/sqm.
"I had a moisture meter and it read 100 per cent humidity in the old 1920s house we were renting. We couldn't afford to heat that house, so moving into our new home really made a difference. In terms of air quality, in our passive house the moisture meter reads between 50 and 60 per cent." The air quality comes from the mechanical heat recovery ventilation system. "The air really feels fresh and pure, it's a lovely environment to live in," he says. "I had a moisture meter and it read 100 per cent humidity in the old 1920s house we were renting.
We couldn't afford to heat that house, so moving into our new home really made a difference. In terms of air quality, in our passive house the moisture meter reads between 50 and 60 per cent." There are solar panels for hot water and a gas boiler for heating.
"We left the solar tank outside the house, in the garage, likewise the gas boiler, as it throws off heat in the summer," he adds. While this is not a requirement of the Passivhaus system, Justin decided to install a rainwater harvesting system.
"Only two of our taps have mains water, the rest is supplied by a 12,500 litre rainwater collecting tank. We use a UV lamp filter for treatment; it's hard to say but I expect it cuts our water usage by half to two thirds." Their plot is quite exposed so that too had to be factored into the design. "We put in natural slates which are more brittle than fibre cement. They were installed on hooks so we could replace them easily. After high winds we check the garden to see if any were dislodged and get up on the roof to replace them; we kept half a case of spares for this purpose."
Every detail was indeed thought of; a socket was installed at the gable end of the passive house for the Christmas lights and in the utility room they installed floor to ceiling cupboard doors to maximise the amount of storage space. "The only changes we made were to add one switch and two ceiling roses," says Justin.
Lessons learned
"Making sure everyone finishes everything to the quality you want is challenging. I'd advise keeping 5 per cent retention for six to twelve months because with the self-build route as soon as you pay, they're gone! If something doesn't get finished, or is broken, you're left on your own. I found it hard to get tradesmen to stand over their work, on the other hand I was pleasantly surprised that the manufacturers I dealt with were excellent."
"For instance, the electrician didn't come back when we had a problem with the LED lighting but the suppliers gave us a replacement. Same with the solar tube panels, they stood over their product and rectified the problem, not the plumber.
Even after two years the security company guy came back, it was on a 5 year warranty so do check the small print when you buy your products." "Then of course towards the end of the job there's a pressure to finish, it can be difficult mentally. You give it a push but you're so tired by this stage you'll probably vow not to do any more DIY for a while."
The family moved in at the end of 2011 but there's still more work to complete, as is the case with every self-build. "It could take us a couple of years to finish, for instance there's still no guttering on the garage. In hindsight that should have been part of the contract we had for the guttering of the house." All of the blood, sweat and tears did pay off as the house is now officially Passivhaus certified. And they've got a home for life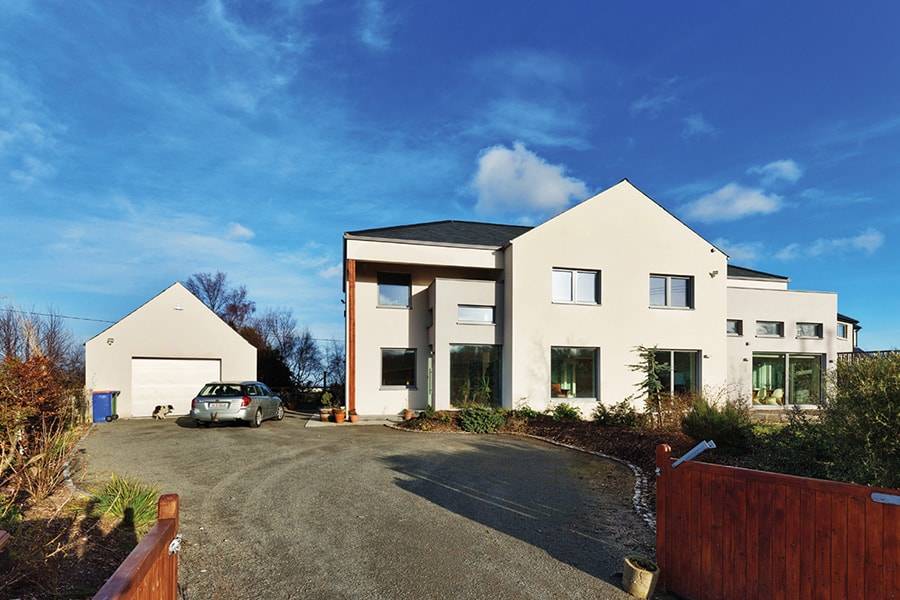 Spec
Build up and U-values: Walls 300mm double factory built timber frames, with thermal break between frames fully filled with fibreglass batts. Internal finish 13mm plasterboard, external render 20mm on cement board 13mm, U-value 0.102W/sqmK. Floor raft foundation insulated, 400mm extruded polystyrene, 150mm concrete slab, 15mm OSB board, 20mm wood flooring, U-value 0.074 W/sqmK. Warm roof construction (pitched and flat) fibreglass batts and insulated service cavity: 13mm plasterboard, 80mm rigid insulation PIR, 40mm air cavity, 225mm fibreglass insulation between rafters, 9mm sheathing board beneath battened slates, U-value 0.123 W/sqmK 
Heat recovery ventilation: Counter current PHI certified unit with in line water to air duct heater and summer bypass, specific EHR 83% 
Airtightness: n50 = 0.58/h 
Suppliers
Passivhaus methodology
PassivHaus Institut (PHI), passiv.de

Architect / Passive  House Certification
MosArt, Wicklow, tel. 0404 25777, mosart.ie / Anne Marie Fallon , Ceart go Leor Design ceartgoleordesign@gmail.com 087 9069547

Timber frame
Kilbroney Timber Frame, Rostrevor, Co Down, tel. 4173 9077, www.kilbroneyhomes.com

Insulation and airtightness
Baker Insulation, Dublin 24, tel. 012896619, atticandwallinsulation.ie

Windows and doors
Pazen, www.pazen.eu
 
Rooflight
Velux www.velux.ie
 
Supplemental Plumbing Contractor
Wolfe Plumbing & Heating (Karl Wolfe, 087 1260287)
 
Rainwater
12,000 litre precast tank with filtration, UV & sub-micron filtration; Tank from Carlow Precast

Roof covering
Capco natural Brazilian slates

Stairs
Design Warehouse (Stan Browne, 021 4976002)

Kitchen
CTR Manufacturing (Margaret Reilly, 041 9872937)

Ironmongery
Hafele (Leon Byrne, 01 2873488)

Paint
Colortrend (Barry Moyles, 01 628 8224)

Sanitaryware
Reuter Badshop in Germany, reuter-badshop.com

Blinds
myblinds.ie

MVHR
Danthern PHI Certified  Dantherm HCH8, www.beamcentralsystems.com

Gas boiler
Immergas Victrix condensing gas boiler, www.immergas.com, Supplied by RVR.ie

Solar panels
12m² of Calpak Solar Vacuum Tube panels supplying a 1000L TiSun Proclean Stratified Tank, calpak.gr. Supplied by RVR.ie

NI calling ROI prefix with 00353 and drop the first 0