The friendly neighbours and the scale of the Co Westmeath town in which Bernard and Andreina Barreat built their home reminded Andreina of where she grew up in Venezuela. So much so that they named their house after Andreina's own birthplace.
Moving back to a tight knit community really appealed to us, with my childhood family and friends close by," explains Bernard who had lived in Dublin with wife Andreina for five years.
"The site was bought 300m from my mom's house and even though we did have to go through a rigorous planning exercise we were successful with our application."
"The process started with a pre-planning meeting outlining what they had in mind, and an initial sketch. "We printed pictures of the houses on either side of the plot and discussed our local need. The planners were clear on what we could and couldn't do and very quickly we were on the same page," he adds.
"With hindsight what helped us I think is that we had our homework done, researching the development plans and looking at what had been approved in the past, and we employed a local architect who had good idea of what the planners wanted."
House Size: 2,500 sqft
Plot Size: 0.6 acres
"As the house is on a linear road, we were constrained in what we could do at the front, there was little choice but to reflect the style of other homes. The size of the house and its positioning also dictated the choice of finish." The construction method was partly driven by their desire to build an eco-house, but it was also influenced by their need to blend in with the houses nearby.
---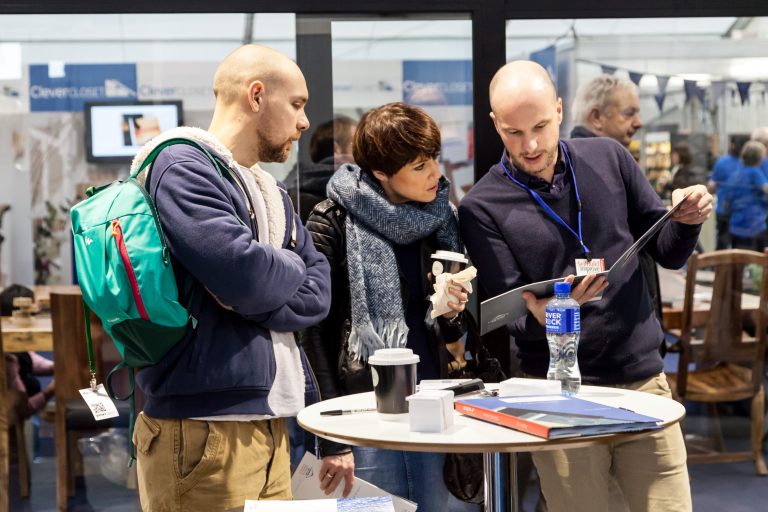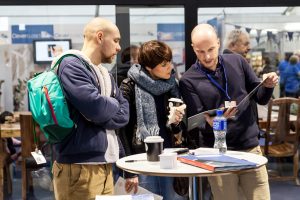 Selfbuild Live Dublin is the ultimate showcase for people who are building, extending, improving or simply decorating their home. Selfbuild Live Dublin, 13th-15th September takes place in the Citywest Convention Centre, Dublin.

---
"The structure is timber frame, which was built off site, but we finished it with blockwork that we plastered on the outside. We wanted it rendered for the aesthetics and also felt it would help in securing planning permission," explains Bernard.
Interior Savvy
Inside the couple went for a modern, spacious finish. "We'd lived in city apartments so we knew storage was a big thing," adds Bernard. "We also wanted a big kitchen because we like to cook." As an antidote to city living, all the rooms are very generous in size. "It's only a four-bedroom house but it could have easily fit more bedrooms. Our aim was comfort and you need space for that."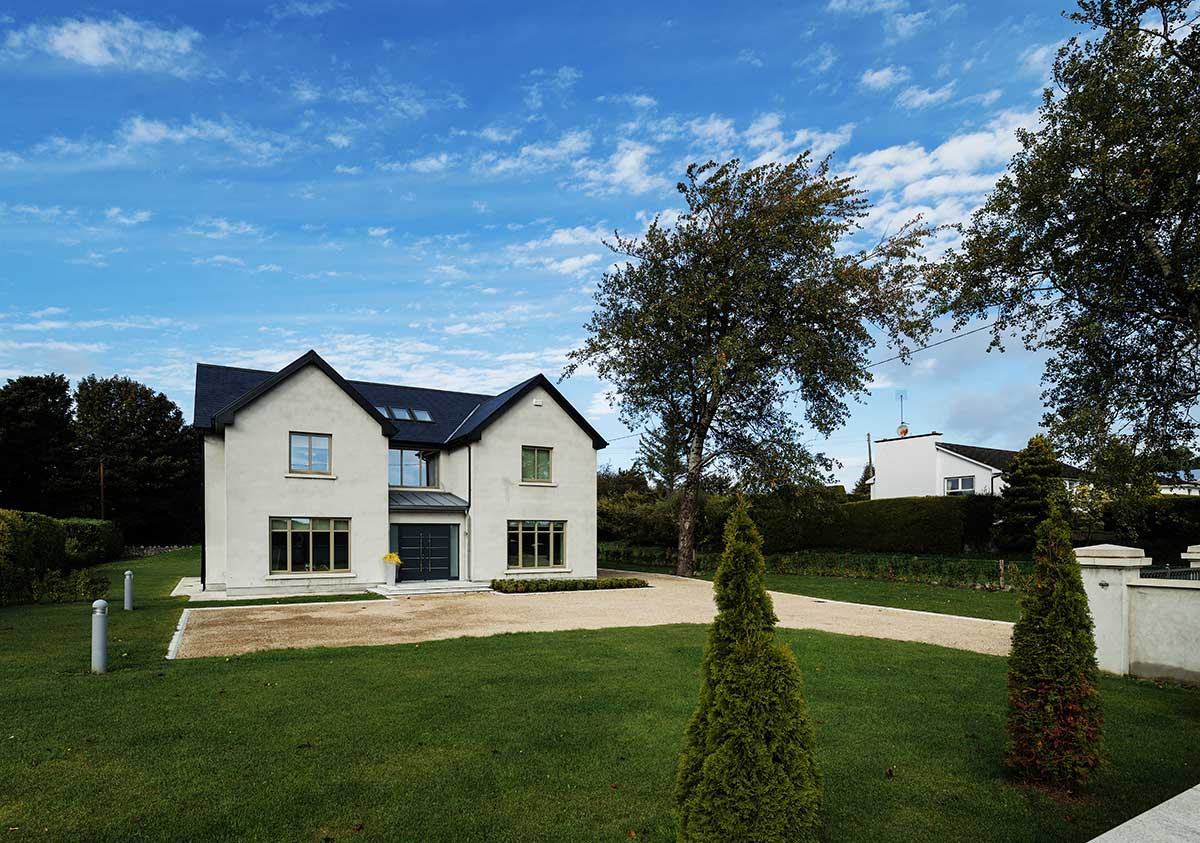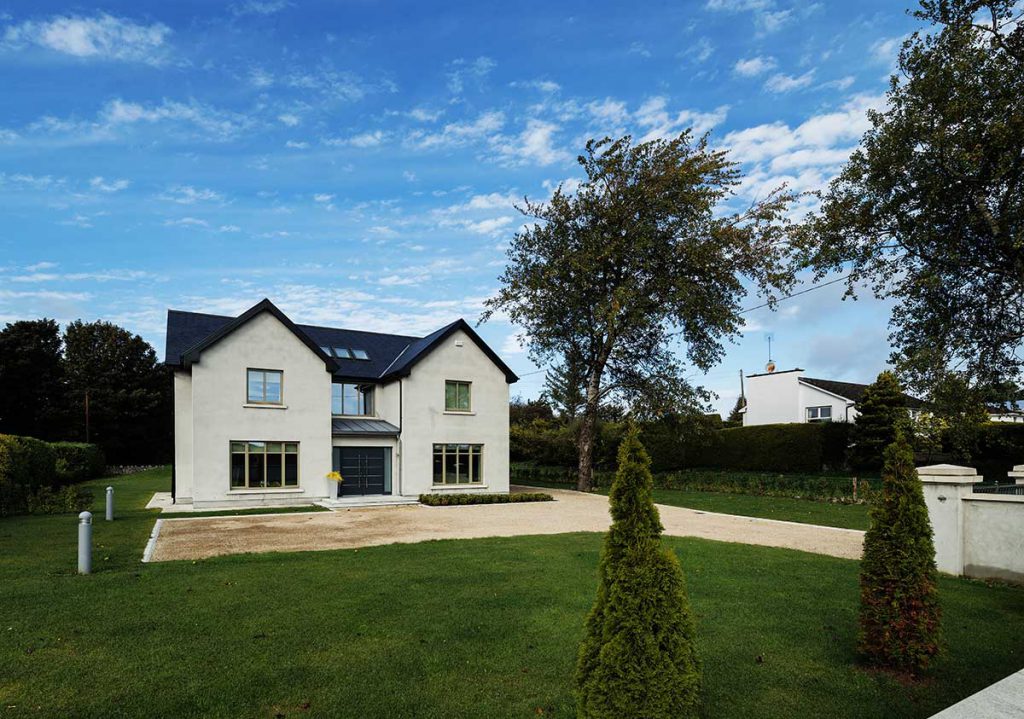 The minimalist finishes and neutral colours, meanwhile, were the result of a needs-must approach. "Life is busy when you have kids and both of you have demanding jobs. It's difficult to find the hours to choose finishes. And there are so many choices, it can be hard to decide.
Especially when the builder calls to tell you they need to know in a week what your preference is. Your only alternative is to go out on a Saturday and pick it out." "For instance for the tiles we got samples and laid them out to choose which one was our favourite. Decisions were made within the day. You have to think on your feet, the process moves quickly and you have to keep on top of it."
'With hindsight what helped us I think is that we had our homework done…'
"This is why we ended up choosing a neutral palette, although now I'm thinking I may have liked to have added a bit more colour, I think we could have been a bit bolder," adds Bernard. The couple chose to use soft furnishing to complement the clean lines. "We're using cushions quite a bit, at the bay window we have a red banquette I really like. It will build up over time." The couple and their small children moved in 2016, a few weeks before Halloween.
Low energy for life
"As this is the house we'll be living in for the rest of our lives, we designed it so that it would suit us from now until our pension years. Maintenance costs were high on our priority list," says Bernard. As a result the couple went with a Passive House build, even though they decided not to have it certified.
"We felt it made sense to design and build the house to this tried and tested certification programme. It gave us a rigorous set of standards we could hold our suppliers to. Our tradesmen were also aware of the requirements and knew the construction would be assessed at the end. We felt it gave us a quality guarantee."
"A lot of the component parts were made in factories, the precision you get with that is the best. This includes the windows which were Passive House certified – we chose ones with thicker frames and a colour we especially liked."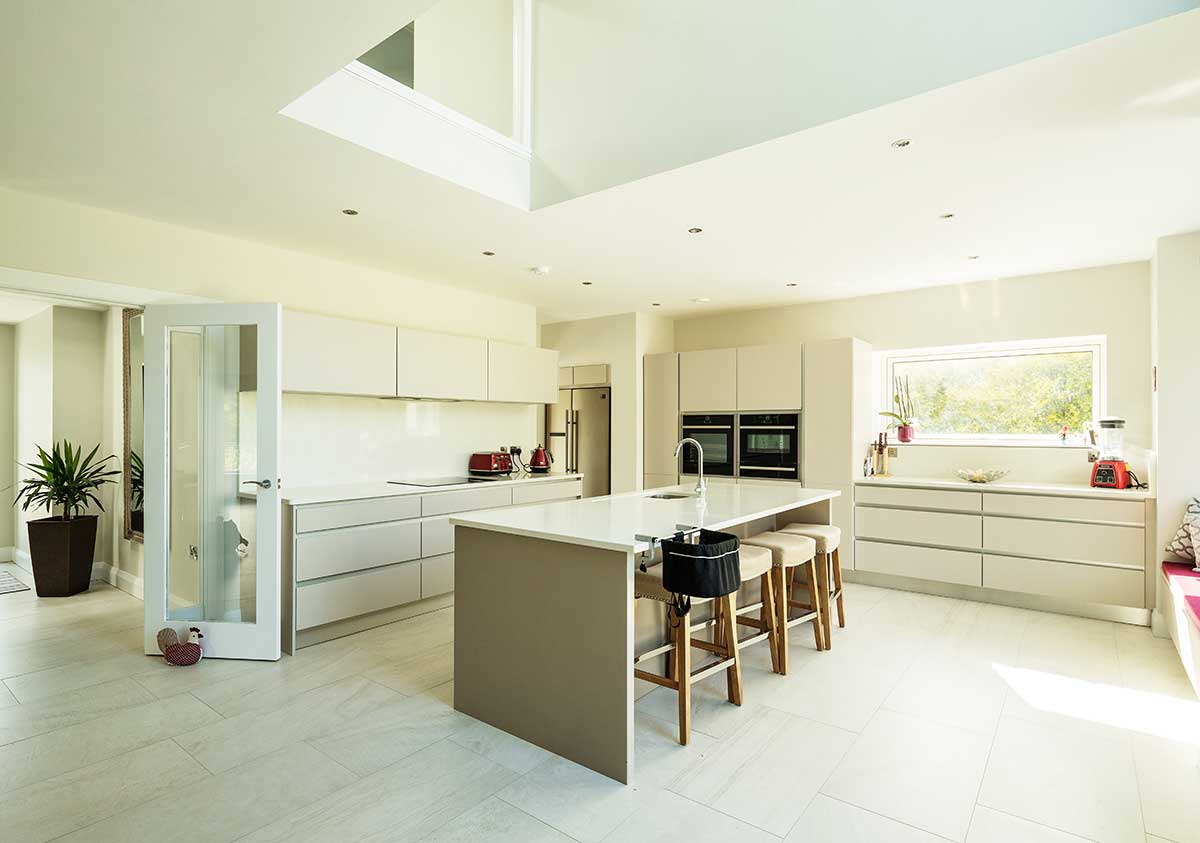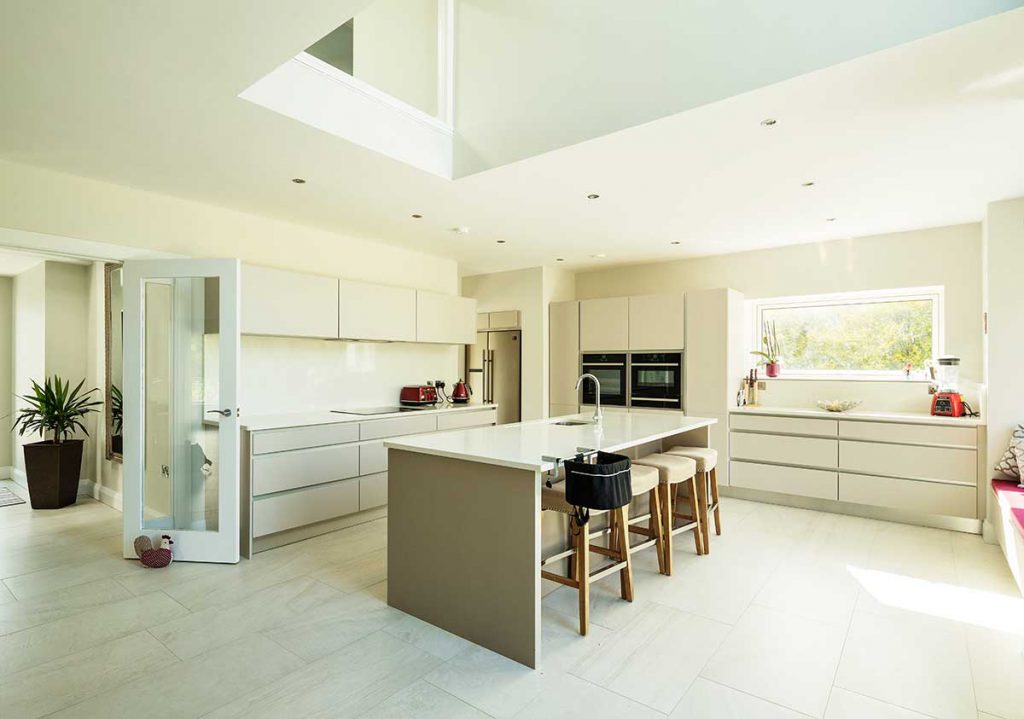 The benefit of a passive house is that you don't need a conventional heating system, but due to the house size the couple chose to install an air to water heat pump with underfloor heating downstairs and one radiator upstairs. "We also have a stove in the living area but haven't turned it on yet," confides Bernard.
They did however get a shock on their first electricity bill. "It was a nasty surprise as it totalled a couple hundred euros. Upon investigation we realised it was due to the fact that we were still running power tools and had the heating on to dry out the plaster."
"The plumber called out and made some tweaks to the underfloor heating settings to make sure we wouldn't be caught again. Thankfully since that, our bills have been extremely low." The level of comfort, meanwhile, is high. "The big thing with the heat recovery system is the consistency of heat around the house. Regardless of the season or room, the temperature is the same throughout. We no longer have the reflex to close the doors to keep heat in," says Bernard. There are thermostats in each room to regulate the heat as needed.
An issue with low energy houses can be overheating in the summer months. "The house is actually not too exposed, as there is quite a bit of hedging and mature trees, so we haven't suffered from overheating," says Bernard. "The back of the house faces west and the living area can even get a bit cool on winter evenings if we don't set the thermostat."
Process
"Our architect Blair came up with a great design for us and he supported us throughout the planning process. Overseeing the build was practice partner and architect Mel who was very diligent in overseeing the project and providing sound advice," says Bernard.
Once planning permission was secured the plans went out to tender, and the couple chose to 'opt in' of the Building Control Regulations by appointing an Assigned Certifier. "While Blair remained involved during the build process it was Mel who oversaw the tendering and construction stages. He ensured high quality throughout the build. I am not surprised to see him more recently overseeing some high profile multi million sterling developments in the heart of London."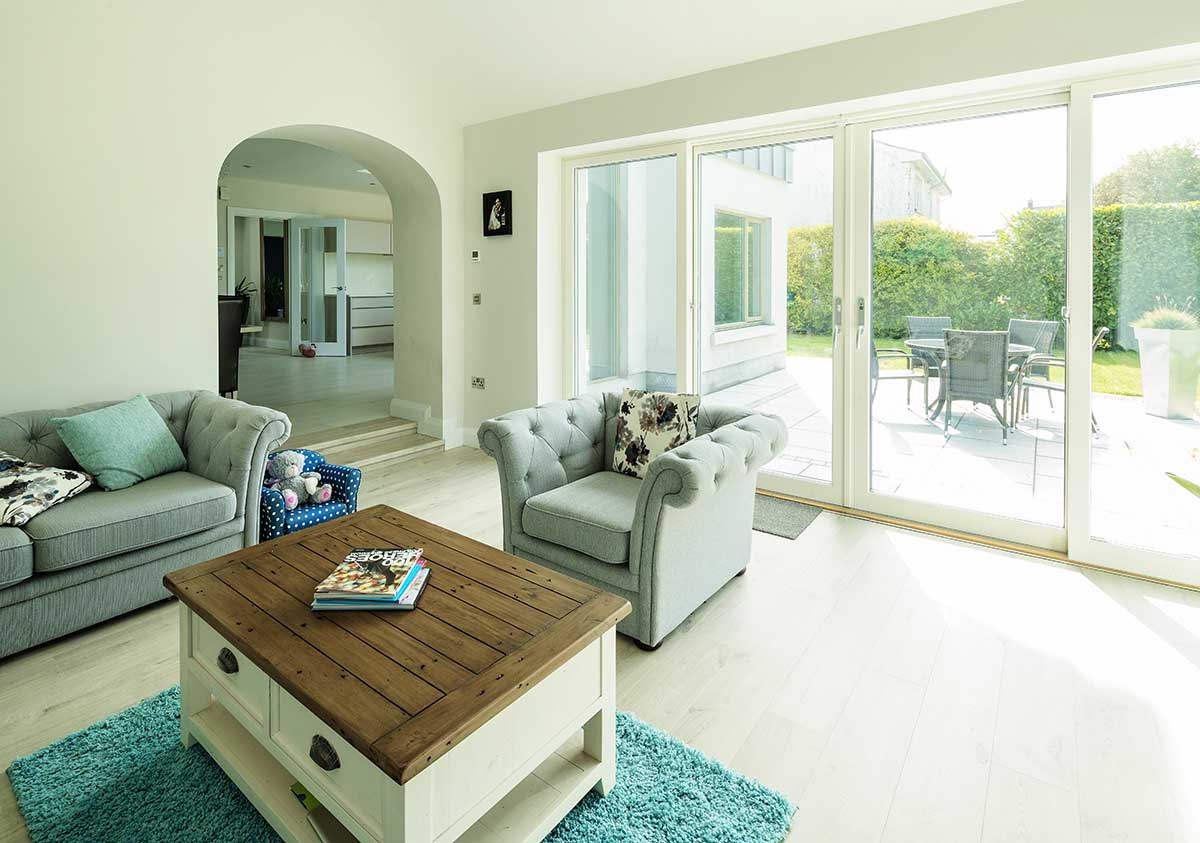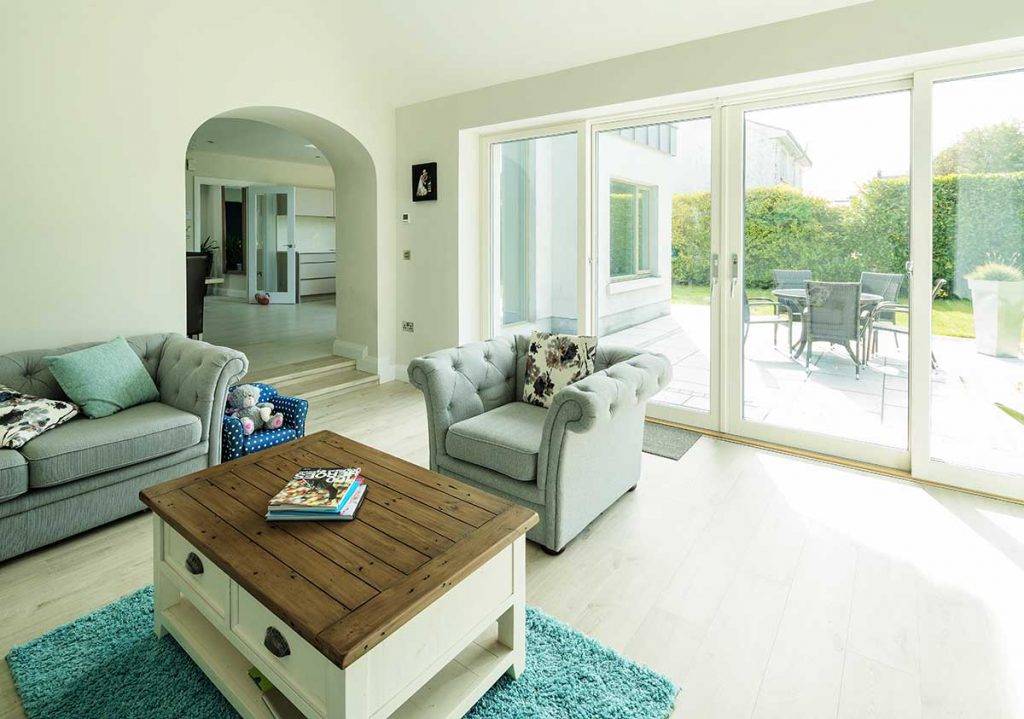 "He went out 25+ times to check on the build whilst Andreina and I were down most weekends. In many ways we trusted our builder so that made the process much easier," explains Bernard.
"We were living in Dublin and relied heavily on photographs and drawings; a lot of the communication was done online. We'd get before and after images of things like the installation of the insulation. It was important to us to record these vital details for future reference." "We got a very high finish from our builder," continues Bernard. "He was building his own passive house at the same time as building ours so it was especially relevant to him. He would do his own airtightness tests throughout the build to make sure things were progressing as planned. He's committed to quality and takes great pride in his work."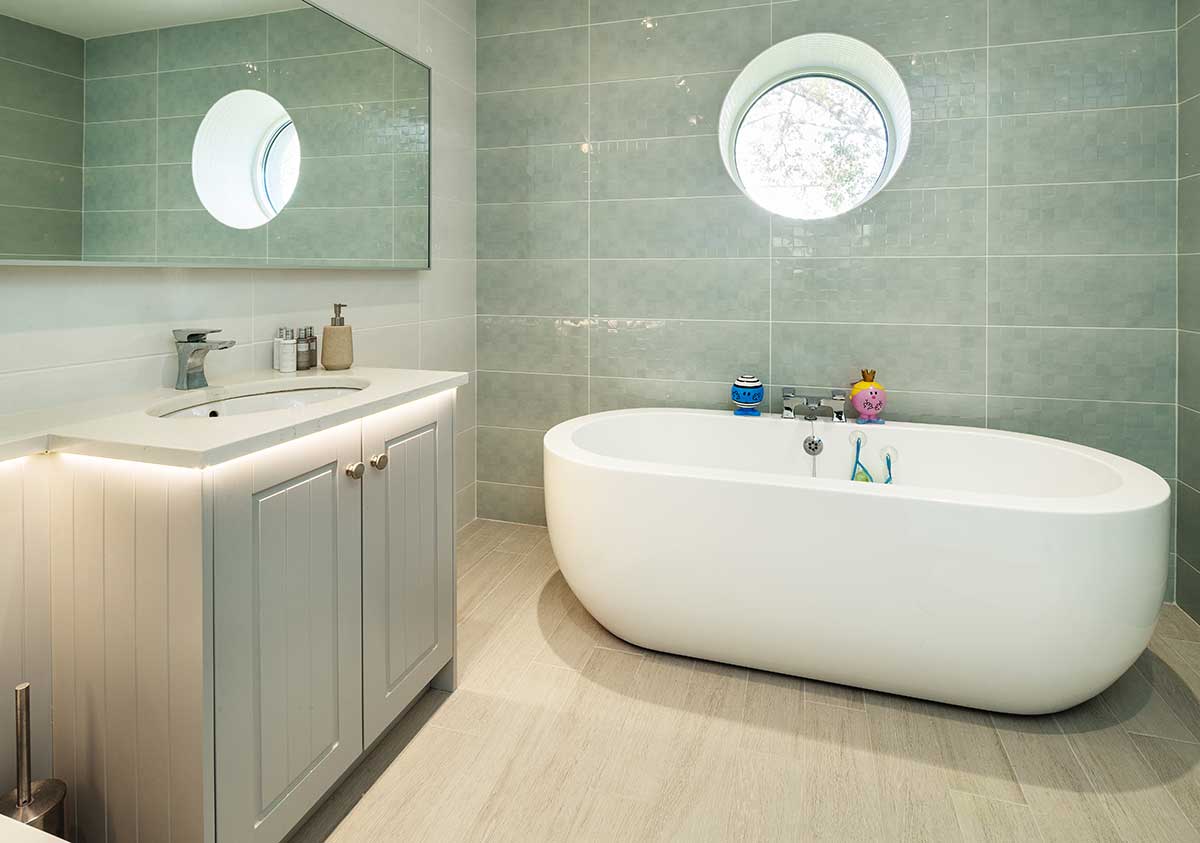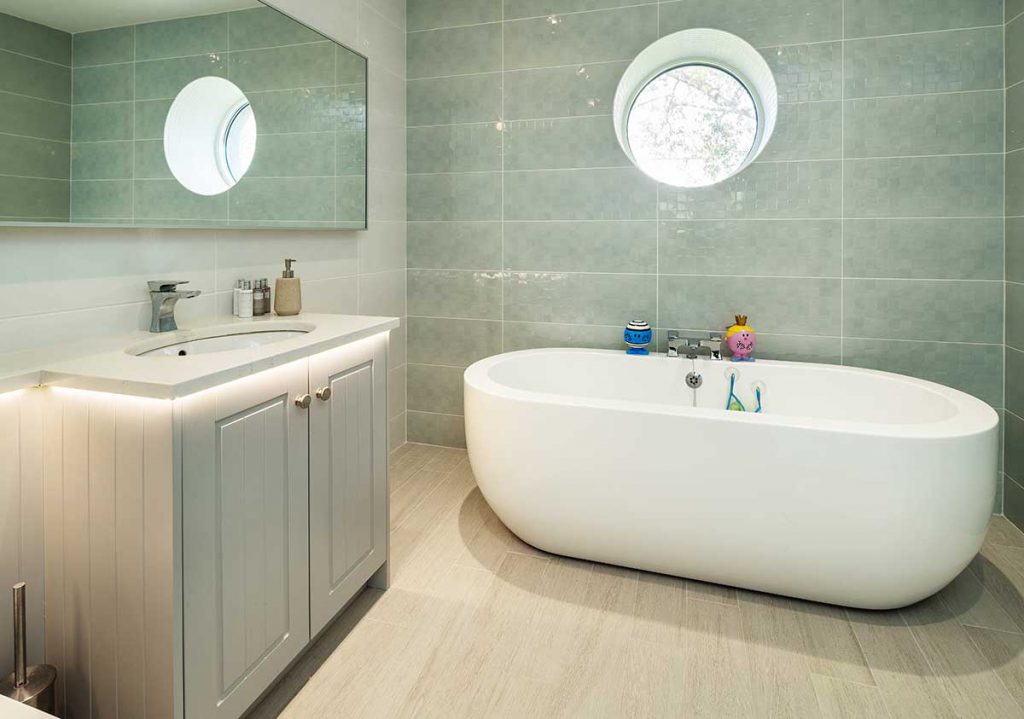 "In fact our builder was so good we ended up asking him to do the landscaping; at the front door we have a step with a nice granite area which he installed for us." The curved stone curbing was also the builder's suggestion, and creation. "For the driveway I would have gone with tarmacadam for strength but we went with a tar and chip alternative, with golden pebble stone, that looks much better and is just as effective." "As for the inspiration for the double front door, we saw it in a showroom and fell in love with it. We'd actually spotted a very similar one in Howth, they also had new England style shutters we liked but these were only suited to that seaside location."
With the timber frame build route, there were no changes during the build. "It was built off site so all the detailing was agreed to in advance. We had it all set out at the design stage, there was no room for manoeuvre after breaking ground. It does move along quickly, all of a sudden we had an airtight house built, then came the finishes."
Now that they're in over a year, the couple says they're getting to really enjoy the garden. "My mum has been a great help, a third voice of opinion, and she helped us pick out the plants. There was some existing hedging, some of it was in bad shape so we filled those gaps. The new planting consists of 6m of laurel, to the right of the gate. We also have flower pots to complement."