Because John and Leanne O'Connor couldn't build their house to face the sun, for planning reasons, they used fin shaped walls to coax sunlight back inside.
In this article, John and Leanne talk about how they built their family home including:
Dealing with a narrow site – planning issues and how they were overcome
Shape of house, roof lights, window design to deal with north facing aspect
Vernacular choice of materials and soft furnishings, plus details of storage design
Timber frame build with fixed price contract
Choice of systems and why, including issues with the heat pump and how they were resolved
Getting used to heating their home with a heat pump
Details of extra cost for electricity poles
Tips to stay on budget
Garden design details
Full floor plans, on site progress photos, specification and supplier list
Plot size: ¼ acre
House size: 1,800 sqft
Total cost: £240,000
Value: £325,000
Build method: timber frame
Heating and hot water: air source heat pump, wood burning stove
Ventilation: centralised mechanical with heat recovery
Airtightness test: 1.29 m3/sqm.h at 50Pa
EPC (SAP): B (86)
"We were lucky enough to get the plot of land from Leanne's family," says John. "They have been in the road since the 1960s and her dad grew up there, so it has been fantastic to continue the chain. Her grandfather still lives next door." Leanne's grandfather had in fact previously attempted to build a house on the strip of land Leanne and John eventually built their house on. "The site at the time was quite narrow, 50m long but just 10m wide, so he intended to build a house perpendicular to the road, which the planners had objected to."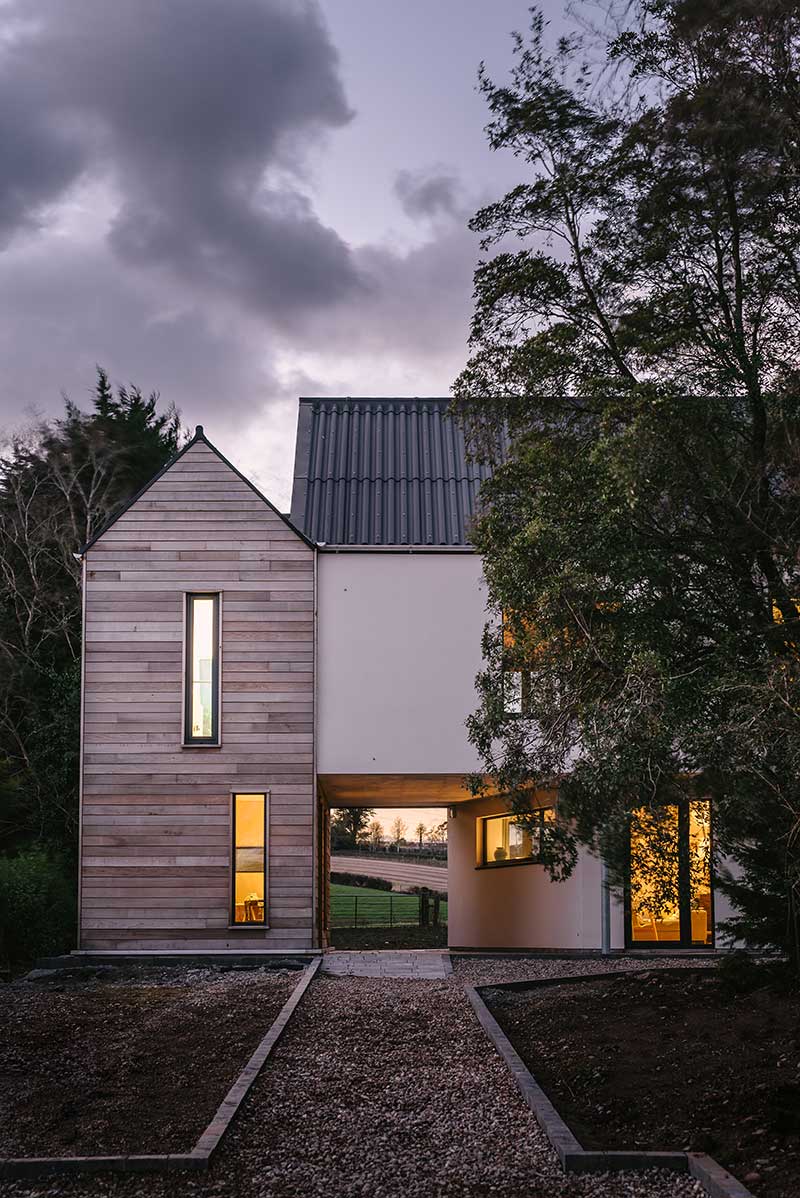 "By giving us an extra 10m width from his own garden, we had enough room to face the road," continues Leanne. "Due to heavy planting on both sides, this initially meant that we could not capitalise on the light. But our architect solved this with some clever design. The shape of the house, angled portrait windows and seven rooflights flood the house with natural light."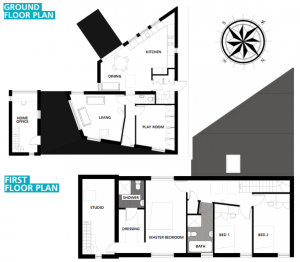 "We also have three double height rooms to give a real sense of space. Even though the footprint of the house is minimal, which we're happy with because that goes along with our sustainability principles, thanks to all this overhead space it feels massive."
"We were keen to build a modern, minimalist house that still felt cosy and at home in its location so this approach ticked all the boxes," adds John. The architect is a good friend of John's and, knowing his client better than any other, he came up with a design the couple immediately fell in love with. "We have always loved Jono's taste in pretty much everything," recounts Leanne.
"So we gave him a simple descriptive brief of how we wanted the home to feel, how many bedrooms, what working spaces we needed, and so on, and asked him to design something creative, whatever he wanted. We were surprised and delighted with what he came up with and just went for it." But as previous experience forewarned, obtaining planning permission wasn't straightforward.
"We had the usual objections from local residents, we also had a number of meetings with objectors who had enlisted some local politicians, and with the planners. But as we had been very careful to abide by planning policies, the meetings were straightforward and friendly. The planners (Downpatrick office) were open minded and flexible; we were going for contemporary vernacular elements, such as the fibre cement corrugate used on the roof and back of the house. We referenced their own planning policy documents which probably helped us get over the line," explains Leanne.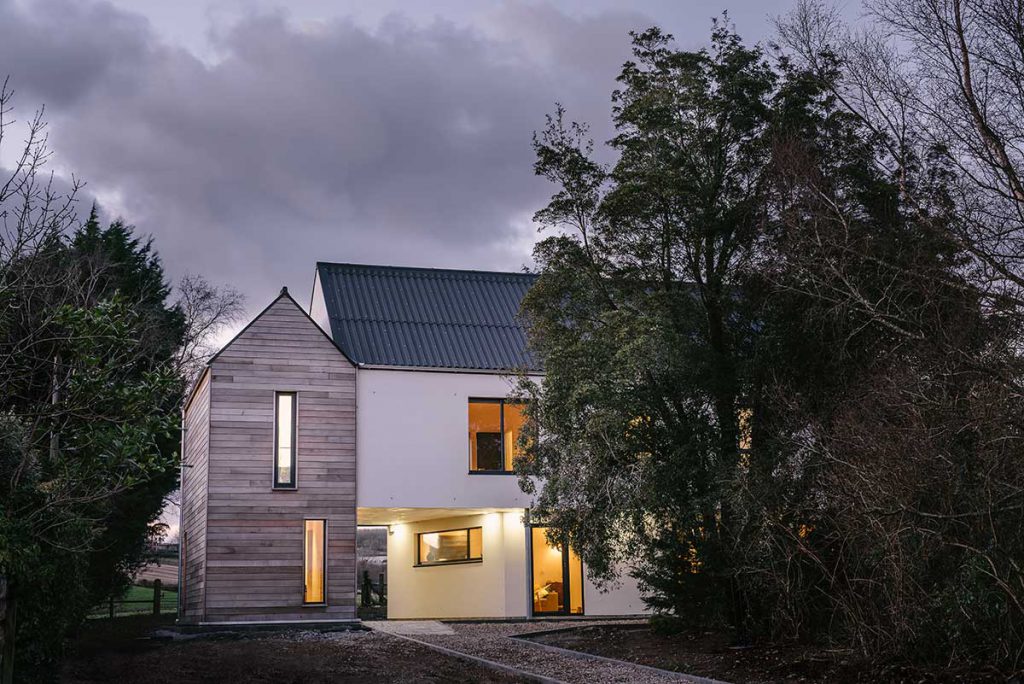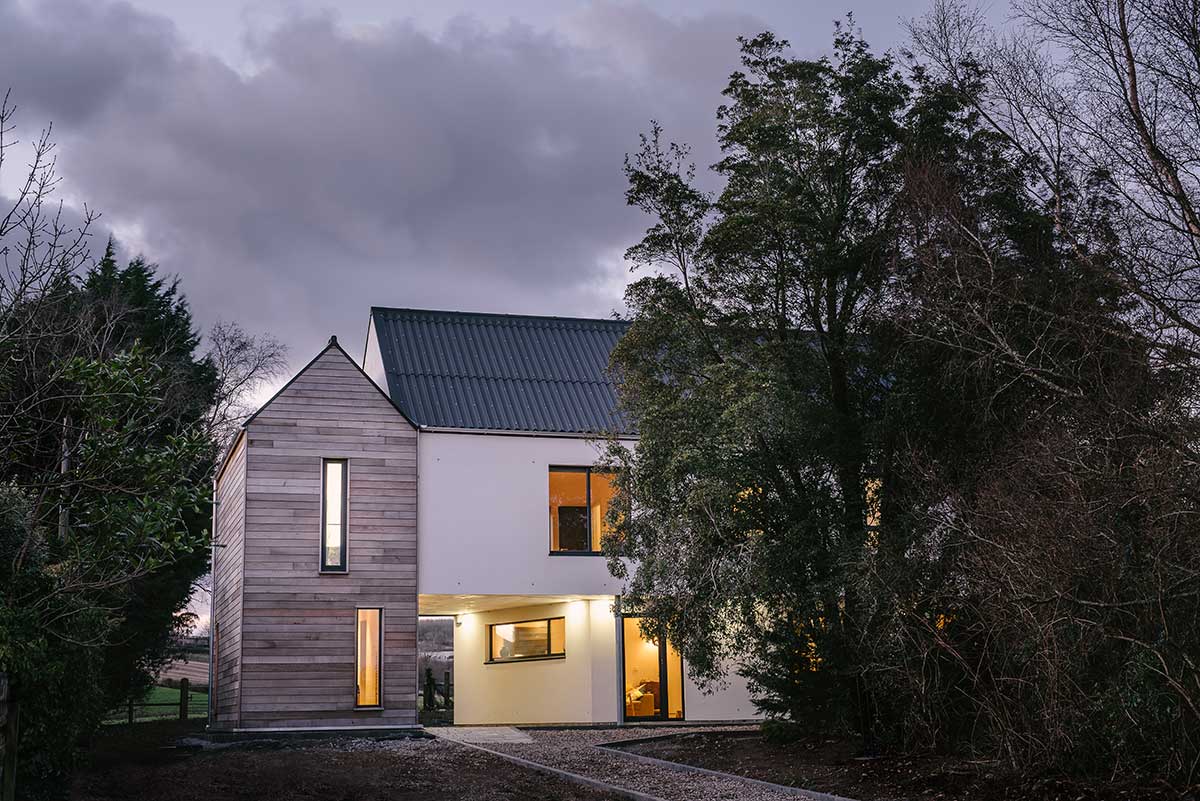 "Sensitivity to the existing landscape was key for us," adds John. "We built the house in the middle of existing mature trees and planting, so it looks at home in the plot, almost hidden in parts from the road. Even though we had initially wanted to keep to a modern style at the front of the house as well, we decided to use conventional render instead to better fit with the neighbouring houses."
The design stage took a couple of months; the couple then lodged their planning application in October 2013 and got permission in June of the following year. "We poured the foundations in February 2015, the delay was due to selling our previous home and getting the mortgage in order," says Leanne.
'We have always loved Jono's taste in pretty much everything…so we simply gave him a simple descriptive brief of how we wanted the home to feel…'
Minimalist
"We wanted a minimalist, uncluttered feel to the house, but without coldness or hardness. So our choices were led by a desire for simple, natural materials. We love exposed concrete but with children we opted for engineered oak floors in the living areas instead. Concrete was also quite an expensive option and difficult to do," continues Leanne. "What we did instead is clad the wall in the open plan area with concrete tiles to make a feature of it. It's very tactile, while the texture and colour (neutral, but quite rough and organic) add an interesting contrast to the white walls everywhere else."
The downside to hard surfaces and very high ceilings is acoustics. "As we were working with a tight budget, at the time of building we could not get excited about putting a poured cement screed on the upstairs floor, so we skipped it. But it turns out that our kids are very noisy. We also plan to introduce more fabric to help with the sound insulation in the living areas," continues John.
"The issue is that it's not so easy, or cheap to make the floor less noisy or the rooms have less of an echo. That said there is excellent noise separation between inside and outside thanks to all the insulation and triple-glazing."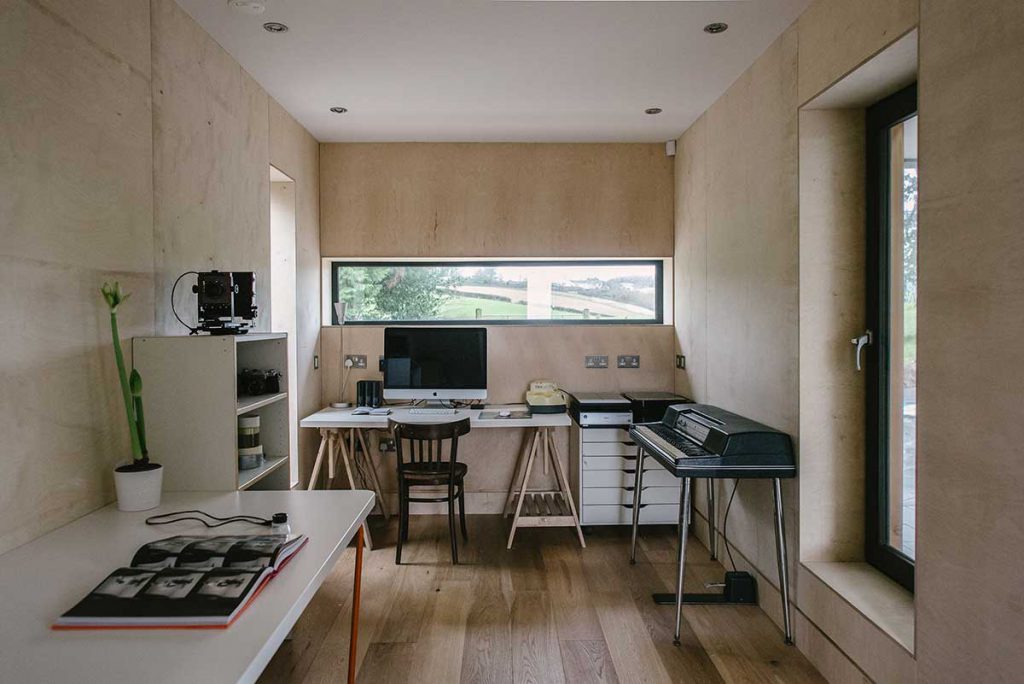 Timber is used throughout the house, keeping with the natural theme. "We have a lot of birch plywood – the walls of the hall, the walls of the office, the entrance from the hall into the kitchen. And there is a recurring motif of wall to ceiling plywood cupboards (in the hall, playroom, master bedroom…). We loved the organic and honest feel this brought into the house," adds Leanne.
"Most of the design choices for fixtures and fittings were led by a similar single principle: simplicity. Everything from the taps to the wall lights are as unfussy as possible, with simple lines and block colours." "We have softened the minimalist feel of the house in a number of ways: carpet upstairs, plants and soft furnishings. And books everywhere you look. But mostly through just living a busy life with two little kids. The clean white walls are usually peppered with children's paintings of robots and rabbits."
Storage was another key aspect of this build. "We'd lived in houses with so little storage we put cubby holes everywhere we could. We're not very tidy by nature, in the playroom it's especially helpful to have a full height cupboard we can throw everything in and not look back."
Energy
"Most of the houses on our street have been heated by oil but we wanted to do something more sustainable and future-proof so we have an air source heat pump which generates heating and hot water," says Leanne. "Along with this goes a heat recovery ventilation system. We also have a wood burning stove (with a pipe exposed throughout the lower and upper floors of the house for heat gain) which we light in winter for a little extra heat."
Photos during the build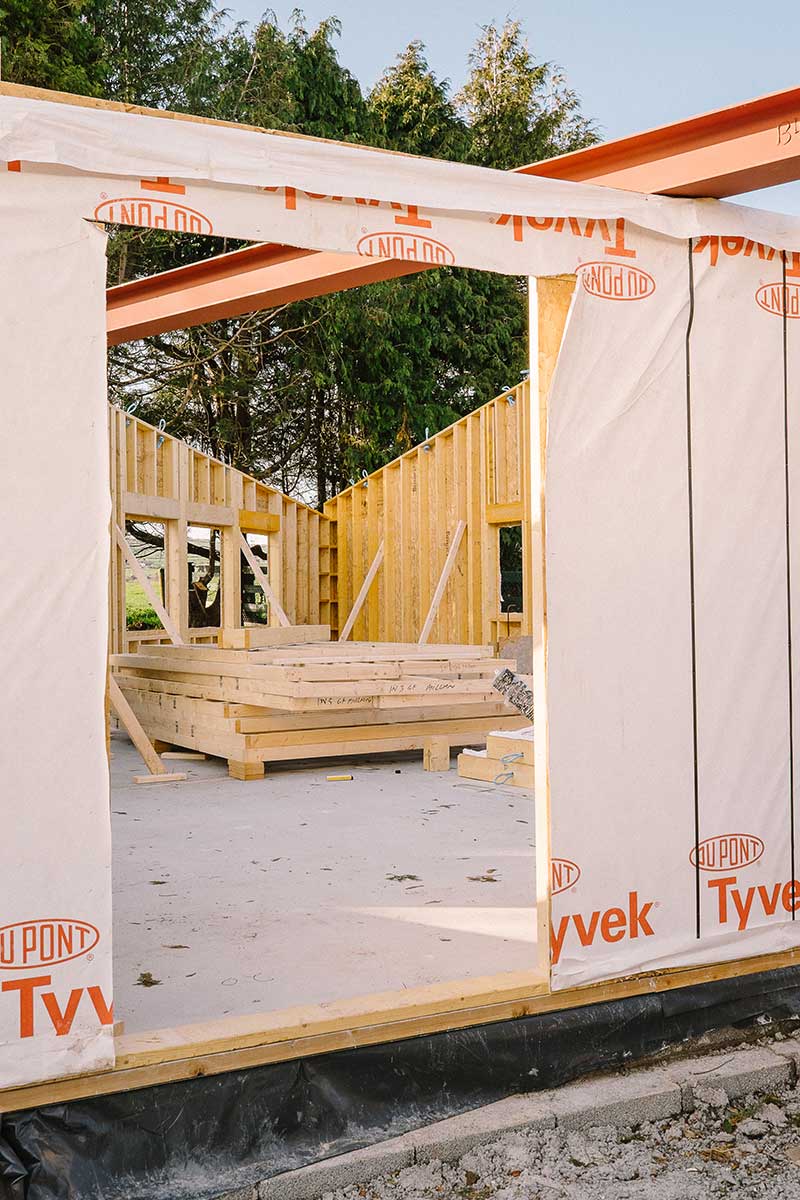 But heating a home with a heat pump is very different to a traditional boiler set-up. "We used to turn it on and off like you would a boiler but heat pumps with underfloor heating work best when kept on all the time, at a steady low temperature. It's a question of shifting our mindset. We also had the hot water set at a higher temperature than necessary so we're working on the fine tuning.
There was also a question of the speed at which the water would reach each room," says John. "Even though we weren't being very efficient about it, we still halved our energy bills as compared to our previous house, which was a semi-d with a gas boiler," comments Leanne.
'We bought a lot off the internet, we knew exactly what we wanted so we'd place bulk orders. Our guiding principle was to go for the plainest finish…'
"To become more self-sufficient we're toying with the idea of adding solar panels to generate electricity in five years' time – the technology is fast evolving and we'd like to become as self sufficient as possible. We factored this at the early stages so we can easily make a connection in the attic when we want to."
"We actually did have a problem with the heat pump," says John. "The engineer came out and did all his tests, scratching his head. All the readings were normal. He went to the electricity board and, lo and behold, what did he find but the remains of a fried slug. It took us a week to figure out what the problem was. A high-tech system scuppered by a humble garden slug."
Ninja builders
"Our builders were amazing; it was a fixed price contract and the timber frame panels were made off-site in their workshop. They were very precise and delivered ahead of schedule, despite the need to figure out how to build some of the tricky junctions," says Leanne.
"There were a lot of bespoke solutions, for instance we wanted a clean connection where the fibre cement corrugated panels met so we got a specialised company to come out to put in a bracket. It's the same stuff that's used for gutters so the company ended up putting up gutters on the entire house. We hadn't asked for this so it had to be taken down, which wasn't an issue but it goes to show that you have to keep an eye on progress quite closely to make sure your vision is executed."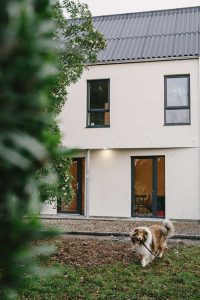 Their builders were sympathetic to their novel approaches. "By the middle of the build, when we got to the finishes, they wouldn't do anything without asking us first. They were very patient, they're natural problem solvers so we worked well together. They were also interested in helping us source new materials."
The build took place over the summer months, the busiest season for their photography practice. "We bought a lot off the internet, we knew exactly what we wanted so we'd place bulk orders. Our guiding principle was to go for the plainest finish so it was actually quite straightforward to choose fixtures and fittings." Things got trickier when they had to integrate these ideas into the build. "There were very few things we could buy off the shelf, like skirting boards which we didn't want, so we devised our own hacks and had to fabricate some bits. A lot of thought went into back of the envelope sketches."
"We did have an incredible amount of work to do during the build, making design decisions and coordinating our small parts towards the end. And all of this in addition to running our own business and raising small children. I'm not sure we could have retained our sanity, if we had become involved in an even more hands-on way," muses Leanne. "We couldn't be on site more than every two or three days, we were heavily reliant on our architect and builders to deliver the project, and that they did. In spades."
Connected
Building a studio for their photograph business was an important aspect of this project. "I've been self-employed for longer than I can remember and worked from all sorts of places, from my bedroom to an office in town," says John. "A split level design was the ideal solution, we have the business end of things on the ground floor and upstairs is the creative studio, which has a connecting door to the bedroom."
There's a door to allow clients to enter the office without having to go through the house; the area is covered so it's easy to walk from the immediate outdoor area studio to the back door of the main house. "The more physical separation between work and family life the better, and this layout really works. We'd originally intended to build a pod in the garden for the office but it's much more practical to be connected to the house, one reason is making tea. It was cheaper too."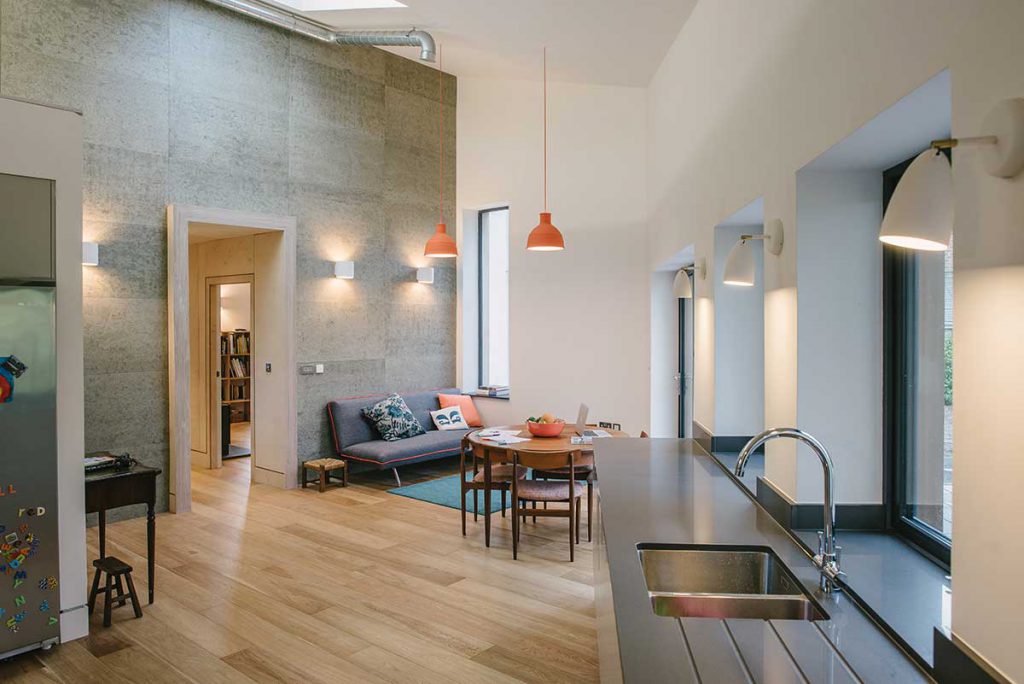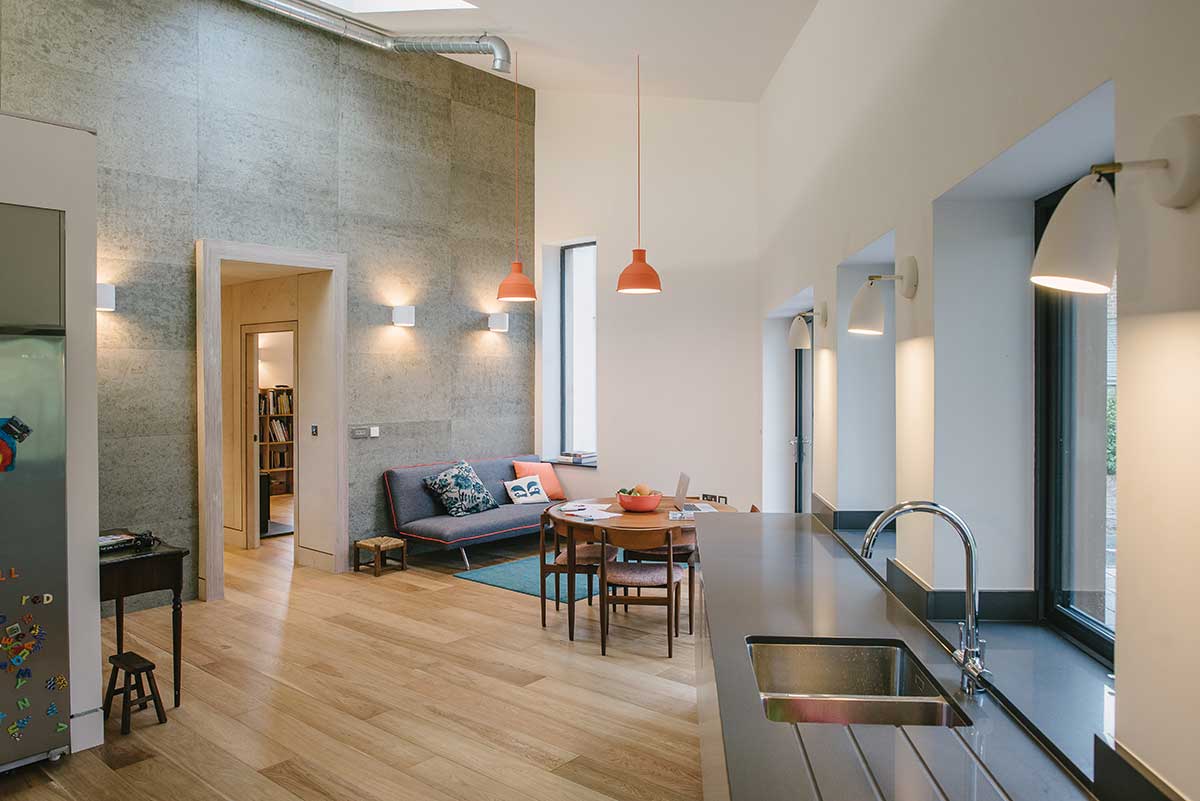 For the garden, John and Leanne were inspired by naturalistic planting designs. "We are huge fans of the Dutch garden designer Piet Oudolf. We didn't have the budget left to get the landscaping done professionally, so I turned the office into a greenhouse and grew nearly everything from seed myself. It was a huge task and not everything survived but in just one season we have managed to plant up nearly all of the gardens, which are pretty big. Think alliums and echinacea emerging from feathery and ornamental grasses. It looks good in all seasons, with bright colours in summer and interesting, structural seed-heads and grass colours in winter," says Leanne.
"There were a lot of mature trees already on the site, so our number one priority was to keep as many as we could. We only removed what we had to for visibility splays and to make room for the building's footprint. The location of the house in the plot was somewhat dictated by a large Eucryphia tree which we wanted to keep." "This tree especially adds a lot of privacy and conceals much of the house from the road. There are many more mature trees in the gardens, for example mature cherry, eucalyptus conifer and birch. Any felled trees were retained for firewood to be used in the wood burning stove."
"The position of the windows and light throughout the house gives a real sense of inside/outside living, heightened by the planting," adds Leanne. "We're surrounded by green and it's good for the soul."

What's your favourite feature? One of our favourite things in the house is the bi-fold door in the kitchen, which is often flung open, and gives us a real feeling of space and outside living, even in the Northern Irish drizzle. We spend so much more time outside now. And inside, the comfort and happiness of our new home has transformed the way we live, cook, eat and even how we hang out with the kids.
What surprised you? That we couldn't get a mortgage on a timber frame house that was finished with timber cladding – the banks insisted we have blockwork finished with a render on the exterior of the house. We were able to secure a very small loan from an ecological building society but it wasn't enough to build the house so we had to add the blockwork to get the mortgage, even though it's not necessary from a structural point of view. We got away with the cedar cladding on what was considered to be the extension, but the main part of the house had to be block.
What would you do differently? We never really had any of those Grand Designs moments, where the bespoke windows arrive from far away and don't fit. So any problems we've had were very small scale. One thing we would do differently if we ever built again would be to give more thought to where all the extra wall and ceiling vents, dials, smoke alarms and thermostats should go. We had charts for all the usual electricity points, lighting and light controls. But we hadn't realised with the extra technology (mechanised ventilation, underfloor heating, etc.), comes so many wall mounted controls. Without prior planning for this, installers will arrive on site and have no choice but to put things where it seems logical at the time but not always in accordance with the overall design.
Would you do it again? At the time we had just had a new baby and we were in our busy season for work so we had to be quite hands off. That said, if I were to do it again, I think I'd go with the exact same set up, it made our lives so much easier.
What advice would you give to a budding selfbuilder? In addition to the need for a robust design and build team, make sure you have a contingency. Our big headache was an expensive electricity pole. We had to solve a few issues with visibility splays at the site entrance which involved moving the pole one metre back from the road. The work by NI Electricity to move the pole and, consequently, to replace a few ageing poles up and down the street cost us nearly £10,000.
Top tips? Leave it to the professionals: We didn't have the time or skills to project manage the build. For us, trusting our architect and our builder was the key to an enjoyable and actually pretty trouble-free build. As photographers, we always do our best creative work when the client trusts us and gives us a certain amount of freedom to push the boundaries so we gave that same freedom to the team working on our house.
…But keep an eye on things too: We'd also recommend making regular site visits, especially each time something important is being installed. We worked with the builder to find different and creative solutions to a variety of problems that cropped up during installations. For example we  added a couple of extra rooflights at a late stage which was easily accommodated by the builders. And as we went for a very minimalist finish we had to find ways to create shadow gaps (no skirting boards) without it costing a fortune.
Suppliers
 
Architect: Jono Johnston at W M Given, Coleraine, tel. 7035 1111, wmgivenarchitects.co.uk
Builder: Setanta Construction, Castledawson, tel. 7946 5333, setantaconstruction.com
Fibre cement external sheeting: Rilco, rilco.ie
Kitchen & plywood cupboards: Johanna Montgomery Designs, Ballymena, tel. 2175 8400, johannamontgomerydesigns.co.uk
Concrete Wall Tiles: Concreate, concreate.net
Windows and Doors: Swish Windows, Cookstown, tel. 86766147, swishwindows.net
Light fittings & other features: wearemaven.co.uk, paperrooms.co.uk, made.com
Photography: Tim Millen This Modern Love thismodernlove.co.uk
Specification
Roofs: corrugated fibre cement roof finish on timber battens and counter battens, breather membrane, 80mm PIR insulation on 200mm roofing joists with PIR insulation in between, on vapour barrier on service void and 12.5mm plasterboard finish. U-value: 0.12 W/sqmK.
Walls: corrugated fibre cement cladding on timber horizontal battens on breather membrane on 9mm OSB on 140mm timber studs with PIR in between on vapour barrier on 60mm PIR insulation on 50mm service void on 12.5mm plasterboard. Cedar clad finish on timber battens and counter battens with continuous air space, rest of build up same as for corrugated fibre cement. U-value: 0.13 W/sqmK.
Floor: Hardcore, 100mm concrete slab, 200mm insulation, 100mm screed with underfloor heating. U-value: 0.1 W/sqmK.
Windows: triple glazed, overall U-value 0.8 W/ sqmK.