Caroline and Robin Harris explain how they went about their family home renovation in Co Antrim, from finding the right house to planning the project.
In this article we cover:
House hunting process
Saving time by applying for planning permission before owning the property
Financing the build and budgeting tips
Playing with interior design layouts
How they used their experience building their home to renovate
Choice of striking external finishes
Finding a builder and what it was like day to day
Biggest splurge and where they saved the most
House cost, renovation cost and value
Specification and floor plans
Supplier list and professional photographs
"I met my husband in London," says Caroline. "We looked at buying there but all we could afford was a studio above a chip shop. We eventually decided to move back to my home town in 2012 to settle down, and we self-built our own home."
"It was a four bedroom cottage style house, with a stone facing. We stayed in the house for four years, had our little girl there. It had a beautiful view of the lake but we realised after having children that we needed more storage – and a playroom – which hadn't been factored in when we had designed the house."
"What we had was an open plan area which was perfect for a couple but harder to keep tidy with children. Then there was all of the travelling we had to do, to ballet lessons, the cinema, drama classes. Not to mention school which was 40 minutes away."
"Although we loved country living, we knew we couldn't keep that up for 20 years. So we started house hunting, drawing a circle around the school, and looked for houses within walking distance – looking for the cheapest house in the best location."
"When we first saw this house, I thought there was nothing we could do with it," adds Caroline. "But I just love interiors, and have fun working out how to enhance floor plans. So I played around and moved walls on the tablet, stuck extra rooms on."
House size before: 115sqm House size after: 220 sqm
Bedrooms: 4 House cost: £219,000
Total renovation cost: £140,000 includes building work,
fixtures, kitchen, bathroom, interior finishes
Valuation pre pandemic: £450,000
Construction method (extension): blockwork (cavity wall)
Heating: mains gas boiler / Ventilation: natural
"That's when I realised the house actually had a lot of potential. The footprint was big and the house was both wide and detached. It had a south facing garden, albeit on a slope. And at £219,500 it was the cheapest property by far in the area."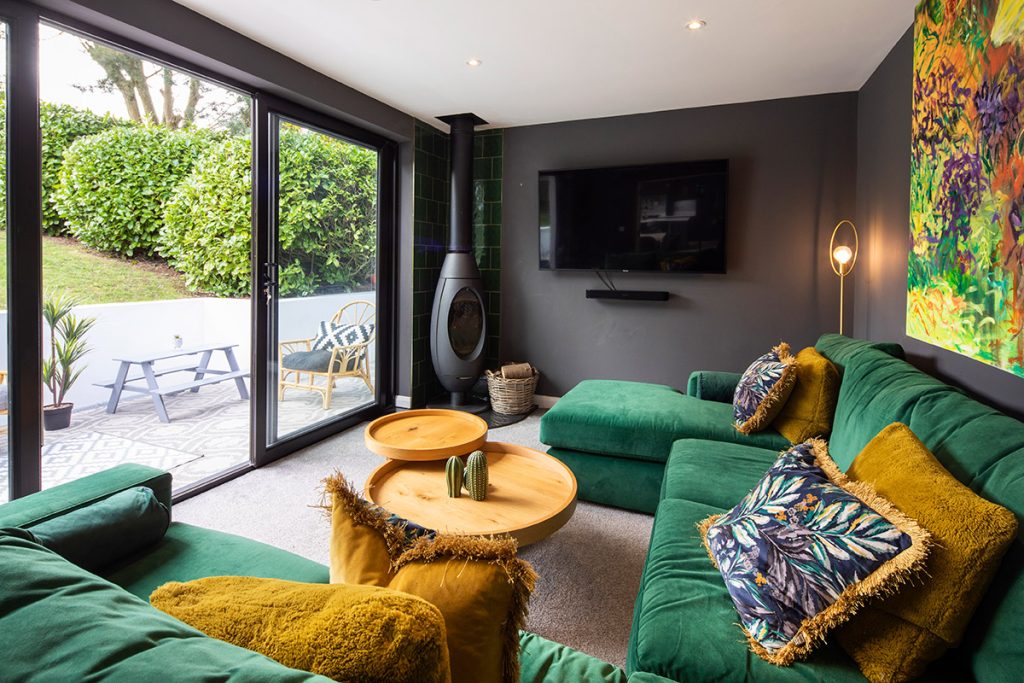 Early start
"At this point we put our house on the market, to release equity, and it sold within 10 days," says Caroline. "We had an open viewing and 75 people showed up in the space of two hours. The process was smooth so the sale was completed quickly and we moved into a rental. We rented around the corner of the house we were about to buy, so we could walk to the building site when the time came to do the work."
"A friend of mine renovated a house in the area and she had used David as her builder. When we met, I was impressed with how he had modernised properties – that's a skill in itself. He then recommended the architectural designer, and we went ahead with him and put together our planning application."
"Ever since it was built in the 1960s, the property had been lived in by the same person. She was in a nursing home, and the family gave us their approval to apply for planning permission before we completed the sale."
"I didn't know you could apply for planning before owning the property, and doing that saved us six months as we were able to organise the planning permission, get the construction drawings finalised and building control drawings approved, all in quick succession."
"We knew what to expect thanks to our experience building our first home, and this time it was easier because we had something to work with. Very little work had been done to the house since it had been built, so we had to rewire it and we decided to convert to mains gas from oil."
"The house reconfiguration included three small extensions – one for the new kitchen/dining space, one for the utility, and the other for the snug. We reorganised the floor plan, even relocating external doors for ease of use. We also knew from the start that we wanted the exterior to be transformed," adds Caroline.
"We went with cedar and a white render with black windows. I've always loved cedar and chalet style homes, but it's easy to get wrong. So we did quite a bit of research and found the specific colour and contour we wanted, lapping horizontally."
"Various people working on the project tried to rein me in saying the house would stick out like a sore thumb, but it's like a buying a new car. What's the point of buying the same make and model, why not show people you've done work on the house?"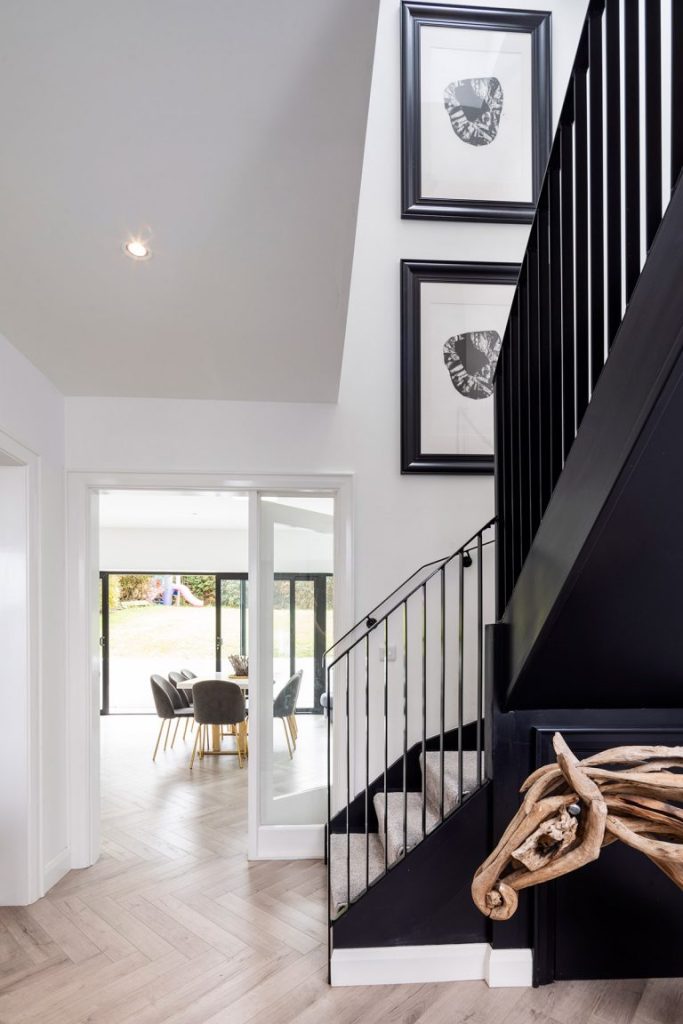 Longevity
"The main aim was to maximise the space and how it would cater to our needs for 20 years," says Caroline. "The bungalow originally had three bedrooms but they were small. We lost a wall and merged two bedrooms to make a larger one and with the extensions and roof space managed to get four bedrooms out of the footprint, one of which is a small guest bedroom."
"We could see how to extend the house easily enough, but harder to imagine was the attic conversion because of the ridge height. There was a huge loft space that you climbed up to with a ladder. But we made it work by adding a rooflight and strengthening the floor."
"The children are six and two and a half now but we were imagining them as teenagers – what will they need? I still remember fights with my siblings over the bathroom every morning so I realised if I could get ensuites for them, that would be key."
"When we were house hunting, we didn't see any property with four bedrooms and three ensuites, which is what we managed to do here. Wardrobe space was also important. In the new build we had no built-in wardrobes and we actually missed that."
"The irony is, we were supposed to get the downstairs bedroom, which is the biggest, but our youngest is in there now. We're using his ensuite for storage at the moment. It's a house that will adapt to our needs as we go on."
"In the end, we secured planning permission within six weeks. I think the planners know that with two very good schools nearby, if they want the area to maintain families, they need to be open to renovations that are moving them into this century."
"The benefit of applying early meant the day we got the keys, the builders arrived. The build itself took six months – we did loads of forward planning, everything was organised in advance down to the colour of the carpets."
"I took charge of the project, in large part because I enjoy it but also having one person making decisions quickly keeps the building site ticking over," says Caroline. "I'm very decisive, I either love or hate things which makes it easy for me to make choices. Managing a project like this probably isn't for everyone. The reality is very different to property programmes; it's a lot of work so you need to have time, and the love of doing it to keep your energy levels up."
"Robin used to work for an interior design company and we have very similar tastes. He trusts my judgment so there were no arguments. He was interested, supportive and a great source of ideas and inspiration."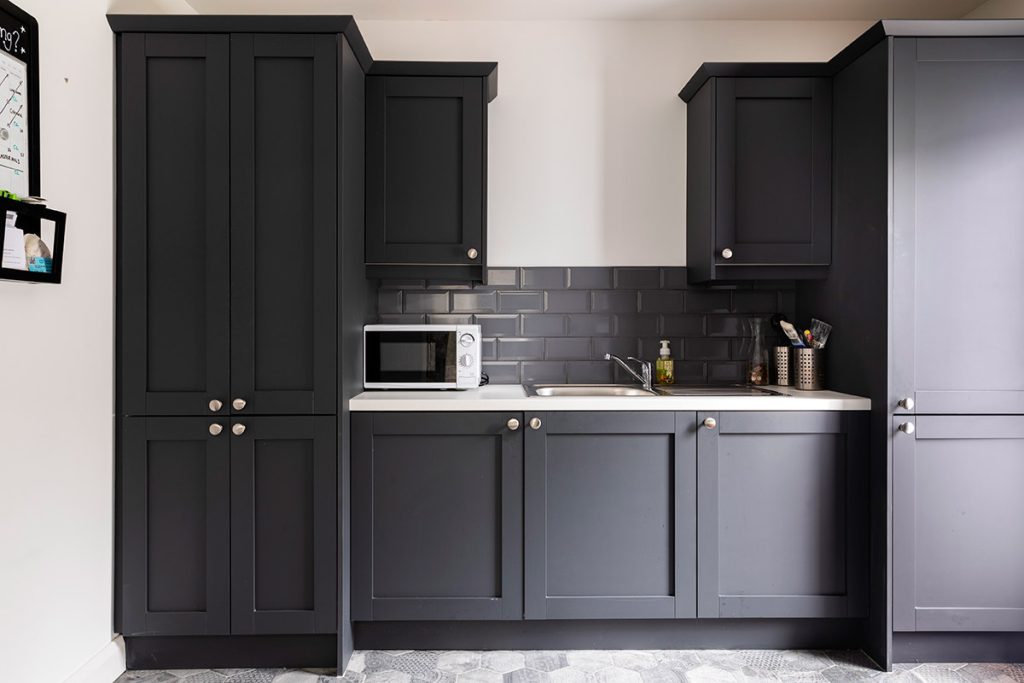 New build vs reno
"With a new build, the world is your oyster," says Caroline. "A renovation project limits what you can do, and in some ways that makes it easier because so many decisions are taken out of your hands."
"Metting with the architectural designer was a lot quicker with the renovation than our experience with the new build; I think we probably met three or four times. A big departure from the 20 odd consultations we had to finalise the plans for our new build."
"In this instance we also had the added pressure of our six month rental contract."
"We put the plan in place and the builder stuck to it. We were lucky in that the contractor sourced a lot of what we wanted. I would snap pictures and, for the most part, he could find what I was looking for."
"The contractor we had hired for the new build left more of the sourcing to us, and we had to explain everything we wanted to him. It's one thing having the vision, it's another sourcing the stuff. If you can't get it, you have to reimagine your concept."
"Because we were happy with our builder's work, I didn't get other prices for the supplies. In terms of cost he wasn't the cheapest but wasn't the most expensive either. I suppose the main thing is that we trusted him, so we had a flexible arrangement, it was a give and take. He stuck to our budget as agreed and we made up our minds quickly."
"Robin took charge of keeping track of the costs on a spreadsheet. We overspent on the front of the house, with the cedar cladding, and on some structural aspects, such as adding the bay window and steel beam in the front room. We gained an extra 1.5m which doesn't seem like much but it transformed the space, which is long and narrow."
"On the flip side, we saved on the stairs by quite a bit."
"We're very pleased that we finished the house before we moved in," says Caroline. "Our last house there was still a lot of stuff left to be done when we sold it. The reality is, unless you have a push to do it you won't get the little bits done. The only problem now is that I'm itching to start a new project."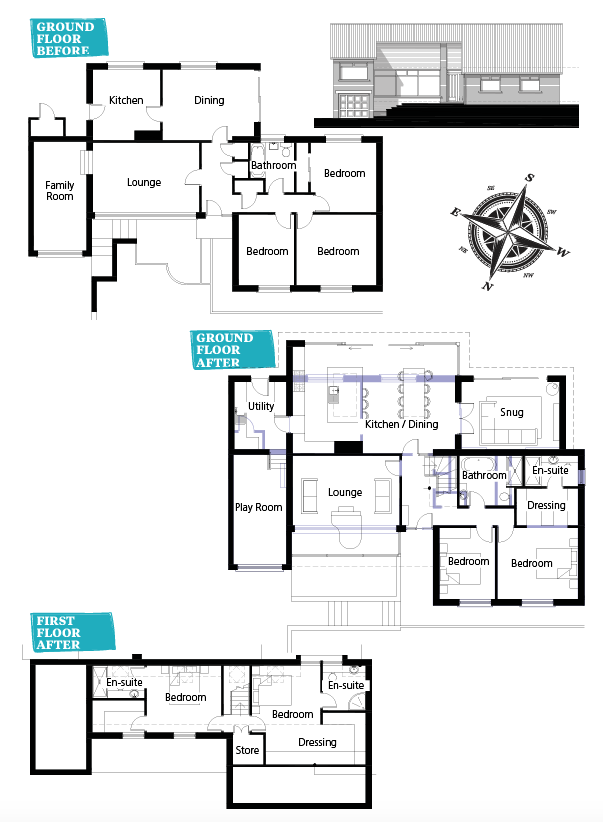 Q&A with Caroline and Robin
What would you change?
Hardly anything. I might move the island half a meter forward, it's a wee bit tight when two of us are working in that space. It was done to give more room on the other side, but it would be of more use on the cooking side. Also, our hidden doors open out into the kitchen when they should open in – a friend of ours has her secret doors open that way and it works better. We will probably change the hinges at some point.

Would you do it again?
If I won the lotto, I would keep this house and rent it, and do the same thing in the same area just for fun. I think we will eventually convert the loft space above the built-in garage. There's lots of potential there. It could be a retirement plan to convert it to a one-bed apartment for ourselves as our base to travel the world, and rent out the house.

What are your favourite rooms/design features?
The snug with wood burner. The open plan area is airy and a fabulous space to be in too.
Caroline and Robin's Tips
Apply for planning before you own the house, where possible. Planning is the key to success and we got a six month head start by applying for planning permission early.

Think about what you enjoy doing and put money in that. We probably spent the most amount of money on the smallest room – the snug/tv room. We love watching movies and lighting the fire in winter. It's a dark small cosy room, the wood burning fire was expensive as were the huge tv and sofa.

Notify the neighbours. From the start we were wary of the disruption the building work would cause. We were very mindful of the people around us so we dropped in a letter to everyone with our phone number telling them about what we were doing and asking them to contact us if any problem arose. When we finished the work, we had everyone over for coffee and mince pies, as it was so close to Christmas. We had everyone together, and I think they all wanted to see what we'd done, and some got ideas for their house. The lady who lived here passed away before Christmas and the funeral came around; her granddaughter visited and showed us pictures of her granny in what was now our garden. The best part was getting their support, their legacy has lived on.
Spec
Walls: Outer leaf of 100mm dense concrete block, 100mm cavity insulated with EPS beads and inner leaf of dense concrete block with minimum strength. U-value 0.28W/sqmK
Roof: Flat roof GRP roof covering on 150mm phenolic board on 18mm plywood on vapour control layer. Pitched roof at ceiling level 75mm between and 50mm under phenolic board insulation to sloping ceilings with 50mm clear air gap to provide roof ventilation. U-value 0.19W/sqmK.
Floor: 100mm deep sand / cement screed, laid over 125mm phenolic board insulation, laid on top of 150mm deep poured concrete floor slab, poured over DPM, on top of 25mm deep sand blinding, on well consolidated hardcore to make up levels. U-value 0.12W/sqmK.
Windows and doors: uPVC argon filled triple glazed units, low-e coating, U-values 0.9 to 1 W/sqmK.
Suppliers
Architectural Designer
Colin McAuley MRTPI of Colin McAuley Planning & Design, colin@colinmcauleyplanning.com
Contractor
David Cox of Cox Contracts Ltd, djcox1975@hotmail.co.uk
Kitchen
Make Kitchens, makekitchens.com
Painter/Decorator
Adrien Dixon
Stove
Micon Distribution, micon-dist.com
Insulation
Kingspan Ecobead for walls, Kingspan Kooltherm K103 for floor, Kingspan Thermaroof TR26 LPC/FM for flat roof, Kingspan Thermapitch for pitched roof
GRP roof covering
Polyroof 185 System
DPM
Visqueen PIFA 300
Photography
Paul Lindsay Photo, paulindsayphoto.co.uk