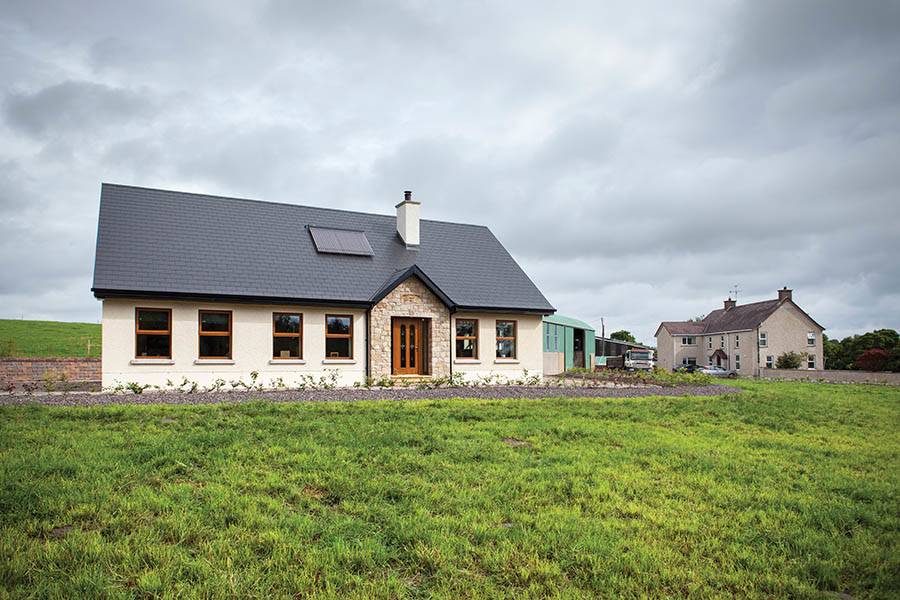 Violet Crosbie of Co Tyrone has lived and worked on the family farm her entire married life. And with two of her children marrying into construction, it's little wonder that the new home that was built for her, a stone's throw from the original cold and draughty farmhouse, is a true twenty first century build. The change couldn't be more dramatic, from energy hungry to one that's a certified passive house as well as zero carbon. Even better, she was able to take advantage of a special Government energy saving initiative which means she doesn't have to pay rates for five years, the equivalent of £5,000. All in all it's a great way to begin retirement!
[powerkit_collapsibles]
[powerkit_collapsible title="COSTS" opened="true"]
House size: 186 m2
Site size: approx 1,000 m2
Build cost: £135,000 completed to turn key finish (estimated 10%-15% more expensive than if built to current building regulations standard; savings in energy usage estimated at £3,500 per year achieved through no oil requirement, based on average usage of 1,000 gallons per year, and reduced electricity costs, based on an average bill of £85/month). The photovoltaic (PV) panels cost £16,000 less a 20% grant of £3,200 and generate an income of at least £1,200 a year.
[/powerkit_collapsible]
[powerkit_collapsible title="BUILD SPEC"]
Construction type: timber frame
Insulation type: Walls fibreglass 350mm, roof fibreglass 650mm and floor polyurethane 175mm.
U-values: walls 0.13 W/m2K, floors 0.13 W/m2K, roof 0.08 W/m2K windows 0.8 W/m2K, doors 0.64 W/m2K
Windows: uPVC, triple glazed, argon filled, reflective coating with a G-value of 0.55.
[/powerkit_collapsible]
[/powerkit_collapsibles]
The impetus for this ultra modern house came from Violet's son-in-law, "He was put in charge of the build and as the project progressed, became increasingly interested in creating a very low energy house," she says. "Willie has been great, he's studied so much, all of this was new to him when he started. His enthusiasm was contagious, we were all learning from him. I really can't praise him enough."
Willie's role included everything from design through to choice of materials. Searching for a design that would be easy to heat and run, he learned of a course on becoming a Passive house designer or consultant, which he attended. Armed with this knowledge he was ideally suited to building the house and, as Violet was open to new ideas and ways of doing things, she fully embraced the energy efficient measures suggested to her. "The house performs much better than we had ever hoped for," she says. "It has proven to be financially viable and I would recommend to anyone considering a new build to spend that little bit more to ensure a lifetime of savings, not to mention a healthier and more comfortable environment in which to live."
Polar opposites on the family farm
"I'm a widow and lived my married life in the farmhouse," says Violet. "My son thought of building on the farm but it would have been very difficult to gain planning permission, so I decided to move and build my own home to retire to so he could live in the farmhouse. I left him there renovating it!"
---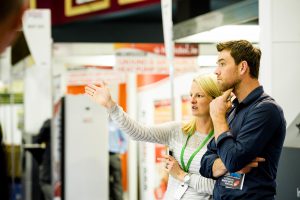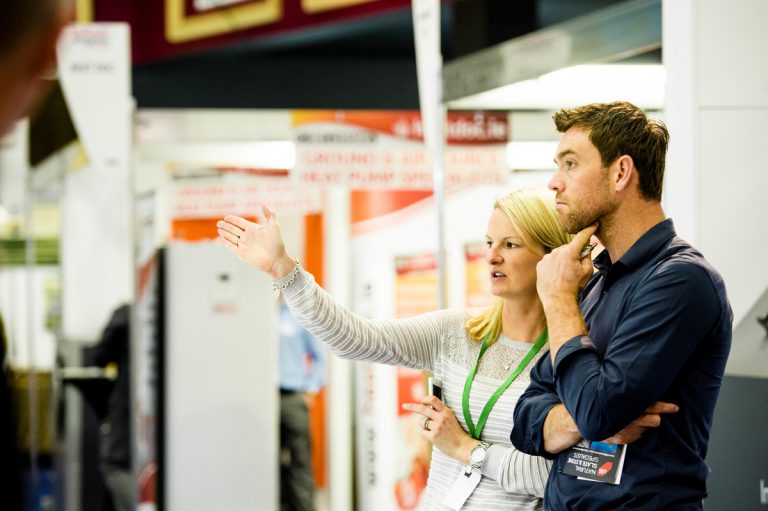 Selfbuild Live Dublin is the ultimate showcase for people who are building, extending, improving or simply decorating their home. Selfbuild Live Dublin, 13th-15th September takes place in the Citywest Convention Centre, Dublin.

---
The architect was given sketch plans of what Violet and her son-in-law had discussed, including the need for a garage. On that basis he put together the planning drawings. "We wanted a very plain bungalow that was easy to run and maintain," she says. "Even though we're on a greenfield site the house got planning very quickly, and there was no come back with conditions."
Originally, the home was to be standard block work construction. "The option of timber frame came up when my son-in-law decided to go with better insulation. I gave him free reign to build it as he saw fit." As a result, there's almost three times more insulation put in than would normally be the case, and Willie chose fibreglass in the roof and walls because it's more economical than other forms of insulation, easy to install and there's no wastage.
The next step was to seal up any gaps between the insulation and then install a vapour barrier, } followed by triple glazing. When building a passive house attention to detail is supremely important, and it's an anxious time for everyone when the airtightness test takes place as it's only then that you know how well – or otherwise – you've done. Willie's construction passed with flying colours at 0.45 m3/hm2. With a highly sealed house like this it's important to have an efficient and effective mechanical ventilation system.
The timber frame is clad with a brick 'skin', an idea that Violet liked from the beginning, and the walls are as thick as you would get on a traditional farmhouse, but this time they retain heat rather than lose it! The thermal bridges were also given careful attention, that is, any piece of building material that could act as a conductor for heat to get out of the house and cold get in, e.g. metal, was replaced by a better insulant wherever possible.
Solar panels were installed for hot water, a wood-burning stove used as a top up and, ultimately, a photovoltaic panel was placed on a shed roof to supply the home with electricity, the last step to making the house zero carbon.
"The solar panels for electricity seem to be working, we get some electricity bills but not many." Violet's winter quarter electricity bill of £70 is what you would normally expect to spend in a month for a house of this size. Her spring quarter bill was £40 and in the brighter months the house generates more electricity than it can use, putting electricity back into the grid, which generates income.
No heating? No way!
For many, it's still very hard to believe that a house can work without any form of central heating, which is partly why Violet's home was originally plumbed to incorporate a backup boiler. "We had originally talked about an oil boiler as a backup, but as the build progressed, we felt the home didn't need it, so we decided to plumb for it and leave it for a year and see," explains Violet.
The boiler they would have needed required an output ten times less than the smallest one available! "I've been living here since December 2011 and we've never felt a need for it, the system is very successful with the wood-burning stove located at the heart of the house, in the open plan kitchen/living/dining area."
The heat recovery ventilation also helps, but most of all it keeps the place fresh. "I can leave the windows closed and not get flies in the house as you would on a farm," she adds.
That's not to say there aren't any radiators; there's actually a total of five. Two towel rails, one in each bathroom and three others used as heat dumps (when the water from the solar panels or the wood-burning stove gets too hot it goes to the radiators to balance the system).
The eco-credentials don't stop there as the wood used in the stove is sourced on the farm. "We have plenty here to keep me going for a good while!," she says, "and we use the same wood to heat the farmhouse." The solid fuel stove only burns one wheelbarrow of logs every two to three months in the summer, the same amount is burnt every three to four weeks in the winter, depending on the weather conditions.
In the face of so much gadgetry, Violet is most impressed by the solar panels. "They've been terrific this summer, I would recommend them to anyone," she says. "They really are excellent, the water from them is so warm they could supply the radiators!"
Upkeep
The home is also very easy to maintain, which was top of her wish list when they designed the house. "I decided on laminated floors throughout for easy upkeep and got the kitchen, hall and utility tiled. The shower areas are all panelled and the floors are vinyl which is turned up the wall. The bathrooms also have raised wcs and wash hand basins, which works better for easy cleaning," she says.
"I chose uPVC windows because they're low maintenance, which is great, there's nothing to do, they're easily cleaned and kept." And there's quite a few! Five are located in the kitchen/living room } area of the open plan and three are in her bedroom, all of which provide light and… passive solar gains of course! The house faces due south but doesn't overheat in the summer thanks to the wide soffits. The windows' good G-value means that the heat of the sun's rays is allowed in, yet the convection heat from within the house is prevented from going out.
Violet didn't want a garden to have to look after so she decided to put in gravel around the home, but with a nod to the rural area, has built a decorative retaining wall for the field and planted a beech hedge at the front around the driveway.
And as with all self-builds, the work never seems to end! "We put up Roman blinds in the living areas and roller blinds in the rest of the house, each matching the colour scheme of the room. We're now discussing curtains to finish it a bit more. I feel the windows need the warmth of a bit more fabric." Violet was fortunate to bring most of the furniture she needed with her, so that also helped with decoration.
Keep it in the family
Arguably the most important and successful aspect of the design in terms of living relates to Violet's grandchildren. "The house is very well located as they can run over to me without going out on road," she says. The second living area was also devised with them in mind, providing a light-filled play area.
Indeed, it's quite obvious that family is at the heart of this project – it was conceived by, and because of (or more accurately, thanks to) Violet's close ones. And it was built by her sons-in-law, a builder and an electrician. "All I need now is a plumber to marry into the family!" she jokes.
Perhaps what's most exciting is that this home is not only providing a wonderful retirement for Violet, it's already created so many memories. And it's only just been built.