How quantity surveyor James Corrigan built his Co Laois home on a budget.
In this article we cover:
Site and build costs
How they kept the build costs down
Biggest splurge
Finding a site through word of mouth
Designing the house around key features
Direct labour self-build: project management tips
Heating and ventilation choices
What they would do differently
Design tips on a budget
Full specification and supplier list
Floor plans and professional images
Overview
House size: 295sqm
Bedrooms: 4
Plot size: 1.3 acres
Site cost: €35,000
Build cost: Approx. €850/sqm or €250,000 total (not finished)
House value: €495,000
BER: A2
Heating system: air to water heat pump and wood burning stove
Ventilation: demand controlled, not centralised
Build method: Blockwork
James is a quantity surveyor with a good understanding of construction and a keen eye for financial
considerations. So when it came to building his own home, he saw the financial advantages of taking on the project himself. With a fair knowledge of construction and connections to trades and skilled labourers, he felt confident in his organisational abilities to manage a self-build.
"While I can see why a lot of people want to appoint a contractor to handle the hiring and organisation, I actually enjoyed taking on that responsibility," says James. "It was a personal achievement for me, although I must admit it was not without its challenges." The location of his new home held great importance to him. "I always dreamed of building a house in my home town, but finding the right site was not easy. Typically, you would have to approach a farmer and pay a hefty price for a suitable plot."
However, fate worked in his favour. "One day, I was casually chatting with my father about the possibility of finding a site, and within a week, a plot went up for sale in our town. The site belonged to a local pub owner who had decided to sell it. Thankfully, I knew the owner well so I contacted him directly and secured the site at an agreed price." James was only 25 when he bought the land.
When it came to the design of their new home, James and Jessica shared their preferences and considered various options. However, James believed that basing their design on an existing house they both liked and found functional would be the best approach.
"As luck would have it, we came across a house nearby that we both fell in love with. One day, while admiring it from the outside, we noticed the owner in the garden. I took the opportunity to strike up a conversation and explained our desire to get an idea of the house's plans to use as a basis for our own home."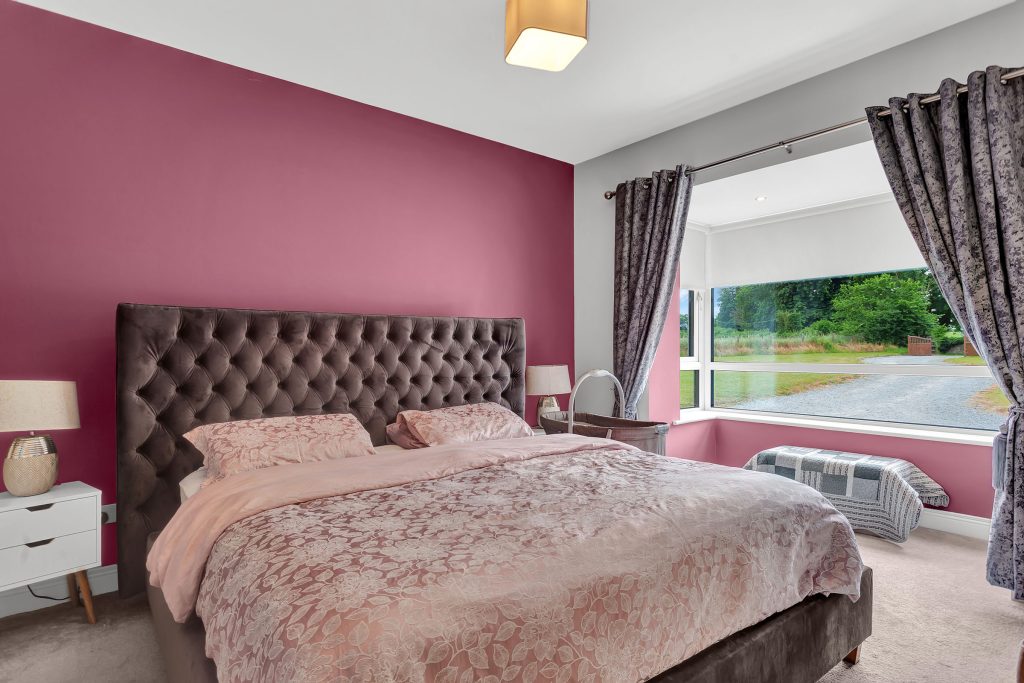 "The owner turned out to be a true gentleman and invited us to visit that evening and took us on a tour of his house. He generously provided us with the plans, which served as inspiration for our design. We didn't copy the house exactly, we made a few tweaks here and there to personalise it. Our architect then polished up the plans for us, bringing our vision to life."
James bought the original plot of land subject to planning permission. "A previous owner of the land had been refused permission because the site is located at a crossroads. Our entrance was carefully placed at the farthest point of the site, meeting the required distance of 100 meters from the crossroads. Planning took approximately two months to finalise."
Key features
"Certain design features were particularly important to me. I wanted the living area to be a spacious open space. As the heart of my childhood home was always the kitchen, I insisted on a large kitchen with a functional island where we could gather with friends and family to enjoy each other's company," says James.
"I preferred to have the majority of the bedrooms on the ground floor, with three downstairs and two upstairs. Having grown up in a bungalow, I didn't see the need for many rooms upstairs, so we built a dormer (although we haven't finished it yet), to allow for future use."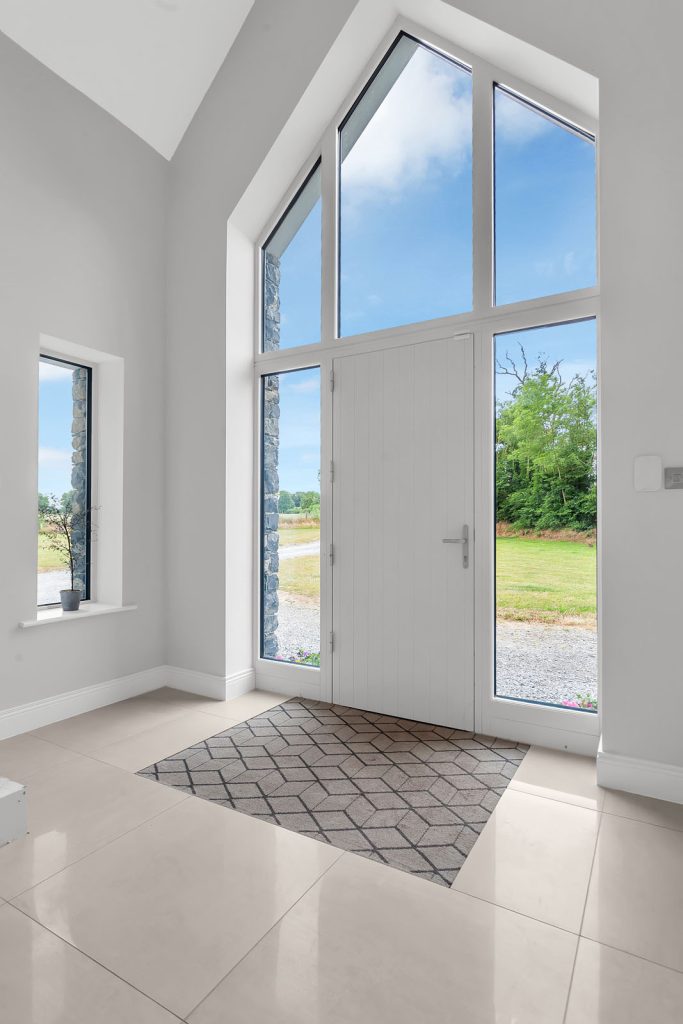 "A design consideration that stemmed from my mother's input concerned the entry into the rear of the house from the garden. She suggested having quick access to a toilet from the back door to prevent muddy shoes from tracking through the kitchen. We made a late design change to accommodate her suggestion, adding a door from the back kitchen directly into the wc, effectively giving the toilet two entry points."
The L-shaped living room area runs off the kitchen like a dog's leg. "We opted for a double sided wood burning stove in the living room to provide warmth and a cosy atmosphere during the colder months. A neighbour of mine had the same brand of stove, and I always remember being in his house and looking at it and thinking wow, it really captures your eye. We've got a couple of additional features such as a roller glass door which is really nice.
Trust earned
"When it came to block laying, I had a couple of people in mind, but ultimately I chose a local block layer. I knew he would deliver quality work, and his availability and efficiency were additional factors, even though speed wasn't a top priority. Trust was the most important aspect for me."
"The block layer actually recommended a roofer to us, as they had worked together before. While I did obtain three quotes for the roof, I decided to go with the recommended roofer based on their partnership and trusted relationship."
"Following our roofing contractor's advice, we also relied on his recommendations for the person to handle the fascias and soffits, who then pointed us to a tiler. The focus was on finding professionals who could work together seamlessly and coordinate the building process effectively."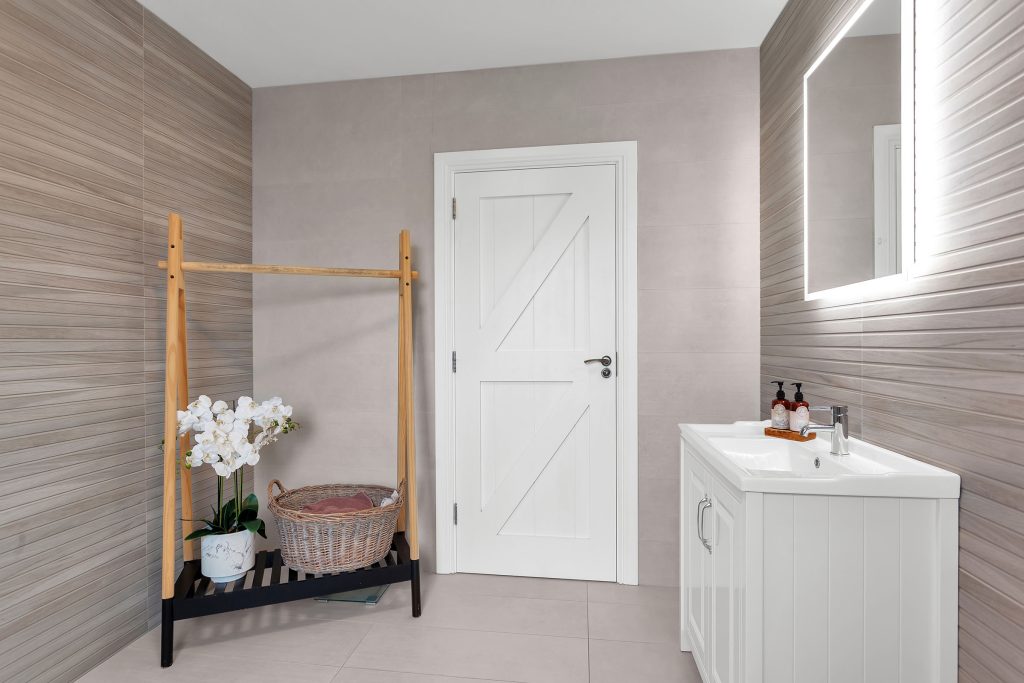 "I work for a mechanical contractor, so the heating and plumbing aspects were delivered by them, although we did bear the costs."
"Having my father as an electrician and having served my time in that field for a few months, we were able to lend a hand to our electrician. This not only saved us time but also reduced labour costs."
"Keeping things local was important to us. I knew the guys who were working on our house, and I knew they wouldn't try to pull the wool over our eyes."
But James quickly realised the speed at which one late decision can hold up someone with knock on effect between trades. "If your electrician isn't there on the day he promised, the next thing you know the cables aren't put into conduit in the walls and then your plaster can't start because of that," he says. "It's just the knock on effects by one trade not being here on time. That is something that you don't see until you're hands on, controlling the programme on site."
The ground floor is tiled throughout, with tiles also supplied by a local company.
Underfloor heating using an air to water heat pump serves as the primary heating source throughout the house. "I've always been interested in modern heating technology," says James. Growing up in our house, heat was supplied by a massive stove, fuelled by turf, timber or whatever my father could find. Although we were kept warm, I decided when I build my home that I wouldn't be going to the bog anymore."
"At the time we were planning the build in 2020, the heat pump was a relatively new technology that was being pushed out everywhere, and I was keen to install it."
"I also have plans to install solar panels on our shed roof which sits in the perfect position to pick up the majority of the day's sun. We have a duct in the ground wired back to the main electric board inside the house so sometime in the future I can wire the panels directly into it."
James and Jessica considered installing a mechanical heat recovery system but decided against it, instead opting for passive air vents to control humidity and promote air circulation. Energy efficiency and insulation in particular, was a priority. They also chose triple glazed uPVC windows to minimise heat loss and provide an acoustic barrier to a busy nearby road.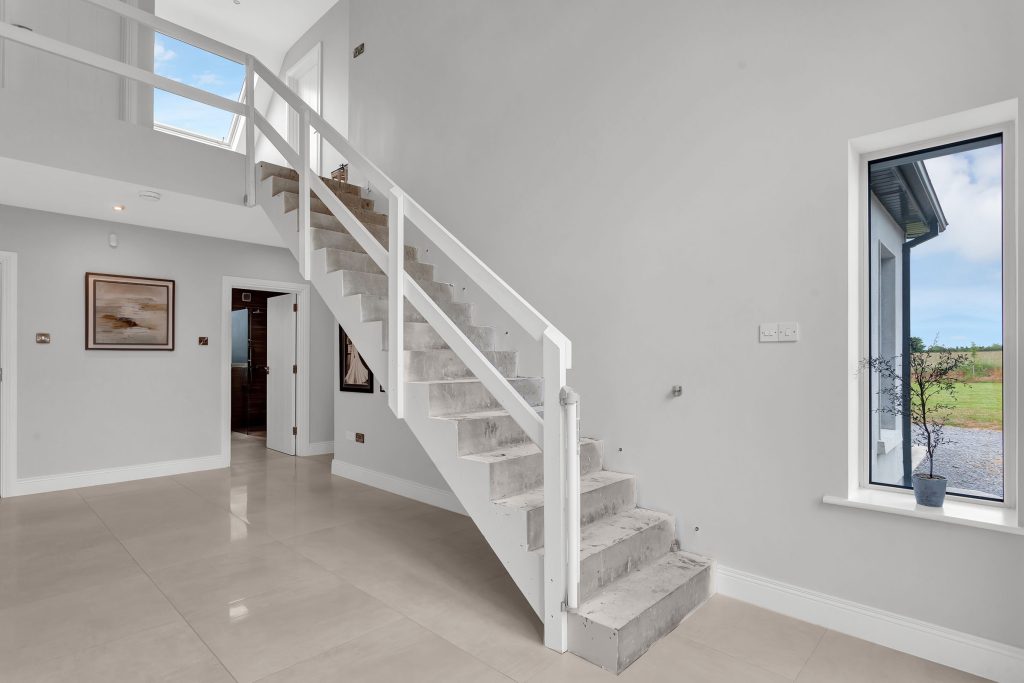 All well and good
When James bought the site, there was an existing well, albeit at a relatively shallow 18m deep. "Before I purchased the land my father and I dropped a pump into it and pumped it for nearly a day without a drop in the water level. When the water passed quality testing we were quite happy that it was a usable and functioning well."
Located close to a limestone quarry means the water is full of limescale, so water softening equipment had to be installed for safe usage. "When we were digging out the foundations the machines were pulling out limestone boulders the size of Nissan Micra cars! At one stage there was a concern that we
might need to put in a raft foundation, but luckily, this proved not to be the case in the end."
The couple opted for a modern country interior style encompassing lots of neutral colours and natural materials, such as the granite island, splashback and borders and timber shelving in the kitchen.
"We fell in love with the white floor tiles in the entrance hallway and kitchen. They were an expensive choice but worth it for us."
Lighting choices were handed over to the electrician. "At the time this wasn't a priority for us," admits James. "But if I was doing it again, I would go to a lighting consultant and work out a tailored lighting plan."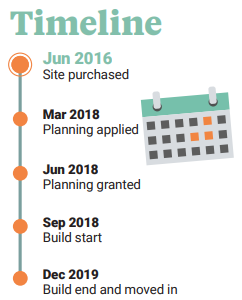 In terms of landscaping, their focus was on creating a space where their two young children and dogs could freely play. They prioritised spacious lawns over elaborate flower beds or intricate features. Privacy and aesthetics were addressed by planting hedges and trees. "Our driveway is finished, but we still need to lay the kerbstones," says James.
Throughout the entire process, the support and advice of their parents and friends proved invaluable. "Many of them had expertise in various aspects of construction and their input helped us make informed decisions," says James. "While I managed to strike a balance between being hands on and trusting the professionals, my knowledge of construction allowed me to negotiate and haggle on certain costs. I'm grateful for the assistance we received, as it made the project more manageable."
"Currently, our home is working well for us, although there are still some unfinished areas. It suits our lifestyle, but we will need to use the upstairs space once our children start growing."
Building their own home was a labour of love and a significant achievement for James and Jessica. "It allowed us to create a space that reflects our style and meets our needs. We are proud of the effort we put into the project and the end result."
"It's a place where we can build memories and enjoy the company of our loved ones. Despite the challenges and occasional setbacks, we wouldn't change a thing. Our home is a testament to our hard work, perseverance and the support we received along the way."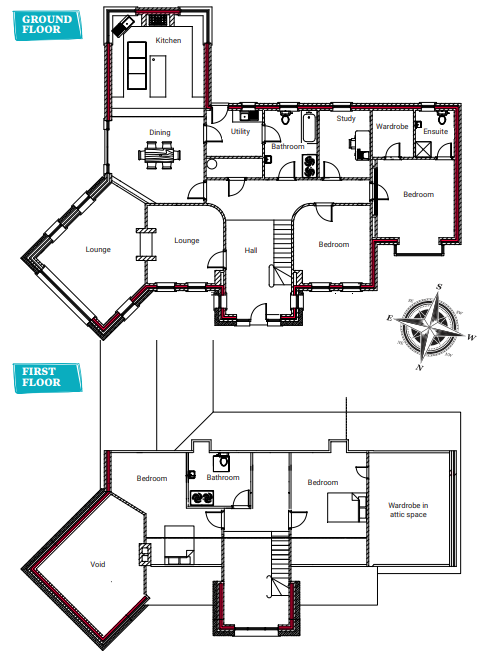 Q&A with James & Jessica
What was your biggest splurge?
The stove, it cost €12,000 (including installation). The kitchen was another expensive buy, but we were thinking of its long term use. When both our parents got their first homes they put in solid mahogany kitchens, which they still have today. So we're hoping we get the same lifespan from ours.

What would you change or do differently?
Our bedroom walk-in wardrobe is quite small. Eventually we will move our bedroom upstairs where there is room for a bigger one. The downstairs bedroom can then become a guestroom.

What surprised you?
The amount of waste that's generated during the build, between off cuts in insulation and waste timber from the roof. I'm not blaming the contractors because I know they worked as efficiently as they could.

What single piece of advice would you give a friend who's looking to embark on a project similar to yours?
Since I built it myself I've been helping friends not only with the cost side of their build, but with the scheduling of the works. I'm always saying the same thing to them: stay one step ahead. Always be thinking 'what comes next', and if you don't know, ask. I might be in the construction game but there were areas where I didn't have clue either. I was asking the guy doing the foundations about when I'd need to get in a plumber. They were asking when we were going to finish the first fix to plumb the toilet because it had to go in at that stage.

Would you do it again?
We would definitely not do it again. You couldn't be calling in the favours from friends and family like we did more than once. We're proud to look back on it but I think, for us, the one self-build memory is enough.
Tips
Spend time on the lighting design. It's not something you realise will make a difference until it's too late. But it all needs to be wired in early on, you can't do it later down the line. Think of how you will use the rooms, do you need a reading lamp, LED strip lighting for different times of day, a statement
piece?

Visit as many houses as you can. If you see a house that you really like, approach the homeowners. They might be happy to show you around. Even if they're not, you've nothing to lose.

Plan your utility room to be as large as possible. You will be surprised how much space you need will actually need for laundry, drying etc. Ours could be bigger and could use an area for drying clothes. We have a bathroom there where we have our hot water cylinder and our indoor unit heat pump. That room does create a lot of heat so to use that space and have some sort of ventilation would have been a good option.
Spec
Floor: floor finish on 75mm 50N powerfloated concrete screed with underfloor pipe on 1000 gauge
polythene sheeting on 120mm PIR insulation board laid with joints staggered on 150mm concrete slab with A393 mesh incorporated on radon barrier on 50mm smooth sand T3 blind on minimum 150mm compacted T1 structural hardcore.
Walls: 100mm inner leaf, 100mm PIR cavity insulation with thermal conductivity of 0.021W/mK, 100mm block outer leaf, sand and cement render finish.
Roof: cut roof rafters 75mm, 420mm centre, 41deg pitch.
Windows: Triple glazed uPVC
Suppliers
Builder's merchant
Midland Hardware
Underfloor heating and plumbing
Lynskey engineering
Kitchen
Kinsella Kitchens, Ballyroan, Co Laois
Windows
Munster Joinery
Ventilation
Humidity controlled inlets from Anjos ventilation
Rooflights
Fakro
Bathrooms
AJ Plumbing
Tiles
Looby tiles, Roscrea.
Limestone sills and lintels
Manor Stone, Ballacolla
Stairs and precast hollowcore concrete
Gleesons Precast
Double sided stove
KB Construction
Steel lintels
Steelite
Furniture
Minogues, Roscrea
Electrical fitting and lights
EEW and Bright Lights
Photography
Damien Kelly, damienkellyphotography.com