Adrian Stewart chats through what he loves about his high tech home and what he would do differently to save money on the build.
In this article we cover:
How the design came about and how he got the high tech home of his dreams
What he would change to save money on the build
How the new build project was managed
Details of renewable systems
Favourite features
Floor plans and supplier list
Timeline and professional photographs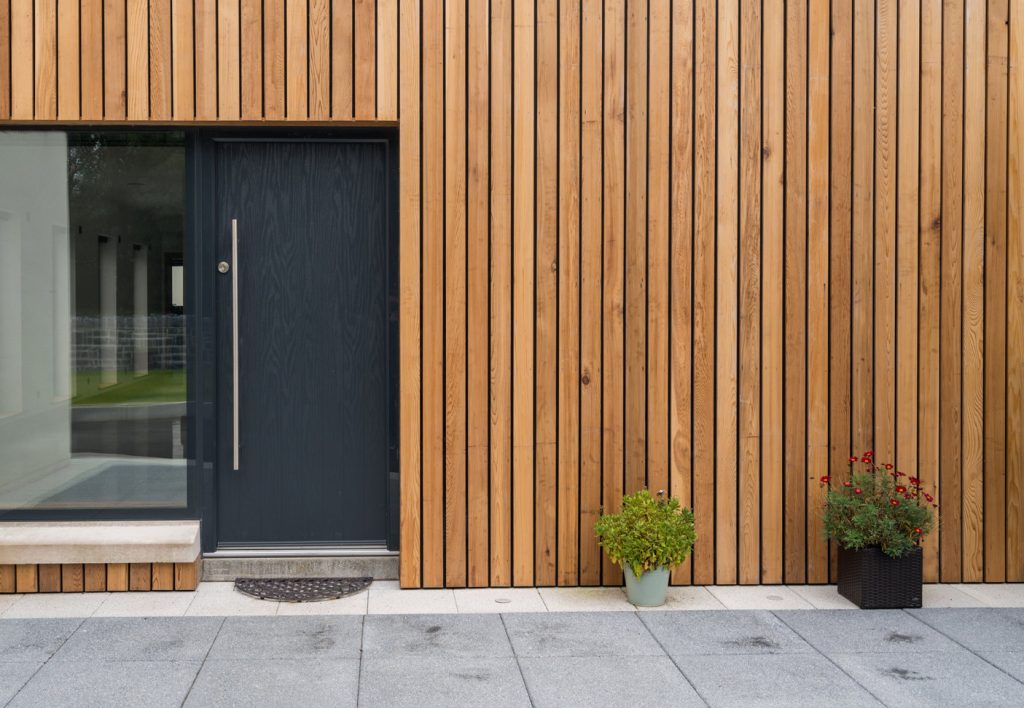 House size: 2,800sqft
Bedrooms: 4
Site size: ½ acre
Build method: cavity wall
Heat and hot water: air to water heat pump
Ventilation: centralised mechanical
EPC (SAP): A (94)
Project cost: £650k
House value: £750k
What drove the design?
I do feel building is all about individual choice. You can really do anything with a house, it just depends what you like and how much you're willing to spend.
A smart home system was at the top of my wish list, alongside renewables including a heat pump and solar panels that generate electricity. We wanted plenty of light and a modern finish. I think we achieved both those things with our choice of materials and the companies we went with. A lot of people think we went too modern but that's what we both like and we're delighted with it.
How was the project managed?
We started off by searching for a local architect with the same kind of aesthetic as ours. It all happened very quickly and the process of designing the house was straightforward, we hardly made any changes to what he proposed.
The planning process went smoothly and all managed by our architectural designer. After that our builder Raymond is a good friend of mine, I've known him for 35 years, so he managed it all with our architectural designer.
I was on site every day to answer any questions but the build was managed between the builder and our architectural designer. Because it went so well I didn't have much to do and it went fairly quickly. Whatever was needed we tended to. It was a trusting relationship with the builder.
We also had a first class relationship with building control, they were easy to work with and signed off on the build progress quickly.
Tell us about your high tech home features.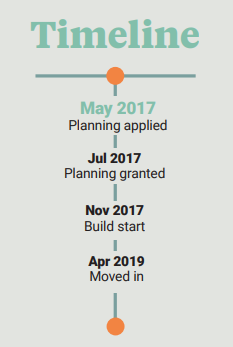 Our smart home system is centrally controlled. There's a touch screen that controls the whole house or we can control each room individually. The security camera, music, all the tv and even the phone are connected. It's a great set up and the project was the Belfast Telegraph 2019 Innovative Use of Smart Home Technology Winner.
How did you decide on what renewable systems to install?
Our aim was to design and install an integrated renewable energy system to minimise how much energy we would use. We hired an energy consultant and he says that if we were to do a payback calculation now, for this size of house and based on current electricity and oil prices the payback of an air source heat pump would be three to four years as the additional capital cost for the heat pump over oil would be £3,500 to £4,000.
We have a solar thermal system that provides most of the hot water requirements from spring through to autumn, so the heat pump has less work to do. The payback on this would be longer than a typical 4kW solar photovoltaic (PV) array that generates electricity. The energy consultant says that with the price of PV coming down, combined with the fact that many PV systems can also heat water, solar thermal has become less popular than it used to be in Ireland and the UK.
Favourites?
I love the cinema room. Every weekend we watch a film and it's a real treat. Day to day, we spend most of our time in the living room. The kitchen is another firm favourite – it was designed with care and works exactly as we want it to. I also love the larch timber cladding at the front of the house. We have to treat it every couple of years with a resin, but it looks fantastic.
Would you do it again?
We plan to build on my wife's land. We're both retired now and want to move to this site, closer to her father, who's not well at the moment. The house we plan to build will be 100 yards from his farmhouse.
We're keen to get building again but I'm really surprised at how expensive everything has gotten. Estimates for the new build are coming in at £800-900k for a very similar specification to what we have now.
What would you change?
We had a lot of bother with the wooden trusses. The company we'd chosen took ages to get back to us with a price and landed us with an astronomical quote of £27k. It was far too expensive so we had to look elsewhere. These are only decorative, not structural. The other company we found came in at £9k. Even though it's oak, I don't think it was worth the investment.
I also wouldn't go with a specialist lighting company again. They came out and surveyed the house, specified all of the lights. But looking back I think they were too dear, we could have gotten them from wholesalers for a better price. We won't go down that route for the next build.
I would keep the smart home setup though, even though my wife isn't that techy I do think it is useful and makes our lives easier.
Suppliers
Architectural design and supervision
Slemish Design Studio Architects, slemishdesignstudio.co.uk
Builder
Raymond Hill
Windows
Lumi Windows
Renewables
Daly Renewables supplied: Hitachi Yutaki RASM-4VNE air to water heat pump, mechanical with heat recovery ventilation Aerauliqa QR550, photovoltaic system 14 JA PV panels with 10kW battery and 2 Roth Heliostar solar thermal panels.
Central vacuum
Sistemair Techno Vac Machine
Garage doors
Garage Door Systems Durapass & Duratherm
Electrician
Brian Backus
Fireplace
Coleraine Fireplaces
Insulation
One Step Insulation
Kitchen
Johanna Montgomery Kitchens
Tiles
Keys Tiles installed by Victor McAuley
Landscaping
Tobermore
Home automation
Luxavo Home Automation, Dublin
Photography
Steven Hanna Photography, stevenhanna.co.uk