How Gráinne and Padraig Haughney bought an old shop in Kilkenny to convert into a light filled family home.
In this article we cover:
Detailed build costs, including breakdown of professional fees, structural work, energy upgrade work, plumbing and electrics, floor and wall coverings
Why they bought a shop as a doer upper and what state it was in
Difficulties getting a mortgage due to commercial nature of the property
How much DIY they did and how it saved them money
What systems they chose to install: heating, hot water
How they approached the project with tips for turning a commercial space into a home
Top tips to ensure the project is a success and biggest splurge
What it was like being on RTÉ Home of the Year
Timeline and specification
Overview
House size before: 1,900sqft
House size after: 2,000sqft
Bedrooms: 4
House price: €137k at auction
Renovation cost: €128k
House value: Between €325k and €350k
Heating and hot water: air to water heat pump
Tell us about what drove you to buy a shop to live in.
Our previous home was an old stone barn that we converted into a two bedroom open plan space. It was perfect and we loved it when it was the two of us. But with children coming along, we quickly outgrew the space.
When Gráinne's mam and dad suggested buying what was once the old pharmacy next door, we both laughed. It was always the plan to build on my family's farm, but this question got us thinking. I'm a construction and woodwork teacher so I'm naturally drawn to self-builds and renovations.
We looked elsewhere but once we had viewed the old medical hall we fell in love with the place (quirks and all) and kept coming back to the idea.
What state was the house in?
The old build had shredded newspapers and sawdust in the roof space for insulation. The old extension had a galvanised roof with no insulation. The bathroom was built on top of the concrete yard with no foundations, so as you can imagine it was cold, damp and not very cosy.
It became obvious early on that the building had been neglected for many years and that it was going to require a huge amount of work. We had woodworm and rot throughout, water coming in old lead pipes, clay sewage pipes that were cracked and spilling sewage out underneath the floors of the old shop. To name just a few issues.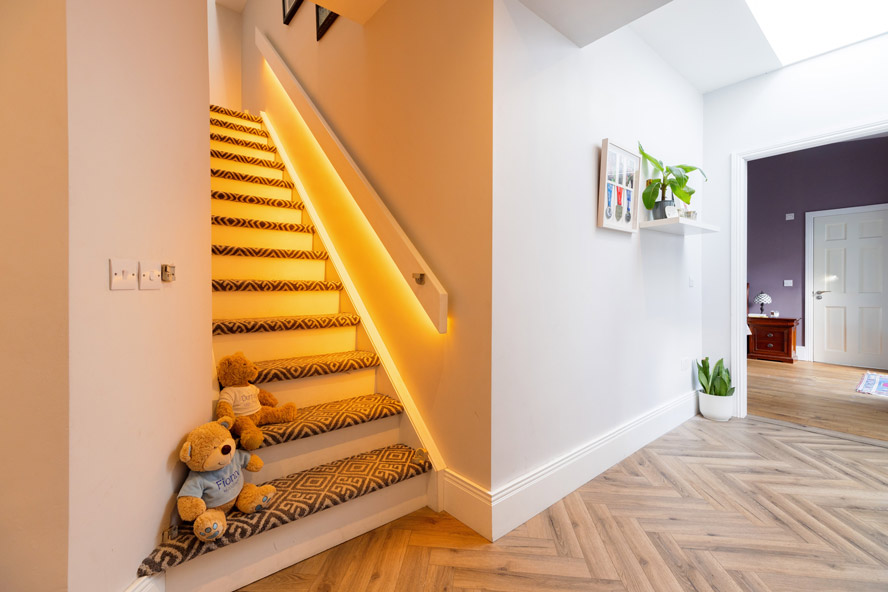 What were the guiding design principles?
The most important thing for us was to preserve the architectural heritage and integrity of the property whilst also making it function as a family home. The front of our property is listed for its artistic value to the streetscape and had to be treated sensitively. It also meant that windows and doors to the front could not be moved.
Our property was built in the 1820s and has had many uses over the years. It's been a grain store, a general store, cash supply store, medical hall (and veterinary supplies too), even a butcher shop. We kept the old meat hooks and use them for our flower baskets. When planning your home, it's important to spend as much time in the building. Plan from there and get a feel for what works. We had to make a family home work in what was a commercial building.
How did you go about the redesign?
At the start we were fixated on the need to have a hall. But this completely divided the space and made it very small. We decided to scrap the idea and went with a porch which provided privacy and gave us a transition from the street into our home. It still took us three goes to design the entrance hall, which is now a very efficient but small space. After that, everything fell into place.
We spent many hours drawing and re drawing our plans and once we were happy, we then hired an architect to take us through the planning process. We also showed our plans to as many people as we could and made plenty of little changes from their suggestions. This all helped to make the space work as a home.
It took us a year from buying the property to sorting our mortgage and we used that time to ensure we had our plans perfected. Once we had gotten through the planning process, we were able to start on the fun part.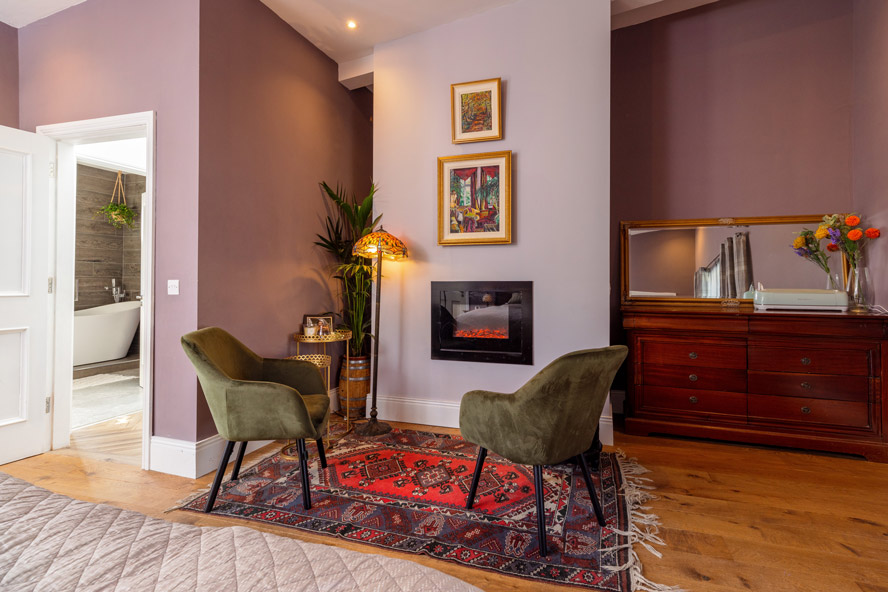 How much DIY did you do?
With a small budget, we rolled up our sleeves and got stuck in. We were perhaps a little naïve and hadn't planned to do as much work as we ended up having to do. We took 230 tonnes of rubble out in a small little dumber through Gráinne's parents back garden that backs onto our property.
We gutted the entire house and started from scratch. When you stepped in the front door, the floors dropped one meter below street level. We underpinned the walls, added a radon barrier, insulation, underfloor heating and concrete floors.
The old walls were then drylined and insulated, and new insulation was added to the roof. In the new extension we added 150mm rigid insulation in the floors, walls and roof. We added airtight membranes sealed with airtight tape throughout the property. We upgradd all doors and windows but got them all made in a local joinery as we had to ensure they remained identical to what had been there. We reused as much as we could in terms of mouldings, doorknobs, and so forth.
Any downsides to buying an older property in a town?
Every town and village in Ireland has boarded up shops and buildings, and there is amazing value to be had buying one of these. These older buildings are stunning and beautiful. They just need people to give them a new lease of life, and reimagine what can make a home.
There are grants now too that make it really appealing. Just be aware of the difficulties in securing your mortgage. I would love to see banks and local authorities making it easier to do what we did, as it's a ready-made solution to the housing crisis.
The main thing I would say is to bear in mind that when building in a town you are restricted for space. We were lucky we could access my parents-in-law's house from our garden. Otherwise, I'd still be there wheelbarrowing material out through the front door.
We had 12 conditions attached to our approved planning permission, but all were reasonable and sensible. One was we were only allowed to work between the hours of 8am to 6pm Monday to Friday and 8am to 3pm on a Saturday. Which turned out to be a blessing in disguise as it did force us to stop and take some time away from the build.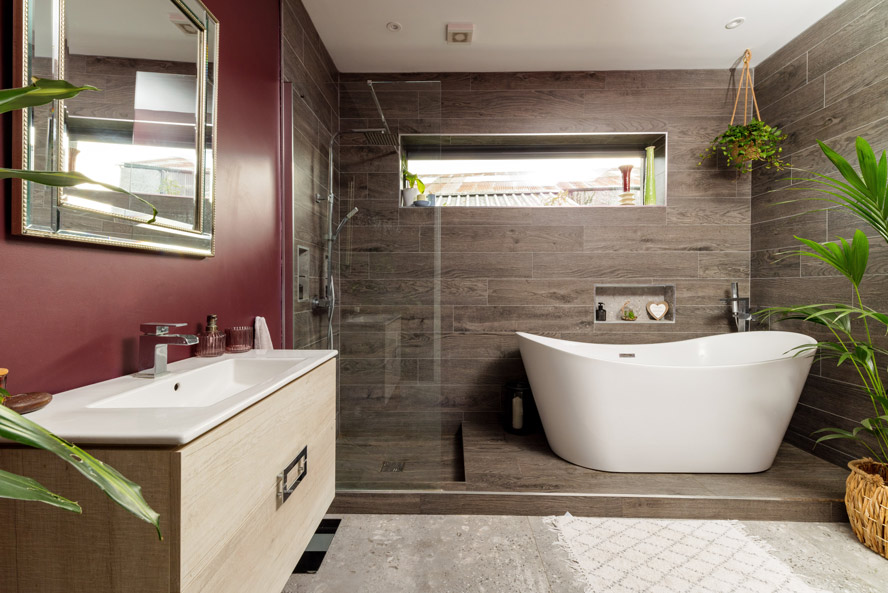 Tell us about the mortgage process.
The mortgage. That added a few grey hairs! When buying a commercial property, you will need to apply for planning permission for change of use to change it to residential. This needs to be done before you get your mortgage because you can't get a mortgage on a commercial property.
We discovered this after we bought the building. Unfortunately, our bank didn't know this either when we spoke with them and discussed the property we were looking at buying at auction. The bank gave us approval to bid on it.
We were successful at auction and went through the process of drawing down our mortgage and after a couple of months of back and forth between us, the bank, and solicitors, we had our contracts signed and were told we would have our funds within two weeks.
A week later we received a letter from the bank saying they were withdrawing their offer. As you can imagine this created a lot of stress. We were then given four weeks to close the sale, and as our solicitor informed us we would lose our deposit and could be liable to pay the difference between what we paid and what the property sold for over the next year.
Long story short we were lucky we were able to get a loan and we promptly went down the planning process for change of use. This was all very straightforward and once this was sorted, we were able to get our mortgage and repay the loan we had secured.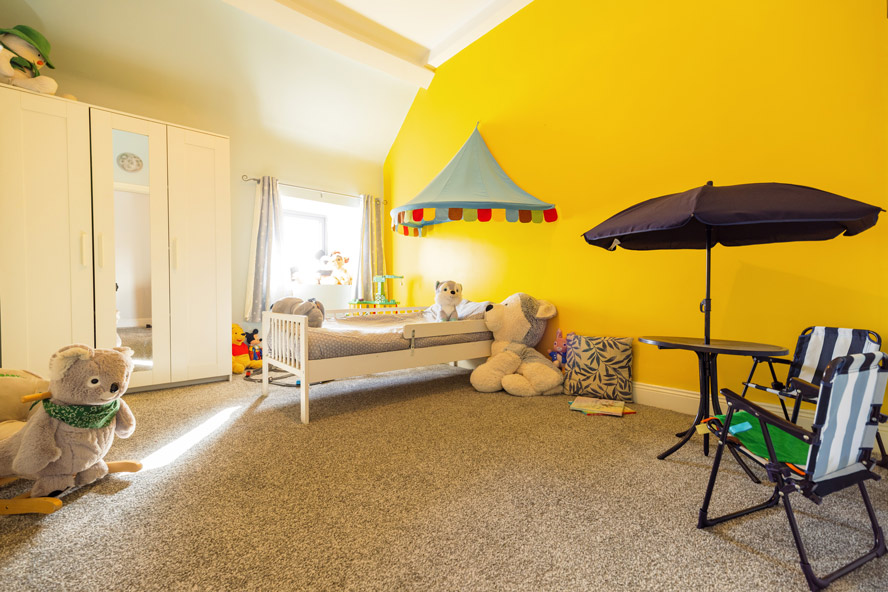 How did the planning process go?
Our planning permission journey was a little more complicated than the average build due to our property being a listed building. It was also part commercial, part residential.
The first thing we did, and I'd advise anyone on the self-build journey to do, is to arrange a preplanning meeting.
It's a free service to avail of and will help to point out any potential issues that may arise or ideas that you have that are not a runner. This doesn't guarantee you will get planning but is a very good indication that what you are proposing will be approved.
We were also advised to meet the planning conservation officer prior to submitting our plans. We had our plans drawn up and met with him, he was able to discuss our application and advise on areas that we needed to change or remove before applying for planning.
When dealing with listed buildings your application will also be sent to the conservation officer so it's a good idea to have met him or her and discussed your plans, so that s/he's familiar with the building prior to your application.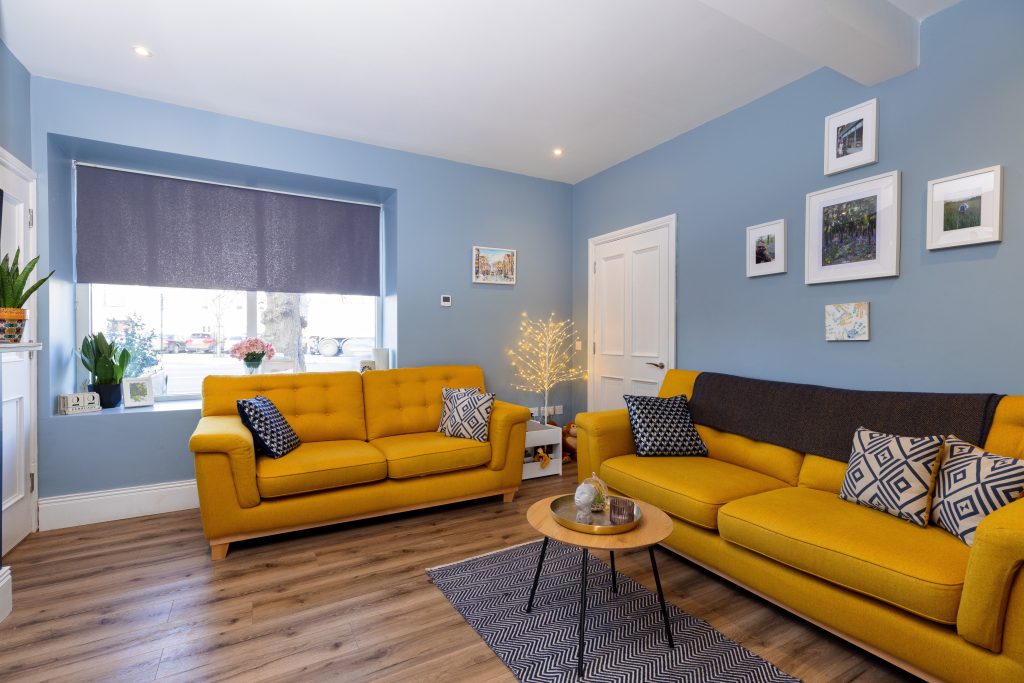 How is the house working out for you?
We love our home. We are in the middle of the town in the heart of everything. I love that every time I step outside our front door, I meet someone or have a chat with one of our many neighbours. There's a real sense of community here and we feel privileged to be part of the history and to be part of the next chapter of our building's story.
It's also great to be able to pop next door to the shops or to the in-laws if we need milk. Our home backs onto granny and grandad's and we love that the boys can run up and down to their grandparents without ever having to go out onto the street.
They see them every day and it's a wonderful relationship for them to have. To us family is the most important thing, and our new home has only enhanced this further.
How about the budget?
Our budget changed several times during the renovation. I'm not sure why but I think people always underestimate the cost and time of nearly everything. Like most people we had to empty out the piggy bank. We used all our savings, got loans from parents, bank/credit union.
We didn't have a big budget, but we were still able to buy a property in the middle of the town that nobody else was interested in. Yes, it needed lots of work and imagination but there's so much value to be had buying older buildings.
There are many ways to save money without sacrificing on style or quality. When buying appliances and sanitaryware, we saved a lot by shopping around. Shop around for flooring too. We went with herringbone LVT (luxury vinyl tile) for the entire downstairs. It looks stunning and everyone thinks it's timber. It works great with underfloor heating, is warmer, and very hard wearing but more forgiving when the kids fall, and it costs a fraction on the price of wood or tiles.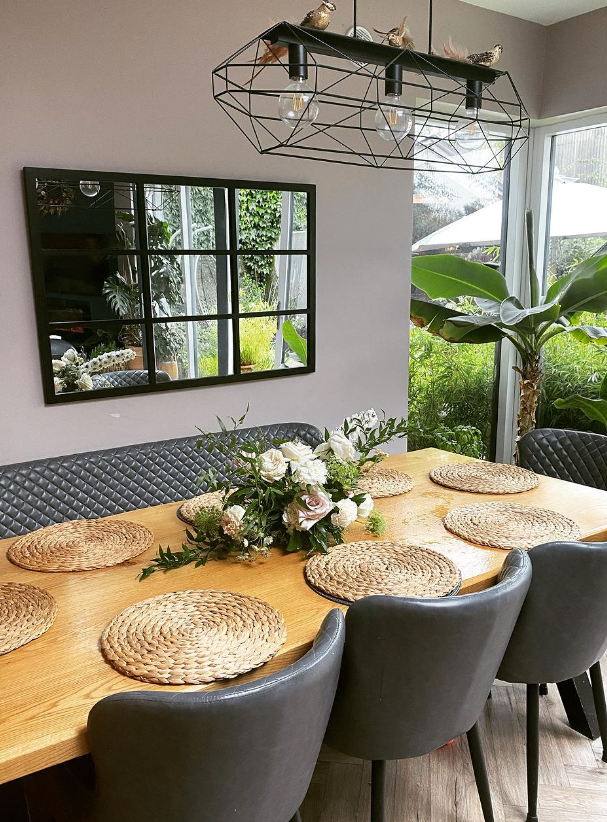 Gráinne's dad owns a bespoke joinery, Made by Dunmore, and we were lucky that he was able to help make our Persian blue kitchen along with our front door, windows and stairs. When building it's a family affair and you need to pull in as many favours as you can.
What systems did you install?
We went with an air to water heating system which we find fantastic. We do believe in order for these to be a success you need to have a super insulated, airtight home, which we invested in.
We also set up our plant room including water tank and cylinder in the garden which we would recommend, as its saves so much space in the house. Everything is then pumped back into the house.
What single tip would you give someone who's thinking of renovating an old shop?
Sometimes you just need to think outside the box or blocks in our case to create your dream home. We really had a small budget and did a huge amount of the work ourselves. We now have a beautiful family home that we couldn't have afforded to buy. The trade off was the time it took. Ours was a four year journey. When we started we had one child, when we moved in we had three.
So our advice is, just go for it. If you have a vision or dream just work hard to create it. Some of our family and friends definitely thought we were mad to buy an old medical hall for a family home but we had a vision for the place. Old buildings are full of character and charm. They also have lots of secrets that you don't know about until you begin work.
And make sure to take the time to celebrate all the little victories along the way, be it getting your planning permission, getting your doors and windows in. Pop open a bottle of bubbly and mark the wins. There are lots of ups and downs when doing a renovation so it's important to celebrate those moments. It will help get you over the disappointments.
Tell us about your experience on RTÉ's Home of the Year.
It was great fun, and fantastic to get the recognition for all our hard work. To get a score of 10 from design legend Hugh Wallace, it felt like we had won. Hugh really got our story and understood the journey involved in turning a listed building that was essentially the shop on the street into a family home. Our boys had so much fun filming. Our eldest got to skip homework when he was on TV, and our middle boy now declares we are famous!
Follow Gráinne and Padraig's progress on Instagram @restoration_rethink
Tips
Do as much work as you can yourself whilst knowing your limitations. If a job requires an expert, get them in.

Plan your bathroom early and know what sanitaryware you want. Free standing bath or a wall mounted toilet? Make these decisions before you start. Once the first fix plumbing is completed, theses decision will be made for you and you may not get what you want. Buy good quality tiles for the main bathroom (you can look at more affordable tiles for ensuites), as this really sets the space off. Not all walls have to be tiled, paint can be a great way to add colour.

Kitchen layout needs to be planned in detail. We spent a lot of time working on this. Get your work triangle correct. Plan your presses and drawers. We maximised our storage with floor to ceiling units. We went with drawers in our island for all our tableware. We can unstack our dishwasher from one spot, rather than having to do laps around the island. The kitchen is the heart of the home and you won't regret the money spent there.

Get a good electrician in to do a detailed socket and lighting plan. Try to envisage where all your appliances will be and what you need where. We went for a coffee dock with coffee machine and kettle in the press. Are you into baking? Where will you plug in your mixer?

Think of mood lighting. We used LED strip lighting under the kitchen presses and around the island and in the skylight. These little touches really set a lovely atmosphere when you're relaxing in the evenings. We put small spotlights upstairs over the skirting boards on a sensor, so when the kids get up during the night the low level lighting comes on. We put spotlights outside, just under the gutters at our large glass wall. At night time they light up the garden and it feels like you're sitting outside, creating wonderful atmosphere. It also takes away the mirror effect that glazing can have otherwise.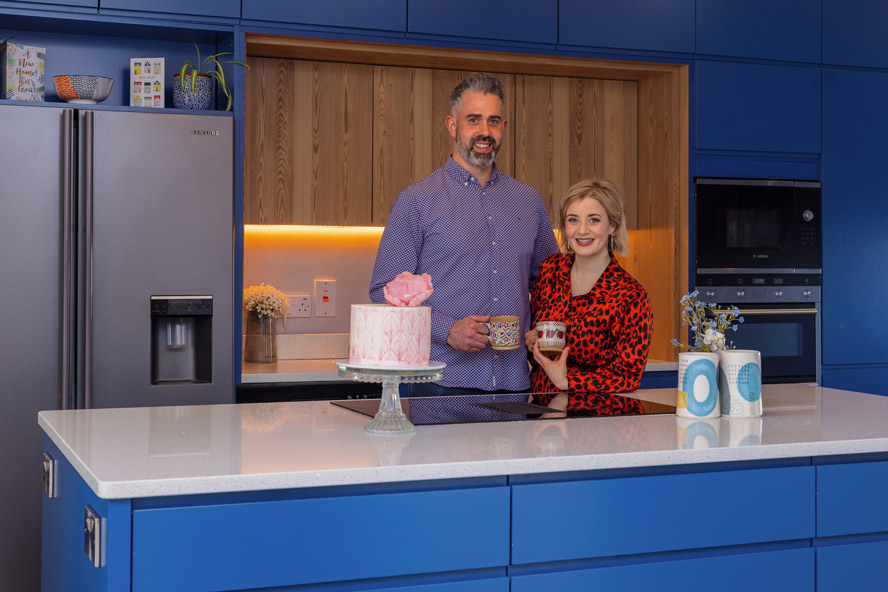 Q&A
Favourites?
Our kitchen, the garden a close second. We put the hob in our island, so when we're working in the kitchen we can see the kids coming and going. Or chat to whoever's at the kitchen table.

Biggest splurge?
Insulation, airtight membrane and airtight tape. It's expensive but you won't regret it. We had to make a decision very early on in the renovation and we decided we were only getting one chance at it, and we were going to spend as much as we could to get the house super insulated and try to futureproof it as much as possible. Even if that meant we had to cut back on the kitchen or bathrooms. We could redo them again in time whereas the core of the build we were only getting one chance to get right.

Would you do it again?
This question always makes me laugh. During the process it was definitely no but now we are at the other side of it and we see what we achieved I'd say yes.
Anything you wish you had known at the start? How long it was going to take…but maybe it was a blessing in disguise that we didn't know.
Spec
Original house: original build 500mm stone walls, added 100mm rigid insulation on all old walls (drylined). Added 150mm in floors. Kept original slate roof, insulated with layers 300/400mm rockwool insulation.

Extension: cavity block walls with 150mm full fill EPS bead insulation. EPDM roof with 150mm rigid board insulation. Airtight membrane throughout, all doors and windows taped and sealed.

Windows: south facing windows slimline double glazed, all other windows triple glazed argon filled.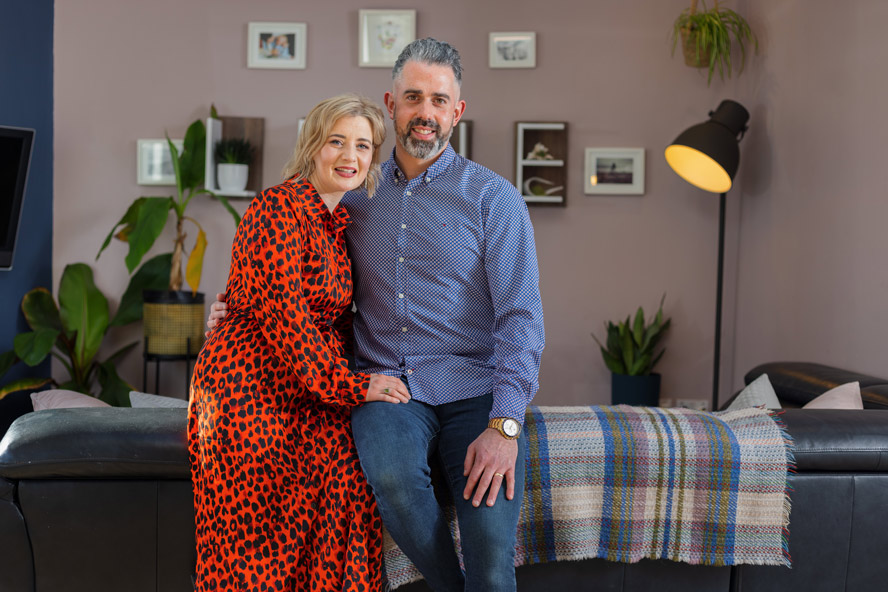 Build Costs
Professional fees
Architect: €3,500
Engineer: €2,900

Structural work
Site clearance and groundworks (foundations, waste pipes/sewage, concrete/ floors): €15k
Extension (build to roof level): €6,400
New openings: €3,100
Steel: €8,400
Roof material extension (timber, insulation, fitting:) €7,200
EPDM roof (materials and fitting): €9,000

Energy upgrade
PIR Insulation (floors, walls, roof): €12,600
Drylining and stud walls (slabs, studding, OSB, fitting): €9,575
Airtightness: €1,500

Plumbing and electrics
Plumbing (first and second fix): €10,950
including sanitaryware Air to water heat pump with cylinder, tank, etc.: €8,700
Electrics (first and second fix): €11,400
Carpentry materials for kitchen, utility, doors, windows/glazing (excludes installation): €14,700

Floor and wall coverings
LVT oak floor (supply and fit): €3,700
Carpets (supply and fit): €1,200
Tiles (supply and fit): €3,600
Paint: €1,500

Total: €128K