Kitchen, bathroom, tiling, architraves/skirting and panelling costs for new build and renovation projects in Ireland today.
In this article we cover:
Kitchen costs, from basic to high end
Bathroom costs and which elements cost the most
Tiling costs and how not to overspend
Potential budget busters that don't tend to be included in the budget
Architrave, frames, liners and skirting board costs
Panelling costs, from plant on to picture frame
This is where costs start varying so much that they have absorbed any material price increases we've seen over the past three years. The key to rein these costs in is to be clear about what your maximum budget is, and stick to it.
Kitchens and bathrooms
When it comes to the final bill for your kitchen and bathroom, every choice you make will have a big impact on the budget. So plan early so you can draw up a realistic budget, based on current market prices.
The selection and completion of designs in items like kitchens are fertile ground for cost overruns. When all the drawers are customised, the handles selected and the inevitable lure of the stone countertops succumbed to, the kitchen budget is commonly found wanting.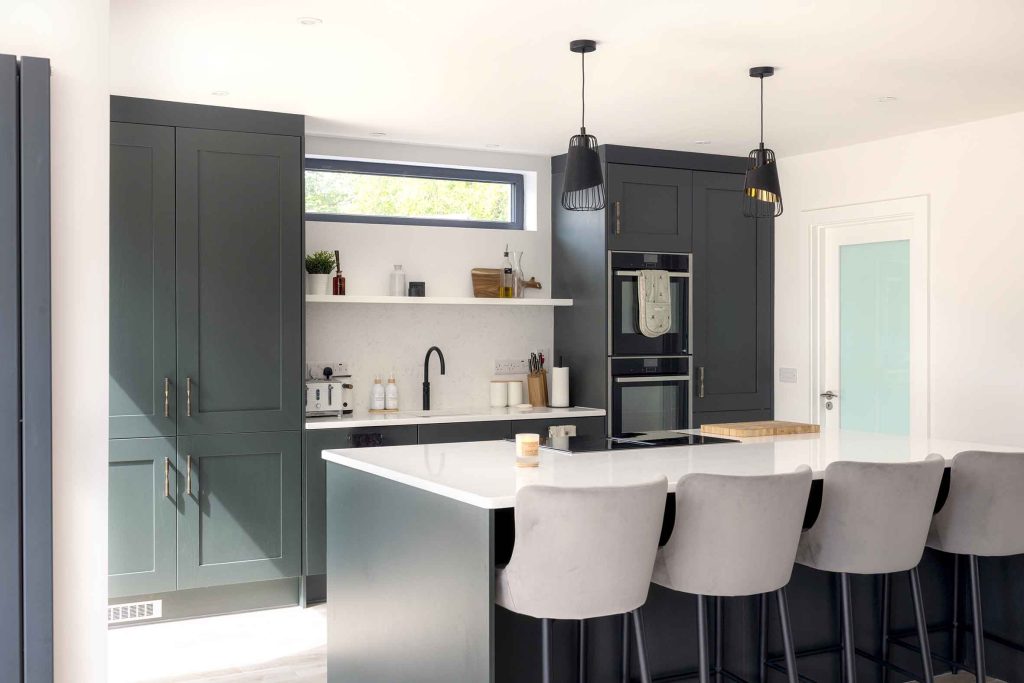 A basic kitchen might come in at 3k but when the cost of fitting and electrical appliances is added, it could increase to 8k or 10k and well beyond depending on your choice of materials. Things like solid timber doors or granite worktops will obviously inflate the figure. The average total budget tends to be 20k.
Furthermore, appliance costs are often not accurate, sometimes because budgets are set with a view that an existing appliance item can be reused. However, these may not necessarily fit the requirements of the new glossy kitchen.
As for the bathrooms, they could each set you back a couple of grand up to €/£25k on a designer bathroom. A lot of bespoke ensuites are as big as a family bathroom so costs would be similar.
At a high level, a bathroom requires a wall finish, a floor finish, maybe a bath, a wc, a basin and possibly a shower with a shower enclosure. In addition, you will need taps, mirrors, a heating source, ventilation and an array of accessories.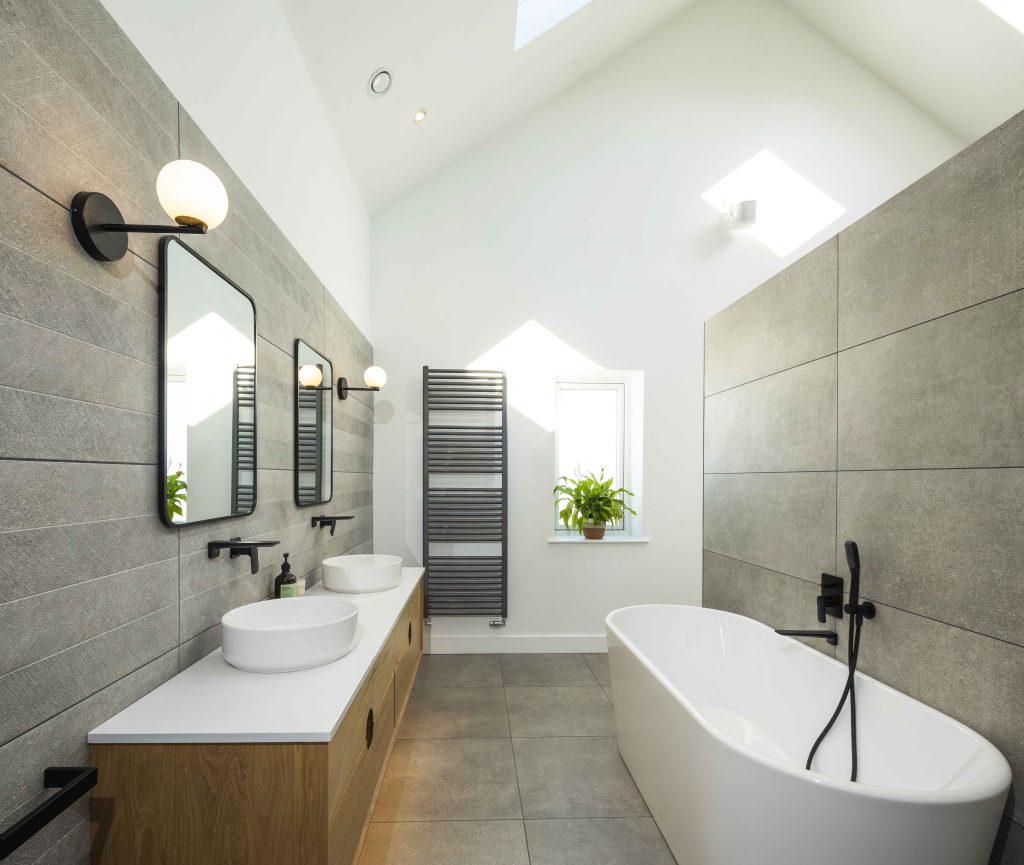 Once the sanitaryware is selected, the plumber will then mark, position, and connect it into a drainage run as part of the overall house construction. It all sounds straightforward, which might be why bathroom design is often left to the end. But remember that once the bathroom has been fitted out, it's not easily changeable like other rooms.
The brand of the sanitaryware (and if there is a separate bath and free standing shower), and the specification and quantity of tiles (all floor to ceiling or just three sides of shower, etc.) will all have an impact.
The shower unit is the most costly single item you're likely to invest in. But then again, you could splash out on a bath or vanity or anything else for that matter. Then there are the labour costs, higher than normal at the moment, for the many trades you will need to hire.
Tiling and other coverings
The old adage that paper does not refuse ink springs to mind when it comes to budget setting on items like tiles, timber floors and the likes. At the outset of a project, getting the bottom line to the correct figure for the mind (or possibly the bank) is often the holy grail but it often comes irrespective of the accuracy, or even the intent to actually comply with the figures included.
When setting a budget for tiling at say €/£50 per sqm, this should be seen as a maximum value and it must also allow for the waste of materials (the additional quantity of materials that need to be purchased for pattern, angles, cutting and so forth) that need to be purchased to complete the project.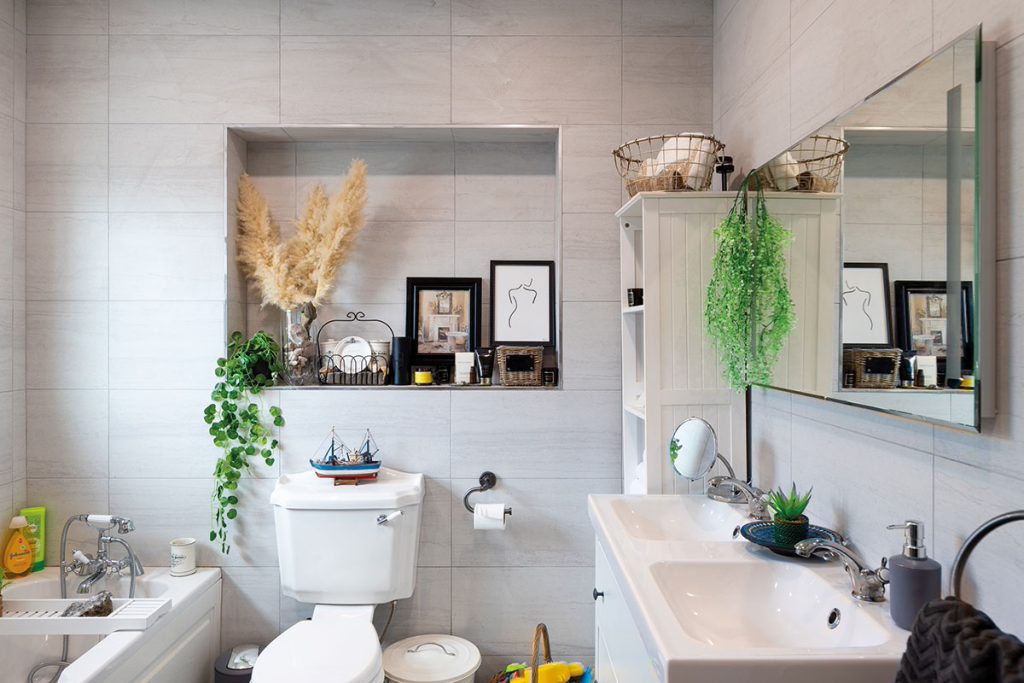 When selecting the tile, you should be armed with your budget when entering a showroom as to do otherwise is simply to shop with one's eyes, the bane of any budget. A budget after all is the maximum figure allowable and not one that you seek to beat. This same issue often occurs in the selection of timber flooring, internal doors, and items like wallpaper.
Then of course there are things which were simply not included in the budget, and which have to wriggle their way back in. Landscaping, paving, driveways, boundary treatments, covings and timber panelling are the most common items to be excluded.
Many of these items will clearly always be required, for any project. Proper budgeting for them is therefore essential.
Others are included into the budget at the last minute so as to complete the works and prevent the need to return at a later stage. Some of these additions arise from design changes, but no matter how they arrive, they arrive with substantial unbudgeted cost implications that for some can cause serious stress late in a project, which will have a negative impact on buying late items like sanitaryware.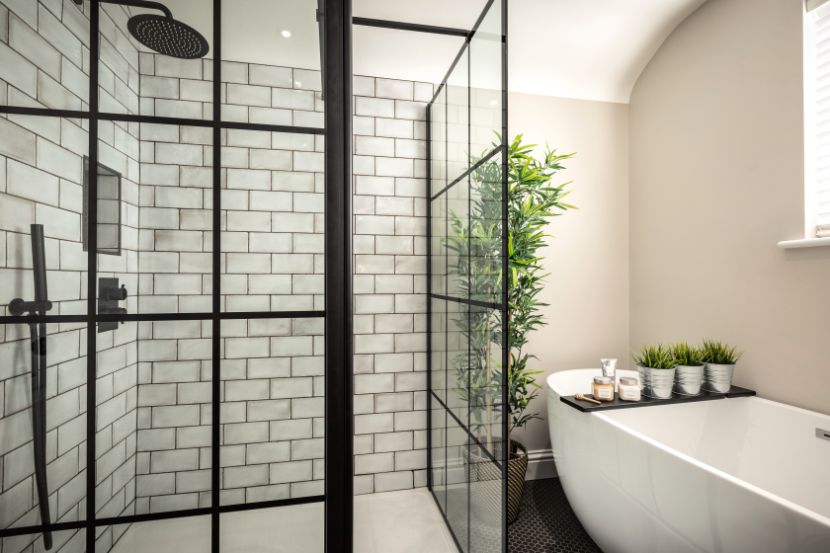 Architraves, frames, liners and skirting boards
The most traditional method of frame and architrave selection used to be to select a standard pine material (red deal being stronger than white deal) which was subsequently painted in white or similar colour.
This was the standard approach as it was able to complement any finish, but nowadays pine is less used because of the work and cost associated to sealing knots (to prevent knots showing through the paint) and the extra coats of paint required. Primed MDF is now the preferred option as it avoids these issues.
It is now also just as common to have frames and architraves matching the material selection of the door itself. An oak door is commonly dressed with an oak frame and architrave and in many instances this will also match the skirtings and staircases. The cost of pine skirting boards can run at less than €1/90p per m whereas oak or similar will cost in excess of €6/£5 per m depending on moulding, size and shape, with MDF costing somewhere in between.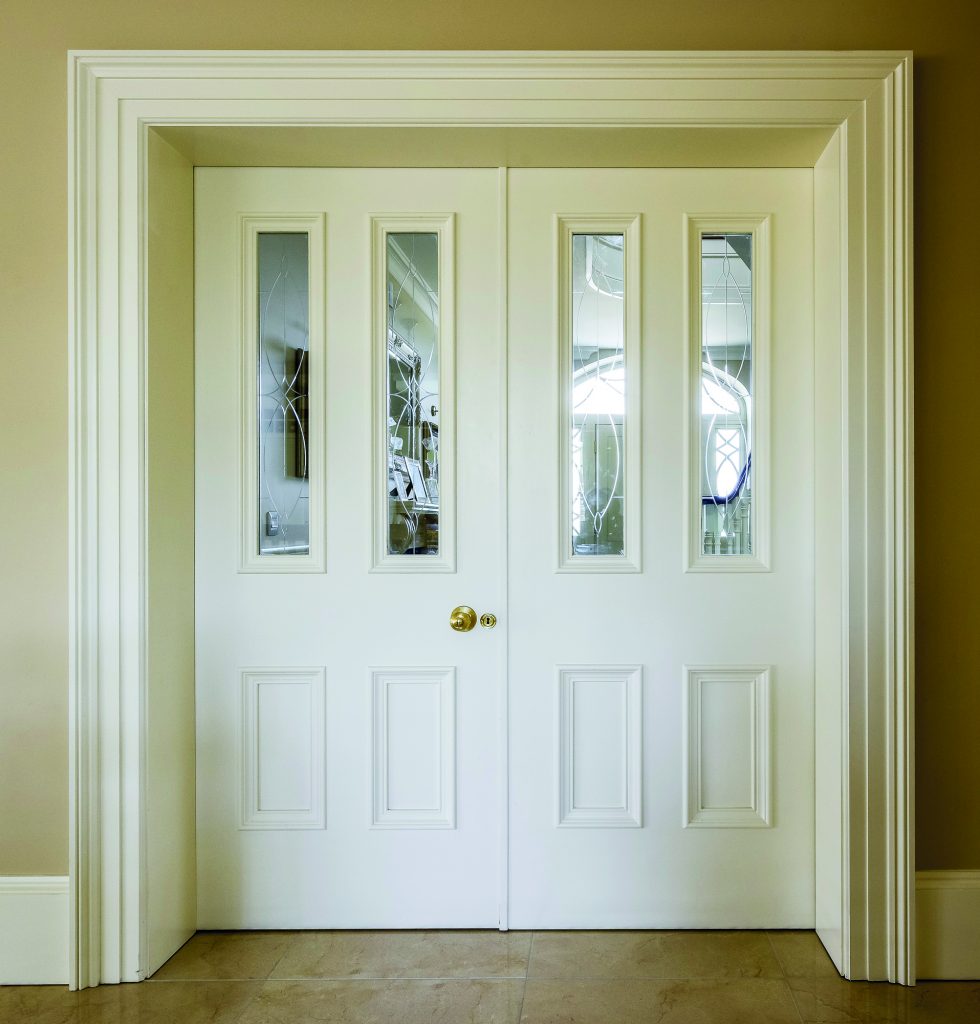 Similar to architraves and frames, liners can be either painted or made of a material to match the door. A liner is required to complete a wall where the frame does not fully fit the width of the wall. Frames are generally available in widths from 115mm to 150mm.
It is therefore necessary to install a liner to complete a frame that is installed into a wall that is wider than these sizes. An internal structural wall for example, made up of 215mm blockwork will generally be finished with a liner at each door opening. This is an item that can often be missed in budgeting for a project.
Skirting boards are the most common finish at the junction between a wall and a floor. Similar but generally wider than architraves, they come in a variety of materials and finishes. The moulding design on the skirting will also impact on the cost as this will indicate the level of routing and production on the timber.
As outlined for frames and architraves above, it's not uncommon to have pine or MDF skirting boards painted in white or other colour. It's also not uncommon to have skirting boards that match the door, frame and architrave. These products are most likely veneered finishes but it is also possible to purchase solid material like oak, ash and mahogany. Similar to architraves, skirtings can run from less than €1 or 90p per m for pine or MDF to over €10 or £9 per m for solid timber skirtings.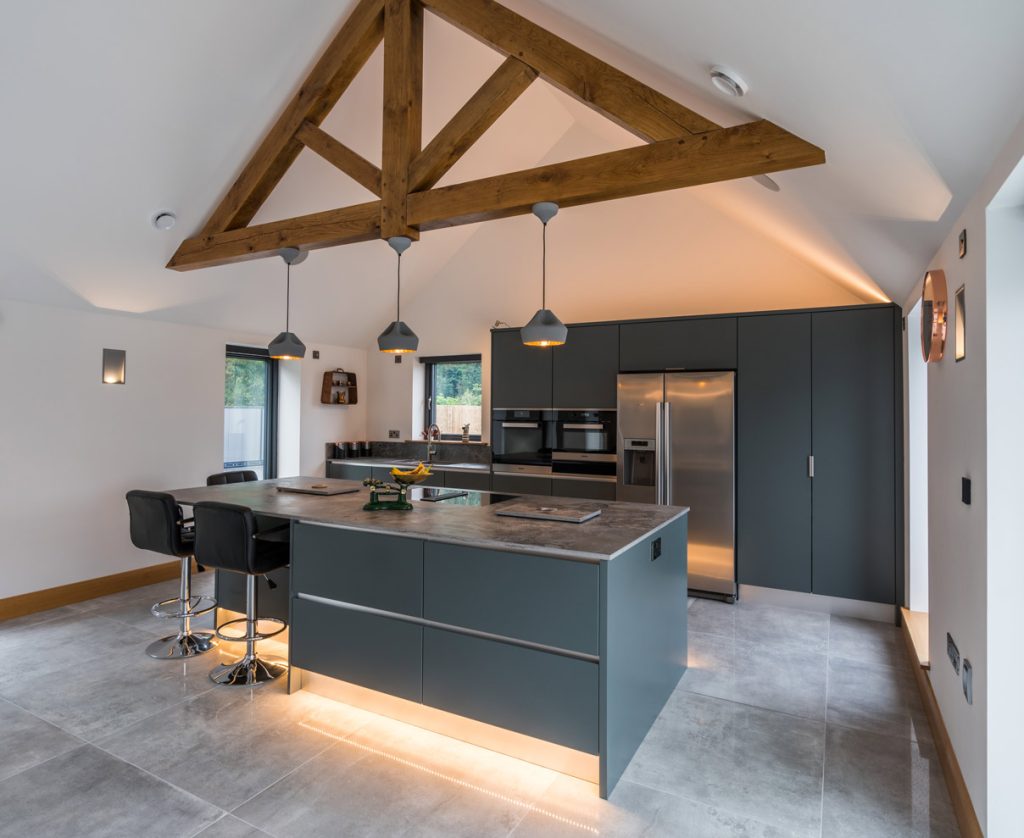 Panelling
Often the go to feature for many interior designers, wall panelling is one type of joinery that brings a wall to life. The most common method of panelling is going a third high, generally about 900mm up from the floor. It often consists of MDF panelling with routed designs and inlay panels. Full moulded MDF panelling can run to in excess of €200/£180 per m depending on design and detail.
It is not unusual to have this specification replaced with beading to remove the quantity of timberwork. Instead of being formed from MDF sheets, this method uses beading installed directly onto the wall then the wall, mouldings, and skirting board are all painted in the same colour to give the effect that the whole wall is panelled. Plant on panelling runs closer to €100/£90 per m.
Picture framing panelling where walls are broken up into sections replicating picture frames, also use plant on beading. The cost of this type of panelling will very much depend on the quantity of the works done but will run at up to €20/£18 per m of bead depending again on the bead type, size and mould.
Other options of panelling include full wall cladding with solid timbers, hardwoods (cedars, irokos etc), V sheeting, shiplap and mores. All of these are generally expensive with costs running in excess of €50/£40 per sqm and well into the hundreds for some materials.