It's perhaps little surprise Brian and Niamh McCann of Co Wicklow chose a rapid build kit house for their project. It took them two years to sell their house and another two to find a new place to call home…
In this article we cover:
Choice of timber frame kit house: pros and cons
Mix and match design process with the kit manufacturer
Issues with planning permission
Steps by step details of how this kit house was built, from foundation stage
Sequencing of works and who did what
Cantilever details
How to avoid delays
Surprise costs due to utility connection
Contract with the builder and how the build went on a day to day basis
Key changes they would make with hindsight, including upper storey construction
Full floor and site plans
Overview
House size: 270 sqm
Plot size: 1/3 acre
Project cost: €500,000 with architect and site costs
U-values: ground floor 0.15 W/sqmK, roof 0.13 W/sqmK, walls 0.12 W/sqmK
Windows: overall U-value 1.1 W/sqmK triple glazed
Heating: air to water heat pump
Airtightness test: 1.98 m3/(hr.m2)
BER: A3
Ventilation: demand controlled ventilation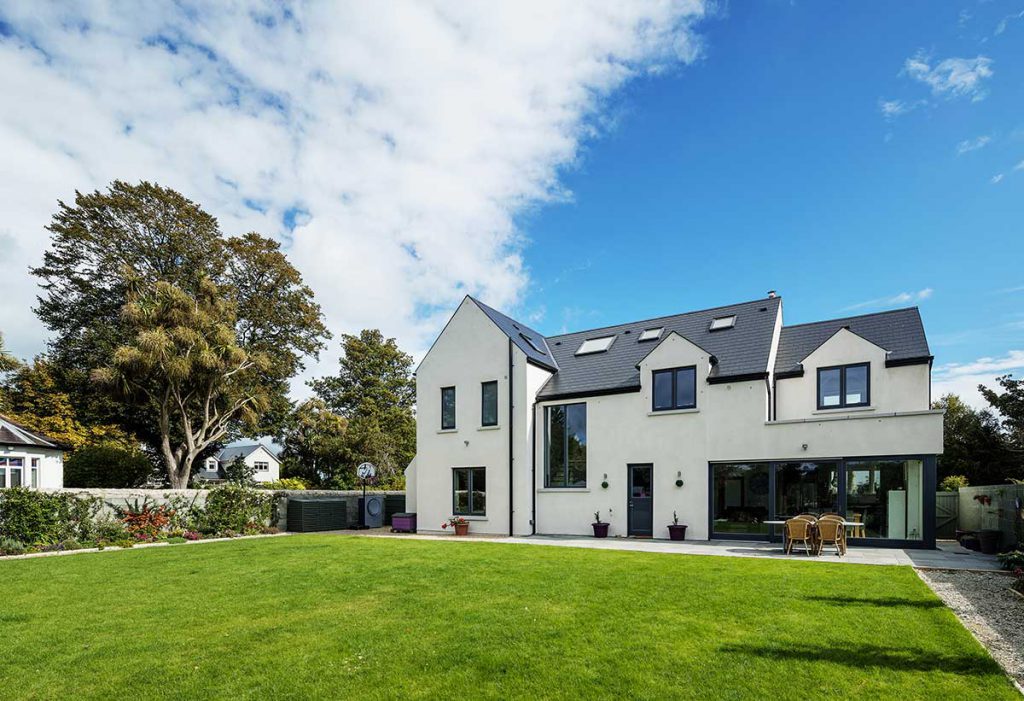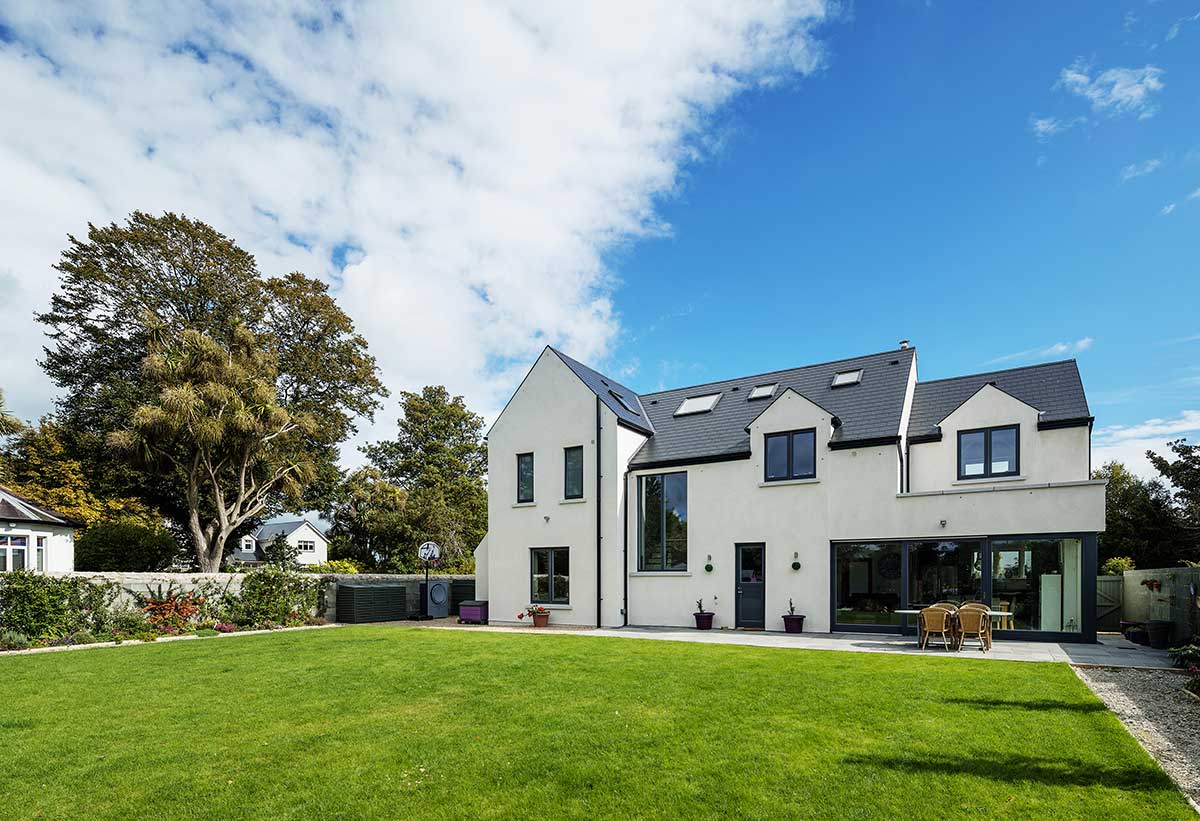 "We tried to sell the house we'd lived in for 19 years a couple of times before we were successful. This was at the start of the downturn in the market and the sale actually fell through twice. We eventually sold it and ended up renting for more than two years before getting the site and building our dream house," explains Brian.
"We decided to sell because the family had grown and we needed more space. Our previous home only had one bathroom and was generally quite small."
"We visited so many houses," recalls Niamh, "but none of them appealed to me. Brian could see their potential but I just couldn't imagine myself living there. We also looked at buying land but the location never was quite right."
"Eventually a site came up for sale in the village where their boys go to school, and near Brian's parents' house. "We were very lucky to find this site, it was perfect. We had a local connection to the area, with Brian's family having lived there for generations," continues Niamh.
"I'm really glad I stuck to my guns and got the opportunity to build new. We eventually got our dream home, the way we wanted it."
"This coincided with my mum getting sick and going into a nursing home," she adds. "I didn't want my dad to be on his own so when it came time to build it was great to be able to include enough space for him. Everything that's been done in the garden is down to his hard work, it's wonderful having him with us."
The four month schedule
Their choice of a kit house, meanwhile, had to do with two things self-builders often have a limited amount of: time and money.
"We knew we could build the house within four months, and it was much more cost effective than going down the concrete or block layer route," adds Brian. "The design process was also actually quite quick as we'd lived in a few houses previous to this one and knew exactly what we didn't want."
"We chose from various models on offer and mixed and matched. We got a price and proposal and signed on the dotted line quite quickly," remembers Brian.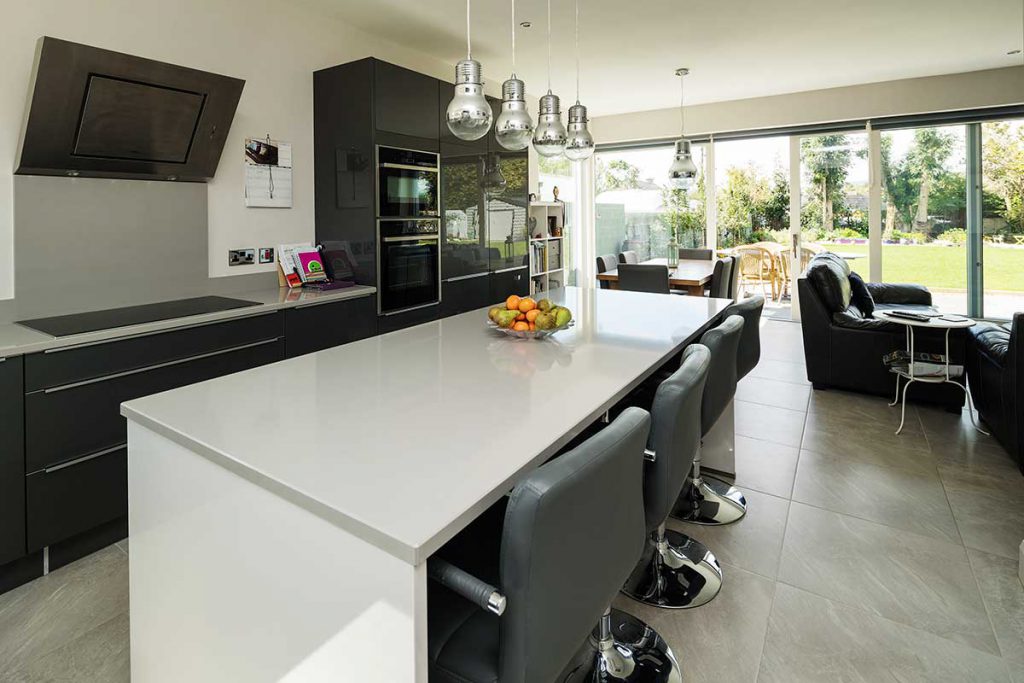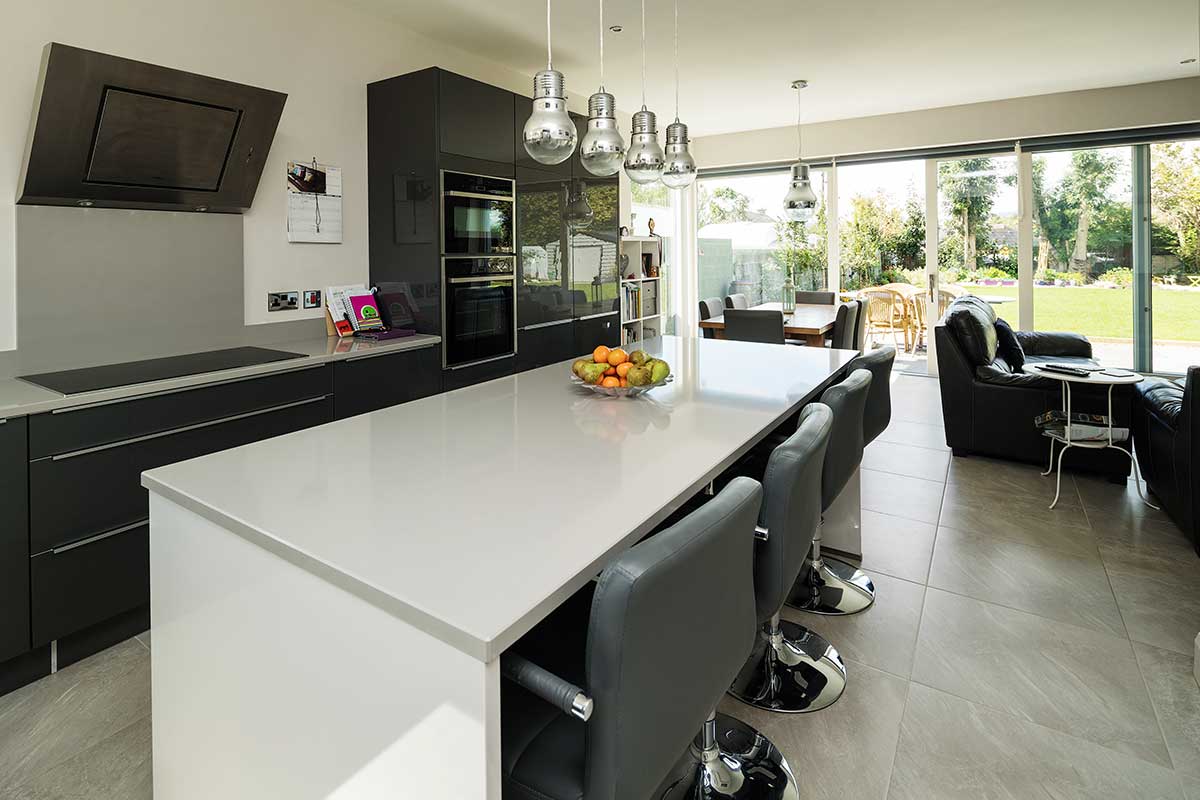 Even though planning permission did take a while to secure, the house building process was thankfully much less lengthy.
"At this stage I let Brian sort out all the details – the only change I made was to move the utility room from the front of the house to the back," says Niamh. "I couldn't imagine myself traipsing across the living room with my load of laundry to get to the garden. It also meant I now had a back door, which is always good to have in a utility room."
'We couldn't believe how quickly it went up, in just three and a half months. A friend of mine built a similar house and it took him a year longer.'
Zipping along the four month self-build
"This was our first self-build so we didn't really know what to expect," adds Brian. "In September we were ready to go and broke ground, but there was a legal delay that meant we started building in October. Once the slab was poured we worked through the winter and moved in February."
"We couldn't believe how quickly it went up, in just three and a half months. A friend of mine built a similar house and it took him a year longer."
The foundations were poured first and the timber frame kit, with prefabricated walls, then quickly followed to be craned in place. "It took only two days to put up the structure and for the work on the pitched roof to get started; it was very exciting," confides Brian.
Niamh was on site every day and she got a fright early on. "When we saw the footprint of the house we had second thoughts," she says.
"We felt the house looked tiny! Thankfully as soon as the walls went up it felt spacious again. You need to take a step back to see how it's going to end up. It can be hard to tell otherwise."
"It's funny because the house feels spacious now, we have room for everybody and for the children to grow into," she beams. "Our eldest is 6ft4 and in our old house his bedroom was the box room – he wouldn't physically fit in it now! Our other son's bedroom is plenty big too, there's even room to invite friends to stay over."
They got a window supplier to fit all of the glazing. A separate kitchen and bathroom company came to finish those areas too, while the electrics, plumbing and plastering were done by the builders.
"For the finishing touches we hired an interior designer who helped us choose colours," explains Niamh. "We put together our dream kitchen by picking out features from a showroom. I especially love the pantry, and I'd always dreamed of an island so had all my wishes come true."
"It's got a maximum amount of storage, which means in our day to day everything goes back where it should be," continues Niamh. "And no matter how many people are in it, we don't get in each other's way.
The novelty was how big it was, now I've gotten used to it but it's still my dream kitchen." For the wardrobes and other furniture the couple spent an entire day at a flat pack store. "We were there for seven hours and didn't argue – we can't go to the supermarket without getting into a row!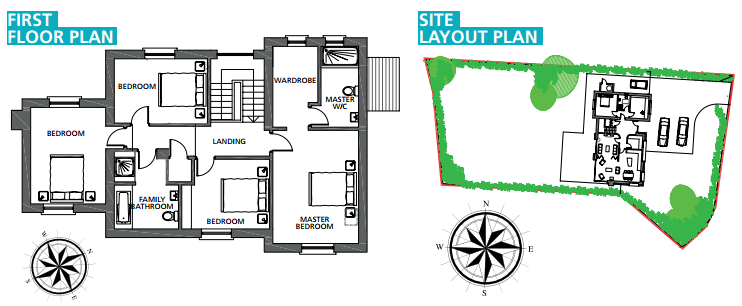 "Everything was so straightforward. The only time there was a bit of frustration was the last week – there was the snagging and making sure everything was in order. But that was a small price to pay." The housewarming party coincided with Brian's fiftieth birthday.
"When the extended family gets together we're 19 in total and we're able to have everybody over. We'd never have been able to do that with any degree of comfort in our previous house. We integrated a barbeque area outside which we got to inaugurate."
The builders had in fact made some helpful suggestions for the landscaping. "We had budgeted for a pathway to lead to the end of the garden and they gave us the option of adding a patio instead; they also helped lay out the front garden, which really helped," adds Brian.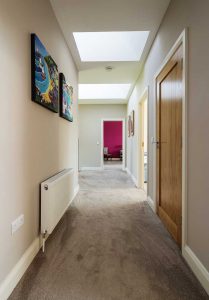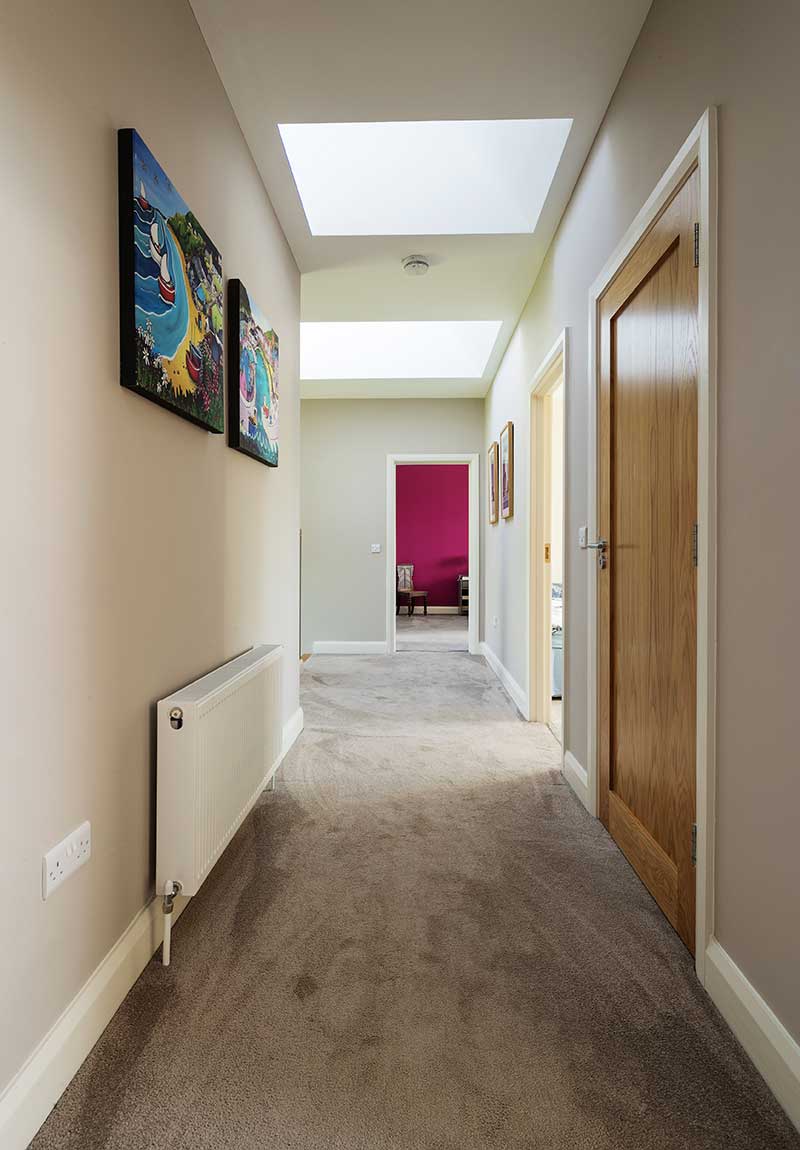 Advice
"My advice to others would be to make sure you have a contingency. Things will always crop up and add to the cost. In our case, we were caught with the water services, we had to pay for a connection which we hadn't expected," warns Brian.
He also says it's important to get the timings right. "The toughest thing was to think early on about where to put the showers, the kitchen sink, and all other plumbing requirements. You think you have loads of time to figure it out but that actually needs to be done at the very beginning, before the slab is poured."
The relationship they had with their builder made all the difference. "For instance when they went to build the cantilever over the porch it turned out to be too small; they changed it without any problem or any hassle for us," he comments.
"Any changes made were documented by the builder and sent back with additional costs listed. It was very clear, you could see some changes we made increased the price while others reduced it," adds Brian. A breeze of an experience for a first self-build.
Step into the bath. When shopping around for baths, try them out in the showroom, I really should have given mine a go. The one I picked for the master bathroom is so uncomfortable I never use it – it's a free-standing model with straight sides and you can't even lie in it fully. I use the children's bath when I want to have a soak!
Also check the taps. The waterfall taps looked lovely in the showroom but the reality is, I get drenched every time I turn them on. The trough is quite shallow so that may be the reason why I'm getting soaked.
Consider adding doors within your walk-in wardrobe. I love my walk-in wardrobe but am now thinking of adding sliding doors inside, to prevent dust from building up. Then again, Brian probably would never close them…

What's your favourite feature / favourite part of the house? The open plan set up with living area works really well for us, it's very conducive to the family being together. We also have a separate sitting room where the children go play their video games, so it's a win win.
What would you change? I might look at changing the specification for the upper storey – you do tend to hear everything that's happening above as the floors are timber. I might also make our bedroom a bit smaller because it really is quite big, to make the bathroom bigger. Then again I have no complaints about the size of the bathroom, so I'm not sure I'd change anything at this stage. The only room that I'd like to make bigger is the utility, you can never have enough space for that. A nifty feature is the pull down airing cupboard, you can fold it up when not in use. It means there's no laundry hanging in the house.
What surprised you? How easy it was. We had problems with planning initially but the build process was so quick and hassle free we couldn't believe it. Nothing was a problem to the builders – we had a vent in a bedroom and I mentioned to the builder that we planned to put a wardrobe there. The next day they had the vent moved to another wall.
Would you do it again? I would but I don't think I will. I have the house I always wished to live in, so I don't plan to embark on a new project any time soon.
What advice would you give a budding self-builder? Getting a decent builder is half the battle. We could have moved in a week earlier than the scheduled date if it weren't for the bank delaying the last drawdown.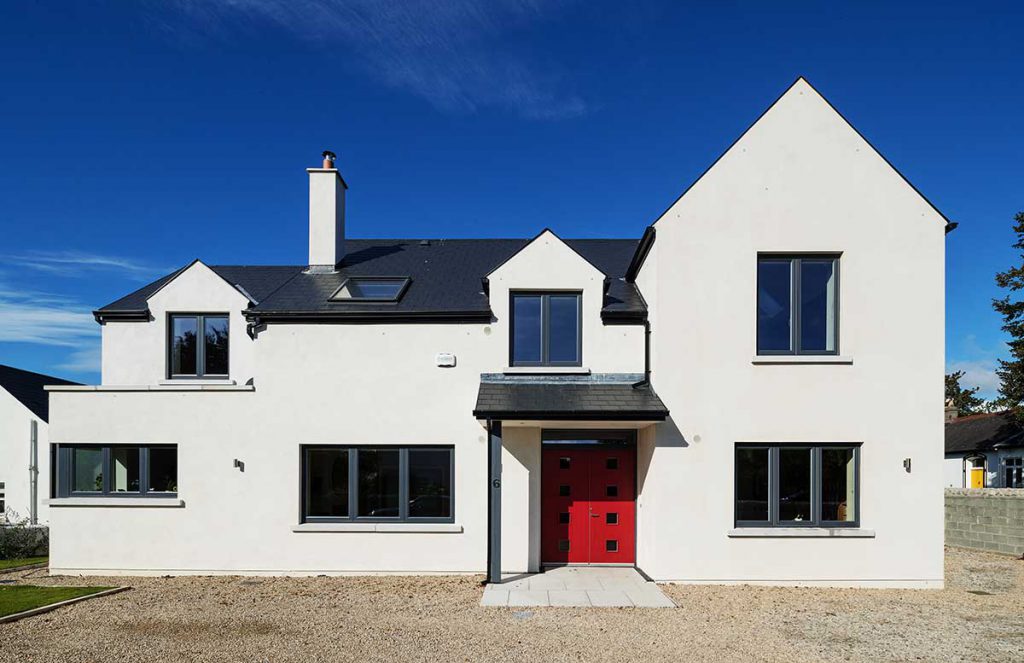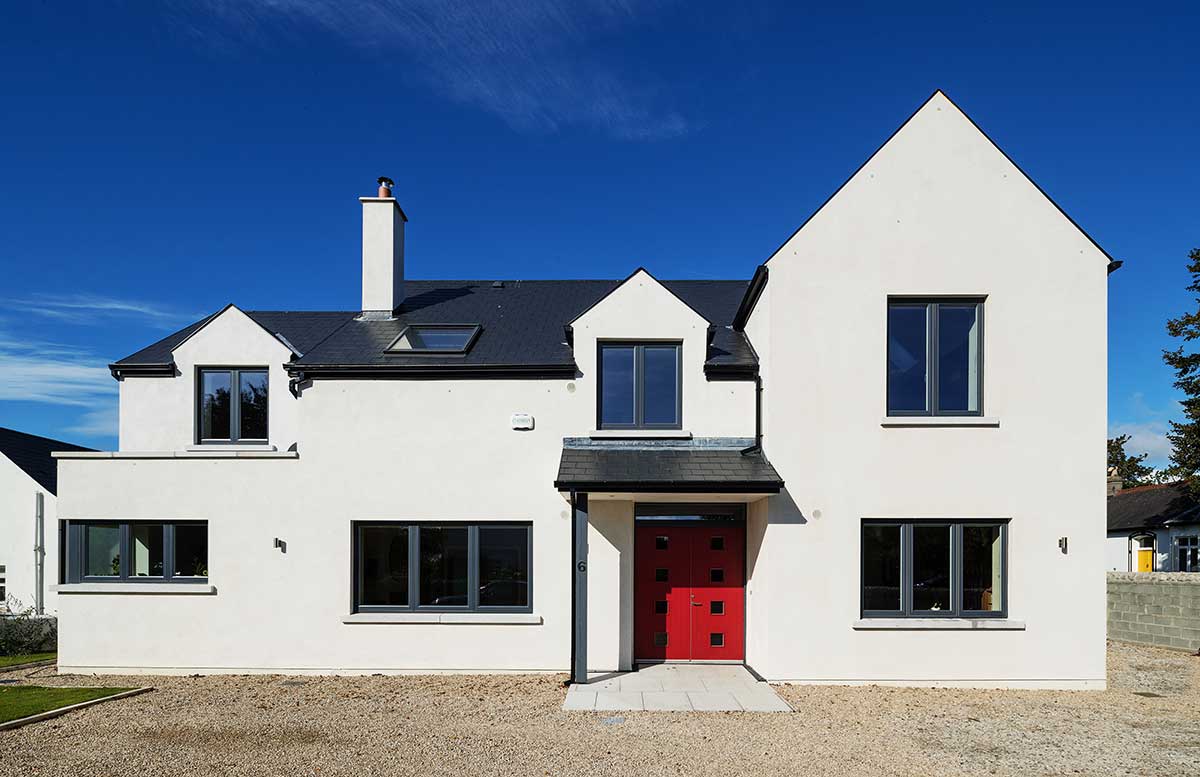 Suppliers
Architect: Kenneth Byrne of Project Design Architects, Kilcoole, Co Wicklow, tel. 01 657 2973, projectdesignarchitects.com
Builder: Ambihouse, Roundwood, Co Wicklow, tel. 01 287 2468, ambihouse.ie
Kitchen: Noel Dempsey Designs, Rathnew, Co Wicklow, tel. 0404 64548, noeldempsey.com
Photography: Dermot Byrne, dermotbyrne.ie