Extending your home will inevitably result in losing some garden space. But if you do it right, you'll feel like you've gained more room to play outside.
In this article we cover:
Design decisions and what knock-on effects they had
Finding a builder
How the project was managed
Decisions on site
Choice of flat roof
Which parts of the existing house to spruce up
Budgeting tips
Floor plans, suppliers list, specification
Professional photography
For Debbie Lee and Roger Conroy the time came to extend their home when they decided to raise a family together.
"I had been living in the house 12 years and Roger five so we had a very good idea of what we wanted and the way in which we'd like to upgrade it. And at this stage in our lives we needed a more useable space," explains Debbie.
"We had a clear idea of the style we wanted from magazines, shows, TV. We were also influenced by holidays in Portugal and the concept of the indoor-outdoor living space," adds Roger.
House Size Before: 119 sqm
House Size After: 144 sqm
Plot Size: 530 sqm
Roof: Proprietary flat warm roof system on 18mm OSB3 deck on 110mm PUR insulation on vapour control barrier; 1:60 fall with 44 x 225 / C16 joists at 400mm centres. U-value 0.18W/sqmK
Wall: 20mm external two-coat render on 100mm blockwork, 150mm cavity + 100mm PUR insulation T&G secured to inner cavity leaf, U-value 0.12W/sqmK
Floor: 20mm engineered timber floor on 200mm RC slab 35N/sqmm containing A393 reinforcement at slab bottom with 50mm cover. Slab taken onto inner leaf of rising wall for support. Radon / DPM membrane laid on 150mm PIR insulation laid broken jointed allowing installation of 25mm insulation strips to wall perimeter. 200mm well consolidated NSAI:SR21:2014 Annex 'E' aggregate. Formation soil must be firm, level and free from water any hollows to be filled with weak 1:12 mix. U-Value 0.15W/sqmK
Glazing: aluclad double glazed units, argon filled
"We had an east facing outdoor area that we never used, which we wanted to bring indoors. At the same time we were conscious we didn't want to lose too much of the garden." That area was integrated into the house, elongating the existing rectangular footprint of the building. This resulted in the garden becoming much more cohesive – it remained L shaped but wraps around the new extension.
'We were also influenced by holidays in Portugal and the concept of the indoor-outdoor living space…'
"We wanted as much glazing as possible from the south facing garden and from the east so we installed wonderful corner windows in the extension. They now make me appreciate the garden much more, and the funny thing is, it feels bigger than it ever has before," comments Debbie.
One of the knock-on effects of installing so much glazing was the need to install underfloor heating. "We have it in the new part because with so much glass, we had very little wall space to accommodate radiators," comments Roger. Roger had been a landscape gardener in a previous life so was up for the challenge of tackling the work outdoors. "I cleared back the beds and extended the patio to provide a bigger living area outside, with barbeque."
Roger's mum is also a keen gardener, and she helped with the selection of planting, to have colour all year round. "Before this, in winter our garden was not somewhere you wanted to be. With clever planting we completely got over that," adds Debbie.
Living with the builders
"Our chartered architectural technologist Mark Davies is a personal friend of ours so he seemed like the logical person to ask to design our extension," comments the couple. Mark was brought on board August 2015 and the builders started in May of the following year. The build itself only lasted four months.
"A key design decision was whether or not to go with a flat roof, which Mark encouraged us to do as it was going to fit in better at the back and it had the benefit of providing an extra foot in ceiling height," says Debbie. "We're delighted we followed his advice, the extension feels very spacious as a result."
As for their choice of builder, the company they chose had come highly recommended by Mark and by other friends who had gotten them to do smaller jobs. "We hit it off straight away, they gave us a detailed quote, which we tweaked, adding some things and removing others," says Debbie. For instance, their builder had quoted them for the floor laying but Debbie and Roger took that off the schedule.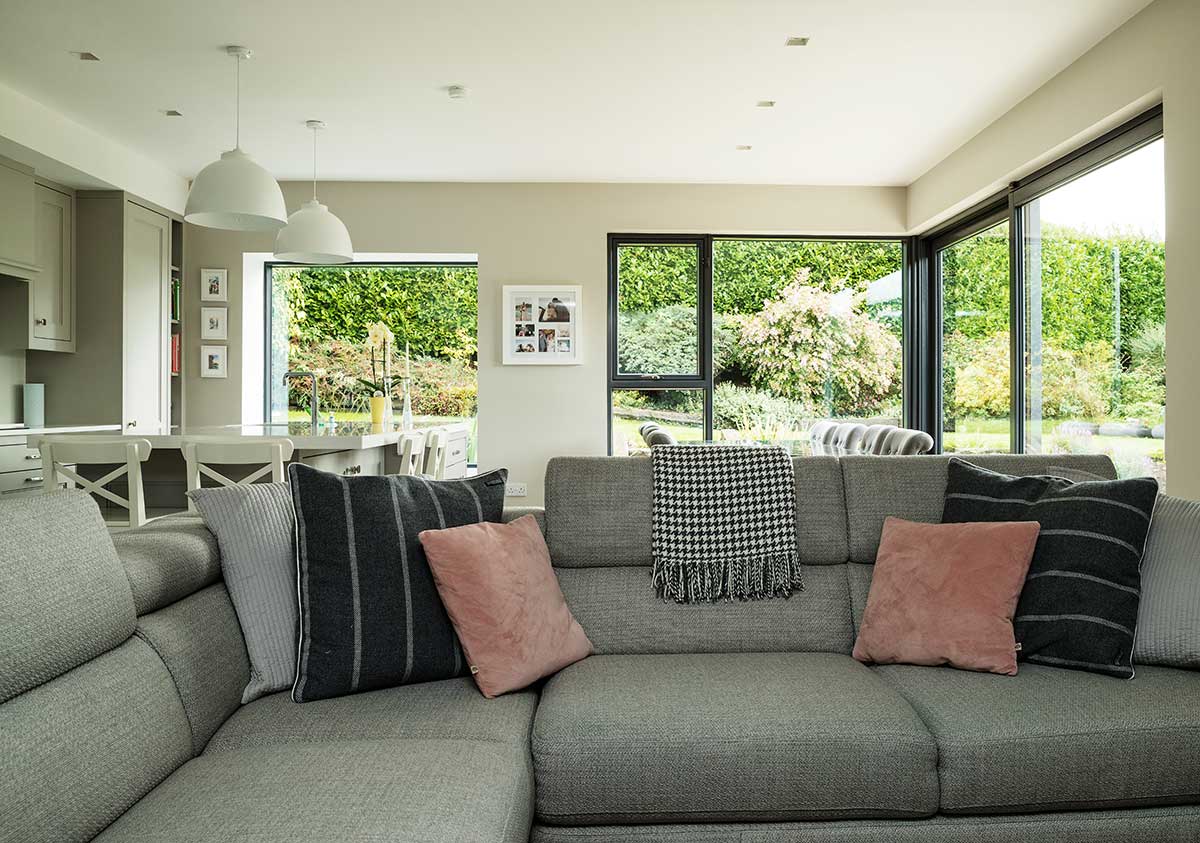 "We selected a premium engineered finish and the company we sourced it from installed it for us," she adds. "Instead we asked the builders to tank the ensuite shower and a few other small upgrades." Another aspect they outsourced was the kitchen. "We installed a good quality, bespoke hand painted design. It only took two to three meetings with our kitchen designer and we got exactly what we wanted," comments Roger.
"The structural part was guided by Mark and the builder managed the project with Mark signing off on key stages," adds Debbie. Due to the location and the soil conditions, the couple had to go with raft foundations for the new extension. "It was fairly easy to keep an eye on things as we were living in the house during the works. We had a briefing every morning with the builders for 20 minutes at 8am to catch up, before Roger and I headed out to work," she adds.
But as the kitchen was a central plank of the overhaul, the couple had to make alternative arrangements. "We moved the kettle and microwave to the sitting room, and we'd eat out at lunchtime. It actually wasn't that bad." At the time they were expecting their first child.
Cosied up
"With a brand new extension we realised the rest of the house might look a bit tired, or dated so we took the opportunity to inject a bit of life by repainting all the rooms and staircase, and changing the floor at the front of the house to match the extension," continues Debbie.
"We put new carpets upstairs and changed the blinds and curtains. It was all cosmetic work that made us feel like we got a brand new home by simply adding a few square meters." In terms of the heating, with so much south facing glazing Debbie says the house can get too warm in the summer time. "With both of us working, coming home on a hot summer's day can be a bit stuffy but all it takes is to open a window." The new wood burning stove, meanwhile, provides great heat and comfort in the winter months. "And even though the room is big, sitting by the fire is very cosy," says Roger.
"Our bills haven't changed much but the house is definitely warmer than it was in previous winters. That probably has a lot to do with the boiler upgrade and having zoned the extension separately. Although I think the type of high performing energy efficient glass we subsequently installed in the original part of the house, played a major role too," adds Roger.
"It's a good thing because we crank the heat up more than we used to thanks to the new addition to the family."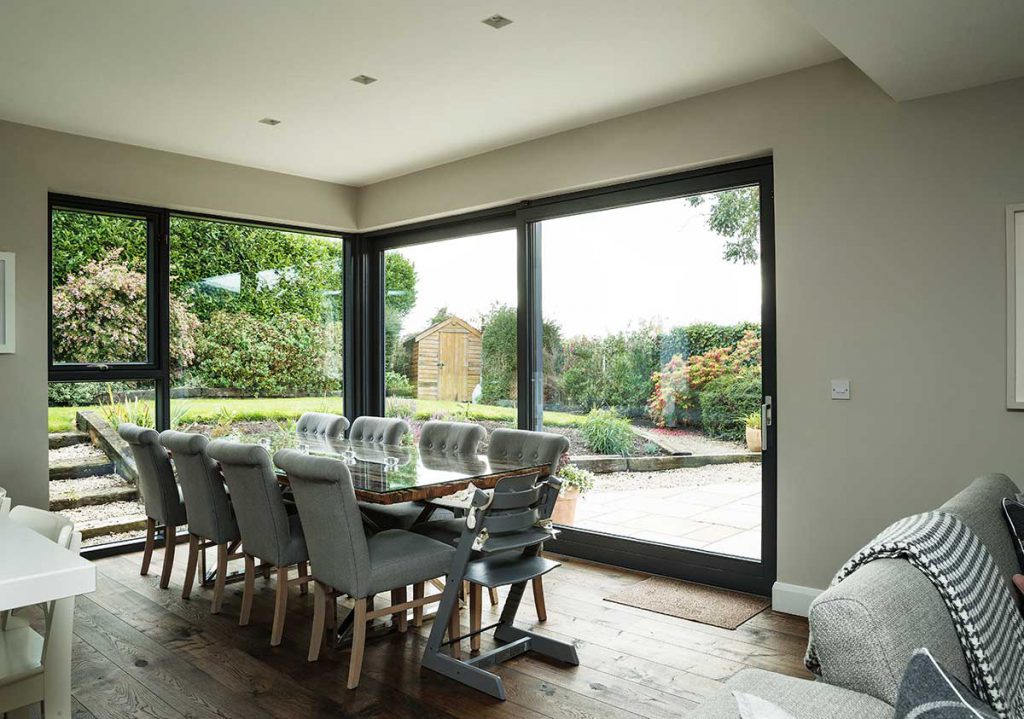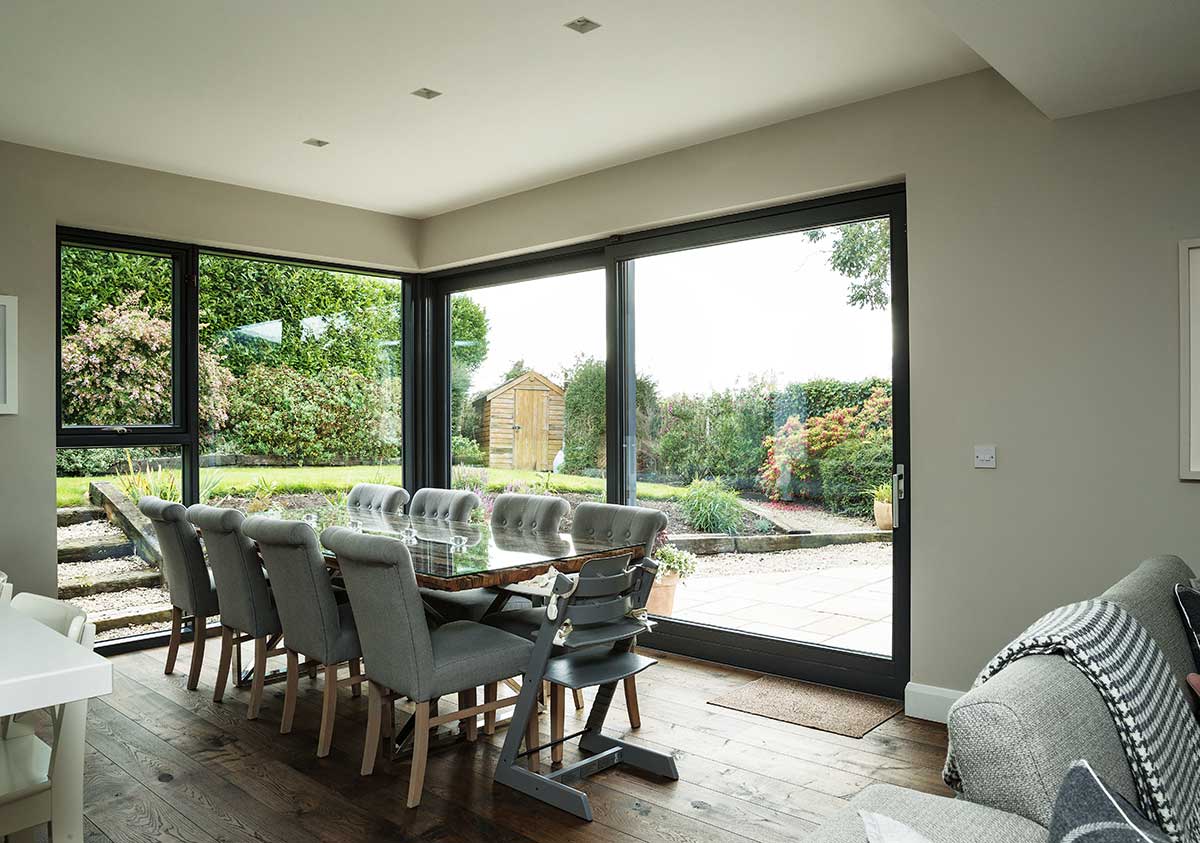 Top tips for Wicklow home extended into the garden
Aim to get the best quality you can afford. You might be tempted to cut corners but when you look back you'll appreciate the investment.

A mistake might be to buy furniture before the room is built. Luckily for us it worked out but I wouldn't do it again. We'd bought an L shaped sofa pointing the wrong way, thankfully we were able to replace it for one that faced the right way. We did however wait to buy the dining table, which came after the kitchen was installed to make sure it would fit in the way we wanted it to.

What's your favourite feature? We love having the food preparation area part of the dining space. As we both cook, friends and family can interact, it's a very inclusive room. The oversized island is the focal point and we love it. All the furniture is generally oversized which is what we like, and the space accommodates them all.

What would you do differently? We really wouldn't change anything, we're exceptionally lucky. The only issue we've had, and this is quite minor, is that the boiling water tap doesn't work properly due to the water pressure. We need a pressurised system.

Would you do it again? We absolutely wouldn't feel the need to.

What surprised you? Living in the house while the builders were here was actually a great experience, I didn't expect that. We were happy to see them first thing in morning and for a while, after they were gone, I actually missed our morning catch-ups. They were really excellent, cleaning the site every evening before they left.

What advice would you give someone who is planning a renovation project? The most important person you hire is the builder. Ours made the process seamless for us by listening and providing advice.
Suppliers for Wicklow home extended into the garden
Architectural Design: ARC Design, Delgany, Co Wicklow. arcdesign.ie
Builder: A & J Martin Builders, Newtownmountkennedy, Co Wicklow
Roof: Paralon Total Warm Roof system, moymaterials.com; Xtratherm FR-ALU insulation xtratherm.com on Proctor Reflectatherm proctorgroup.com
Wall insulation: Xtratherm XT/CW
Floor: Monarflex RMB400 Radon barrier necoflex.ie, Xtratherm Thin-R XT/UF insulation xtratherm.com
Windows: Extension: Munster Joinery, munsterjoinery.ie. Existing house: EnerGlaze, Unit 1, Wexford Enterprise Centre, Strandfield Business Park, Rosslare Road, Co Wexford, energlaze.ie
Kitchen: Noel Dempsey Kitchens & Interiors, Co Wicklow, noeldempsey.com
Floors: Mulveys of Dundrum, mulveys.com
Photography: Dermot Byrne, dermotbyrne.ie