Peter Williams' spacious timber frame home is so low energy, it only costs £40 a month to run.
In this article we cover:
How Peter built his home to be so energy efficient
Choice of timber frame construction over other methods
Working with the timber frame company to change the design, structural implications
Details of photovoltaic (PV) solar panels choice and installation
Breakdown of costs and how much spent by energy type
Changes mid-build to let more light in
Details of floor finishes and open plan desigh
Functional kitchen design on a budget
How Peter managed the day to day on site
How drawn out the planning permission process was
Stunning staircase design and how it was built
Choice of wood pellet stove and how it's working out
Peter's thoughts about renewable systems, and which ones are worth it
Top tips to build your own green home on a budget
House size: 300 sqm
Floors: standard build up with 150mm PIR insulation
Walls: timber frame construction, 50mm insulated plasterboard (PIR) on the inside, insulation between studs, finished on the outside with plastered blockwork.
Roof: 50mm glasswool, 100mm and 50mm PIR insulation, 50mm void and then 50mm PIR backed plasterboard.
Windows: uPVC, triple glazed, argon filled
Built in 2012, Peter's house has only been costing him £500 in energy a year. It's not just because of how well insulated it is – although that's the core reason – the house in fact boasts a panoply of devices that each contribute to the savings. The heat recovery ventilation system, the hot water solar panels, the electricity solar panels (PV), LED lighting as well as a wood pellet stove, cohort to make this possible.
"We got an energy consultant to do the calculations for us, to know how to specify the thermal envelope. We have it built so that there is a heating requirement of just 5kW with -4degC outside," explains Peter. "We made sure to get the external structure built by a timber frame company, offsite, to guarantee build quality."
The main additional cost, as compared to a home built to today's energy standards, was investing in the PV panels which set him and wife Anne back £6,000. The breakdown of the energy inputs are wood pellets for the stove, which cost £300 a year, and electricity at a net cost of £200 a year for general use, for the electric radiators in the bathrooms (each of the four bedrooms has an ensuite) and for the small 650W air source heat pump integrated within the hot water cylinder. "The most expensive bill, by far, is my broadband and phones at £70 a month," exclaims Peter.
The small 6kW stove provides enough heat for the entire house. "It's located downstairs in the open plan area and as warm air rises, it gets around quickly. The most comfortable room is the upstairs lounge – the only downside is it's not very practical to be bringing hot beverages or even food up there due to having to climb the stairs."
Eyes of the house
"Any wee bit of sunshine makes a huge difference to warm up the house, it's one to two degrees Celsius warmer when the sun is shining," comments Peter, who doesn't heat the house until November as he gets 19degC in October. Having invested in triple glazing he says there's no chill beside the windows either.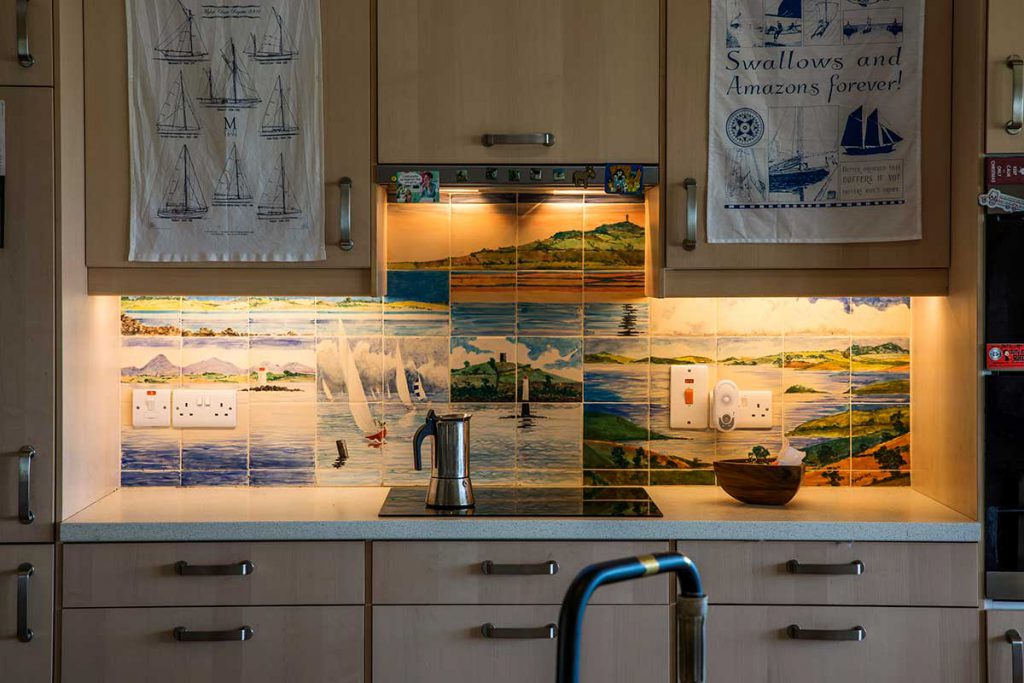 "Even though we don't have underfloor heating, and despite the fact that we tiled a lot of the floors downstairs, the floor is never actually cold, all thanks to the insulation."
"But, combined with the open plan configuration, the hard surface means it can get noisy so we've added rugs to help with sound attenuation," adds Peter. "One thing we changed mid-build was to add a row of windows, three windows at the top of the staircase and that's made a huge difference to the feel of the house as they catch the morning sun. Thankfully the timber frame company was willing to do this for us, at Anne's insistence. It cost us £1,000 but worth every penny for the light that floods in."
'Even though we don't have underfloor heating, and despite the fact that we tiled a lot of the floors downstairs, the floor is never actually cold, all thanks to the insulation.'
The rest of the windows provide fantastic views but at night, the black winter backdrop can at times cry out for a cosy retreat. "Anne had looked into adding curtains or blinds but as we're not overlooked it never felt like a pressing matter." "It's very difficult to find something adequate as any form of screening will in some way lessen the impact the windows have on their own. Even drawn back, curtains will partly obscure." They priced up a fully kitted out solution which would have set them back about £10,000.
How it adds up
Peter's £200 electricity bill factors in the payments he gets for selling electricity back to the grid, which amount to almost £500 a year, and for consuming the rest. Even in winter the PV panels will supply some electricity, which Peter says is enough to power the washing machine. "I can keep an eye on how much the panels produce, on a real-time basis."
Peter also got a £400 grant for installing his hot water solar panels, and another for installing his wood pellet boiler. These incentives are no longer available.
He then benefited from a rates holiday under the Low Carbon Homes Scheme (exemption from paying property tax, which in Peter's case amounted to £3,000/year) for building a low energy home; a scheme that has also been axed.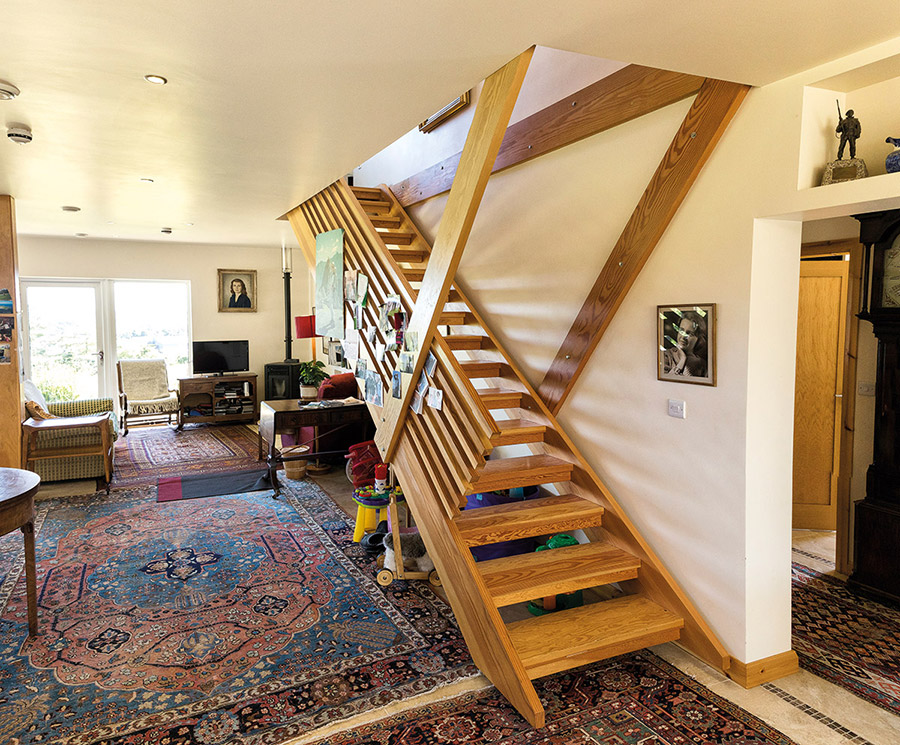 "I admit it was good timing but we also wouldn't have gone the full hog if these incentives weren't in place as we were constrained financially," says Peter. "We had to raise money for the work so we had to keep a rein on the budget."
For the energy saving systems to work, Peter calculates the insulation came in at £12,000 and the windows at £15,000 for triple glazing. "We got a basic uPVC finish on the glazing, alu-clad came in £30,000 more expensive than uPVC at the time," he adds. To keep a lid on the budget, the couple kept the finishes to a minimum. "We used the same carpet upstairs as downstairs, and this only cost us £1,500, it was Anne's idea to do that," explains Peter.
"For the kitchen in the centre of the open plan area we went to a flat pack store and got an interest-free loan over two years. It was a no-brainer. We paid £6,500 in total with all appliances included, and only had to put down a £100 deposit."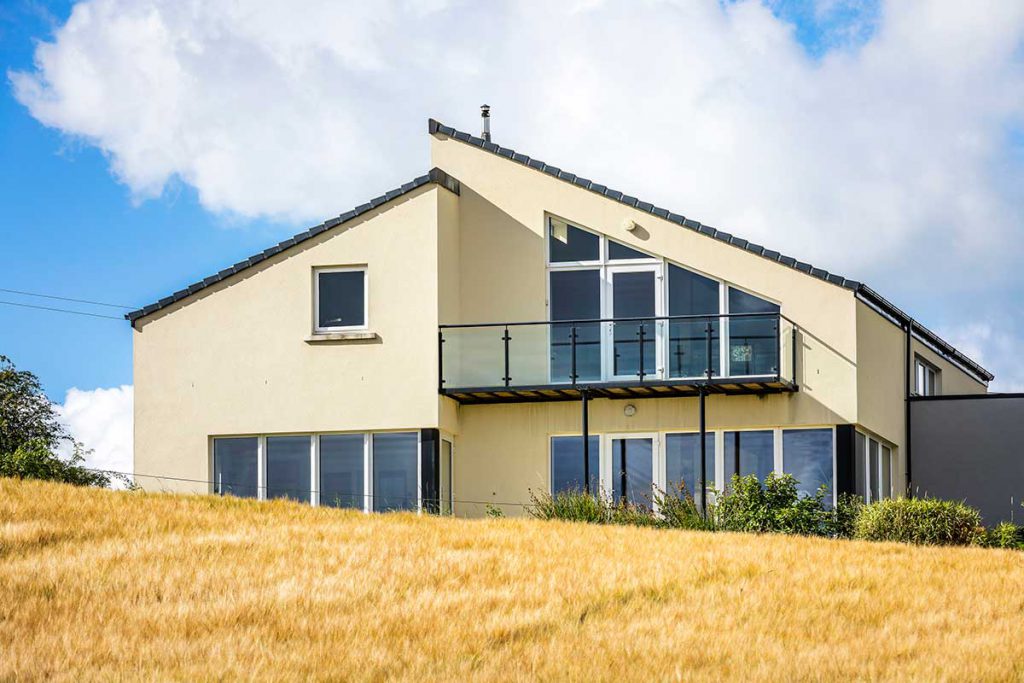 Mechanics
For Peter and Anne, securing planning permission felt drawn out but it yielded a positive result. "Nothing happened after we submitted our application; two to three months later we asked our architect to follow up," recounts Peter. "They'd given the case to a planning officer that had taken two months off for the summer. It's only when the officer came back from holidays that they looked at the plans."
Peter says the planners felt the original design looked too much like a chalet. "As a result we split the roof into two sections. This reconfiguration worked brilliantly, it has the big advantage of providing tremendous height in the house." The timber frame company they hired, which has since gone out of business, built two thirds of the house for them.
"They sorted all of the structural elements including the steelwork; I then got the people in to do the roofing, electricity and plumbing, I also hired a bricklayer to finish the house in a traditional plaster finish. I knew the plumber personally, others I found through recommendations of friends in the trade."
"The timber frame company was brilliant, they came along and advised us throughout. The only stressful part was when we paid the £20,000 deposit over to them. Needless to say a sense of relief overcame us when the structure was put up."
Living only three miles down the road, Peter was on site every day. "I would probably describe myself as punch-drunk at the time. I tried to be there as often as I could but even then, as soon as I got out of the car I'd get asked, what do you want done about this or that. You have to have your brains about you."
"I'd argue even if you get a contractor to manage it all, it's still only you that can decide what you want. For instance we had our own ideas for switches, where to put them. The alternative is to be accepting of someone else's choices." It took Anne and Peter two years from breaking ground in March 2010 to moving in.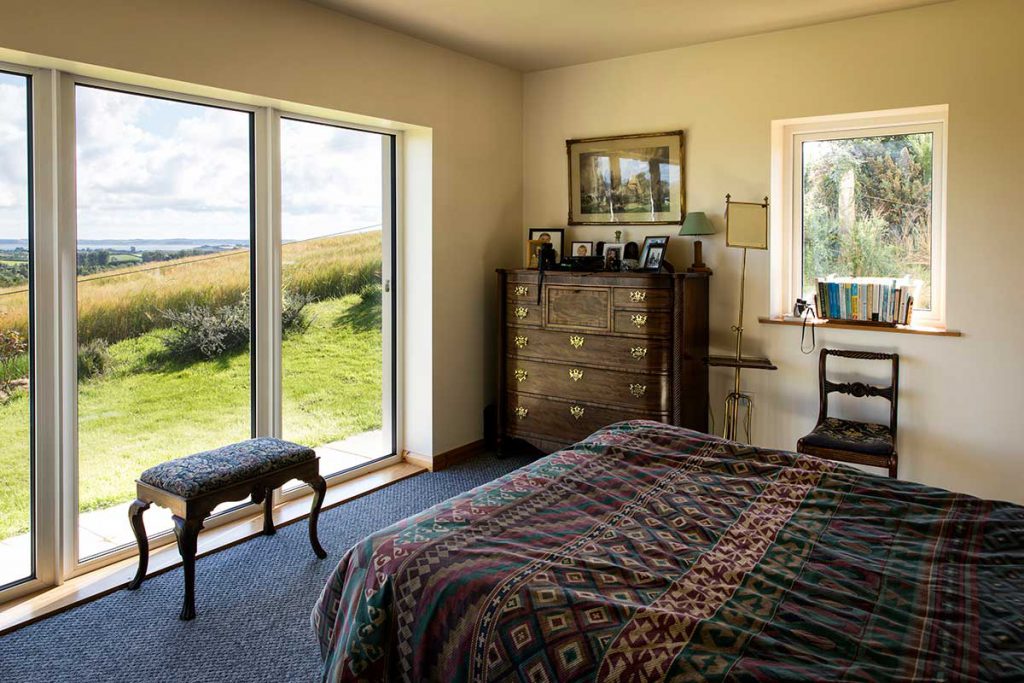 Open plan
The open plan layout was one that appealed to Peter and Anne as they were, at the time of building, living in a 1970s house. "The family home we'd raised our children in was old-fashioned, with a traditional layout of distinct dining, kitchen and drawing rooms," explains Peter. "An open plan layout greatly appealed to us as being more inclusive and interactive."
Part of the winning strategy was to incorporate a staircase with artistic merit. "As it was always going to be 'in your face' due to its position, it had to be a statement piece," explains Peter. "I especially like the open treads which keep the open plan open. It just works."
"The inspiration came from visiting, seven or eight years ago, an architect friend of mine. He had a similar one he'd designed for his house, suspended from the upper floor, built like an inverted roof truss. I asked him if I could copy it and he instructed me to take photos and work away at it, which I did."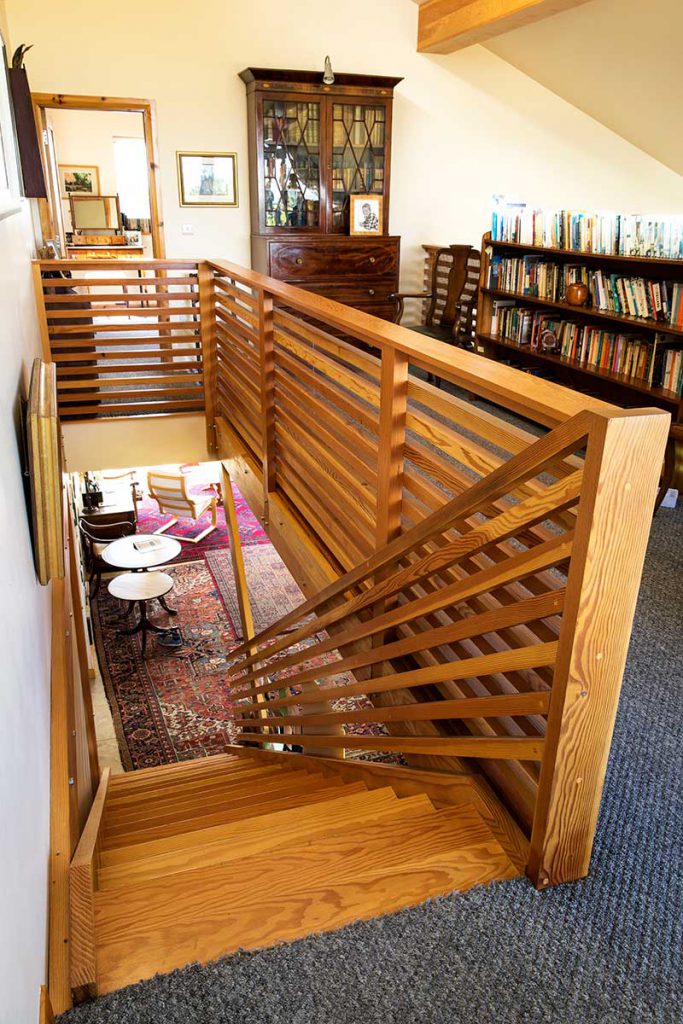 A great design is one thing, but to get it built is always another. "We had two guys look at it, one quoted us £7,000 to build it in Douglas Fir, finished, including the balustrade around the kitchen well," continues Peter. "The other one, who is local, gave us a quote of £2,000 in the same wood but unvarnished. We got him to do the job, and asked him to do the internal window sills in Douglas Fir too, one of which is six meters long."
The open plan layout worked well for Peter and Anne as a couple but now that one of Peter's daughters has moved in with her two boys, he says there are some downsides. "If you have two different TVs on, they'll bleed into each other – I don't have a separate room to quarantine the children's programmes in, so it gets bloody noisy."
"The house doesn't really work with more than two people. I need a separate study to hide in," he says in jest. Peter's daughter is in the process of extensively renovating her own house and moved in for the duration of the works.
Thoughts on eco homes
The timber frame structure was a very successful build route for Peter and Anne but it did have one down side during the second fix. "We had an issue finding the wooden battens to fix our fixtures onto – there's two inches of insulated plasterboard to get through before you can even get to the timber frame," says Peter.
"So you need three inch fixings, that's a long way in. I've had to drill quite a few pilot holes to hit timber – the wall behind the kitchen presses will attest to that. The studs weren't always spaced to exact measurements so that led to a few more trial holes." Peter feels the issue with eco homes in general is that there is a different kind of upkeep required of them. "It's not that there is an awful lot of it, a few filters that need to be changed, thermostats to be set. It's just different to what we've been conditioned to understand when dealing with oil boilers. It takes a change in mindset."
"I know quite a few people that turn off their heat recovery ventilation system in the hope to save energy in the summer. Others switch it off because they think it's too noisy. That won't save you anything and you're not ventilating the house as you should, which could have health implications, even if you open the windows, due to houses now being built to be airtight."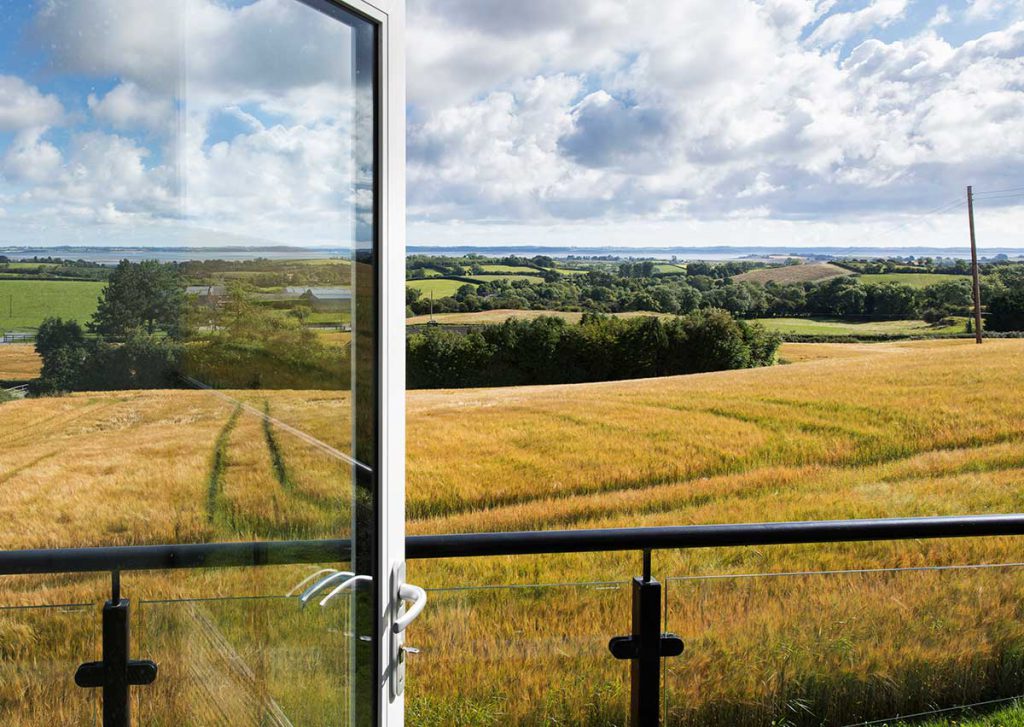 "For the wood pellet stove, there are ashes to empty, and not everyone relishes that prospect. I'm also now finding that it can take a few goes to light the stove with the igniter, it doesn't seem to like the eastward wind, so a gas fired one may be easier to use," confides Peter.
"I also feel a bit too dependent on the stove in winter so I'm looking at adding electric heaters as a fall-back option. It beats having to load the pellets!"
What's your favourite feature?
The view we have upstairs. I also enjoy being in the conservatory in the summer, which is on the southwest corner of the house. In winter it's a no-go zone, simply because the rain pelts down and it's not really enticing, much less than the embrace of the fire in the main part of the house.

What main piece of advice would you give a budding self-builder?
Bigger isn't always better. Even though this house is big, I would comment on the ludicrous sizes we're seeing cropping up nowadays – people with rooms they don't use. Not to mention the upkeep. I have to put my hand up and say Anne and I originally were going to build a 400sqm house.

A friend of mine who is an engineer told us we didn't need half of that. He helped us knock 100 sqm off the house without any problems. Now that Anne is no longer here, I find the house is too big for me alone, but it's also incredibly comfortable so I don't intend to move. I certainly wouldn't save on maintenance costs by moving to a smaller home. The upkeep here is also very easy.

What would you change?
Not much; the thing is you can't make every decision right. You do your best at the time. For example the colour we chose for the flagstones I'm not mad about, they're alright. If I were to do it again I might also have gone with a more experimental exterior. We used quite a bit of birch and larch panelling which I think is quite nice but we could have added more colour.

Any surprises?
I was told by a retailer that it's better to leave the lights on all the time, to prolong the life of your light bulbs. Apparently it's the act of switching them on and off that makes them go. I have four in a row on a switch and it's always the same one that blows. They are £3 to £5 a pop for LED and on average I have to change half a dozen a year.

Would you do it again?
Yes. I wouldn't build the same house though, as it would be on a different site. Each house needs to give consideration to where it sits. I find it shocking to see a row of 10 bungalows, all to the same design and specification, lined up like ducks. Each house needs to respond to its positioning, to the landscape and houses around it, as well as to its orientation.
Low energy timber frame home: top tips
Hire an architect. But make sure you get a good one. They'll add something to the table, a way of seeing things that you hadn't considered, they usually have sensible suggestions. I think every self-builder's plans should be considered a draft. I had put together ours in a computer programme and what we ended up with was quite different. We must have saved at least £5,000 from the feedback we got. The views are beautiful from here and we initially were going to build a threebedroom house; our architect convinced us to go with a fourbed. He said it was too good a site.

Once vetted, trust your tradesmen. A good tradesman knows his job and doesn't want to be interfered with. I foresaw all sorts of problems that weren't issues at all. I was wondering why I was fussing about it when they had a solution for every question I raised. I have kept all the contact details of my tradesmen, so when the house is sold I'll be able to give their names to the next occupant.

Think of the house as an ecosystem. The trouble with green homes is that we make a sophisticated effort to get the house to work as an interdependent system, between the ventilation and heating systems, yet people will shut some parts of it down without giving enough thought to the consequences.
Low energy timber frame home suppliers