Good things come to those who wait: Especially when you are about to make a significant investment in your life.
The best way to plan a renovation project is over a long period of time, whilst living in your house. That's how you get to know what will really work, what you actually need and it will give you the time to put the money together to get what you want. This is what Clive and Rebecca Madden of Co Antrim were lucky to be able to wait for.
"We moved back from Scotland 10 years ago and bought a house in Co Antrim," explains Clive. "We bought it at the height of the market and despite viewing hundreds of new builds we couldn't find exactly what we were looking for."
House size before: 2,650 sqft (including outhouses which were demolished)
House size after: 3,400 sqft
Plot size: 0.3 acre
Walls: Extension 300mm blockwork walls with 100mm cavity filled with EPS beads.
Floor: 75mm sand cement screed on vapour control layer on 150mm PIR insulation on vapour barrier on blinding on hard-core
Roof: 500mm fibreglass insulation to flat ceilings, 100mm PIR insulation between rafters and 50mm PIR insulation below rafters
**New build outlined in black below
Architect: FMK Architecture, Ballymena, Co Antrim, tel. 2587 8650, fmkni.com
Builder: J&M Contracts, Morris Shannon mobile 07903 524773
Tiles throughout: Tuscany Tiles & Bathrooms in Ballymena, Co Antrim, tel. 25 632049, tuscanytiles.co.uk
Plumber: JR Plumbing Heating Services, john_robinson320@hotmail.com
Photography: Paul Lindsay of Christopher Hill Photographic, scenicireland.com
"We liked the cottagey look of this house and felt it was quite different, its 100-year-old walls oozing character. Most importantly we knew it had good potential for a renovation or extension project. The back of the house was bland as compared to the front, and we knew there was room for improvement there too."
Planning stage
"We mulled our options for a long time, deciding what we wanted to do," adds Clive. "We lived in the house five years before we started and we gave it a great bit of thought." Their children also helped them prioritise. "With young kids in a big farmhouse, the kitchen is a big piece of the puzzle so we knew we wanted to keep the existing kitchen as the core of the house."
"At the start, we were going around at shows, such as Selfbuild Live, to get advice and inspiration," continues Clive. "We had our hearts set on adding a sunroom at the back of the house, which is where the views are."
---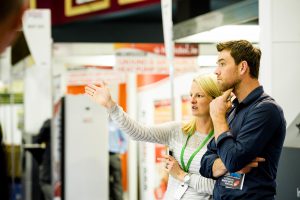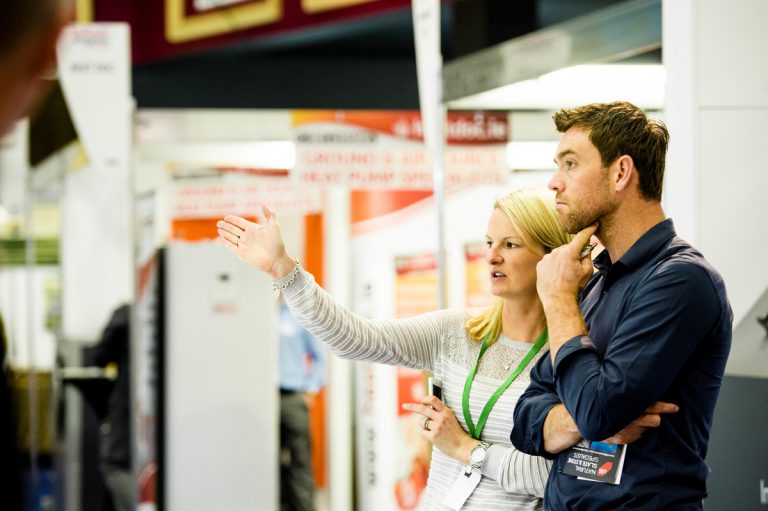 Selfbuild Live Dublin is the ultimate showcase for people who are building, extending, improving or simply decorating their home. Selfbuild Live Dublin, 13th-15th September takes place in the Citywest Convention Centre, Dublin.

---
"When we bought the property there was a shed attached to the house and the original kitchen was used as a store room/ gym as, twenty years ago, the owners extended on the left hand side to add the current kitchen."
"The solution for us was to convert the outhouse into useable space and extend towards the garden. This added a toy room, a sunroom with bedroom and shower room upstairs, along with a bigger back hall. The larger back hallway is now there for the children to run around and the new toy room will easily convert into a teenagers' den when they advance in their years," continues Clive. "Our usable space doubled."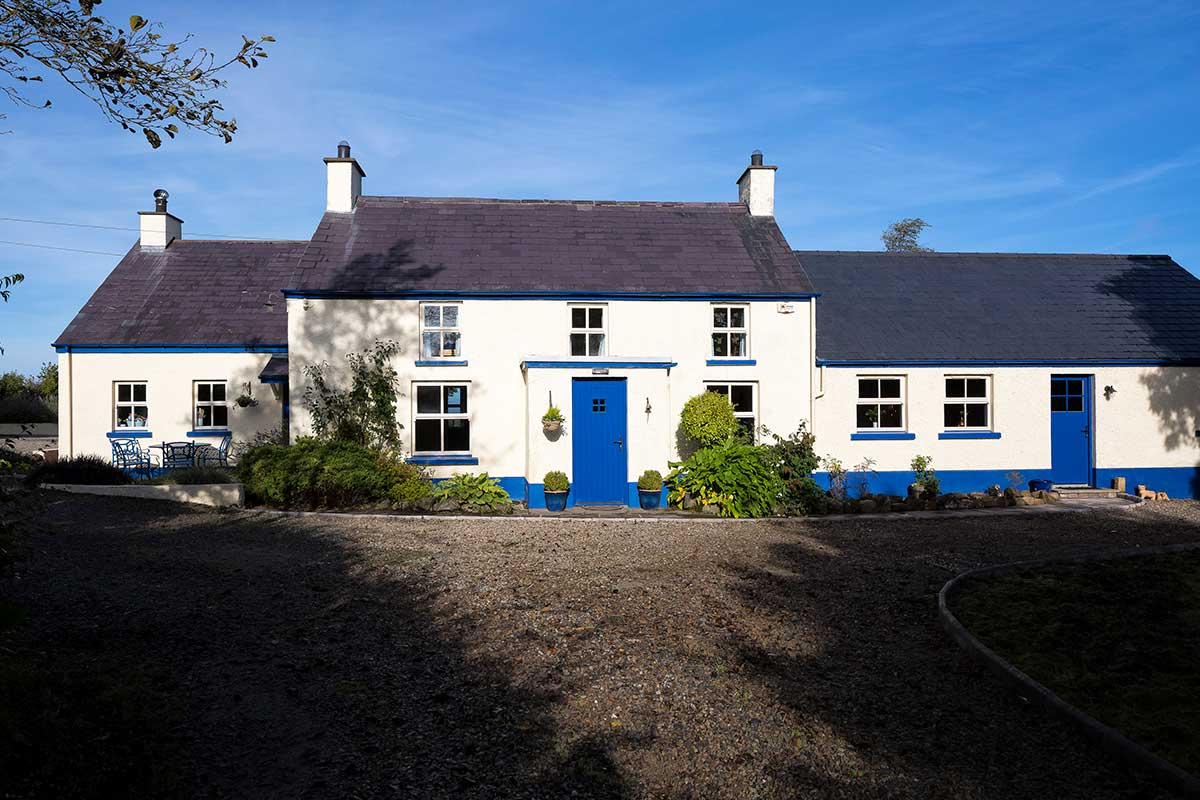 Helping them further their plans was their architectural technologist. "We found a practice that was reasonably priced, and whose eco philosophy appealed to us. We also liked their way of marrying old with new. They came back with how to improve the insulation, and design ideas such as adding corner windows. They also suggested using more roof lights to avoid potentially dark recesses."
"In the sunroom we chose light colours, and in all the new parts we were influenced by our travels in France and Italy. During our holidays we fell in love with mezzanines, split levels, and ceramics. So we chose to finish our floors with Italian style tiles to evoke the Mediterranean. The hall is an orangey amber colour to complement the scheme." In terms of furniture some items were moved around, others were bought to fit in with the style they wanted. "We moved the leather sofa into the living room, and got new patio furniture for the sunroom," adds Clive.
'With young kids in a big farmhouse, the kitchen is a big piece of the puzzle so we knew we wanted to keep the existing kitchen as the core of the house.'
Due to the size of the extension Clive and Rebecca had to secure planning permission, but this turned out to be a straightforward process. "Two existing rooms had to be knocked and rebuilt because we wanted cavity walls, from a heat conservation point of view. As we kept the original features intact it seems the planners were happy with our changes." They got planning permission in March 2013 and finished the renovation a year later. The existing roof 's Bangor blue slates were complemented with Spanish slate and to maintain the cottage style, the new windows are timber and double glazed.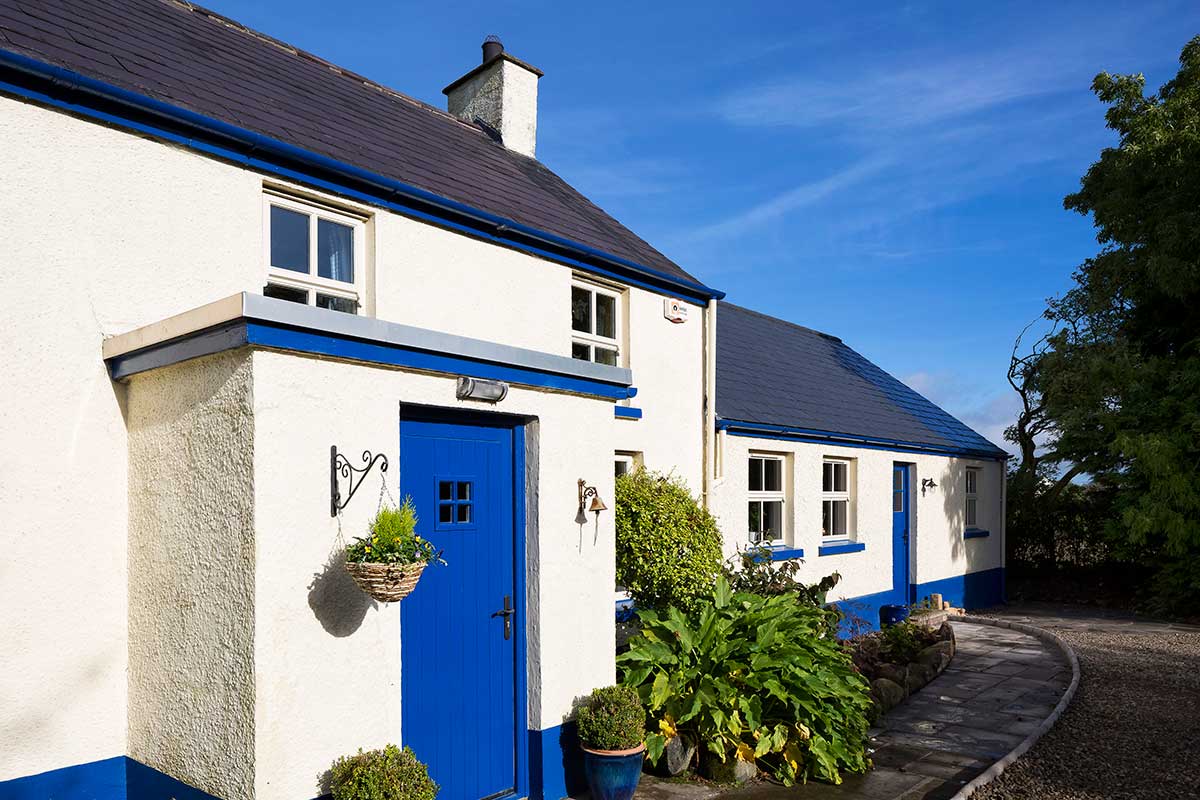 "When it came to choosing our builder we were very aware that we'd be working with them for six to nine months so we made sure we could trust them, and their workmanship. We planned to live in the house during the upheaval so good communication was essential. We got the job priced up by three parties, just as we had done when looking for an architectural designer."
"What clinched it for us with our builder was the extensive breakdown he provided. And as it turned out the itemised cost stages held true. We split the payments into five instalments and project managed the build ourselves in conjunction with our builder. His itemised breakdown gave us the roadmap for the works."
Being in NI the building stages coincided with Building Control inspections.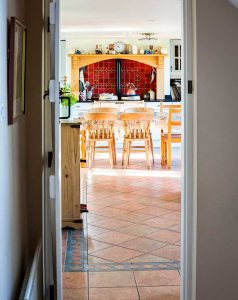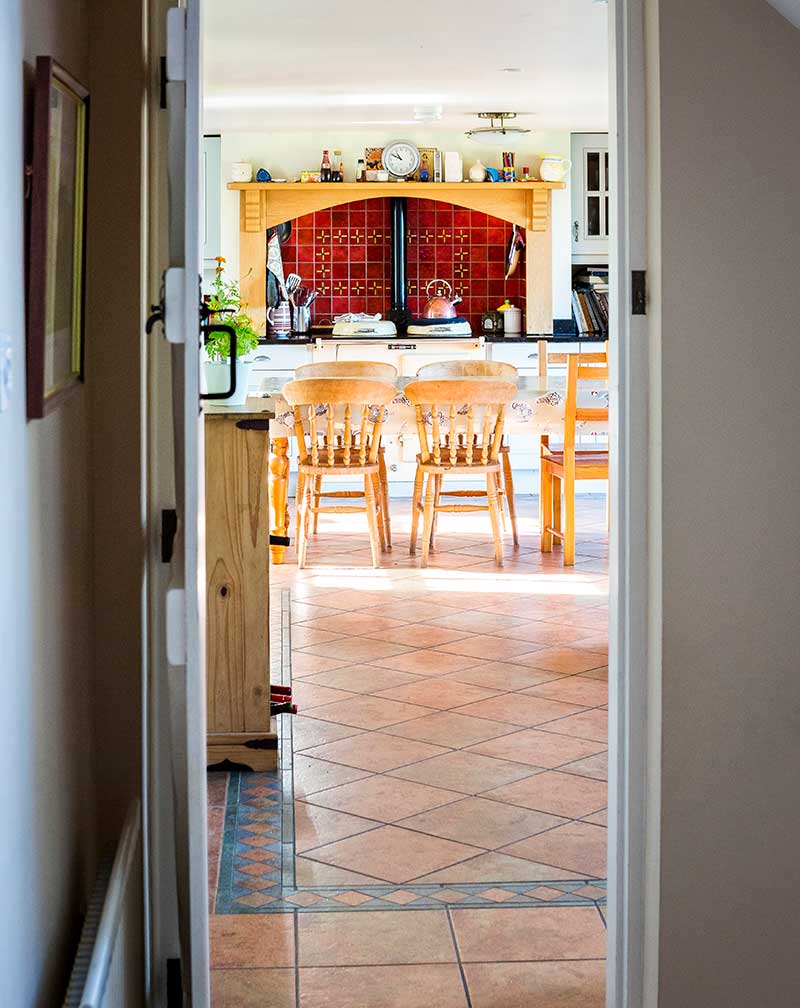 Energetic
When the couple moved in there was an oil fired range in the house already which ran the hot water. "We kept it and added a central heating boiler for the radiators. Whilst there already was an oil boiler, it was over 20 years old." "The new parts of the house have underfloor heating – the bedroom upstairs and sunroom. In terms of electricity we put in a new fuse box for the extension, to integrate it with the old system."
Before the renovation, Clive and Rebecca had installed photovoltaic panels to generate electricity from the sun on their south facing garage. "We're still in the payback phase but our electricity costs have been cut in half. To maximise the savings we never turn on the dishwasher and washing machine at the same time."
Nurture the relationship with your builder. We talked our way through the snags and issues. Things can get quite fraught, but there's no point getting too upset. We called on our architect to work out details that weren't clear from the drawings, e.g. insulation, and these details were worked out on site.
Take your time. We started on the renovation eight years ago but we're still working on the house. For example outside, we created a driveway at the front. This past year alone we added a stone wall at the perimeter and did a bit more landscaping.
Delays are likely. We had a deadline of six months to complete the project but it all takes time, things crop up. In our case we discovered a burst pipe in the central heating system that set us back four weeks as we'd originally thought the water ingress was rising damp. We even had put an electrical wire around the wall to soak up the damp, a foot off ground, four inches in low voltage current. We had to get the insurance sorted and all this sets you back.
Check delivery dates. The tiles we ordered from Italy came in later than we expected because the company shut down the entire month of August. You have to factor these things in and be accepting of them.
What's your favourite feature/ favourite part of the house? I love the sunroom with windows around the side and the kids love it too. Thanks to the extension we benefit from a wind break to barbeque so we're actually outside a lot more now. The balcony to the river and valley view is an added bonus.
What surprised you? We didn't expect we'd have to install a pump for the wastewater system.
What would you do differently? On whole we're very happy with how the build went, there were very few hiccups. Now there are only little things I'd change, for instance the smoke alarms are at the top of the new 3m high ceiling which means changing the batteries isn't always very practical. I might also lower the windows at the front, I was set on having them line up to the original house but it would be nice to see the garden when sitting on the couch. It is how we wanted it to look from the outside so I can't really complain!
Would you do it again? I would definitely do it again. We've always been into old buildings, keeping them as they are. Our previous home was a flat, it was our first purchase and we did up the interior, there was no structural work involved. So we were sanding floors, upgraded the house in general which gave us inspiration for this house. At the time, we were young and enthusiastic.
What advice would you give to a budding selfbuilder? Be flexible – the house may throw up some surprises so be prepared to have the schedule pushed back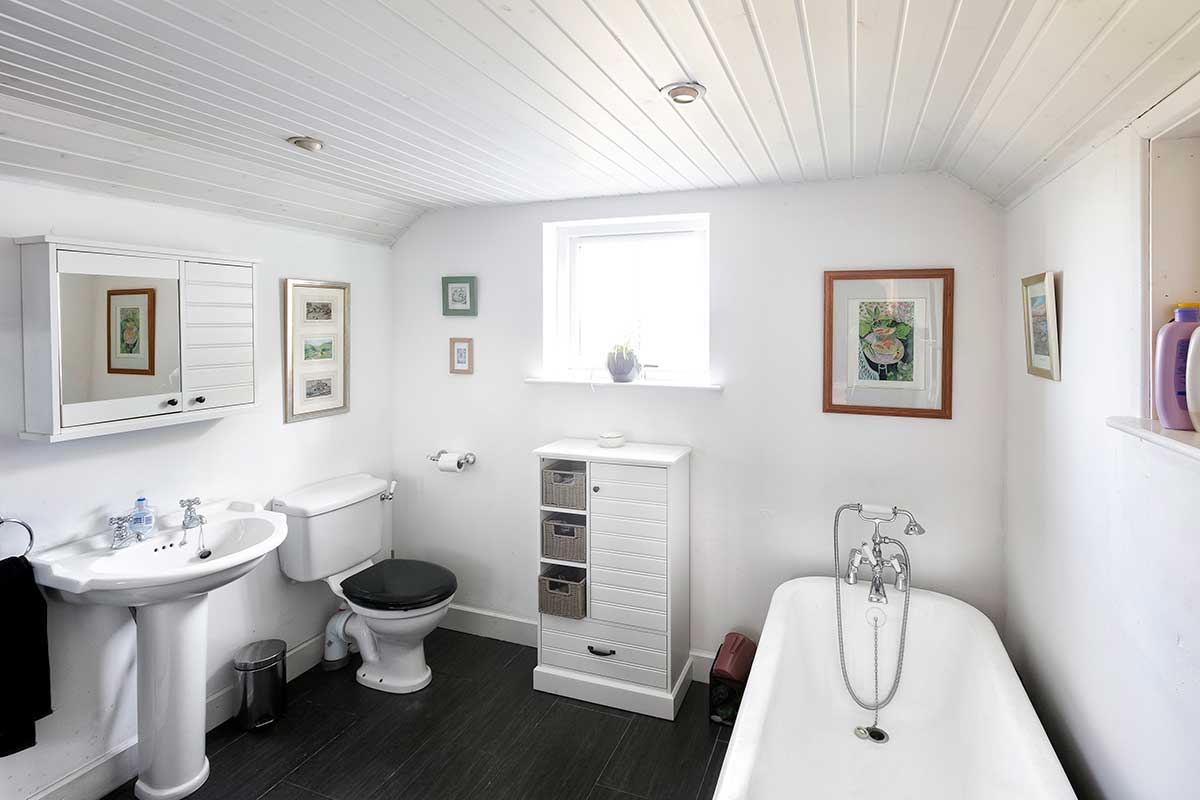 "We're very happy with the underfloor heating – we installed it in the new part downstairs but it would have been nice to extend it to the upstairs bedroom and bathroom. To do this we would have had to get it zoned, so as not to turn on the heating unnecessarily in rooms that weren't used but that meant adding controls to the old heating system which we couldn't do."
---