When deciding what kitchen to go for, you'll need to consider what cookers are out there and which extractor fans they go with.  
In this article:
Different types if hobs
Hob finishes
Range cookers: pros and cons
Maintenance for all cooker surfaces
Different types of extractor fans
Hobs
Nowadays most kitchens will separate the oven from the hob, although hobs can be integrated in a range or simpler cooker combination. When separate from the oven, they are usually fitted directly within the worktop.  
The choice is then between electric or gas powered. The controllability of gas has long given it an edge over other types, but this position is being seriously challenged by the new generation of induction hobs which work in a similar way to microwaves and can boil a pan of water in four minutes.
With electromagnetic induction, using a spiralled copper coil with a ceramic glass surface, no heat is released until the base of the pan touches it, and some are sophisticated enough to adapt the heated area to the size and shape of the pan being used.


The presence of a detector ensures that the ring only heats up when there is a pan on top. When in use, a ceramic hob glows beneath heat resistant glass which has a smooth finish and is easy to keep clean. Copper, aluminium and pans with a rough base should not be used on a ceramic glass surface as they will damage it.
Gas hobs usually have four burners although the fifth wok burner in the middle is handy for both this type of cooking and also so the pots don't bang against each other when using the cooker to full capacity. Cast iron grating, to place the pots on, completes the set up.
Stainless steel is the most common gas hob surface but glass and enamel are other options. The latter two are more likely to come in white or black; a word of warning, gas flames are hard to see on black finishes.
Ranges
The range cooker remains as popular as ever for an all in one solution. Note that a wider than average range style cooker will require an appropriately large extraction overhead. You may then decide on a surround which will take up more wall space than you currently have on your plans.
Even though range cookers were once synonymous with back breaking stoking or nauseous fumes, times have changed and there are now electric models. Whilst these too have come into the modern world and offer customised colour enamel finishes, if they have a dual function of heating the hot water and/or radiators as well, they can never be just quite as flexible as a purpose designed cooking instrument.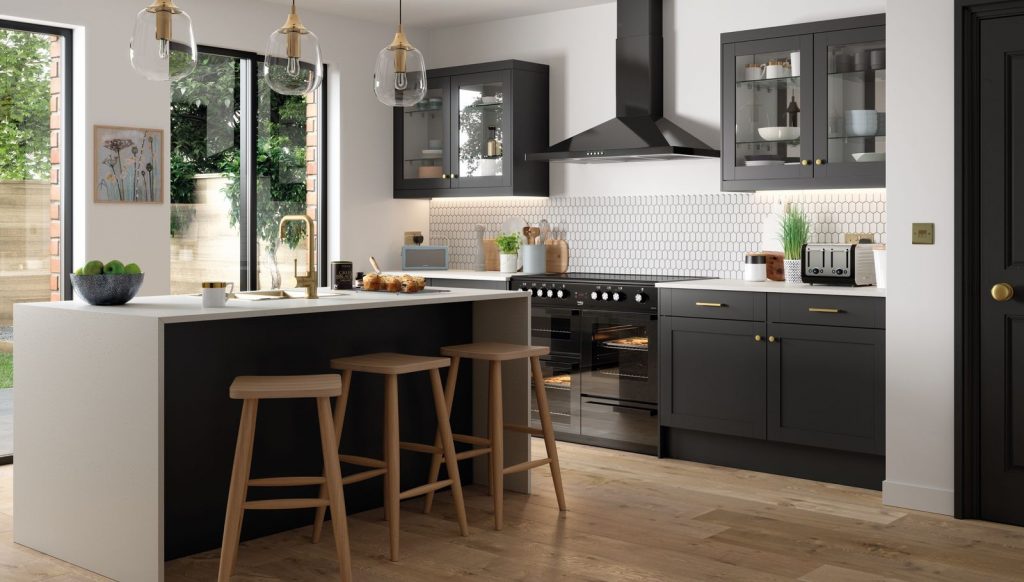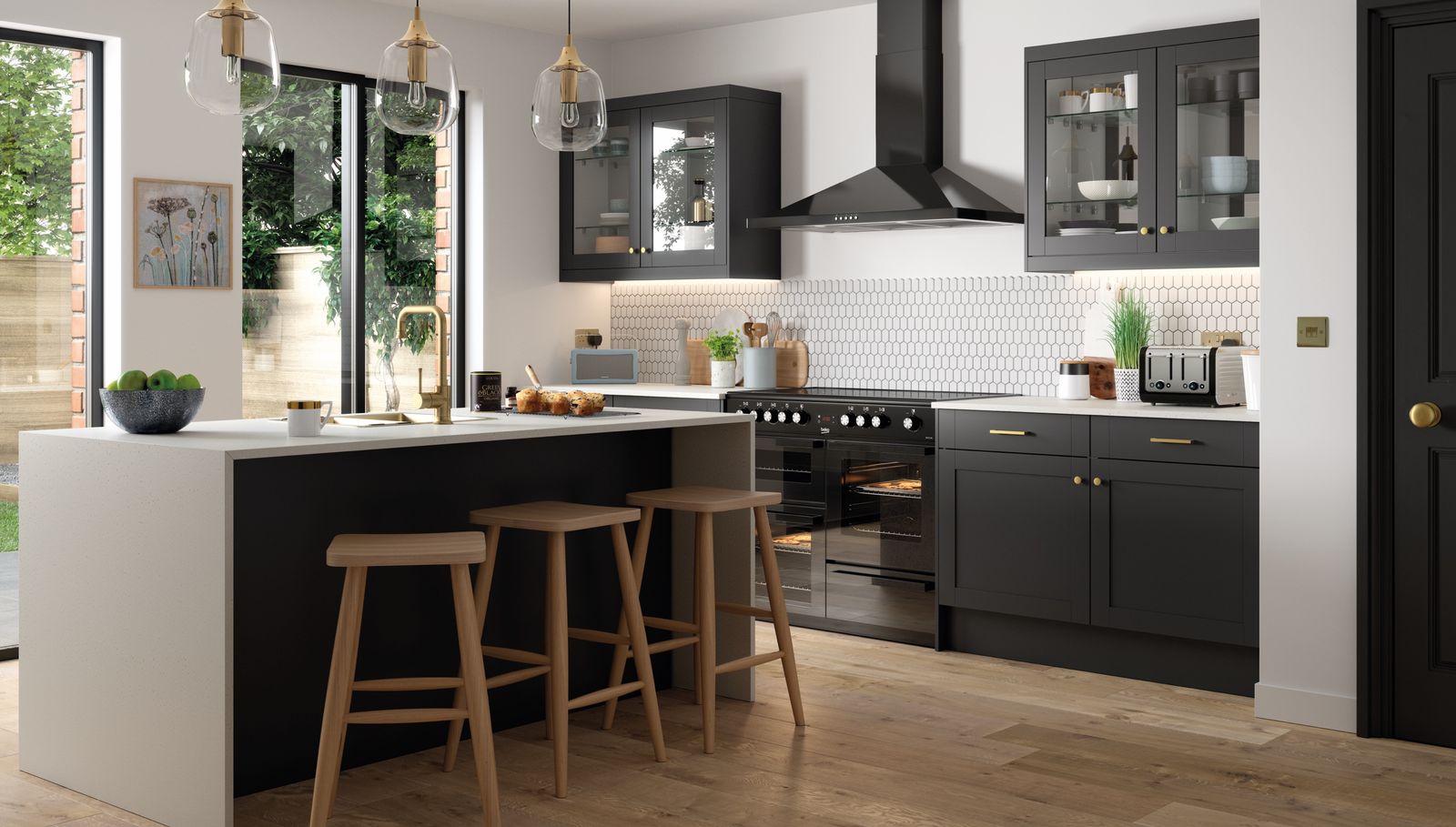 On a range cooker, ovens can be single or double cavity, incorporate a microwave, fan, rotisserie, kebab unit, steamer, defrost facility, use only half the grill and finally, thankfully, clean themselves.
An oil, solid fuel or gas fired range will hold its heat for many hours without electricity if there is a power failure, and many now offer some of the features of standalone cookers such as a pull out section to provide more hob space, or a combined gas/electricity unit.
Although lots of warmth from a cooker is great for bigger homes, too much heat isn't good for a well insulated house and many of us don't want the upkeep of a large space we don't need, a factor that manufacturers have responded to with mini models suitable for an apartment. There's even a gas fired flueless range cooker which can go anywhere; it's on castors.
Cost is always an issue as these items are more of an investment than an impulse buy, so if your budget is tight, look out for re-conditioned models. A properly re-conditioned cooker will have new burners, new insulation and even new enamel, if you wish, and are an excellent option.
Maintenance
Stainless steel and aluminium are the current cool in kitchen finishes. Very hygienic, they don't chip like enamel, there is no rust, are moisture resistant and can withstand very hot foods or liquids spilling onto them.
Fingerprints are quite visible on smooth polished surfaces, but cleaning is quick and easy with warm water and mild detergent, which must be dried off otherwise the surface will become spotted with water marks.
For touch marks on any cooker, avoid using scouring pads or abrasive cleaners as they can scratch the surface. Better instead to use a proprietary cleaner suitable for chrome, enamel and china.
A stubborn stain on stainless steel will probably yield to a hot solution of sodium bicarbonate and, if buffed up afterwards with a few drips of baby oil, will regain its showroom shine.
Hood/extractor fan
All cooking produces water vapour and in our increasingly well sealed homes, the threat of unwanted condensation is never very far away so a hood has to be an integral part of your design. All extractor fans need at least 150mm or 6'' ducting and are usually made of stainless steel; many integrate lighting and composite plastics.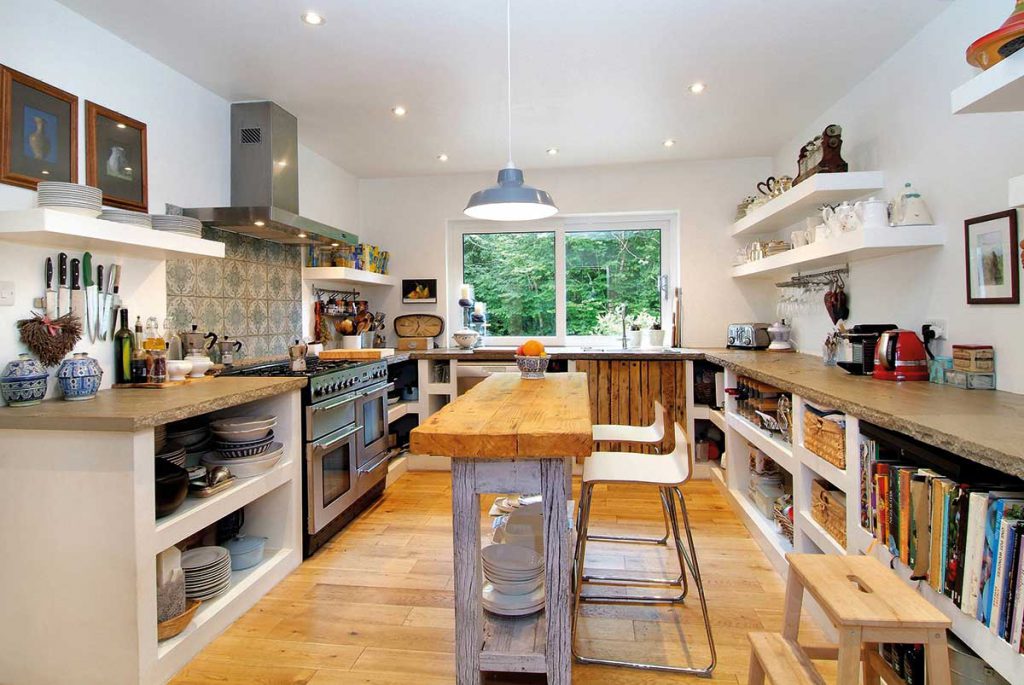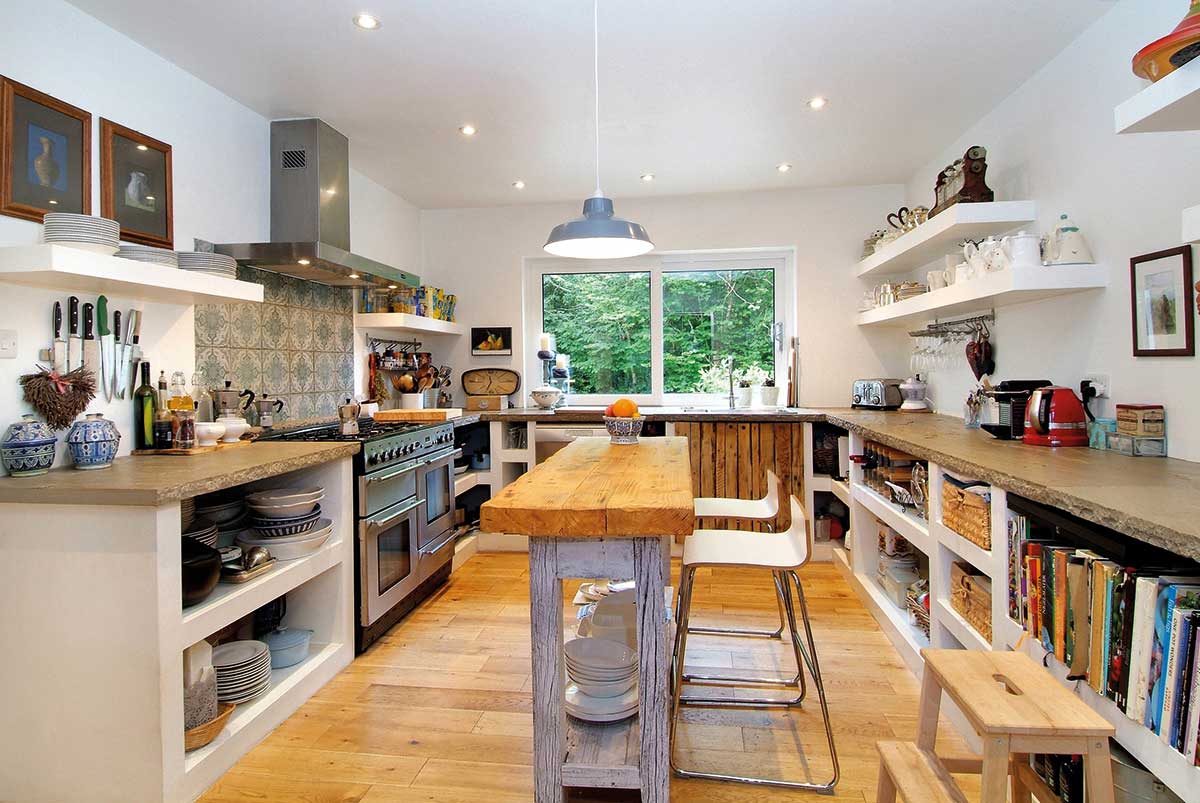 Traditional extractors suck the steam upwards. There are various configurations for these, including the canopy which is set into an existing or an artificial chimney, telescopic which is activated when pulled out, integrated where the hood is co-ordinated with your kitchen units and is switched on by opening the front flap, and finally the classic type which is fixed to a wall or under a unit.
If possible, duct it to an outside wall, but, if this is impractical or causes problems with your airtightness layer, use a hood lined with a charcoal filter which will recycle the air. These can be wall mounted or ceiling mounted, with the same pipework at the back. Heights can be adjusted (although there is a maximum distance between cooker and hood) so make sure it's placed so no one is likely to bang their head against it.
Downdraft extractors are newer to the market, and tend to be quite a bit costlier. These direct the steam downwards, with the extractor either placed within the hob unit itself or behind it in a periscopic or pop up configuration.
The downdraft extractor ducting goes in the floor, making it more readily airtight as the ducting is put in at the earliest stages of construction. Just as importantly, allowances also have to be made for the mechanism under the countertop and you need to make sure you will have enough space for it.
Downdraft extractors are especially popular for islands as the other alternative, ceiling mounted extractors, can be costly when suspended (not fixed against a wall). Downdraft extractors have in fact become increasingly popular because they are pretty much invisible, unlike their updraft counterparts which tend to be at eye level.
To find the correct size of hood, there is a formula: length x width x height x number of air changes per hour required (minimum of 10). Note that despite technological advances, noise can be an issue, especially in open plan configurations.