Fiona and Liam Canavan had their timber frame extension built off site; this is how they got on installing it.
In this article we cover:
Designing the extension
Choosing a supplier and what other options they considered
Working with a timber frame supplier
Groundwork
What the kit looked like and how it was put up
Heating and ventilation system choices
Cost comparison for timber frame vs blockwork
Timeline and floor plans
Overview
House size before: 104sqm
House size after: 248sqm
Plot size: 1.2 acres
Heat and hot water (whole house): oil combi boiler
Ventilation (extension): centralised mechanical with heat recovery
Build method (extension): timber frame
How did the project get started?
It was always our plan to move out here to the countryside near Fiona's family. The house we bought had been originally built through a locals only provision. hen we purchased it from a relative, it came with a planning condition to be living in it for at least another seven years. And we had to prove that we had lived around here for at least 10 years. Being from the area, Fiona proved that we had.
The house was a blank slate inside and needed the electrics and plumbing done, along with the septic tank, and internal decorating so we did that and moved in thereafter.
Why did you extend?
It was only a one bedroom house. And with two children, we needed more space. But we didn't want to rush into a decision. We took our time figuring out what we wanted exactly from the addition.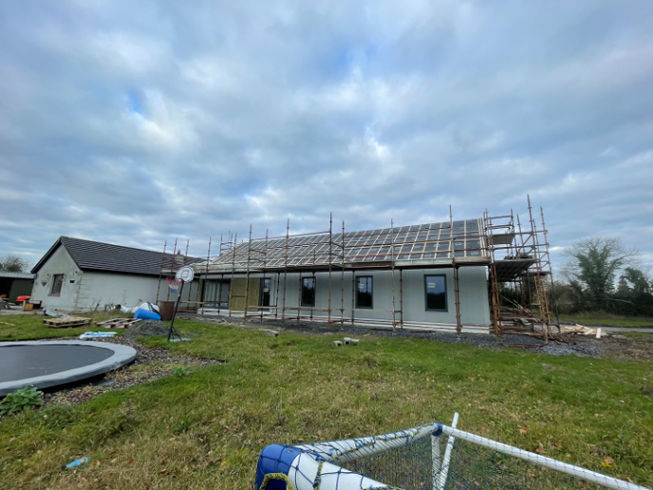 What options did you consider?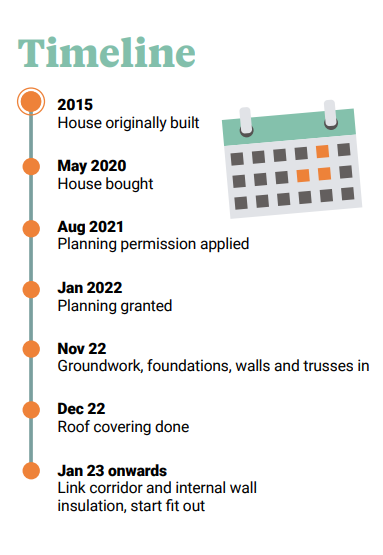 We researched our options and chose to go timber frame. Mostly because it would be quick to put up – the house was to roof level within a week including foundations. And also to get a good standard of insulation and airtightness. The company we chose included the windows and internal and external doors and the internal stud wall timber in the package. So when it came to have the house erected the windows were already fitted into the walls.
The thing that took us the longest to decide on was what we would be building. We looked at two storey designs, different shapes and sizes. We changed our minds quite a few times. We just didn't want a storey and a half.
In the end, we chose a bungalow layout because we felt an upper storey would result in too much wasted space between landings and hallways. And as this is our home for life, we figured we might not want to be climbing stairs as we get older.
The timber frame company had plans off the shelf and we reorganised them for our purposes. The design we chose was of a full house, 18.4m by 7.9m, but we didn't need a kitchen for example. Or an ensuite in the bedroom, but we did want a walk in wardrobe.
The bungalow is separate from the main house. In that we are building a corridor to link the old and new. The wall in the corridor that faces the view will be completely glazed, and we are going with a pitched roof as we didn't want to risk going with the more common flat roof. I've heard too many stories of them leaking.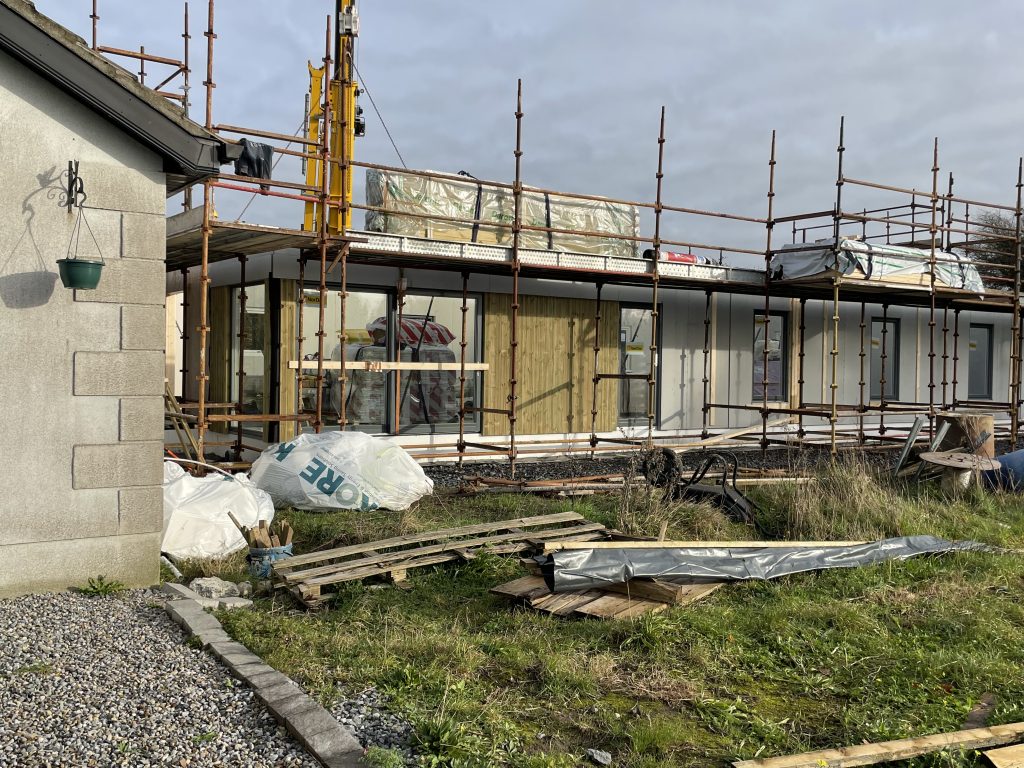 Walk us through the process, from having signed off on the design to construction.
Once we had the design signed off on, we tried to lock in the price of the build. The timber frame company normally would let you do that with a six month lead but, because the way material prices
were going, they'd only commit one month before building the house in their factory.
Then we had to get the groundwork organised. This proved to be more complicated than we anticipated as we had to source very specific blinding. Two layers of certified stone, and a third layer which had to be clean stone 19mm in size. We found it hard to source. It would have been a whole lot easier if they could have organised the groundwork for us as they requested +/- of 5mm over the entire ground level.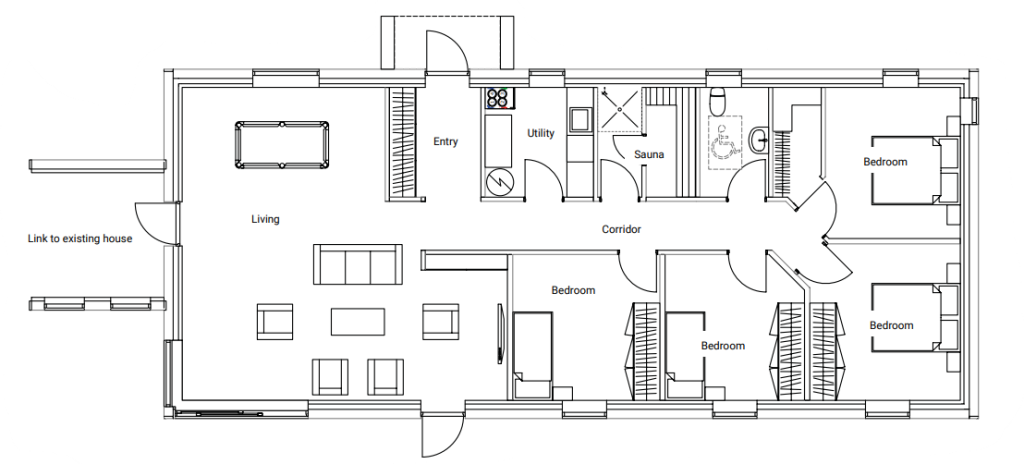 After that a crew came to build the insulated raft foundation. Because we couldn't get the exact specification they'd asked for with the stone, they had to spend time sorting it out. Which was an extra cost and we were charged a penalty for not laying exactly what had been specified.
Once the foundations were ready, another crew came to put up the walls, roof and windows. The roofer came straight after to make the house fully weather tight. Apart from the door linking to the corridor to the main house, which hasn't been delivered. We will be getting the plumber and electrician in to start first fix.
We might have considered getting the timber frame company to finish the house for us but they don't offer that service outside their immediate area. Next steps are for us to do the internal insulation including vapour permeable membrane, jointing and taping. We'll be drylining the walls as in we won't put a skim coat on the plasterboard. It should save us a bit and if done well it can look just as good.
We're glad to be doing it ourselves, to get stuck in. There's a sense of achievement and control we wouldn't have gotten with hiring trades by the day.
What did the kit look like and how long did it take to put up?
It came in just eight pieces. Because it's a rectangle, it was a simple enough installation. It took them two days to get it up and ready – it could have been a day if we'd built in summer, with more daylight to play with.
The joists took three men to take off the articulated truck. We had to rope in Fiona's nephew to help unload them. On the Monday they brought their equipment, Tuesday the crane came at the crack of dawn and it was all done and dusted by Thursday morning.
What did you do for space heating and hot water?
We wanted to future proof the original house so we added compatible radiators and a new hot water tank system that would work well with a heat pump.
When we first moved into the original house, we had toyed with the idea of getting a company to rout into the concrete floor to add pipes for underfloor heating but decided against it. We went ahead and installed an oil boiler because it was more cost efficient. But we may switch to a heat pump in due course as we're plumbed in for it now.
In the extension we put two types of underfloor heating – pipework for the wet system if it gets installed, and also electric mats.
We will be adding 16 solar photovoltaic (PV) panels too. We got conflicting advice as to whether or not we should install a battery and had a chat with three different suppliers. We chose the one based on a recommendation that included a battery system, and they were reasonably priced too.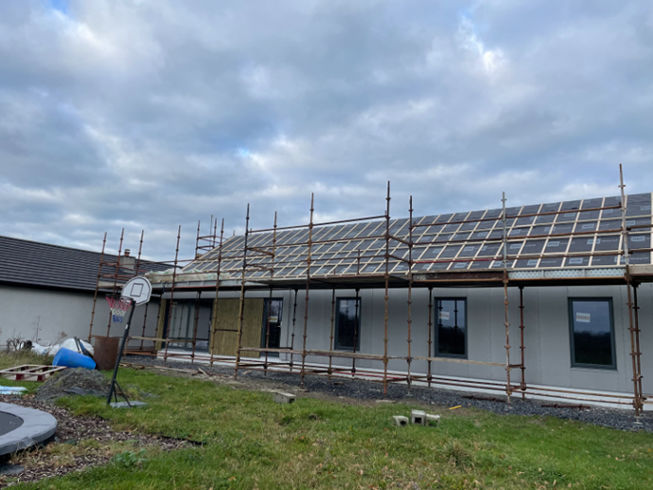 Was it more expensive to choose timber frame over blockwork? How much did it cost?
It is dearer but the speed of construction and the levels of insulation (we went with the super passive option) make up for that in our book. We don't have the final cost yet, and there might be some haggling at the end. An extra we hadn't factored in was the crew's accommodation cost for the days they were on site, as they had to travel to us. Between foundations and the kit, it was an extra €2k.
As for the groundworks, we knew from experience dealing with the septic tank on the original house and building the gates that we'd be looking at the crux of €20k and that's what it turned out to be.