Quantity surveyor Emma Ford's Co Waterford home is a great example of a budget friendly design, in both shape and volume.
In this article we cover:
Designing a family home to a budget
Budgeting the build on savings
Tips to manage the budget throughout the build
Project management
Choosing ICF as the build method
Tips and advice for building with ICF
Details of roof construction
Troubleshooting
Biggest splurge
Tips and advice to others thinking of self-building
Timeline, supplier list and specification
Overview
House size: 2,600 sqft with attic conversion in progress to add another 1,100sqft
Plot size: 3/4 acres
Heating and hot water: air to water heat pump with a stove as a secondary heat source
Ventilation: natural
Build method: Insulating Concrete Formwork (ICF)
BER: A2
Build cost: approx. €250k
Tell us about your design.
We bought the site with planning permission, but the layout was old and not current as it had been designed back in 2008. I made alterations to the drawings by sketching over what was there to change the inside to meet our needs, and had it redrawn by a friend.
We didn't want to delay the build by having to go back to planning. We weren't from the area so didn't want to rock the boat as the site had no local tie. But because planning was in place, we had less than two years left to complete the build. All on a shoestring budget.
To achieve that, we chose a simple design, square and rectangular shapes to keep the cost down, opened up the inside to suit it to modern living. It really doesn't have to be complicated. Not over
engineering it saved us hassle in the long run and a lot of money.
What are your top tips to manage the project?
We managed it ourselves getting direct labour to do what my husband couldn't. He did do the majority though. I am a quantity surveyor so managed the cost side of things, and he is a concrete finisher.
You built with insulating concrete formwork. What are your tips?
ICF construction gives you an insulated and airtight house. The blocks are hollow and made of expanded polystyrene (EPS). You fill these with concrete to build a mass concrete house. They are
strengthened with rebar in between the blocks and around the openings.
This means you don't need insulated plasterboard slabs internally, as you well meet the U-values with the standard ICF block, especially if you go with a 350mm wide wall. We paid a lot for underfloor heating which rarely ever kicks in, and we only have 300mm walls.
My tips would be to use an ICF installer that's been trained by the manufacturer. They know exactly what they are doing. Putting up the blocks is a lot more complex than it looks. The walls have to
be braced and square before the pour. If this goes wrong, there is no going back.
I would say not to overdo it on airtightness as ICF is pretty much airtight by itself. We only used tape around our windows and got the reading we needed; we have natural ventilation.
Make sure you put plenty of openable windows as in the summer when it's warm you will be glad you did. With mechanical ventilation it can be a struggle to cool the house in the summer if you can't cross
ventilate. The new regulations make our houses ready for winter, but we must consider that our summers are getting warmer too.
Mark out on your floor where the webs in the ICF are. The hollow blocks have webbing inside them, and this is what you will hang heavy objects onto. You could also take pictures for when you are hanging items later. It saves a lot of guessing.
What roof construction did you go for?
We went for a truss roof for simplicity and speed. They are self-spanning trusses which gave us much more options on the walls inside as there were no requirements for load bearing walls.
Any issues on site?
No issues really, everyone worked very well together. We coordinated it so contractors weren't falling over each other. Every evening we would have a tidy up and be ready to start the next day. The
build took just over a year, but the shell was up within six months.
We did have to add some land drains as the site was wet but once we did the land dried out very well and have had no issues since.
How did you manage the budget?
We had no mortgage and built the house from savings and money made renovating our houses over the years. We did have to pause the build to wait for more money to come through from a house sale.
Being a quantity surveyor, I managed the finances. My advice would be to get quotes from three contractors if possible. Cheapest is not always best. And as I said before, don't overcomplicate
things. It just costs money.
Set up a trade account with the local builders' providers. Ours was fantastic and gave us the best deals on the materials. Ask for trade prices and lock them into a price per meter or sheet of material. So if you need extra, you still pay the discounted rate.
Shop around for materials where there is a saving to be made. We substituted our insulation for a different brand that offered the same U-value. We just had to go thicker, and we saved €1,200. Just
make sure you buy from a reputable brand and check reviews.
Look to Europe for items. Since Brexit a lot of Irish suppliers are still buying from the UK and they are buying it from Europe so there are two lots of markups there, rather than going straight to Europe.
We didn't pay for an electrical plan. We made a generic plan per room, i.e. number of sockets, etc. And we got that priced up then appointed an electrician. We then got him to put in what we wanted instead of him installing standard sockets and switches. We also did some futureproofing as we knew we would be going up to the attic at some point.
What was your biggest splurge?
Definitely the kitchen. We wanted something modern and spacious with lots of drawers and I definitely got that. I also love our living room, being able to retreat to it in the evenings and just relaxing by
the stove. In winter of course as the house is so warm.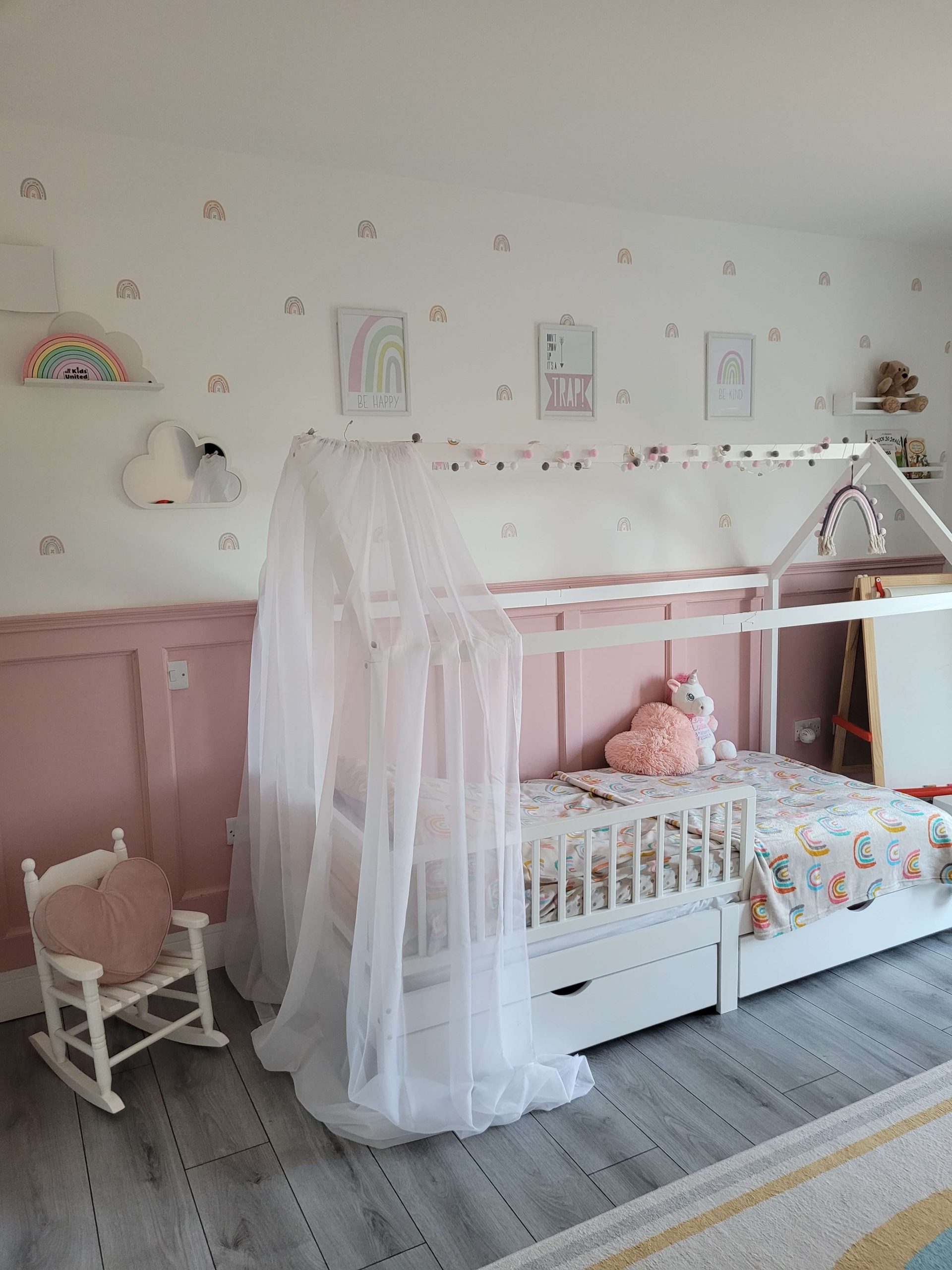 What general tips/advice do you have for others taking on a self-build?
Don't over think it. You can always add stuff later. And don't get bogged down by what you see on Instagram. Those house accounts must have massive mortgages lol! Get it built and add the pizzazz later. As long as the main elements are right, the rest will come in time.
Would you do it again?
Absolutely, I'm in construction almost 20 years and love everything about it.
What do you wish you had known at the start?
That Covid was coming as it delayed us a lot getting in. But we made it in the end. I don't think I would change the design as it works for us. The build went very well so wouldn't change that either.
Follow Emma's house building journey on Instagram @from_the_ground_up_budgetbuild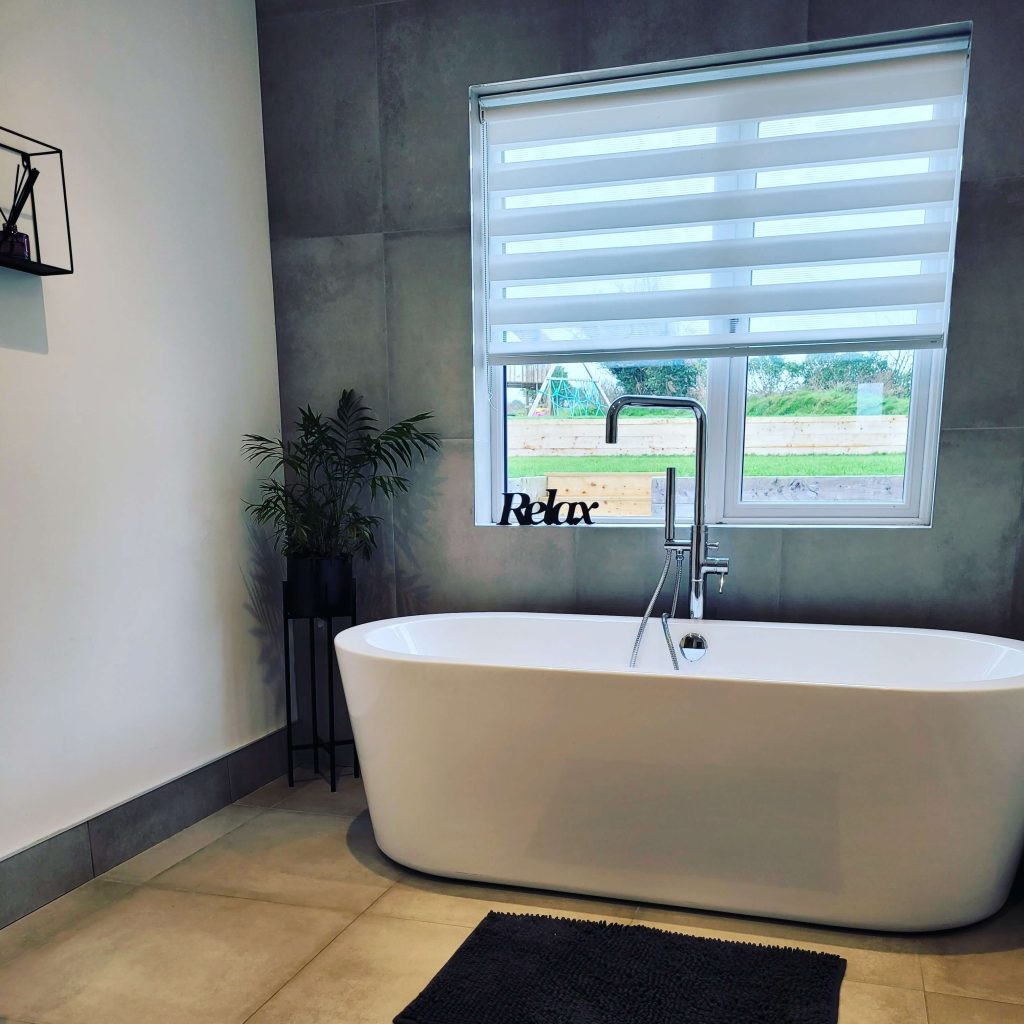 Suppliers
Building materials and stove
Morris Builders Providers. Stove made by Waterford Stanley
Kitchen
Eco Interiors, Dublin
Roof
Cork Roof Truss company
Windows and doors
Larry Farrell
ICF walls
Amvic
ICF acrylic render on external walls
Tradecraft Building Supplies
Electrician
Paul Butler Electrical
Plumber
Wally O' Neill
Plastering and skimming
GT Plastering
Spec
Walls: 300mm ICF walls, U-value 0.2W/sqmK
Roof: 400mm of mineral wool in two layers crosslaid, U-value 0.14W/sqmK
Floor: 190mm EPS insulation with 100mm concrete, U-value 0.13W/sqmK
Windows: double glazed uPVC, overall U-value 1.4W/sqmK
Doors: Combination of uPVC and aluminium (bifold), U-value 1.2W/sqmK