Even though Emma and Mark Smith were reluctant renovators, they knew a home extension project was the only way to create the family home of their dreams in such a desirable location.
In this article Emma and Mark talk about their home renovaiton proejct:
Renovation of a 1970s home to make it energy efficient and contemporary
Extension design to add living space and capture the views
Details of concrete shuttering: what it is and how it's done
Reason for choosing renovation versus new build with cost comparison
Choice of geothermal heating system including system sizing and temperature flows
Full details of insulation and airtightness upgrade in existing house
Cost comparison oil versus heat pump
Kitchen design including details of cooled walk-in larder
Outdoor chimney design with patio
Practical tips to stay on budget at design and build stages
Full floor plans, specification, supplier list and timeline
Overview
House size before: 358 sqm including double attached garage
House size after:  372 sqm including single attached garage
Bedrooms: 6
Heating: geothermal heat pump (borehole)
Ventilation: mechanical with heat recovery
Build method: blockwork and shuttered concrete
With six bedrooms, an acre-and-a-half of beautifully mature gardens and breathtaking views sweeping down to Lough Swilly, this home seemed to have it all. But there was a catch. Its tired 1970s floor plan and building structure just couldn't cope with the living and energy efficiency demands of modern family life.
"It served the previous owners well," admits Emma. "They built the original house and brought up their six children here. But it had become dated and needed to be brought into the 21st century both functionally and aesthetically."
"We wanted to make the best of the beautiful surroundings; to enjoy the views and maximise the light inside the house, whilst living as comfortably as possible without overspending on energy bills."
"Because we aren't from this area, we knew we wouldn't get planning permission for a
new build. So we couldn't knock the existing building down and rebuild; we had to work with what we had."
County Donegal's rural housing policy, specifically Section RH-P-3, states that in certain areas you must have direct family ties and that you must have resided in that location for at least seven years before making a planning application for a new build.
"When we submitted the drawings, the only comment the planners had was that they weren't happy with our architect's original choice of a red brick façade as it wasn't typical of the area; this was changed to shuttered concrete, which was approved."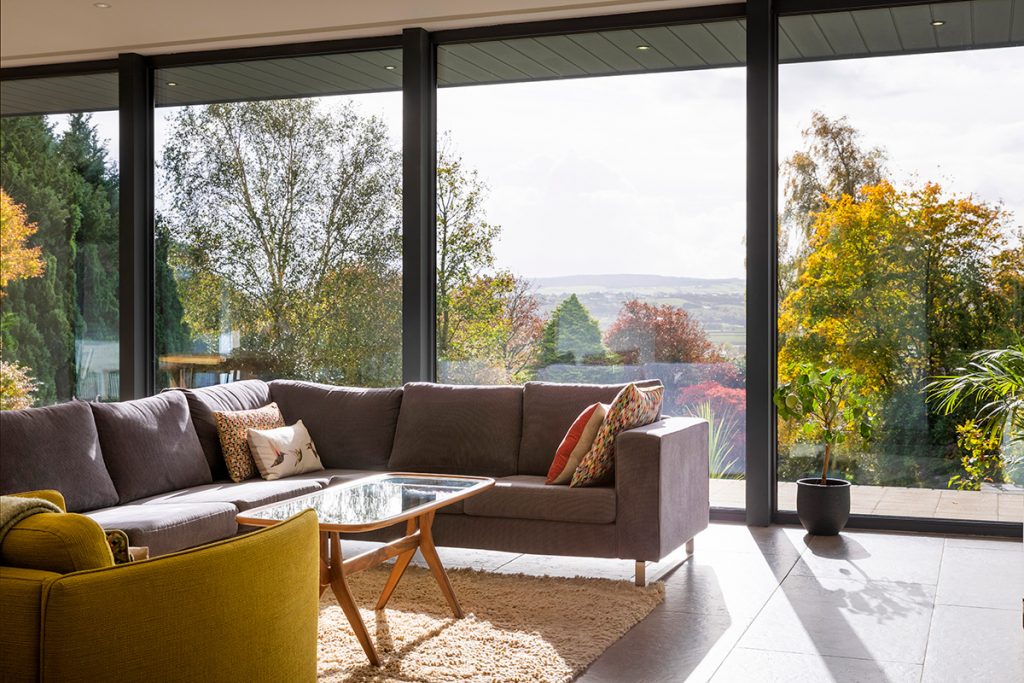 Tailored home extension
"Our architect Michael worked with us in terms of our main living requirements and how the house could adapt to fulfil them. We gave him a list of our needs; a playroom for our three children, four upstairs bedrooms, a study, two bedrooms downstairs for visiting friends and family members, a larder, a decent size utility and a way to enjoy our surroundings comfortably. Donegal is lovely and very pretty but it is also quite wet!"
"We were delighted with his final plans. He had a great vision for the house and how to maximise its location and views."
"Downstairs, at the front of the house, he gave us an open plan living, dining and kitchen area with full-height glass overlooking the views of the front garden and Lough Swilly. We also have a separate lounge to escape to when we want some quiet time. The children's playroom has a large cupboard space with a sliding door, which hides a multitude of books, toys and games."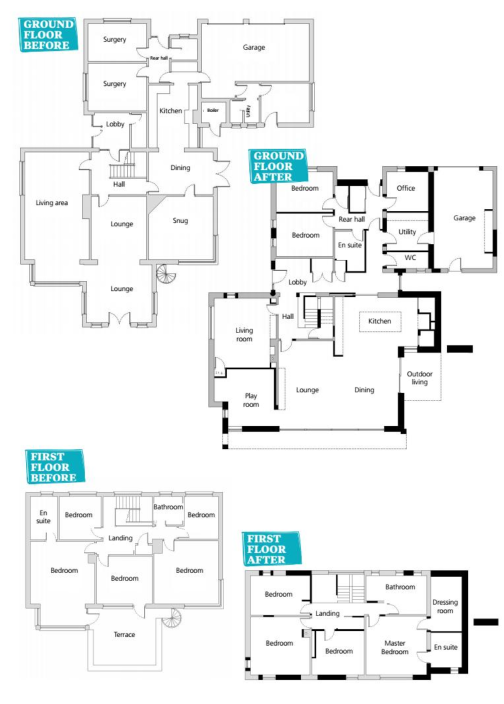 "Our master bedroom was extended to include a dressing room and ensuite. This extension was built from board-marked shuttered concrete. The cantilevered design the kitchen including the larder and another walk in cupboard and also a sheltered space extending from the kitchen downstairs. The external chimney, and the outdoor seating area at the side of the house, was also made from shuttered concrete. We use the chimney both as a barbecue and as an outdoor fireplace, later in the evening."
Concrete shuttering is the process of making moulds into which fresh concrete is poured to create a finished concrete structure. Wooden boards are a common material used for the moulds. Sandblasted Douglas fir boards were used here so the concrete has a wooden grain imprint.
"An overhang at the front and side of the house provides a fantastic shelter so we can enjoy sitting and eating outside even when it rains. Also, in sunny weather it helps prevent too much solar gain as overheating could otherwise be a problem."
"The original building actually had a balcony, and other architects we had spoken to included one in their plans as well. But we were set against that. Donegal weather doesn't work for balconies and we also think they are a safety hazard when you have young children. Mark and I had differing views on many issues, but this wasn't one of them!"
"We're really happy with the result. It looks contemporary and is much more functional than it was before, and yet still feels like an established house."
The works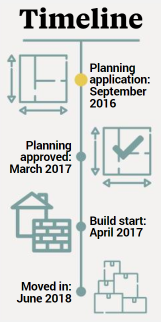 To create the 21st-century living accommodation and to improve the house's energy performance, the property needed to be gutted in preparation.
"We ended up with just a shell and steel beams were then used to create open plan spaces." says Emma.
"Our architect project managed the build in conjunction with my father, Eric who is a self-build energy consultant. He helped us decide on our heating and insulation."
"We received three tenders from builders and the one we chose used his own tradespeople, so we didn't need to tender for electricians, plumbers, plasterers and so on."
"With my father's guidance, we managed the installation of the geothermal heat pump and boreholes, underfloor heating and the mechanical ventilation heat recovery (MVHR) system."
"We choose underfloor heating to provide a gentle, even heat throughout the home and it works really well. All the rooms are warm at all times. The underfloor heating works with a 12kW geothermal heat pump, which also provides all our hot water."
"The heat pump gets its heat from two 120m geothermal boreholes, which are both 150mm in diameter. The running cost of a ground source heat pump with boreholes is estimated at 36 per cent the cost of oil heating. The water in the borehole is 11degC and from that, the heat pump creates 35degC water required for the underfloor heating and 55degC for the domestic hot water cylinder."
"We also needed to completely upgrade the insulation levels in the house. The original walls had a very narrow cavity and so the choice was to either pump them, externally insulate, or dryline. In the end, we opted to dryline the old walls, that is cover the internal side of the blockwork with insulated plasterboard. The new external walls were built with a wider cavity. Open cell spray-in foam was used to insulate the roof as it doesn't shrink and provides excellent airtightness."
"As a result, we have a draught-free, highly energy efficient home. The electricity bill for 2019 was €2,600. This included all our heating, hot water (with daily baths), and appliances. Our house is roughly 370 sqm and all the rooms are comfortable at all times."
"Yet it is fair to say that the budget was under significant pressure when we had to make the decision about the heating source and we almost chose an oil burner as it would have saved us around €10,000. But the prospect of the long-term cost savings made us stick to the geothermal heat pump solution. I'm so glad we did. It's brilliant not having to keep on top of ordering the oil deliveries, and not be at the mercy of fluctuating oil prices."
"We have two wood burning stoves in the open plan living area and in the separate lounge but we only use them for the cosy ambience they create. They are both low output, at 5kW, as the additional heat is not necessary."
"The walk-in larder has no underfloor heating but has a fan that extracts moisture to help preserve food items. It's cooler than the kitchen but warmer than the fridge."
Making it home
"Internally, we wanted an unfussy style of living," adds Emma. "We have kept to a neutral colour palette throughout. We chose a white kitchen so it would blend into the background in the open plan living area."
"The dining L-shaped sofa was specifically bought for the house to help create natural 'zones'. We have a few pieces of furniture, found online or from architectural salvage shops, which tie in with the mid-century feel of the house. The two concrete plinths in the living rooms echo the external concrete features."
"We chose spotlights for the dining and kitchen area and decided against hanging a
pendant light over the dining table so we can move it to another area of the room if we're entertaining."
"The ensuite and family bathroom are matching in terms of sanitaryware and tiles; as are the downstairs bathroom and toilet."
"It has been hard work, but well worth it. Renovation to a high specification is more difficult and more expensive than building a new home to the same specification. A new build was not an option on this site and so we were determined to renovate this house regardless of the many challenges that arose."
The end result is a wonderful family home with a fabulous garden and beautiful views.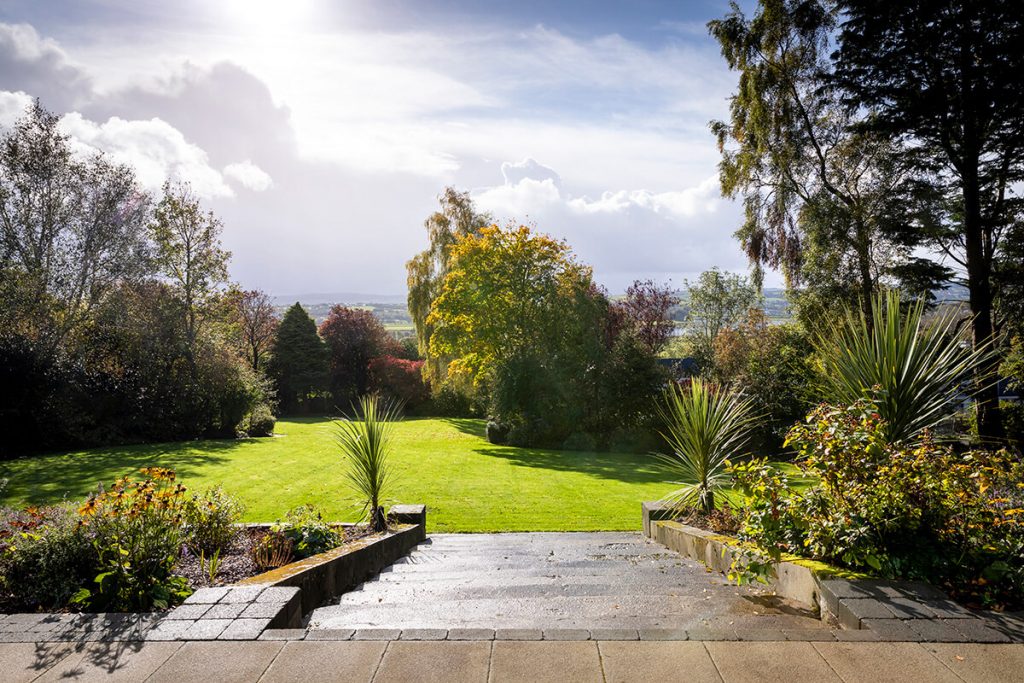 Q&A with Emma and Mark
What is your favourite design feature / room?
We are delighted with the outdoor chimney. It's great for sitting outside on autumn evenings, for barbeques and for toasting marshmallows! Also the playroom with the cupboard and the pocket sliding door – it's great hidden storage. The green roof outside the upstairs bedrooms is another lovely feature.
What would you change about your home extension?
Not much. I'd maybe add more power sockets to the kitchen island, and more floor sockets in the open plan area. I had no idea they would be so useful. I wish we had put in more.
What surprised you?
I didn't fully understand how difficult a renovation would be compared to a new build.
What single piece of advice would you give someone who's thinking of undertaking a similar home extension?
It's nearly impossible to predict what your costs will be when you are renovating on a large scale. There will be many issues that arise that you just won't foresee. For example, near the end of our build, our builder and architect decided that the original sewer was too superficial. We had to dig up the driveway to lower it, which cost roughly €10,000. In a nutshell, if you're renovating there's going to be unforeseen problems and therefore it's very hard to budget. The goalposts keep moving.
Would you do it all again?
If we had to move, then yes. But, if we had to do it again I know I'd be better prepared.
Emma & Mark's Home Extension Tips
Don't rush.
Take time to meet with a few architects to ensure you make the right choice. This home extension was a very challenging project, and in many ways our architect was crucial to its success.
Study the electrical drawings intensely.
Yes, if you're not familiar with them, they are difficult to understand and they need to be finalised at a time when the build is very busy and you're under pressure to make umpteen important decisions. But, it is so important to make sure you have enough sockets in the right locations.
Budget realistically.
Renovation jobs will present many unexpected problems, so be financially prepared for this.
Inspect often.
Visit the site regularly and bring along experts to keep your home extension on track.
Keep informed.
Any deviation from the plans must be agreed by the client or the architect.
Suppliers
Architect and project manager
Michael Howe, 2020 Architects, 2020architects.co.uk
Builder
John Russell Construction Ltd.
Energy Consultant and project manager
Eric Davidson, Reinco, reinco.co.uk
Insulation
Springvale Platinum EPS Beads (walls),
BASF Enertite open cell spray foam (roof and walls) from Alpha Insulation, alphainsulation.co.uk
MVHR
Homecare Systems, homecaresystems.biz
Heat pump and underfloor heating
Waterfurnace heat pump from Alternative Heating and Cooling, Cork, ahac.ie
Boreholes
Dullea Drilling, dulleadrilling.com
Wall ties
Teplo ties
Photography
Paul Lindsay, paullindsayphoto.co.uk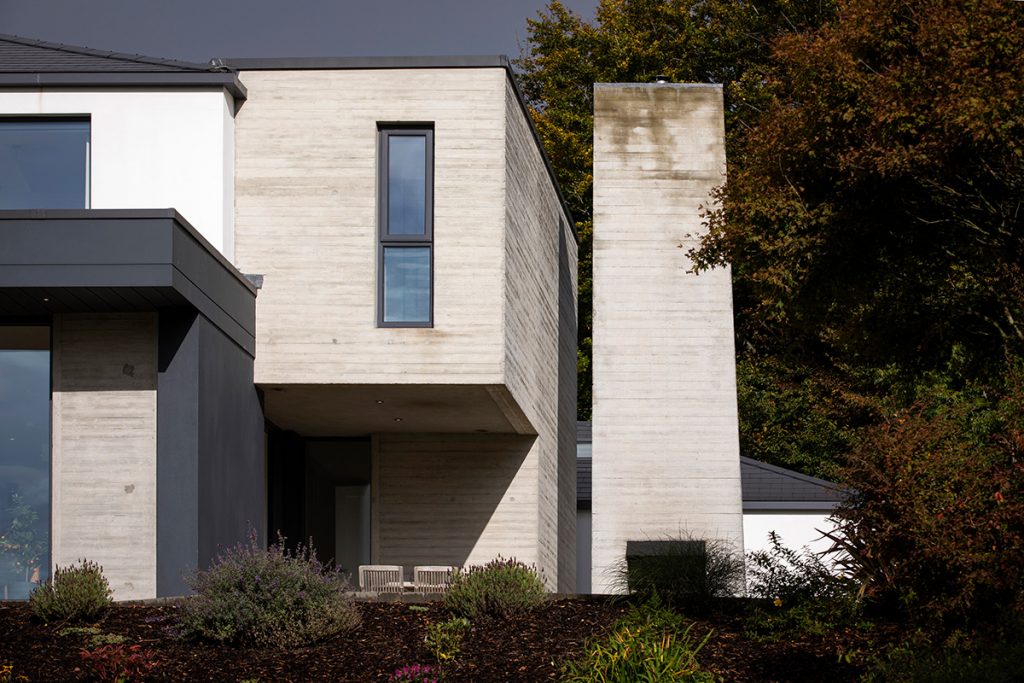 Specification
New floor: 100mm sand/cement screed, new underfloor heating throughout, 125mm PIR insulation, 1,200 Gauge DPM, compacted aggregate, blinding sand. U-value 0.15W/sqmK.
New walls: Painted sand cement finish, 100mm block outer skin, 200mm cavity fully filled with graphite EPS beads, 100mm block inner skin, plastered finish. U-value 0.15W/sqmK
Refurbished existing walls: Painted sand cement finish, 100mm block outer skin, existing 50mm cavity, 100mm block inner skin, 75mm PIR board with 12.5mm plasterboard. U-value 0.15W/sqmK
Shuttered concrete walls: 300mm sandblasted Douglas fir board-marked shuttered concrete, timber stud inner skin with open cell spray-in foam and 75mm PIR board plus 12.5mm plasterboard. U-value 0.14W/sqmK
Existing pitched roof: 100mm open cell insulation between joists on top of plasterboard, 300mm FGW over the joists. U-value 0.15W/sqmK
New flat roof: Single-ply membrane, 150mm PIR insulation over existing flat
roof joists, 125mm open-cell insulation between existing flat roof joists. U-value
0.12W/sqmK
Windows and doors: Triple glazed uPVC frames, triple glazed aluclad sliding
door, timber framed external doors. U-value 0.85W/sqmK