For Mark and Elaine Coleman, this thrifty renovation project was all about putting the Pareto Rule into practice – getting 80 per cent of what they wanted at 20 per cent of the cost.
In this article Mark and Elaine explain how they renovated a tired old bungalow into a stylish family home.
Their choices were guided by the budget and achieving an affordable home to heat. In this article they cover:

Full costings and specification with before and after floor plans
Finding a house in the right location: tips to spot a bargain house in need of TLC
Full details of window upgrade throughout the house
Choosing where to spend money and where to save
Details of DIY work and what a novice can do
Choice of insulation upgrade: wall and roof insulation, and why he didn't need external wall insulation.
Why he chose an LPG boiler based on payback times
Turning the garage into usable space in the home
His experience doing DIY work as a novice and why his project was a success
What to equipment invest in
Details of PV installation with costings
Mark's fully costed and detailed analysis of measures introduced vs payback
Supplier list
---
"We're homebirds," says Corkman Mark. "We had been living in a Dublin apartment but always had it in our heads to move back south," adds his wife Elaine, who's from South Kerry. "Cork seemed like the most likely option, in terms of finding work, but as it turned out I got a job in the Killarney area."
"So we started house hunting in Kerry," says Mark. "On the wish list was a southerly aspect and a view of the mountains – to make the most of living in a scenic area. We also wanted privacy so were looking for a detached house with garden space."
"There weren't many new houses being built, and not many options for second hand houses. It's also locals only on steroids in this area. You have to be actively working in agriculture to get permission to build your own home, so that didn't seem like a possibility."
"That's until we found a ruin up for sale. A friend of ours who's an architect in the town sussed out the planners, unofficially, to see if we could in theory get planning there and they said yes," adds Mark.
Walls: 60mm cavity wall with full fill insulation (EPS beads). External leaf (100mm brick) was skudded and two coats of conventional plaster applied. Internal leaf (100mm block) was plastered. U-value 0.45W/sqmK
Windows: Triple glazed, argon filled, aluclad windows all around, including the sliding door. Average U-value for all windows and doors is 0.83W/sqmK
Roof: Cold roof, 300mm rock wool insulation, U-Value of 0.11W/sqmK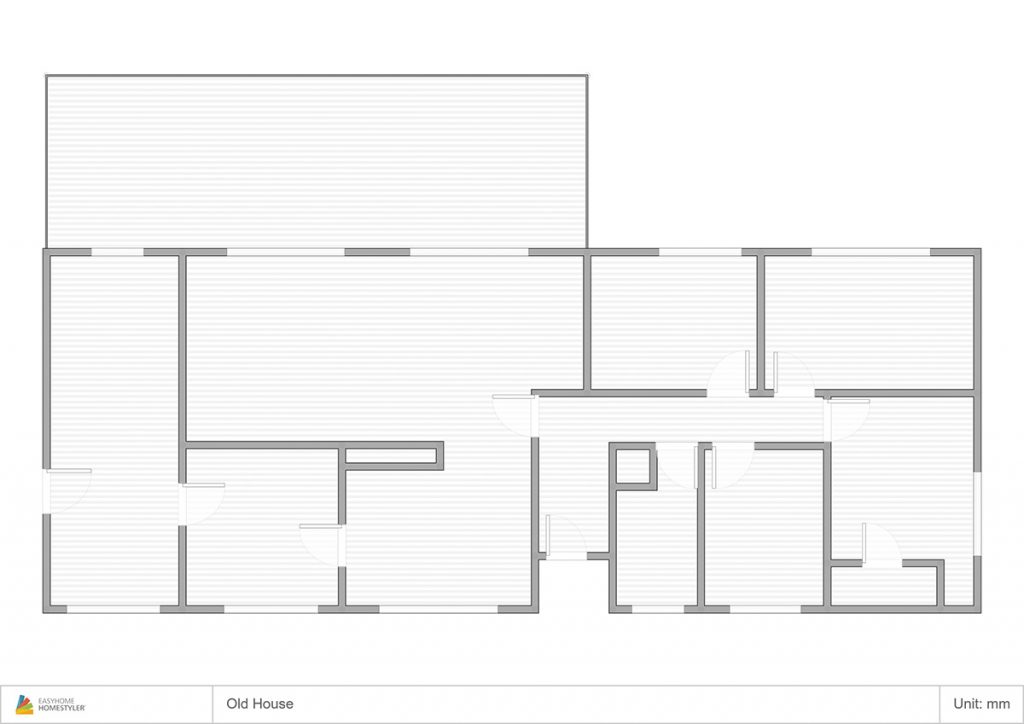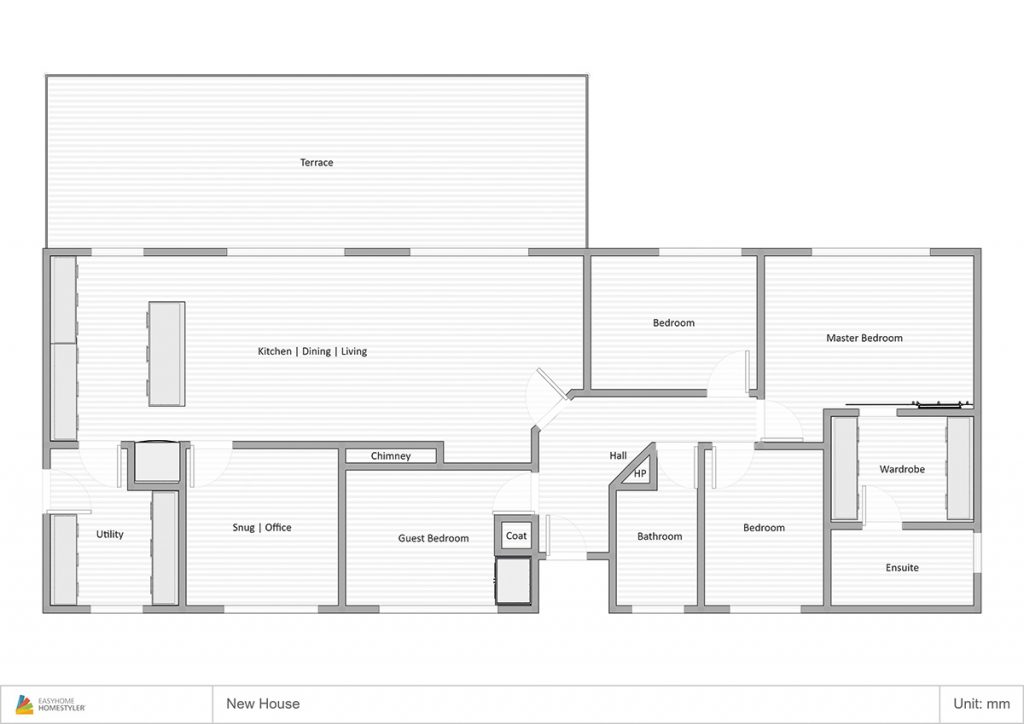 "But then the people who owned the land wanted to go for planning themselves in the field next door, and we would have had to wait for that to go through. We were renting nearby and didn't want to delay having our own home and starting a family."
The house for us
"The house we bought had been on the market for a while," says Elaine. "It has two acres and we actually thought that was too much land at the time. It also had a yellow brick front, and lots of work to do inside, both of which seem to have put people off buying it."
"But the house had been lived in and was structurally sound; the roof was in good condition," says Mark. "Before viewing the house we looked at the map of it online and it seemed to tick all the boxes."
"When the estate agent showed us around, the big window with the view clinched it for us. We just looked at each other and knew straight away this was the house for us, although we played it down. Within a couple of days it was sale agreed with us underasking."
There was, however, an issue with conveyancing. "The owner had changed the boundaries and wanted to retain a laneway, so he had to apply for retention," adds Mark. "I was pulling my hair out, eager to get cracking."
"But the delay actually turned out to be a blessing in disguise," says Elaine. "It gave us a chance to properly plan the house, where to knock walls down and how to reconfigure it. We came multiple times to take dimensions and decide on things; we also got prices for windows."
"The internal walls were just stud walls, which opened up opportunities for a complete redesign, such as adding a walk-in wardrobe and ensuite in the bedroom on the western side," adds Mark. "We knew because Elaine's dad Jerry, who's a builder, went to the attic with me to check. And as we weren't changing the external appearance of the house, there was also no need to get planning permission."
It therefore quickly became clear what their biggest expense would be. "The windows dated back to the 1970s, single glazed, so we knew we would be investing in upgrading them," says Elaine. "They took up a third of our budget, but you look at them every day and we felt they were worth the investment."
"We got three prices, and checked every detail," says Mark. "One of the supplier showrooms had uPVC windows on show with a handle that was loose, joint cuts that weren't exact. So we chose the more expensive, bullet proof windows, which we'd seen at Selfbuild Live Cork, in Millstreet."
DIY project
"The Selfbuild Live expo is also where we got the design started. We bought the pack of back issues of the magazine and for five months scoured them for layout ideas and style. We didn't put anything down on paper, we had it all in our heads."
"As we had measured everything on site, we plugged that into a free design software," says Mark. "Every evening, after work, I ploughed away at it. We could see the finer details down to where we wanted light switches. And because we renovated it all, we could put our own stamp on it. We had free reign."
"The biggest influencer for this project was actually the TV architect Piers Taylor," says Elaine. "We had, over the years, seen shows like Dermot Bannon's or Grand Designs but for us the standout programming is the 100k House. It showed us that even if we didn't have much money, we could get to our end result by questioning the standard way of doing things."
"As in, why do you need window boards? Do you really need to tile all of the walls in a bathrom? These are tips that stuck with us. We barely tiled inside the bath, as we know we will want to retile the bathroom in 10 years anyway."
"In the kitchen, having granite up the wall, is that really necessary? We didn't want the visual fuss of overhead units in the kitchen either and reused the cabinets from the old kitchen in the new utility, which is home to the boiler and washing machines but also doubles up as a boot room and pantry."
Mark built the island surround, consisting of studwork covered with sheets of moisture resistant MDF, primed and painted.
Elaine's father Jerry is a skilled carpenter and builder and he directed the operations. "We are so grateful to Dad, " says Elaine. "We could never have achieved what we did without his tireless help and support."
"I did the labouring, things like mixing concrete and the demolition work with sledge hammer and kango," says Mark. Elaine got stuck in too, knocking out the fireplace. "We found out we were expecting a baby two weeks into the job so that put an end to the physical work for me," she says.
"We called in the troops when we needed an extra pairs of hands, so I did a lot of manual work with my brothers, including plastering," says Mark.
"We ended up raising the window sill height one block on the north facing front of the house, as some were barely off the ground," adds Mark. "In new builds I find windows tend to be tiny so I didn't want to reduce their size either, so it really was just a minor adjustment. An added benefit to keeping the windows so low is that our son, when he was crawling around, could look out at the views."
"We also turned the old garage door opening into a window, which involved building up the twin wall cavity and tying it into the original walls. To do this, we bolted on wall starters to prevent a vertical crack. We put the brackets up the existing wall, building up the blockwork as we went. One layer of blocks then another bracket."
"Towards the end of the project we hired a qualified electrician, and plumber," says Elaine. "We also got a tiler in and showed him a photo we'd found online of what we wanted, and he just did it."
The price is right
"As it was just a renovation project, we drew down extra mortgage money when we bought the house to do it up," says Mark. "We were able to get up to 90 per cent of the final value of the house; the catch was that we had to put in a lot of our money upfront."
"We had 35k saved that went into the deposit, which put pressure on us in terms of cash flow. I ended up taking out a 10k personal loan to tie us over and pay tradesmen as we went. We were also saving €1,000 in rent as compared to what we were paying in Dublin. We rented for 20 months, including the six month period during which we renovated the house."
"I'm Mr Spreadsheet so kept track of everthing on the computer," he adds. "Money spent, savings, deposits for electrical and plumbing. I set up an account with two builder's merchants, found prices on websites and went to as many different suppliers as I could."
"At the time I was travelling for work anyway once a quarter, so got prices for everything from nails to timber," says Mark. "The sun tunnel for our walk in wardrobe was 150 cheaper in NI; I'm all for supporting local, and we certainly kept the local builder's merchants' tills ringing, but the price has to be right too."
"In general, we always knew what we needed exactly and haggled as best we could, which helped us save here and there. When we went to price the electrics, our brief was very clear – we mimicked furniture placement and then figured out where we would need sockets for each. We had them in every corner. In the end only one guy came back with a price. It gave me the impression electricians often keenly price for the job, and make their money on the extras."
"For insulation, we compared fillling the cavity with EPS beads and plastering the brickwork externally versus external wall insulation boards. The beads brought the U-value down from 1.75W/sqmK down to 0.45W/sqmK, external wall insulation would have brought it down to 0.21W/sqmK."
"But the cost of filling the cavity came to €320 after the grant, compared to €8,000 after the grant for external wall insulation. We weren't prepared to spend crazy money for what we thought would be too little gain, perhaps a few extra notches on the energy rating."
"We got a contractor on the Sustainable Energy Authority of Ireland (SEAI) list to do the insulation work, so as to avail of the grant. The SEAI actually did a survey by drilling the walls, and then checked the attic insulation, which consists of two courses of rockwoool in the roof space, which came in at a cost of €1,200."
"I did the research into the heating system in 2017," says Mark. "The latest, greatest and greenest at the time were heat pumps but I had no experience of them. When I looked into it, I realised the main thing was to have an airtight home to being with and I knew I wasn't about to tape around the entire build. Although I did around the windows, I took my time there."
"The heat pump would have represented a large upfront cost, especially for something with a 10 year lifespan in an Irish climate. The high capital expense was too much for us, not to mention the dedication to get to an airtight house. We also would have had to invest in a mechnical ventilation system. Instead we have vents in the windows."
"Oil and solid fuel we had discarded from the get-go as dirty fuels, so gas it was, an LPG A+ rated combi boiler with balanced flue. We had experience with combi boilers from being on holidays, which heats the water as you need it. The hot water is heated instantly to 40 degC, and there's no requirement for a hot water tank. We reused the existing radiators."
"It made sense for us to install a sytem that would only cost about 2k. Projecting the price of carbon at 100 euro per tonne in 2030, based on our usage, our annual fuel bills would only increase by €150."
"Having lived for 20 months in the rented farmhouse, we had grown tired of hauling coal, turf and wood from the shed to the living room; never mind the cleaning associated with it all! As we had installed the LPG tank for the heating, it seemed sensible to hook up a gas stove as well; it has a built in thermostat, and we can turn it on/off with a remote control or put it on a timer."
"We have been in two full years, and on average our bills are €1,250/year, of which €250 is for hot water. I also looked at thermodynamic panels for hot water instead of solar thermal and did the calculations; it would have cost us €200 to operate a year and about 5k to install."
"I'm an engineer working in the power sector, and perhaps because of that we added photovoltaic (PV) panels. Our electricty bills are just €200 a year (1,200kWh) as a result, plus a Standing Charge of €170."
"The PV installation cost us €3,700 after the grant and the application process was straightforward, although we had to pay the solar company in full and get our money back six weeks later. Now the process is the same as for the insulation and solar thermal grants, whereby the discount is applied at source so you only pay the supplier the amount taking the grant into account."
"The PV company did a great job. They arrived at 9am and by noon we were producing 2kW – there's something very satisfying generating your own power!"
Looking back, Mark and Elaine say they have really fond memories of the build. "When we learned the baby would come a month early, we put the call out. We told everyone we needed to get the house finished earlier than anticipated, and had five vans show up the next day," says Mark.
"It was a lovely feeling. Elaine's dad and uncle finished hanging the doors, the kitchen guy came and the plumber too, both also proud dads of premature babies. It lifted our spirits to see that when the call goes out, there is a response, a real sense of camaraderie."
"That first night, we slept on a mattrees in the living room due to a delay in getting carpets in," says Elaine. "It was so surreal to finally be in our own home, we felt really happy and relieved."
Q&A with Elaine
What would you change?
We love the utility room, it's versatile and so useful, but at 8.6sqm, it could be a bit bigger.
What are your favourite features?
The views and light, and the fact that we are not over looked. The rocking chair in the living room usually faces the TV, but swing it around and it faces the view. It's a really relaxing place. I also love the armchair in our bedroom, it's ideal to get five minutes to yourself.
Any surprises?
With costs, the devil is in the detail. For example when you are getting new internal doors, you also have to factor in the handles, hinges, frame, architrave, painting, skirting. If you have 10 or 11 doors, it all adds up really quickly.
Your single piece of advice for budding renovators?
Go with your own taste and ideas. It's your home, and this is your one chance to try them out. Even if your choice is not a "sensible decision", so what? We wanted a black sink. It may not be the easiest to keep clean but life is too short to be worrying about that. Go with your gut.
And reuse everything. Sheets of MDF/chipboard cost 50 quid each, and they're thrown about the place. We have tin roof sheds at back of house and were told to demolish them; Mark restored them and we are now using them to store the lawnmower, bikes.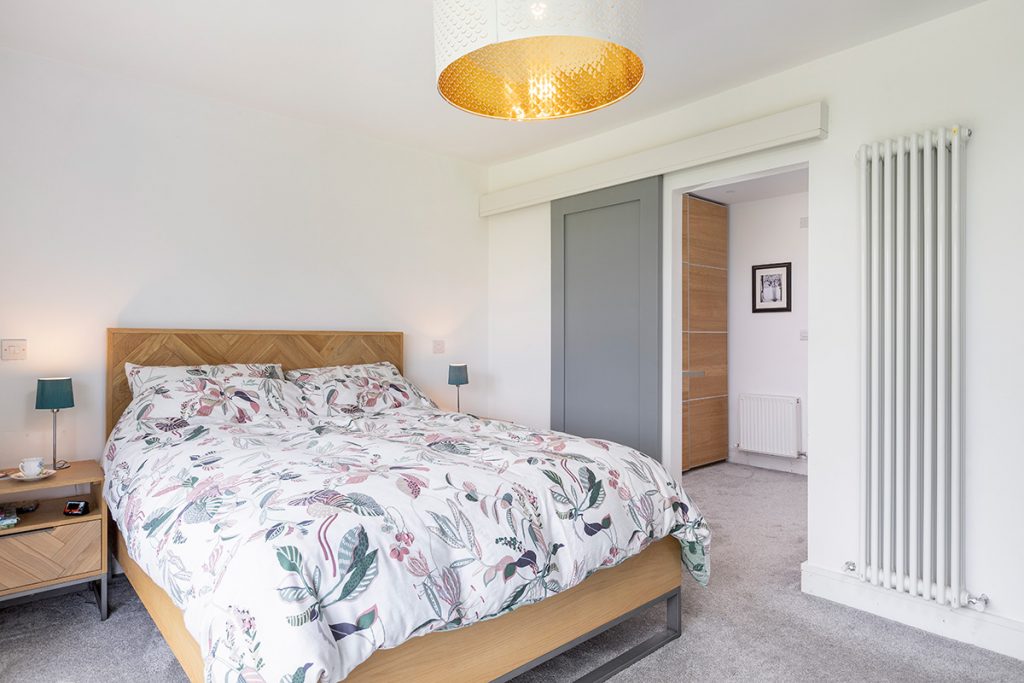 Mark & Elaine's thrifty renovation tips
Get a trailer
For the duration of the renovation, we borrowed a trailer from Jerry. This allowed us to pick up stuff from the DIY merchants, but also get the likes of sand, gravel, and the various bits we got online, such as the old cast iron fireplace for €60. One main use for the trailer was to take stuff to the dump. A skip is a standard feature of any site, but they're pricey – the cheapest one we could find was €400 and you're warned not to overfill. I took our waste to a Civic Amenity centre in County Cork (en-route to work), as they charge per trailer. Kerry County sites charge by weight which would have been more expensive. I ended up taking 21 trailer loads to the Cork site, at a total cost of €438. God only knows how much it would have cost had we to hire skips each time.
Take ownership
For us it was important to retain control over every element. Having worked on the drawings for so long, we knew where everything was, and we could dictate what was to be done next.
Be creative to save costs
We had seen a nice wooden counter and sink combo in a bathroom store in Cork, but baulked at the price of €550 for what was a bit of veneered chipboard with a sink. We had seen a guy on a buy and sell website who made up bespoke TV units, and asked him if he would just do a chunky counter top and put a sealer on it. We agreed to a price of €60. We bought the basin new on an online auctioning site for another €60 delivered (see image on next page). So don't be afraid to go do it yourself and save some money in the process. Having less money makes you creative in reusing things too.
Plant trees
Before we bought the house the garden consisted of a patch of grass trampled by cattle. We'll need a digger to reset the land, but we have to come up with a master plan first. So we will sit on it for a year or two. What we did do is plant trees on half an acre; they were at hip height when we did it at the time, through a charity called Trees on the Land, which is set up to encourage native tree planting.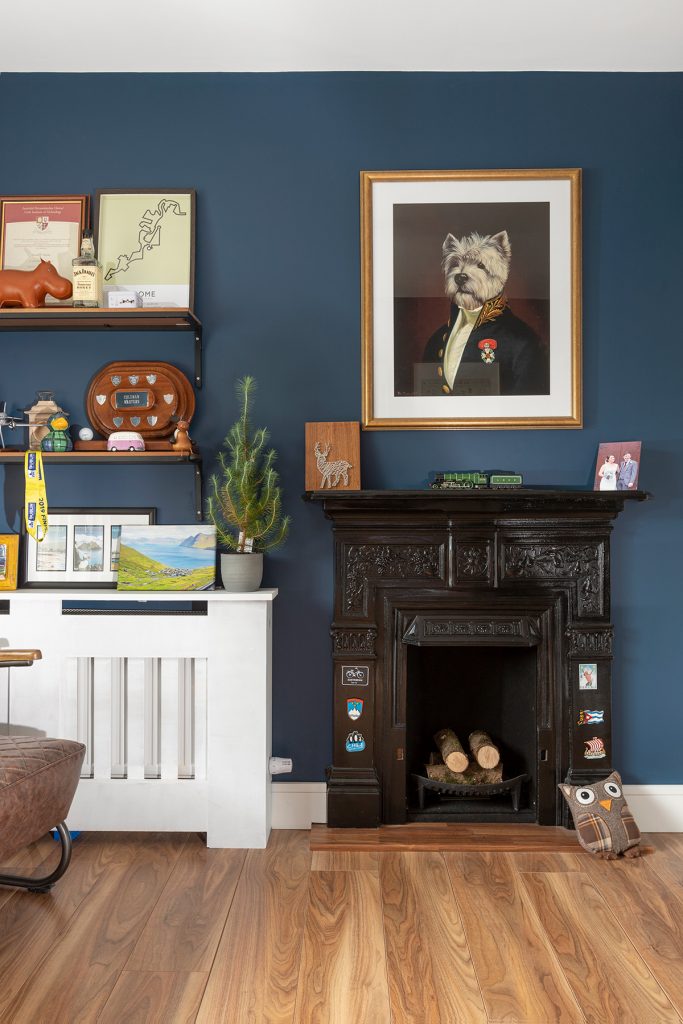 Mark's thrifty renovation analysis
1. Central Heating
Here is a comparison with a friend's new build house, similar size, in similar rural setting. He was required to install Heat Pump and Ventilation to comply with building standards.
Whilst running costs are half that of my system:
| | | | |
| --- | --- | --- | --- |
| | Annual Demand (kWh) | Unit Cost (c/kWh) | Annual Cost |
| LPG | 10,500 | 11.8 | €1,225 |
| LPG (Carbon €100/t ) | 10,500 | 13.3 | €1,400 |
| Heat Pump | 4,250 | 16.5 | €700 |
The upfront installation is three times that of mine. It therefore takes 20 years to breakeven.
Questionable whether Heat Pump would last that length. After 20 years both heat pump and boiler may need replacement, in which case it's playing catch-up versus conventional system again.
| | | | | | |
| --- | --- | --- | --- | --- | --- |
| | Install | 5 years | 10 years | 15 years | 20 years |
| LPG (2021 fuel price) | €6,000 | €12,100 | €18,200 | €24,300 | €30,400 |
| LPG (Carbon €100/t ) | €6,000 | €13,000 | €20,000 | €27,000 | €34,000 |
| Heat Pump + MHRV* | €20,000 | €23,500 | €27,000 | €30,500 | €34,000 |
*Mechanic Heat Recovery Ventilation included in install amount as when preparing house for Heat Pump, all plasterboards, joints etc. are taped to improve airtightness. This necessitates a mechanical ventilation system then to provide fresh air to the home.
Whilst I get financial cost isn't everything, the Heat Pump will provide heat with less CO2 emissions, but it's not entirely emission free.
Based on the BER (E2) for the house when we purchased, the previous owner would have been using 50,000 kWh of energy each year. (Unable to ascertain previous owner's CO2 emissions)
Having increased the energy efficiency of our home (now officially B2, but actually B1 based on our consumption, as BER is based on average consumption), my annual consumption is now 12,000 kWh (75% reduction)
CO2 emitted for 1,500 litres of LPG used for Central Heating equates to 2,500 kg CO2/year
CO2 emitted for average kWh of Electricity in Ireland in 2020 was ~320g/kWh
CO2 emitted for 4,250 kWh electricity used for Heat Pump equates to 1,400 kg CO2/year
For reference, the CO2 emitted from my Diesel car for 18,500km/yr equates to 3,200 kg CO2/year.
2. Hot Water
I had committed to a Combi LPG Boiler for my central heating and to provide instant hot water. Before installation, I had conservatively calculated my hot water usage would cost me €400 a year. At the time, this would have meant the costs breakeven point versus Thermodynamic panel was 15 years. I avoided the large upfront costs associated with the Panel and went with Combi Boiler.
Having lived in the house two years now, our actual LPG consumption is much less than I had calculated. The savings promised by Thermodynamic Panel don't materialise, certainly not within 20 years – would it last that long?
| | | | |
| --- | --- | --- | --- |
| | Combi Gas | Conventional Cylinder | Thermodynamic Panel |
| Cost for Parts | €0* | €300 | €3300 (after grant; 5k gross) |
| Consumption | 0.8 litres daily | 3kW x 2hrs daily | 390W x 7hrs daily |
| Consumption (yr) | 300l (2,000kWh) | 2,200kWh | 1,000kWh |
| Fuel Cost (c/kWh) | 11.8 (LPG) | 16.5 (electricity) | 16.5 (electricity) |
| Running cost (€/yr) | €245 | €365 | €165 |
| Total Costs after 5yrs | €1,225 | €2,125 | €4,125 |
| Total Costs after 10yrs** | €2,650 | €3,950 | €4,950 |
| Total Costs after 15yrs** | €4,075 | €5,775 | €5,775 |
| Total Costs after 20yrs** | €5,500 | €7,600 | €6,600 |
* No additional cost as it's intrinsic to boiler installed for central heating
** 10, 15 & 20 year costs for LPG assume Carbon tax at €100/t giving fuel cost of 13.3c/kWh or 94c/l LPG
1 Litre LPG = 6.9kWh. 2021 cost of LPG is 11.8c/kWh or 83c/l.
3. Electric Battery (for Solar PV)
People often say that the Electricity generated by Solar PV and not used by the homeowner is 'wasted' or 'lost'. That's simply not true. The electricity has been generated, if you haven't used it and it gets exported then your next-door neighbor is going to use it. This all means that a small bit of gas in your nearest Power Station wasn't burned to provide them with power. All that's lost is the payment to the homeowner for this privilege, but that's soon to be rectified.
I was quoted €5,000 to install a 5kWh battery as part of Solar PV installation
Please note that household batteries like these have a maximum input and output rating (kW). The battery I was quote allowed 3kW in/out. For this example, let's assume I had 3kW of Solar PV installed (any more meant any power in addition to 3kW could not go into the battery)
A 3kW installation in Kerry, due south facing, should generate 2,750kWh per year
European Legislation was passed several years ago enforcing Member States to put in place payment to homeowners for power they export to the grid. This is finally due to come to Ireland in Summer 2021
There is a consultation ongoing at present to determine the exact payment, but let's assume we get paid 7c/kWh (which is the wholesale energy price at present, and we know this will at least be paid per EU)
Let's say we exported all of the power we produced: 2,750kW x 7c = €195 payment in
Let's say we imported all that power back in at a later date/time: 2,750 x 16.5c = €455 payment out.
So in this case we've 'lost' €260 by not having a battery to store the power when we weren't there to use it. (Please not this is a worst-case example, there is no way you wouldn't use at least some of your generation)
However, the battery was costing €5,000 (!), so it would take 19.2 years for the battery just to pay for itself.
Even if the battery cost came down to €3,000 it would still take 11.5 years to breakeven, in worst-case (un-realistic) example.
One last thing to note is that this particular battery is rated to store 5kWh of electricity. So if your panels are generating 3kW to go into the battery, it would be full after 1 hour 40 minutes. All power generated after that point has to go out onto the grid anyway (to your neighbour) – so the breakeven point is even further away.
Suppliers
Software
Sketchup, sketchup.com
Kitchen
Woodies Tralee, woodies.ie/kitchen, tel. 066 719 5248
Insulation
Kingdom Installation, tel. 066 713 5991
Plumber
O'Mahony Renewable Solutions Ltd, mobile 087 413 9175; supplied the bulk LPG Tank feeding both the condensing gas boiler (Ariston CLAS Evo Combi Boiler) and the stove in the living room.
Windows
Rationel Windows, rationel.ie, tel. 01 2971005
Tree planting charity
Trees on the Land, treesontheland.com
Solar PV
SolarElectric, info@solarelectric.ie, tel. 01 906 1598
Grant for insulation and PV
Better Energy Homes, seai.ie
Bathrooms
Toilets, shower base and glass partitions from Fitzgibbon Interiors, Tralee, fitzgibboninteriors.ie
Photography
Greengraf Photography, greengrafphotography.com