Gavin and Catherine Gracey took on a Victorian restoration in Belfast that kept to the style of their 120 year old property.
Gavin and Catherin share how they went about their Victorian renovating in Belfast, including:
How they renovated the kitchen and living areas
How it went with the planners and having to revisit the application
Build choice and tendering to three builders
Strict fire regulations and how they were dealt with
Wanting to build in the roof space and how it was tackled
Dealing with existing chimneys and chimney breasts
Biggest splurge, tips to stay on budget and on schedule
Full specification with before and after floor plans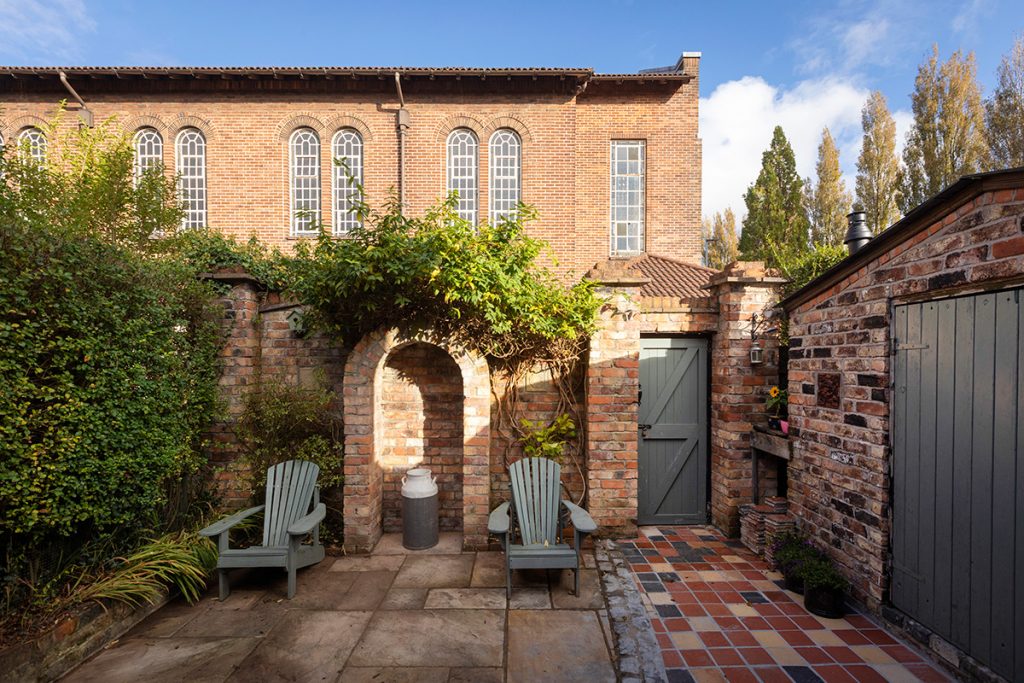 We bought our mid terrace Victorian house in Belfast in 2012. We only had one child at the time, and we planned to fix it up as we went along," says Gavin. "The kitchen had already been extended by the previous owners but it didn't work for our family."
"Although it was a nice kitchen, it was dark and cold, and the dining area was small which made family get togethers difficult," adds Catherine. "The driving force for taking on a full renovation project was that we wanted a warm new home suited to our family."
"We did consider moving without leaving the area, but houses in our neighbourhood were significantly more expensive than what we would have after the build, so we felt the right decision was to extend and future proof our home."
"Our starting point was picking up where the previous owners had left off," says Gavin. "They had reinstated original features in the property that we wanted to retain. I didn't grow up in Northern Ireland and most of the houses I had lived in were relatively new, so I really like features of an old house."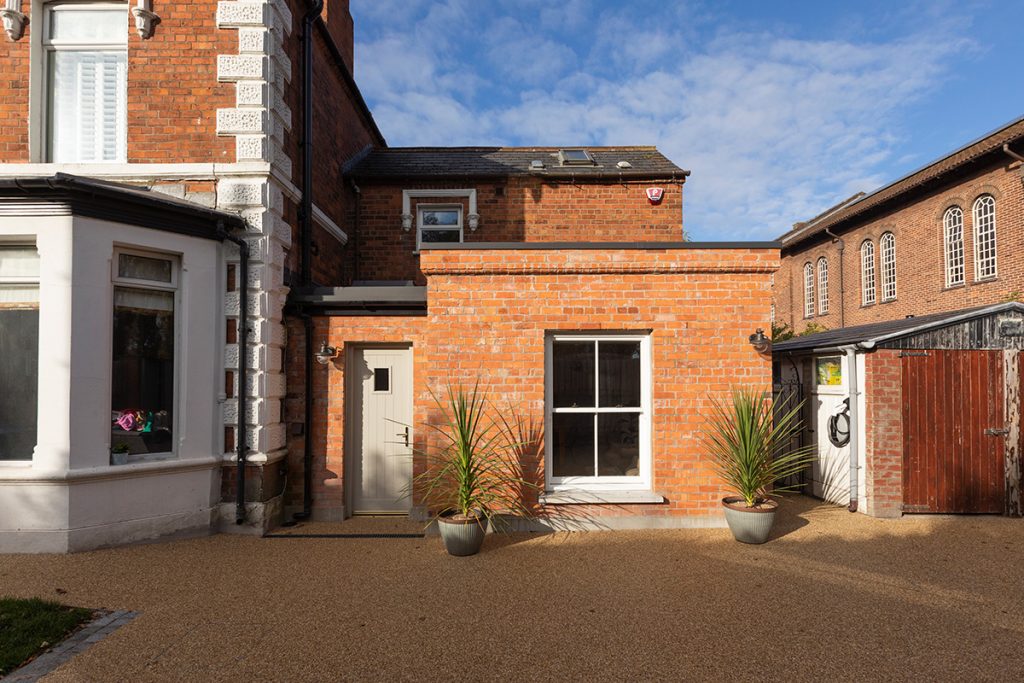 "For example the reclaimed wooden floors and stained glass are from a local convent, the doorways from an old church in North Belfast and a radiator is from the old Curzon theatre. It was really important to us to maintain these features, and at the same time modernise the living space for our family."
"We moved some of the items around; the roll top bath from the family bathroom into our ensuite, a Belfast sink from the old utility into the new utility room and the small sink from the old ensuite bathroom into the understairs toilet. We lifted the old terracotta tiles from the back yard and had them put down in the new yard."
"And for the things we couldn't keep, we sold them to other people for their projects. The original back door has gone to a renovation project in North Belfast and the old wooden patio doors are part of someone's garden summerhouse now."
Victorian renovation in Belfast: design process
"Our architect Aisling worked closely with us, listening to our ideas, reviewing our online mood boards, and bringing it all together," says Catherine.
"Because the house is quite traditional, we wanted the extension to look like it had been there forever."
"We initially only wanted to extend our kitchen but decided to also convert the roof space into two new bedrooms. One thing led to another and the project grew to also include a utility extension, an understairs toilet, a new ensuite bathroom and renovation of the upstairs family bathroom. We've also redone our driveway and front path."
"The outdoor space is quite limited as we live in a built up area," says Gavin. "We have a driveway that can hold two cars with a side gate to the road, but we didn't want to tarmac it because it's overlooked by the snug in the kitchen."
"We decided on a resin bound driveway, side path and front steps, for its light colour which looks great up against the brickwork. It's permeable so any surface water disappears and drains off below the gravel. We organised this work ourselves after we'd finished the renovation, separate from the builder's contract."
"We met a few times with Aisling to go over her ideas and fine tune her designs and felt very much involved in the design process," says Catherine.
"We didn't want a white box stuck on to the back of our Victorian home, so we used a lot of the existing features from our own house and the buildings around us when we were planning this renovation."
"Aisling was inclined to inject modern features into the design but we clawed back on them as we wanted to keep to the Victorian style as much as possible. We even convinced her that we needed two arched doorways, mimicking the brick work in the courtyard and arched windows in the listed church hall behind us. She agreed it was a great idea."
"We had to amend the planning application because we had an objection to the height of the proposed wall between our house and next door," says Gavin. "We then needed to get an asbestos survey done. There was also a delay in getting our plans passed due to the Planning Office being very busy but we got there in the end."
Victorian renovation building phase
"Eventually the planning application was all approved, at which point we had already started tendering to get things moving," says Catherine.
"All three tenders were similar in price and we chose a builder who had done quite a lot of work in our area and along our street. Our budget was approximately £100,000 for the building work."
"The builder came highly recommended and was able to start fairly quickly so we signed a contract with him, and Aisling came on board as our project manager. This was great because it took a lot of pressure off of us and any issues went directly to her. She held regular site visits with us and the builders. She and the builder entirely dealt with building control, who were very good at making sure we would comply with the fire regulations. They made sure we added wired fire detectors, and some seemingly randomly placed self-closing doors throughout the house."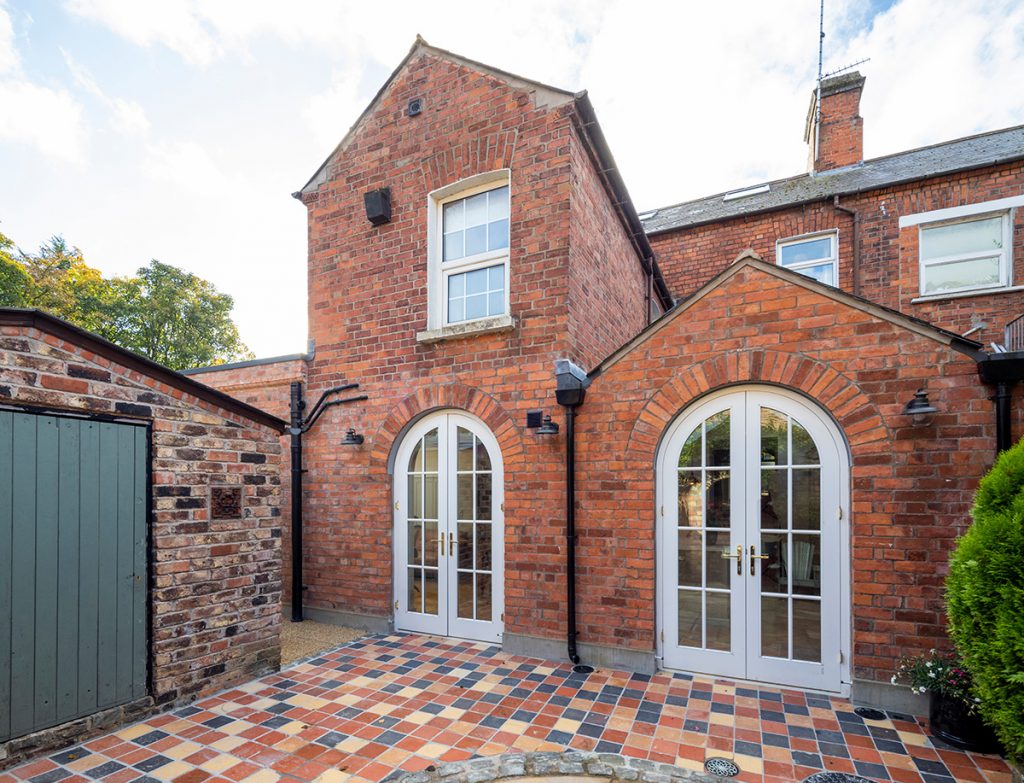 "Actually one of the biggest headaches had to do with whether or not we'd be able to get two bedrooms into the roof space. The upstairs landing had a large area that looked perfect for a set of stairs and when you looked up through the hatch in the ceiling there was this big unused space."
"The building regulations required that we maintain head height going up the stairs, and I know Aisling lost sleep over it, but she was determined to find a solution. She looked at all the options and with the clever use of skylights, all the measurements seemed to work."
"Also because of the fire regulations, we had to have a double sided handrail to the loft space because we have two bedrooms up there. It wouldn't have been our choice from an aesthetic point of view but it had to be done."
"In the roof space we kept the internal brickwork from a chimney breast exposed along the wall in one of the bedrooms, and put a small window through the chimney breast in the other room," says Gavin. "Externally this created a gable window and internally it has a great view of the kids' favourite park across the street."
"I'm not sure the builders were too happy about this as they spent a day clearing bird nests and removing a small tree from the unused chimney!"
"The chimney is actually the only longstanding issue with the build. We've had problems with damp from it and may eventually have to take it down and rebuild it. It's funny how the chimney was there over a hundred years without any problems and then we mess with it, and cause problems."
Updated kitchen
"The only other hiccups had to do with unexpected issues that get highlighted when renovating an old house," says Catherine. "We had to replace several supporting beams in the back return that sits over the kitchen, and the wiring needed done downstairs so we redid upstairs too."
"In terms of design, the old kitchen cabinets just didn't work for us," says Gavin. "You had to reach over the dishwasher to put plates and cups away and the over stove mantle was too low so you had to bend your neck when you were cooking. There wasn't enough storage and the drawers were too small."
"We found a design we really liked in a brochure; quite traditional and built along one wall with cabinets down either side of a stove recessed in a newly built chimney breast with a large island. Our kitchen designer was great at bringing all our ideas to life."
"We also have a full length fridge and large double door pantry. In the island we have a small freezer, the bins and the dishwasher, and at the front of it there's a lot of storage for the kids' arts and crafts and school work."
"We spent quite a lot of money on the kitchen cabinets, parquet flooring and paneling because we knew this was a long term home for our family," adds Catherine. "These two elements formed part of the contract with the builder from the get-go, and the quality that we achieved is so worth it."
"We were held up by the kitchen, getting it fitted and builders doing the panelling, but it was a smooth process. We now have underfloor heating in the kitchen which keeps it nice and warm, and radiators everywhere else."
The kitchen is now at the heart of the house. "Thanks to the large amount of windows, doors and roof lights, it's bright, and the hanging lights over the island add warmth in the evenings," says Gavin. "The other lighting elements are mostly recessed, and we sourced the fittings online."
"The renovation has completely changed the way we live," says Catherine. "We spend most of our time in the kitchen now. It's probably the best part of the build, but we also love the loft conversion. It's so nice to go up there at times as it's so quiet and cosy. We feel very lucky."
Q&A with Gavin
What surprised you?
When we went to sort out the drainage at the back of the house, the builder found a huge stone. It took a day to get it out of the ground to make way for the foundations.

What was the biggest splurge?
The arched windows and door cost the most. Anything custom made costs significantly more. The kitchen was also quite expensive, but it's perfect and what we wanted.

Would you do it again?
Yes definitely. We might even consider it in the next five years. We'd love to do a new build by the sea, a holiday home with a view…

What are your favourites?
The new kitchen, as it has changed the way we use the space in our house. The other best thing is the walk in showers and if you have the space to do it, you should. Walk in showers give a hotel feel and there are no sliding doors to trap dirt. The only problem with adding on these new rooms is that they highlight all the issues in the old part of the house. When we go back to the other rooms we can't help but think we want to change them, that we want to do more. We could just keep going but you have to draw a line at some stage. We're done for a while.
Gavin's Tips
Get a contract
We agreed on a price with our builder but had to make some changes which weren't detailed in the contract so extra things came at a premium cost. It's therefore helpful to know what you want from the start, as any variations will cost you. Our contract had a financial penalty for finishing late but the build only went a month over, and we had asked for some extras along the way so no charge was applied.

Think about the living arrangements.
We stayed in the house during the six month build. We were both working full time, had school runs and three small kids. It was fine because we had a temporary kitchen in the playroom and the first few months were ok, but after Christmas when they started the loft conversion, 100 years of soot covered everything. And it was cold. Relatives helped and the builders knew we had kids around so they did their best, but if I were to do it again, I would consider
Before: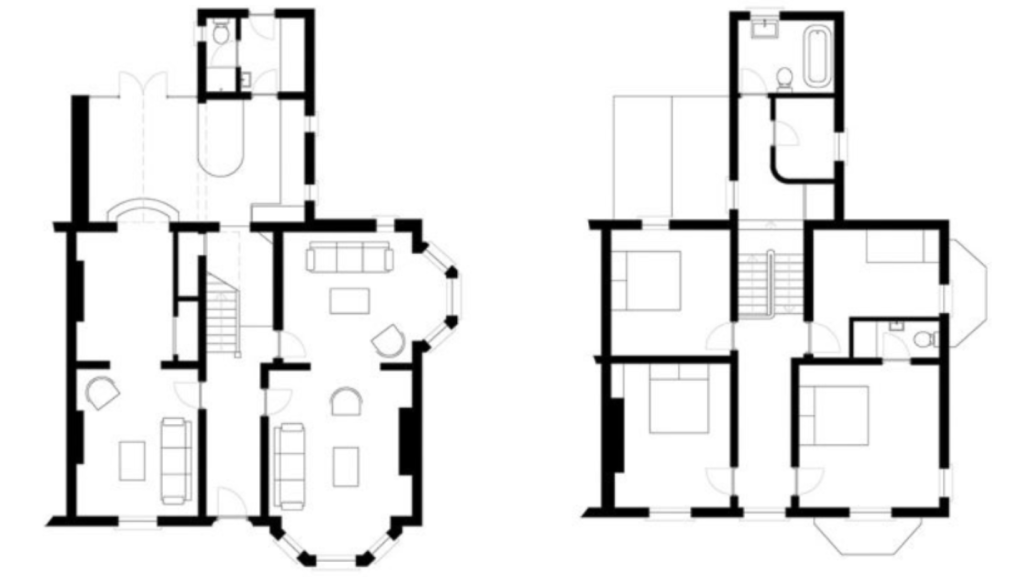 After: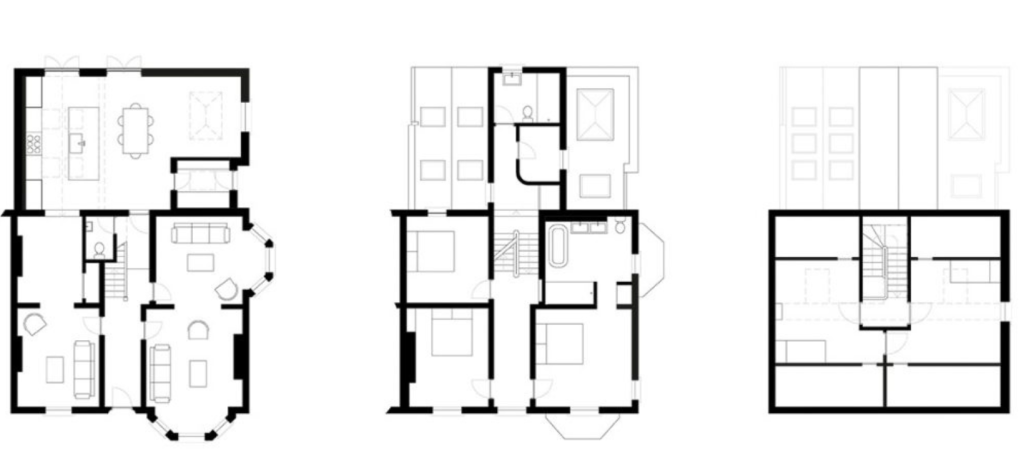 Full Spec
New cavity walls: Dense plaster and skim finish to internal block walls, on 100mm dense concrete block, on 110mm cavity injected with blown full-fill EPS insulation,
U-value 0.28W/sqmK

Flat roof: fully adhered single-ply membrane on 150mm phenolic board insulation on 18mm exterior grade plywood deck, on treated softwood firrings, on 170x38mm C16 timber joists at 400mm centres, on 12.5mm plasterboard. U-value 0.15W/sqmK

Pitched roof: Bangor blue slate to match existing on treated softwood battens and counter-battens on breathable membrane laid over insulation, 70mm phenolic board over rafters, 70mm phenolic board between 38 x 150 C16 rafters at 400mm centres, polythene vapour control layer fixed to underside of rafters, 3mm skim coated 12.5mm plasterboard fixed under rafters, U-value 0.14W/sqmK

New floor: 75mm concrete screed with A-193 mesh and underfloor heating to BS 8204 Part 1 2003, 500 gauge vapour barrier, 150mm phenolic board insulation, 150mm ground bearing concrete floor slab, 50mm blinding layer of sand, min.225mm thick well-compacted hardcore sub-base, U-value 0.11W/sqmK

Windows: hand-crafted, timber double-glazed; roof lantern is solid wood, double glazed, white paint finish.
Victorian renovation suppliers
Architect
Aisling Shannon Rusk of Studio idir, Belfast, studioidir.com
Builder
Noel Savage Construction Ltd., Belfast, tel. 90 321080
Kitchen
Phil Montgomery at Ballycastle Homecare, ballycastlehomecare.co.uk
Bathrooms
Beggs and Partners, Belfast, beggsandpartners.com
Resin bound driveway
ProSurface NI, Downpatrick, prosurfaceni.com
Photography
Paul Linsday, paullindsayphoto.co.uk