Paul and Brodie Doherty built themselves an Irish version of a chalet with jaw dropping forest views in the heart of Donegal.
We cover:
Where the inspiration came from
The design process with their architect
How they secured planning permission
How much the house cost compared to a standard design
How the project was managed and built
How they tackled the interiors
Details of renewable energy systems and plans to go off grid
Wood carving plans (for the bathroom…)
Full supplier list
How did this Donegal forest house project come about?
The site was a gift from my parents, which we will be eternally grateful for. Ever since I was a child this particular area had a magnetic pull on me, it's a place I used to come to play and roam around, and I've always wanted to live here.
In our line of work, which is photography, Brodie and I are busy in the summer months so the winter is when we can holiday and naturally we mostly choose ski and winter destinations.
This is how we fell in love with ski chalets, large open plan log cabins overlooking wilderness. It was also very important to us to have a place to display art throughout the house with lots of light and this dictated a style with large windows and high ceilings.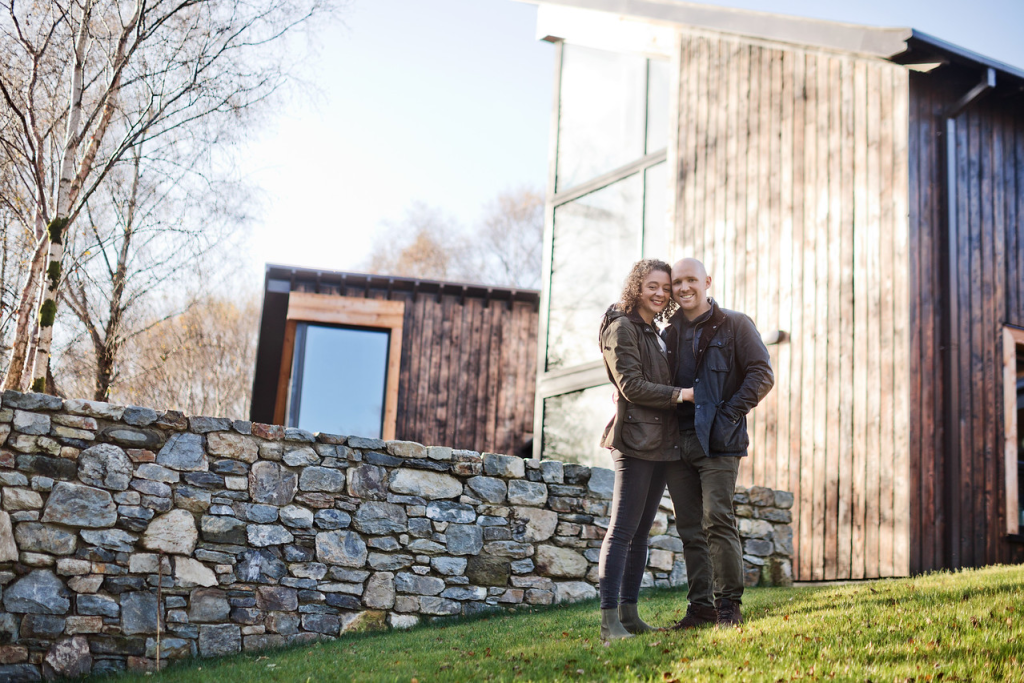 I have to say that walking around Ireland during the 'boom times' I noticed a trend of houses being built anywhere and everywhere, people coming in to a site and turning it into a flat open field before starting. That destruction of natural beauty never sat easy with me so I wanted to live in the forest, among the trees without disturbing them or the site.
Therefore we wanted to leave the forest as natural as we could but still had some landscaping to do and I'm sure it will be a lifelong project! The decking is yet to be finished and we are currently tiding up the woods around the site, protecting the trees from overbearing plants such as ivy and briars.
There were no existing buildings on the site but there were old stone walls that were covered in moss. We stripped back the moss and used the stone for all of the stonework done around the house.
What was the design process with the architect like?
The design process was easy. I provided Declan with a brief containing images of architecture that we liked along with a few images of architecture that we disliked (at Declan's request!).
We met on site at the beginning, he walked around without talking for almost an hour and a few weeks later we met him in the office where he had a few sketches of his idea – Declan described the concept. Each window 'has a purpose' and as you move around the house during the day, the sun moves around with you. We agreed that it was fantastic and to go ahead with the concept.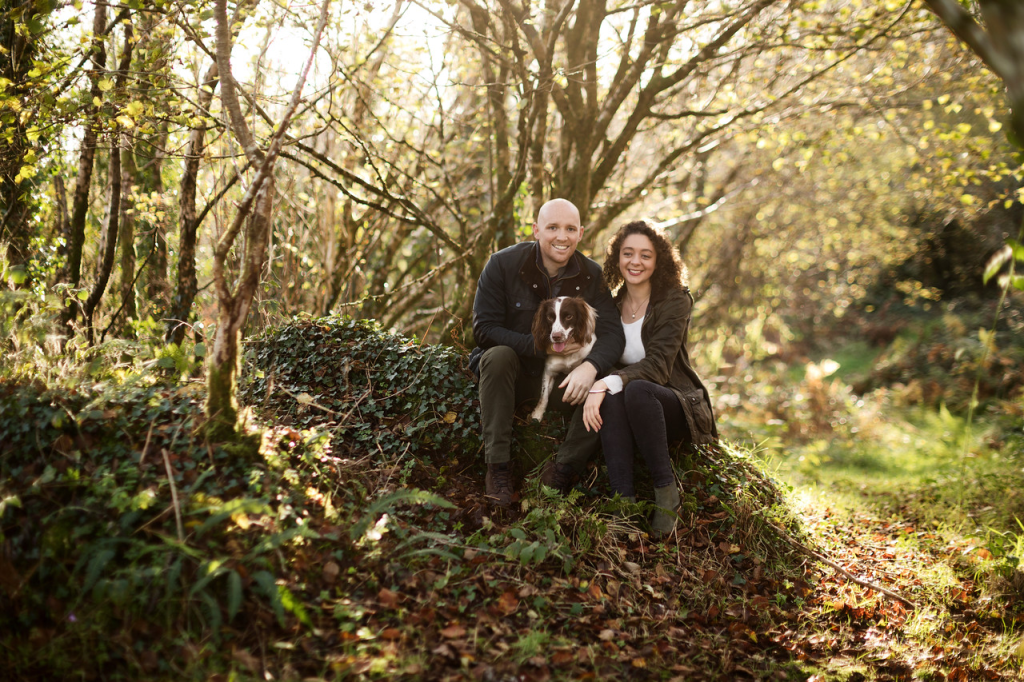 When the final plans were drawn up we didn't make one single change – as photographers we find that we can create much more effectively if trusted by the client so we wanted to apply this mindset throughout the build.
Declan and his team looked after the planning process, and we had a few reports drawn up to manage the build as best we could without disturbing the environment. Some at the request of the planners and some at our request.
The house is in a special area of conservation so it was important to everyone involved to preserve that as best we could. There are also a lot of trees and wildlife around which we wanted to protect and be able to see from inside the home. Nowadays we sit at the window seat watching white fallow deer, hare, kestrels, blue jays and even bats at nighttime.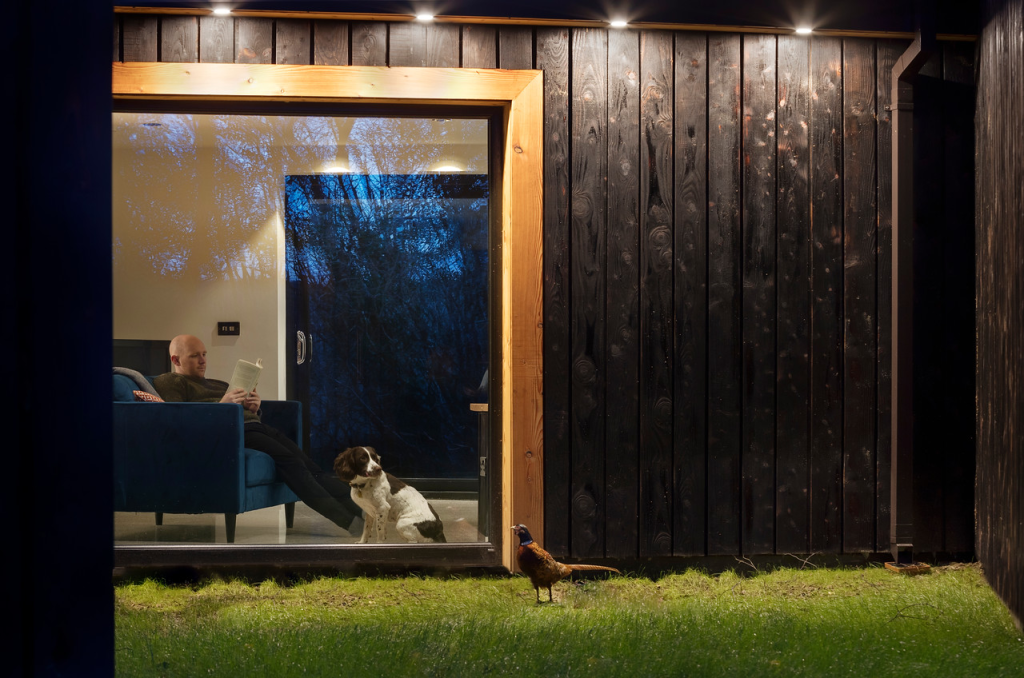 Did the house cost more than a standard design?
My quantity surveying background was helpful and although I tracked every penny of the build I'd prefer not to say exactly what it cost. But I will say it was less than half of what it was valued at.
Even though the house is a unique shape and style that doesn't mean the costs are going to be all that different to a standard shaped house. But there were aspects of the build that increased the costs. For example the house has a big footprint as it is mostly on the ground floor so the foundations, subfloor and so on, cost more and the house has a lot of external walls so there was more insulation to buy.
These are things to be considered when calculating the total costs. However because almost everything was on the ground floor the cost of first floor slabs, pumping screed upstairs etc. were all greatly reduced.
How was the project managed?
The architect and his team were fantastic from day one and they managed the whole build through, calling out to site to check up on proceedings throughout the build and they were always helpful and easy to contact on the phone.
We went down the direct labour route to save on costs. Because we worked and lived within 20 minutes of the site, we could be there on short notice.
It's important to point out that the house was built almost entirely by one man, James Sheridan, a family friend and at 64 years of age he came with a wealth of experience. In my teenage years I spent my summers working for James on his building sites so I knew how much pride he takes in his work.
During the initial phase of the build we spent six months working abroad filming with Sky One in South Africa and photographing weddings everywhere from Cuba to Bali to Sri Lanka. While we were away and throughout the build my father, also Paul, took the reins and kept the show on the road. We nicknamed him the Project Manager. I gave him my bank card and he looked after a lot, but the whole family had a part to play. We had lots of friends over helping as well. Little things like my mother making a traditional Irish fry for the workers at the weekends kept morale up on site.
As with every build there are little issues every day but it's important to see solutions and not problems. At the beginning there were some 'debates' with workers on site who wanted trees cut to make it easier to get in with machinery, blocks etc., but we were adamant to keep the mature trees where they were. We came up most evenings and carried materials around where machinery couldn't go because of the trees – that was our compromise.
Tell us about your plans to go off grid…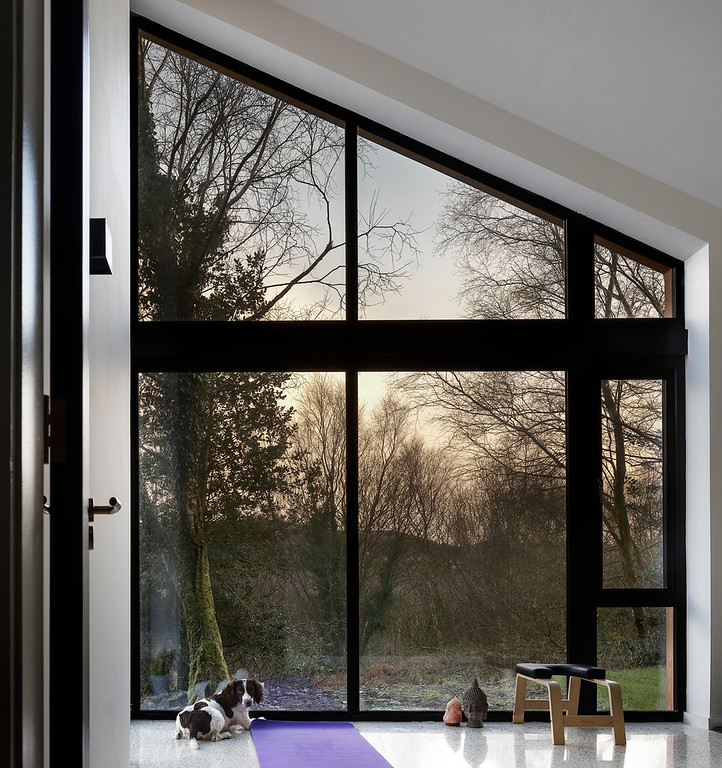 To live off the grid in the forest was a dream of the young boy who was playing in the trees all those years ago so we carried that theme right through, but it will be completed in phases.
The air to water heat pump heats the hot water and the underfloor heating. In the next phase of works we will be installing photovoltaic (PV) solar panels to power the heat pump and phase three involves installing a hydroelectric system. There is a stream on site that will power the rest of the house along with an electric car.
We made the house as airtight as possible and that is complemented with the heat recovery ventilation system so roughly two hours of sunlight will heat the house for the day. Shortly after we moved in at Christmas time it was -2degC outside, the sun was shining and it was 27degC inside!
The house is fantastic – with the lockdown it has given us a lot of time to sit and enjoy it. One thing we both realised very quickly was just how easy it is to live in a house with modern technology, simple things like washing and drying clothes are effortless. Always having hot water, never having to think about lighting the fire or will the house be cold after a long day's work. It really hit me one day in January after working 15 hours photographing a wedding I came back at 1am to feel the heat as soon as I opened the door.
How did you tackle the interiors?
We trusted our electrician from the beginning. The company we hired designed the lighting setup and locations of plugs, etc. They were fantastic right from the beginning and the lights in and around the house complement the art we have around.
From early on in the build my interior design friends came on board and kept us on the right track. It was important to us that the house be cosy so they planned out colours, where to use what type of material, from wood to soft furnishings.
It is very important to have an interior designer and contrary to popular belief we actually think they have saved us money as they knew all the prices in the local shops and were able to find workarounds for us if something was out of our budget.
In terms of furniture we made our own dining table, coffee table, vanity units and any little bits and pieces we got locally from local furniture makers.
In the main bathroom we wanted it to feel like a darkroom so we have everything black in there: black polished concrete floors, walls, tap etc. It was hard to find a black toilet but we got there in the end and it gives everyone a shock when they first walk in!
What would you change?
Maybe a designated room for our surf boards and wetsuits to dry in the wintertime, otherwise nothing!
The only thing we've changed over time was our use of the rooms. Initially there were four bedrooms but as there are just two of us we turned one of them in to a gym/yoga room and another into the office. We also have two sitting rooms and one could become a bedroom if needed.
What's your next project?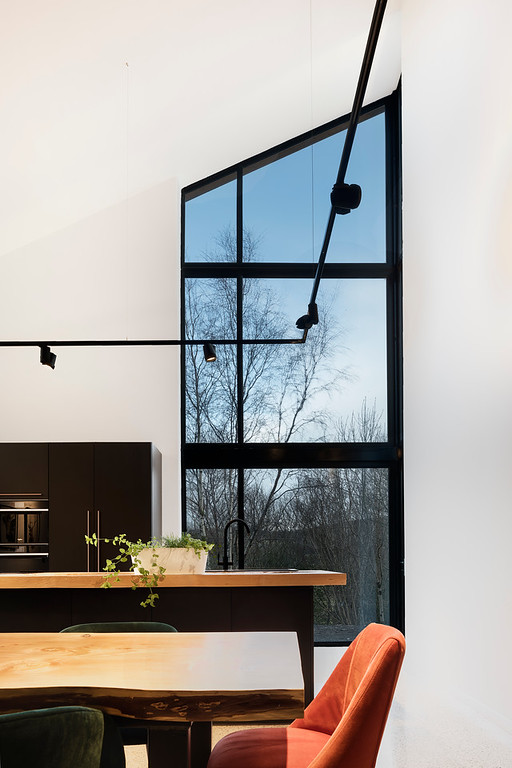 I'm currently carving a bathtub out of a huge timber log and making a gas fire heater for the decking out of a huge boulder that was on the site, they aren't finished yet! The bath tub is for the black bathroom; I had the idea about a year ago and began by carving spoons then bowls and I think I'm ready to make the tub now.
Donegal forest house suppliers
Architect
Declan McCabe, mccabearchitects.ie
Interior design
La Maison Interior Designers, lamaison.ie
Heat recovery ventilation
Vent-Axia, vent-axia.com
Electrics
O Hara and Harrison Electricians, oharaharrison.com
Plumbing
James Lynch Plumbing
Kitchen
Pattersons Kitchens
Concrete floors
Michael Conlon, C.H.E Innovative Surfaces
Windows
Errigal Windows
Timber
Mc Faddens Sawmills
Roof covering
Cedral, cedral.ie
Stone
John Murray Stonemasons, johnmurraystone.com
Photography
Paul Doherty, studiodoherty.com