For Jason and Nicola O'Donnell, building their home in Co Mayo was all about starting a family.
In this article we cover:
Finding inspiration to decide what to build
Setting a budget and tips to stick to it
Design process from start to finish
Pre-planning meeting details and securing planning permission
Clearing out the site
Finding tradesmen
Amount of DIY they did and how involve dthey got with the day to day
Tips when going direct labour
What they'd do differently
Landscaping
Floor plans, full supplier list and specification
Professional photographs
"Nicola and I are both from the local area, have jobs here, and knew we wanted to stay put to start a family," says Jason. "We were lucky to have a fabulous site with amazing views. My parents had the foresight to buy the land next to their house when it came up for sale."
"We started our journey buying magazines, watching various house programmes, and using social media to create mood boards and follow house accounts. Visiting the Selfbuild shows was a great help too," says Nicola.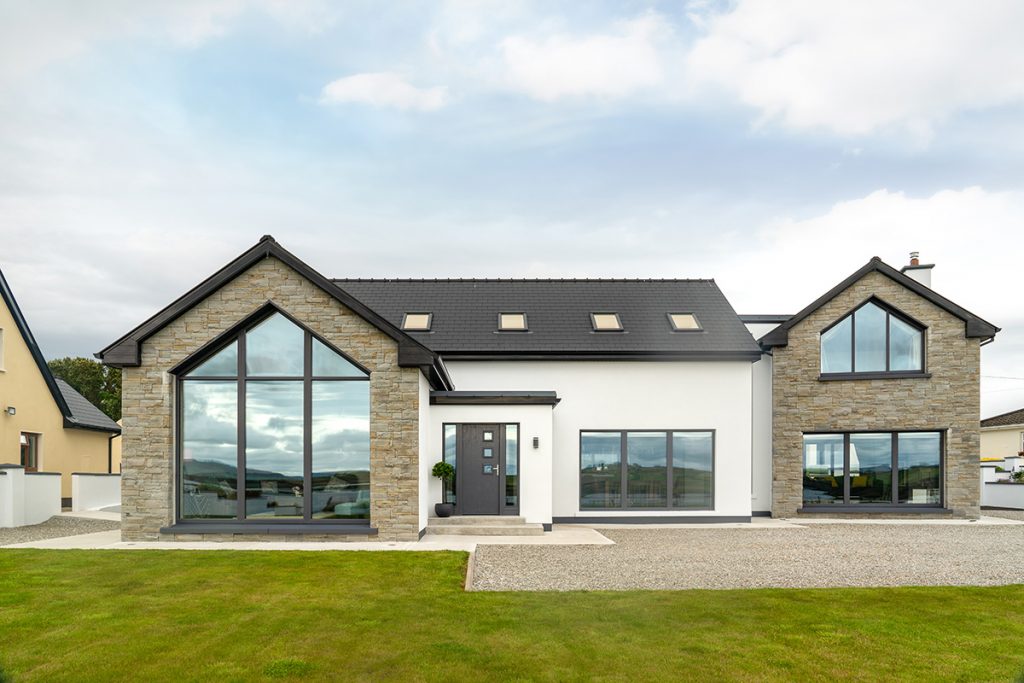 "We then spent a lot of our spare time driving around looking at the different styles of houses, taking pictures of what we liked. We found that we would always pick up at least one idea from a house visit, be it layouts, interiors, sizes of rooms. Its' funny now because we see people doing the same thing with our house, which always makes us smile."
"All of this helped us understand what we liked and what we didn't, and that we had similar tastes, which made life easy," says Jason.
Design
"We approached a structural engineer based in Tubbercurry, John, who has his unique style of modern design that we really liked. We visited homes he'd designed before and got on well with him," says Nicola.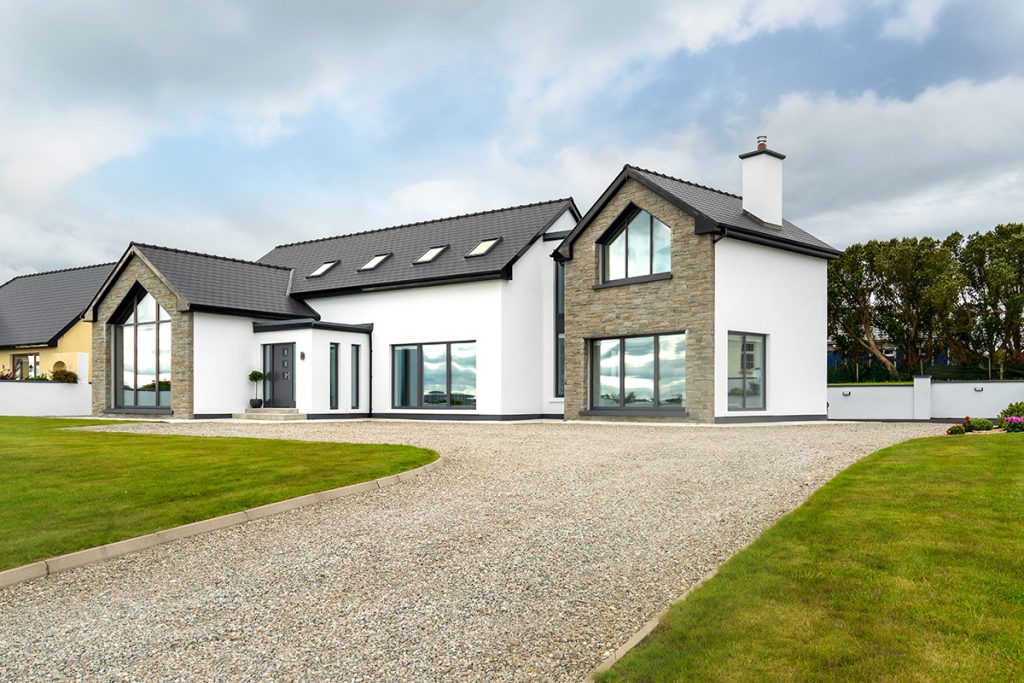 "After meeting on site, he drew up the design of the house which Nicola fell in love with," says Jason. "I was unsure of the section of the house that is at an angle but now I think it's what makes the house. The patio doors in the family room are fantastic; because of the angle, we can see all the way past our local town towards Carne."
"We did make some changes from the first set of plans, and it was mainly to the upstairs layout," says Nicola. "The section that is at an angle initially was a single storey double height ceiling. We decided to put our master bedroom into it to make the most of the views."
"John was brilliant to work with. He answered any questions we had, made any changes we wanted but also stood firm with some architectural features such as the section of the house at an angle, which we are grateful for," says Jason.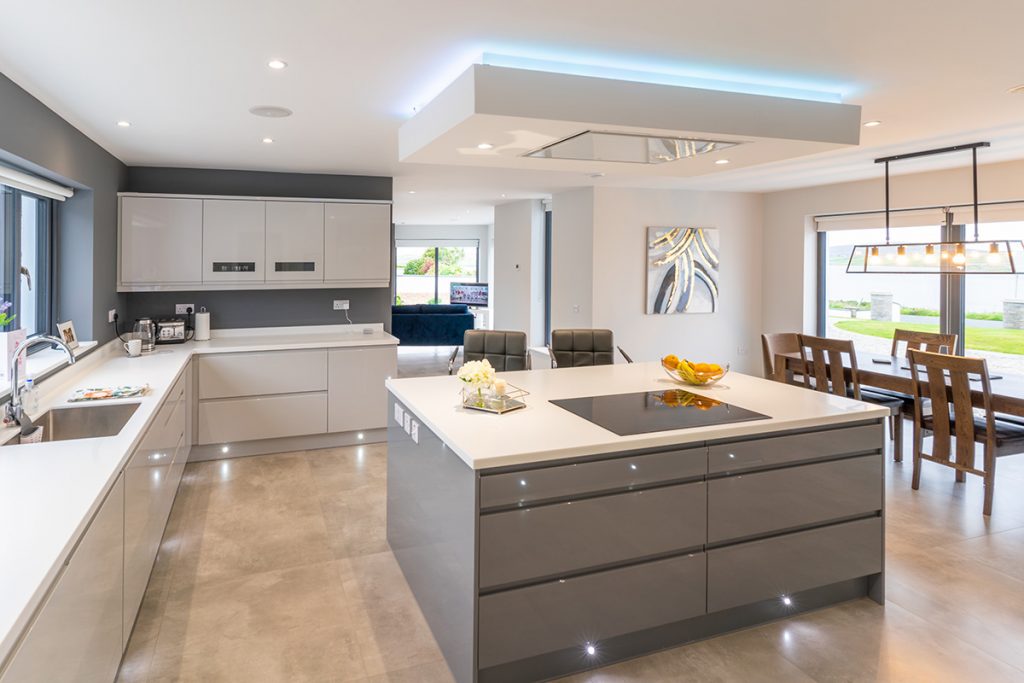 "Having the utility off the kitchen evolved from the design process, thinking how we would use the space so we have drawers which are actually a great use of space. Then to maximise storage in the kitchen, we decided to put the freezer in the utility room. There is a hanging rail above the sink in the utility for light tops and shirts, and that works brilliantly." 
"Overall, our biggest piece of advice is to do a lot of research, and to design your house to fit your life," says Jason. "I do shift work so having our ensuite and walk in wardrobe completely separate to our bedroom was a priority for us."
"To maximise the space in our bedroom I came up with the idea to add a stud wall," says Nicola. "Behind the wall I have my own hair and makeup area and on the other side of the wall is our bed which faces directly out to the bay. We don't have anything else except bedside lockers so that space is always clutter free."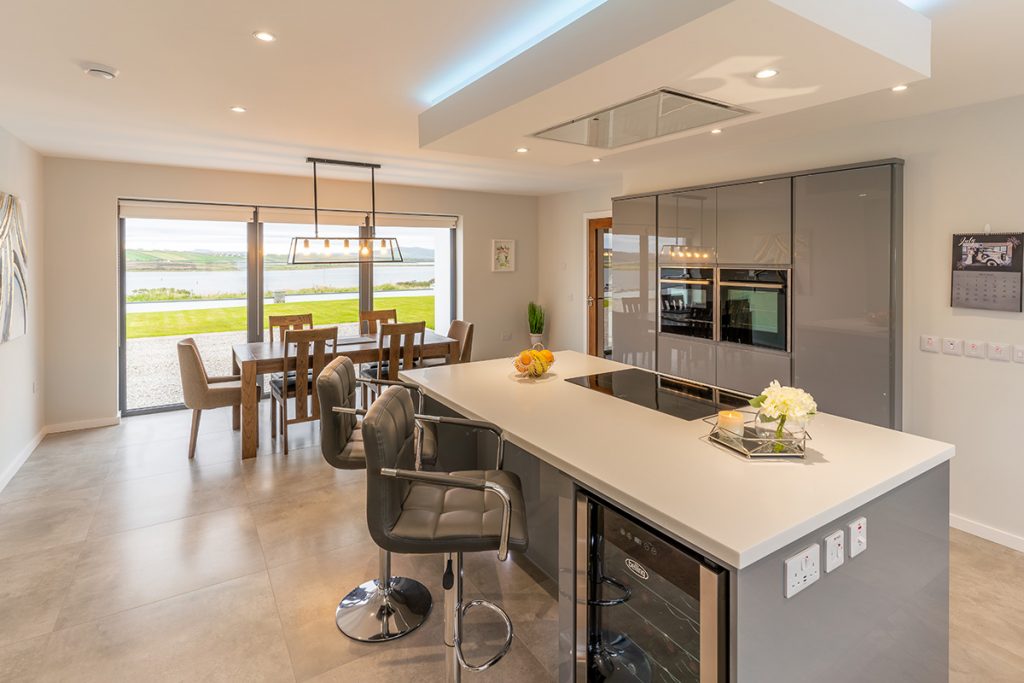 "For the interiors in general it was important to us that the overall feel of the house is connected, yet for each room to have its own identity."
"Once our plans were in place, we engaged with the local council and had a pre-planning meeting before filing for planning permission. Thankfully, we didn't have any major issues. There were no problems with wastewater either, as we are on the main public service line for both water and sewage."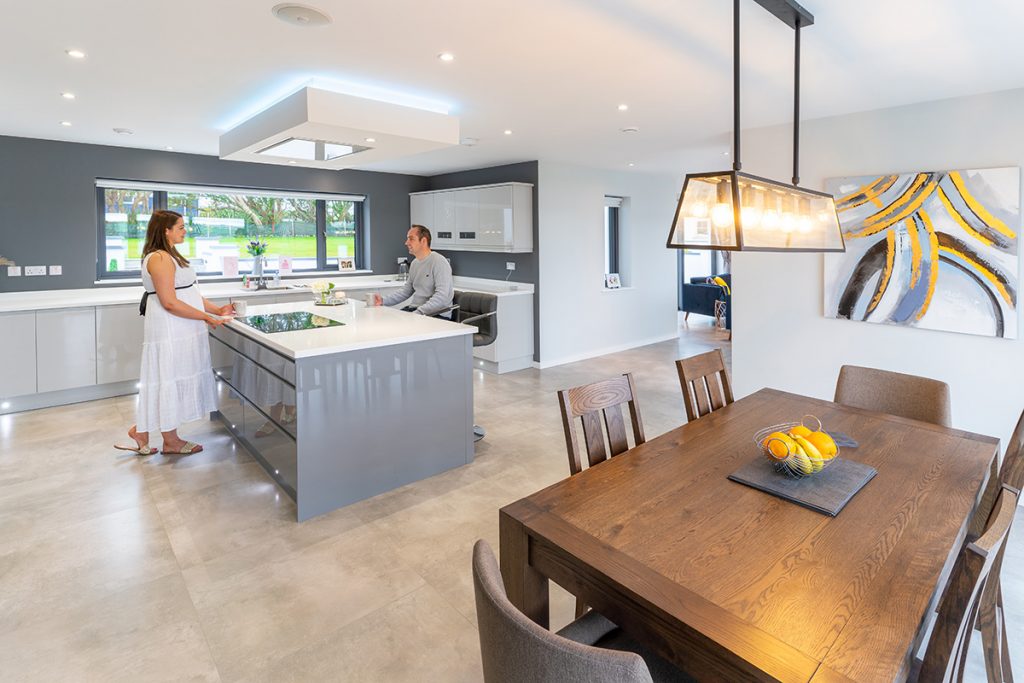 "Our first set of drawings showed we would get an A3 Building Energy Rating, so we decided to spend additional money on insulation and airtightness to get an A2…"
"Then we got John on board to sign off on the stages for us, for the mortgage, and we opted out when we filed our commencement notice," says Nicola. "He was always on call and regularly came down for his inspections; we had a few phone calls to double check things as well."
A central plank of their design was to build an energy efficient house. "We knew we would need to invest our money in insulation for good U-values and airtightness," says Jason.
"Our first set of drawings showed we would get an A3 Building Energy Rating, so we decided to spend additional money on insulation and airtightness to get an A2. Our electricity bills are averaging around €1,700 a year which includes our heating system and all other electrics, including for cooking."
"From the start we had decided on an air to water heat pump; we had spoken to different people who had one and they all had good things to say," says Nicola. "We normally turn the heating side of it off from May until the end of September and still have constant hot water during that time."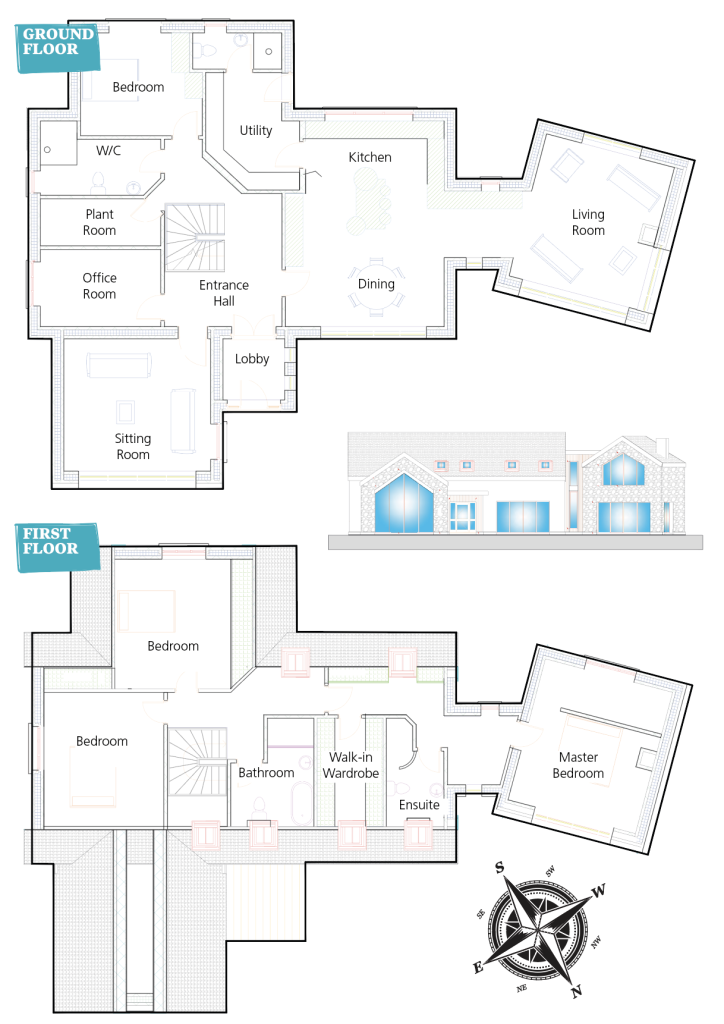 The build
There was an old derelict house on the site, and the first step after getting planning permission was to demolish it. "Clearing the site took a lot longer than anticipated, between the demo and site access," says Nicola. "We were paying a guy in a digger to do it for us, carting off the waste, so each day cost us money, and it took longer than expected as we ran into hard ground."
     From the beginning, the couple had decided to go direct labour. "Based on the experience of people who'd gone through it before, we figured it would cost us 20 to 25 per cent more to build the house with a contractor than if we were to hire all the trades ourselves," says Jason.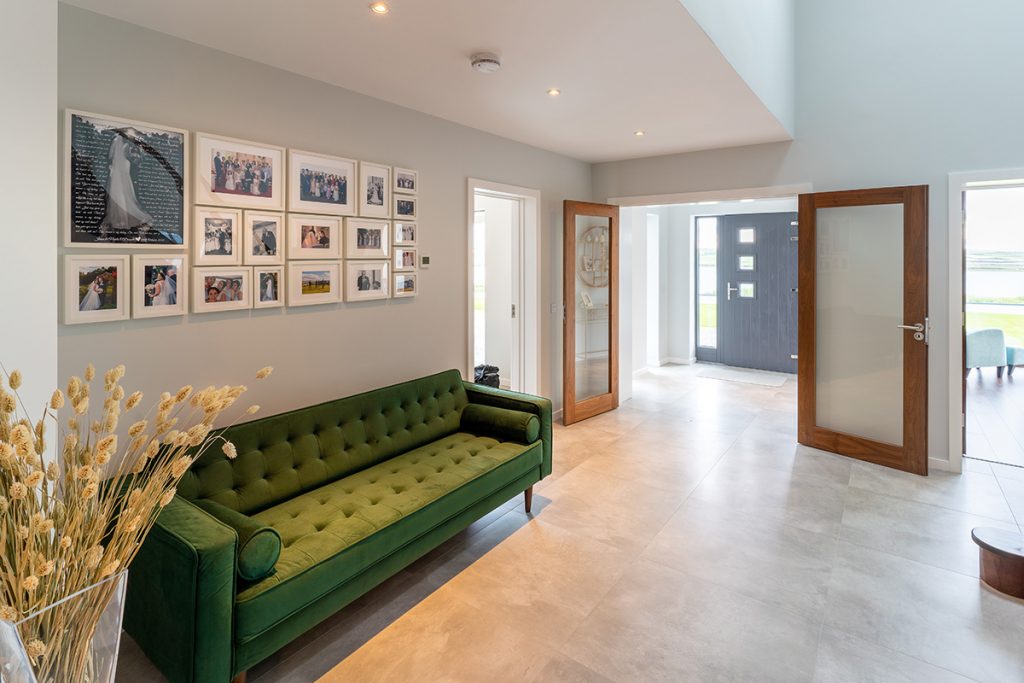 "We have no construction background, but I had kept an eye on my cousin's house when he was building. When we started our build, we were both working full time and planning our wedding at the same time. We found that the key to manage it well was to be as organised as we could, and to keep on top of the cleaning."
"After that, our involvement was to help out where needed, so we lent a hand with the scaffold, ordered materials, and if we noticed any snags we would try and fix them ourselves," says Jason. "Nicola's cousin, Damian, was of immense help to us throughout the build. He's a carpenter and he did our roof, first and second fix, and was also someone we could go to and lean on for advice and guidance."
"His brother Ciaran is a plumber, and he did all of our plumbing. Nicola's dad, who'd worked in the construction industry, was also great source of knowledge. His input was invaluable at different stages of the build."
"While we were working, my father was available to sign for deliveries and to collect any materials the tradesmen needed, which was also a massive help," says Jason. "We sourced the bulk of our materials from local suppliers in our area."
"We are thankful that we didn't have too many problems," says Nicola. "Except about six weeks before we were due to move in. Our painter moved away and couldn't finish his work with us."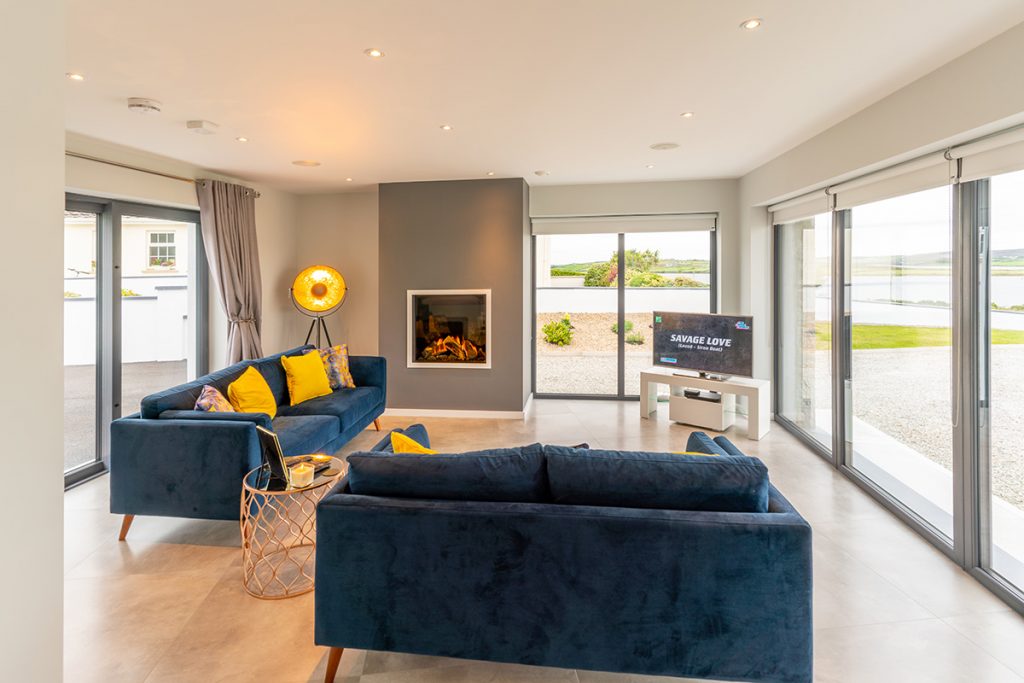 "This was a massive headache as the weather was really good, so painters were in high demand. In the end, I have a friend who managed to help us out and finish the job. Our family and friends were so supportive in the lead up to moving into the house."
Budgeting
"Going direct labour was a lot of work but it was time well spent," says Nicola. "The main thing was keeping on top of the schedule by keeping in touch with the trades, which meant lots of phone calls to keep everyone lined up."
"We would have known of them from the local area, as it's a tight knit community. To avoid delays, we had tradesmen booked in advance and kept them updated on our progress. This really helped with the tiler, who was in high demand."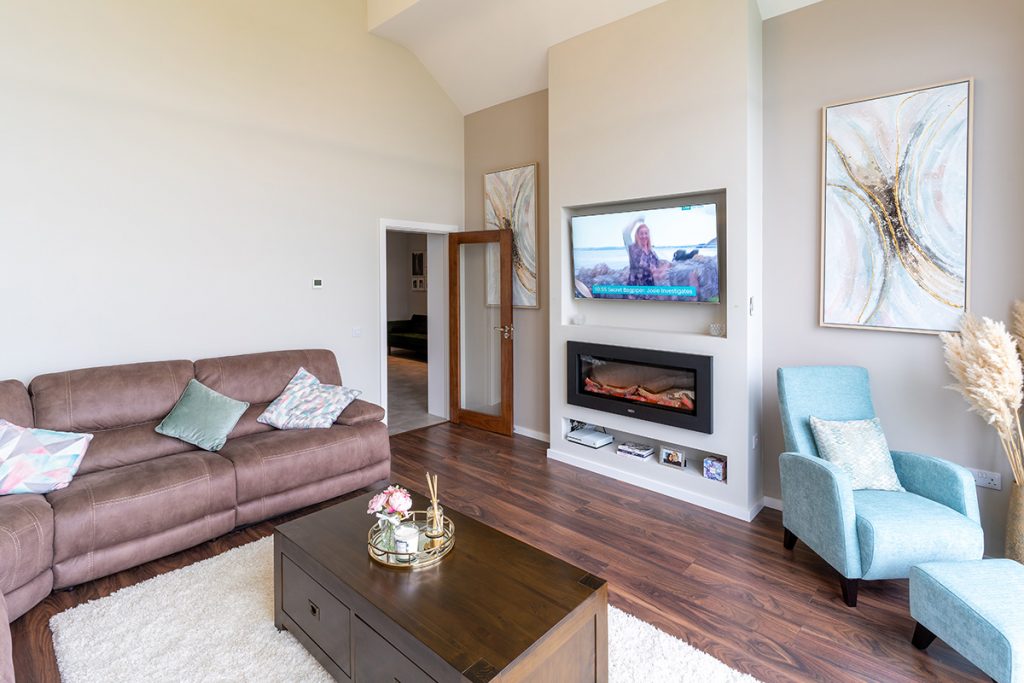 "We had a spreadsheet, and we got three prices for all quotes as we went along. We knew from the start the kitchen would cost quite a bit, for example, so we cut back on the timeframe for the landscaping," she adds.
"Before we moved in, we put chips down along our driveway with the plan to eventually tarmac it. But we've decided to leave it as is because we really like the chips."
"We had prices for each element and if we had gone overbudget we would look at where to pull money back from another part of the build without comprising on quality. If we were underbudget, we put the money into the contingency kitty."
"Another example is the staircase; we always wanted open tread walnut stairs with glass banisters, thinking it would be too expensive. We had it priced up and it ended up coming in at a good price. But we did have to give up on the idea of a curved design as the budget couldn't stretch that far."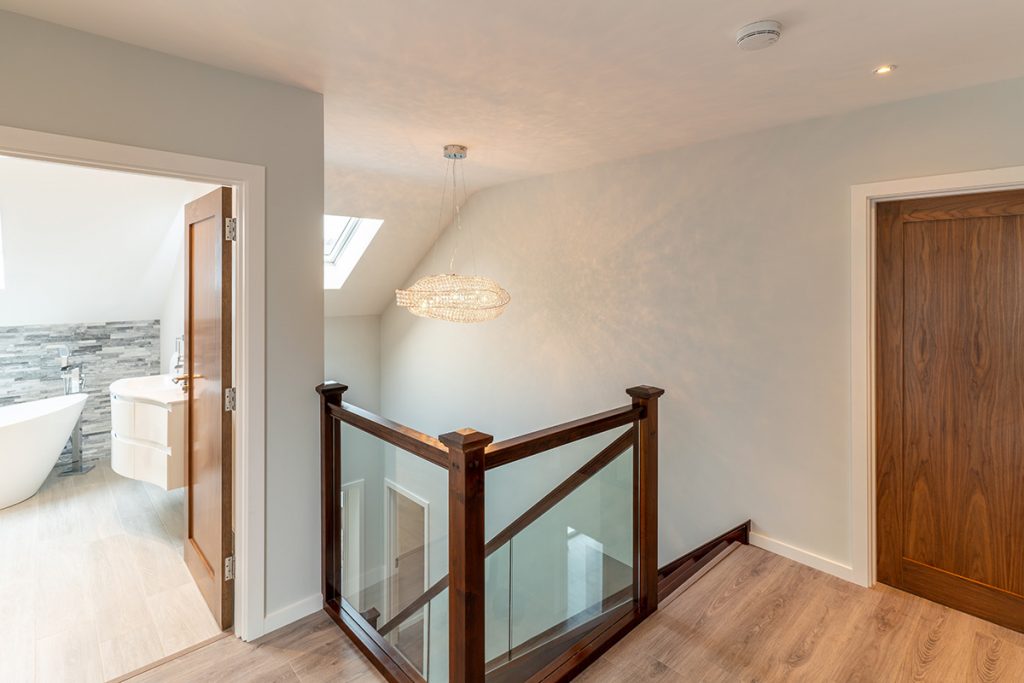 "As for the landscaping, we had to save up for a couple of years to do it," says Jason. "Frankly we were shocked by the cost, between building front and back walls, steps, putting lights in the walls, finishing the planting and curbing, and the paving and patio area."
"It was expensive but it is a lovely space," says Nicola. "My parents are keen gardeners, and my mother planted all our shrubs and flowers. The sun is always at the back and it's lovely to have dinner on the patio on a summer's evening."
---
Q&A with Jason and Nicola
What's your favourite part of the house?
We absolutely love our house and to pick a favourite is hard… We spend so much time in our open plan area, although the living room with the tall window overlooking the bay and high pitched ceiling is just amazing.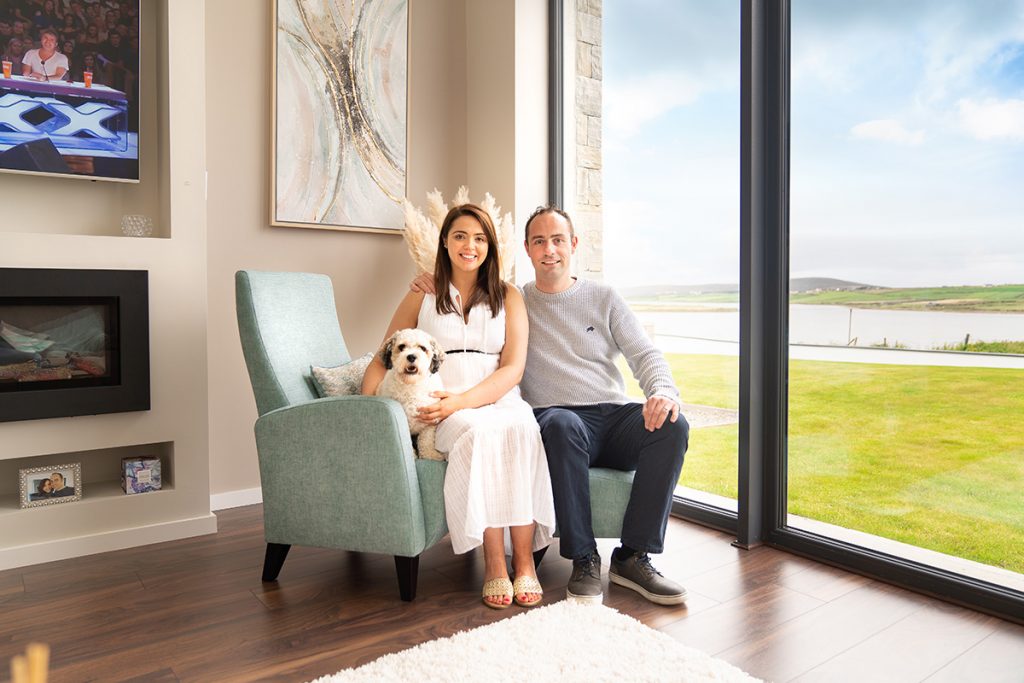 We're really proud of that room. It has a completely different feel to the rest of the house, but it works. The electric fire is a nice feature too. We thought it would only be in use for movie nights and sports, but we actually use both sitting rooms a lot.
The gas stove in the open plan living area was a splurge but we're glad we got it. We turn it on with a remote, there's no ash and during the winter we do use it quite a lot – mostly on flame only, but the odd time we would activate it with heat.
What would you change?
If we could change one thing it would be to make our utility room bigger, even though it's a good size at 10sqm. We also have a plant room but we could have made that bigger too. It's not just the ventilation unit but the heating system, with tanks and manifolds, etc., that take up a lot of space.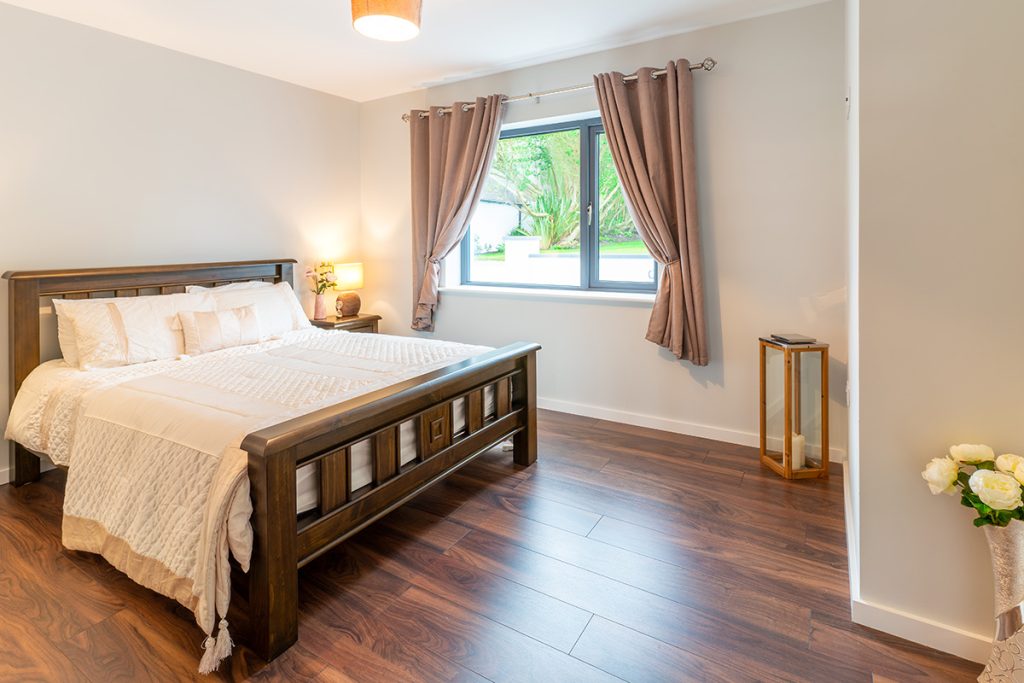 ---
Jason's tips
Ask for your electrician to meet with your kitchen designer on site. Even if they can't meet on site, get them to agree on everything at first fix. Ours did and they spent an entire day at it. The result is that every detail was worked out, including the small spotlights in the kickboard. That way, they both knew exactly where they stood. We also got our electrician to put in a sound system in the house, and we have the speakers connected to the TVs.
Don't set a date to move in. Because it probably won't happen. Ours was Easter, then May, then whenever before the wedding. Just remind yourself all the stress will be worth it when you move in.
Try to get three prices for everything. And spend your money where it's most important to you. We invested in our insulation knowing this would lead to a nice warm house and good electricity bills.
Don't rush into any decisions. We had bought a light for over the stairs, but had to change it as our electrician warned us it would be too small for the space, which he was right about.
Take some risks. At the end of the day, this is going to be your forever home so decorate it in your style. It may not be to everyone's taste, but all that matters is that you love it. In the living room that meant having a reading corner, a navy couch, and feature (different coloured) walls. It was funny when my father would see some of the pendants and artwork, and we would ask him "what do you think?", he would look at it and just say "it's different".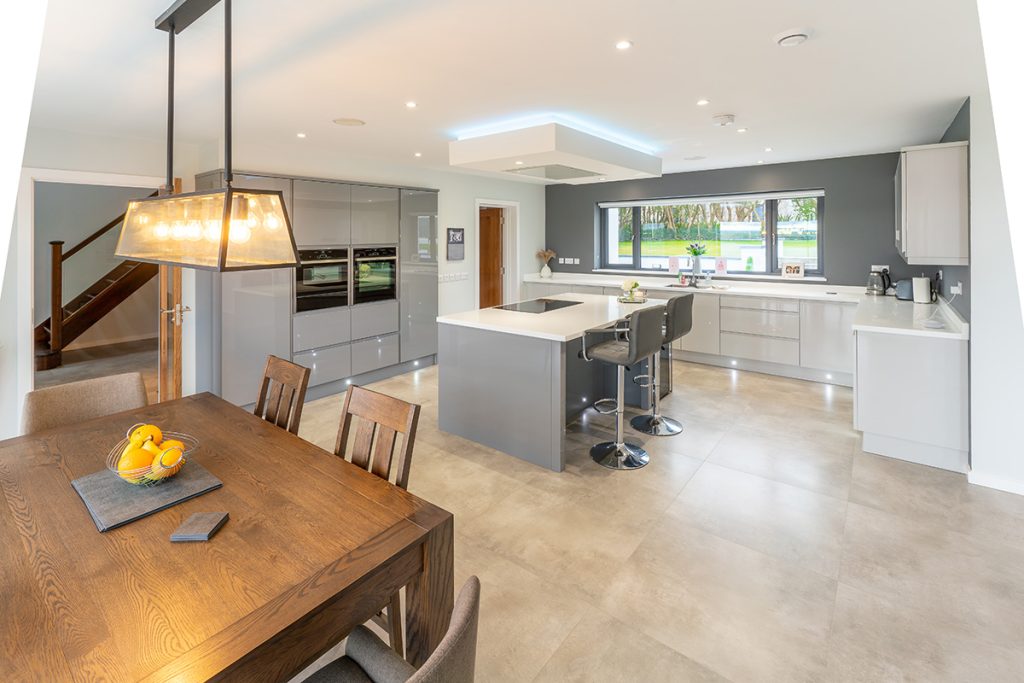 ---
Suppliers
Engineer
John O'Hara, Tubbercurry, Co Sligo, email johnoharaeng@btinternet.com, tel. 086 8123584
Carpenter and roofer
Damian Deane, Belmullet, Co Mayo, email damodeane@yahoo.ie, mobile 086 8473744
Electrician
John Lavelle, Belmullet, Co Mayo, email belclareelectrical@gmail.com, mobile 087 3292497
Plumber
Ciaran Deane, mobile 0863377737
Kitchen
Philip Nolan, Enniskillen, nolandesigns.co.uk, worktop: Corian by Dupont
Heating and ventilation
Enviro-therm, Curry, Co Sligo, enviro-therm.ie, mobile 0872842567
Windows and doors
Munster Joinery, munsterjoinery.ie
Sanitaryware
Hurst Plumbing & Heating Supplies, Castlebar, Co Mayo, hurst.ie
Tiles
Micheal Shevlin, Belmullet, Co. Mayo, mobile 087 2427388
Main builder's merchant
Brogana Hardware, Belmullet, Co Mayo, tel. 097 81608
Stairs
Barretta Joinery, Belmullet, Co Mayo, mobile 087 1911146
Raft foundation and shuttered concrete
KForm Formwork Contractors, Belmullet, Co Mayo, mobile 087 9088978
Stonemason
John Kerrigan, Geesala, 
Belmullet, Co Mayo, 
Johngerardkerrigan@gmail.com, mobile 086 3126348
Paint 
Colourtrend Winter's Breath for neutral walls, colourtrend.ie, and Gatsby Blue by Dulux in both office and utility/bathroom, dulux.ie, sourced from Shevlins Complete House Finish tel. 09781116
Insulation
Roof: Knauf, knauf.ie. Floor and walls: Xtratherm, xtratherm.ie. EPS beads: Kore, kore-system.com. All doors, windows, sloped ceilings and attic sealed with Tyvek air tightness tape and membrane, dupont.com
Slates
Berona fibre cement slates, cembrit.ie
Photography
John Mee, johnmeephotography.com


NI calling ROI prefix with 00353 and drop the first 0
Spec
Walls: 200mm cavity wall with 100mm blockwork each side, pumped with EPS beads, U-value 0.15W/sqmK

Floor: subfloor, 175mm PIR board, underfloor pipes, 50mm liquid screed, U-value 0.11W/sqmK. Upper storey: precast hollowcore concrete floor, 50mm PIR board, underfloor pipes, 50mm screed.

Roof: cut roof, fibre cement roof covering. Slopped ceilings 180mm glass wool insulation between studs, 62.5mm insulated plasterboard beneath. Attic insulated at floor level with 400mm fibreglass between ceiling joists. U-value 0.11W/sqmK

Windows: uPVC triple glazed, grey inside and out, U-value 0.7W/sqmK