Bronwen and Gary McCausland turned their attention to the family farm after struggling to find a house to buy.
In this article we cover:
Planning under PPS21
Wishlist and how the design process evolved from there
Georgian features
House size limited by building control fees
Who built what and how they took on DIY tasks to save money
Choice of construction method and heating system
Why current heating bills are so low
Switching from a timber staircase construction to precast concrete: headaches on site
Visiting kitchen showrooms and travelling to find the right one
Kitchen design details
Bathroom design details and how they got the cast iron bath in
Floor plans and specification
Supplier list with contact details
Top tips and what to avoid
We had tried to purchase a bungalow but it didn't work out," says Bronwen. "The properties we had been looking at suddenly shot up in price. That's when we started investigating if we could build a house, and we were fortunate that my dad was happy for us to do so on the family farm."
"There weren't many options as the farm restricted us to fields surrounding an old dwelling. This is because we applied under the planning regulation known as PPS21 which meant we were only able to apply for a replacement dwelling beside a cluster of houses. We still had a choice of three fields and we are very happy with the one we picked in the end."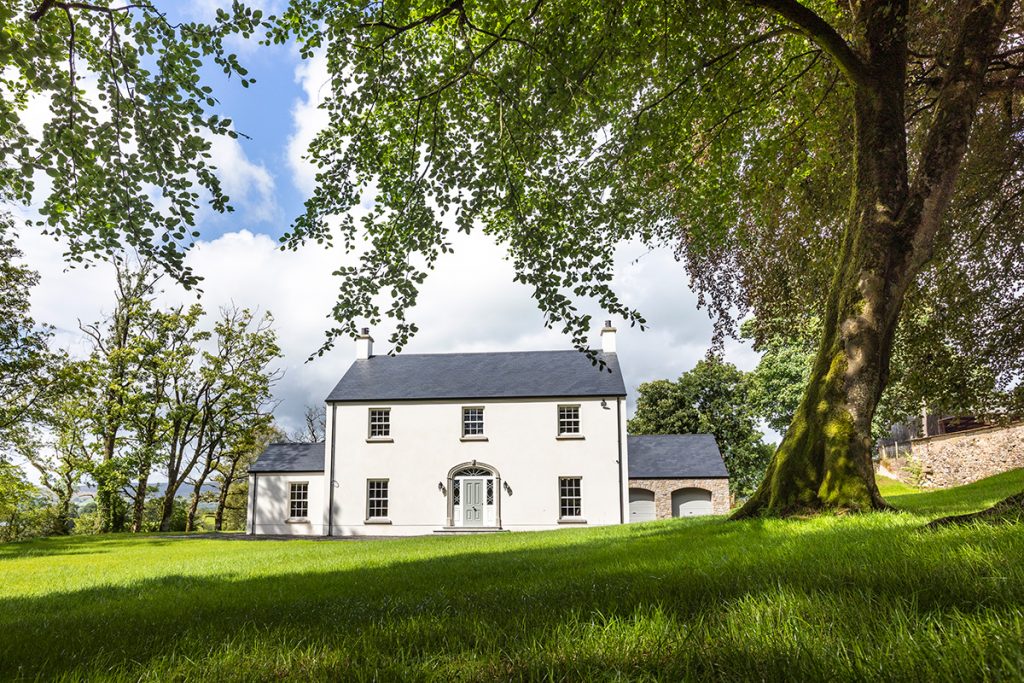 Designing the dream
"To get started with our plans, we drew up our wish list and asked our architect what our options were," says Bronwen. "I wanted Bangor blue slates, and a storey and a half house but he advised against this, due to it being more cost effective to build a two storey, and Bangor blue slates being very expensive. We also wanted sash windows; again the answer was no because, he said, they would be too dear. I found this hard to accept as he didn't give us any alternatives."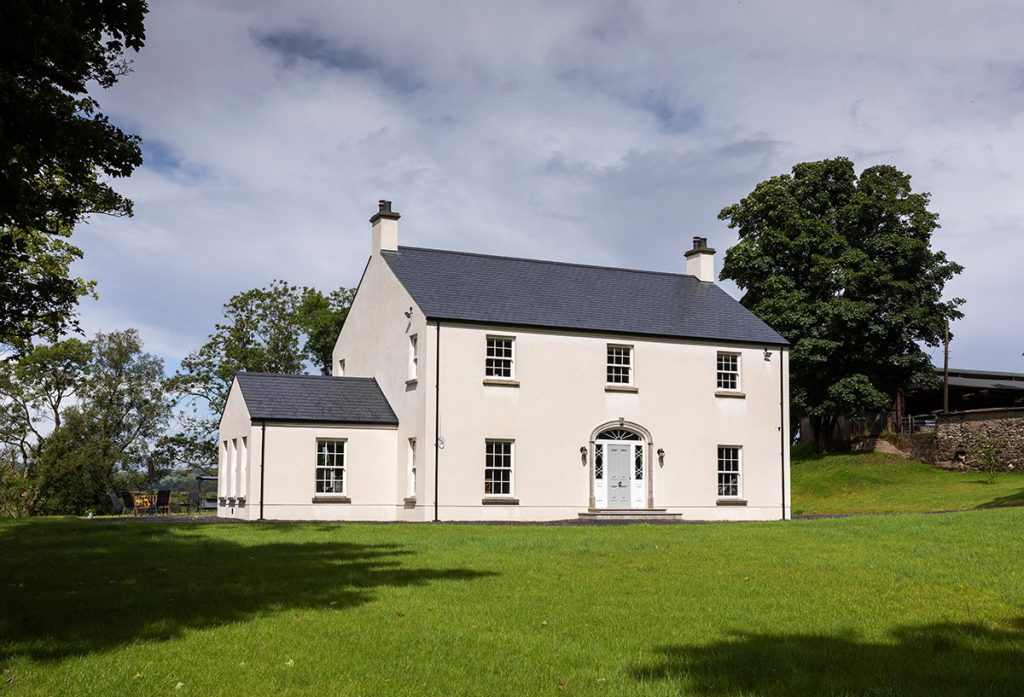 "In the end we compromised on these and went for Spanish slate which looked very similar to Bangor blue slates, but cost less, and we got sash windows on three sides of the house and not the back as this elevation can't be seen from the road. If you know what you want, you sometimes have to fight for it, and shop around to find the price that meets your budget."
"For our main entrance I wanted a farmhouse style doorway," says Bronwen. "But the architect said it would be too dark and suggested a Georgian style doorway with the surrounding windows."
"I actually agreed with the architect; I wanted to bring in more light too," says Gary. "And I like windows around doors."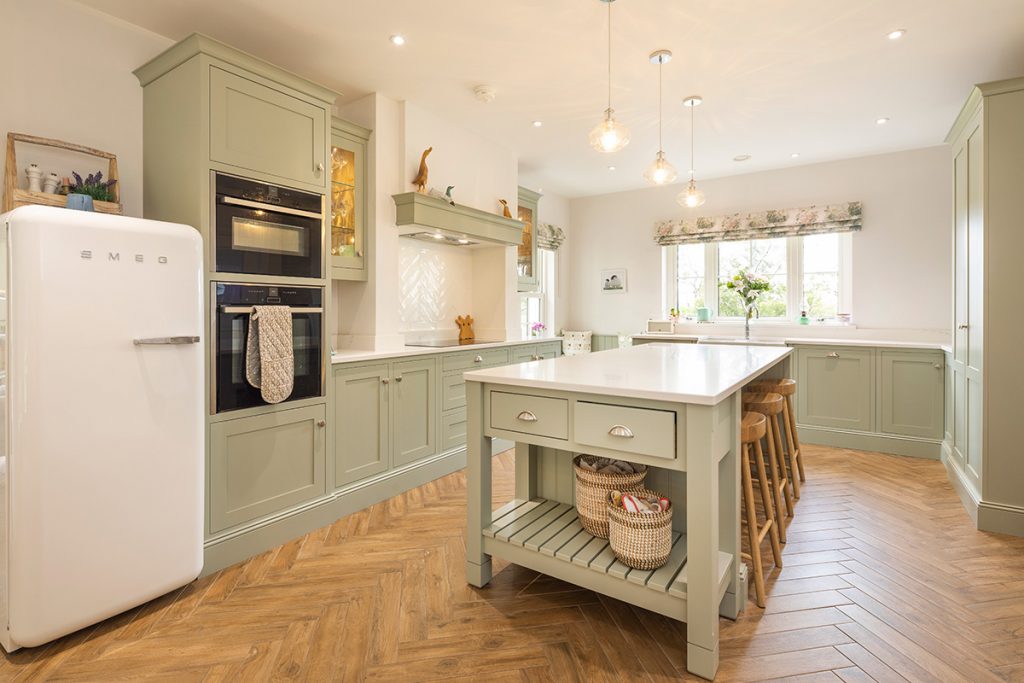 "That's also why we have a sunroom. Although with hindsight, we might give more consideration to entertaining and the need for seating when people are visiting. We don't want to block the glazed double doors, so it's a bit tricky with furniture placement."
"At this stage of the process, we asked the architect to move things around from the original floor plan," says Bronwen. "For example, we wanted the boot room to be closer to the back door, and we also wanted to add a bedroom downstairs with wetroom."
"We eventually had to submit our application twice as we hadn't included the garage in the first one. But the process still only took three to four months."
"Then, when we went to get our plans approved by Building Control, we realised that if the house was larger than 2,590 square feet, we would have to pay more for the applications, and as we were just over this amount we tried our best to cut down in size to save some money," says Gary.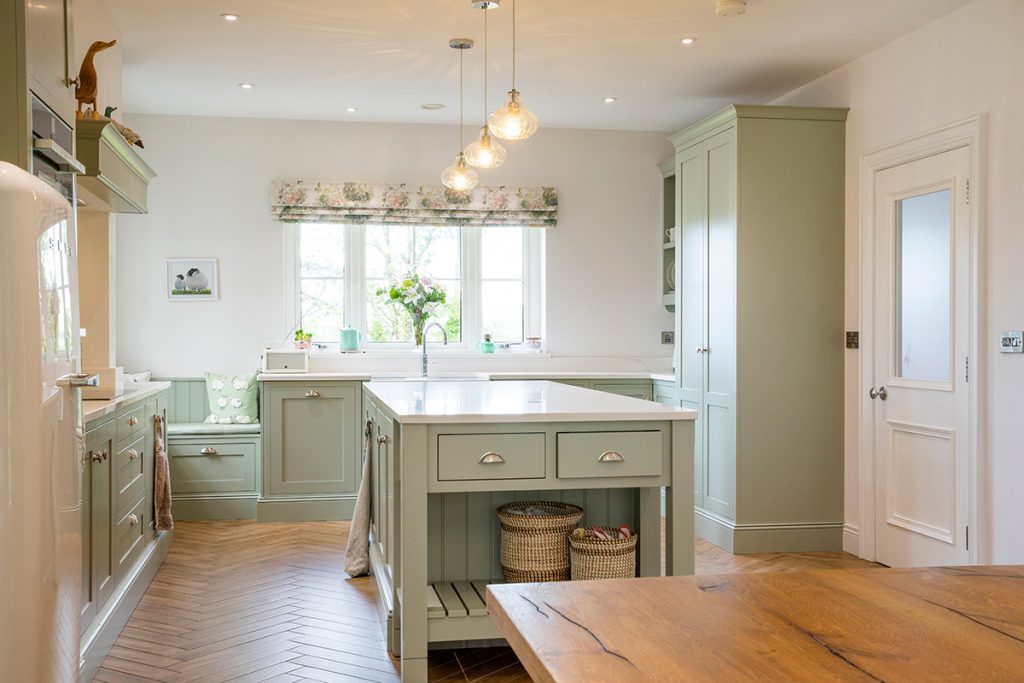 "This was our first house and, like a lot of people, a large utility was on the wish list but we ended up reducing it in size for this reason. In the redesign we also sacrificed a bedroom upstairs for a large walk-in wardrobe, an idea we got from an online mood board."
After that they went to tender, that is, gave their construction drawings to builders to get prices. "We had secured the shortlist of builders through word of mouth yet out of the three we had tendered to, only one came back with a cost," says Bronwen.
"Another said he was too busy and could only start in a year's time. That same person came back to us months later, when the build was well underway, to see if we still wanted a price."
"The one who won the job is very well known in the area and has built every house that we know. He gave us a price for a builder's finish, for both the house and garage. So we were on our own for the kitchen, tiling and painting."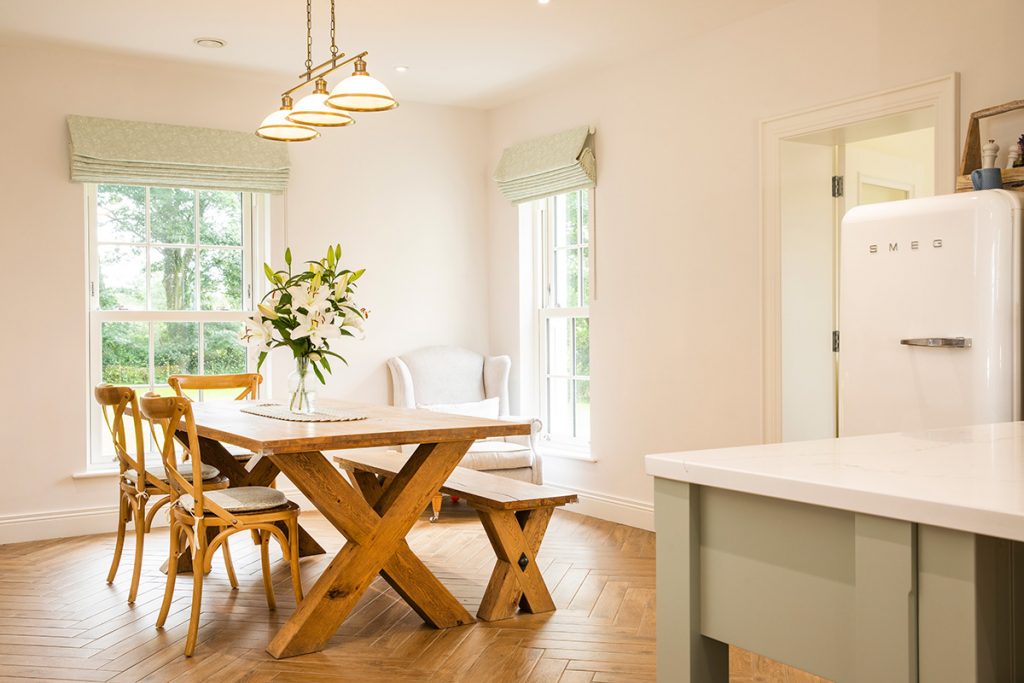 Decisions, decisions
"We went with a block built house, and then had the choice between insulating the cavity with rigid boards or EPS beads," says Gary. "Our contractor recommended the beads so we chose that. We have an oil boiler because the price of oil isn't too dear, and we only have to fill up the tank about twice a year to keep the home at 19 or 20 degC."
"With underfloor heating, our oil bills are £400 to £500 a year for heat and hot water; then electricity is about £700 per year."
"From the get-go we knew we wanted concrete precast slabs for the upper storey, mostly to prevent noise transfer and also make the underfloor heating installation more straightforward," says Gary.
"And we had originally planned to go with a timber staircase. It was a last minute decision to change to precast concrete stairs, we thought it would speed things up and help us move in quicker."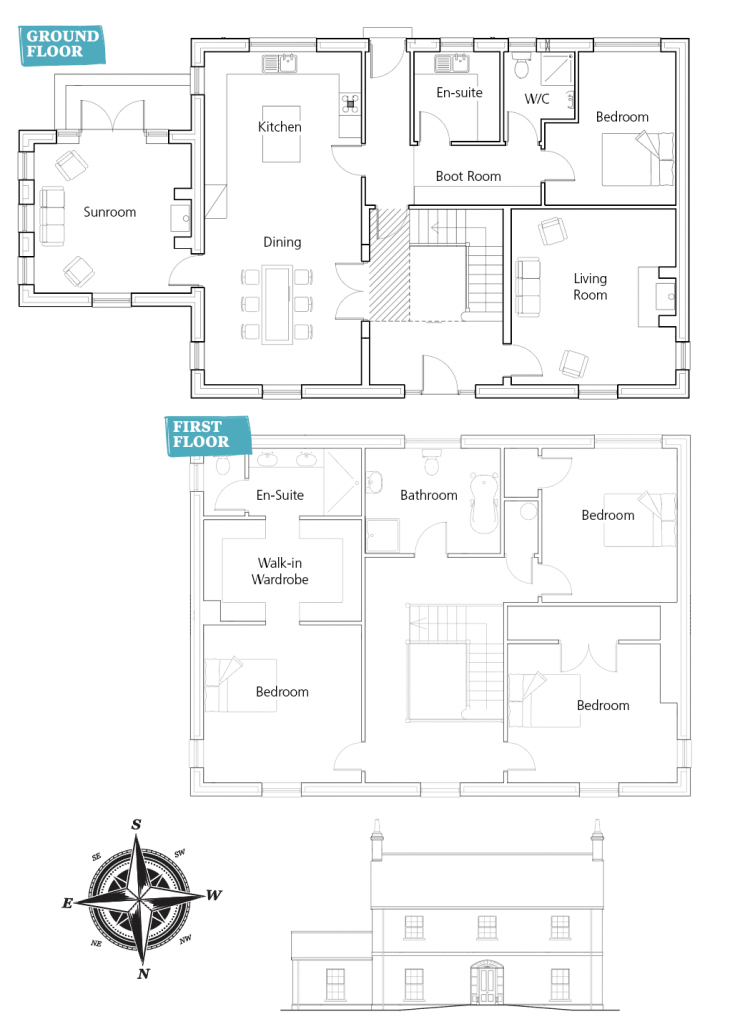 "This meant we had to reconfigure the slabs when they were delivered. We had to leave one or two out to make room for the precast stairs. We also had to make changes to supporting walls so they could take the weight of the new stairs."
"Precast concrete stairs are cheaper and offer better sound resistance," he adds. "It also gives the builders a safe means of access to the upper storey during the build. But overall, it worked out the same price as timber stairs because you need to clad them with timber, and in our case carpet them too."
"We got a company to give us the materials to cover the stairs, and got a joiner to put it on, showing him a picture of what we wanted it to look like at the end."
"Then came the task of finding ourselves a kitchen," says Bronwen. "I hadn't realised how important customer service would be to us, but it really mattered how people treated us. We started locally but the places we went to were so busy, they didn't even have time to have a chat."
"I went online and found a place in a village in Donegal. I went for the drive with my mum; we decided to make a day of it. By crossing the border, we thought we might save a bit with the exchange rate too."
"The first place we visited was pleasant and accommodating; they took the time to have a chat with us. I learned what an in frame kitchen was, for example, and the designer was happy to work around our budget."
"They had a lovely booth in the showroom but it didn't suit our kitchen. They also tempted us with a large walk in pantry they had on display. We ran through the checklist and realised what we did and didn't want. For example there's no wine rack in the island as we were warned it wasn't ideal for children, but have one high up in the larder."
"For the same reason the electrical oven is high up and we chose a safer option for small hands in the form of an induction hob."
"We put in a corner seat in the kitchen however there isn't a corner window, and I would have liked that. We didn't do it because we feared it might look too modern for the style we were going for, and also because it was too late at that stage to change as a corner lintel would be required. Instead, we made the corner sash window longer to reach the seat."
"The company we went to in Donegal was really accommodating, and they gave us the hot water tap we really liked, for free, due to an offer they had on at the time. They also designed and fitted our walk in wardrobe, utility, and boot room, and also the mantle in the good room."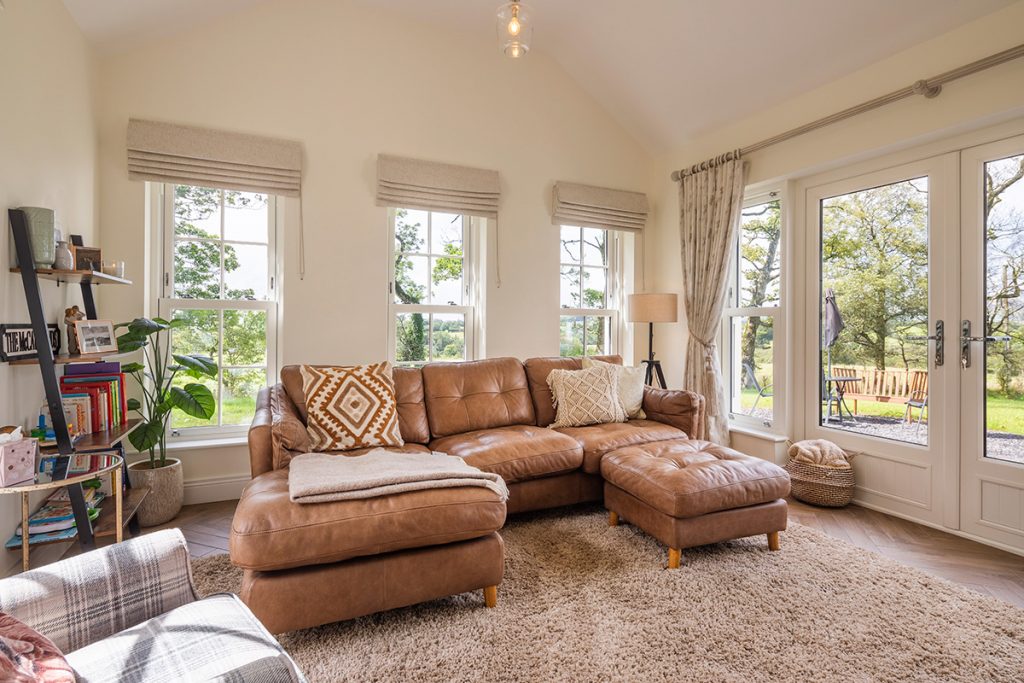 Lockdown woes
"We had planned the bathrooms well in advance, including putting in an electric shower," says Bronwen. "We were advised by many people to have one electric shower, due to the likelihood of running out of hot water and not having a last minute alternative," says Bronwen.
"The style of the bathrooms is classic, with a mixture of high cistern wcs, to fit in with the Georgian style."
"After all that planning, the timing of our bathroom delivery was unfortunate as it was the day before lockdown," says Gary. "Half of everything showed up and we could only do half a bathroom with what they sent. There were no pipes, even the toilet seats were wrong. The basin came with the wrong stand, that kind of thing."
"There was no way of contacting them, so we ordered the missing components from England paying a lot for the delivery of a pallet," says Bronwen. "And then after lockdown the branch we got our bathroom ware from didn't even reopen so it was difficult to resolve the issues."
"However we were able to get our sofas delivered and collected last minute just before lockdown, which meant we were able to store them for moving in," she adds.
"Upstairs we have a very old cast iron bath; it was red with rust when we salvaged it and originally came from the dwelling we replaced. It had only been painted, so we sent it to be sandblasted and enameled, which saved us some money over buying a new one."
"We also liked the character of the old bath, as there would be very few like it. And the idea of having part of the old house in our new home. Fortunately we were able to have the tap holes filled in as we chose a freestanding, overhanging tap. It really looks well."
"The only downside is that the bath was very very heavy; it was in the sitting room, then the bedroom, before five men managed to get it upstairs before the railing went up. To get it into the bathroom, they had to turn it. It took all three of the apprentices who were on site to get it in. We don't know what we would ever do if we decided to change the bath!"
Follow Bronwen and Gary's journey on Instagram @copper_beech_house_
---
What would you change?
We would have thought about more things before starting the build, as we were left in a situation where we couldn't change things when we were too far along. We could have added cornicing throughout, it looks well, but we hadn't budgeted for it. In the kitchen, we just have a normal double door larder, but the hidden walk in larder is a great idea. This would need to have been decided back at the time of planning or blockwork stage, so I'd advise people do their kitchen research at the earlier stages. We would also make the hot press larger or make a bedroom smaller to allow for another bedroom upstairs. 

What's your favourite room?
The kitchen. For Bronwen it's the ensuite bathroom and walk in wardrobe.

What surprised you? 
The amount of things that can and will go wrong surprised us. Even though you have provided drawings and plans, things can still be done incorrectly and need to be closely observed. 

Would you do it again?
We joke about the extension, as at the time we didn't have the budget to allow for a bigger design. Things like the sash windows and the heat recovery ventilation added on a lot to the price and now thinking of landscaping and taramacing really makes us conscious of the amount of money we spent. 
     
I'm glad I went for the walk in wardrobe I always wanted, but things like that required forfeits such as a bedroom upstairs. I wouldn't go with the electric shower again as the water pressure isn't as good, and I would make a larger utility room. 
     
I think it's hard to know until you live in a house you've built, what you like and don't like and understand the cost of. As much as they cost, I would definitely go with sash windows again. They really make a difference to the house and the built in safety locks are very effective.
Think about where the waste pipes will go. It surprised us that the pipework for the wcs and other plumbing was external, rather than built into the building. This should have been decided early on as part of the instructions given to the block layers, and it was not something we were familiar with or knew to look out for. At the back of the house, we now have a cluster of black pipes that we could do without.

Make sure the house is painted before you move in. The good room cornicing needs painting again but it's so messy to do. We will have to move everything out.

Don't accept any defects as they could drive you crazy after you move in. For the flooring, we decided to tile all of the bottom floor, mostly because engineered wood isn't as good for underfloor heating. We also felt it would be a more resilient finish. We had parquet wood effect tiles, and they had a red mark running through a large portion of them. So we returned them and got replacements no problem. Thankfully this imperfection was spotted by the tiler before it was laid. We discovered a few pairs of lights hung lopsided and had these corrected, and things like plastering around spotlights had to be corrected. 
---
Neo Georgian new build spec
Walls: 350mm blockwork cavity walls, 150mm full filled cavity with EPS graphite beads. Insulation to jamb/head/cill 20mm polystyrene dense block with cement. Render's thermal conductivity of no less than 0.45sqmK/W. Insulation between upper corner of wall plate and sarking board 65mm fibreglass.

Flat roof: 200mm glass fibre between joists, 200mm over joists with insulated (50mm PIR) plasterboard (12.5mm) bonded and skimmed to underside of joists. 

Pitched roof: 100mm PIR board between rafters leaving 50mm air space above, insulated plasterboard to underside of rafters with 50mm PIR insulation and 9.5mm plasterboard bonded and skimmed. Trapdoor insulated with 60mm PIR board with sealed perimeter bolted shut.

Floor: 125mm PIR insulation below sand cement screed and above concrete subfloor. Insulation to vertical edge of floor screed 20mm PIR; thermal conductivity no more than 0.023 W/mK.
Neo Georgian new build suppliers
Builder
Fred McDowell 
Windows
McMullan O Donnell, mcmullanodonnell.com
MVHR
Beam, beamcentralsystems.com
Oil boiler
Grant Vortex, grant.eu
Kitchen, utility & wardrobe
Dukes, Donegal, 
briandukeskitchens.com 
Tiles 
Bremar, Cookstown, bremartiles.co.uk
Staircase timber covering
Farrell Joinery, Ballygawley, farrelljoinery.com
Tiler
Mark Sommerville 
External render
K-rend (polar white), k-rend.co.uk
Bath (sandblasted and enameled) Bath Doctor, thebathdoctor.co.uk
Wood burner
Firefox 5 and Firefox 8 from Bennett's, Omagh, elkinplumbingsupplies.co.uk
Internal doors
Macblairs, Cookstown, macblair.com 
Furniture
Blue sofa in good room from Moy Furniture Centre, moy-furniture.co.uk; leather couch in sunroom from CFC Interiors in Cookstown cfcinteriors.com; bench from Dream Interiors Omagh, dreaminteriorsomagh.co.uk
Double garage stone
Tipperary Blue and Brown stone from Thornhill Stone, Brendan mobile 07738581218
Garage doors
Ashlock Door Systems, Dungannon, ashlockdoors.com
Outdoor steps
Keys McMahon, Omagh
Outdoor lights
Homebase, homebase.co.uk
Photography
Paul Lindsay, paullindsayphoto.co.uk


ROI calling NI prefix with 0044 and drop the first 0
---