Much as we thought we had found out everything we needed to know about the site we bought in Co Down, there were still plenty of surprises along the way, writes self-builder Brian Corry who is on a mission to build himself an eco house.
Our self-build journey started as it often does, house hunting. My wife, Karen, and I had been looking for some time but none of the houses we visited delivered what we were looking for, and Karen eventually said she was surprised I hadn't suggested a self-build considering that we wanted a house that worked with the landscape, was ecologically friendly and low carbon.
Several months later we found the dream site which had an old single storey cottage with outline planning permission. It had a long windy, narrow, lane and a magical stream running down the back of the property overlooking a small Lough. Just perfect.
Working with an architectural designer
Over a number of months, we played around with various layouts and shapes on paper but none seemed to work efficiently as a home until we settled on a rectangular design with a curved roof.
When we went to our architectural designer, we were able to give him our detailed layout. Even though this saved time, there was still plenty to do and this is when you get see the designer's skill and experience in drawing up the plans. That fresh perspective and knowledge made our designs even better.
If we hadn't already known exactly what we wanted, then we would have undoubtedly asked for initial sketches from a number of architectural designers and proceeded with the one we liked the most.
As it was, we employed an architect we knew and are happy with how the design turned out and with the suggestions he made. We also knew our architect had a good rapport with the planners and he was able to guide us through gaining planning permission with no hiccups.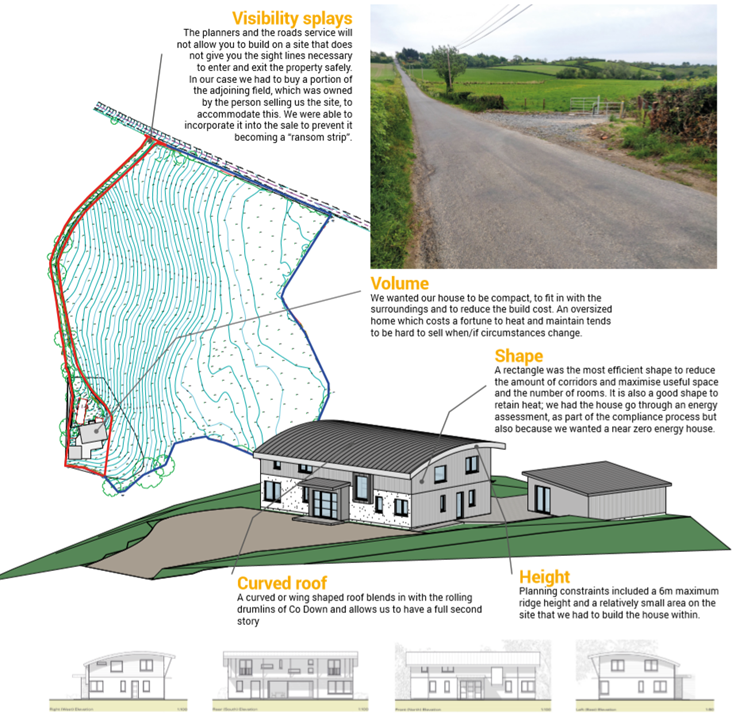 Working with a QS
Spending so much money before we even broke ground led us to try and cost absolutely everything in the build. In hindsight, we should have employed a quantity surveyor (QS) from the very beginning instead of several months later. However, it proved a very useful exercise to try to cost everything ourselves as it forced us to research and make decisions on bathroom fittings, the kitchen, floor coverings, lighting, etc.
What was most difficult was trying to work out the rates for the various trades and what time should be allocated for, say, plastering. This is where a QS comes into their own. They have up to date rates and know pretty accurately how long a job should take.
Knowing this is essential when you start to employ people directly to undertake work – how else will you know that you are not overpaying or whether the cheapest quote you received is actually too low to be realistic?
Undoubtedly, having a QS does not remove all financial risk from a project however there is no hiding place when they do the sums and if you have been over optimistic then your QS should put you right. With the information they provide you should recoup their fee many times over, both in time and money. To give you an example, our quantity surveyor gave us a breakdown of the preliminary costs: £725 for a temporary water connection, about £1,500 for the site office, accommodation and portaloo, and in excess of £3,500 for lifting equipment and generator. The scaffolding hire for 300sqm for a period of 20 weeks, will come in at close to £5,500, and fuel, transport, site security and insurance also have to be factored in at this early stage, along with cleaning and tidying the site daily. Then of course there is the management, staffing and contracts manager, plus professional fees (QS, architect, engineer, energy assessor, solicitor).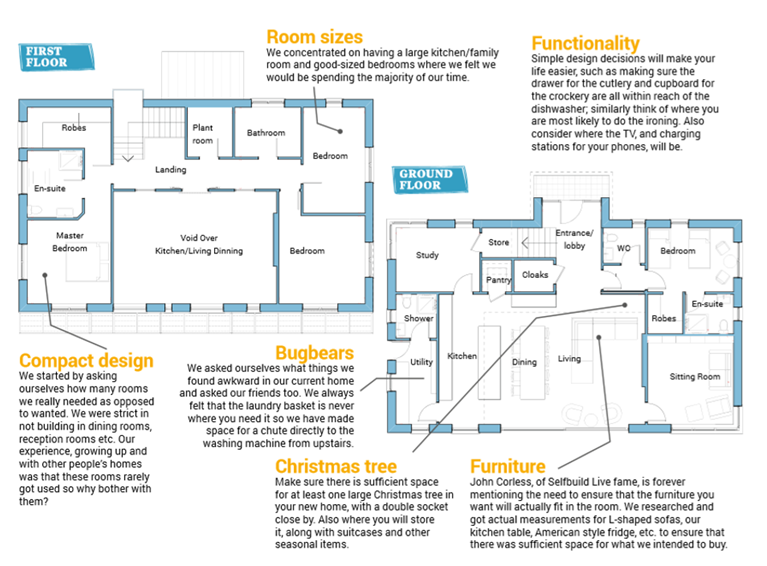 Added costs
Demolition – Anyone who has watched even a couple of episodes of Grand Designs will know that the road to self-building is strewn with over optimistic budgets. Our first reality check was the demolition and clearing of the massively overgrown, sloping site. It was only when we had cleared the vegetation that we realised we needed to cut and fill large sections to create a relatively flat area for the build. An extra couple of days of digger work plus the stoning suddenly doubled the actual budget allocated.
Laneway gravel – That nice long laneway I mentioned at the start in reality cost a small fortune in stone to make it suitable for lorries to access. This was something we definitely hadn't budgeted for. Even after we had demolished the existing structure many tonnes of stone was needed to ensure the site was clean for vehicles to park on. £10K disappeared quick as a flash – ouch. 
Electricity connection – We had made an allowance of £20,000 for bringing electricity to the site but the reality is that you need to place a firm order and pay a deposit before a proper survey is undertaken. It took months of planning, speaking to neighbours and pouring over Google maps to find a suitable route that everyone would be happy with – at a cost of £21,000 for the connection and approximately £3,000 for us to organise digging the trench.