This new build bungalow in Co Donegal features bespoke finishes on a budget and a stunning garden.
In this article John Fingleton explains how he designed and built his new build bungalow, including:
Buying a site with planning permission for a bungalow
Redesign process keeping the modern bungalow frontage, adding more glazing
How the new build was managed with foreman and direct labour
Material choices for building fabric and finishes
Complex roof design details
Cost savings on roof covering and other elements
Importance of garden design and how it came together
Biophilic design for the interiors
Scandi interiors: how to get the look on a budget
Floor finishes and detailing, including shadow gap details
Changes during construction
Heating system choice and payback
Secret to bespoke finishes on a budget
Biggest splurge and favourite feature
Floor plans, specification and timeline
Overview
Plot size: 0.35 acres
House size: 170 sqm
Bedrooms: 3
Construction: blockwork (cavity walls) and steel frame
Heating and hot water: air source heat pump
Ventilation: mechanical with heat recovery
---
I'm a builder by trade so it was natural for me to choose to self-build," says John. "I came across a site that already had planning permission for a house designed by renowned local architect, Tarla MacGabhann."  
"The design concept was excellent, and I did like the drawings. However, the layout was tailored to the previous owner and so naturally it needed some amendments. The catch was, planning permission was about to lapse. So whilst I bought the site in 2018 we had to get it to roof level by 2019. With this deadline, there wasn't much time to redesign."
New build bungalow redesign
"I didn't want to go back to seek planning permission, so I tweaked the plans with the help of my friend Philip and his father Ken," says John. "Together they have a local architecture practice, whose work I liked and was familiar with."
"We introduced a lot more glass along the rear façade and reorganised some of the floor plan. Originally the kitchen was self-contained, now it's much more open plan and I have a storeroom."
"Philip was keen to create a space that felt immersed in the garden, something he knew I would enjoy. We made the decision to decrease the downstairs bedroom at the gable end and introduce a reading nook with a corner window that feels sunken into the garden."
"Philip has a strong philosophy regarding natural light and I think this has had a great impact on the quality of the spaces."
"For the build, I began with some of my own team but wanted a local builder who'd be able to act as foreman for the project. A good friend recommended Eamonn and when it came to the details, Philip and Eamonn devised very practical solutions to achieve the look we were aiming for."
"I recall a subcontractor coming on site to experience one of our regular brainstorming sessions. He couldn't help but highlight the significant level of difficulty in what we were attempting to do. Eamonn simply replied, 'we're into that kind of thing!' This became a bit of a motto and characterised our enthusiasm for quality craftsmanship."
This extended to their choice of materials. Therefore plastic windows, fascia and gutters were on the no-no list. "So many houses are well designed, only to be let down by uPVC finishes," says John.
"In our case, the roof design was complex. It warranted a different approach and quality finish. We have two steep inclines, junctions over the glass, steel frame and blockwork, as well as right angles where they all converge. Philip suggested an alternative Norwegian guttering detail incorporating aluminium, and it has made such a difference."
      The roof covering, meanwhile, had originally been specified to be Bangor Blue slates. "Even though I did want that appearance, I had to find a more cost effective solution," says John.  
Following aesthetic direction from Philip and grading ease assessment (how easy it would be to sort the slate thicknesses to fit on the roof) from Eamonn, they chose a Sierra natural slate from northwest Spain.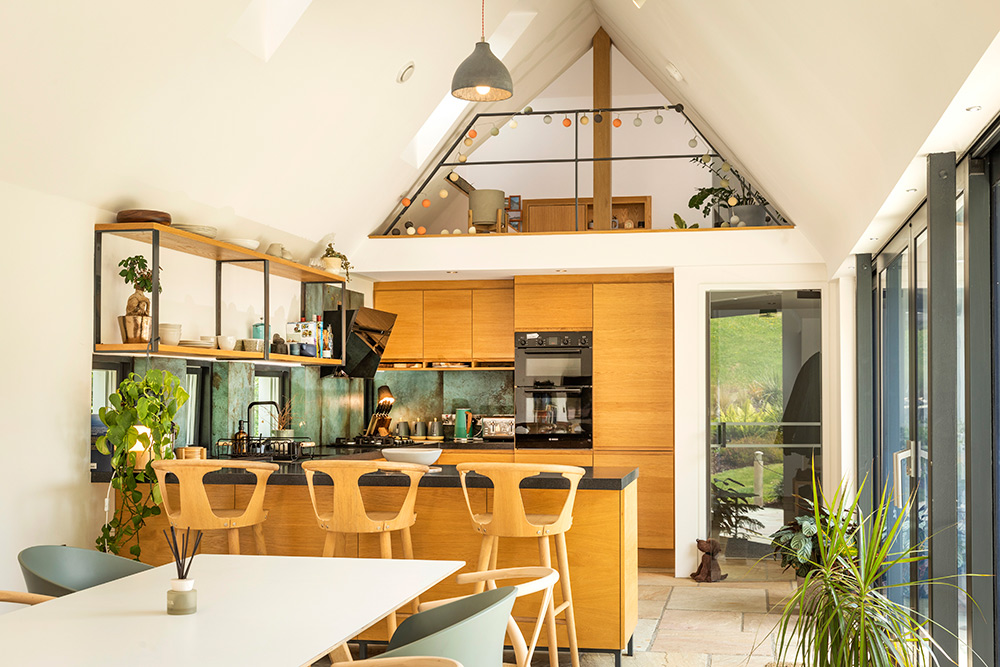 Vision and ambition
"There is a symbiotic relationship between nature and architecture that is usually overlooked," says John. "We were all keen to create something that would reflect this."
"I am always surprised to see how much attention people give to the inside of their house yet so little to the outside. Especially when that is precisely what you are looking at most of the time. A nice garden is what entices you to go out. It's good to spend time outdoors, even in Ireland."
"We only had a plain patch of grass to work with at the back so we asked Seamus, a local garden designer with a wealth of experience, to take charge of the design. Philip had wanted to collaborate with him for a while and this provided the perfect opportunity."
"I visited Seamus' seaside nursery and with no hesitation gave him carte blanche with all landscaping," adds John. "The garden is very sheltered by Donegal standards, so we were able to include a variety of plants."
"It did take quite a bit of groundwork to shape the garden, which meant investing in a lot of cut and fill at the start of the job. Luckily, the ground conditions were good and easy enough to work with."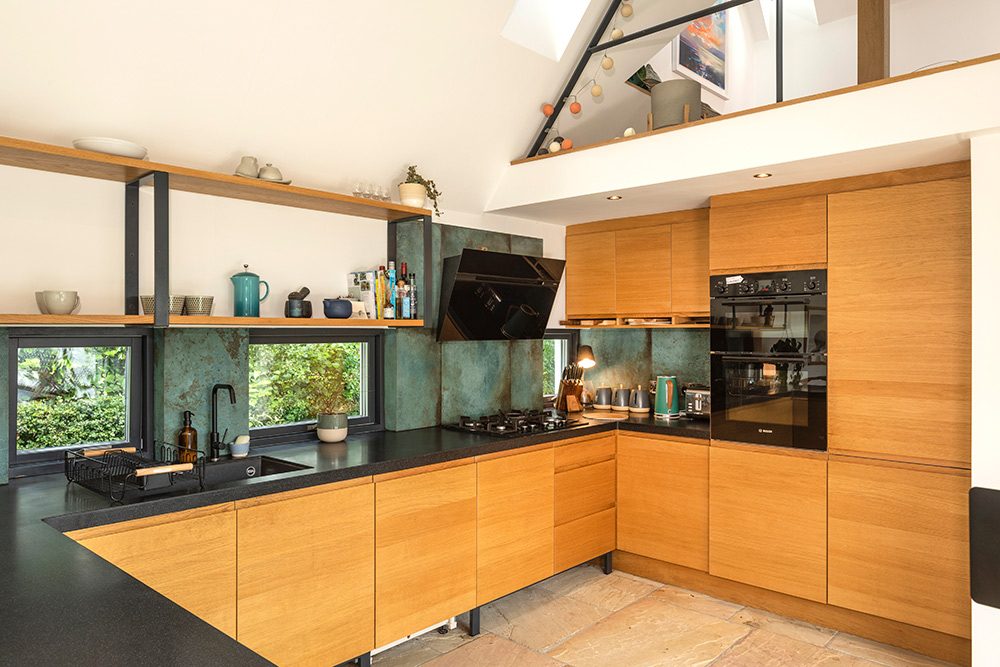 John had a clear vision for the internal features too. "I've been to Stockholm and Norway a few times and I quite liked that simplistic Scandinavian styling," he says. "Philip has a strong Scandinavian influence in his own projects and so when we discussed design, it was a natural direction for us to take."
"Some say it can yield a cold finish but lighting and furnishings add warmth. The natural wood stove and selection of indoor plants all contribute to this homely feel."
Part of the strategy was to stick to the one floor covering downstairs, leading all the way out to the patio. "Easier said than done, but Philip and Ken were familiar with a finish that would hit the right note," says John.
"It was a natural sandstone, which they'd used in some other projects, and I really liked the hidden drain details. I sourced out similar stone from a salvage yard. It helped us bring the outside in and have continuity between the two spaces."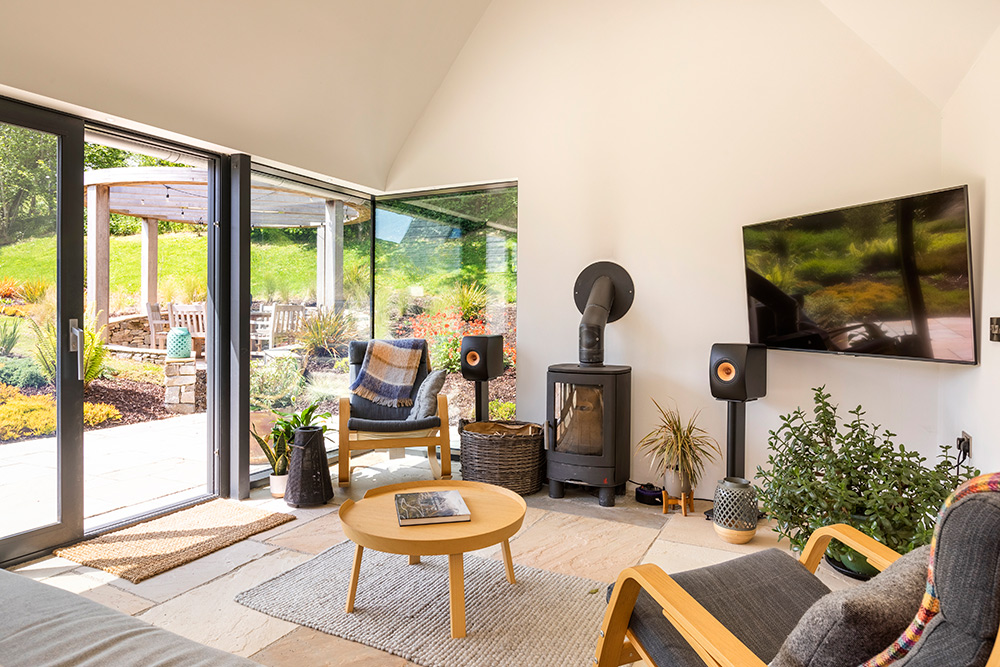 "Donegal is quite wild and stone felt like a good match – it complements the natural feeling of the place, bringing some of the landscape in. This was also our idea when choosing reclaimed French oak for the upstairs."
John brought the outside in by other means too. "I wanted the planting to feel internal, so we included a lot of house plants to provide that link," he says. "The colour scheme inside also has a subtle green accent thanks to verdigris tiles in the kitchen and bathroom, shelving brackets in the bedrooms and a few of the lampshades throughout the house."
---
T
imeline
Sep 2017
Build start
Jan 2018
Roof complete
Mar 2018
Windows complete
Apr 2018
First fix
Jun 2018
Balustrades
Oct 2018
Second fix
Nov 2018
Kitchen
Dec 2018
Moved in
---
Bespoke
"Every ceiling in the house is vaulted," says John. "There are 60deg pitches which gives it a lot of height. For the ventilation routes, normally you would need to use rigid ducting so that presented a few challenges for the installers."
Lighting was also an issue. "I bought coloured concrete pendants for the living room, but due to the pitch and their immense weight, we had to design support structures for the lights to hang on. Whilst these details may seem simple, they all require time and patience."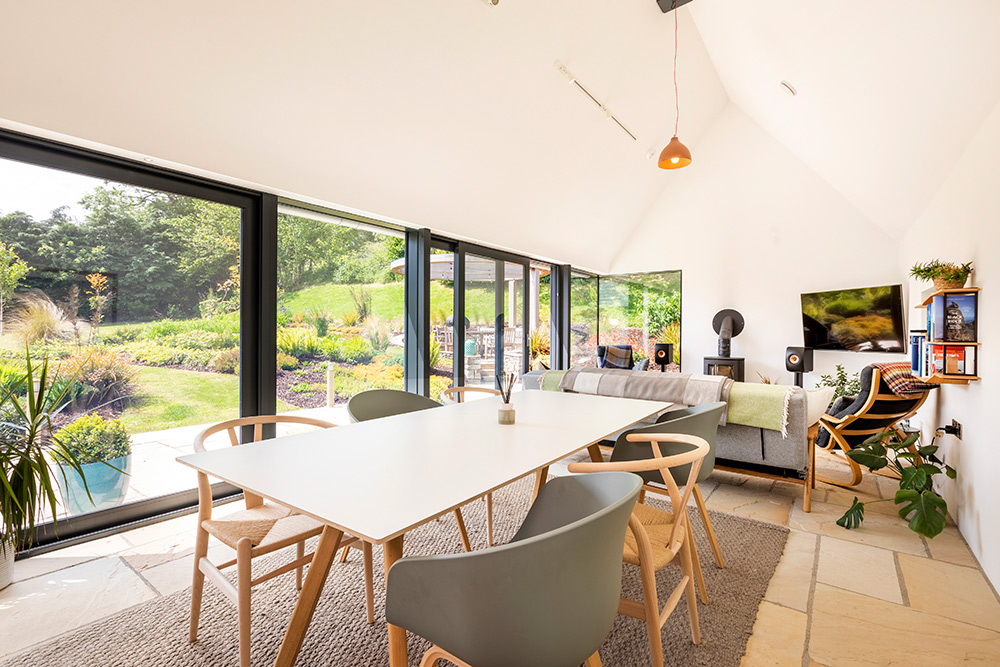 "You need to take care in order to achieve the finishes we wanted, which means investing in the real time that it takes. This was especially true for the shadow gap details – there are no skirting boards or architraves."
"When it came to bathroom, we used stone flooring for the wet tray in the downstairs shower room. Eamonn individually cut the tiles with mitred joints for the window reveals. It was all done with a wet saw, and now it looks like cladding."
A band of mosaic tiles links the window sill, shower bench, toilet and vanity unit together. "The individual height of all these items was very carefully considered. We even used a laser to hang the pendants at the same heights."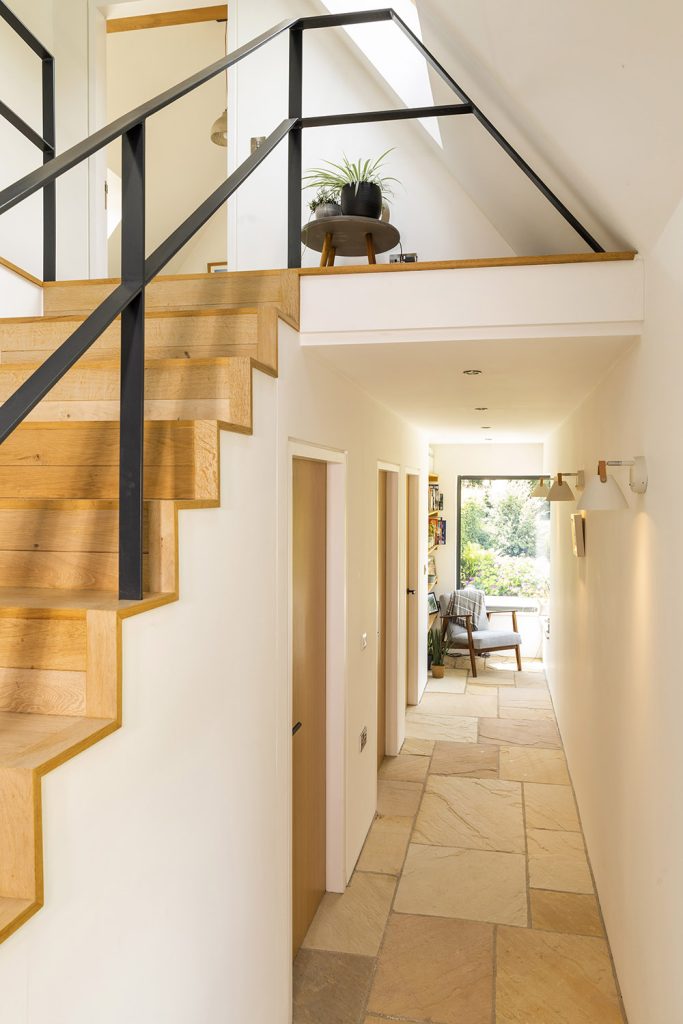 The same attention to detail went into finding the perfect vanity units for the bathrooms. "The team could not source any to match the house style so Philip said we could design our own," says John. "Philip designed the vanity in the upstairs master bedroom 10cm higher than the downstairs unit as I'm tall."
"For the bathroom cabinets, the kitchen supplier did the carcasing then we ordered the basins and taps ourselves and assembled it. The process took a lot of effort but, again, good design needs that time and patience."
"When it came to the shower screen, we couldn't find anything off the shelf that was good enough quality – we considered a steel frame window but the supply and fit price for a small project in north Donegal was colossal. Again, we had to get them cut and made to measure to our own design."
"In the upstairs bathroom the shower screen ties together the geometry of the eave, skylight and door head. I believe this has inspired a number of orders for similar shower screens, which isn't surprising," adds John.
Logistics
"I had Eamonn project manage the whole build for me to completion," says John. "Him and Philip coordinated inspections for the project and I was on site at least twice a week."
"We followed clear construction drawings but the build moved organically as well. For example, we have two corner windows and whilst most of these are built with a bar in the corner, I didn't want that, so we had reinforced concrete poured to support the weight above."
"It was actually a very last minute decision. Philip rang me from the site when the superstructure blocks were coming up. We took the decision then and there."
John knew from the start he would do a traditional build with a blockwork construction. "Then for the technical specifications I relied on Philip and our energy assessor who decided to go with an air source heat pump and mechanical ventilation with heat recovery."
"The underfloor was not extended to the upper floors as there is no need for it. It's continuously warm. My only utility bill is for electricity and it's roughly €2,000 a year with the house at 20 degC year round."
John relished building his own home and looks back fondly on the experience. "I found it very enjoyable, all the way through," he says. "The time and dedication the team put into the design, then into the build, really paid off."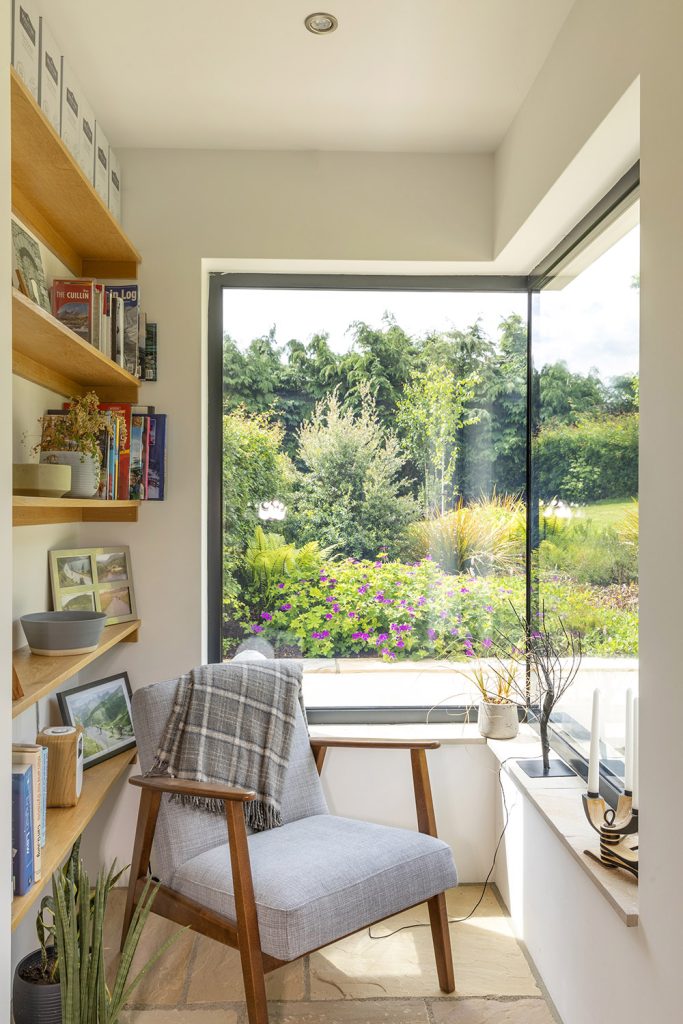 ---
New build bungalow Q&A
Would you do it again?
I loved the challenge of fully engaging with the creative process; it would be great to take on another project.
Biggest splurge?
The shadow gaps and clean lined detailing. The individual items don't cost much; it's carrying them throughout the entire house and the work behind each junction. Simple details on the outside are often the most complex behind. Consistency and taking the time to get the finishes right is what costs the most – we invested time in skilled labour and money in the raw materials. However, it was still more cost effective than buying high end products.
What's your favourite feature?
The stairway and landing area in the house have a lot going on spatially. There's a T junction in the plan, so when you move up the stairs to interact with the pitch, the skylights are at different levels and this creates different angles to see the garden. Then the balustrades wrap back down into the floor and it feels like a perpetual loop. There is a small ramp that takes you onto the mezzanine area where you can look down in three different directions to the entrance, bedrooms and main living area. It was important to have something permeable to look through. Glazing and handrails would have been expensive and quite busy. Philip wanted something that would tie everything together. The steel balustrade is powder coated to match the windows, vanity frames, kitchen legs, shelf brackets and main structure. We used the Greek golden ratio to calculate the spacing for the railings.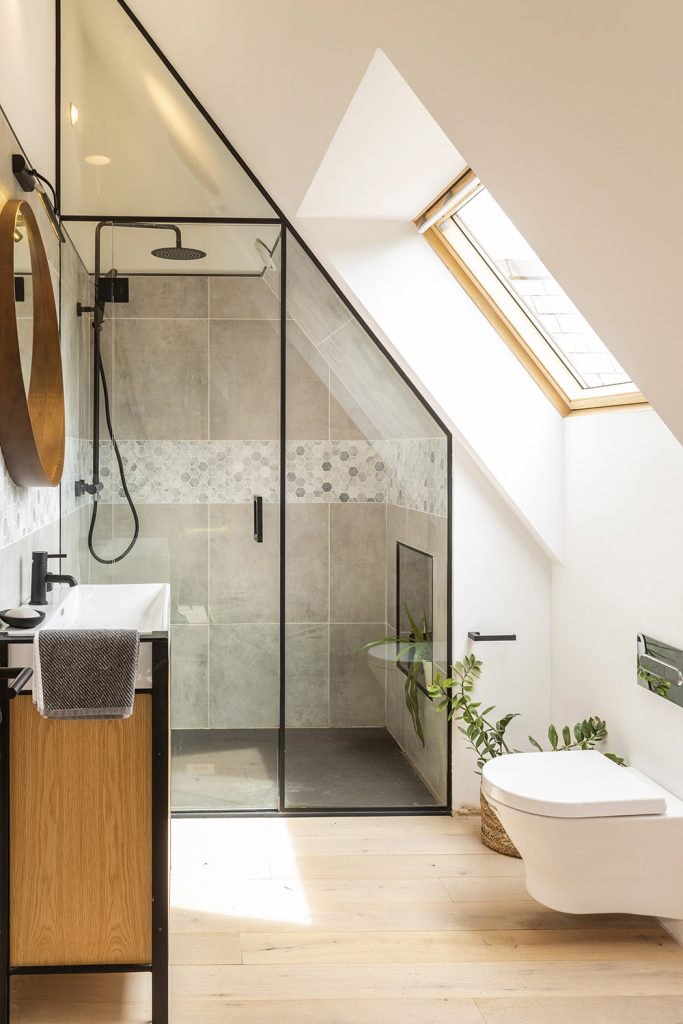 ---
John's tips – New build bungalow
Don't be in a rush to get started. Have the design done before you start, to save headaches down the line. If you can, know what finishes and what furniture you intend to use. That way you can amend the design before you get a shovel in the ground – that's what design is about, forward planning. At the beginning, I felt a sense of urgency to get started. It can feel overwhelming, but you have to remember that when you are in the process, it all moves very quickly, and you have to make decisions all the time. The project will be racing ahead, and you may not be able to afford to give yourself the time it takes to make the right decision. Getting an architect one who was invested from the start to turnkey, has proved to be one of the keys to the success of this project.
Get a quantity surveyor. I'm a builder and always use one on my builds. First you need a design then you need to get it costed – that will give you the flexibility to adjust the drawings and make changes that work for the budget and the aesthetics. The two go hand in hand.
Put together a team with passion and experience you can trust. There were many late night meals, emails and texts sharing furniture, fittings and design details. Granted, not everyone has this luxury but when you work closely with a team as I have, you appreciate the wealth of options that are exhausted before the final decisions are presented. Most people are only aware of a tiny percentage of the ideas in circulation.
---
Suppliers
Architect for concept design and planning
Tarla MacGabhann, macgabhannarchitects.ie
Architects for construction details, execution and supervision
Philip & Ken Bond, Bond Architects, bondarchitects.com
Builder and foreman
Eamonn Rogers, mobile 0861028288
Garden design and build
Seamus O'Donnell of Cluain na dTor, Seaside Nurseries & Gardens,
Co Donegal, seasideplants.eu
Windows
Rationel from Lynch Windows,
lynchwindows.ie
Steelwork
Internal steelwork, e.g. stair balustrades, shelf frames in kitchen, sinks, by PJ Designs, pjdesigns.ie
Bespoke shower glass panels and mirror
Designed by Bond Architects, made by Letterkenny Glass, lkg.ie
Kitchen
Design by Bond Architects, made by Martin Barrett, barrettkitchens.com
Kitchen worktop
Fabtops, fabtopssolidsurfaces.com
Reclaimed flooring
Wilsons Salvage Yard,
wilsonsyard.com
Kitchen and bathroom tiles
Mandarin Stone,
mandarinstone.com
Sanitary ware and black taps
Mondella, Vellamo, Abode from Tap Warehouse, tapwarehouse.com
Shower mixer
BTW, btw.ie
Internal Lights
Muuto, Normann Copenhagen, Decode, davidvillagelighting.co.uk
Furniture
finnishdesignshop.com, made.com, westelm.co.uk
Rooflights
Velux from Murdock
Builder's Merchants, Derry, murdockbuildersmerchants.com
Photography
Paul Lindsay, paullindsayphoto.co.uk

NI calling ROI mobile prefix with 00353 and drop the first 0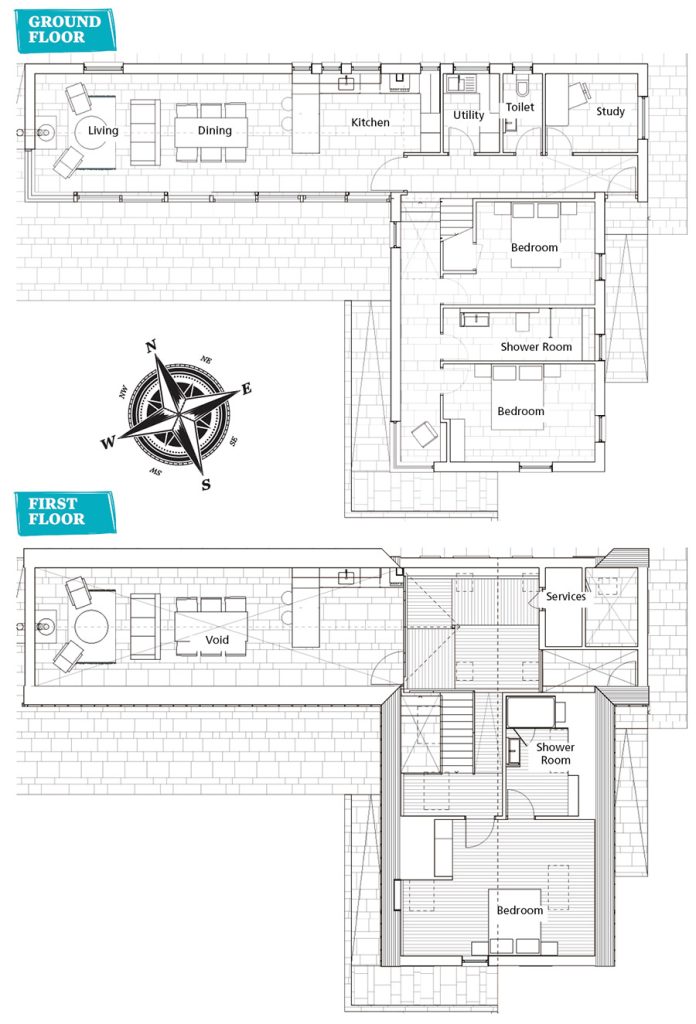 New build bungalow s
pec

ification

Walls: block cavity walls, 100mm PIR full fill insulation, U-value approx.
0.2 W/sqmK.
Floor: 150mm insulation, below slab construction, U-value approx.
0.16 W/sqmK.
Pitched roof: slates over battens and counter battens, vapour permeable membrane, 100mm over rafter PIR insulation, 200mm fibre wool insulation, airtight membrane, 50mm service batten, bonded and skimmed plasterboard, U-value approx.
0.1 W/sqmK.
Windows: triple glazed timber
alu-clad, overall U-value approx.
0.89 W/sqmK.