Aidan and Julie-Ann Rainey built their family home in the Co Down countryside, a charred timber and stone new build, driven by a need for more space.
In this article we cover:
Design process from scratch
Salvaging materials from the site
Finding a builder and what the day to day was like on site
Thrifty interior design tips
Kitchen design
Top tips to stay on track
What they would do differently
How to save during the build stage
Full specification
Floor plans and suppliers list
Built on family land, this new build project was a labour of love.
"When we decided to self-build, we were staying in a terraced house that my great aunt used to live in," says Aidan. "It had been left disused for 20 years when we got it, so we refurbished it. It was a great space and perfect for a couple."
"But when our eldest was born, we started to realise it wasn't practical. Then when the twins came along, it was clear we had to get a bigger house as we'd grown out of the one we were in. We were lucky to be given land to build on, off the family farm at home, and we looked at different sites."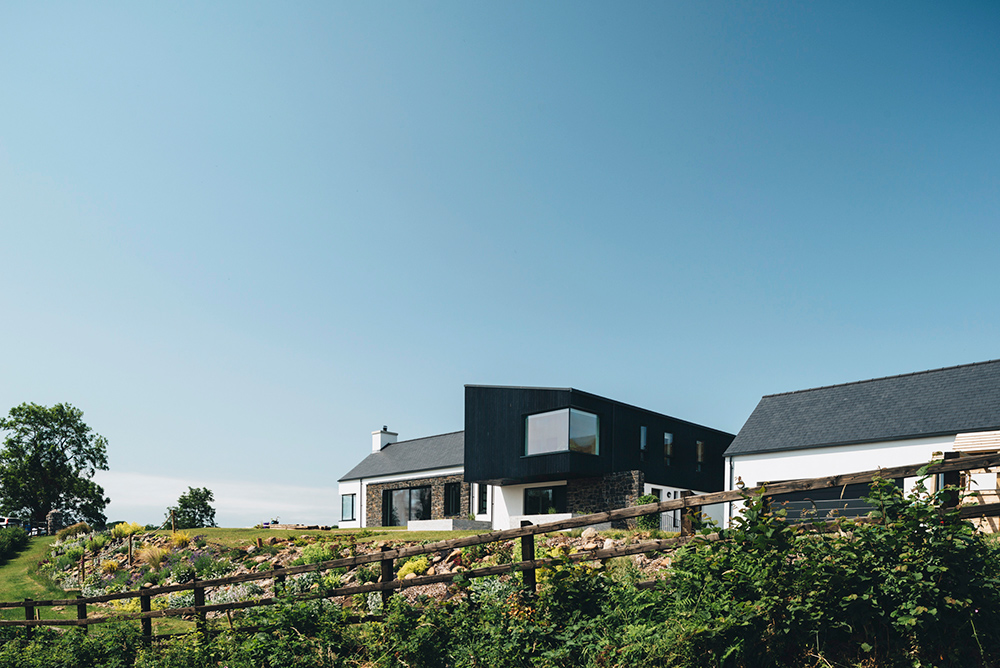 Brotherly support
"My brother Fergal is an architect, and he was keen to get involved," says Aidan. "He encouraged us to go for it, advising us at the early stages of which site to pick. We eventually chose a field that had a rundown cottage on it, so we could get planning permission under PPS21 CTY3 for a replacement dwelling."
"The site is elevated and boasts panoramic views over the woods, with farmlands north and west. It was an ideal spot."
"Looking back, Fergal might describe us as frustrating clients. It's true that we didn't have a clear image of what we wanted. Fergal was very patient with us, he walked us through the process, taking us through it with baby steps."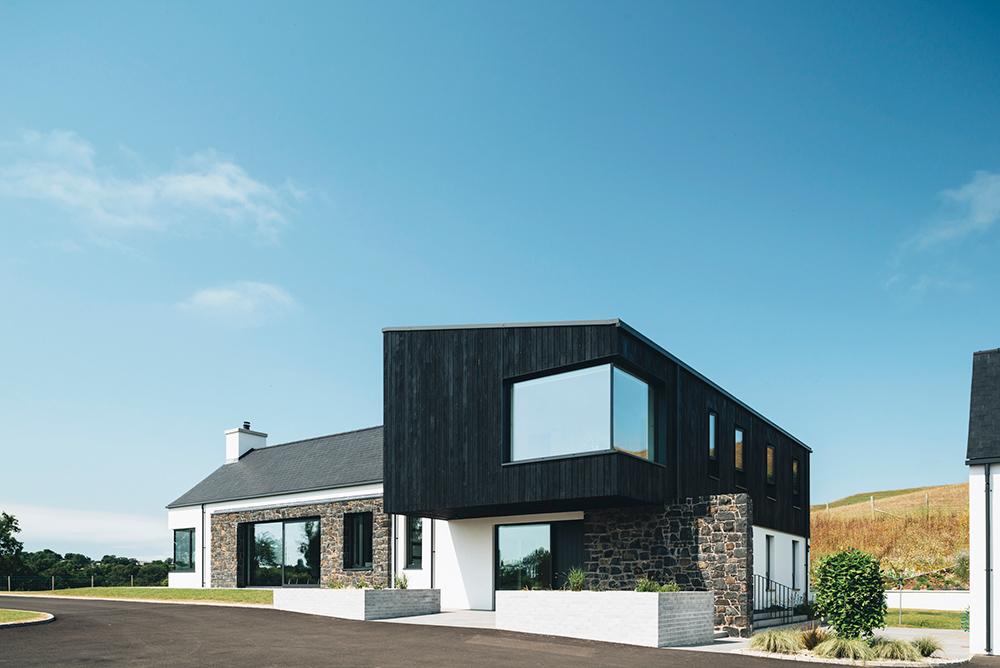 "We started off by deciding on height, a two storey felt most adequate, and we went online to get images of the style of homes we liked best. We thought of what would work for us and how to get what we needed from the space."
"We started off picking out quite traditional designs, very different to what we have now. We didn't want anything awfully modern, what we did like though was to have different materials. That's really where it started, and so we drew inspiration from our surroundings."
"Fergal brought in his expertise, using the site and natural landscape as his starting point, especially nearby agricultural structures. That's how we came up with our palette of four materials: locally sourced stone (basalt), timber cladding, brick and white rendered walls, all of which are vernacular. The basalt stonework references the cottage the new house replaces."
"The cottage had been built using cut basalt stone, field stone and brick. Where possible basalt was salvaged for use in the new build, and the field stone was reused in the landscaped embankment leading from the house to the road."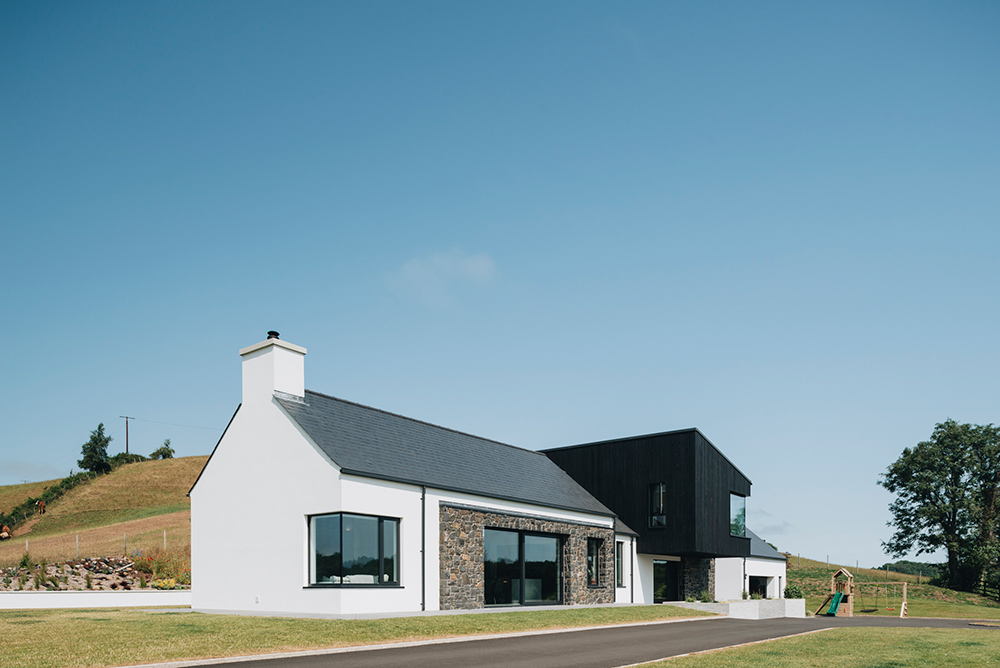 "The vertically clad larch boards, on the cantilevered block, have been charred to seal and preserve the timber, allowing a longer lifespan and achieving the desired
dark finish. We wanted far reaching views from this cantilevered space but were also concerned about privacy as it's our master bedroom."
"Fergal got around this by modelling various positions and different shapes to make sure that cars and walkers wouldn't be able to see in. The road dips below the level of the house so the lower floors also feel very private."
"How much glazing, and where we would put it for maximum impact, were important decisions early on. Fergal did a sun path diagram and identified which views to prioritise. Thanks to the way we have the house positioned, the cantilever (which acts as a shelter when you're coming in through the front door) and the big sliding doors, we don't get overheating in the summertime. Perhaps that is also because we are on an elevated site so we do get plenty of wind."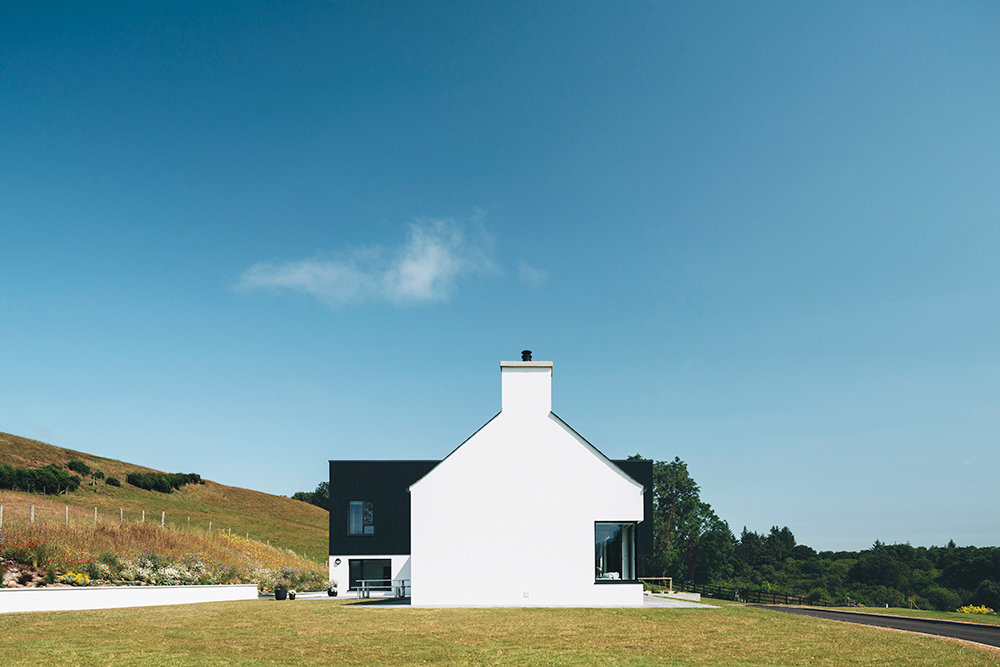 The house mimics traditional farm buildings, which use a series of smaller structures, to make them blend it into the landscape. "This arrangement suited the site especially, with the house is nestled at the foot of the slope in an L shape," says Aidan.
"This meant we minimised cut and fill, i.e. levelling the site to build on a flat surface. Getting a digger to cart off tonnes and tonnes of soil, then add a retaining wall, would have been very expensive."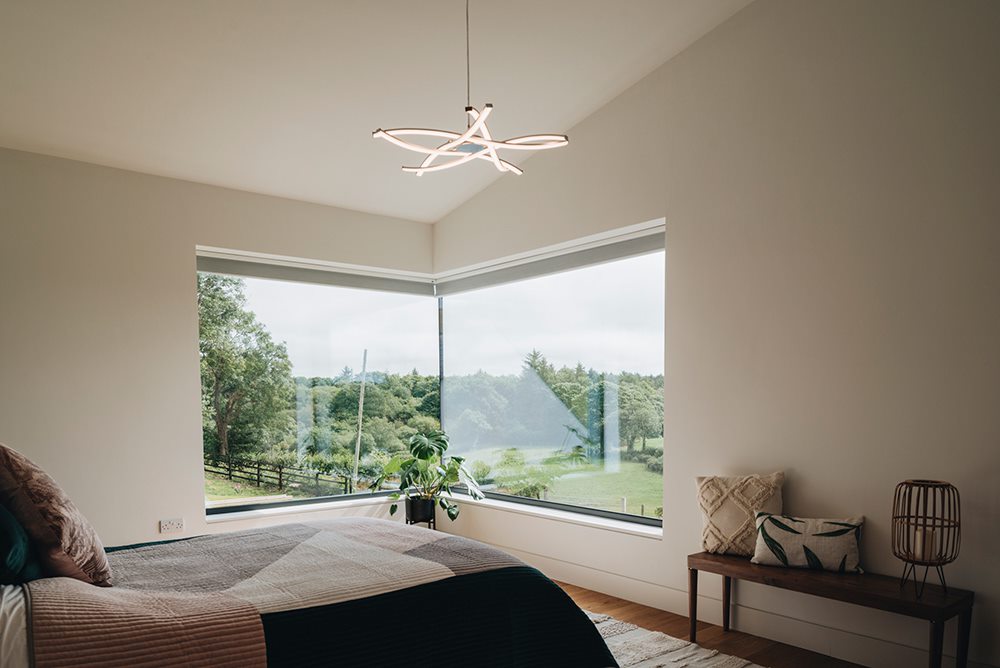 For the layout of the house, Julie-Ann and Aidan had a list of bugbears to give to Fergal, having lived in the terraced house. "One was the lack of space – I'm a country boy at heart and love the outdoors," says Aidan.
"There was also the fact that our house used to be on three storeys – our room and the twins' was on the top floor which meant having to carry children up the stairs at bedtime, laundry etc."
"Fergal took all of these into account, and most of the time he was one step ahead of us. When he suggested a space to store wellies, I knew he was really thinking of everything. It made me realise every detail needs to be thought through as room sizes and placements can't be changed once you decide on them."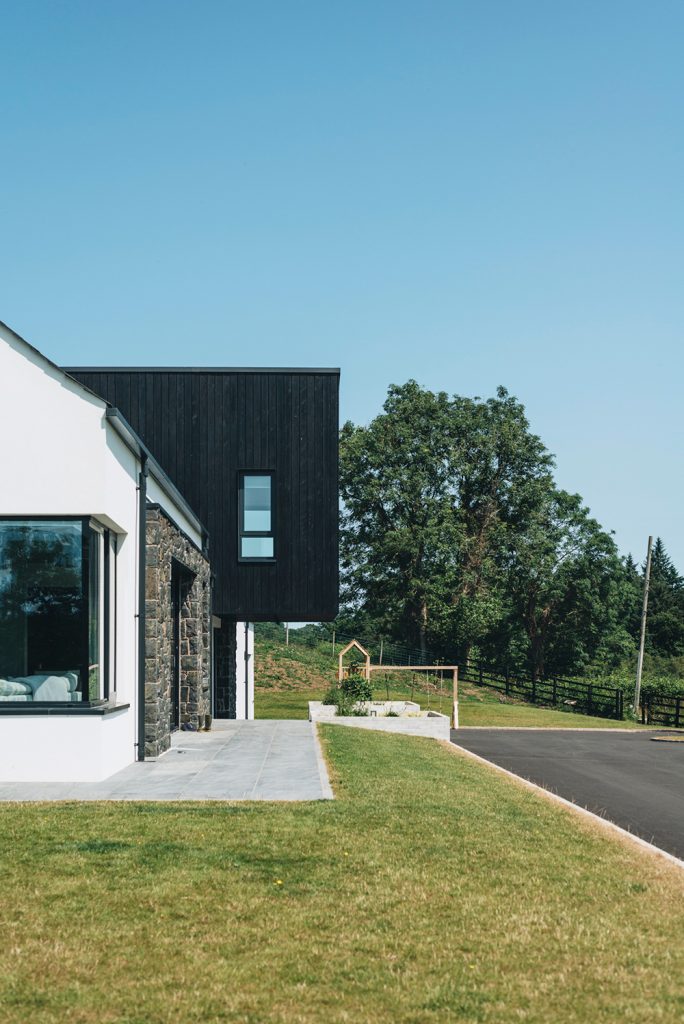 Charred timber and stone building: Build phase
"We went the contractor route because we both work full time in Belfast, which is 50 minutes away from the house. A lack of time and the fact that my knowledge is limited meant we decided to invest in advisors early on," says Aidan.
"At the early stages we hired Damian, a quantity surveyor. He helped us tweak the design to keep it within budget – he priced the tiles for us for example and we cut back on that specification, little things like that. We also postponed the landscaping."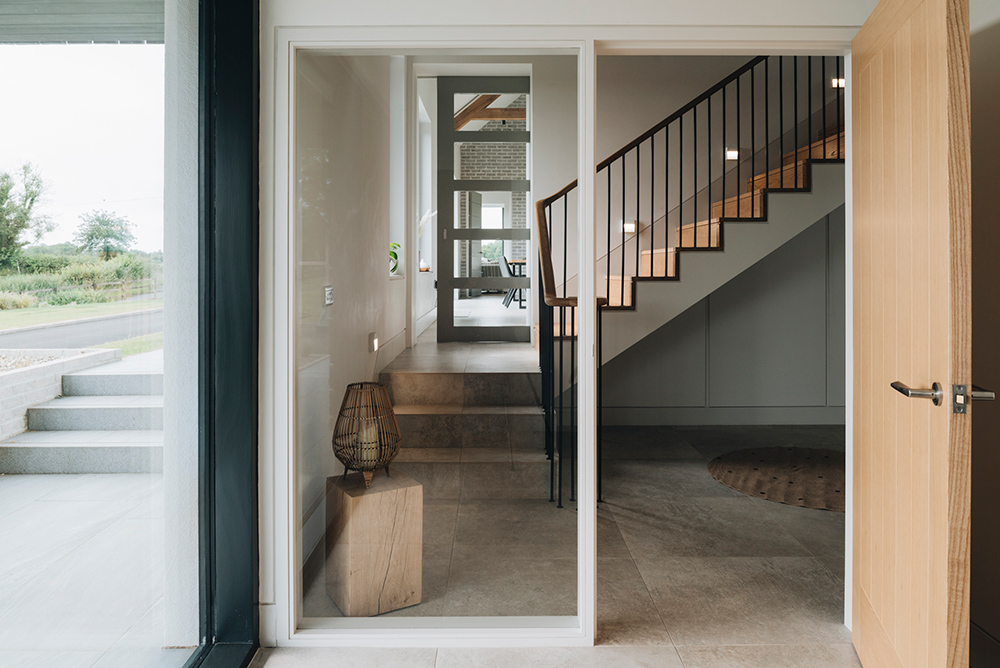 "We went to tender by approaching a couple of builders we knew of to get prices. Fergal and the architectural company he works for had a list of builders they had work with successfully in the past, so they were added to the list."
"Four came back to us with a price. We had a chat with each of them to see which one would be a better fit, and then discussed the options with Fergal to make a decision."
"Fergal was project manager from start to finish and he worked closely with Damian, whom we kept on board to keep track of costs, and our main contractor Peter. Damian did his job keeping us on budget and it was money well spent hiring him. He set costs and bills on a monthly basis – everything was clear and if there were any grey areas Damian would query them with the builder."
"The best part for us was that if there were any problems, Fergal and Damian would come to us with solutions which meant it wasn't up to us to come up with a way out. That really took the stress out of the project from our point of view there were no real hiccups as Fergal and Damian took care of everything."
"Then Covid reared its head at a crucial point in the build, in March 2020. Our planned move in date was June so it was a bit like hitting the pause button for two months," says Aidan. "But we still made it in the end, despite the hiccup."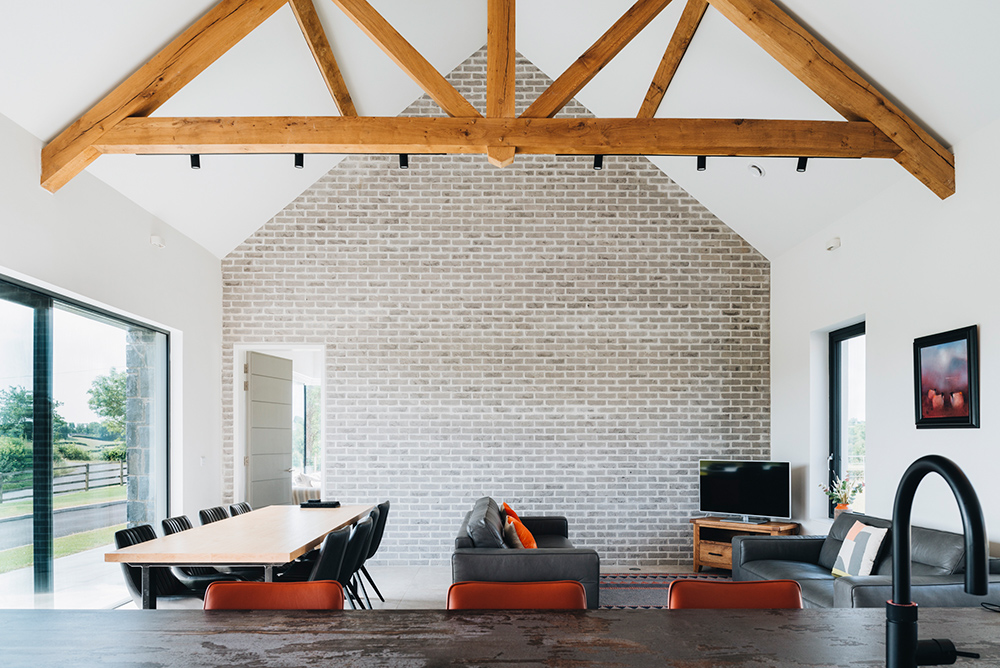 Interiors
"Julie-Ann was in charge of the interiors – she had a vision of what the house would look like and what we needed to get out of it," says Aidan. "Our approach was a flexible one, and we actually went from choosing a traditional kitchen to a really modern one. We did a full 180 on that, in large part because we followed the advice of people who understand space and our needs."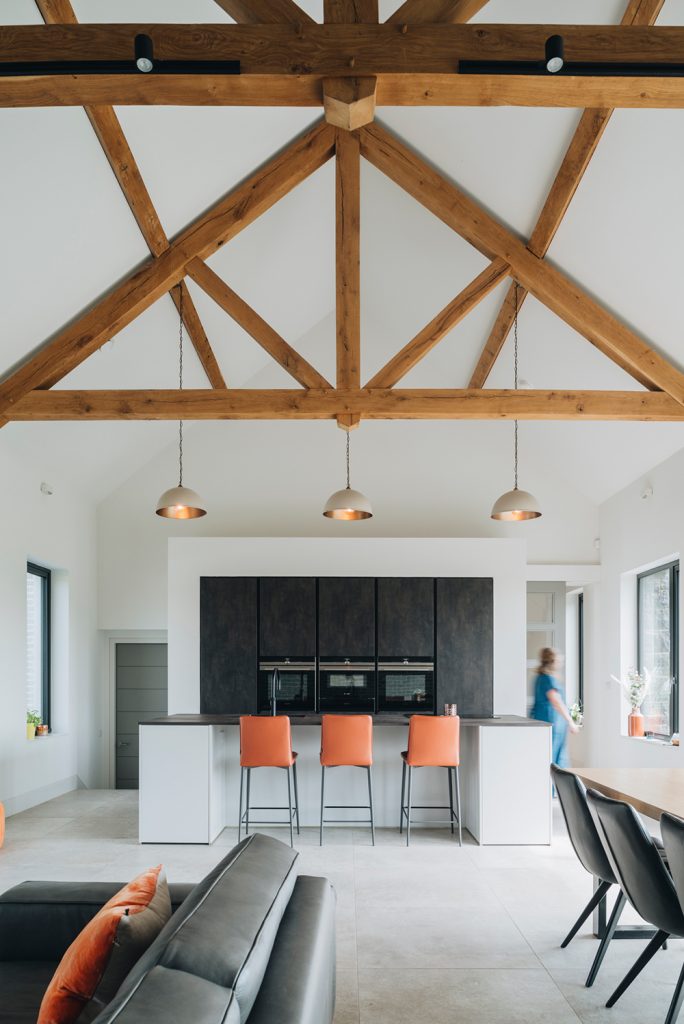 "We got one company to do our kitchen and bathrooms and they helped throughout. They even did our paving outside. We trusted them and their ideas, the vision they
presented appealed to us. We also really like having the one point of contact for all of these things, one source only meant less headaches for us."
"We also knew that lighting would be an important part of the design – the open plan alone, being so vast with high ceiling, required that we get help on how to make sure we would light the space well. It's very handy because we have different lights for different times of day."
"We got a lighting plan done in the kitchen and living room, and the company we
went with really nailed it. It's just the right amount, and type of lighting we wanted. We have a statement pendant in the living room which filled the space really well – it dresses the room."
"My main piece of advice to anyone thinking of building is, look for expertise where you need it. We built as high a spec a house as we could afford taking into account the cost of the architect, quantity surveyor, and contractor."
"At the end of the day what matters is that the layout works for the way you live, that the house is built to the standard you want, and that you have the confidence it will all be delivered without any budget overruns."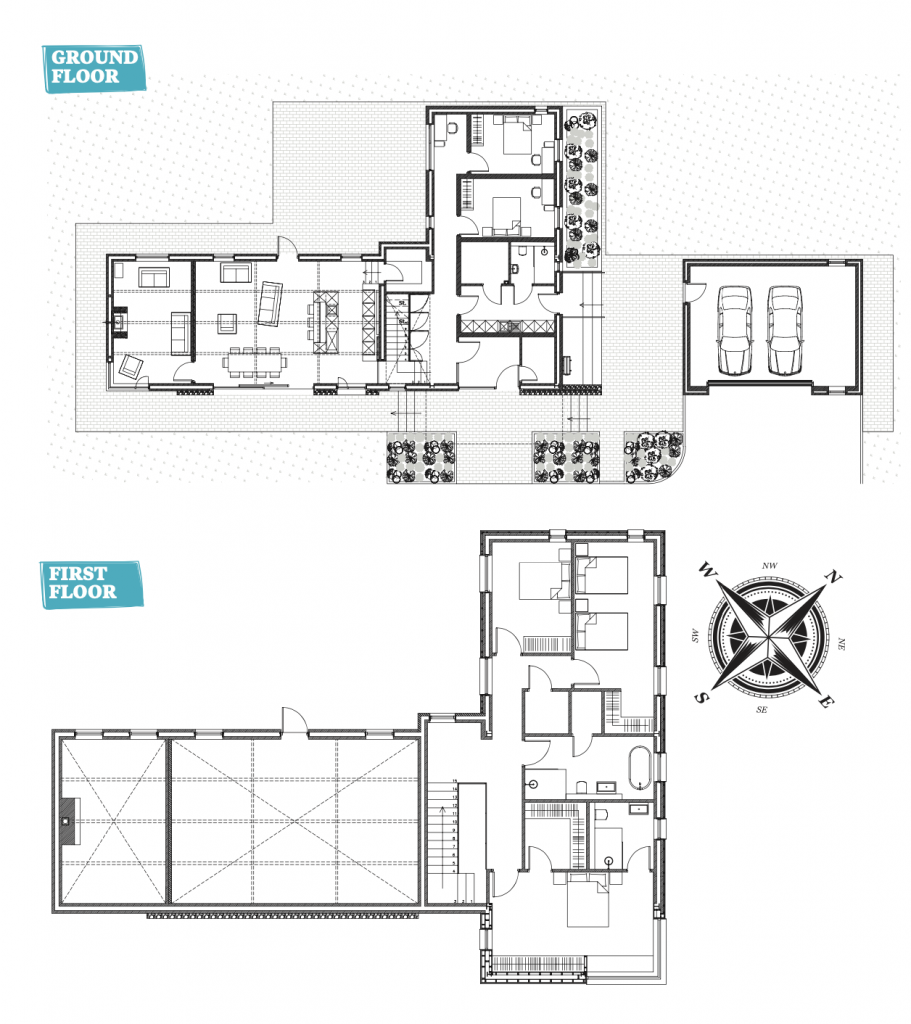 Q&A with Aidan
What's your favourite design feature?
The exposed trusses in the open plan area, I was really keen on that. I also love the charred wood on the master bedroom; I love coming into the house then and getting a strong feeling of space and natural light.

What would you change?
I really can't think of anything.
I suppose that's the reason we surrounded ourselves with good people to advise us – it cost extra at the start but it was definitely worth it. I'm sure we saved on not having made mistakes.

What surprised you?
How stressful it was, despite all the help – this was because we renovated our business premises, an old property, at the same time as we were building our house. I certainly wouldn't advise taking on two projects at the same time. Because of the Covid delays
we had no choice; it's just the way it worked out.

Would you do it again?
Yes but the same way we did it this time.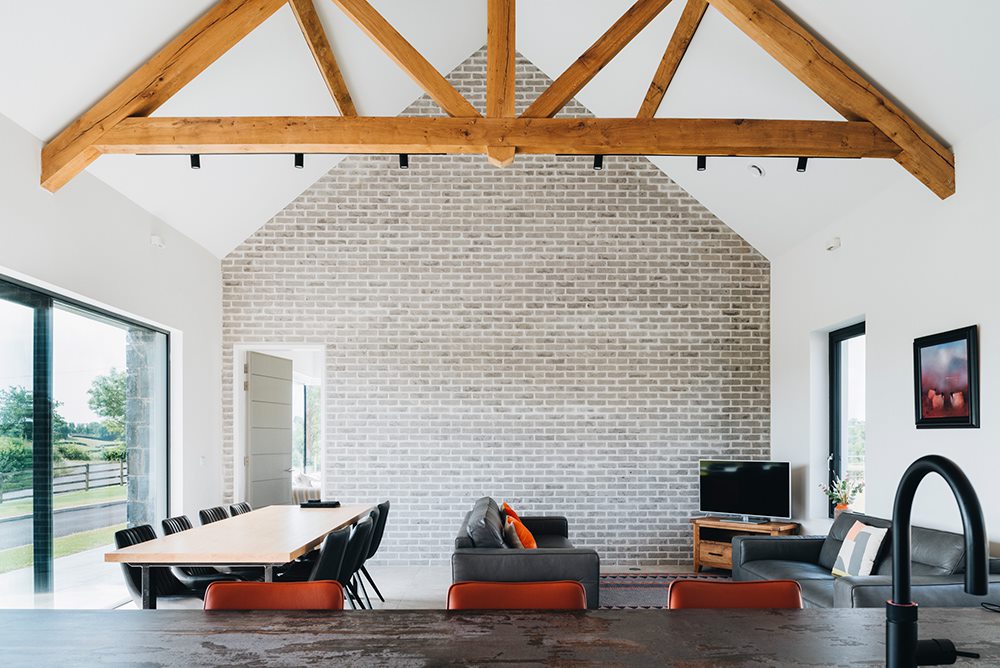 Aidan's Tips
Don't rush in.
Take the time to understand what you want. Don't be tempted to agree to something you haven't fully thought through. We were lucky that Fergal was there to figure out a lot of things for us – for example the practicality of having a back door where the children can easily get in and out of the house after playing football.

Have someone to disagree with.
That's the best way to create new ideas, through debate.
Suppliers
Architect
Fergal Rainey of McGurk Architects, mcgurk-architects.com

Main contractor
Higgins Contracts, Maghera, mobile 07801756222

Quantity surveyor
AD Group, adgroup.co, tel. 79634734

Structural engineer
Eamson Structural & Civil Engineering, eamson.com

Kitchen, bathrooms, tiles and patio
Ballycastle Homecare, ballycastlehomecare.co.uk

Renewables (heat pump, MVHR)
Daly Renewables, dalyrenewables.com

Timber floors
Oakvale, oakvalegroup.co.uk

Lighting
LightSource, thelightsource.co.uk

Oak trusses
Glenfort Timber, glenfort.com

Silicone render
K-rend, k-rend.co.uk

Stone render
McVey Stone, mcvey-stone.com

uPVC system for flat roof
Trocal 'S' flat roofing system, gbr.sika-trocal.sika.com

Roof covering
Leon by Lagan Building Solutions, lbsproducts.com

Insulation
Walls: Kingspan Ecobead; floor: Xtratherm Hyfloor; flat roof: Xtratherm Thin R ALU insulation with Sika Sarnavap 1000E Vapour barrier; pitched roof: Xtratherm Thin R and Thin R Thermal Liners

Photography
Emma Stewart, emmastewartphotography.com

NI calling ROI prefix with 00353 and drop the first 0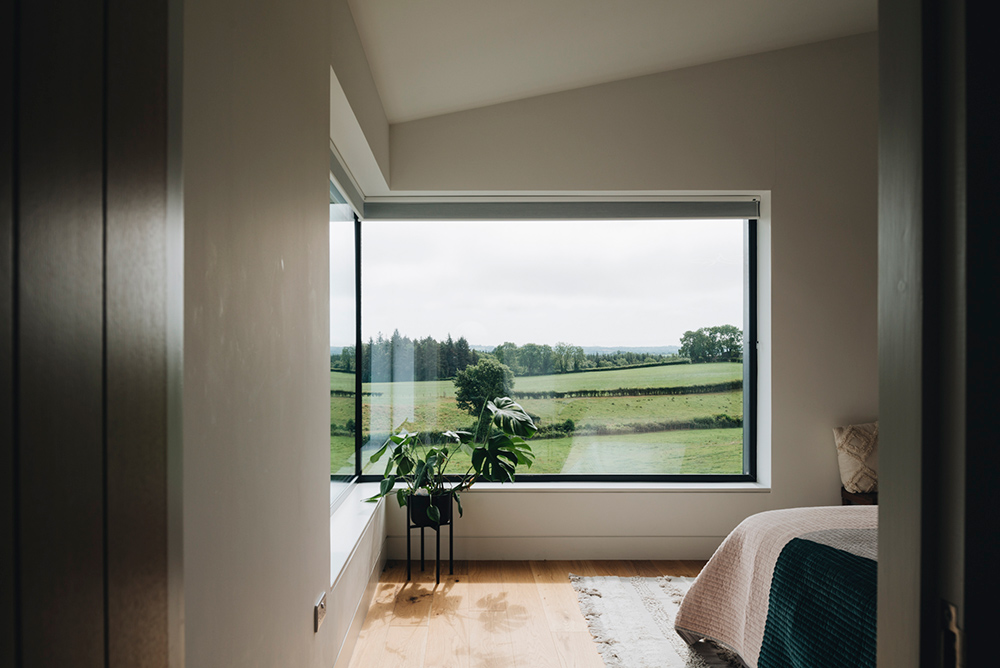 Spec
Walls: 100mm block inner leaf with 150mm cavity and 150mm concrete block outer leaf filled with graphite EPS beads. Depending on location, the external blockwork finished with silicone render with wall primer, random rubble layered basalt stone (70 per cent split frame / 30 per cent natural face) with a pigmented mortar, vertical 100mmx19mm wide board square edge larch with charred finish fixed through black breather membrane to 25x50mm battens and counter battens to provide air gap behind timber on blockwork. U Value: 0.17W/sqmK

Floors: ground floor: 100mm concrete screed on 500 gauge vapour barrier on 100mm PIR insulation with 25mm EPS perimeter insulation on 1200 gauge DPM
on 100mm insitu concrete on compacted hardcore subfloor. U-value: 0.15W/sqmK. Upper storey floor: 60mm liquid screed on underfloor heating on 40mm high density insulation on pre-cast hollow core slabs with suspended MF ceiling for service transfer.

Flat roof: Proprietary uPVC with standing seam on 120mm PIR insulation with vapour barrier on 19mm plywood decking on ceiling joists. Plasterboard internal finish. U-value: 0.17W/sqmK

Pitched roof: Spanish slates fixed on 38x25mm treated s/w battens on roof felt
on rafters. 100mm PIR between rafters with 72.5mm PIR liners to the underside. Kingpost oak trusses, ridge beam and purlins exposed with plasterboard finish between. U-value: 0.15W/sqmK