To get the most out of a renovation or extension project you need to have lived in the house for at least a couple of years to see what changes will work best for you, working from the inside out, as Gayle and Graeme Doyle of Co Down found out.
We bought our house in 2011 and were living here a good few years before renovating," says Gayle. "We were talking about it on and off, how we would rejig the space if we could. By living in it small frustrations started to arise and we realised a more open plan layout would work much better for us so we started to look into making that happen."
"Graeme knew our architect Glenn Massey already and we arranged a meeting with him as a starting point. We initially thought we'd go out and meet other designers but Glenn got what we were after from the start and understood our budget. He also came up with some really good ideas so we were confident he was the right man for the job."
Ground floor: 93 sqm / First floor: 84 sqm
Extension: 22sqm / Plot size: 0.1 acre
Total cost: £45,000
Extension: steel frame forming roof and cantilevered canopy with masonry rear wall and single ply membrane roof. The parapet is clad in PPC Aluminium (Polyester Powder Coated Aluminium) with secret fixings and clad in tongue and groove timber.
U-values: roof 0.8W/sqmK, walls 0.27W/sqmK, floor 0.16W/sqmK
Windows: double glazed low e toughened glass, overall U-value 1.1W/sqmK
EPC (SAP): C (71)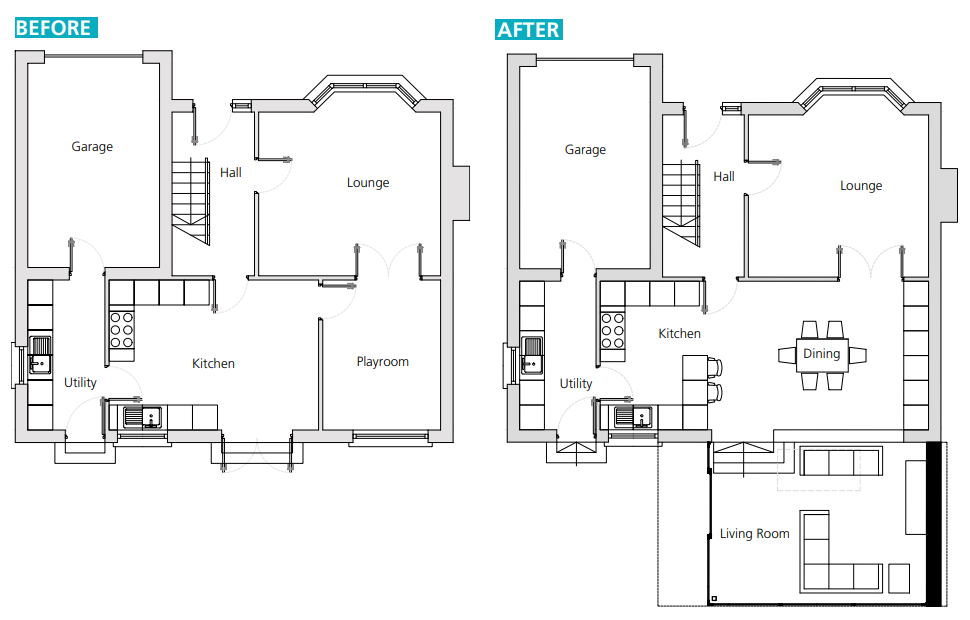 Design: Glenn Massey, Lisburn, Co Antrim, mobile 07779 572289, gmarchitect.co.uk
Structural Engineer: Hanna and Hutchinson Consulting Engineers Ltd, Lisburn, Co Antrim, hannaandhutchinson.com
SAP assessor: Adrian Biggar, Thermal Matters, Dungannon, Co Tyrone, tel. 87747987
Builder: Linton Solutions, Lisburn, Co Antrim, lintonsolutions.com
Concrete pour: CES, cesquarryproducts.com
Concrete polishing: Fagan's, terrazzoireland.co.uk
Foundations: Roger Irwin Contracts
Worktop/island: Ronnie Bann of Kitchen Installation Services, mobile 07725510230
Windows: Bann Architectural Systems, bannarchitectural.co.uk
Rooflight: Fakro, fakro.com
Roofer: Nigel Greer, N & G Roofing, Dungannon, Co Tyrone, tel. 867 35725
PPC Cladding: Fabrite Engineering, fabrite.co.uk
Photography: Paul Lindsay of Christopher Hill Photographic, scenicireland.com
The project consists of an extension giving an additional room at the back and knocking through the kitchen and former dining room into that bright new space. "We needed more seating and we wanted to feel closer to the garden and the views. We liked that inside/outside style so we included as much glass as we could afford. We were building a basic shape but high spec."
"Quite a bit of work went into getting the extension to be at the same level as the garden which required us to add three steps between the old and new." "There's always the temptation to change everything but we didn't need to – we stuck to our guns with what was a reorganisation of space. We left the kitchen as it was and just added a breakfast bar as an additional worktop."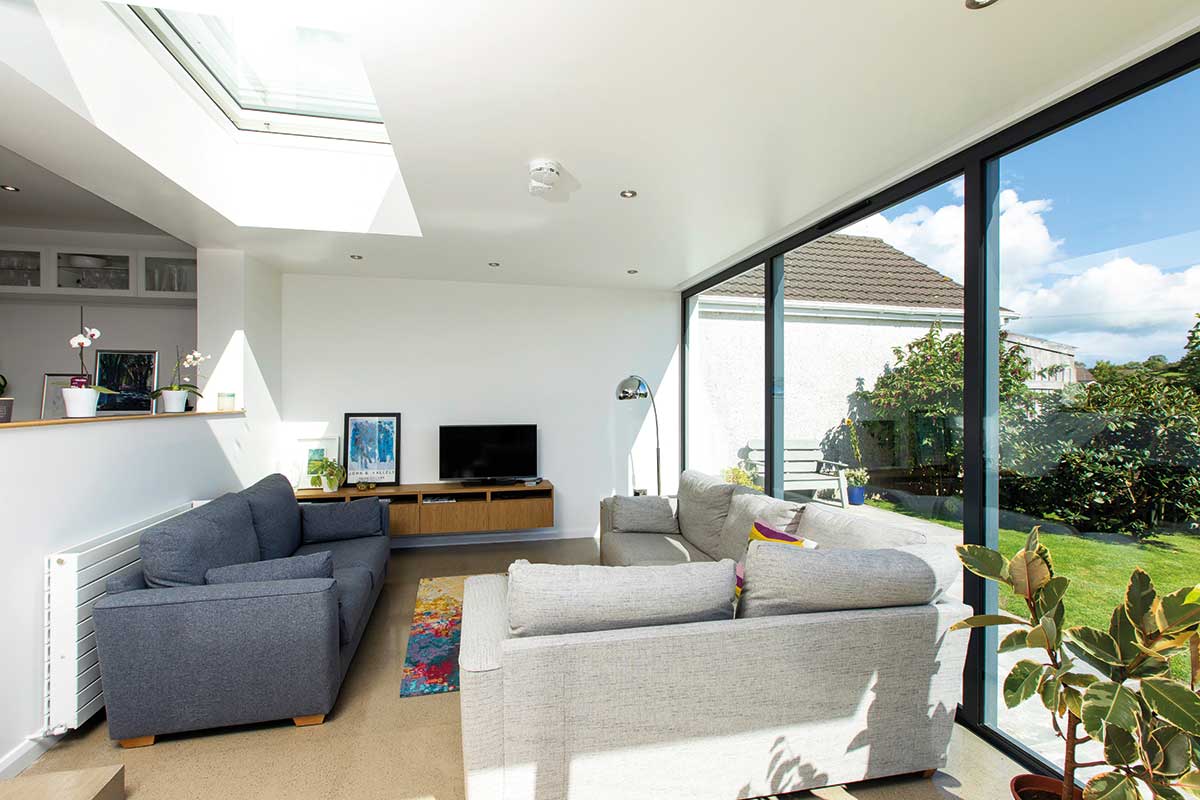 "We watch a lot of Grand Designs and like modern, simple box shapes with a lot of glass. We liked the idea of a very deep flat roof with an overhang so we could leave the doors open even when it's raining. We wanted to add texture which is why we chose to go with the aluminium finish with timber panelling. The timber we were able to stain ourselves, it just adds warmth against the grey and the lights in the overhang yield an embracing glow at night."
'We liked that inside/outside style so we included as much glass as we could afford. We were building a basic shape but high spec…'
Windows and warmth
"Because we wanted as big a piece of glass as possible we had to get the windows double glazed; triple glazed would have required supporting structures and frames. We have a steel frame with a block rear wall and a lot of insulation in the roof to make up for the amount of double glazing." Ventilation is incorporated within the windows in the form of vents. "The deep roof and overhang clad in aluminium were in the plans from the start and we spent a lot of time making sure we could get the doors to match the colour of the windows. We got a price for the windows early on, did the measuring up and Glenn gave us samples for colours."
"In terms of the rooflights we were originally going to have two but we decided we'd rather a single one and found a company that does them with a self-closing function. They did however take some work to source."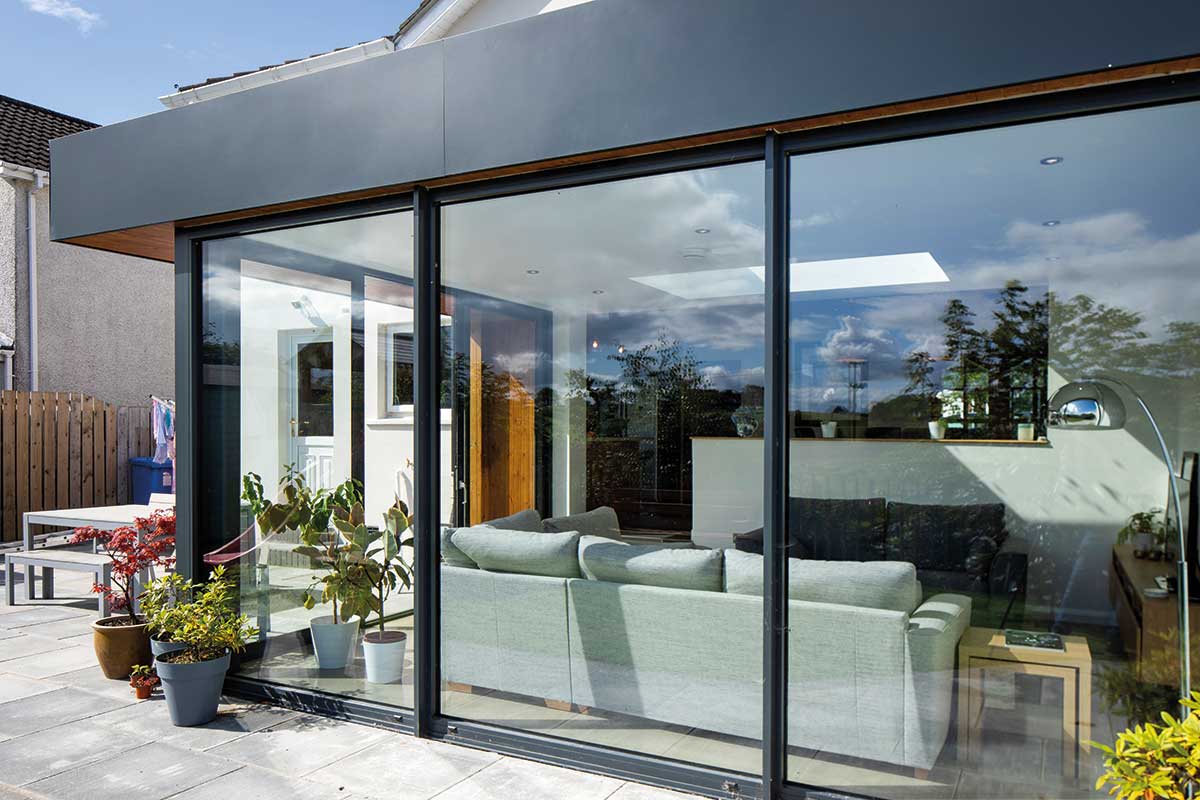 For heating they were able to draw on the existing system. "When we first moved in we had upgraded the heating system; the hot press is solar ready and we installed heating controls for upstairs and down."
"With this renovation we considered underfloor heating but it was too expensive so we installed standard radiators instead. The extension is south facing and the room is very warm anyway. Now the kitchen/dining area is the warmest bit of the house."
---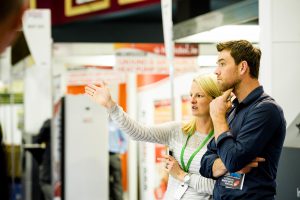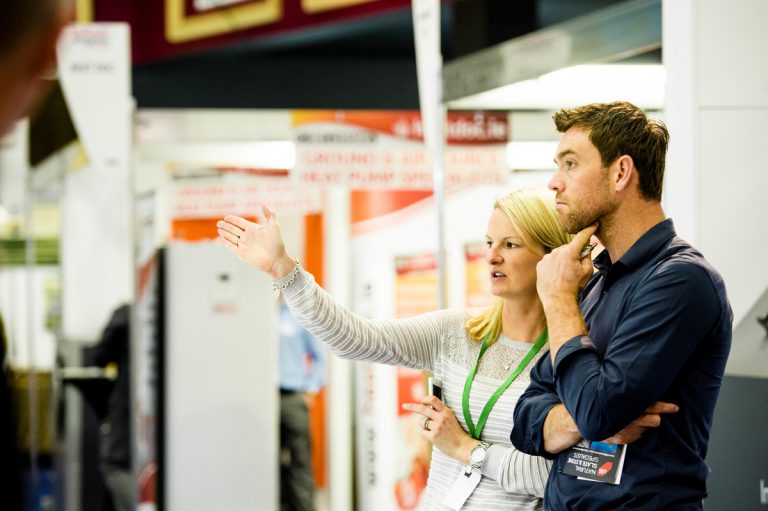 Selfbuild Live Dublin is the ultimate showcase for people who are building, extending, improving or simply decorating their home. Selfbuild Live Dublin, 13th-15th September takes place in the Citywest Convention Centre, Dublin.

---
"Because we took out the back wall to extend the house it was an opportunity to take up the floors and add as much insulation as possible. The insulation under the kitchen floor was non existent so we made improvements there too, while we had the chance. We also put in new tiles. You can really tell the difference in terms of heat retention."
"This summer was unusually warm and the kitchen did get very warm some days but being able to go out and leave the rooflight open definitely helped with ventilation. This is our second winter with the new space now and the low winter sun means this room is still pleasantly warm. With the extra insulation and the smart thermostat system we are spending less on oil than we did before the project."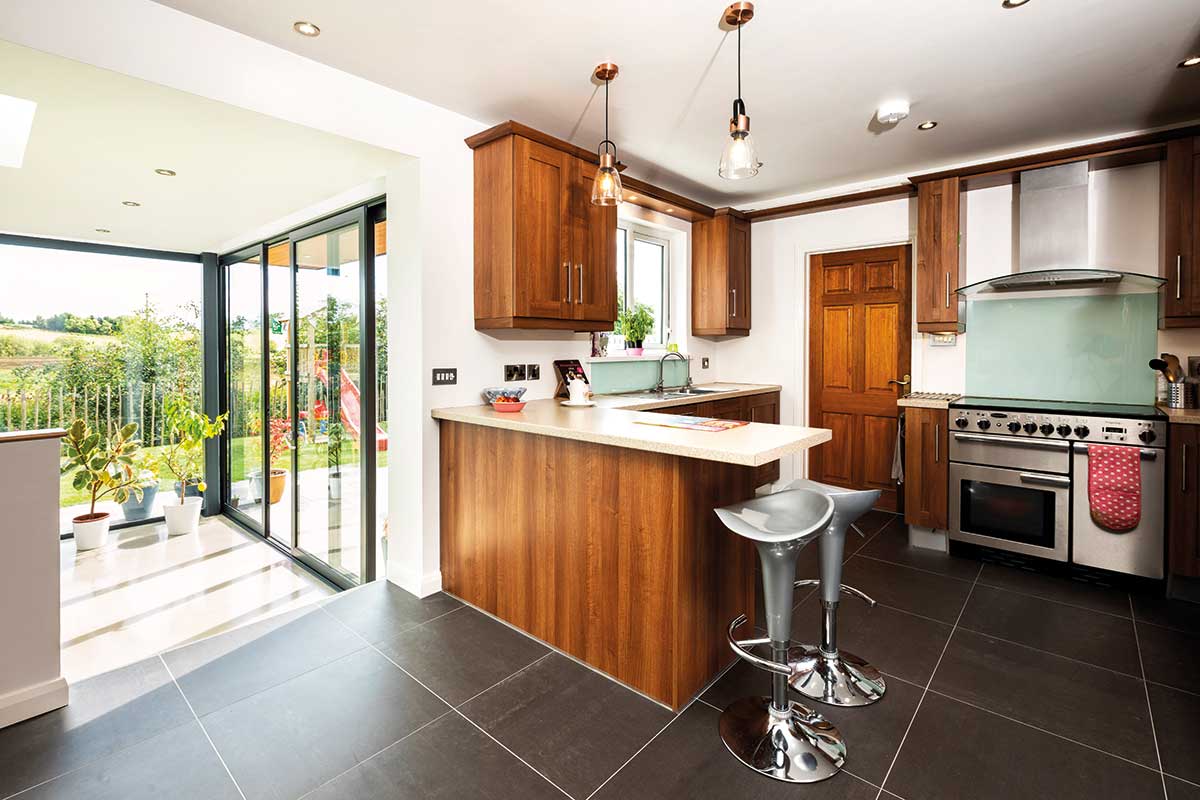 Time and Money
One element they added after the fact was the polished concrete floor. "It was a case of 'let's see how much it will cost' without really thinking we could afford it. We always liked the concrete/steel look and felt it would add a lot to the project to put it in."
"We made changes to the spec to make the concrete floor possible; the drawings initially included a line of upper storey windows in the only solid wall. We decided this wouldn't add as much to the project as the concrete floor so in terms of the budget taking those windows out made the floor a possibility."
"We had very strong ideas about the kind of colour we wanted to get, you can end up with green or yellow tinges running through the concrete and we wanted to have it as close to grey and white as possible, to get as pale a colour as we could. The concrete company worked closely with us. They recommended a company to do the polishing and sealing of the finished floor."
"We tried different sealants and finally got to the colour we wanted. The most frustrating part was the fact that we had to stay off it for three weeks, nothing could happen with the build during that time."
Be prepared for the impact it will have on the rest of the house. We were still living here with two small children and were basically renovating our kitchen. The dust just gets everywhere especially if you need to cut concrete; the polishing was also kicking up a lot of dust. It's very messy. You either clean more often or accept you can't stay on top of it. We did try to seal up the room and it worked for a while with temporary hoarding and pallets which meant we could still use the kitchen. But even though the builders did their best to keep the place tidy we'd have to come home each evening and assess the situation. We decided whether or not to make dinner or if it's another tip to McDonald's. We've eaten more fast food in that year than we ever have in our lives!
Spend time on the lighting scheme. It's worthwhile to think about where to put lights, we hadn't anticipated how important this aspect was. A single pendant light doesn't always work; we
have multiple sources of light in the room. We upgraded the lighting in the kitchen too and it's made a real difference to our enjoyment of that space.
Source things yourself to save time. We tried to help with the schedule where we could and this meant sourcing a few of the things we needed. The rooflight was especially difficult to find. It seems some of these items are hard to get in NI. We eventually found it through a builder's merchant in ROI and organised delivery from there to the site. We did what we could to help keep within budget and stay on schedule.
What's your favourite feature? I love the light. The extension is a bright relaxing space without too much furniture. It's great to entertain in, especially in summer.
What single piece of advice would you give someone who's thinking of a renovation? Live with the house for a while. We realised we only needed to add a breakfast bar so didn't have to go through the expense of upgrading the entire kitchen. Add as much storage as you can, we added a whole wall of storage to the back of the dining area which means that all the puzzles, games and colouring pencils can be put away easily. We had a few empty cupboards after the project but 18 months later and everywhere is full.
"We originally asked Glen how much we could do all of this for but the market dictates the price. We went out to tender for builders' prices and this gave us a more accurate steer. We chose a builder who was local and had a good reputation, known as someone who knew how to achieve a quality finish."
"Once we awarded the contract we were on site quickly. Even though we didn't need planning permission as the extension is within permitted development, we had to get sign off from building control and this required adding a hard wired smoke alarm system."
As is often the case with building new, delays ensued that were outside their control. "Our original time frame was ambitious at 15 weeks. We started in January and in the end it took seven to eight months in total. If you don't count the snagging items we were done in August 2017."
"The delays were due to having to wait for windows and steel, also the foundations had to be dug deeper than anticipated. The concrete floor which was a last minute decision took three weeks to dry." The foundations were signed off on by their structural engineer and Glenn carried out the inspections with Building Control checking the main stages. "We had site meetings at the house with all the trades. Even though we hired a single builder we got to meet everyone, we managed it all ourselves as we were still living there while all this was going on."
"What we have now was worth all the effort, it's dead easy in terms of maintenance. The exterior is really easy to take care of and we don't mind if the wooden cladding weathers or fades."
"The original idea was to do it under £40,000 but by upgrading the lighting, the concrete floor and the high spec windows it came in at around £45,000." "We're pleased we bit the bullet and went for the concrete floor, we love it now. It's easy to keep clean and tidy. We ended up with a great space to suit modern family life."
---

---