For Alan and Karen Campbell renovating a century old farmhouse in Co Derry – and building their very own family home next to it – meant they could care for elderly parents.
This new build, built next to the family farmhouse, was a labour of love for Alan and Karen. Here they chat about:
Challenges of designing a new build next to a 100-year-old farmhouse
Re-roofing the farmhouse
Insulating the farmhouse from inside (drylining with steel stud walls)
Delays with CTY10 planning permission for the new build
Ridge height restrictions for the new build
Tender process and choosing a builder
Terms of the contract with the builder
Cost engineering to keep the build within budget
Hot water system plumbing for renewables
External render and cladding tips
Landscaping choices
Issues with utility connections
Overview
House size: 1,990 sqft
Plot size: 9 acres
EPC (SAP): B (86)
Costs: Original forecast was £127,000; spent £134,500.
House value estimate: £350,000
Heating and hot water: oil boiler
Ventilation: natural
"When Karen's uncle passed away, her mum gave us the farmhouse. The plan was to renovate and extend it for their own use and for Karen and I to build our family home from scratch," explains Alan. "The houses are just 30 meters apart."
"But renovating the 100-year-old building wasn't straightforward. When we started to take off the slates we realised there was no strong structure holding up the roof in place. The old oak beams were adding weight, so we replaced them with a new truss roof."
"We salvaged as much as we could but there was still quite a bit of demolition work. Less surprising was the fact that the house had no foundations so we dug down with a mini digger and put in a new subfloor."
"We basically built them a completely new shell; the two to five foot stone walls weren't insulated so we added an aluminium frame on the inside of the house and insulated with PUR board allowing for a ventilation gap. In total it took us eight months to renovate and extend."
"To tackle the renovation we spoke to other people who'd gone through a similar process; we'd never done it before. In many ways it turned out to be a guinea pig for building our own house."
The new build next door to the farmhouse
Karen and Alan's new build, however, wasn't as quick to turn around. "It took eight months to secure planning permission. It felt like a really long time because we were caring for Karen's parents and living 40 miles away."
"To this day we're not sure why it took so long to get planning permission; there was one objection but that doesn't explain the delay. We were expecting some form of communication within eight weeks."
"We lodged the application in August 2013 and got the approval end of May of the following year. Our architect applied for us under CTY10; the plans for our new home clearly showed how it would be visually linked to the existing farmhouse we'd just renovated."
The new build dream next door to the farmhouse in fact started at the Selfbuild Live event in Belfast, where the couple spoke to an architect who had photographs of his own home at the show. "We wanted a replicate of his house," says Alan.
"It was exactly what we wanted so we went down to visit him quite a few times to see how to adapt the design to our site."
"His house was one and a half storey because of planning restrictions – he was only allowed a 6.5m ridge height – and we were able to build a two storey with the 7.5m ridge height we secured with the planning permission."
"Once we got our approvals in place we got on with finding a contractor. We sent out the plans to a couple different builders but chose the same person that renovated and extended my in-laws' cottage. He's well known in the local area and does good work; he also has a lot of equipment and owns the machines which reduces the risk of delay in relation to equipment hire."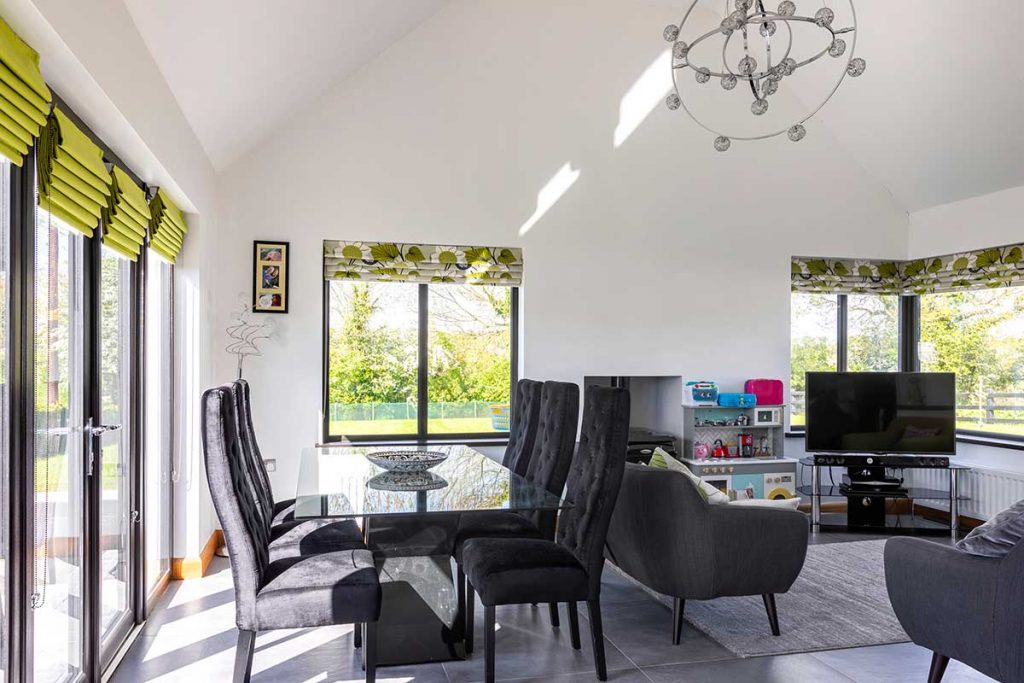 'We originally had double glazing in the specification but we were advised to go with triple and as the price difference wasn't that much we went for it.'
"As Karen and I both work 40 minutes away, we endeavoured to be on site most weekends and I met the builder on site most days. He organised some of the tradesmen and so did I – I sourced the plumber and electrician for example and our contractor did about 45 per cent of all the work himself. We tapped into his expertise to hire tradesmen too; we hired all local people."
"Our architect drew up our contract and we paid the builder as we went along. The one thing we did change from the original plans was to reduce the specification for the garage. It was going to cost us £20,000 with living accommodation on the upper floor."
"As we didn't plan on using the garage for anyone to live in at any stage, we removed the upper storey and saved £4,000 but we had to resubmit the garage plans to building control."
"Another change was to move the boiler from the house to the garage; this gave us more space in the utility room."
The heart of the home is the kitchen, at 500sqft, and it was designed by a company owned by a friend of the family. "The main point of contention was the colour – plain white – I wasn't gone on it because I thought it would fade but it's actually stood the test of time. UV paint does seem to work."
The building method was cavity wall construction with pumped graphite EPS beads. "I just always liked blockwork, and my mum and dad had a timber frame house that was hard to heat because it wasn't insulated well enough."
As for the heating system, the choice was oil fired with radiators. "We weren't sure of the workmanship we might get for the underfloor heating so decided to stick to what we knew."
"We plumbed the heating system so that it could take solar thermal panels in the future; when we install them they will help heat our hot water. For lighting we have LED throughout and for an easy life we chose to tile the floors downstairs, use laminate in the bedrooms and for a touch of luxury we carpeted the stairs."
The ventilation consists of trickle vents in the windows. "We originally had double glazing in the specification but we were advised to go with triple and as the price difference wasn't that much we went for it," adds Alan.
"For the upper floor we went with a concrete slab to cut noise, the architect did that in his home and advised us to do the same. In the original specification we also had a truss roof but went for a cut roof instead and changed the roof covering from concrete to slate. For the exterior we hadn't decided on stone but eventually installed a thin sheet of stone cladding, it's a 50mm thick board."
"A minor departure from the plan was changing the render from sand/cement to a proprietary system with silicone. It meant we didn't need to paint the house and it cost us £5,000 at the time. We got it done in wet weather in February – we were pregnant with twins so were pushing to get everything done as soon as possible – but even at that it's still looking good after all these years."
The couple moved in four years ago. "The back of the house is north-ish facing so I may put algicide on it at some stage but it's not going green yet."
''…to get an underground telephone line we ended up having to pull the cable ourselves from the road 30m away…''
The landscaping started in October 2015, which Alan takes great pride in. "The following year we added lights to the trees and ducting for outdoor electricity. It's a work in progress, which culminated with us doing the paving in 2018."
There's always something that can go wrong and in Alan's case it had to do with the phone connection. "There was an existing line going to the in-laws' house and we wanted it to go underground but they said it could only go overhead from one house to the other."
"To get an underground line we ended up having to pull the cable ourselves from the road 30m away. It's not something we could have foreseen in our plans as the phone line application had to be made once we had the house in place."
"Another aspect was that the kerbs were laid too level and this created problems with achieving a fall for water. There was an issue with the front door too, we had to return it twice because of failed glass panels."
Thankfully all of these hurdles are now distant memories. And they now are living the dream in the new build next to the refurbished farmhouse.
"I'm really happy with the 10,00 sqm lawn and laurel hedging all around the perimeter, also the fencing using gate posts is a nice touch," says Alan. "We're delighted with it."
Top Tips
Show up. On TV self-builders always say they wish they could have been on site more often – it's only when you do it that you realise it's not always possible to make time but it does pay off. Your presence on site can move thing along, even if you're not doing anything, so make time to be there.

Take time to tidy up. The reality if you're going direct labour, which we did for many aspects, is that you end up spending most of your evenings tidying up and getting ready for the next trade to show up. Moving stuff around also takes up a considerable amount of time. It's amazing how much rubbish a building site can generate, so factor in waste removal too.
Q&A
What surprised you?
The twins were born seven weeks early so we were in only 23 days when they arrived.

Favourite part of the house?
I love my lawn, and the 500sqft kitchen.

Would you do it again?
I would love to. We have nine acres in total so it's definitely a possibility.

What would you change?
I would connect our wood burning stove to our back boiler. For the size of the house I feel like we chew up a lot of wood, so it would be good to use some of that for heating and hot
 water in winter.
Spec
Walls: cavity walls 100mm blocks filled with 90mm graphite EPS beads, insulated plasterboard with 50mm insulation on inner leaf, U-value 0.15 W.sqmK
Floor: 150mm subfloor, 2x50mm PIR board, 100mm screed, U-value 0.14 W/sqmK
Roofs: pitched roof total 150mm PIR insulation, Spanish natural slate roof covering U-value
0.16 W/sqmK; flat roof 2x 300mm mineral wool U-value 0.14W/sqmK
Suppliers
Architect: Healy McKeown Architects, Kilrea, Co Derry, tel. 028 (048 from ROI) 295 57933, healymckeown.com
Builder's merchant: JP Corry (timber for roof/internal doors, skirting, board insulation), jpcorry.com
Roof slates: Parkmore, parkmoreroofing.co.uk
Precast concrete: FP McCann (kerbs/concrete/window sills/ lintels), fpmccann.co.uk
Exterior render: K-rend, k-rend.co.uk
Tiles: Tile Shed, thetileshed.net
Bathrooms: Bathe (all sanitary ware including showers and taps), batheni.com
Paving: Tobermore, tobermore.co.uk
Stove: Stanley stove from Kildress Plumbing Supplies, kildressplumbing.com
Onsite wastewater system: Klargester BioDisc rotating septic tank, klargester.ie
Photography: Christopher Hill Photographic, scenicireland.com
---
---