Planning to extend your home and wondering how much does an extension cost? Here are the main budget elements to be aware of.  
In this article we cover:
Ballpark extension costings
Why averages are misleading
Demolition and waste removal costs
Structural costs
Glazing costs
Roofing costs
Internal finishes
Electricity and systems costs
Fit-out costs
Lanscaping costs
Main budget busters and how to avoid them
Over the past few years, I have spent a lot of time outlining the dangers of budgeting under an average cost per sqm/sqft basis. Nowhere does this become clearer than when we look to budget and cost house extensions.
How much does an extension cost?
The Royal Institute of the Architects of Ireland (RIAI) published a cost guide which contains average costs for extensions ranging from €1,900 to €3,400 per sqm. This range in itself outlines the difficulty in accurately budgeting based on an average cost.

The reality is that no extension is average and few are similar in design, layout and use. But it is useful to know the main items that drive up extension costs.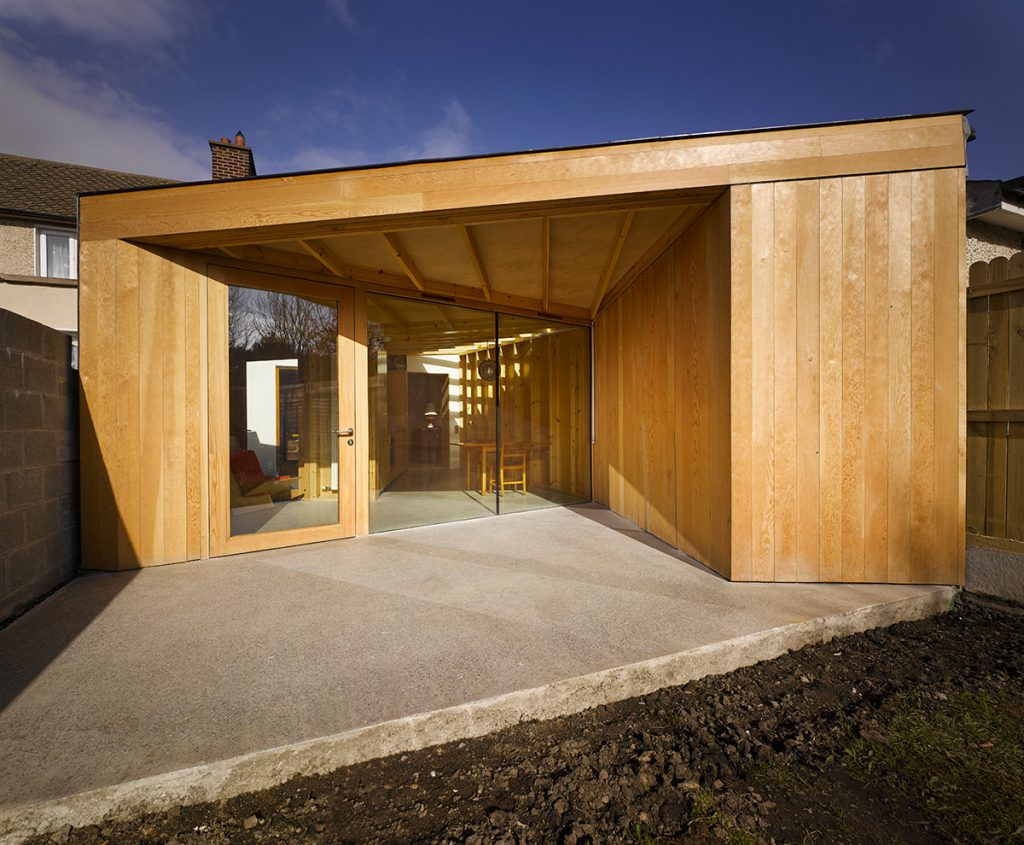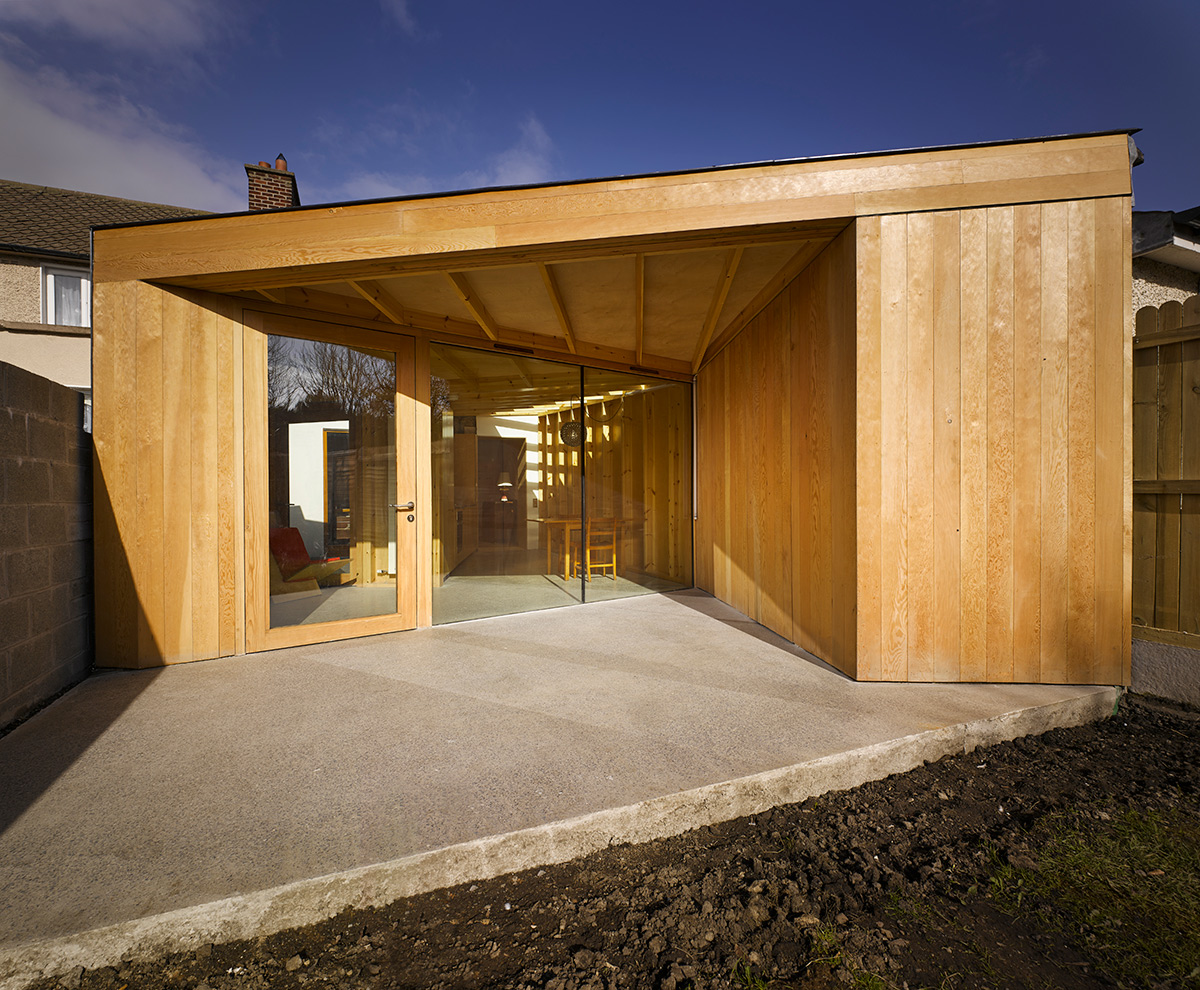 Demo, waste removal and services
Like any build project, the first issue that will need to be reviewed is the demolition and removal of what stands in the way of the new build.
Demolition costs are often described as dead money, but money it is and demolition can add significantly to the cost of an extension, especially on older properties that may come across hazardous substances such as asbestos which will cost more to get rid of.
It is also not uncommon for an extension project to include a substantial redesign of existing areas, which in themselves will also add significant demolition works. Demolition costs will depend on what needs to be removed and will vary widely.
As with a new build, waste removal will add up too – especially where it is hard to access. In the case of terraced houses, you will probably have to place the skip at the front of the house and wheelbarrow waste through the house, making this a time consuming (and more costly) endeavour.
Average standard skip costs start at €300/£250 and upwards but it comes down to the size, location, and whether you choose to bring the waste to your local authority recycling centre instead, which is more cost effective.
Also bear in mind that the construction of any extension will require alteration, relocation or replacement of existing foul and surface water installations and networks below the ground.
It is not unusual for planning grants for extensions to include requirements for soakaways, rainwater retention systems or the likes and it is important to investigate with your designer any possible restrictions that may be placed, outside of simply connecting back into the mains.
Bear in mind that you can't build your extension over an existing service pipe, such as a mains sewage pipe, and it will be difficult also to get the council to agree to divert it.
Any alteration or relocation of gas, watermain or electricity meter services may involve a capital contribution from the utility company that needs to be factored into the budget as well.
Structural support extension cost
The first element for the actual construction project is to consider the structural implications. In recent times, the design around the kitchen, dining and sitting room areas, has become very much an open plan environment.
This will, in many instances require the opening up of the ground floor rear and/or side of a property. Where the introduction of columns in the open space are rejected, the size of steel beams across the structural opes can be large, heavy and therefore expensive.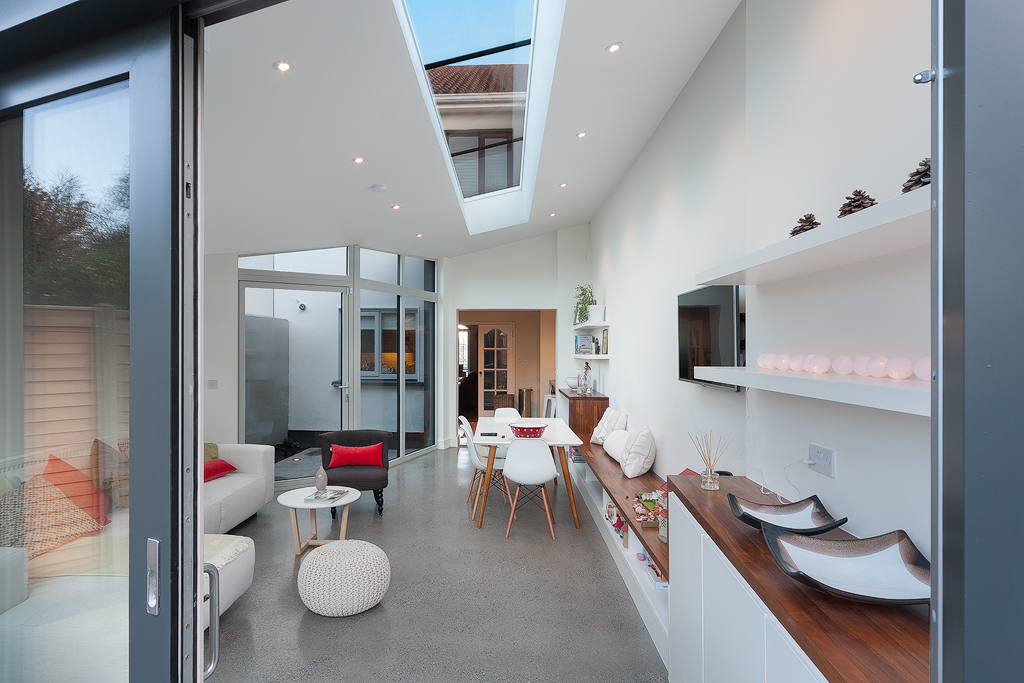 Noting that steel has increased substantially in cost in recent times, it is now common to see costs ranging between €3,500/£3,000 and €4,000/£3,500 per tonne of steel on a supply and fit basis. The removal of any existing walls that are carrying the load of above floors, walls or roofs will also require steel beam replacements.
Apart from the cost of the foundations, floors and wall construction (for which costs are generally dictated by the material selection and size of extension) the other main risk is the condition of the existing structure and/or of nearby structures.
A house may stand tall and unaffected for many generations, but as soon as a wall is moved or a wall ceiling or floor is opened, historical, defective and substandard building techniques are commonly uncovered.
It is not unusual to find an existing house with little or no foundation or with a foundation that is barely below the ground surface. Equally common is finding a previously built extension barely connected to the original house, or finding an existing wall that is crumbling behind the decoration.
The uncovering of any of these items will require additional structural works. An allowance should always be made for this scenario.
One of the most common spends here is when the new build requires deep foundations, at a lower level than the existing house. The issue of underpinning the existing wall foundations will then come into focus.
Depending on depth of the underpinning required, costs can run from €600/£500 to €1,500/£1,200 per linear meter of underpinning. This issue will also be commonly uncovered when working near or next to garden boundary walls.
Glazing Cost
With any extension generally comes the desire for more natural light. Fully glazed rear walls or rooflights are therefore now commonplace. As I outlined in a previous article on windows, the selection of material and the height of unit will very much dictate the cost of the windows and doors, with any item exceeding 2400mm in height incurring a premium. Depending on material choice, windows can start at circa €350/£300 per sqm of window and run over €800/£750 per sqm on average.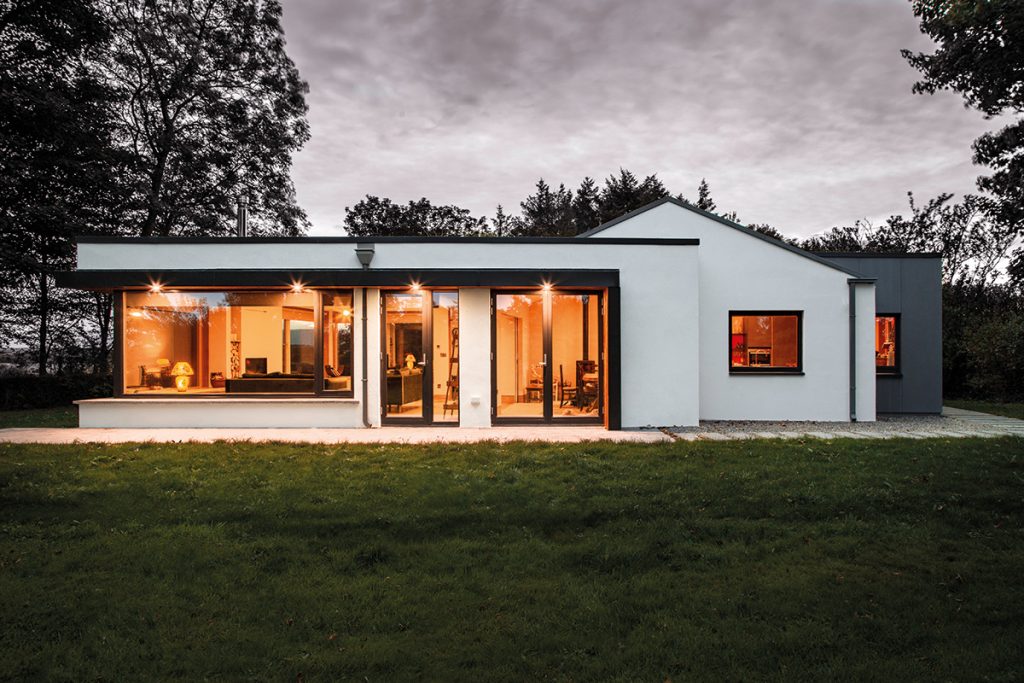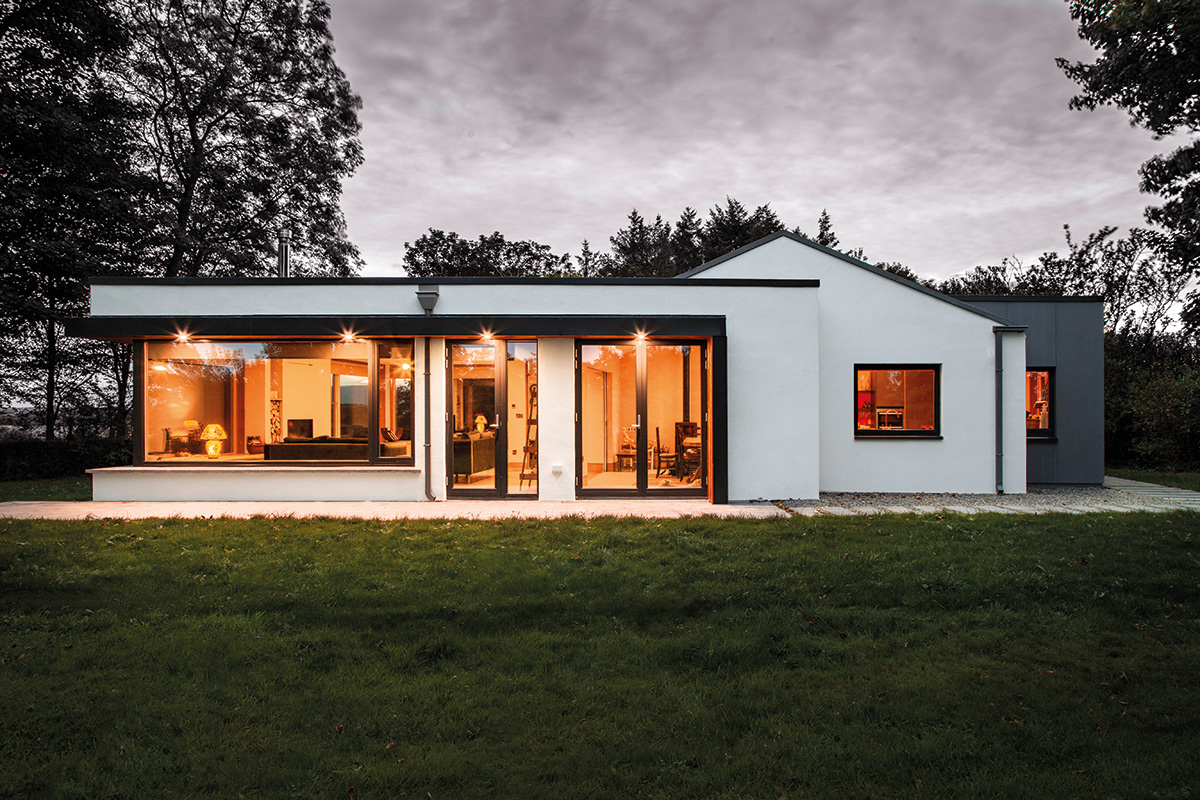 In respect to rooflights the cost will very much be dictated by the choice of off the shelf options or more bespoke sized items. Colour selection can also be a cost driver on rooflights as standard colours are more likely to be in stock.
A lantern type structure of rooflight will also cost substantially more than a standard flat flush type. Off the shelf flush rooflights will cost less than €/£1k per sqm whereas a lantern type will be €1,800-€2,000/£1,500 per sqm depending on specification. One of the important items to keep in mind outside of cost is lead-in time and it is not uncommon, at present, to have to wait six, eight or 10 weeks for the delivery of many glazed products.
Roof Extension Cost
Roof construction on extensions can, in many circumstances, be one of the more straightforward elements of the build. That is, where they are anchored on a standalone structure. The selection of flat or pitched roof and the material finish are the items that will confirm the final costs.
Roof structure costs very much depend on the structure and size of members and supports. Finishes costs range from €75-80/£70 at the low end for tiles to €120/£100 per sqm average for felt type finishes to €180-200/£180 per sqm for some slate and metal finishes.
In many cases, the new extension may impact or require alteration to the existing roof of the property. The stripping back of, and joining into, the new works can result in significant added costs.
As described earlier, when you open up existing works, it is not uncommon to find existing structural issues. In the case of roofs, water damage or even the absence of membranes or felts will result in unforeseen additional costs.
Bear in mind too that if you choose a flat roof, your house insurance premium may be affected depending on how much of the total roof area it represents.
Internal finishes
Internal wall, floor and ceiling finishes will be dictated by the new layout but most extension projects involve an element of internal insulation upgrade on the existing structure, with the existing property often getting drylining upgrades on external walls. There are however grants for this.
Then plastering, tiling, general decoration and the likes will simply be dictated by the selection of materials and quantity of work required. Internal joinery like doors, architraves, skirting boards, panelling and so forth also need to be clearly budgeted for.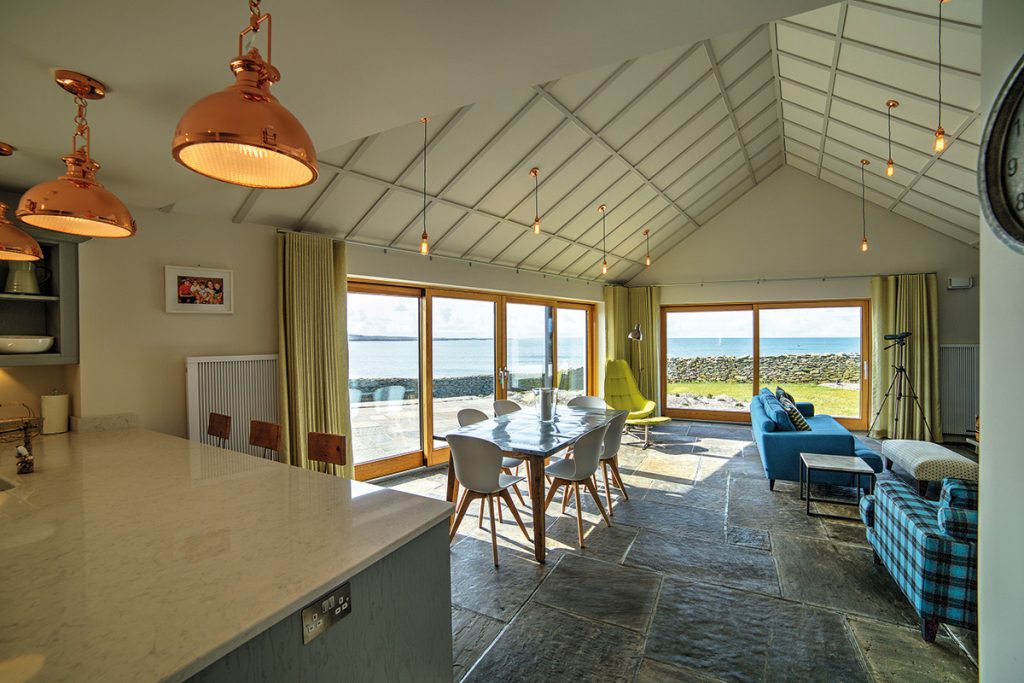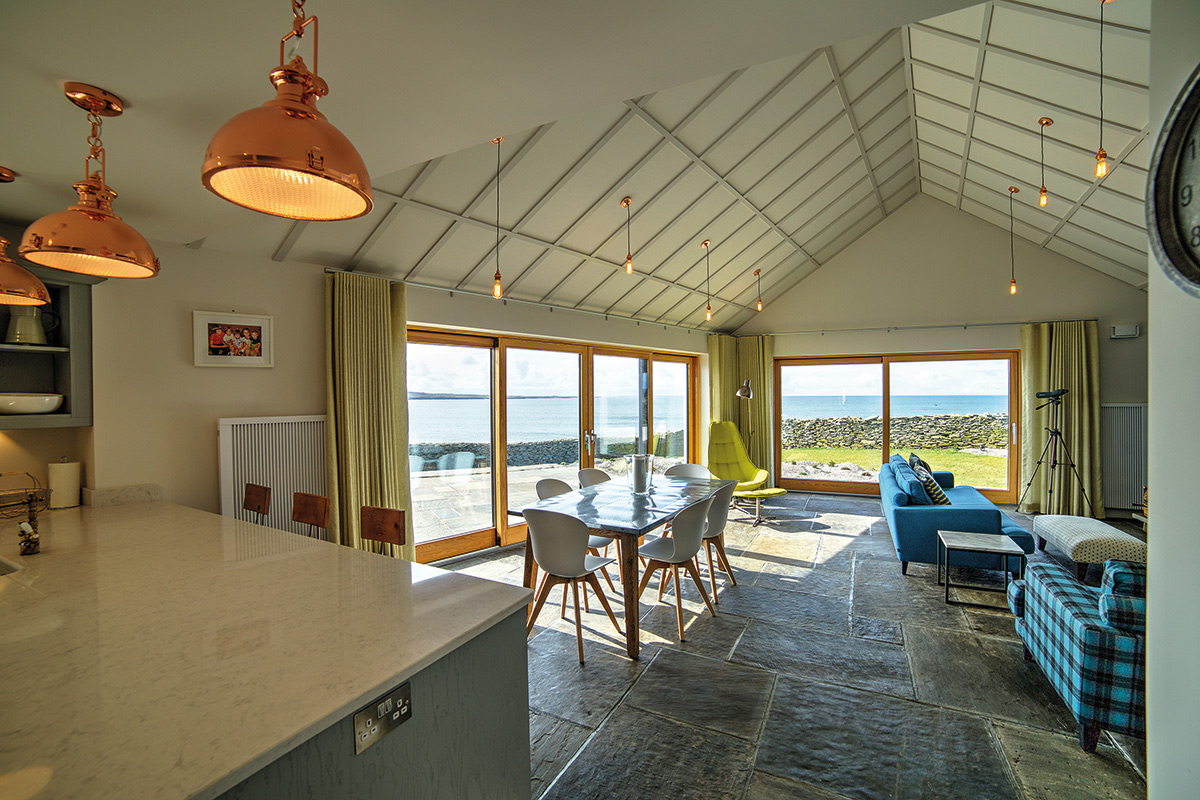 The selection and quantity of floor finish will again be dictated by the amount you will need, often including the run from the front door into the new extended area. Floor finishes can cost from €10/£8 per sqm for thin laminates to over €150/£130 per sqm for finished decorative timber floors.
Levelling existing floors with new floors, removing old floors to install underfloor heating or to replace suspended floors with insulated concrete floors to match the extension, will also drive the need for new floor finishes to complete the project.
It may be that an extension requires a new single door at the back of the property. It is often the case that by installing this one single new door, the existing doors off the same hallway can appear dated and out of tune with the newly refurbished property which has been replastered and redecorated.
It is common for a project to start with existing internal doors to be retained, refurbished and reinstalled, only for all of the joinery to be changed to new at a later stage in the project, thereby impacting on the budget.
It is important to remember that everything will feel new on completion of the works so making sure you are really committed to reinstalling old is an important consideration for ensuring budget accuracy against actual costs.
With new doors running from a couple of hundred euro supplied and fitted to over €600/£500 to €900/£800 for the supply only of a bespoke joinery door, identifying and committing to a selection of internal joinery is important to confirm the budget.
Electric Cost for Extensions
The certificate of electrical works on extensions has long been a bone of contention. The need for certification means that in the majority of instances, the entire house will need a complete rewiring. This can add significant cost to what started out as an extension project.
In addition to this, the electrical installation is also without doubt the item that is most subject to increase as it is common to underestimate the number of electrical sockets, wall lights, spotlights and so forth, until late in the project. Spending time on detailed lighting layouts in advance of works commencing will reduce the probability of a cost overrun.
With the majority of electrical items costing in excess of €100/£80 per point, the costs can quickly add up.
It is also not uncommon for budgets to forget about external lighting, which, for practical and security reasons will need to be added on. Let's not forget the desire for smart technology, sound systems, intercoms, wifi boosters and networks, electric blinds and television systems, all of which come with a price tag.
Systems
As with electrics, the mechanical, heating and plumbing works can add significantly to the cost. Depending on the extent of the system, heating can go from a simple boiler and radiators setup (which may need additional items if it needs to comply with regulations on renewables) from less than €/£10k to air to water systems with underfloor heating of over €/£30k.
When kitchens are being relocated, it is often the case that the existing gas or oil boiler or controls are relocated, underfloor heating may be added, and the condition of existing plumbing pipework and structure comes to the fore.
It is not unusual for extension and refurbishment projects to involve a complete replumb of a property and upgrade to air to water heating systems, for example, as grants are available in ROI. With the shift towards airtight homes, the necessity for mechanical ventilation systems has now become a more important aspect of building – with associated costs.
It is not unusual for figures in excess of €5,000 to be spent on a new ventilation system.
Fit-out Costs
Without doubt one of the largest cost expenditures associated with extensions will revolve around the selection of the kitchen, utility and built in furniture.
From flat pack to designer packages available, costs will be dictated by design, layout, style and finish. From a few thousand euro/pounds for a flat pack standard chipboard carcass kitchen with a laminate countertop to a hand painted in frame designer kitchen at €30,000/£28,000 and above.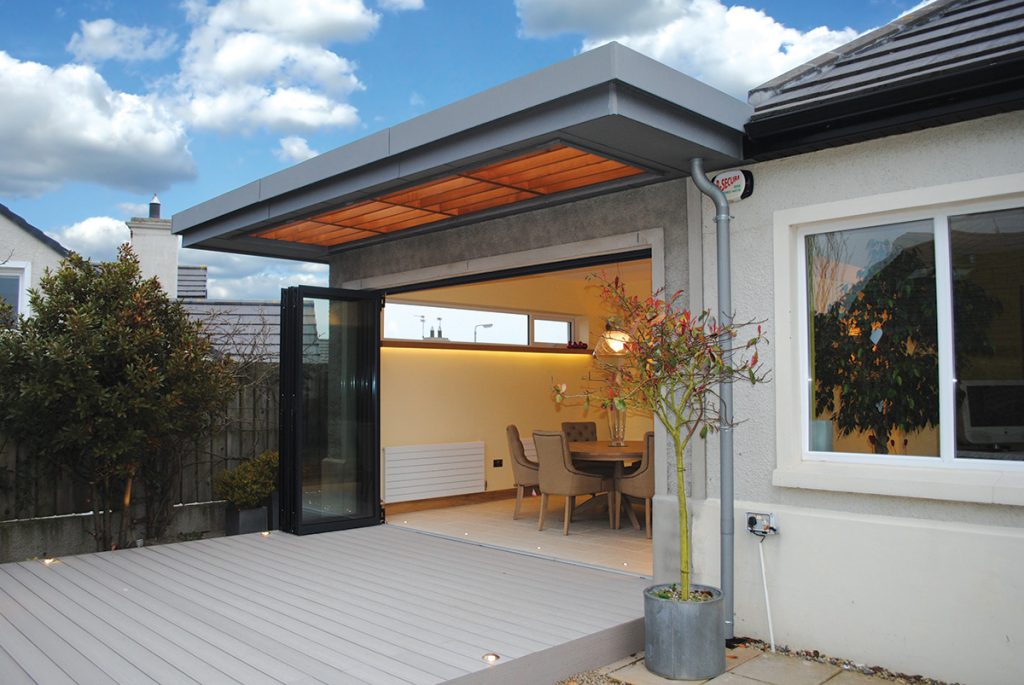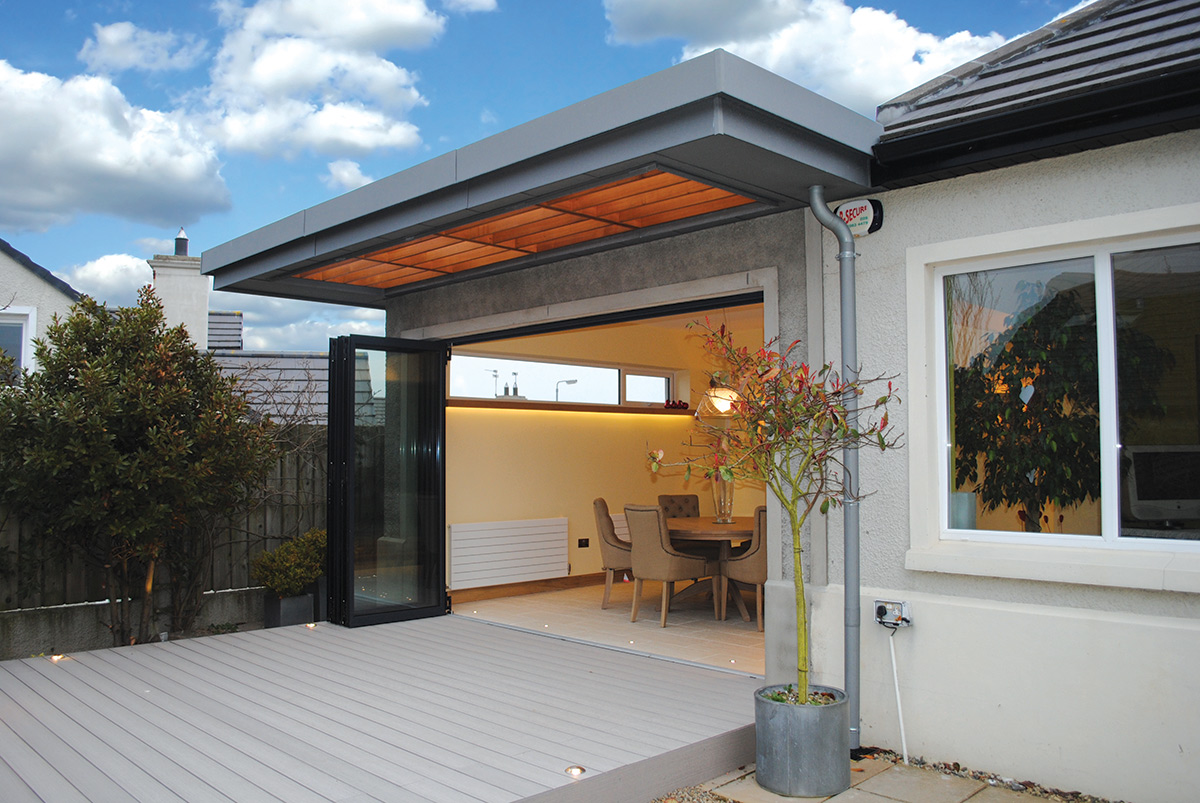 With such a broad range of options from laminate to timber, to granite, to quartz to engineered alternatives, the range of items and range of costs can run from €/£1k to over €/£15k for the countertop alone.
Landscaping Costs
For any extension project to take place, you will have to accept some form of damage to the outdoor area. Builders will need to store their materials and equipment and busy themselves with the messy work that is construction. There is no doubt your garden will be at the receiving end.
The extension may be expanding the property into a garden, and your drainage and services will need to be moved and may disrupt an even larger garden area.
It is therefore important that an allowance is made for the inclusion of a patio or paved area to the side or rear of the property. I would allow €150/£120 per sqm to include excavation, disposal, filling and a finished material.
Repairs to grassed areas, kerbing, planning, raised planter beds or the likes are regularly included in the budget to ensure immediate usability of the garden once the builders have gone. This will help protect your newly finished internal floor finishes.
---
Try our new 'Selfbuild Cost Calculator'. Fill in details and instantly get a rough estimate for your project