Thinking of buying a house to renovate? Here's an architect-led project that lays out how to do it on a budget.
In this article we cover:
Belfast terraced house renovation process from start to finish
Taking the renovation step by step
How to retain original features
How they upgraded the house to be comfortable for modern living
How they tackled the extension project
Securing the necessary consents from the planners and building control
Design for family life
What they would do differently
Specification and supplier list
Original house: 120 sqm
Extension: 24.5 sqm
Purchase cost (2012): £140,000
Construction cost: £36,000
Total project cost: £58,000 including professional and application fees, kitchen and bathrooms, finishes, full garden works, lighting, appliances, etc.
House value: £250,000
Thinking of buying a house to renovate?
Here's some inspiration from homeowners who renovated then extended their home in Belfast. The family continued renting before they could move into their self-built refurbished digs, but the result was well worth the wait.
Edwardian Belfast terraced house Renovation 2013-14
We bought this house the year we got married, in 2012. We were looking for somewhere central but with good space, potential for improvement/extension and a garden – a house in which to start a family," says Aisling who's welcomed her second child to their new home this summer.
The house had an old-fashioned décor at the time of buying, with heavily patterned wallpaper and carpets and dark furniture and colour schemes, and yet it immediately jumped out because of the amount of outdoor space – both a yard and a garden beyond – which is rare for this part of Belfast, and the potential to extend and improve. "I had the idea of filling in the yard to increase floor area right from the beginning, before even setting foot in the house. By inspecting aerial photographs, I could see other houses on the terrace had already done this in various ways, so I knew it was possible."
Buying it was complicated; a previous owner had carried out work without the correct Building Control approvals, and retrospective approval wasn't granted because a chimney breast had been removed downstairs without providing adequate support for the remaining one above. "In order to complete our purchase, we ended up paying £3,000 to have the chimney breast reinstated, at risk, in a house we didn't yet own," exclaims Aisling. "Thankfully, it all turned out well in the end."
Retaining originality
"We really love period architecture, and wanted to retain the original features the house had such as cornicing, doors, baluster and cast iron fire places, but at the same time introduce something much more open, bright and contemporary," explains Aisling. "I love the understated simplicity of Scandinavian design and its selective use of timber. Externally, the default in Belfast tends to be to extend a red brick period house using modern red brick, but that can often look unattractive.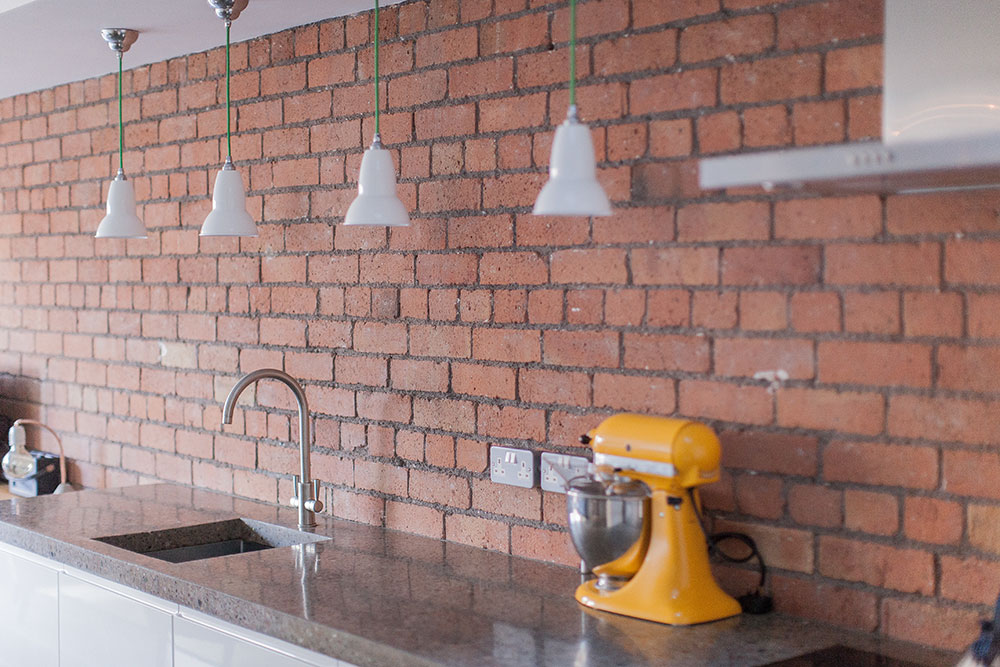 We wanted the new bit to look new, not like it had always been there, because that seems more 'honest'," she adds. Within Belfast's industrial heritage of mill buildings and factories, white glazed bricks were often used to illuminate tight rear spaces and courtyards – and so Aisling decided to use glazed brick, too – white in the internal lightwell and black to the rear. "An early conversation with a local Planning Officer suggested some potential discomfort with us deviating from red brick, but in the end we persevered and there were no issues," she adds.
"The new extension reads as an insert between the two adjacent original rear returns, respectfully stepping back ever so slightly." Inside, they aimed for a simple, stripped back interior. "The walls are painted white to maximise light into the spaces, and the original brick party wall has been left exposed to add texture and colour." "We have favoured compact, mid-century vintage furniture (often on legs to help small floor spaces feel as big as possible) and embraced an industrial aesthetic when it came to elements such as lights.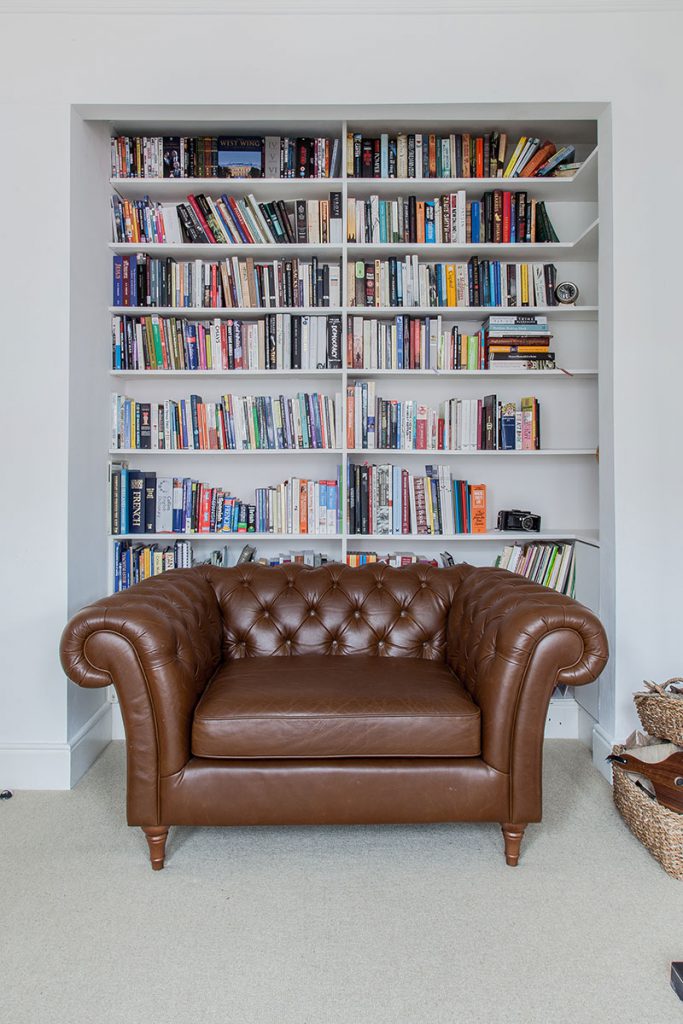 We took our time to select just the right pieces, in materials like metal and concrete." One of the most successful and inexpensive lighting features is above the dining area where Aisling used electrical conduit and bare bulbs to create a dimmable feature strip. And to make their long, narrow bathroom work well, Aisling sourced a straight-edged corner bath from a German company to give them a decent-sized, full-width bath. "It has been very successful, despite a long lead-in time which caused a slight delay," she adds.
Fine tuned
Aisling designed and detailed the extension and gained all the necessary consents (Planning and Building Control). She then put it out to tender to local contractors to construct the project, based on recommendations from friends and structural engineer found their builder in this way.
"After one meeting I had already decided that it was Ian I wanted to build our extension, because he seemed to get what we were trying to achieve and wasn't trying to convince me to downgrade our specification for cheaper items such as plastic downpipes rather than cast iron, as others were," says Aisling. "In the end he came in the cheapest, anyway, so that was good. I acted as contract administrator, overseeing the build through regular site visits and meetings."
The first step was to remove the uneven, non-original concrete floor throughout and replace it with a new, insulated one with underfloor heating for the revamped kitchen/ dining/living room at the rear. "We opted to put the insulation beneath the concrete slab so that we had seven inches (slab plus screed) of thermal mass to hold the heat from the underfloor heating for slow release – it is slower to heat up but also slower to lose its heat – we keep our heat on at a low temperature throughout the winter and have found this an extremely cosy house and very inexpensive to heat." The heat source is gas with a condensing combi boiler.
With a young child in tow, their sights were set on completing the garden fairly quickly after the build. "We did our back garden a few months after we moved in, with the same contractor, using bricks that had been removed from the house, and leftover black glazed brick for the planter/retaining wall," says Aisling. "Although it's small, we were keen to have even a little bit of grass for the kids – it's also a really cost-efficient ground covering. The manhole is concealed within the lawn."
The Verdict
"It's a lovely house to live in, and we're really happy here. One compromise is storage – now that we have two kids we could definitely do with more of it, but we have floored the loft and put in a loft ladder, which is a great help. If we were to do the project over again we might also make the kitchen roof light openable for added ventilation flexibility – you can't have too much air flow in a kitchen! But otherwise we wouldn't change a thing."
The rear yard was filled on two storeys between the house's rear return and the neighbour's. Much of the inner yard wall was removed – all of it at ground floor level, requiring a large steel beam to be installed on two columns, one of which was left exposed in the new kitchen. Some of the rear main house wall at ground level was removed, but was left intact upstairs.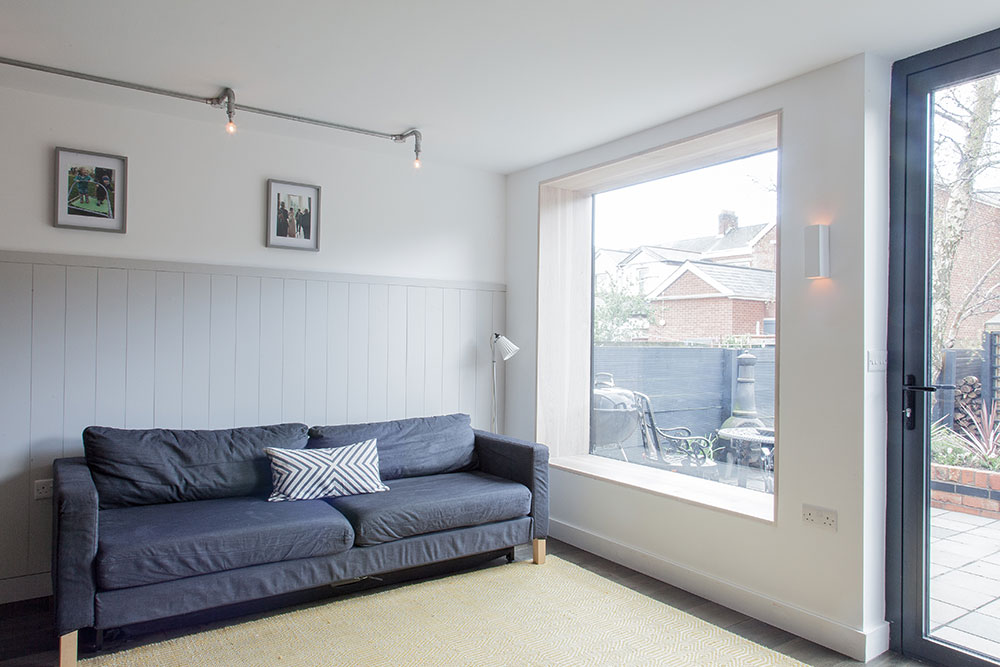 The front of the house was untouched. Downstairs, a long galley-style kitchen and outside toilet and coal shed have been replaced with a large open-plan kitchen/ dining/living space that opens out onto the garden (which was previously disconnected from the house by the yard). The new extension has a flat roof, covered in a proprietary membrane. The original front room, formerly knocked together to form a front-to-back reception room, has been reinstated, with the addition of a 'book nook' and a WC/ utility room squeezed in between the two ground floor rooms.
Upstairs, a fourth bedroom and a familysized bathroom have filled the void above the old yard. Aisling created a lightwell on the upper storey, which illuminates the existing second bedroom, landing and new bathroom, as well as the kitchen below.
As for advice to others, Aisling says it's a good idea to speak to an architect whose work and approach you like early on, who might help you to see opportunities you, or even a seller or estate agent, haven't imagined. She adds: "Make the most of what's there when looking to extend. Roof spaces, outbuildings and rear yards can provide good, cost-effective opportunities for extension/adaptation with minimal new construction; existing old walls can be left exposed to add texture and interest; and materials that are removed can be reused as a feature elsewhere, as we did using bricks from the house for our garden steps and planter."
Walls: Timber frame with outer leaf of glazed brick. Insulation 100mm PIR framing board with additional 50mm PIR attached to dry-lining board to the inside.U-value 0.16 W/sqmK
Roof: Original slate roofs retained and a new flat roof added to extension, warm roof construction, with 150mm PIR above joists and 85mm PIR between them. U-value 0.10 W/sqmK
Floor: 150mm PIR insulation under 150mm concrete slab, with 75m screed over, containing the underfloor heating. U-value 0.10 W/sqmK
Windows: Most new windows are aluminium double-glazed, (argon-filled, low-e glass with U-value of 1.6 W/sqmK), except for the rooflight and feature rear window which are frameless double-glazed units, set into metal brackets with silicone sealant.
Architect: Aisling Shannon Rusk of Studio idir, Co. Antrim, www.studioidir.com
Contractor: Conzac Construction, Co. Antrim. Ian Philpott
Aluminium windows: Alutect, Co. Antrim
Frameless windows: Kerry Glass and Glazing, Co. Kerry
Wooden floor: The Hardwood Floor Company, Dublin, www.thehardwoodfloorcompany.ie
Concrete polishing: Fegan Terazzo Flooring, Co. Down
Insulation: Kingspan K12 in walls; Thermaroof above roof rafters, Kooltherm between; floor Kooltherm K3.
German bath: Duravit, www.duravit.co.uk
Flat roof covering: Sika-Trocal, gbr.sika-trocal.sika.com
Photographer: Christopher Martin, oppositepage.com