This modern new build shows that a contemporary design in the open countryside can get planning permission, as long as it's well thought out.
In this article we cover:
Design process with architect with 3D renders
How they got planning permission for their striking new build
Choice of steel frame construction with photos of progress on site
Kitchen design and specification
Direct labour self-build: how it went, top tips
Choice of systems including heat pump with cooling function
Timeline, specification and supplier list
Self-builders in ROI often think a contemporary, or otherwise striking, design in the open countryside is unlikely to get planning permission. Yet Niamh Duffy and Gary Jordan's project proves that if you have the right architectural designer, and a clear vision for a design that will enhance the landscape, you have as good a chance as any to get the green light.
How did you get planning permission for your modern new build so quickly?
Gary: Even though the house is not in keeping with others in the area, the local county council planning officers expressed their overall approval with the design intent. The architectural statement convinced them the house would make a positive contribution to the area. Credit where credit is due, our architect Patrick put together a brilliant submission with 3D drawings, including photo montages, showing how the house would sit within the landscape. All that hard work paid off and there wasn't a single design change from the planners.
Niamh: It was always our plan to have an architect design our home. We wanted something modern and timeless that would stand the test of time and that was unique to us. We are strong believers that architects come with a wealth of knowledge and experience not only in design, but in planning too. Choosing an architect is definitely an extra investment at the beginning but it's worth every penny when you get the design of your dreams approved by your local county council.
I would recommend spending as much time as you need to research which architect to hire. We started our quest online, checking out websites and social media pages. This was a great starting point which allowed us to narrow our search down to three architects in the western region. We had an initial meeting with each of them and visited previous work they had done. The architect we chose had come from a commercial background, which tends to go with more modern finishes, so we felt like we were on the same wavelength from the get-go.
After seeing the concept drawings for the first time, we knew we had made the right choice in terms of our architect selection. He had understood our brief perfectly and brought it to the next level. It was the unique elements that he had added to the design that really did it for us – the fan effect roof in particular on the single storey side, the monopitch roof on the two storey element and the wrap around projecting canopy to the front door really set off the design, both inside and out.
How did the project get started?
Gary: We were very lucky and grateful that we were gifted this site from my dad; it's on the family farm. Niamh and I always had it in our heads to self-build and when the time was right, we just went for it. We first met with our architect on site, and we showed him things we liked, such as the mix of modern renders and cladding. I work in the construction industry and knew I wanted a system build rather than traditional block construction, because that's what I know best.
Niamh: The list of what we didn't want was longer and was in many ways more useful in crafting the design. We definitely wanted to avoid wasted space and we didn't want a porch or an A frame roof, as we felt they lent themselves more towards a traditional style house. Design wise we liked the idea of an L or U shape, to allow for the living area to be to one side of the house with high ceilings. Then bedrooms on the first floor for maximum views. The site is open on the side road, and we have no mature trees, so the plan was to orientate the house south west for the evening rooms, and have an open courtyard out from the kitchen to bring in lots of natural light.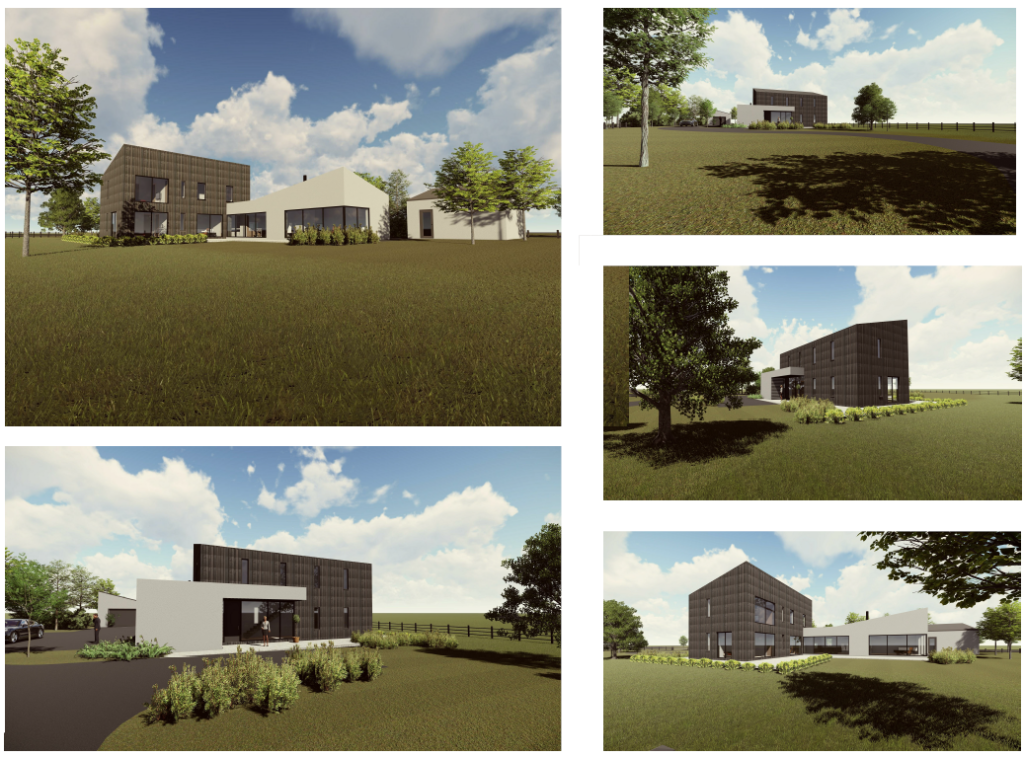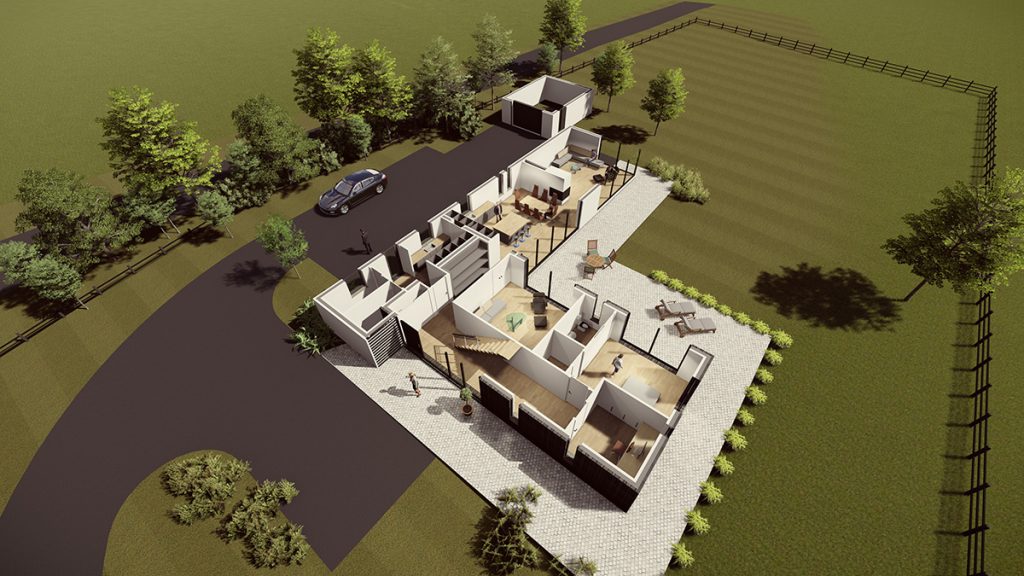 Gary: Our architect put his stamp on our ideas, and presented us with two schematics. There was a white two storey all render, the other was black one storey. There was the option of a flat or mono pitch roof. The black cladding idea came from a job I had worked on in London, and at first, I didn't think it would look right in a residential build but as soon as we saw the 3D images we were sold.
Tell us about the steel frame construction.
Gary: The company I work for designs light gauge steel frame in-house. There are many benefits to building a steel frame house: there are no block layers to source, all of the insulation is on the outside, and we had the design freedom to include large openings for the windows with the addition of structural steel. We built the roof with steel too. A couple of companies in Ireland do steel frame, and you get a kit to assemble on site.
It was a direct labour self-build, meaning we hired all of the trades, and we got a few people locally to help put the frame up. I'm 20 years in the trade so I'm familiar with how to assemble the product; we then got structural steel from a local engineering company and we got the projecting boxes for the windows from another, which we put in once the steel frame had been cladded.
Steel frame construction is a warm frame construction, so the majority of the insulation is placed on the external side. All of our roof drainage pipes are fixed to the cement board outside, hidden behind the external cladding.
How did you tackle the kitchen?
Niamh: The layout was pretty much fixed at the design stage with the architect. What we had to pin down was the style and for a few months, online mood boards were my best friends as they gave us a good idea of how we wanted the kitchen to look and feel.
I had a black kitchen design in my head for quite some time and felt it would work with the overall classic, modern and timeless feel of the house. With the white walls and large glazing screens in our kitchen/living areas, we knew we could get a dark colour to work in the space.
We priced two kitchens, and went with a local company that had done my sister's house some months previous.
The main dilemma I had with the kitchen design was choosing the stone for the worktop. I had numerous samples from our local supplier in various light and dark colours. Choosing internal finishes can be extremely daunting given the amount of choice out there but I eventually went with the light colour as I felt it would complement the black units and bring a nice balance to the overall design. It has a beautiful gold vein throughout to complement the brushed brass handles.
In the utility/pantry we went with sleek white handleless doors with J grip handles. They are again floor to ceiling units finished with quartz worktop in a snow storm white, which was a slightly more cost-effective choice in comparison to the kitchen. Every bit of savings helps when it comes to internal finishes.
How does the house perform in winter and summer?
Gary: The house has an A2 energy rating bordering on A1, and thanks to the glazing on the southwest façade, we have very little heat loss. So little in fact that for our first winter, our underfloor heating only came on a select few days when the external temperature was well below zero. It's very comfortable in winter; all of the rooms are the same temperature thanks to the heating controls and the ventilation system with heat recovery.
But we do get overheating if the summer is very warm and the sun is bright. Our first summer we had to switch on the cooling on the heat pump in August, as we had that add-on installed. That meant we never had uncomfortable nights. We had looked at shading at the early design stage, but it would have taken away from the look. A balance had to be struck and it weighed in favour of the aesthetics.
Follow Niamh and Gary's project on Instagram @modern_monohome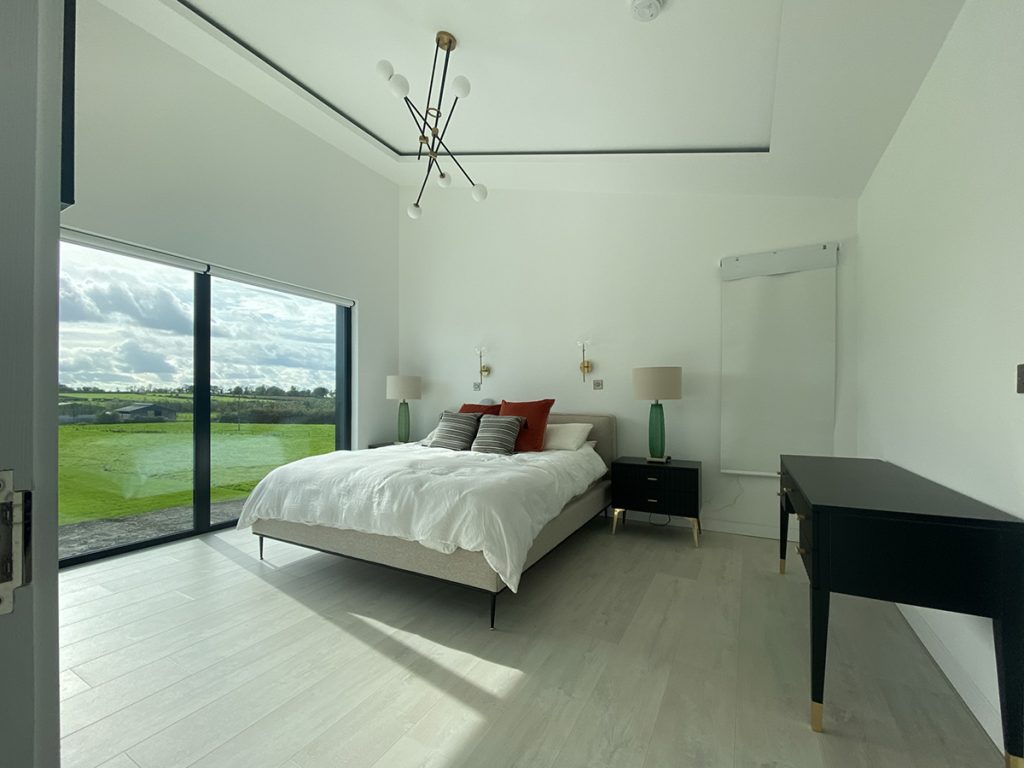 Niamh's tips

Invest in a lighting consultation. Artificial lighting is really important once you move in – where exactly you want it, and also choosing the right type of lighting for each room/area. Because we have so much glazing throughout the building, natural light is not an issue so we could have put in less spotlights and possibly more task, mood, and wall lights in certain rooms. Even though we had a great electrician and good overall electrical layouts completed, I don't think you could spend enough time reviewing these as they are quite difficult to visualise.
Interior choices. Spend the time researching and analysing the overall look and style you would like to achieve room by room at the initial design stage. Create mood boards and order samples to help you visualise the space. Consider what colours, fabrics and materials work well together and just make it your own, there really are no rules, it's just a matter of getting an eye for it and what you love in your own home.
Pick out internal finishes early. The steel frame structure went up so quickly, I had to do a lot of research into finishes in a short time span. It was constant decision making for six months; thankfully Covid then gave us the breathing space we needed. That time gave us the opportunity to make lots of changes to our tiling arrangements and bathrooms/ensuite designs. We picked a whole new scheme, and we're so much happier with it. Covid also allowed the concrete floors to dry naturally before polishing. That said, we were pretty frustrated as lockdown hit within a day of getting power on in the house!
Keep an open mind. Even though there was a lot of forward planning, we adapted the staircase design based on a conversation we had on site. At the groundwork stage, the person who poured our raft foundations showed us work he'd done with concrete board marked walls. The more we talked, the more we realised it lent itself to our idea of floating stairs. The original plan had been to put up a blockwork wall to sink the supports for the floating stairs, but this solid concrete solution seemed way more rigid and provided an instant finish. We then bolted steel treads into the wall, and clad the treads in oak so all you can see are steps going up.
---
Suppliers
Architect
Patrick Broderick, broderickarchitects.ie
Kitchen
Flannery Kitchens, mobile 086 195 3008; Kitchen is from the Tavola range.
Countertop: Dekton (Entzo from the Natural Collection) by Cosentino, cosentino.com sourced from Feelystone, Boyle.
Downdraft extractor: Elica, elica.com.
Hot water tap: Quooker, quooker.com
Stairs
Geraghty's Design and Install, Galway, geraghtyjoinery.com
Windows
WRL Galway, wrl.ie
Fibre cement cladding
Cedral (black), cedral.world
Flat roof covering
Gerard Nolan Roofing; Trocal, irl.sika.com
Polished concrete
Barry Ryan, Schrule, Co Mayo, barryryanconcrete.com
Electrician
David Regan Electrical, mobile 087 2393358
Plumbing/heating
Joe Madden Renewables, mobile 087 7921581, MVHR: Renson,
heat pump: Mitsubishi EcoDan

NI calling ROI prefix with 00353 and drop the first 0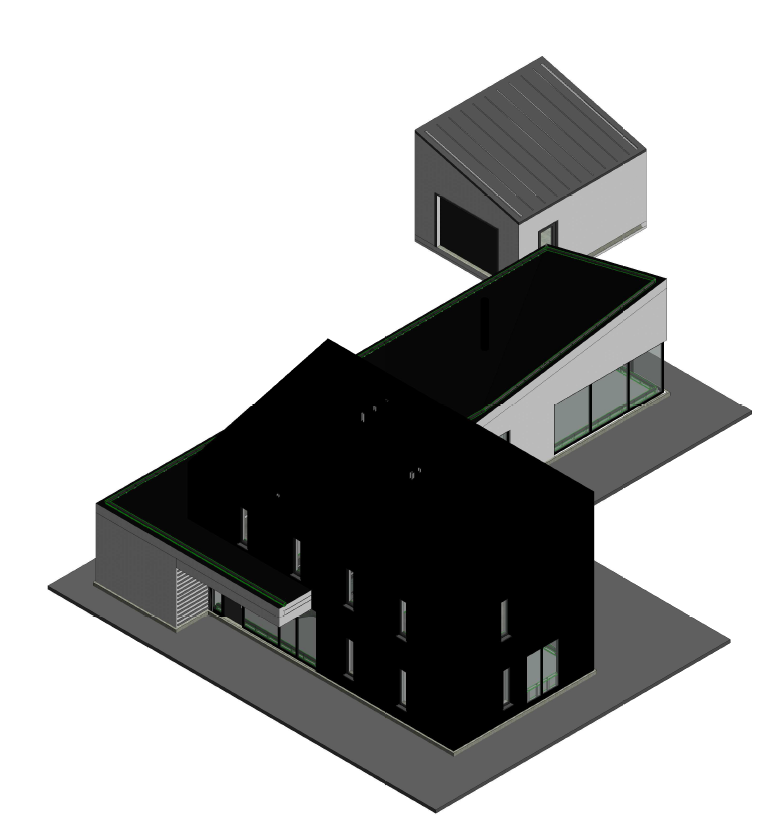 Walls: skim on plasterboard, steel frame and studs filled with 100mm internal mineral wool insulation board, sheeting board, 200mm external mineral wool board, insulation render, fibre cement cladding. U-value 0.11W/sqmK

Roof: skim on plasterboard, 200mm mineral wool insulation board between 200mm steel joists, 18mm plywood boards, 150mm mineral wool rigid insulation, membrane roof with standing seams. U-value: 0.10W/sqmK

Floor: 125mm PIR insulation with 100mm concrete screed polished in a bronze matt finish.