Alex Cullen and John Kilkenny bought a 100 year old house in Dublin city centre to do it up as cost effectively as they could. The result is to die for.
"We bought the house when we were young professionals, pre children," says Alex. "We were renting at the time, in a house share, and wanted to buy something of our own. But the area we lived in at the time was beyond our budget. By chance, we came across a small house that had the potential to tick all of the boxes."
Overview
House size before: 70sqm
House size after: 90sqm
Atrium size: 15sqm
Bedrooms: 3
House cost: €355K
Project cost: €150k
Value: €600k
Heating and hot water: Gas combi boiler (space heating) with heat pump (hot water)
Ventilation: Natural
BER after: B1
Build method (upper storey extension): Light gauge steel
"It was only because we were living on the same street that we saw the sign go up on the house," says John. "We were lucky to be there to see it."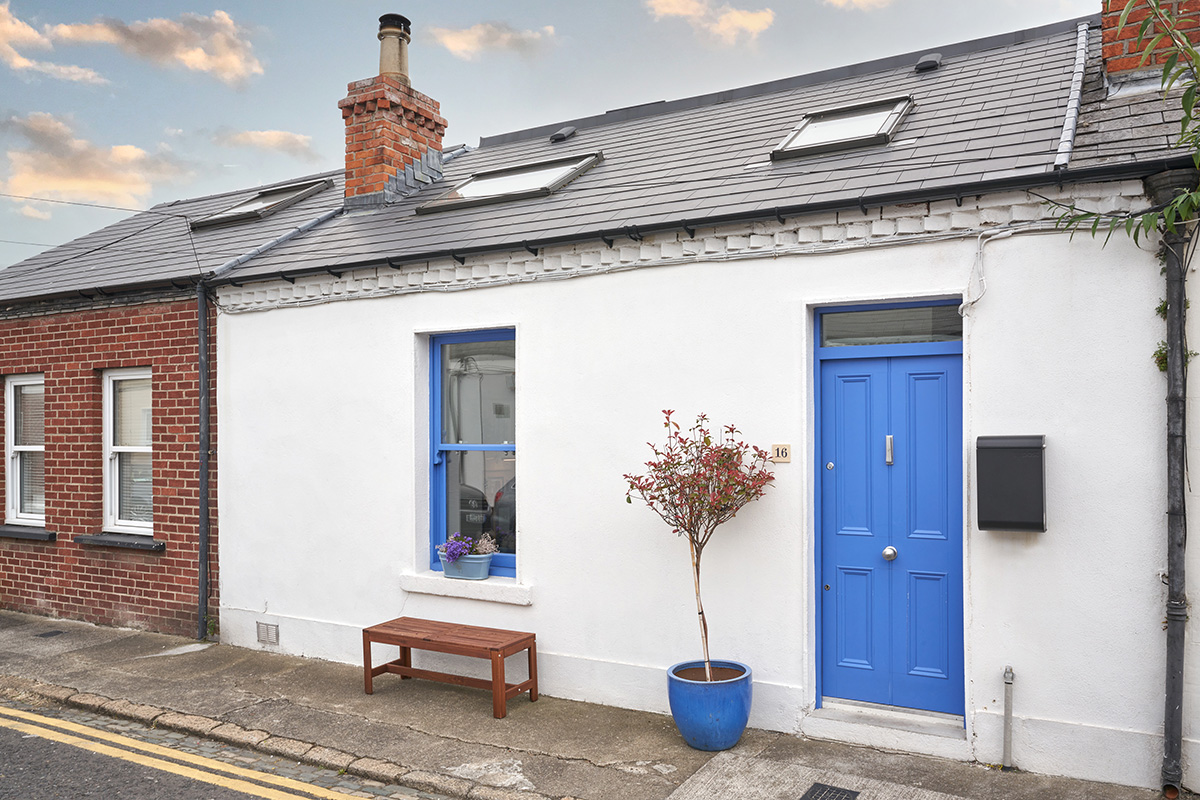 "My brother Marc is an architect and he told us it was a really good site and that it was an ideal renovation project. He had ideas about how to bring in light, and advised us to go for it," he adds. "Despite its size, seven children had lived there; extensions had been added on in the 1960s and 1970s." 
100k budget
"It was an ambitious project from the start, as we only had €100k to do it up," says Alex. "We started off with Marc helping us put our ideas on paper. We wanted an open plan, contemporary cottage feel. We wanted to maximise the available light, with a focus multi-functional living spaces and designs that would maximise the floor area we had."
"In response Marc included a lot of small design features that achieve this; there is an enclosed pantry that provides plenty of storage for food and also doubles as a utility with washing machine, boilers, etc."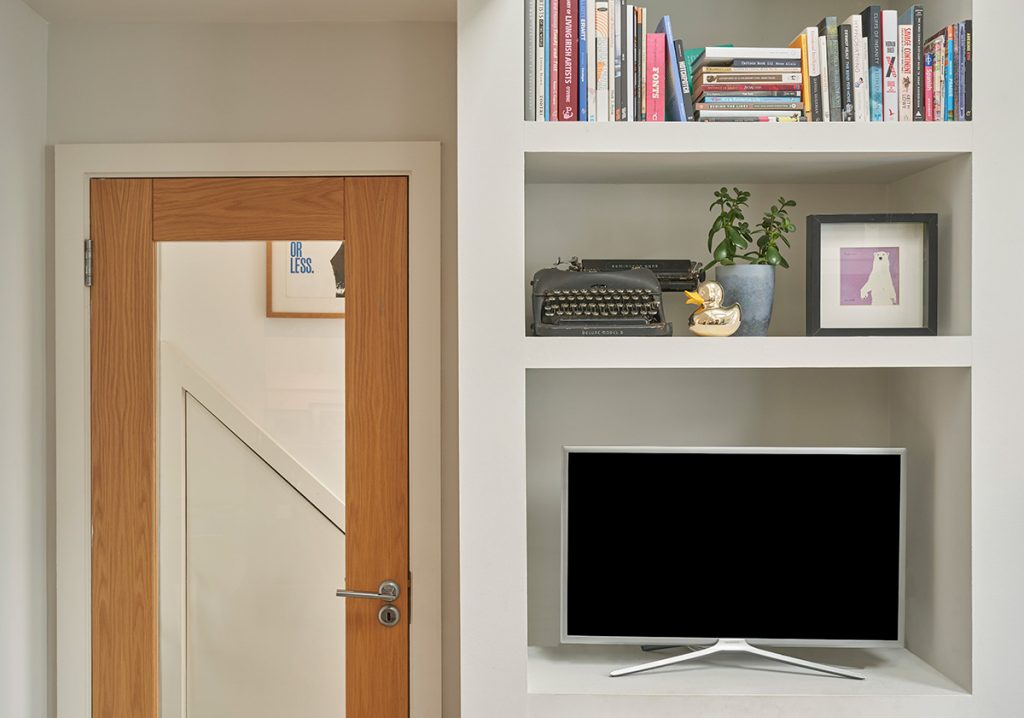 "The custom built wardrobes, added in 2018, in the back room are also designed to maximise storage and still look neat as they are seen at all times. The cloak/ coat/ shoe space also had to be custom built to get the most out of the space. Then the steel frame extension overhead allowed us to fit in storage nooks."  
"Marc had a clear vision of what he wanted to achieve, and I would define our relationship as one with healthy tensions between our needs and what we could afford," says John. "We made some structural changes to the original plans to make savings. Upstairs, for the extension, we had a couple of different ways we could go with the shape and that was only tweaked slightly. There weren't that many design iterations."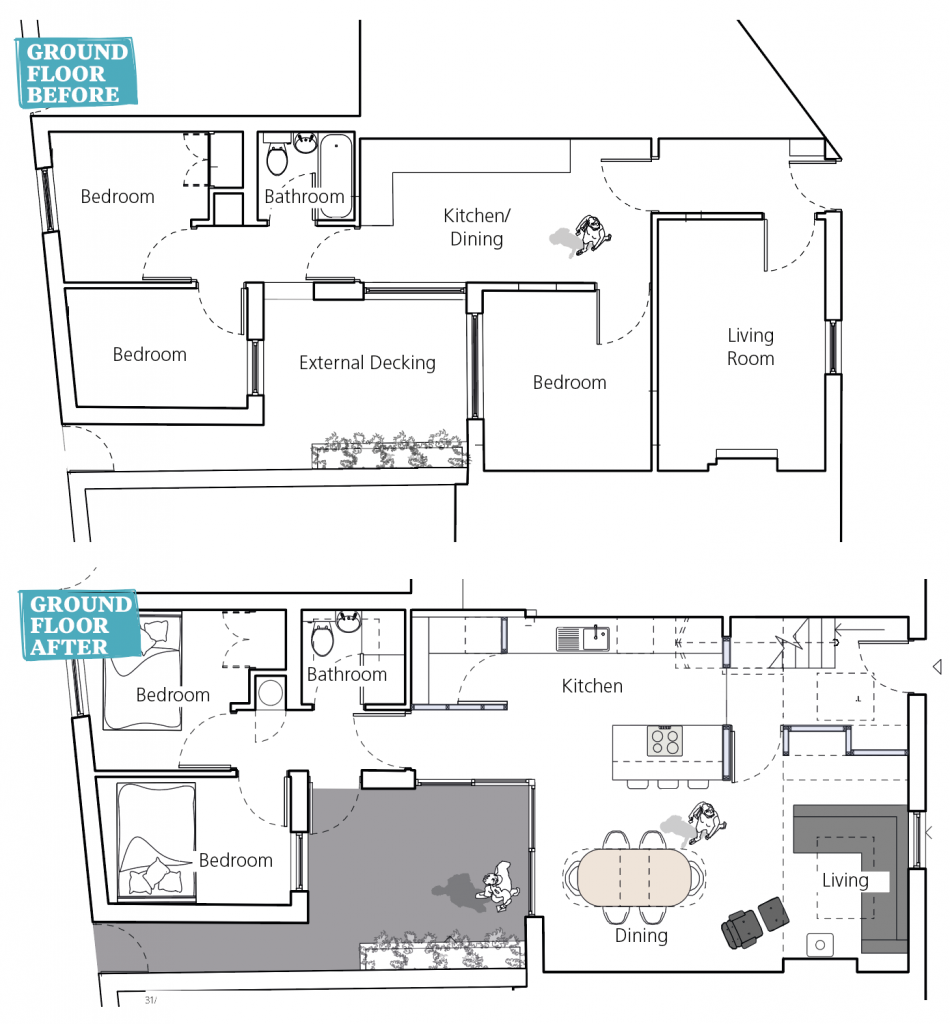 "Meanwhile, the sale took a while to go through the executor of the estate, and we had nowhere to live so stayed with family and friends for different periods of time," says Alex. "Then when we got the keys, we rented the house out on a six-month contract while we were waiting for planning to come through. The council had some questions, we had to redo the advertisement. There were a few delays like that, but we eventually got approval." 
"Once we got planning permission, the first thing we did was file our commencement notice on the back of Marc's construction drawings. We gutted the house; all that was left were the roof and the walls," says John. "The lime plaster render was redone on the front of the house on Marc's recommendation, to preserve the existing cottage walls."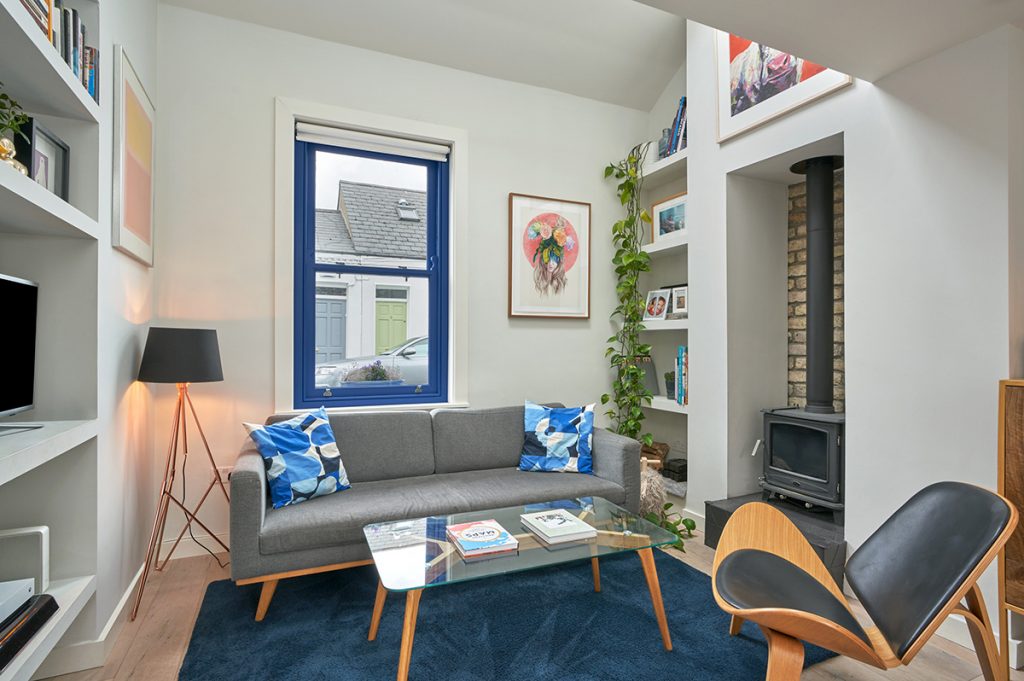 "We then basically had a shell to work with," says Alex. "So we dug down 1.5m and had the floor insulated, reinforced and fully repoured, all to current building standards, gaining some head height in the process. The majority of the rebuild was done with a mix of timber and steel framing. The engineer specified the type of RSJs we would need for reinforcements. We re-roofed the existing cottage and a composite panel was put as the covering plus the flat roof construction on the upper floor extension. An alu-zinc cladding covers the rear of the second floor extension."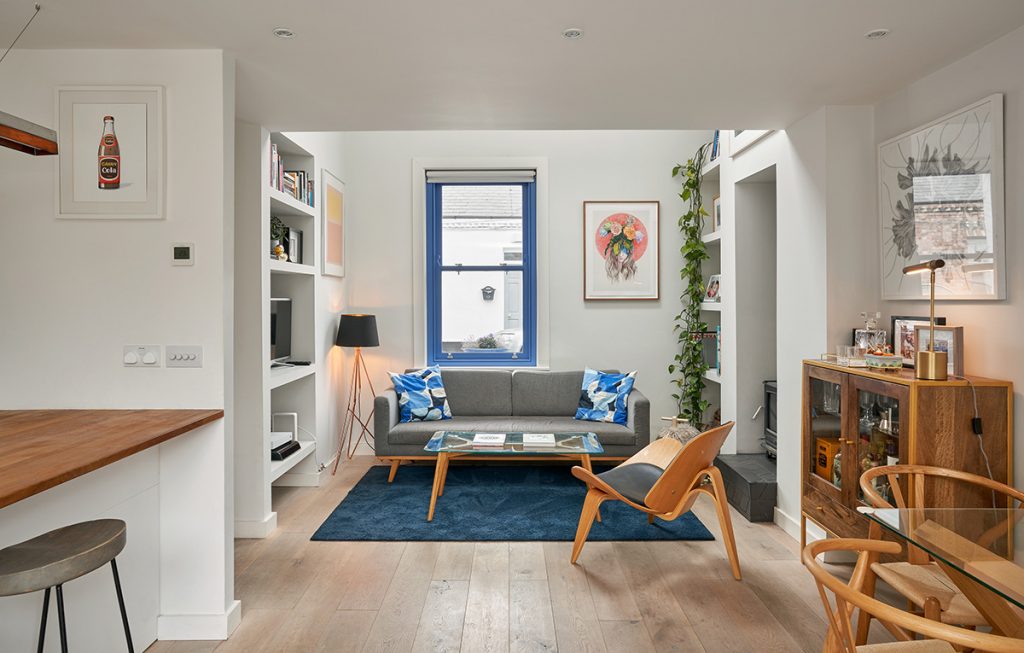 "Choices like the traditional sash windows and the wood front door, as well as aluclad windows for the back of the house, were all choices that Marc helped us make. Marc guided us on every aspect, and he was always available to discuss and advise." 
"The plumber helped devise the heating system; we have a combi boiler, as we're on mains gas, with underfloor heating throughout and electric heaters upstairs (radiant heat panels). We also have a heat pump for hot water."  
"We would have liked to get a builder to do all of the work," says Alex. "But we got prices from three of them: they were too expensive and couldn't commit to our timescale. Going direct labour was a necessity from a budget point of view." 

Direct labour
"While we had the demolition underway, we organised the labour for the different points. Alex took on the role of project manager of the build, with heavy supervision and guidance from Marc and other family members. She does this type of thing in her work so it made sense to apply her skillset here," says John.
"Most of the suppliers and labour were arranged via family members or recommendations from friends," says Alex. "The thing I wish we had done was listen to our gut a lot more, as we should have gone a different way on some elements. As novices, we listened to the advice of the tradesmen, which we often caught on the hop. But now with a bit more experience, if we were to do it again, we would trust ourselves more."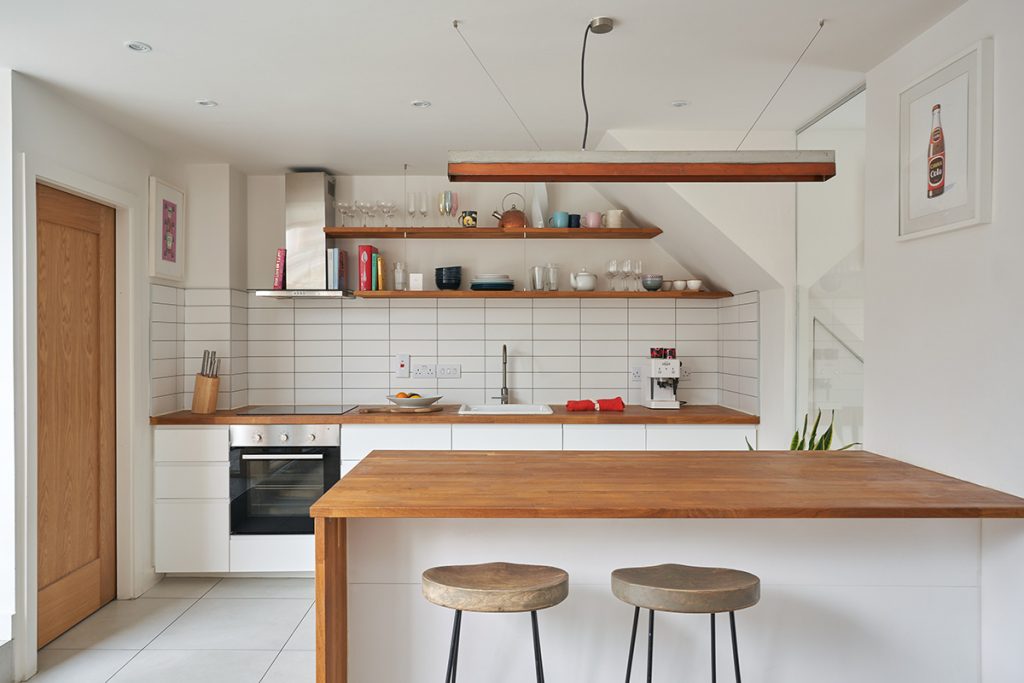 "An example of this is the skirting boards. We wanted shadow gaps, as in no skirting boards, but for one reason or another we were told we couldn't have them. Then for the floor, we wanted an engineered wood in a herringbone pattern but we struggled to find one that would be fully compatible with underfloor heating." 
"Granted, you can find whatever you need in Dublin but that always comes at a cost. For some things we did buy local because of the time pressure we were under." 
"Then there was a stage where we had to break for five to six weeks as contractors had another job to attend to," she adds.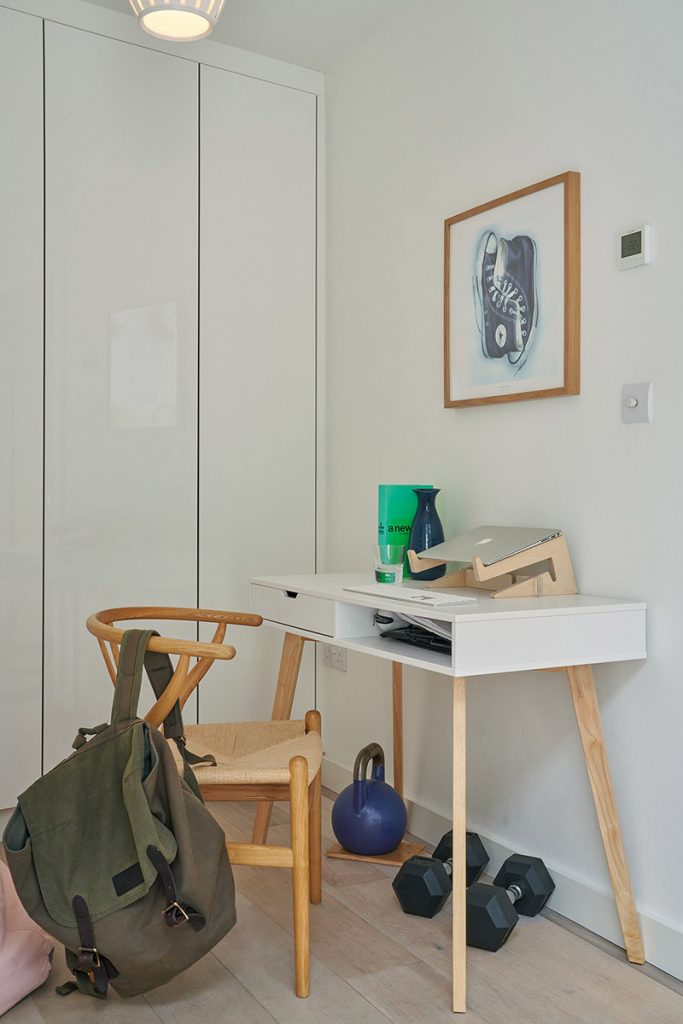 "Some costs were higher than we had expected, all of which was eating away at the budget. We managed to save on certain things like getting a flat pack kitchen and sticking to simple finishes. We made every effort to get everything as well priced as we could, but we still went at least 30 percent over budget, which in turn meant we had to refinance." 
"Some things were worth the investment; the floor and lights were definitely a splurge, and even though we knew we weren't building a house for life, at least the next homeowners will benefit from them. We finished the house in such a way that anyone can come in and put their own stamp without it necessarily costing them too much."  
"An added challenge was that, this being an old house, there are no square angles," says John. "These imperfections have been covered up by good carpentry. We also made a feature of the stairs which includes storage underneath. Originally it was a visually difficult space to work with, but by harnessing natural light and clean details it makes the hall feel large even though it isn't."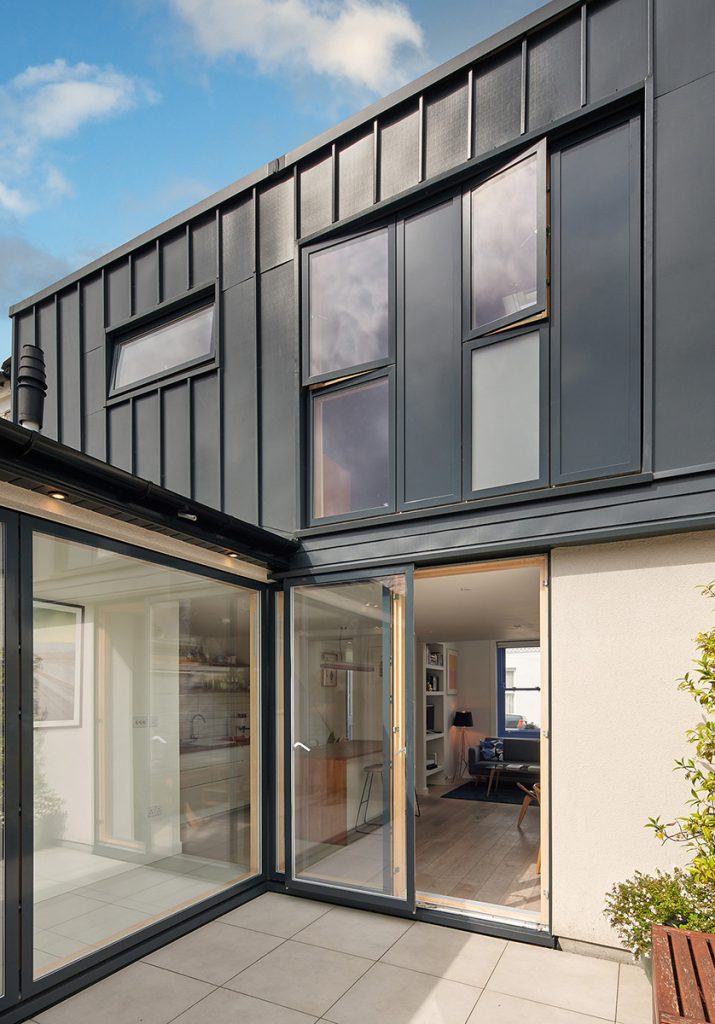 "We really came to appreciate the atrium during lockdown," he adds. "We used it more in the 14 months of Covid than in the previous four years. In general, the pandemic really brought to the fore how, for a small house it functions really well."  
"If we could magically extend the house by 20 or 30 percent, we would love to stay here. We love the area and our street," says Alex. "We just need a bigger site, even from the point of view of where to store the bikes. I think even twice the size might be too small!" 
"But we're so grateful to live here," she adds. "We love the house and it works very well for us. It provides exactly what was on the brief all year round."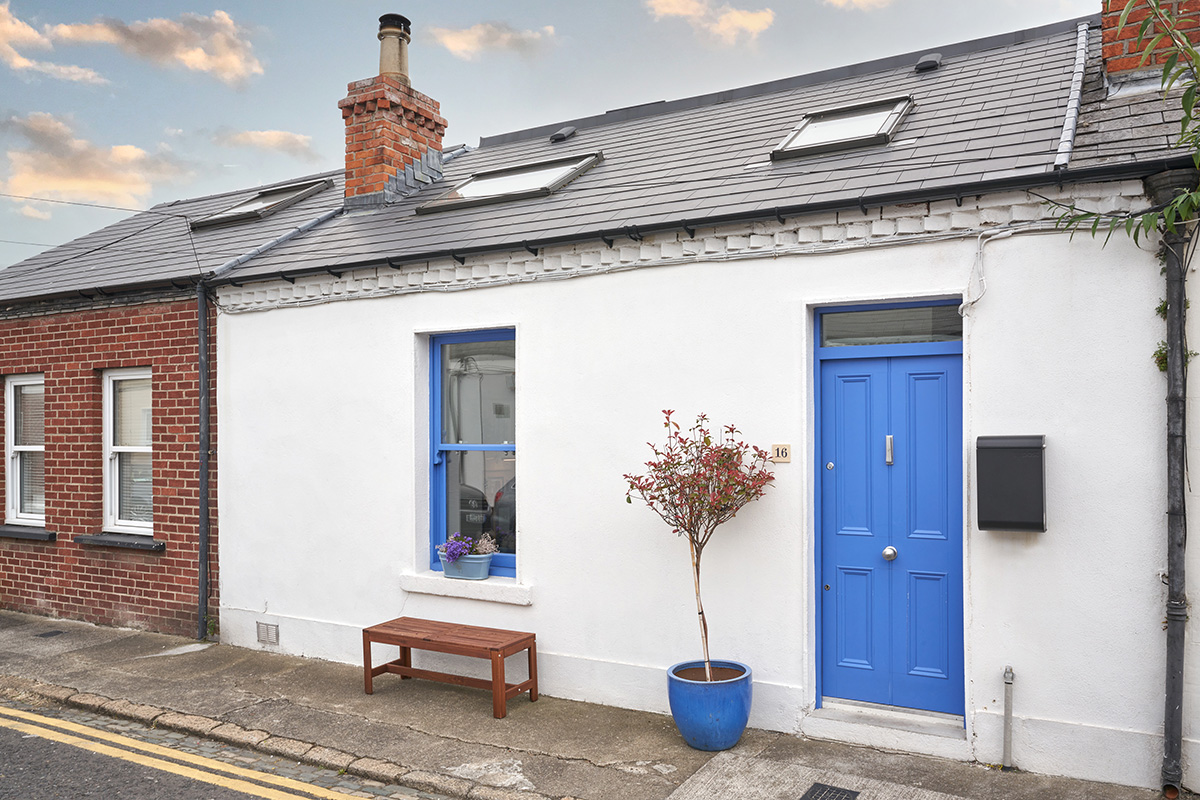 ---
Suppliers
Architect  
Marc Kilkenny, marckilkenny.com 
Windows 
Velfac double glazed aluclad from Teroco Windows, teroco.ie 
Lighting 
gantlights.de and John Lewis  
Roof windows 
Velux, velux.ie
Sanitaryware 
hurst.ie
Flooring 
irwintiles.ie and tilestyle.ie 
Kitchen 
IKEA, ikea.ie
Electrical Suppliers 
Phibsboro Electrical Suppliers, pewl.ie
Furniture 
swoon.com, made.com, habitat.com, ikea.ie
Photography
Gareth Byrne, garethbyrne.com

ROI calling NI prefix with 048, mobile prefix with 0044 and drop the first zero