How Kirsty Tumelty tackled her Victorian renovation project in Belfast one step at a time, starting with emptying the house.
In this article we cover:
What made them buy this house over others they'd seen when house hunting
List of DIY tasks to save money
Doing up the house room by room
Replacing the windows
Renovating the bathroom with a builder on board
Small kitchen design tips
Top tips for anyone new to renovating an old house
My partner Gary and I had lived in a rented apartment and didn't think about moving for a long time," says Kirsty. "We went to view a few houses to see if we might be able to buy something; we were on the lookout for a Victorian terraced house in particular."
"All of the properties we visited were very different. The one thing they had in common was that they were all done up. There was one exception, and that's the house we bought. It's funny how people say that as soon as you enter a property, you fall in love. We thought the opposite when we first saw it. Our initial thought was, it's awful, we hate it!"
"So we kept looking and saw other nice properties. But for some reason, we couldn't stop thinking about this one. And so we eventually decided to put in an offer. We thought it was overpriced so we put in a lower offer, and ended up in a bidding war. We eventually won, and moved in for a month to get to know the place."
"The first thing to do was tidy up. The house had been rented, and we got rid of everything including carpets. That meant a lot of skips and a lot of trips to the dump. We're in the middle of a terrace but thankfully there's an alley at the back. The garden was also a mess, so we had to get rid of weeds, everything."
Action plan
"The first thing we did was sort out a leak, and then came up with a plan to do up each room in succession," says Kirsty. "We did as much as we could ourselves; the only trades we had to hire were a plumber and a plasterer. Later on we also got a builder in to do all of the work in the bathrooms as we felt that was too much for us to take on."
"The plan from day one was tackle the renovation room by room, as we could afford to. We moved the kitchen facilities around the place, but as it was just Gary and I, it was manageable."
"We decided to tackle the living room first," she says. "We needed somewhere to sit. And it felt like the easiest of all the rooms to do – it was pretty much a space ready to be cleaned and decorated. The internal walls had already been knocked, and the other walls only needed to be plastered. So it was a good place to start, and to get a feel for what we were up against."
What they were up against was lath and plaster. "Most of the rooms had to be stripped back to the bare structure. Getting rid of lath and plaster was pure mess and dust," says Kirsty. "Any wall or ceiling in good condition, we skimmed. But there was a lot of stripping down needed, which on the plus side gave us the opportunity to add some insulation on both the ceilings and walls."
"The insulation has made such a difference in comfort. We do pay as much in utility bills as we did before we renovated, but Gary works from home now so that could have something to do with it."
"Surprisingly, putting in new studwork and moving plumbing was actually easy, as we ended up replumbing the property anyway. We changed all of the radiators but kept them to the same size, and only had to reposition one, in the kitchen. We also got some electrical work done, such as adding an electrical box and earthing."
"The windows we chose based on their performance," adds Kirsty. "They're all hardwood double glazed and in the kitchen it's uPVC. We kept some of the draughty windows, which we resealed and painted. One of the bedroom windows is still a bit draughty."
"Since we finished the renovation in 2020, we've turned one of the bedrooms into an office and did up the living room again. We didn't want grey anymore. Also, the living room had been our kitchen at one point so it needed a bit of a facelift after that experience."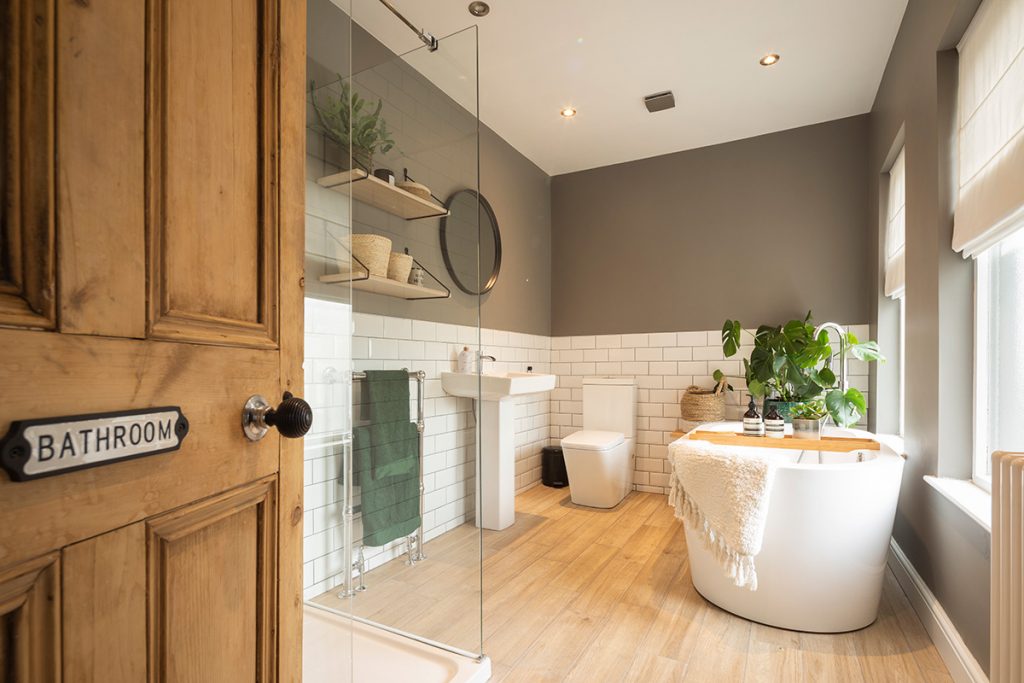 Bathroom and kitchen
"I like things to flow, and I knew I wanted tiles for the bathroom," says Kirsty. "I had seen a wall half tiled on social media that I really liked. I was worried about the price, and doing it half tiled, so changed the layout of the bathroom, which meant more space for the shower. We had looked at a claw foot bath but it was just too big, and we use the shower more anyway."
"As a result we went for a more modern, slim design. That said, we didn't know how much it would cost and it came in so much more than we thought! Our quotes were all over the place, with some builders charging almost twice the price of the company we went with."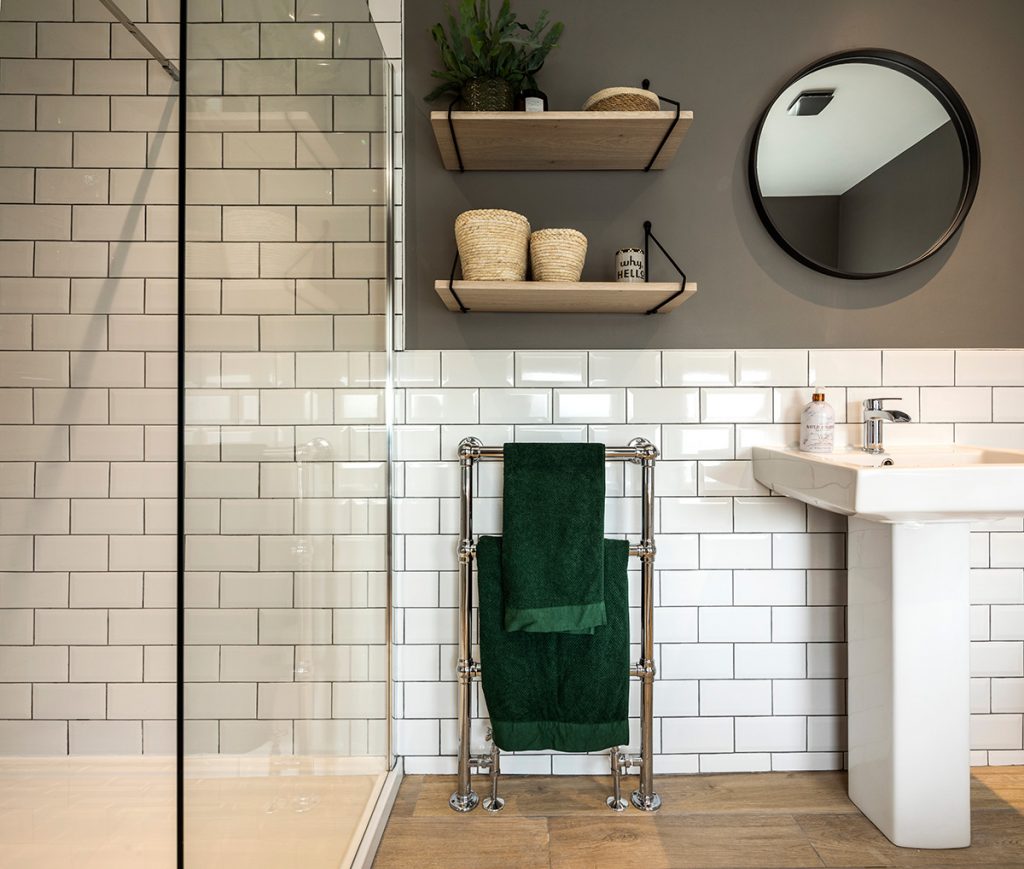 "We put in place a contract with the builder, who drew the construction plans up. It was handy because they have an office close by. Still, it took forever for them to build it, but thankfully we only had to move out for a month, to my parents'."
"Fixed price is more expensive but there was a lot of skilled work involved, that we didn't feel confident to take on. Initially we didn't think we would need to strip the walls back to the brick so that added to the cost as well."
"We had bought part of the bathroom online and sourced the shower for a better price via the builder, who also supplied the spotlights."
"We found it mostly ok buying online, as we stuck to outlets we were confident could match our expectations with reality. For the shelves, for example, we got a nice piece of wood from friends and bought the brackets online. All of the radiators were bought online too, and they really suit the house."
"It was good to do the renovation in stages, not just from a financial point of view but because I feel if we had done it all at once we would have made mistakes. What we thought we wanted at first wasn't right."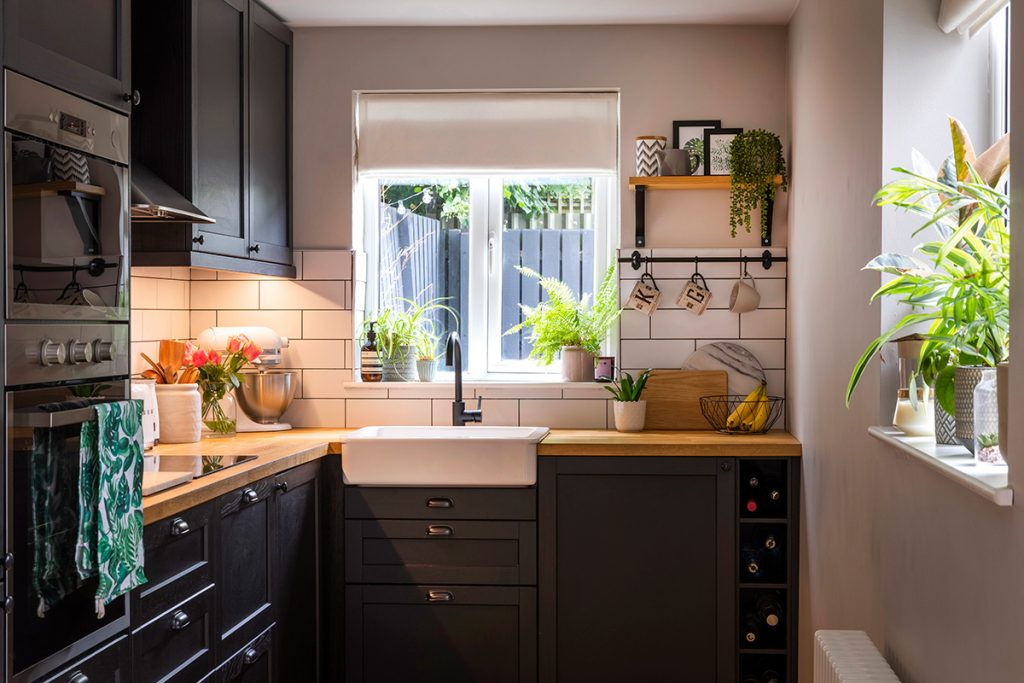 "That was especially true of the kitchen. I always thought I wanted to get a grey gloss Scandinavian kitchen, now it's black shaker style. As time went by, I changed my mind."
"The main inspiration for the kitchen was actually visiting the showroom. We went straight for what we wanted. We have a galley kitchen, and really do recommend drawers as they can fit a lot more than cupboards. We switched from a U shape to an L shape which I feel works so much better."
"People ask me why I got rid of the cupboard space next to the window – the reason is, it feels so much bigger without them."
"Looking back, we were prepared for hard work, but were surprised there wasn't much structural work to get done," says Kirsty. "It was pretty plain sailing from that point of view."
"What's really strange now is that it's all done. It feels weird; I really can't believe it. It's funny because when you're in the midst of it you can't wait for it to be over. And to be honest, it feels good to be able to spend on holidays now, instead of the house."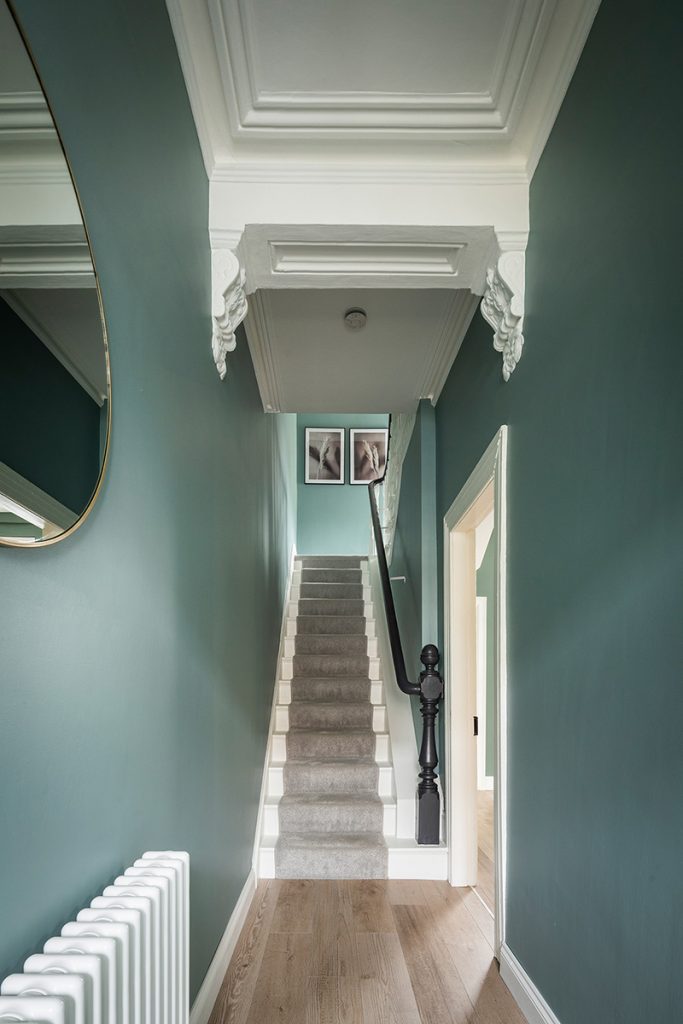 "Actually due to Covid we did the hall, stairs and landing much sooner than expected, otherwise we would have been holidaying in the USA."
Follow Kirsty's journey on Instagram
Q&A with Kirsty
Would you do it again? 
Yes, but it would have to be another renovation, preferably a period property.

What would you change?
A bigger kitchen would be nice – we could extend to the side to make it wider, but that would be a lot of work (and money). 

What are your favourite features?
Our bedroom, I love the fireplace with art deco surround. The tiles themselves are very intricate, with painted details. For the walls, light peach blossom as a colour was not in the original plan but I love it; it's a grown up pink. The sulky room prints on the wall tie in really well. 

What surprised you? 
One of our biggest splurges turned out to be the paint, as we did do the whole house in top end brands. It was only going to be the one room at the start and it snowballed from there. Even at that, we never thought our paint budget would be so big. 
Kirsty's tips
Stick to your guns. Our aim was to keep the coving, cornicing, corbels. Our plasterer and builder would roll their eyes when I told them they had to cut around these features.
Don't impulse buy. You might be tempted, really tempted, to buy things to just get the project done. We had no ceiling lights for two years, but it was worth the wait.
Be organised and tidy to survive living on a building site. We had a mini shed on our landing, which was really useful.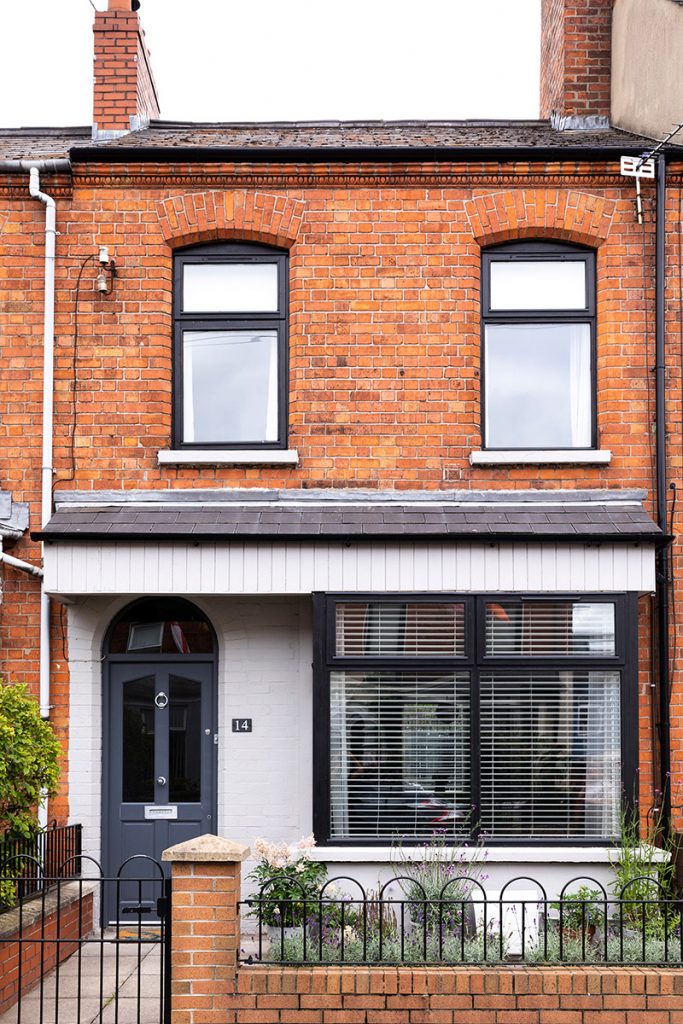 ---
Suppliers
Radiators
Screwfix, screwfix.ie
Kitchen and appliances
IKEA Belfast, ikea.co.uk
Shower cubicle
Alexander Kitchen and Bathroom Solutions, Belfast
Flooring 
Living/dining area, stair runner and landing carpet from City Flooring Centre, Belfast. Kitchen floor tiles from MacBlair Builders' Merchant. Kitchen wall tiles and bathroom floor tiles from TileMarket. Bathroom wall tiles from Homebase. Bedroom carpet from Martin Phillips, Newtownards.
Paint
Farrow and Ball, Little Greene and Dulux Trade