There's a lot of electrics in the kitchen, from appliances to sockets. But music systems and undercounter and inbuilt lighting could also readily be added to your list. You need to know what you want, and where, at the earliest design stage.
Lighting
On self-builds, hiring a lighting designer is not the norm but it's worth considering if you have the budget. Lighting may seem easy but it's actually quite tricky to get right.
Effective lighting is a must in kitchens, both for functionality and to create atmosphere, with mood lighting particularly important in open plan designs.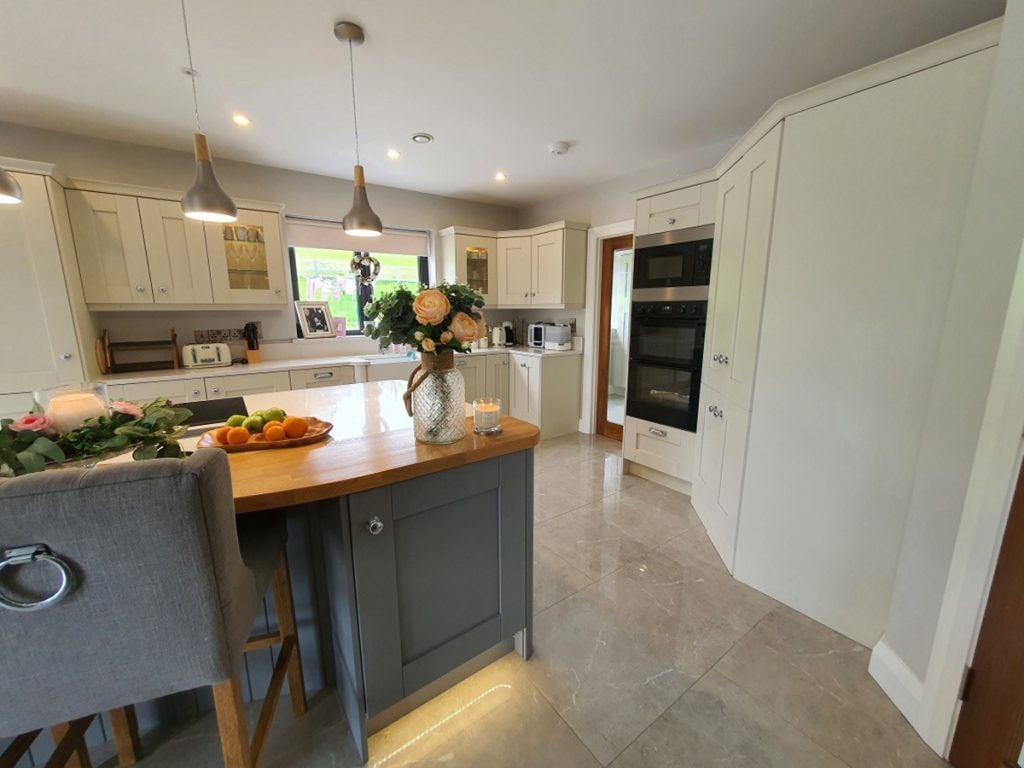 Task lighting normally involves white lighting for food preparation and other activities where clarity is needed. Warmer ambient lighting promotes relaxation. Dimmer switches for mood lighting can work especially well in an open plan area, as this becomes important when the family winds down and prepares for bedtime.
If the kitchen is in a darker part of your home, you can create a feel of natural light by adding fluorescent or LED tubes over cupboards; the light will hit the ceiling which can be painted in light reflective paint. This will bounce the light around the room, providing indirect illumination. For a conversation point, suspend a light box from the ceiling.
Undercounter and inbuilt lighting is an integrated part of any kitchen design at present, with most kitchens now including some element of lighting feature.
From lights in glass door cabinets, integrated lighting on the splashback to undercounter strip lighting, costs can vary greatly depending on the extent and quantity of lights designed.
With shelving, consider introducing an LED strip in a groove, to provide task lighting. Deep drawers will benefit from adding LED strips inside them too; lights in kickers and pelmets are also an option.
Directional lights are flexible in that they can be orientated to hit the spot where you want the most intensity, after the kitchen has been installed. Pairs of directional LED downlights will brighten up the island and cover all angles, for example.
It should always be kept in mind that power to, and connection of, these lights may well be in addition to the cost of the kitchen. Because this will most likely be done by your electrician, as will any sound system you choose. Plumbing costs (connecting to waste pipes, water connections) will of course also cost extra.
Choose appliances early
Appliances in general tend to be expensive. Including the fridge, oven, cooker… with extras such as a microwave and coffee maker you could easily be looking at a budget of 5k or more.
So doing your research on your chosen electrical appliances at an early stage will allow you to shop around for bargains, have the measurements ready for the kitchen manufacturer, and delivery organised for the fitters well in advance.
It will also help avoid panicked decisions in a busy showroom, blurting out that you want a range when what you really needed was a hob. Whatever appliances you choose, they will all make a major impact, not only on your budget, but on the dimensions of the room/ wall lengths, and on the overall feel.
All appliances are rated for water and energy efficiency; both should be taken into consideration before purchasing.
Ovens
If you have a back problem, set both oven and hob at a comfortable height, and if family meals are important, then multiple ovens and timers might be things to consider. Plate warming ovens can be helpful too.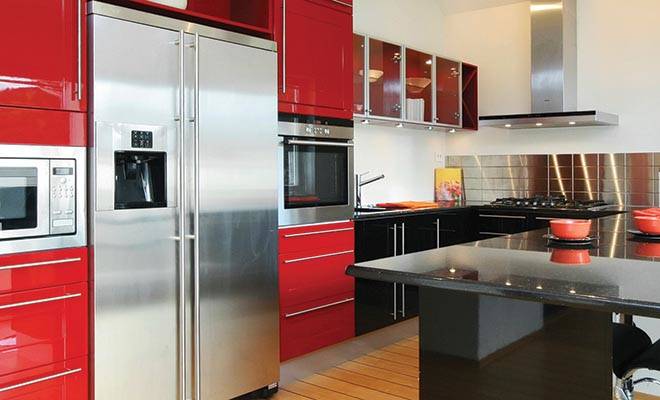 Smart ovens will help you time your cooking to perfection, while slick opening/sliding mechanisms will make handling dishes that bit safer. In fact, temperature control is now much more accurate and some manufacturers offer a unique residual heat function whereby the electronics decide when there is enough heat left in the oven to finish the cooking and it can safely switch off.
Other smart features include automatic switch off after a preset time, and ovens which stop heating when you open the door so saving energy, and the list goes on.
Fridges
For any appliance, but especially the fridge, always compare capacity.
American fridges are prized for their look but remember that they are usually freestanding, taking up a lot of space. Check the model you like as sizes vary widely. You you could easily be looking at 900mm by 700mm depth so larger than standard carcase depth. And they usually don't have a huge amount of room inside due to the ice making machine and/or water dispenser.
The fridge to freezer configuration in general will wholly depend on how you shop, and how you cook. If you mostly buy fresh and hardly use anything from the freezer, a double fridge might be better than a fridge freezer.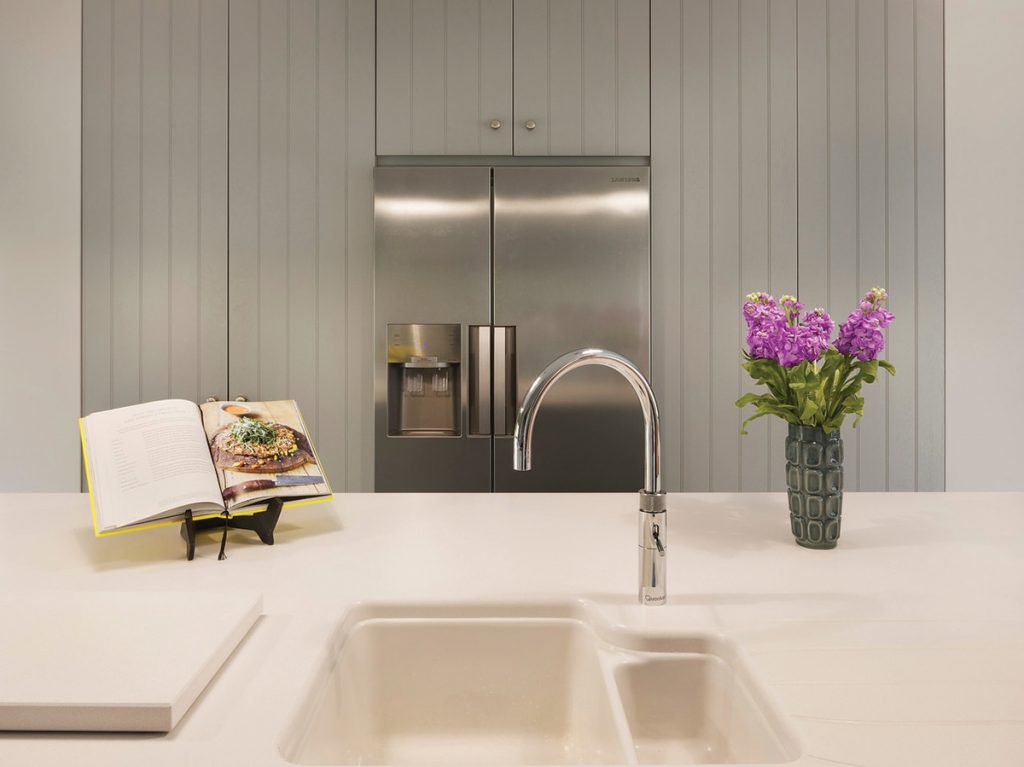 Undercounter freezers are handy if you cook with a select few items, such as peas and fish fingers, on a regular basis. This can be switched out for a drinks fridge when dietary requirements change.
Practical points to note are not to have the underfloor heating where you plan to place your fridge; same goes for the rule of thumb of making sure the oven isn't right next to your fridge. That said, take advice from your kitchen designer as this may not necessarily be an issue if there's enough ventilation behind the fridge and the partitions are well insulated.
Other appliances
Dishwashers haven't evolved as quickly as other appliances – most are of a standard size (600mm wide and deep), with the only difference tending to be the internal configuration (e.g. cutlery in basket or on top drawer) and wash settings. They can come in the more compact size of 450mm x 600mm deep.
Coffee makers, oftentimes integrated as you would your oven, are becoming more commonplace, along with wine coolers.
Integrated appliances
Freestanding appliances sit in an open casing and can be taken with you, should you move house, whereas integrated appliances are hidden in a cabinet and faced with a kitchen door to make it blend into the overall kitchen. These are common in many kitchens today.
By their nature, integrated appliances require that you purchase a door for it, and they are also, generally, a more expensive product to purchase than a standard prefinished appliance. Semi-integrated usually means hidden behind doors but with the controls visible.
A variant on the theme is to conceal the pantry or utility room behind similar hidden door arrangements.
Sockets
USB sockets are a good idea as phone charging is likely to take place around the island area. You could consider wireless charging points too.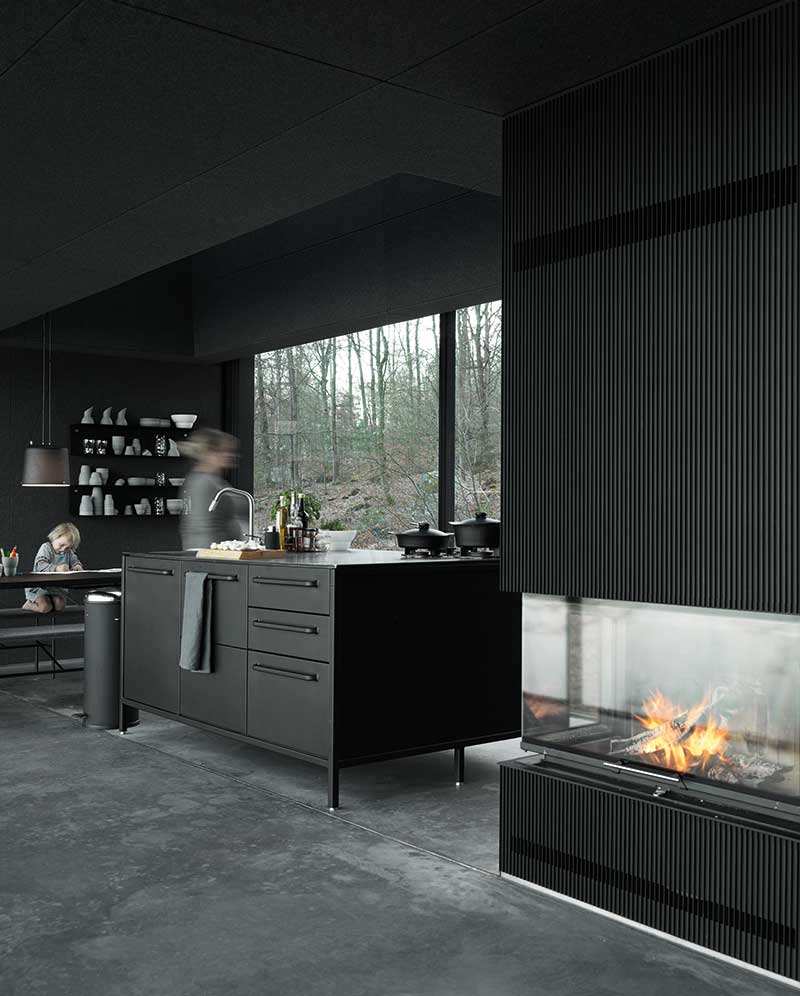 Popup sockets give you the option of hiding the sockets and revealing them as needed. You can also hide sockets in a press, drawer or behind a larder door. Check with your electrician where you can and can't place the sockets as there are safety rules, e.g. around water and unventilated spaces.
Most common is to have sockets placed on the wall but this will have a visual impact, and a need to cut the wall covering around them. This can yield an untidy finish, entail more work for the tiler or if buying a slab cost more as the company is likely to charge for each hole they cut into it.