Stephen O'Hanlon shares how he built his insulating concrete formwork (ICF) home in Co Tyrone for £250k, thanks to the help of his wife Lisa who's an accountant.
In this article we cover:
Background to the project and choosing the site
Design phase and choosing ICF as the build method
Comparing 300mm versus 350mm blocks
Why they chose ICF and how they picked their supplier
How they managed the project day to day on site
Insurance and mortgage process
Issues that cropped up on site during the build including delays
Top tips for a smooth ICF build
Traditional roof construction and build up
Watchpoints and top tips for a budget ICF build
How material price increases affected the build
Timeline
Overview
House size: 2,700 sqft
Site size: 2 acres
Bedrooms: 4
Heating and hot water: gas boiler
Ventilation: centralised mechnical with heat recovery
Site cost (including all related fees): £75k
Full house costs to date: £250K
Mortgage house valuation: £330k
House value: £400k
How did the project get started?
I've been in construction all my life. I am a multi trade person: I did a full apprenticeship as an electrician before moving to bricklaying and finally joinery. Unfortunately I had an accident and hurt my shoulder in 2009, resulting in having to swap the tools for project management. It was while completing my degree in construction project management, when Lisa and I were living in Glasgow, that I discovered ICF in the context of a sustainability course.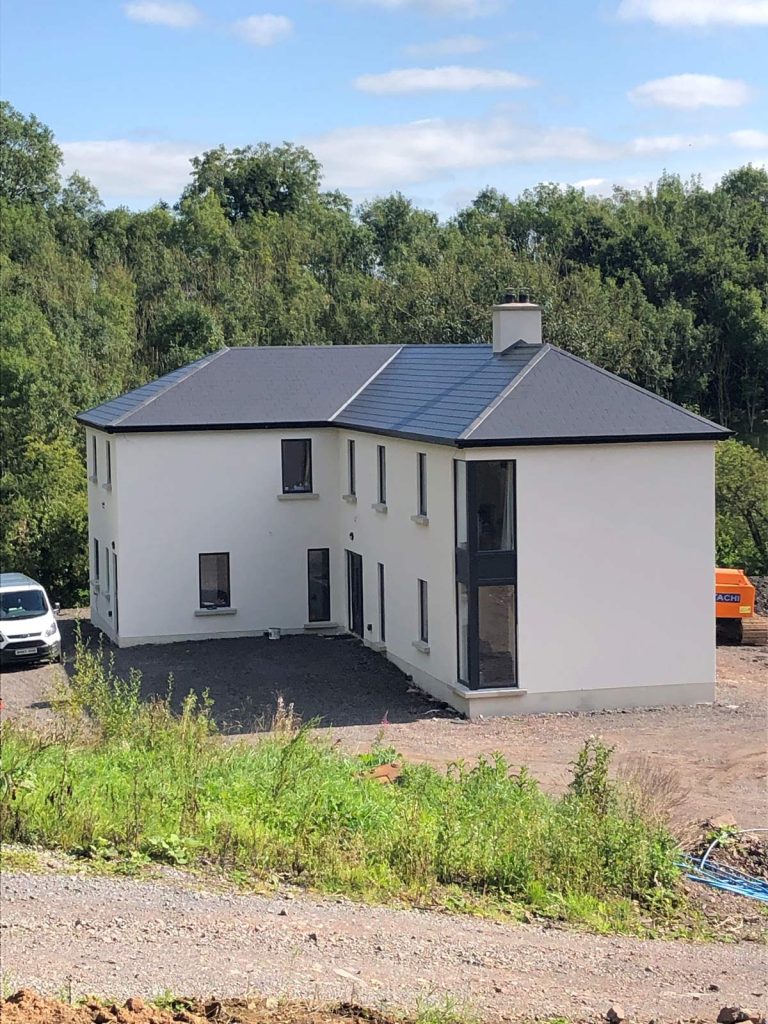 Then due to family reasons we decided to move back home to Ireland in 2020 and started to look at putting this research into practice by designing a local sustainable building, with very little energy consumption.
Tell us about the site and the design phase.
We bought a site with existing stables, riding arena and an existing block foundation for £67k. There was planning permission for a full house on this, however it was not to our liking so we made a fresh application.
The house we designed used the original footprint already built to subfloor level. We felt we had paid plenty for the site at the time and didn't want to then have to start and redo £20K of foundations. The house has deep foundations due to the gradient of the site.
Our choice of ICF meant we saved on expensive structural steel supports. We have a large window opening with a corner detail – with a traditional block house we would have had to compromise on making the reveal double what we wanted, and paid thousands in structural steel. With ICF the additional cost was just four 25mm rebar and two posts to make cast concrete heads.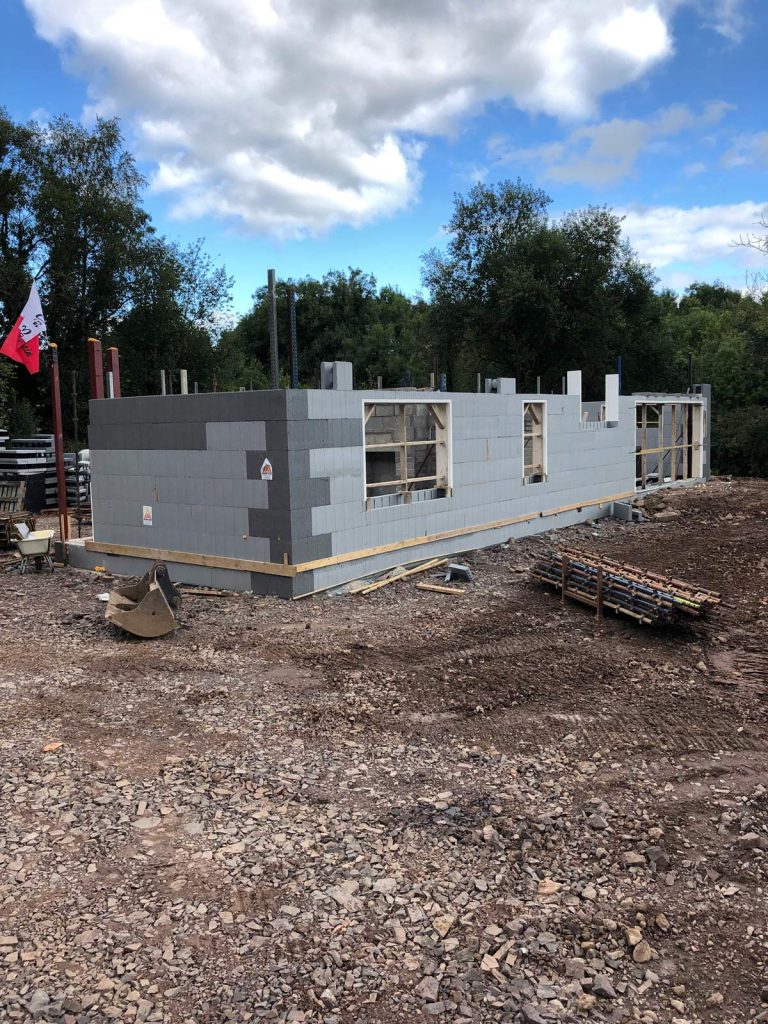 How was the ICF project managed?
Because Lisa is an accountant and I'm a project manager, this was always going to be a self-build. We used a local architect to draw our house. Myself and Lisa had this all planned out already and had a fair idea of what we wanted. I had supervised the building of enough houses over the years to have seen common mistakes and tried not to replicate any of these.
I finished up my job in England working as a project manager for a construction firm to give me the free time to work on our self-build. I was on site every day alongside each subcontractor, assisting them to reduce costs.
We didn't want to spend money on hiring equipment, so we purchased our own 13t digger and dumper along with a set of pallet forks to use for the construction phase.
After that we set a limit of a 25 mile radius where possible for supplies and materials. Ironically, the only exception was the ICF which came from Dublin. We also used local tradespersons, paid on a day rate.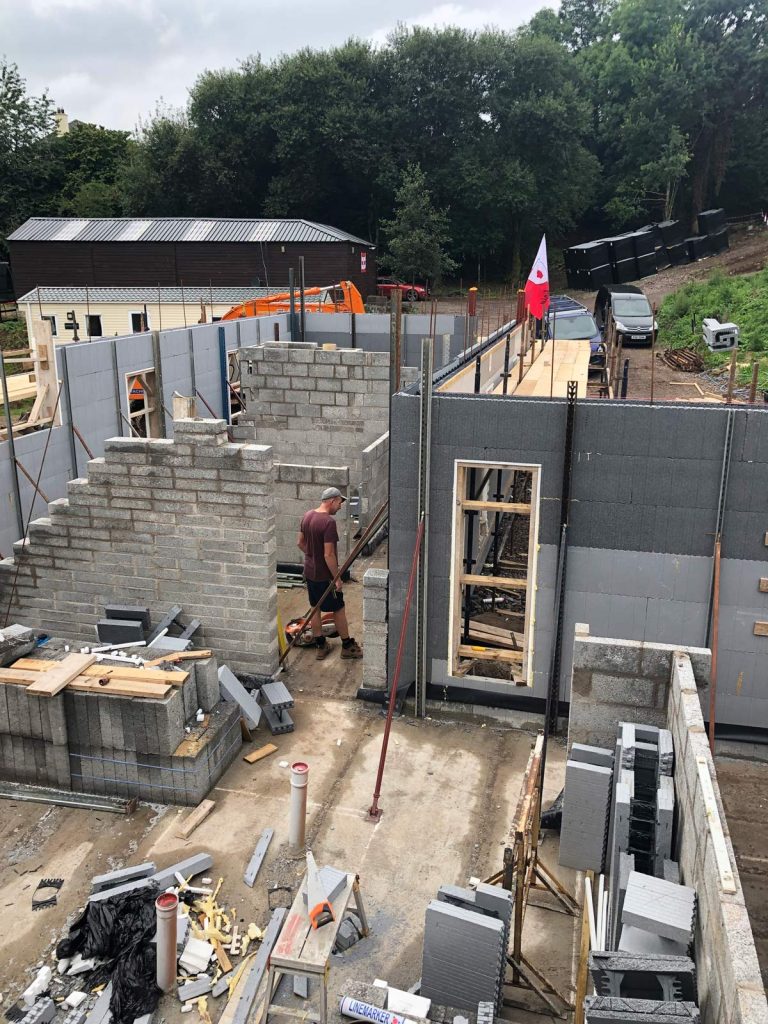 Any issues with insurance, getting a mortgage, or any other curveballs?
It was only later in our build that I realised some people were having issues. We never did – we went through our insurance broker without any problems. We had issues with the mortgage in the sense that our surveyor undervalued the house, possibly because he wasn't familiar with ICF. This in turn meant we were dealing with restricted cashflow throughout the build as the mortgage is tied in with the valuation.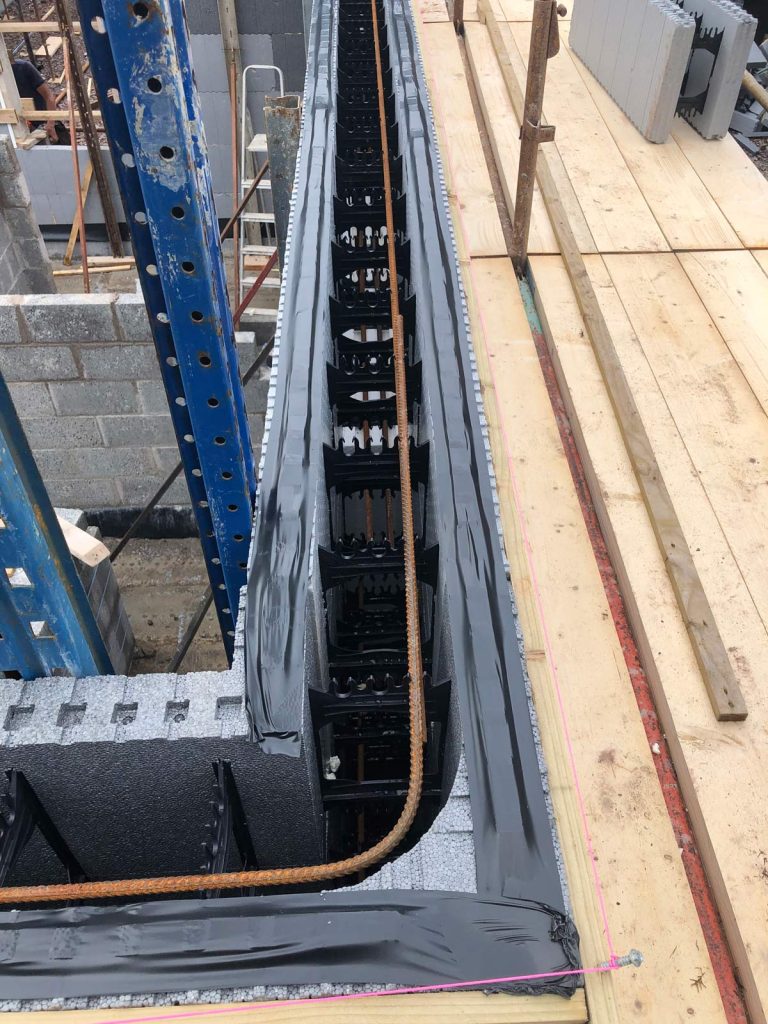 We did run into delays getting building control to sign off on our drawings. The local council here, Mid Ulster, apparently had never seen an ICF house before and perhaps struggled with the concept of change. I had to get additional engineer reports and sign off, then pay to get these calculations confirmed before they would grant us approval.
It took the intervention of a local MLA and the fact that the G10 summit was taking place on sustainability in Glasgow at the time, to get my house over the line. Hopefully now that they have seen an ICF house built, it should make it easier for anyone else planning an ICF build.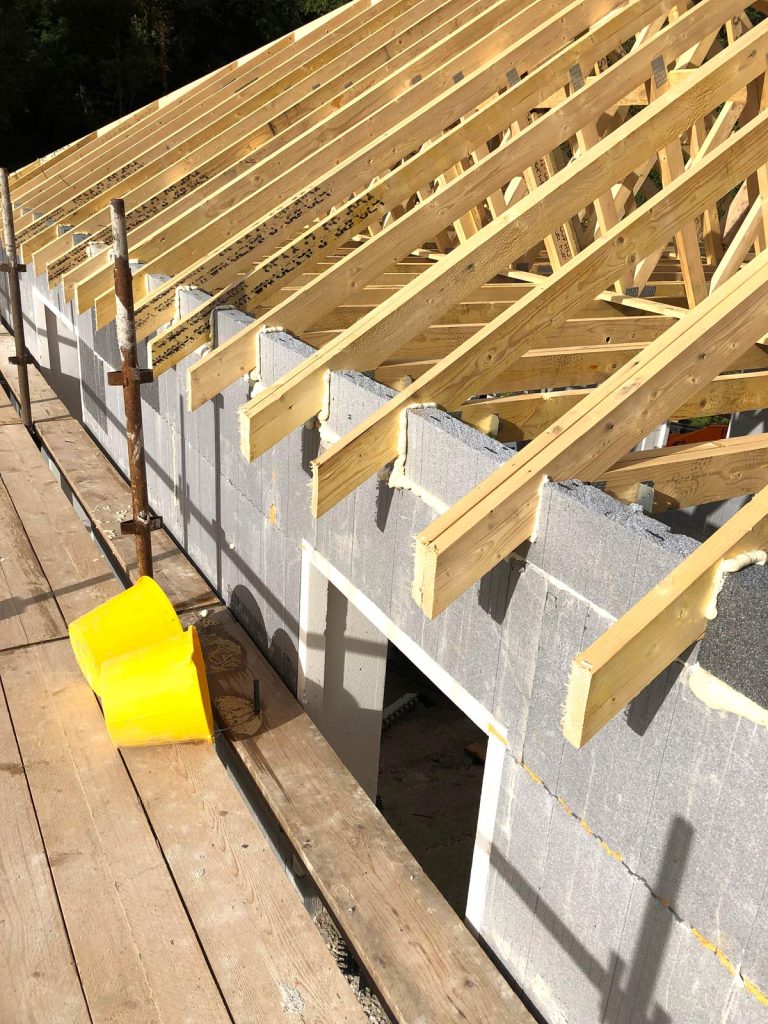 Did the budget guide your decision making?
Yes, we based our decision making on cost versus payback. It was all about energy consumption. We analysed how much the additional costs for our decisions would benefit us in the future. Lisa took into account interest rates when working out the true costs of products, and how if paying extra at the construction stage would save us in the future.
This helped us decide on the solar panels and heating system. We went with gas heating in the form of a bulk tank. An air to water heat pump was too expensive and we felt there were too many horror stories online where people had massive electricity bills and still had a cold house.
We went with gas over oil as gas burns more cleanly, thus keeping the boiler cleaner and running more efficiently over time.
The solar panels we went for only justified their cost when we went with the inline panels. This meant we didn't have to slate most of the south facing side of our roof, saving the cost of buying and installing 600 slates.
How about the building fabric?
We chose a 300mm ICF block for the walls. Lisa did the numbers on the 350mm block and didn't feel the extra cost was justified in the better insulation value. We then subcontracted the ICF construction to a local outfit.
As a project manager, I concentrated on quality during the build. Trying to ensure as little thermal bridging as possible. For example the first course of blocks on the slab were thermal blocks to reduce thermal bridging from the uninsulated slab.
The chimney, two courses below the celling, was built of thermal block right through the attic and to the lead tray. I used 25mm phenolic sheets of insulation under my joists, taped and sealed with foil tape, before plasterboarding. We drylined all ceilings and walls, it was all tape and jointing – no skim coat.
We used 400mm of rockwool in the attic, leaving soffit vents around the roof to allow the roof space to breathe. The hip roof design has a cold roof space (insulated at the floor level). All electrical conduits, cables and openings were sealed with proprietary sealers to prevent drafts.
The house was watertight with windows and doors arriving within a 12 week timeframe. This allowed us to continue to work away inside all through winter. All windows were also sealed with airtightness tape.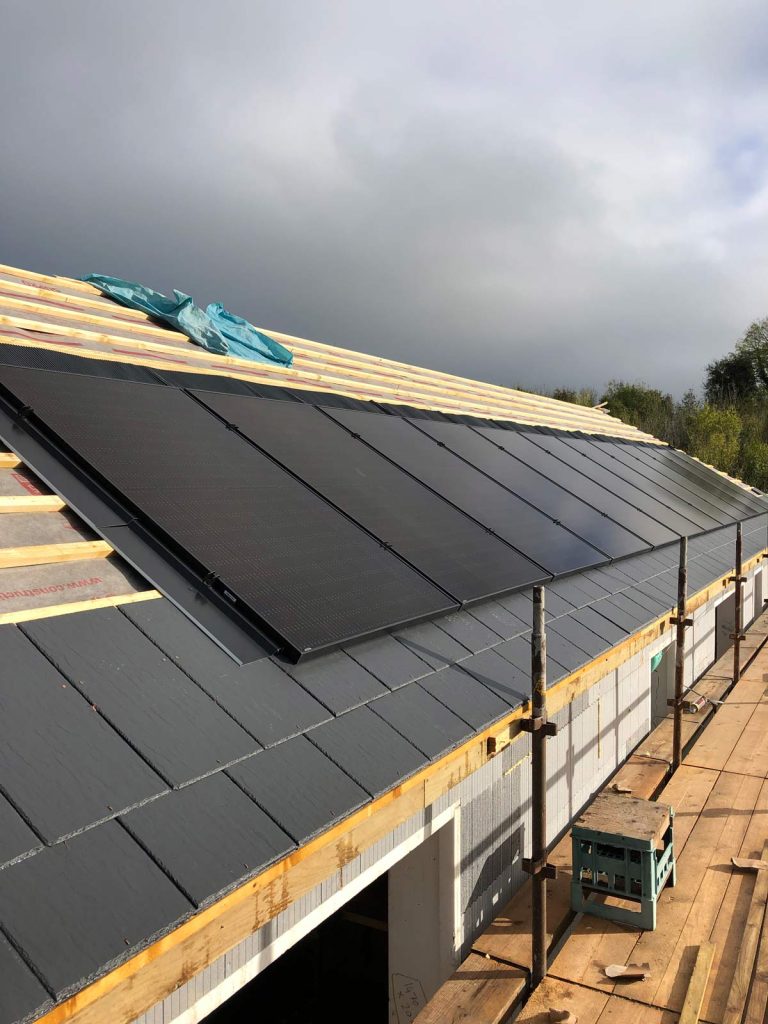 How did the material price increases affect your build?
Our initial costings were done early 2020, before Covid and the material price rises. Originally, the cost of a traditional block built house only represented a saving of 5 per cent (to our specification). But when we added in preliminary costs for scaffolding, site accommodation and the fact that we would be living in a mobile home during the build, this was not worth the saving.
At the time, we had priced our build at £230K including a 10 per cent contingency reserve. We hoped this was going to do most of the outside to a basic standard however from May 2020 the prices on materials started to rise very quickly.
We had prices for roof trusses go from £4k to near £8k, plasterboard went from £5.10 per sheet to £7.80 per sheet. Concrete, rebar and labour all rose significantly. It became impossible to price materials any further than seven days out.
This left us making a few cost cutting decisions on site, although we tried not to cut costs on structural materials but rather on replaceable internal finishes. The only things that are outstanding now are landscaping and some internal finishes like painting.
Follow Lisa and Stephen's story on Instagram @icf_selfbuild_tyrone
---
Tips
Set aside more than 10 per cent for contingency. We found our estimate was not enough.
12 months in a mobile is long enough. Two and half years is too long – we can vouch for it!
Stay on top of the numbers. It's ridiculously easy to spend more so price around and don't be afraid to haggle.
Don't panic. ICF looks unstable before the concrete is poured, and that's the way it's meant to be. A top tip before you pour the concrete, check you have fixing points for plasterboard around window reveals – you may need to put in some timber before pouring the concrete.
You won't need a fire. We liked the idea of having a fire but now that we're in, the stove is probably never going to be used.
Be prepared for delays outside of your control. Although ICF is a quick build, trying to be in in less than 12 months can be extremely stressful. If you're one of the first people building with ICF in your area, know that you may encounter delays getting building control or building professionals on board.
---
Timeline
2020
Bought site with foundations
May 2020
Applied for new planning
application
Jan 2021
Planning approved
Aug 2021
Building control plans signed off
Sep 2021
Build start
Jul 2022
Moved in