Building a home is always an emotional process, and nowhere was this more the case than for Cary Thompson who built his in memory of his late mum.
How did the project come about?
This project was born out of the sadness and closeness our family felt after my mother's death in 2009. We wanted somewhere which could be a new home for my father, a base and link with Northern Ireland for my brother and sister, their partners and kids, and a new home for Suzeanne and I and our growing family.
We brought that desire to John our architect and placed these requirements on him, which were more an emotional aspiration than a brief. He was our architect but also at times our counsellor too, teasing out what we actually wanted and helped us make informed decisions.
How did you come to acquire the site?
My parents had kept it following the sale of their house to the Department of the Environment in 1989 for a road widening scheme. The DOE only wanted the plot on which the house stood, not the back garden.
Subsequently, Suzeanne and I purchased the site but without any thoughts of what to do with it. In 2009, following my mother's death we realised that a self-build on the site might meet our changed circumstances.
Simply, there was a lot more value to be had with a self-build compared to purchasing an existing house, even with the decline in house prices which was starting to take effect.
How did you choose your architectural designer?
An architect friend of Suzeanne's recommended him and we had a preliminary meeting on site to discuss our plans. After 20 years, the site was like a wilderness but he could only see possibilities.
This was followed by a visit to a number of houses John had designed, discussion with the owners, understanding his guiding principle of simplicity in design combined with light, airiness and openness, our thoughts, such as they were and then calls with a number of clients, all of whom were much more experienced than we were and very complimentary.
Ultimately, our decision to hire him was based on three factors: our confidence in John's design and technical abilities, our trust that he would help us articulate what we wanted and his condition that if he designed the house, he would see the project through to conclusion by overseeing the construction. At the time we couldn't have known just how important that last factor was to be in ensuring that the design and construction of the house would be a really enjoyable experience.
How did the design evolve?
At this stage my father added a built-in garage to the wish list, for his vintage Reilly, and John came up with a number of outline options designed to meet our requirements, the features of the site and of course the impact of the road widening scheme bringing a busy main road much closer to the house than currently.
We also had to deal with the presence of a number of mature trees, all of which were subject to Tree Preservation Orders and not one of which could be removed or even replaced with a new tree.
We also wanted some echoes of the original house my parents had, and a design which anticipated the effect of the road widening scheme – anticipated in 1989, not implemented in 2009, and still only on the drawing board.
This meant that my father's apartment could be both integrated into the design of the house but also a separate self-contained space away from the noise and chaos of a young family. One of the key ways in which this idea of integrated yet separate was put into effect was through having a door at the side of the house which gave straight into the apartment. Indeed my father through persistence, has persuaded Royal Mail that it is a separate address, at least for postal purposes.
There would be a shared utility room which housed the boiler as well as the washing machine and ultimately our beloved Ollie's basket, with access on to the garage, otherwise the apartment was to be self-contained with a large combined kitchen, dinning room, sitting room, a separate study and bathroom and bedroom.
These options helped us, Suzeanne, my father and I, to develop our thoughts about what we wanted, what our expectations were even if we weren't conscious of them, and to develop a consensus around the most important aspects of the house.
It probably meant progress was quite slow at the design stage, but the result is that never once during the whole process did we ever find ourselves regretting any decision we made or wanting to make changes.
How did the house specification come about?
I don't think we really decided on how to build the house. We wanted a red brick exterior to reflect the Victorian original it was effectively replacing.
We were keen that the house should meet the highest environmental standards to minimise the effect of noise, light and vehicle pollution from the road as well as well as ensuring heating costs were reasonable.
For heating we went with a gas boiler, with underfloor heating throughout except for our bedroom and the kids' bedroom which have radiators to avoid any concerns about the rooms being too warm at night.
While mechanical ventilation throughout the house was not a building regulations requirement, we installed a heat recovery ventilation system in both house and apartment.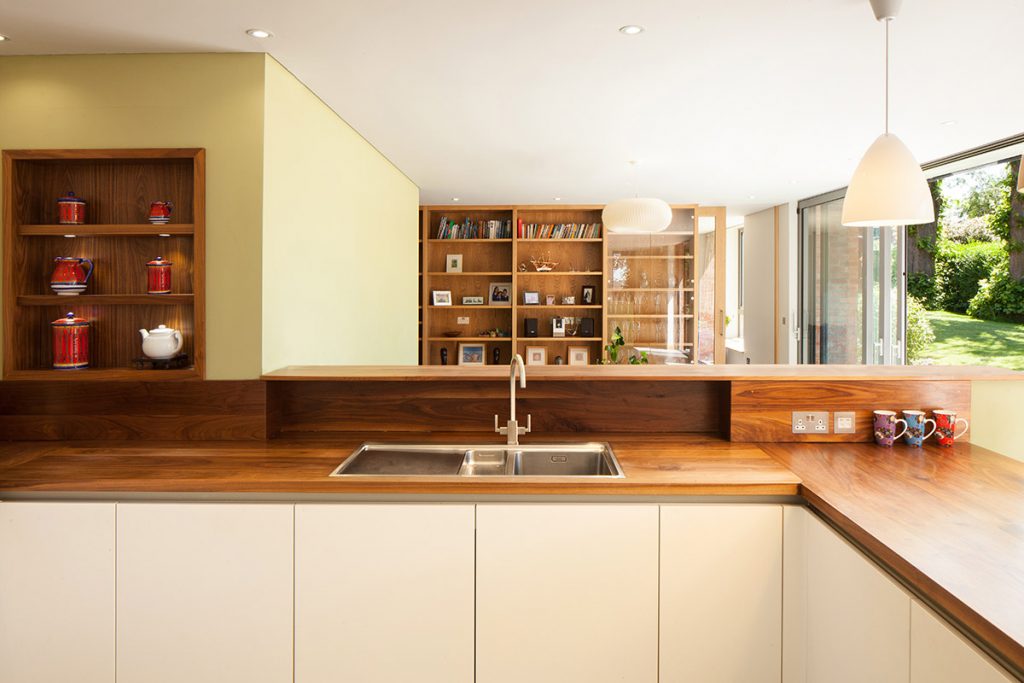 Kitchen.
This space had to work as both a place for family meals and a space for entertainment of wider family and friends and in due course, the kids' friends. "Plenty of storage was also important to counter my tendency to clutter the place up," says Cary. "We went for walnut wood kitchen tops with the knowledge they would need some looking after. We don't regret that decision although my clumsiness with hot pans and occasionally bleach is well illustrated."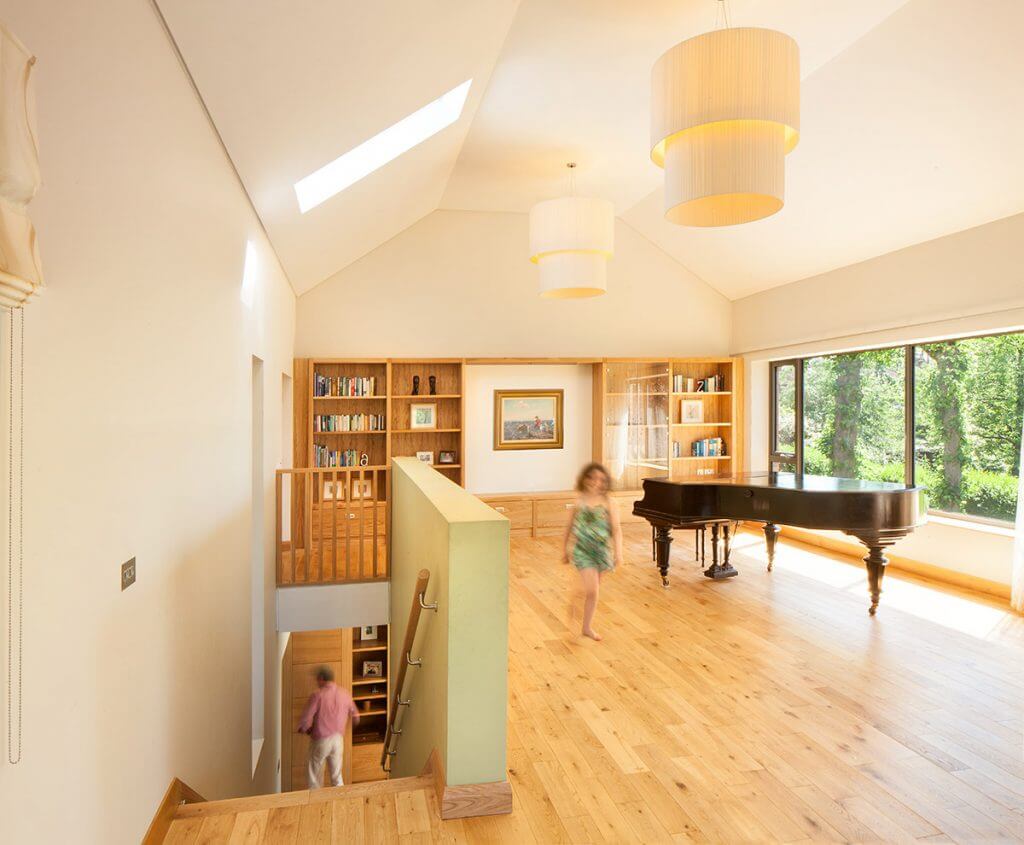 Staircases.
There are two staircases, one to the bedrooms and one to the upstairs sitting room, creating a sense that one is private and the other, part of the public space.