While house hunting we fell in love with the panoramic views from this tiny derelict, coastal cottage," explains Martin. "The
vista reaches across sand dunes and spans County Sligo's Grange estuary and Donegal Bay."
Not even the trees growing out of the ruin put them off. "We basically bought a pile of stones with ocean views," he jokes. "I have estimated the date of construction to circa 1890, where it first appears on the historical online maps. Despite its age, it was not listed which meant we could go ahead and renovate the cottage in the first instance without planning permission."
"The cottage floors were mud and cobble with some flags which sloped downhill towards the doors below. I was informed that the design here was to facilitate the livestock sleeping in the lower section and the slope aided washing out the waste through the doors in the morning. The occupants slept in the 'uphill' bedroom."
"An interesting feature is the clear remnants of a large door opening suggesting access for livestock. Also, locals have remarked that the stones used in the chimney are very big and may have been from another, larger house."
"There may have been two sheds joined together to enlarge the cottage after the large fireplace was built, but that is just my guess based on the state of the walls," adds Martin.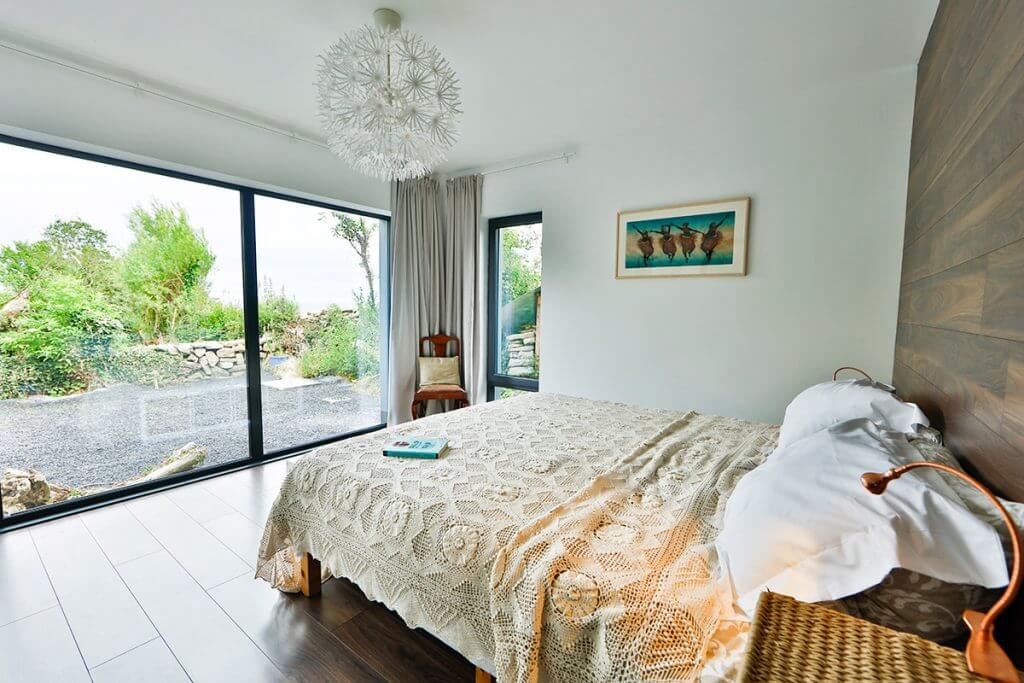 Renovation
"I took a year out from work to renovate and make the building habitable so we could move in. There was no water, no electricity or waste facilities."
"The first thing on the list was to remove the trees which had taken root in the roof of the main living area. I replaced the tin roof with slate, then drilled a well for potable water.
"By putting in a new roof we were then able to apply for an electricity connection, as ESB Networks requires a dry structure. I then removed all the internal plasterwork with a kango hammer, gaining an extra foot of space in return, with the internal stone walls acting as a heat bank," continues Martin.
"It was important to me to conserve and display as much of the original stone walling as possible, so I turned to stonemasons David and Carol, who helped me point them in traditional lime mortar.
"Then I had to completely remove the floor material. In the bedroom three little springs squirted up, I was in despair! The solution was to put in a geotextile membrane, and a 6inch coiled (like a snail) drainage pipe directed out to an external water drain. While I was there I fitted a pipe to provide a tertiary air supply for the cottage wood stove." "The room is as dry as snuff since, I am happy to say."
The cottage floors were upgraded with insulation, concrete and finished with an oak engineered wood.
"Even though we didn't have to apply for planning permission for the renovation, we did have to agree with the council what wastewater treatment system to install, an eight population equivalent system. The local authority's environmental department recommended a system, pointing us in the direction of their favoured supplier in Cork."
"A bugbear of mine about this is that, on the one hand, environmental concerns drive the high spec of the system (fine) but on the other I was made install a system which requires I pump from the treatment tank to the tertiary tank which sits on 20 ton of washed pea gravel. The tertiary tank is downhill of the treatment tank so I must pump waste downhill, arghh!"
"Conclusion of the story we had to pay €10,000 for the tertiary waste treatment system before moving into the cottage, ready to connect to the new extension once completed."
"Meanwhile, the twins had arrived. In the cottage we had added a mezzanine level (with a supporting steel) to accommodate our bedroom and used the only bedroom on the ground floor for the boys to share. We created a small kitchen in the open plan living/ dining area as well as a separate bathroom."
"After we had the heating system in, we moved in."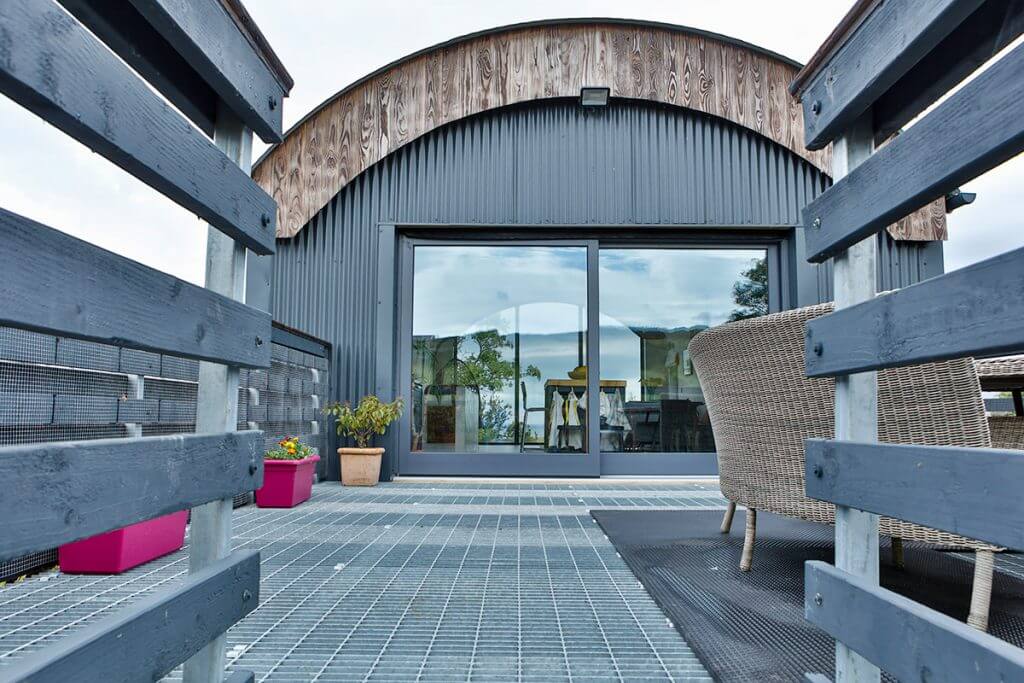 Planning process
"Once you're actually living in your property you have far more rights than someone who wants to build a new house. Because the house was derelict, if we had applied for planning to increase the footprint before we moved in, it would have been classed as a new build and I'm not sure we would have gotten permission."
"When you're already living in it, it's an extension. That was the strategic approach we took. Despite that, it still wasn't easy to gain planning approval for our extension."
"Like so many traditional Irish farm cottages, a row of stone-built agricultural sheds ran back 90 degrees from one side of the building with a 6ft gap between them."
"Our original plan was to develop that footprint by maintaining the shape and location of the outhouses. But the planning officers didn't agree with us. So we had to rethink it. They turned down three or four subsequent plans; we were hitting a wall."
"One day Saoirse went for a walk up the hill behind us and noticed how the landscape was dotted with cottages then hay sheds then cottages and so on. She took photographs, printed them out and presented a file to the planners demonstrating that this was the vernacular style of the area and that we would copy it."
"The planners eventually agreed and we got approval for a two-storey barrel roofed metal clad extension, and getting that second floor was really important to us. We designed it to be as close in appearance to a hay shed as "The next question was, how do we build it?"
"We didn't use an architect," says Martin. "Saoirse designed it all with the help of our local architectural technician, another Martin. We drew on information and inspiration gained from attending a Selfbuild Live event in Dublin and a Simon Open Door consultation with a Donegal-based architect.
Martin's technical drawing skills put the design into planning drawings. We finally got permission, 16 months on from our first application."
"After three years living in a 59 sqm snug cottage, the four of us were itching to increase our living space. Saoirse was the key designer, and I was the key project manager/ builder with a lot of help from a local block-layer, Bill and our neighbour, Aidan, a plumber and my go-to building guru."
A barrel ride
"Building a barrel-top roof is not that difficult really, from the outside. But getting a perfect curve on the internal ceiling proved to be tricky. I had to figure that out myself; it's a good thing I love puzzle solving," says Martin.
"My solution was to use curved trusses, comprising of 10 sections each 1m in length. When joined they formed a jagged curve, but I needed an even surface, so I packed out the imperfect curve with around 200 packing pieces."
"I attached plywood to the curves and the whole ceiling became a fixing point for the plasterboard – it then didn't matter where you fixed the screws. I put up the boards in the normal way, bending them slightly to follow the curves. I was very relieved none of them snapped or broke."
"We built a stepped platform for the plasterers to work from and they skimmed the ceiling as easily as they would a normal wall. I'm happy to say we've had several Atlantic storms hit the roof since, but not one crack has appeared in the plaster. I'm very proud of that."
"The problem we came up against was how to manage excessive heat with the rising hot air obviously going to find itself at the top of the roof curve. My solution was to fit three vents in a network which were connected to a conventional fan, sucking the air to the outside. This extractor fan was plugged into a simple wireless thermostat which we can easily adjust according to temperature and location."
"We leave the temperature controls on the top of the kitchen cupboards where early venting can occur before the general room temperature is affected. It works well in keeping humidity levels low; I invested in a weather station to keep an eye on performance and when it's 95 per cent humid outside in the summer, we get around 55 inside."
"The next difficult task was sourcing our oversized gable windows, particularly the curved window on the first floor. It was a struggle to find a manufacturer that would agree to do that because it would involve bending the aluminium frame the 'wrong way' as they put it. Not many machines have the ability to do that. But we persevered and got both gable windows built, at a cost of €14,000 – our biggest splurge."
"We also got pushback from builders. They couldn't understand why we wouldn't take the easier option of putting in an RSJ (supporting steel beam) and installing a standard rectangular window. But that wasn't the point for us. Almost the whole of the far gable wall is glazed, and at the other end a large glass sliding door opens on to our 30sqm galvanised deck. Our choice of windows was part of the entire design for the building. That choice ended up costing us double the normal costs, but it was well worth it."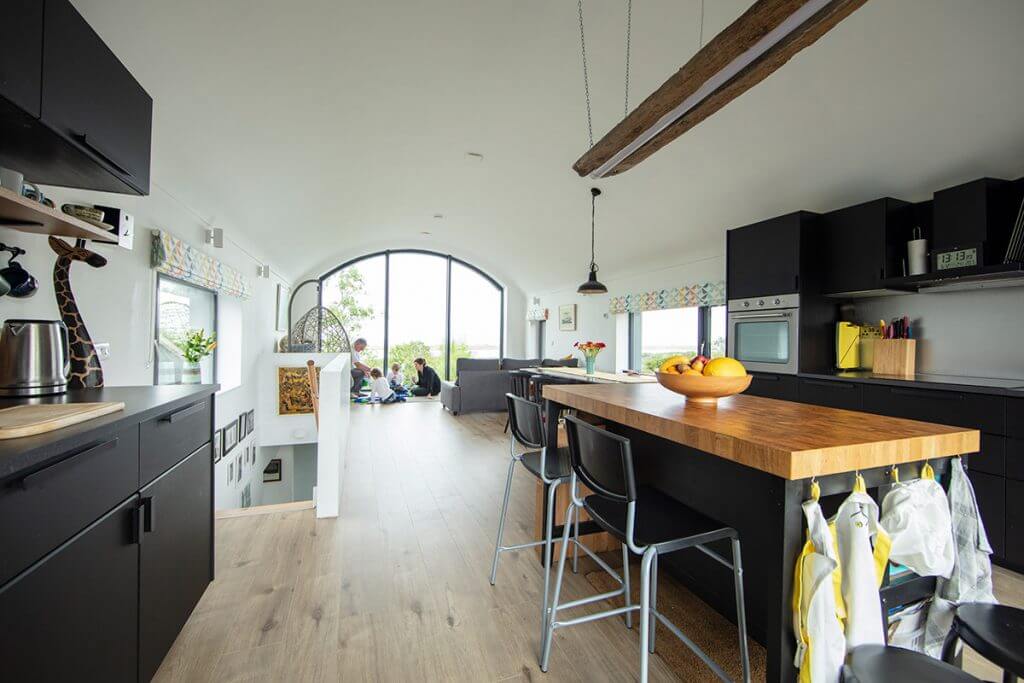 Two houses in one
"The extension houses two bedrooms on the ground floor, our master bedroom and the twins' room. We have an ensuite wet room, which is my little piece of luxury, and the boys share a wet room adjacent to their bedroom."
"We built a single-storey structure parallel to the cottage, as a hallway, to link the two buildings. It is also the new main entrance to our home. The warm roof construction has a slight ridge with a 2'' (50mm) fall both ways and is clad in bitumen. Two roof windows were installed, which bring in lots of light and has turned it into a very useful extra room."
"Outside, I've been landscaping and building walls using the stones from the demolished sheds. I'm using a stone stacking technique, which means I'm placing them where they fit, rather than making the stones fit by chipping the excess off. There is absolutely no concrete involved, a dry wall method."
"My philosophy is not to bring unnecessary stuff onto the site. I tried to minimise my footprint. It's a good buzz to use what you have," adds Martin.
"When we moved into the extension we still had jobs like tiling, decorating and landscaping to do, so we carried on doing the work at the weekends mainly, which we recently completed. But the end result has been so worth it."
"The extension and deck has tripled our floor space and has transformed the way we live. The lads are really thriving now with much more space to play."
"The cottage, with engineered oak flooring, exposed stone walls and wood-burning stove is our cosy fire-side sitting room and also provides a playroom for the twins.
However, effectively, we have two houses now. When my grown-up son or daughter and her family come to stay they have the cottage to themselves. And the same for my elderly mother when she visits. They enjoy having their own space and privacy and then being able to join us for family time and meals."
"The house functions exactly as we had imagined it would," beams Martin