When Dawn and Declan Lambe of Co Donegal found a site with jaw dropping sea and country views, the modern bungalow self-build of a lifetime beckoned…
In this article, we cover:
How the site guided the design with details of stone for exterior, blending into the landscape
Proving local needs for planning permission with details of pre-planning meeting
Bungalow layout with details of contemporary finishes
How the build came in under budget
How they did the panelling throughout
Solid in frame kitchen design details and tips
Practical bathroom designs with a touch of tech
Soft furnishing details for living room and installing a two sided stove
Boot room design: how to make it functional and beautiful
Staircase design and build with money saving tips
Cost effective tile choice for downstairs
Build process and heating system decision, stove specification and how often it's used
Changes during the build and choices made along the way
Full specification and floor plans
House size: 230 sqm
Bedrooms: 4
Heating and hot water: air to water heat pump
Ventilation: natural with bathroom extractor fans
BER: A3
"We were living in the area, in a fairly draughty house, with our two children and even though we'd always toyed with the idea of building, we never really took it seriously," says Dawn. "Until we came across the perfect place to build our forever home."
"It was a busy time with two children, a dog, plus I own a coffee shop in town, The Lily Rose, but it was an opportunity we couldn't pass up. We'll never get as nice a site again. As a couple it's the fourth property we've done together so we had a lot of ideas of what worked and didn't; we had two previous homes in Co Galway, the other in Co Donegal."
Local needs for modern bungalow
"The site was our pure inspiration, determining where the rooms should go. The living quarters are at the back over the view, the front of the house is utilitarian with bathrooms, laundry and boot room" adds Dawn. "We have a porch style entrance, with a red door because I have always wanted a red door, and the stone is a mix of Donegal sandstone and quartz."
"We found an architect in our town and went back to the drawing board many times before deciding on this design with him, but it was time really well spent."
"The site was in a local needs area so even though we only lived a mile away we had to prove links to this exact location in order to build a new house. Lucky for us my granny was born in the area and my mammy had lived there for a while too; it was pure luck."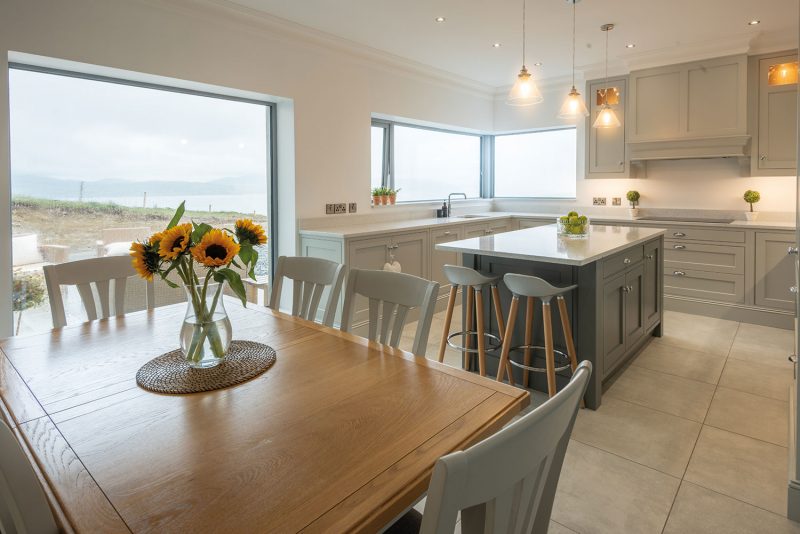 The first statutory requirement to build a house is securing planning permission, and the local needs provision is one that's set out in a number of County Development Plans only allowing those with a connection to the land to build their home there.
"We'd gone to a pre planning meeting which is where they had flagged this issue. A local councillor wrote a letter we submitted to the planners to attest to our connection to the area," continues Dawn. "Once that aspect was sorted the plans went through without any issues, taking just eight weeks to process."
"In terms of the design the planners were happy we kept the bungalow style at the front so it would look like other houses in the area. We went mad at the back in comparison, with a contemporary style opening up to the views."
"The size of the house also isn't massive, so it doesn't dominate the landscape, but it's perfect at one and a half storey for a family of four. A bungalow with a contemporary twist."
"For instance my daughters share a bathroom, which is the smallest room in the house. Everything is sized and proportioned to our needs."
"Our eldest helped design their bathroom, picking tiles and essentials like the Bluetooth mirror – she is obsessed with music and singing. The shower shelf is carved out of a stud wall that was built over the blocks. I love the contrasting subway tiles in there; they are so clean and funky."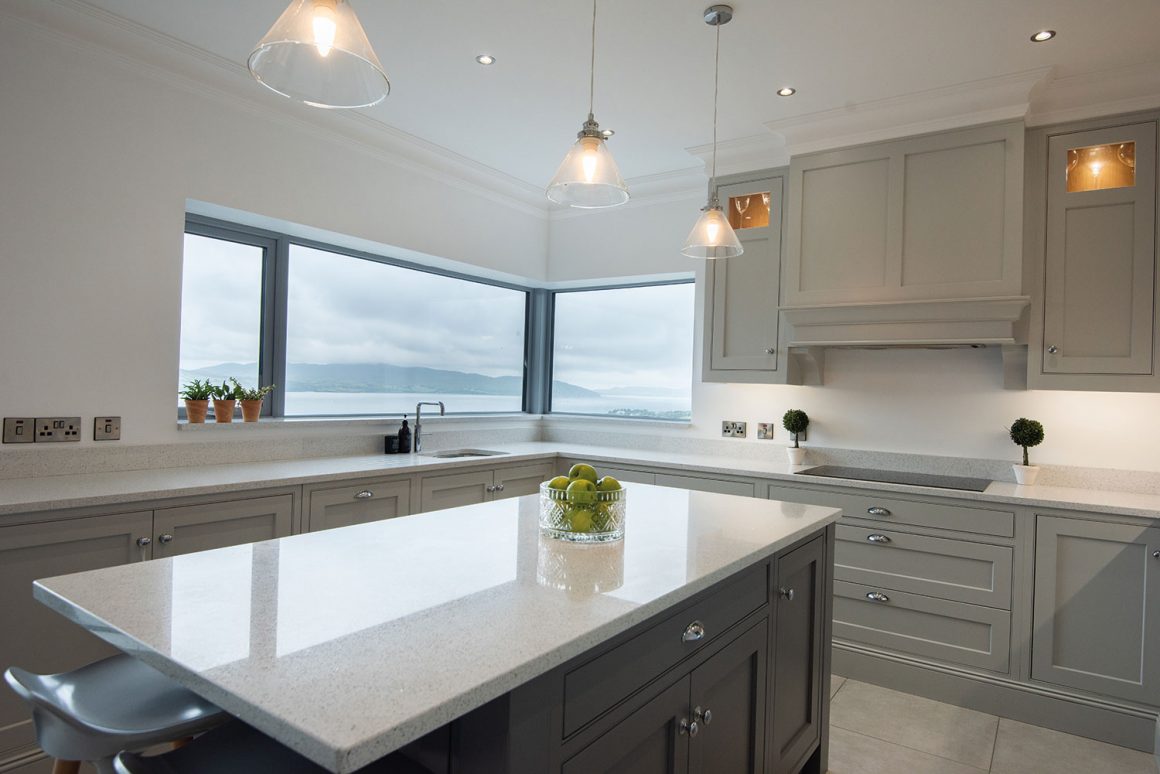 "What I love most is the panelling, the builders made it from MDF including picture rail," adds Dawn. "I eventually want to continue this panelling into the hallway."
'The site was our pure inspiration, determining where the rooms should go…'
The children also had an input into the design of their rooms. "Grey and white is the main colour scheme of our home but I'm slowly starting to add colour with touches of pink and mustard accessories."
"Some of this inspiration comes from the children; their bedrooms are the only ones that aren't grey or white as they chose the paint colours themselves. One is pink, the other blue. My eldest's room is the smallest but it's cosy and boasts a much coveted walk- in wardrobe."
Heart of the home
The heart of the home is the L-shaped open plan kitchen with dining and double living area partitioned by a two sided stove. "The kitchen was where we spent a large chunk of the budget as it was the most important room. It did cost a lot but this is our third and final home and we wanted to get it right," explains Dawn.
"The bonus is we got a hot water tap for free and we do use it all the time; no waiting for a cuppa, air passes through the tap to prevent scalding, so childproof."
"The solid in frame kitchen with pull out drawers and granite worktop, along with high end appliances, do make us feel like we live in luxury. We added coving where the cabinets meet the ceiling, and that really finishes the kitchen off."
"If anything, we probably have too many kitchen presses. I think the more you have, the more room for accumulating things you don't need. We have presses in the island also. I don't have anything in half of them."
"The double sided stove acts as the focal point that divides the room. It means we have two sitting rooms in this house, the good side and the family side. On the family side we can relax and just chill out in our big cosy corner sofa."
"On the other side we opted to go slightly wild, we got a bright mustard sofa which looks fab up against the dark grey panelled wall. It's more like the 'Good side, for guests'".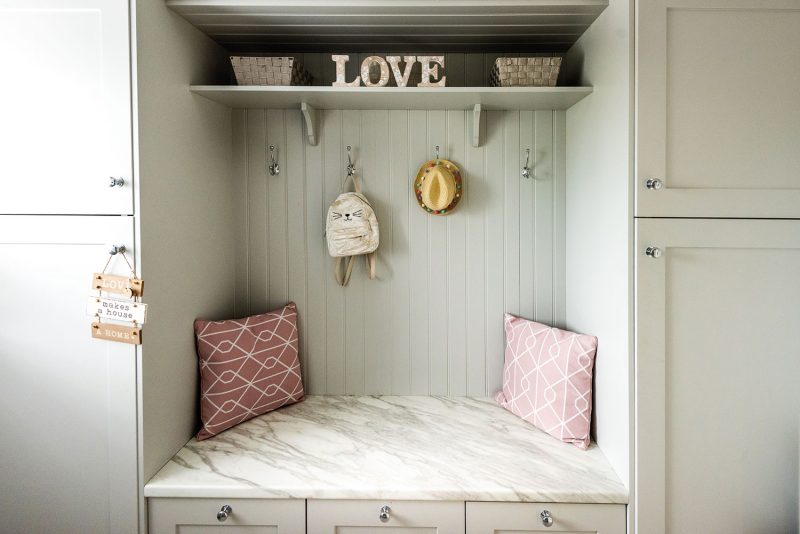 "We got a pouffe made to match the sofa on the family side of the living room. It took six weeks to make but it was well worth the wait. When we first moved in it felt like the house was full of spaces to fill; little by little we have added furniture, fittings and accessories, to make it more homely."
The workhorse of the house is the boot room for shoes, coats and bags (bottom left photograph). "I'm so glad we added this into the design; on the one side we have larders that are 60cm each, with three drawers in the middle, along 1.8m. On the opposite wall there's the washing machine and dryer stacked on top of one another, alongside a hanging rail and storage cupboards."
"The downside is that this room is never tidy, I haven't been able to see the bench in a while but as Declan keeps reminding me, the house has to be lived in. On the plus side this means that most of the mess is hidden from view; we just close the door on it. There are still some shoes lying around the house but it would probably be worse without the boot room."
"For all aspects we kept everything as local as we could. The staircase was done by a local joiner; the treads and banister are oak, the rest is made of a cheaper wood and was painted."
"In terms of finishes we tiled all of the downstairs with the same tile. We had considered wood in the hall but now we're very happy with our decision. We have a dog and he sheds a lot, and brings in mud."
Building phase
"We sold our old house and started renting which meant we were under pressure time wise; we didn't feel confident doing too much ourselves so we chose to leave the building stage to a builder," says Dawn.
"We tendered to a couple of contractors and our choice ultimately came down to price. We went around to see the work the two we shortlisted had done, and decided then and there. We started building in June 2017."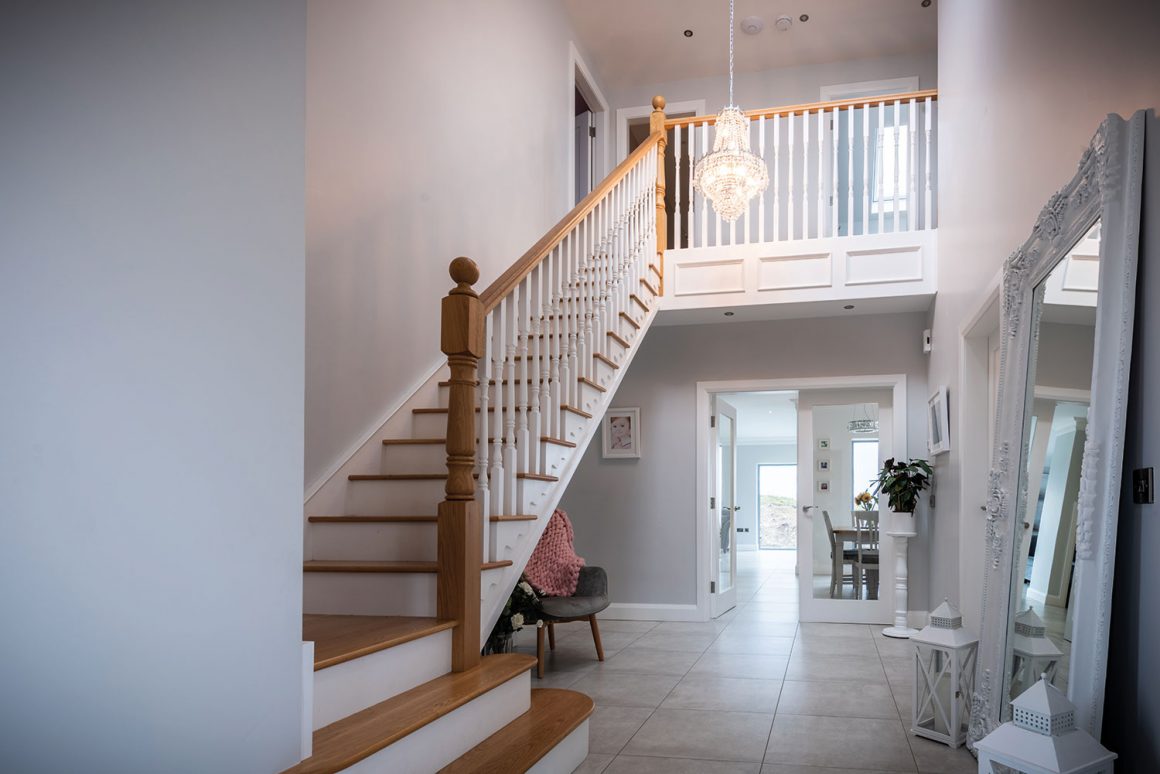 "The building method is blockwork, we have a concrete slab for the upper storey. We considered timber frame but liked the idea of a solid construction, being so exposed to the elements. There's no shelter so we experience storms head on."
"The big decision was deciding what heating system to go for. Our previous house had oil central heating and a stove with back boiler. I was inclined to go down this route but my husband won that argument and we installed an air to water heat pump with underfloor heating upstairs and down."
"I'm very happy with it; we're in now one and a half years and our last bi-monthly bill was less than €200, everything in the house runs on electricity. In winter bills are around €400 over two months, which is great considering it runs the whole house with electric and heating."
"We have a multifuel stove but to date, it's only been lit twice because it gives off too much heat. We have candles burning in it most of the time; it's now officially the most expensive accessory we purchased!"
"During the building phase I was out every day on site, checking on things. It was important I was there to make decisions when they needed to be made, so as not to hold up progress. But the builder did all the work, we weren't hands-on at all. We did however hire our own electrician and plumber."
"We don't have a central mechanical ventilation system, we just have vents in the wall (holes in the wall) and mechanical inlet fans in the bathroom. Of course there are also the windows we can open."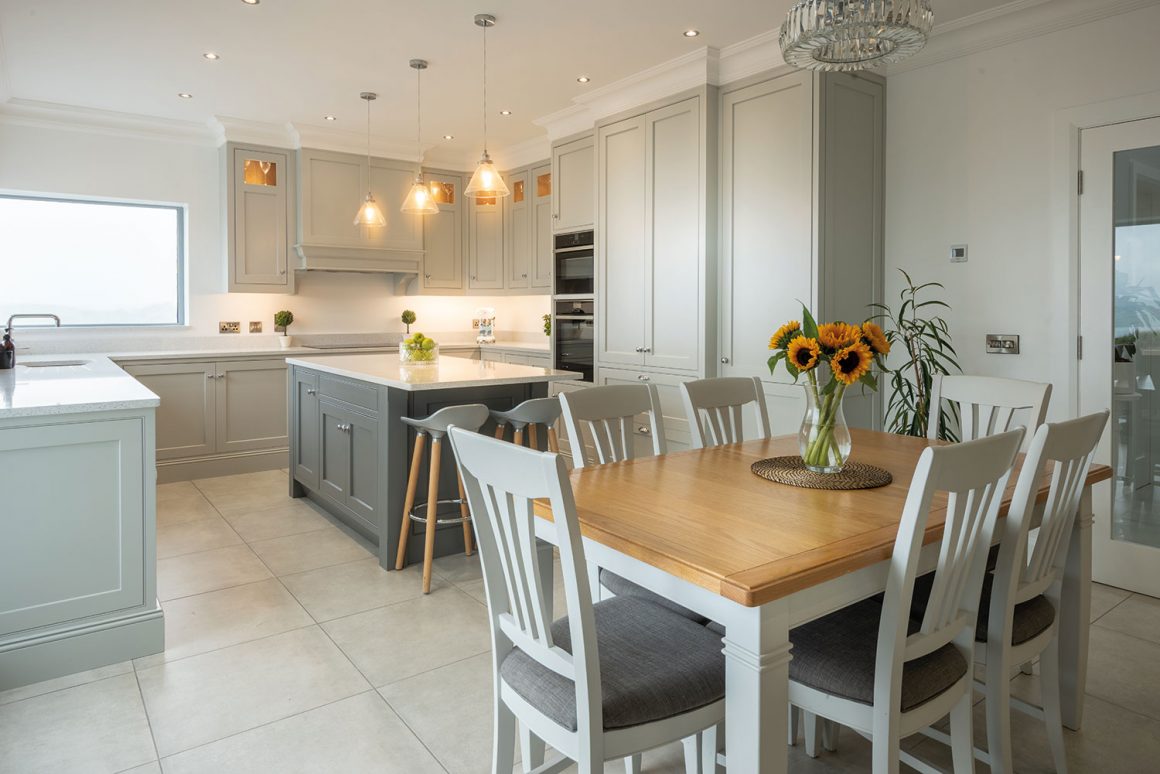 Modern bungalow top tips
Have patience with colours…
Picking colours is the worst job going; who knew there were so many shades of white and grey? We just went with brilliant white in the kitchen; the units are silver wood and the island is gun barrel grey. The bedroom is a type of hessian and the hall colour we got from a project featured in Selfbuild magazine; the homeowner kindly passed on the code to me. In the bathroom I was going to go with navy above the panelling but chose grey instead and the panelling in the kitchen is colour matched to the kitchen island.
… and lighting! Finding the right light fittings took a bit of shopping around; we were living in the house when I found most of them. The chandelier in the hall turned out to be a wee bit smaller than I imagined hanging in our mammoth hall. I was initially disappointed when I put it up but now I think it fits perfectly. We hit the jackpot with the large chandelier in our master bedroom and the main bathroom side lights.
Shop around for everything, fixtures, fittings and everything in between. Keep an eye out for discount codes and do not be afraid to ask for a reduced price especially when buying big expensive items or if you are buying more than one thing of a certain company.
Shop local where possible. The kitchen was built by a local joiner and we asked him back to add a built-in wardrobe to our bedroom. All we did is show him some inspiration images and he designed and built these into the eaves of the attic. This was a great way of using up the empty space that otherwise would have been boarded up and wasted. I also had a local lady knit my beautiful pink blanket for the hallway, it just shows you what you can find when you shop local. I think it adds the perfect touch of colour to my hall.
Greenery and plants. I have filled the house with plants and foliage as I just love fresh flowers but even the faux ones you get these days are great.
I find them so good for filling spaces and making a room that little bit more homely.

What would you change?
I'd add a balcony onto the bedroom. It was down to money, we just couldn't afford it, but it would be nice to sit out and enjoy the view from up there. It can also get very bright at the bedroom window, and we're considering adding curtains but I don't want to spoil the unhindered view.
Living in the house now, the main thing that bugs me is the internet connection. We did have a physical broadband connection put in but it's not high speed. We do get a decent 3G signal when we're sitting outside but with the triple glazing, it's not so easy to get indoors.
What's your favourite part of the house or design feature?
The open plan living kitchen sitting room; I will never tire of those views.
There are a lot of small things that make me happy when I use them. The sound of the waterfall tap in the bathroom for instance is very relaxing.
Would you do it again?
We'd build again but would never get a site as good as this one, so it's unlikely.
What surprised you?
How long the build stage felt. It only took 13 months but the way I was living it, it really dragged on, probably because we were renting. We were unlucky too in that the rental went on fire – no one was hurt – and we ended up staying with my sister. Building can be stressful for a variety of reasons!
What single piece of advice would you give a budding self- builder?
If you can afford it, definitely go with a main contractor. It's going to be stressful with a builder but it'll be better than not having one. Be 100 per cent sure about your choices and have everything lined up in advance to avoid making decisions on the hop that you might regret later.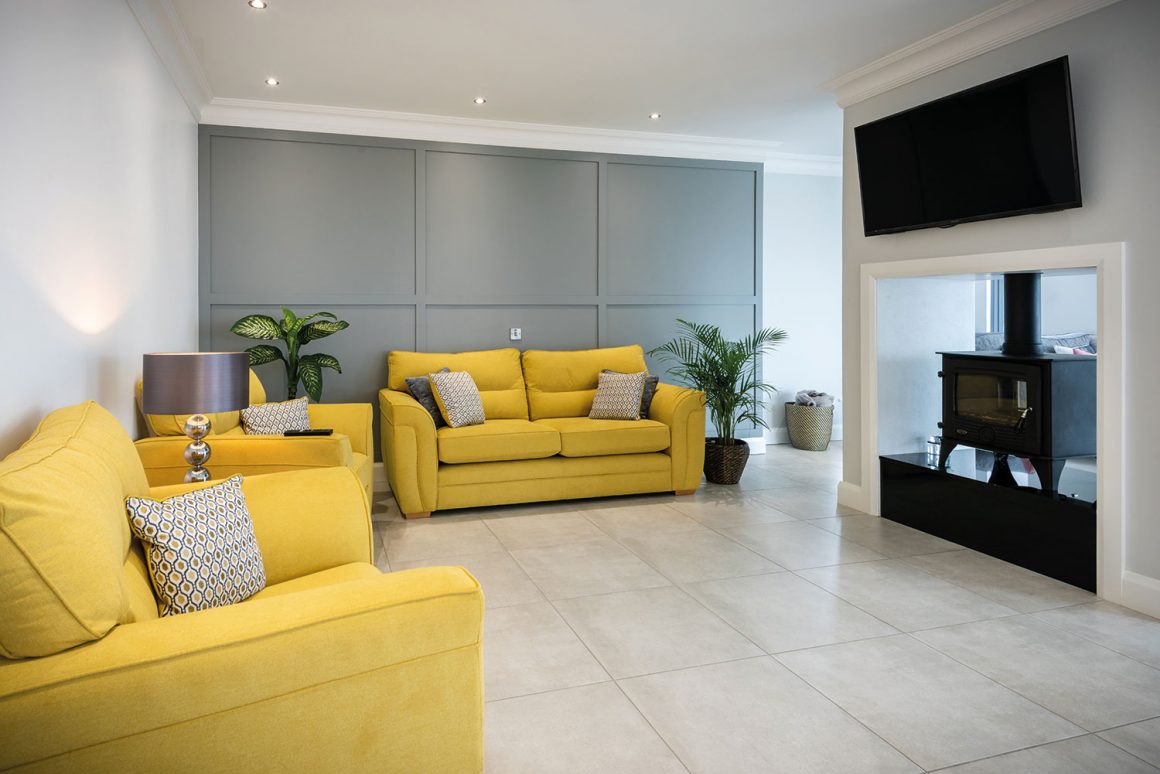 "There were some changes during the build. We made a couple rooms bigger by taking bits off other rooms, and took out a corner window in the living area as we felt it was overkill."
"Then one day my sister Tara came to visit the building site; she had a look around and suggested we add a picture window in the bedroom with a view over the lough."
"I didn't think it was necessary at the time and I pretty much dismissed it. Sadly she suddenly passed away; she never got to see the finished house. The builders kindly cut the wall out, to add the window that she had suggested. It's now known as Tara's window and I love it, looking out over the Swilly."
"Overall the build came in under budget, which was a result of shopping about and scaling back on decoration where things cost more money than we'd anticipated."
"I love where we live and where our site is located, but by god are we open to the elements with the wind and the rain battering off the windows. Perhaps with the landscaping we will be able to buffer some of that, although we won't be doing anything to lose our views."
"I can't help but look at our one acre field thinking how are we meant to turn this into a garden; the sheer thought of the task ahead is breaking me out in a sweat. I'm afraid it's going to cost a small fortune and take forever."
"On the positive front, we do have the kerbing done at back and side of house, the front will get done in a couple of years. Next on the agenda are curbing and a lawn, hopefully. One step at a time."
Specification
Floors: solid floor with 120mm phenolic foam insulation, U-value 0.14 W/sqmK
Roofs: Pitched roof insulated on ceiling with 300mm fibreglass, 38mm insulated plasterboard, U-value 0.12 W/sqmK; pitched roof insulated on rafter with 100mm PIR and 62.5mm insulated plasterboard, U-value 0.14W/sqmK.
Walls: 300mm cavity walls filled with EPS beads, internally lined with 62.5mm insulated plasterboard, U-value 0.13W/sqmK.
Windows: triple glazed, argon filled, low-e, overall U-value 1.3W/sqmK
Airtightness: 3.128 m3.h.sqm at 50 Pa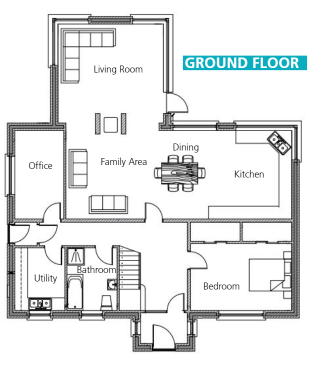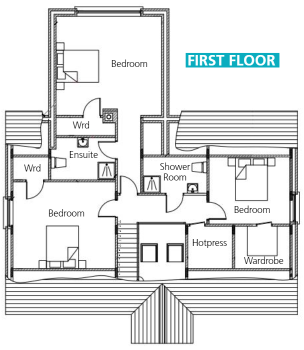 Suppliers
Architect: Northwest Modern Designs, Buncrana, Co Donegal, tel. 074 932 0860
Builder: T&D Doherty, Buncrana, Co Donegal, mobile 087 758 8813
Window supplier: Lynch's windows, Buncrana, Co Donegal, tel. 07493834, lynchwindows.ie
Kitchen and wardrobes: Dukes Kitchens, Newtowncunningham, Co Donegal, briandukeskitchens.com
Hot water tap: Quooker, quooker.ie
Stove: Henley Druid supplied by Devlin Fireplaces Bridgend, Co Donegal, tel. 074 936 8486
Tiles: Boyce Paints, boycepaints.com
Bathrooms: Watershed Bathrooms, macblair.com
Hallway mirror: Flair Interiors Limavady, Co Derry, tel. 7776 2768
Furniture: Restex beds and furniture, restexbeds.com Hegartys home interiors, hegartys.ie Flanagans furniture, flanagans.ie
Stairs: Barry Harrigan Joinery, Burnfoot, Co Donegal, mobile 086 353 8704, harriganjoinery.com
Kitchen table: EZ Living Belfast, ezliving-interiors.ie
Photography: Bernard Ward, derryphotos.com