Paul and Diane Gates stumbled across an old hilltop farmhouse for sale with jaw dropping views across Belfast's cityscape. This unexpected discovery was a stroke of luck that followed them throughout their self-build journey.
In this article we cover:
Buying a house to renovate and why they decided to knock it down to build new
How and why the L-shaped footprint came about
Planning conditions
Tips to keep the costs down
Hiring a builder and how the project was managed
Heating and hot water systems, running costs
Window choices and specification
Kitchen design with tips
Lockdown landscaping
Floor plans and full details of how the house was built
Professional photographs and supplier list
Paul and Diane Gates hadn't set out to become self-builders. Neither of them had built a house before and their eventual building plot was found by accident while en route to view an existing house for sale. Knowing immediately it was their dream new build location they put in an offer which was accepted.
But, instead of buying a move-in-able home they bought a decrepit farmhouse, which sat on a three quarter acre rural site with commanding views over Belfast and the surrounding countryside.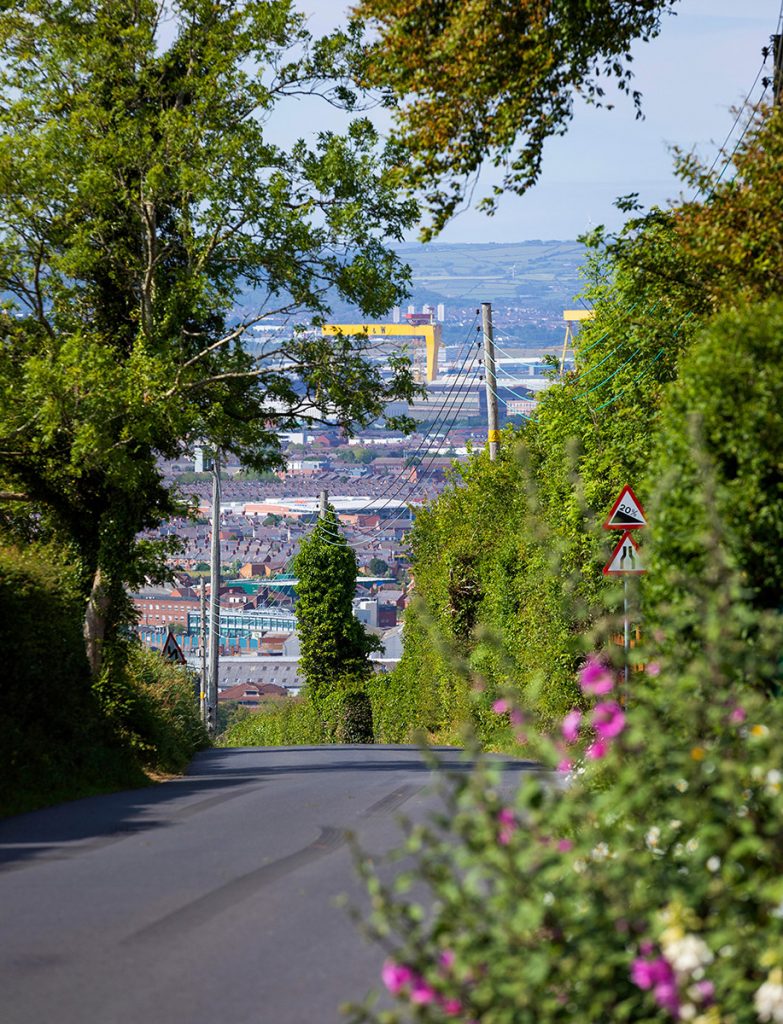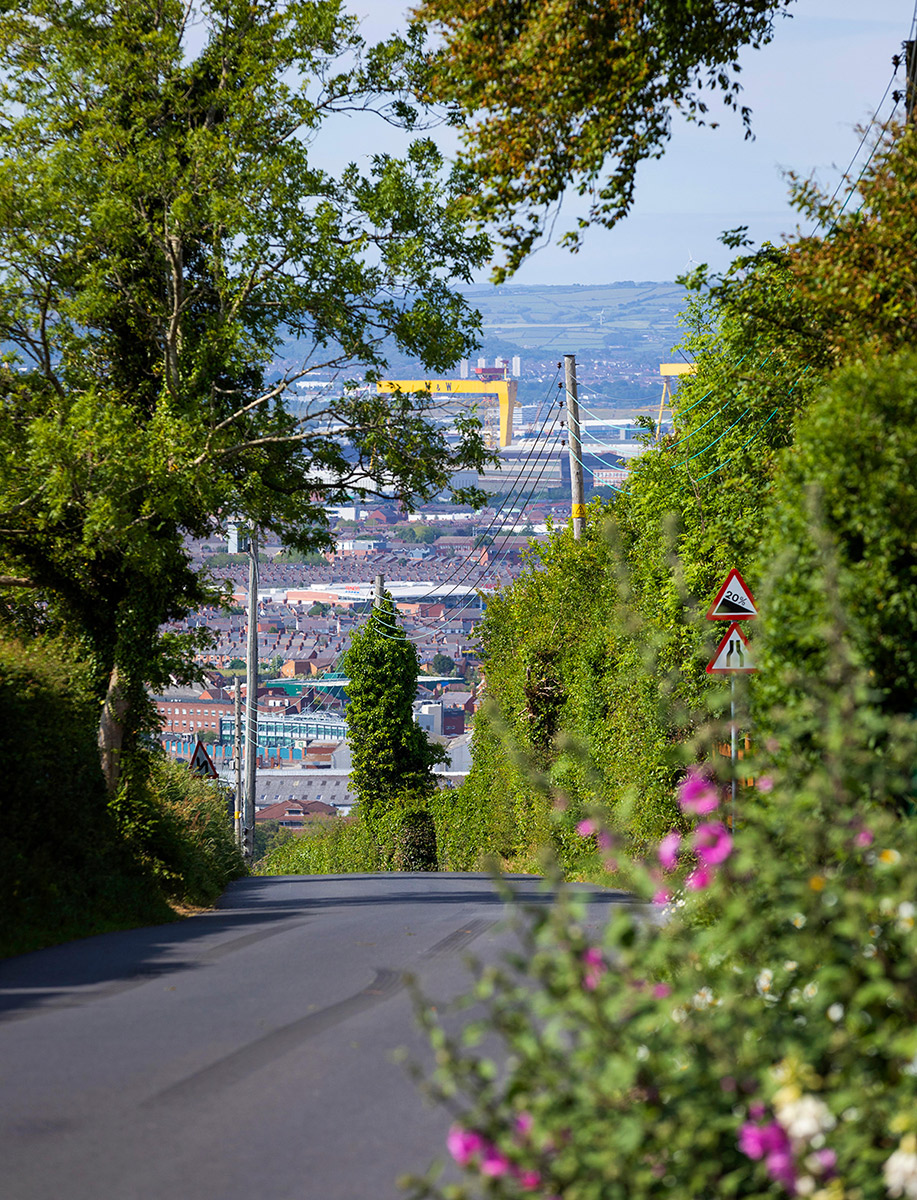 Reality check
The initial plan was to renovate the property and move in with their two boys, but their builder had bad news.
"He made us aware of the enormity of the renovation project," explains Diane. "The farmhouse was built in 1890 and had no foundations. As he went through the list of everything that needed to be done to make it habitable it became clear to us that it would end up as a money pit. So, we decided to knock it down and start again. Build something that would be completely tailored to what we wanted."
Paul and Diane might have been accidental self-builders, but there was nothing random about their plans for their new build home. "I knew exactly what I wanted," says Diane. "It had to be a white house and it had to make the most of the morning sun and the views over Belfast in the evening."
"The location dictated the design features of the building. I wanted to have lots of windows to take in the views. It's a windy site on top of a hill, so the house needed to provide areas of shelter."
"That's why I wanted the design to incorporate an L-shaped footprint. This orientation has created a fabulous sun trap at the rear of the house where we enjoy the morning sun and look out across the city."
"Inside, we wanted a large open plan kitchen, living and dining area; a master bedroom with a dressing room and ensuite and Paul wanted a pantry off the kitchen. Our architect, who was recommended by a work colleague, was delighted to have a client who knew exactly what they wanted and he came up with an amazing plan. It was exactly right for us."
"My two boys love their rooms and their good views. They're on one side of the L-shape and our master suite is on the other side so we all have our own private space."
The only minor setback that the couple encountered in the planning process was that they had to site the house further back from the road, which they quickly resolved in their resubmitted plans.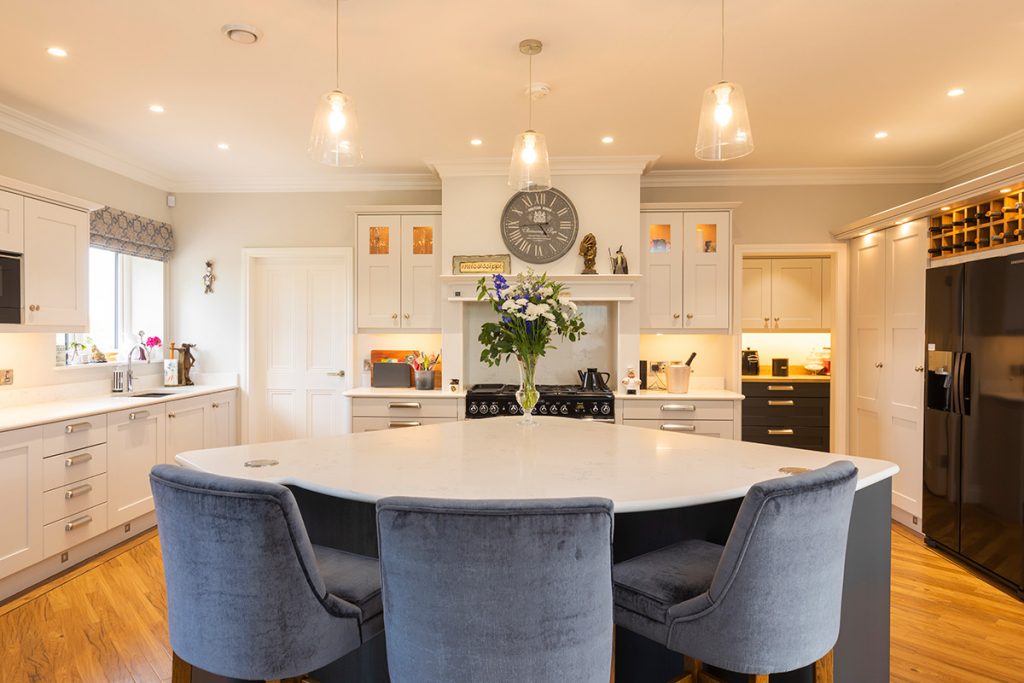 Teamwork
Diane project managed the new build, working closely with her builder, Peter, who had carried out previous smaller projects for her. "I know him very well and trust his judgement implicitly," says Diane.
"Every day we would chat and talk things through. It really was a joint project between myself and the builder. Paul and I lived close to the site so we were able to visit every evening. If the builder had any queries he'd call me immediately. I make my mind up pretty quickly, which I think he liked."
"We sourced the builder who did the blockwork and Peter sourced the plumber but he did all the joinery, the roof and many of the other trade jobs. He took great pride in the project and worked solidly to get the house ready for us in just eight months."
"It was a very fast build; nobody could believe it. The builder took just one week's holiday and concentrated on my house the whole time. Before he started work, he drew me up a calendar of where he hoped to be at the end of each month and he worked faithfully to it," says Diane.
"We opted for block walls with a tile roof, and double glazing supplied from a company I knew very well. Most of the windows are large picture style to make the most of the views."
"The frames are uPVC and charcoal grey in colour which provides a striking contrast to the white external walls. The windows are one of the best choices we made in the house and have performed really well, despite the strong winds we sometimes experience up here."
"We toyed with the idea of underfloor heating but ended up choosing an oil fired condensing boiler with radiators. We liked the idea of having instant heat from the radiators and it has proved to be very economical for us."
"Since we moved in, two years ago, we've been refilling the 1,300 litre tank every nine months, so on average our bills are less than £900 a year. We also have a log burner in the living room just for the cosy feel it gives. The house is really toasty."
"Our builder suggested we install a heat recovery system which works really well at regulating fresh air throughout the house," adds Diane.
Interior style
"In the kitchen, we have an unusual shaped island, like a triangle with rounded edges that means people can sit around it, rather than in a straight line. I really like it and it works well. If you're in the kitchen cooking you can talk to everyone. It's not like one long solid block, it's a very sociable design."
"I wanted a grey kitchen and the kitchen designer came up with two shades of grey: a charcoal and a lighter shade and the quartz worktop is white. I love the finished look. The kitchen design was very important to me because I like to spend a lot of time cooking and socialising in there."
"For the main family bathroom, I was inspired by a Laura Ashley style bath that I had seen in magazines. It's a beautiful shape and size. We found one just like it. Again, in the master ensuite, I got the idea for the shower I wanted from magazines. It's very contemporary and looks amazing," says Diane.
"We'd been to the Selfbuild Live events and we knew what kind of designs we liked. We looked at house magazines and both of us have owned previous homes so we had personal experience of what works in a house for us and what doesn't."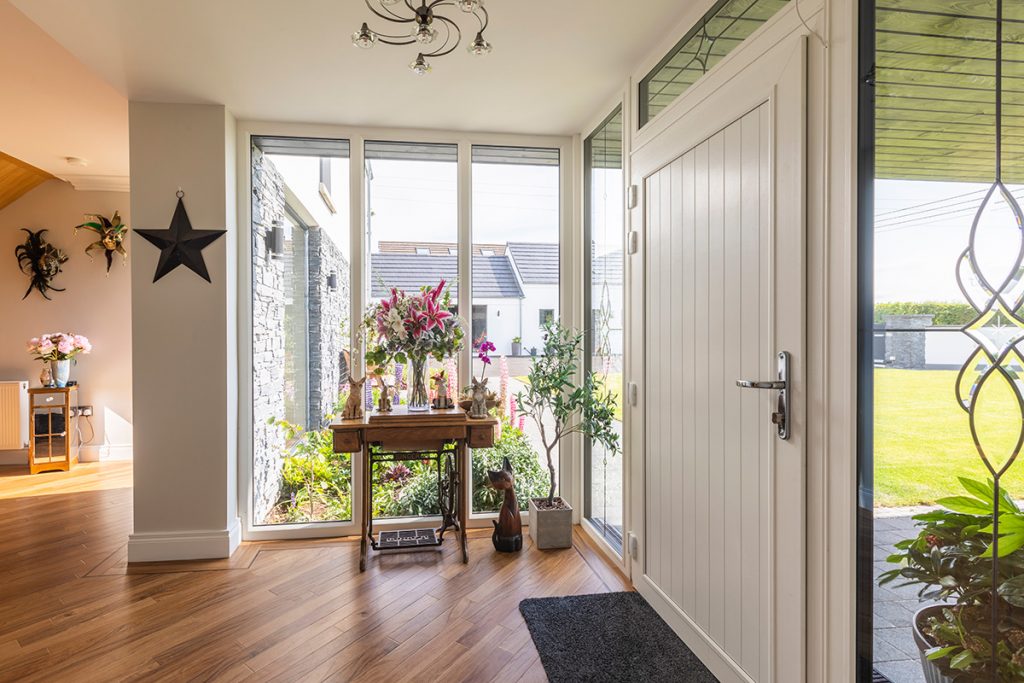 Lockdown landscaping
"Thanks to the Covid-19 lockdown, Paul used the extended period at home to pretty much complete the landscaping himself. With a friend, he laid the front garden in lawn and we planted trees. The back garden was just a sloping field and Paul dug three large flower beds into it, one is planted with roses and the other two are filled with shrubs and flowers."
"He also laid a plum-coloured slate pathway that takes you from the house down to a semi-circle seating area at the bottom of the garden – again Paul laid that. He also erected some fencing panels for shelter from the winds that come up the hillside from Belfast. He did all this without any previous experience and did a really great job. It's a skill he didn't know he had."
"We tarmacked the driveway at the front of the house. I wanted a slap in your face white house and the black surface of the drive contrasts and sets it off brilliantly. I think the charcoal window frames, the grey front door, the black tarmac drive and green lawn make a powerful visual impact."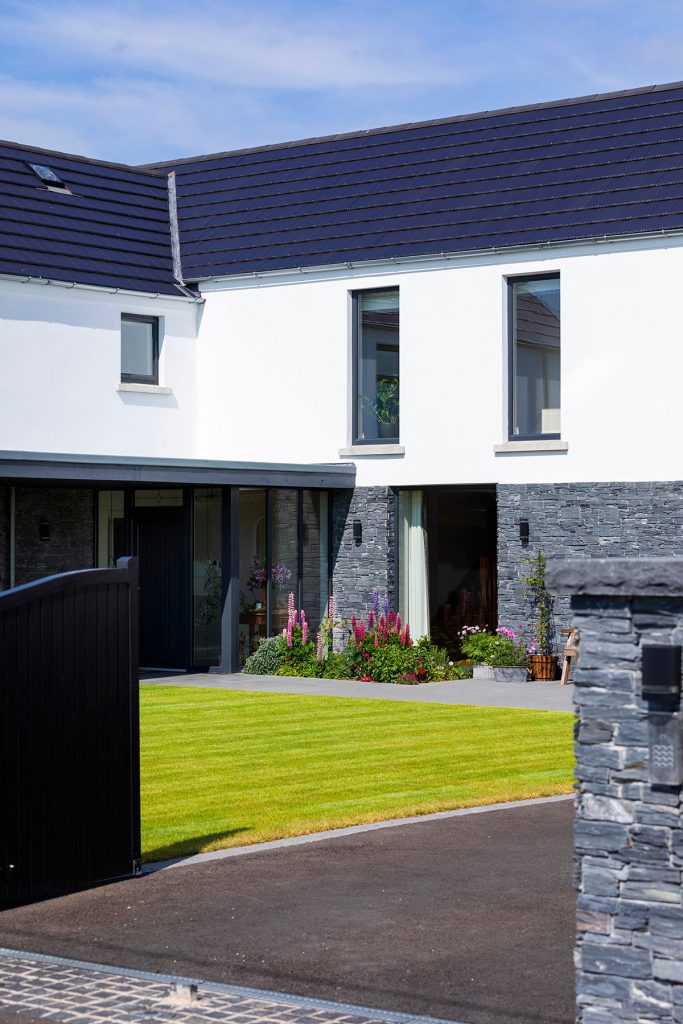 "We had very few problems," adds Diane. "The biggest one was caused by the concrete company who poured the floor upstairs. They got the floor plan wrong and Peter the builder had to make a few adjustments to the placing of a wall and door openings to make it work."
"Apart from that the building process was pretty much straightforward. The builder kept me informed every step of the way so I knew exactly what was happening every day, and Paul and I visited the site nightly to see how things were looking."
"I also kept a close eye on the budget. We didn't want to skimp on things but we wanted to make sure we spent the budget wisely. I filled an A4 ledger with everything we bought and tallied it up regularly to keep a track of what we were spending."
"This has all been a fantastic experience and feels like we've been guided by fate. Before we saw this site we were putting an offer on another house in the area. Then lo and behold we drove up the road and saw this house and we thought this location was perfect."
"We feel extremely fortunate to live here. If a developer had seen this site they could have easily bought it and put up a couple of houses. I do believe fate brought us here."
"Paul and I got married last year, and this house has given us a great start to this new chapter in our lives. We've lived here for two years now – the best two years of my life."
Q & A with Diane
What would you change about your new build home? The only thing I wished we'd done differently is to have made the utility room a bit bigger. We also have a few more things that we would like to do. There are a couple of outbuildings: a garage and an old cow byre. We're fixing up the garage at the moment and we plan to turn the cow byre into a home office for Paul.

Would you do it again? I loved the whole process. A lot of people say it is stressful, but I just loved it. However, we're not going to move, ever. Paul and I both say we'll be carried out of here.

What would you tell a budding self-builder? Your builder is key. You've got to trust your builder. You've got to listen to him and you've got to ask lots of questions.

What surprised you? I was surprised by just how much I loved the process. We had to keep pinching ourselves that we were building a house. It's turned out exactly as we wanted, everything came together so well. There's not a day that doesn't go by that we don't say "thank you." We're just so delighted with it.
Diane's New Build Tips
Read house magazines and go to events like the SelfBuild Live to get design and product ideas.

Keep a ledger or an excel sheet and keep track of what you are spending.

Communicate with your partner. Paul and I balance each other. When we talked through all our ideas for the house, we always came to a strong joint decision. The self-build process actually brought Paul and I even closer together. I know in a lot of cases it can drive each partner nuts, but Paul has the patience of a saint and I don't dither. I knew exactly what I wanted and at the same time don't have a great deal of patience. So when I talked things over with Paul, I had examples to show him and he'd ask questions and we went for it with whatever adjustments we decided we needed to make.
Spec
Floor: 75mm polished concrete on vapour barrier on PIR boards, on DPM on 150mm concrete slab. U-value 0.15 W/sqmK
Walls: cavity walls partially filled with T&G PIR boards, internally finished with sand/cement levelling coat with bond and skim finish to plaster. U-value 0.21 W/sqm
Apex roof: clay tiles for 40deg pitch on 50x38mm treated battens on trussed rafters at max. 400mm ctrs designed, supplied and certified by manufacturer. Vaulted ceilings PIR board between rafters and below with underside of ceiling joists, flat ceilings mineral wool laid flat, finished with 12.5mm foil backed plasterboard bond and skim finish. U-value 0.12W/sqmK.
Flat roof: single ply EDPM on layer of 10mm marine grade ply on 90mm PIR on 20mm marine grade waterproof plywood decking on 100 x 50mm timber firring pieces on 200 x 50mm timber joists at 400mm max centres. Mineral wool packed between joists and firring pieces. Foil backed plasterboard, bond and skim finish. U-value 0.12 W/sqmK
Glazing: double glazed uPVC with 16mm air gap argon filled and low e soft coated. U-value 1.4W/sqmK.
Airtightness: 2.3m3/h.sqm at 50Pa
Suppliers
Architect
C3 Architects, c3architects.com
Builder
Peter Smyth, Sandark Construction, Bangor
Glazing
McMullen and O'Donnell, mcmullanodonnell.com
Roof covering
Snowdon tiles from Lagan, lbsproducts.com
Kitchen
Lonsdale Kitchens, lonsdalekitchens.co.uk
Bathrooms
AJ Elite Bathrooms, Newry, ajelitebathrooms.com
Architrave
Mouldings Direct, tel. 7137 0027 from NI, prefix with 048 from ROI
Photography
Paul Lindsay, paullindsayphoto.co.uk