Houses are increasingly being built off site to ensure they are well insulated, airtight and free of thermal bridging. For Katharine and Matt Dooley that meant building with an innovative expanded polystyrene (EPS) panel system from Poland.
In this article we cover:
What the EPS building method consists of with integrated insulation strategy
Design benefits and design process
Build process from start to finish
Choice of systems
Full specification, floor plans and supplier list
House cost: €63,000
Renovation cost: €110,000
House size: over two stories existing 77sqm plus extension 79sqm
Plot size: ¾ acre
---
Houses are increasingly being built offsite to ensure they are well insulated, airtight and free of thermal bridging. For Katharine and Matt Dooley that meant building with an innovative expanded polystyrene (EPS) panel system from Poland.
What does this building method consist of?
Matt: The patented system this company has developed is especially innovative for the unique use of materials; the EPS is cut into structural shapes which, combined with glass
fibre and cement, form a lightweight and eco-friendly structure. The ceiling's arched shape is self-supporting. All the panels are manufactured off site and are light enough to fit in place by two to three men.
Katharine: I love the curves the arch shape of the ceiling gives to the upper storey of the building, which I find unique. The ceiling height really accentuates this space and gives the rooms a much bigger and open feel than a standard room height. The build has a light and airy feel which makes it a really comfortable home.
---
SPECIFICATION
Existing house walls: walls insulated externally with 100mm EPS with thermal conductivity 0.036W/mK and internally with 22mm insulated plasterboard (10mm PIR board); party wall insulated with additional PIR. Rendered at the same time as extension walls for uniform finish. U-value 0.12W/sqmK.
Extension walls: side walls 300mm EPS with 100mm steel box frame, gable walls 215mm thermal blocks with 250mm EPS, total thickness 465mm plus render, U-Value 0.12W/sqmK.
Floor: 200mm concrete slab with A142 mesh top and bottom over 180mm EPS insulation on 30mm XPS on radon barrier on 50mm sand blinding on 300mm consolidated crushed stone hardcore floor. U-value 0.26W/sqmK.
Roof: built as an extension of the EPS glass fibre and cement wall, 300mm to 1.4m at eaves height to 700mm at ridge level, the pitch 30deg, U-value 0.12W/sqmK.
---
How quick was it to build?
Matt: We put in the raft foundations in November 2015 and the installers came in February 2016 from Poland to lift the structure in place. The panels went up in two weeks. What takes time is the fitting out – I did a lot of the work myself so that delayed things. We moved into the house in October. If it were a new build it would have taken 14 to 16 weeks.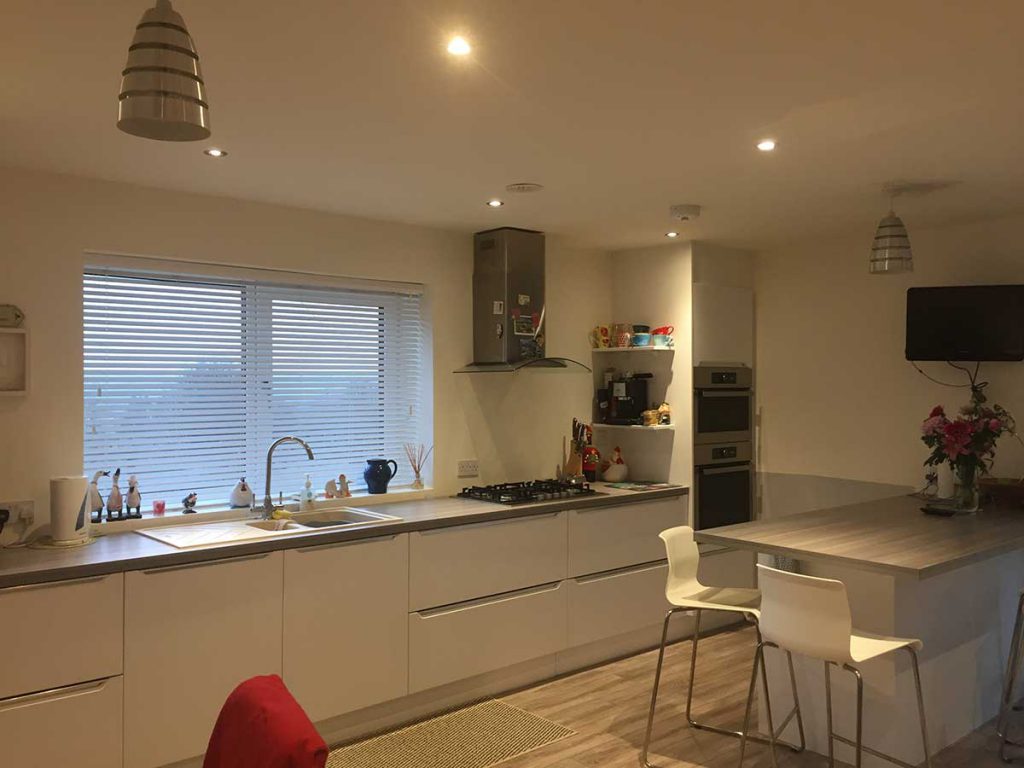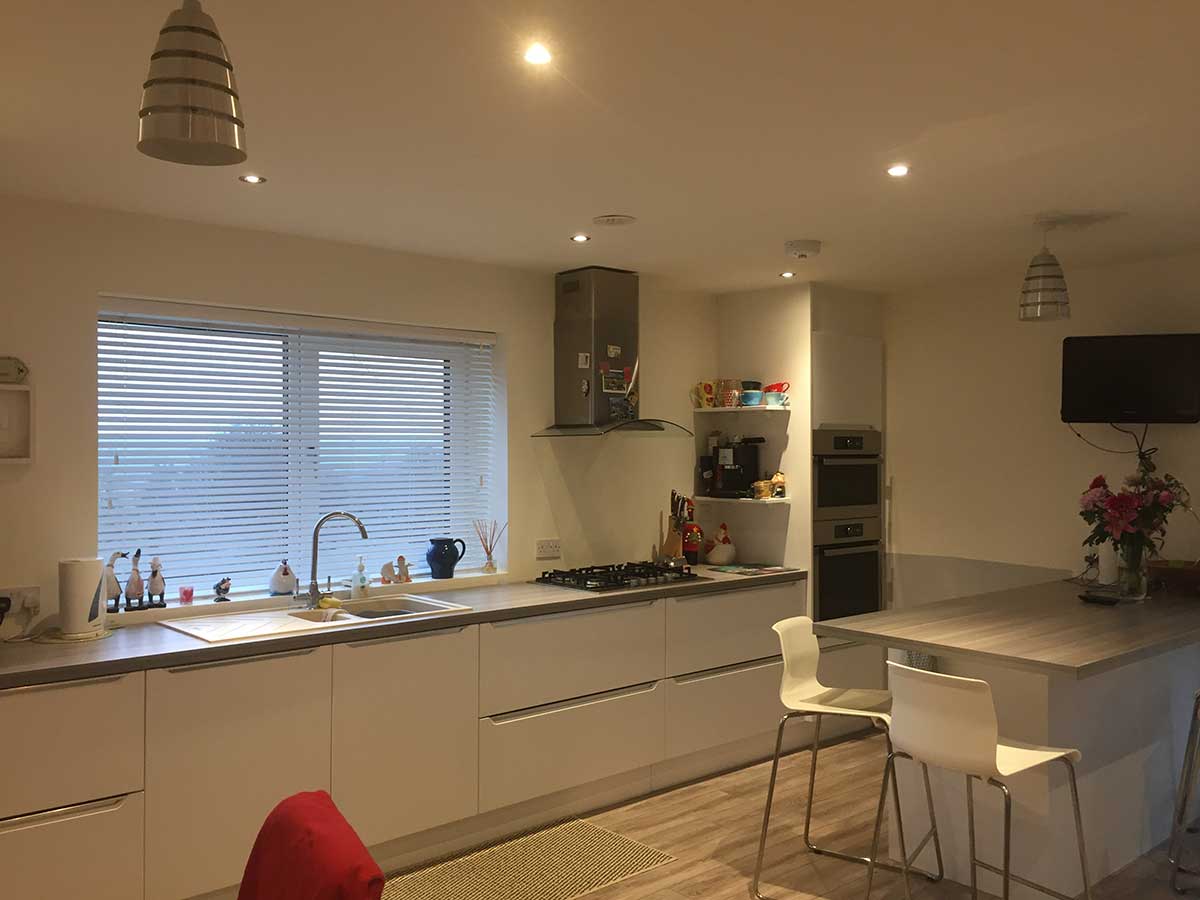 How did you come across this building method?
Matt: My cousin Fran held the right to distribute this system and he set up a showroom in his yard in Kilcullen (Co Kildare). He built a three-bedroom house in 2012 and I was impressed by the result. Sadly, he passed away and his children didn't want to take over the business so I was given the opportunity to get involved.
My inspiration is Fran's passion for this new building method; we're very conservative here in Ireland. Only bricks and mortar seem to be the solution but with houses becoming ever more energy efficient, modular systems guarantee the highest levels of airtightness and insulation. With cavity walls it is very difficult to avoid thermal bridging.
Case in point are the old walls in the sitting room. They are the weak point of the house. Even though we insulated them to a very good extent on the sides, down below they are in direct contact with the ground which is causing cold bridging.
When you bought the house, what state was it in?
Katharine: Uninhabitable! It had an outside dry toilet and no running water, no internal plumbing. We spotted the house whilst out driving one day, there was a 'For Sale' sign so we decided to enquire about it. With the budget available to us, and with Matt's knowledge of this type of building we felt it was a house that had great potential, although it required a lot of work. It was a two up two down house, which we doubled in size with the extension. Internally the house was quite dark and reliant on the range in the front room for cooking and heating. It has now been totally transformed.
Matt: The stone walls were straightforward to insulate and there was room for an extension so we went for it. The opportunity to build had never come up for us before and this semi detached house seemed like an ideal project.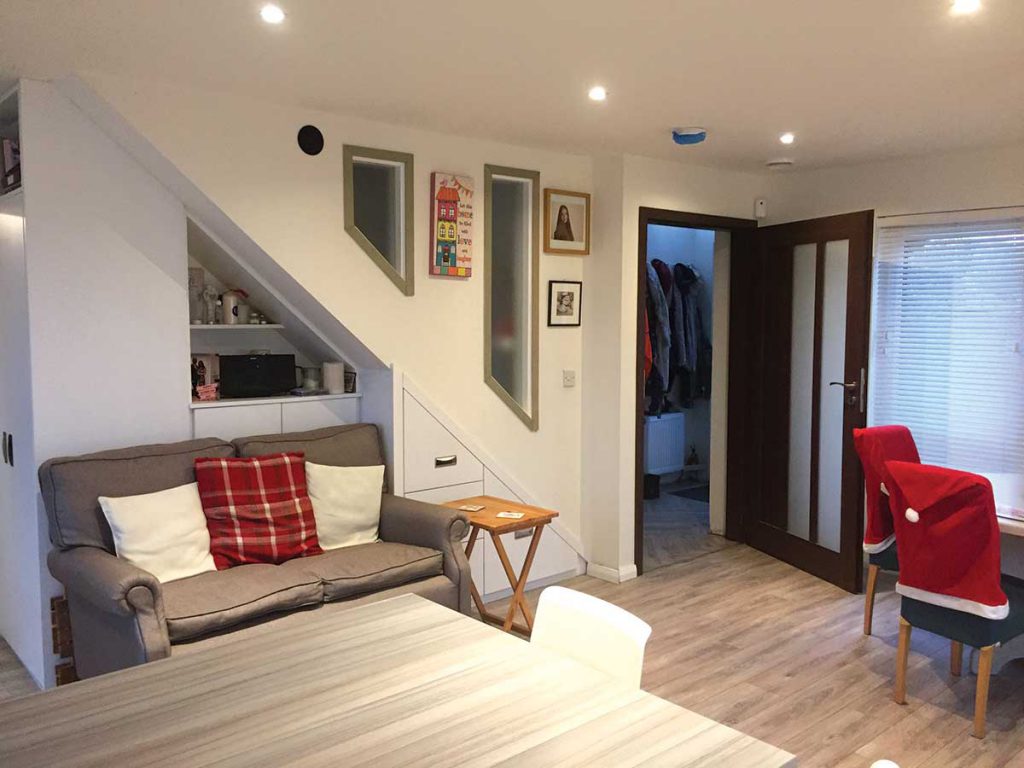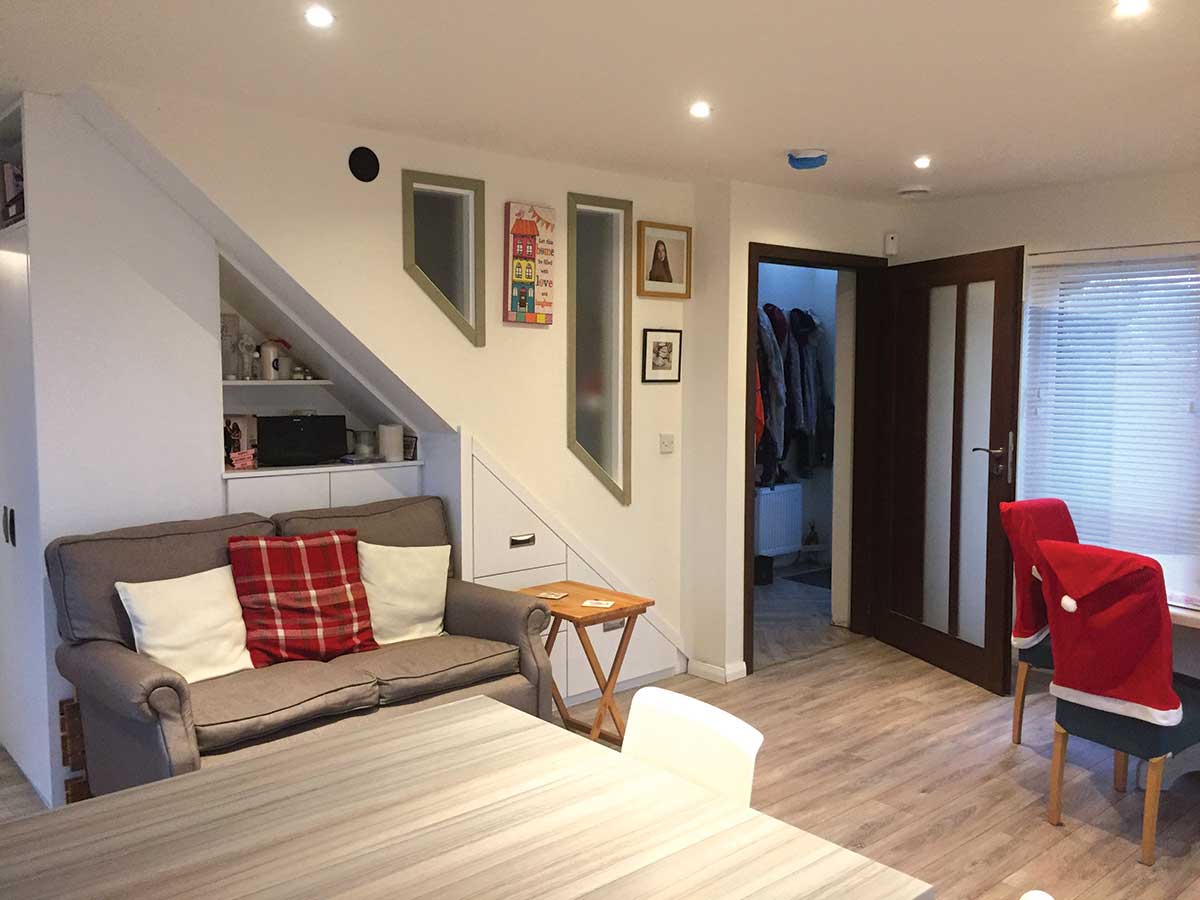 What was on the wish list?
Katharine: A master bedroom with en-suite and a walk-in wardrobe, two further bedrooms and a family bathroom. A functional kitchen/dining area and a re-design of the existing front room into a comfortable lounge/sitting room. After renting for ten years we knew what we did not want; it had to be bright, warm and the heating system had to be cost effective to run.
Because the house is airtight we went with a heat recovery ventilation system which I find to be a great benefit as I suffer from asthma, and this makes a big difference. We also took into consideration our senior years and the problems we may face in the future, so in addition to the bathrooms upstairs on the ground floor we fitted a wet room and made sure all the doors were a meter wide to allow for wheelchair access.
The design also allows for a small granny apartment to be attached to the side, or added as a standalone structure in the rear garden.
How about heating and hot water?
Katharine: We chose to put in a below ground LPG tank – this had as much to do with security as it did with our choice to go with gas. We picked a condensing gas boiler and it does work really well. We get instant hot water and cooking with gas is a pleasure. The house is cost effective to heat too; we only turn on the heating for an hour or so in the morning and maybe two to three hours in the evening. The house retains the heat with little effort. In total we spend €31 a week for everything including gas and electricity.
Matt: We dug up the floors to insulate them, we could have installed underfloor heating but we chose radiators instead. The house is quite compact and we need very little heat to keep it warm so it did not seem like something that was necessary. We have friends who put in underfloor heating in their kitchen but the pipes run under the fridge, which in turn seems to reduce the lifetime of the appliance. The running costs are probably higher too because the fridge has to work harder to cool down. But if we build again, we may consider underfloor heating.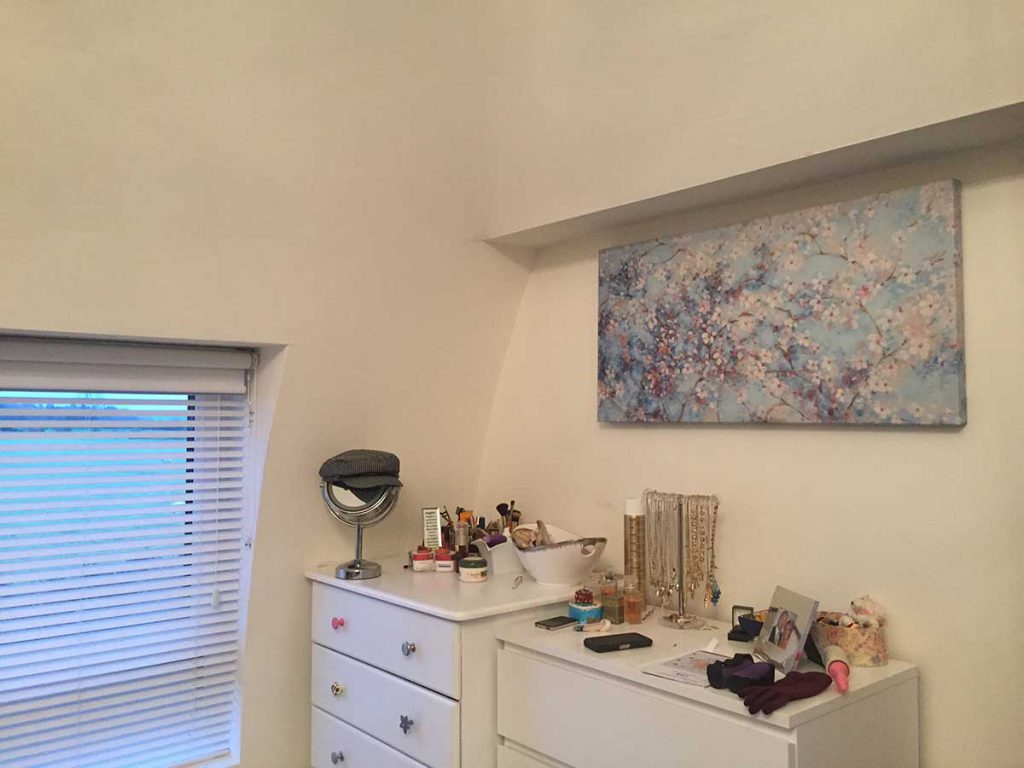 How about heating and hot water?
Katharine: I really like the laminate flooring with the herringbone pattern in the porch area and I wish we had continued this design throughout the house.
Matt: I would do less myself, between work and family life there is already a lot to do. I am a joiner by trade so I was able to design and fit a lot myself including the in-built storage solutions and whilst I did not build the stairs I did fit them. When the time came to build the kitchen I realised I needed help! It had taken long enough to get to that point. The cost of getting a company in was also very comparable to me doing it myself
Would you do it again?
Katharine: Yes, our dream is to build from scratch. We are lucky to have land locally and where Matt originates from, so we will probably go down that route.
Matt: A new build is definitely on our wish list although I might miss the settee in the kitchen on a Sunday morning. With blinds open and a fresh cup of coffee, it is a really relaxing spot.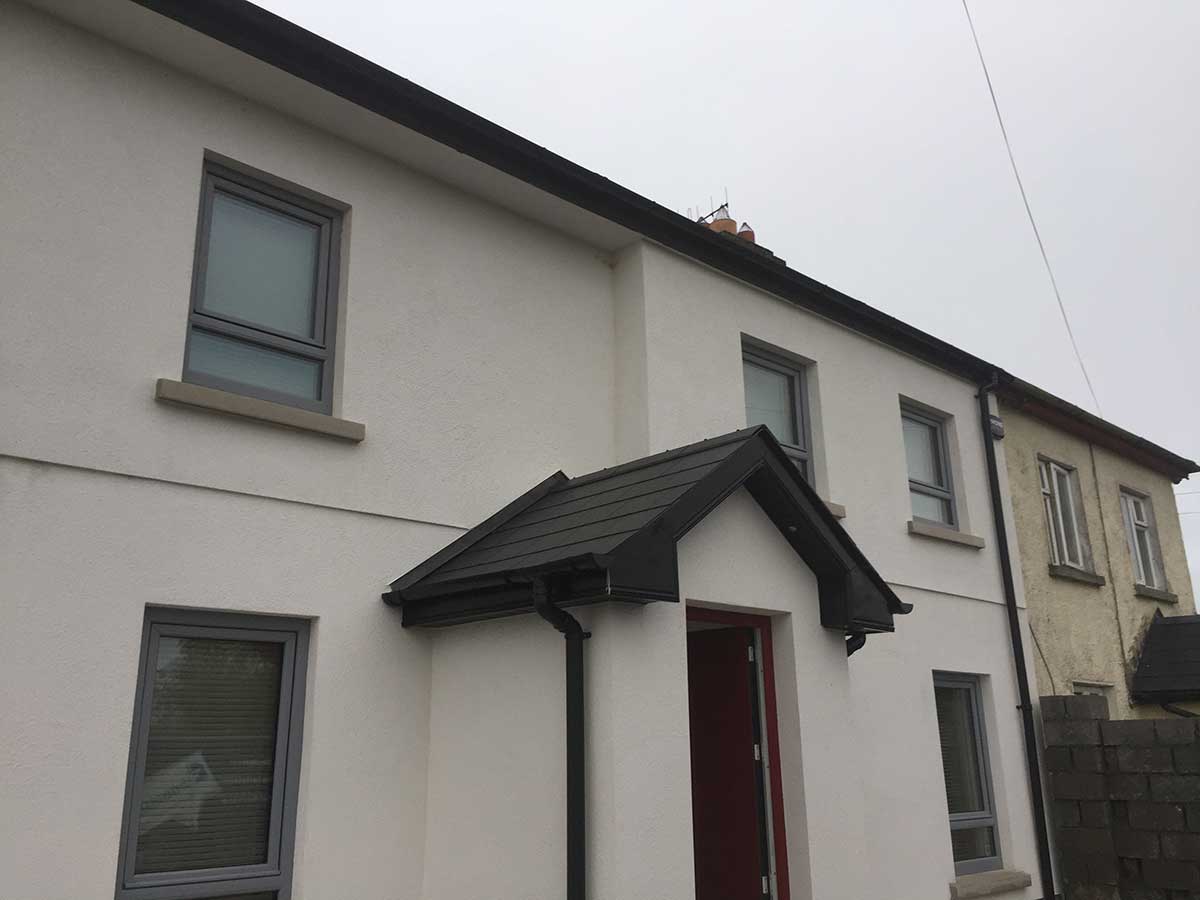 ---
Supplier list
Turnkey builder: Passive Housing, passivehousing.ie (using M3 building system, m3system.pl)
Thermal blocks: Quinn Lite Thermo Blocks B7, quinn-buildingproducts.com
HVAC: Worchester Bosch Greenstar 25i ErP LPG condensing combi boiler and Beam mechanical ventilation with heat recovery system, both supplied by Smart Living and Building Services slbs.ie
Triple glazed windows and doors: Munster Joinery, munsterjoinery.ie
Kitchen: Concept Kitchens, conceptjoinery.ie
Bathroom: Kildare Bathrooms, kildarebathrooms.ie
Render: K-Rend, k-rend.ie
Onsite wastewater system: Eco flow, cmdenvironmental.ie
Storage units: Bneatstairs & attics, bneatstairs.com
Photography: Conor Williams Photography, conorwilliams.com