The kitchen is at the heart of the home, so much so for Lorcán and Kate Horgan that they designed their new house around it.
In this kitchen centric new build, Lorcán and Kate share their experience, including:
Designing and specifying a Georgian style house
The details of their kitchen with 360 degree views
Why it took them three years to design their house
How they made the most of the building's footprint
Driveway restrictions from the planners
How they chose their windows
How they managed the build to ensure a quality finish
Budgeting tips
How they put in a well for drinking water
Overview
House size: 180sqm ground floor, 135sqm first floor, 315 sqm total
Plot size: 1 acre
Bedrooms: 4
Heating and hot water: air to water heat pump
Ventilation: centralised mechanical with heat recovery
As is the case with many self-builds, Lorcán and Kate's motivation to build had to do with moving back home.
"At the time we were living in a three bed semi-detached house and working in Co Antrim," explains Kate. "We always had the idea we would move back to Co Monaghan but it increasingly made sense when we realised we spent all our weekends visiting family and friends. And because we had land available to us, we only ever really considered a new build."
"We're fortunate to have been able to build on family land," continues Lorcán. "Kate's father owned the parcel and passed it on to us. We were very lucky not only to get to build but on an elevated site with fantastic views."
The couple met with their friend and architect Donal in the early days to start on their creation. "We spent quite a few late nights bringing together some of our ideas and designs. We liked the Georgian style. We wanted an open plan modern approach to the interior mixed with the simple design features of the Georgian period."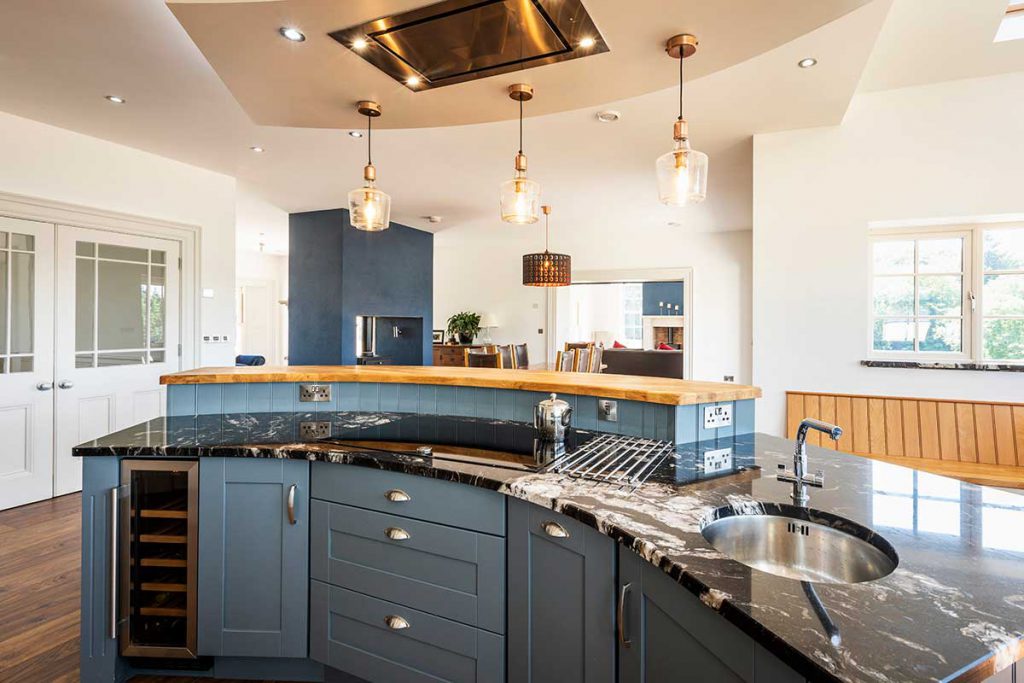 Gestation period
"Very early on we knew we wanted the entire house to revolve around the kitchen. As in any house we spend most of our time there. We wanted the option to be able to cook as well as being able to relax within the kitchen environment," says Lorcán. "Then came Donal's architectural input and his plan to allow for 360 degree views of the Monaghan countryside."
"We wanted to maximise the views. Donal brought all our ideas together with some slight tweaks from us along the way." As the design evolved there were some cutbacks. "We had to put in less curvature than originally planned, which helped with the cost but it was also a way to rationalise the space. There were quite a few dead areas and some hallways were larger than they needed to be," says Lorcán.
"The landing for example was too big for its function so we made it more compact and actually got a more usable floorspace. All the rooms are a good size; even though it's a four bedroom house we could have added another two but we didn't want to scrimp on any of the rooms' sizes."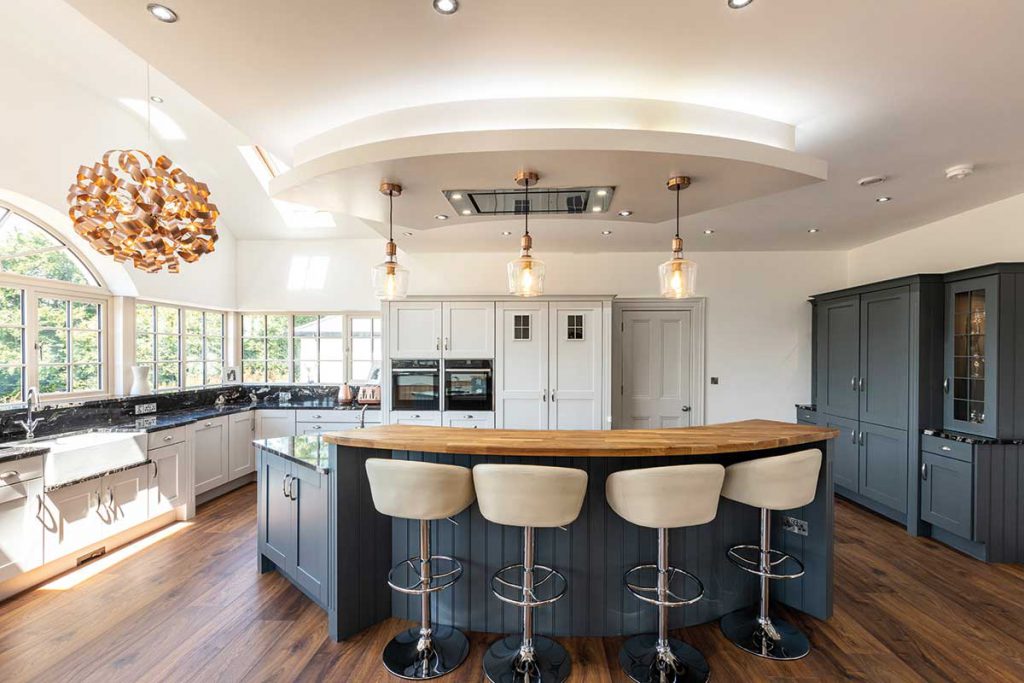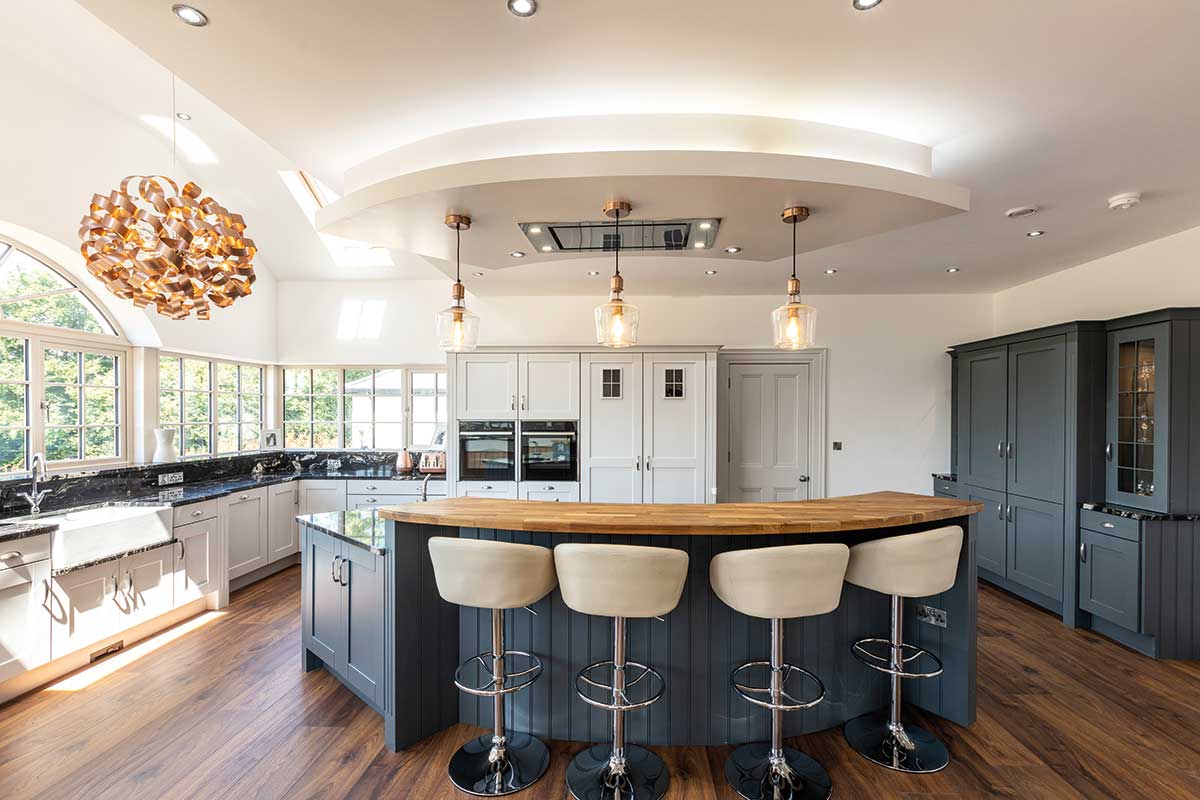 They also took their time choosing the style. "We looked at houses driving up and down the country, and the Georgian style was always the type we preferred," says Kate. "Adding the bay window and the look of the glazing in the sunroom was Donal's idea." "The idea was to have a traditional style for the front and a modern rear elevation.
'We wanted to maximise the views and originally had a lot of curves to accommodate them'
With views no matter where you sit. We always wanted a bifold door so the back is very open and glazed which provides contrast," she adds. Then came the time to turn the vision into reality. "Luckily the home next to ours was built in Georgian times so our design was in keeping with houses in the area."
"Ours was a similar profile," says Kate. "Donal helped us get through planning and partly because the house is not visible from the road the council accepted it." It took them seven weeks which they say was quite surprising but a reward for all the work they'd put in looking at every aspect. "Also Donal spoke with the planners to make sure we were on track."
"We did however want the driveway curling up to the house in a zig zag pattern due to the steep profile of the site but the planners asked that we stick to the hedge to reduce the visual impact. That was one of the conditions. The downside is that it can get a bit dicey in winter because it's quite a steep climb."
Five Year Plan
"The design process had everything to do with the look and that took us three years," recalls Kate. "Every element took time, every decision we made we agonised over at the design stage so we didn't deviate from the design once on site."
"The changes that did occur were things like clarifying the type of windows we wanted, because we spent so much time getting the design on paper right it was all planned in advance."
Details they worked out at this stage include the Georgian timber wall panelling in the hall to set the tone, the double sided stove and fireplace as features as well as the brickwork.
"We talked about the windows much more than we expected, sliding, casement, how many glazing bars, we didn't believe how much we could discuss it," says Kate. "Do they blend with the style? We had a long debate about double glazing versus triple but the benefit of triple wasn't much more in terms of insulation and we saved quite a bit by going double."
The kitchen was also all planned well in advance. "We configured it with Donal and the kitchen supplier and it didn't change after that," adds Lorcán.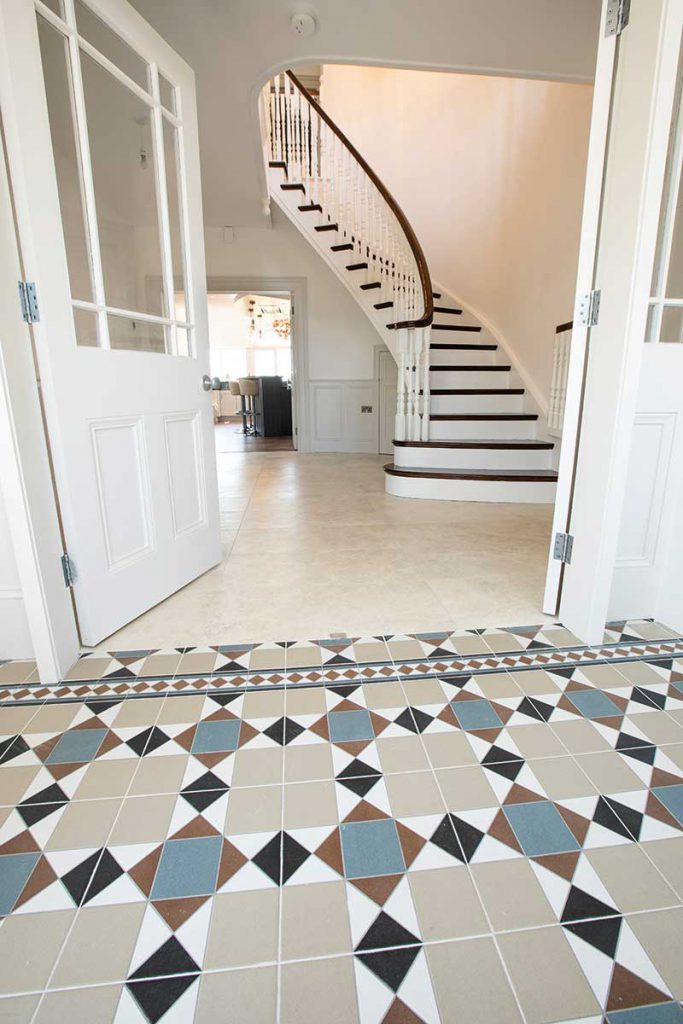 As an engineer Lorcán had a special interest in the heating system: "I wanted something different to try and use some of the more modern approaches to heating and quickly looked into heat pumps. We went with an air source system as it ticked the box to meet Part L of the building regulations."
"We also put in a heat recovery ventilation system because the house is completely airtight and there are no natural ventilation vents. We're delighted with it, even in hot weather it never feels muggy in the house," adds Kate. "Experience from previous houses told us what we didn't want so we specified concrete floors upstairs and blockwork walls. It's a traditional enough build."
'Each house is unique in its configuration so commissioning, or fine tuning it for the house specifically, was an interesting process for Lorcán.'
They also went with underfloor heating. "It's well suited to the open plan and we had no room for radiators anyway," adds Kate. "In comparison to traditional oil burning heating systems it's economical compared to our previous house."
Each house is unique in its configuration so commissioning, or fine tuning it for the house specifically, was an interesting process for Lorcán. "It was trial and error," he says.
"The utility room is a bit small now, it was designed as big enough for everything we needed in there but the heat pump unit had to be on an external wall and this was the only room it could go into," says Kate.
"The design was sent to five contractors with a high quality finish specified. Donal had worked with these contractors before so we had comfort knowing that the end product would be of a high standard," says Lorcán. "We were very hands on in the tendering process and right through to getting the sod turned on site. Most evenings and weekends were spent visiting site and monitoring progress."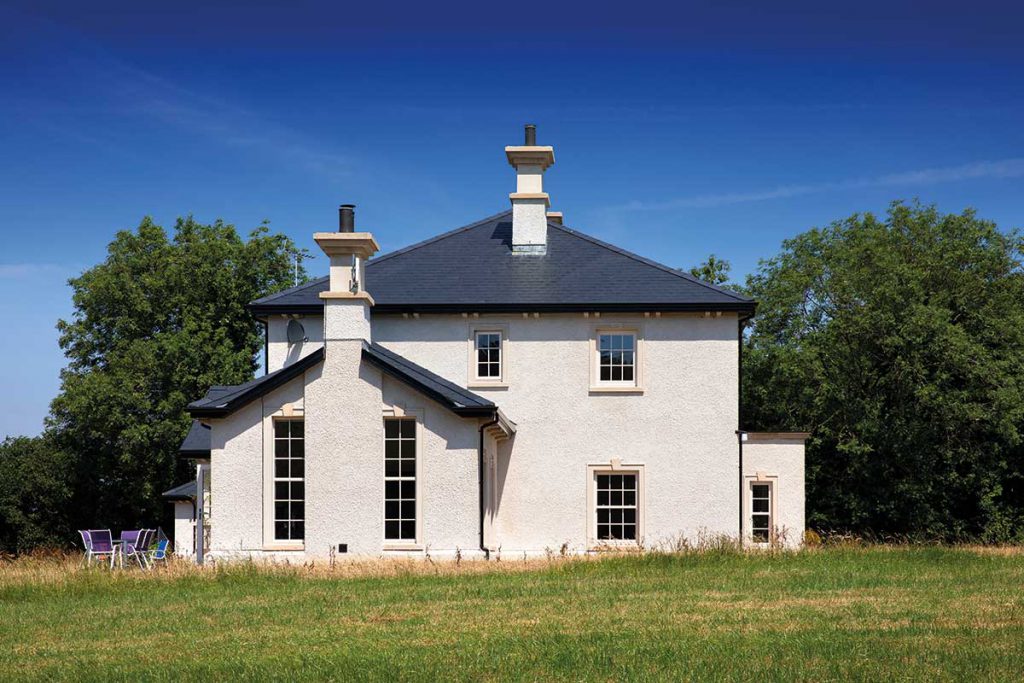 Quick fire Q&A
What surprised you about the build?
You don't realise how much time and effort a build consumes, you can't foresee how many meetings you'll be attending to constantly make sure everything is going to plan. We just didn't think the process would take so long.

What did you do for drinking water?
We were too far away from a group water scheme or the mains to get a water connection so we had to sink a well. We're no strangers to it as both of us grew up in homes that got their
water that way. The first step was to get a ground survey and it showed two natural aquifers, which is quite good but the company that came out to bore the well was surprised how quickly we got water. We reached it at 460ft with a really good supply, he was expecting 800ft. The process only took two days.
We didn't get a reduced rate unfortunately. The lab then tells you what treatment it needs, there's a UV light and a system of filters. There's not much maintenance to it, the treatment system is just a yearly service. We also top it up with salt.

What's your favourite part of the house?
Kate: The kitchen. It's fabulous for cooking and entertaining. The curve on the island also means people don't venture in the cooking zone. When I'm at the oven people can move about but at the same time stay away from the action.
Lorcán: There are lots of ones. I love the amount of glazing we have, the kitchen. The sunroom has the most unobstructed views. I really like the design and finish on the staircase.

Would you do it again?
Kate: No because I got everything I want!
Lorcán: The stress at times can put you off; looking back on it it's not that bad but it can be tough when living through it. We managed to get our dream home at the end of it.
"During the build we lived part of the time in Kate's mum's house, we were only two minutes away from site." The process of building itself then took another two years including a nine-month gap due to financing issues. "We were all systems go so the biggest shock to the system was having to stop," says Lorcán. "It was a stressful time."
"When we did manage to get the build restarted there was the delay waiting for tradesmen; the tiler, carpenter and so on. The break in construction meant we missed our slot in the queue as they were working on different jobs," he adds.
This build was in many ways first and foremost about craftsmanship. "The painted oak staircase for example, Donal had done the initial sketches and we got a joiner who did a fabulous job," says Kate.
"He was out a couple of times to make sure he knew what we were trying to achieve; we had to elevate the ceiling for the 15 steps making sure each one was wide enough, not too wide. A real craft."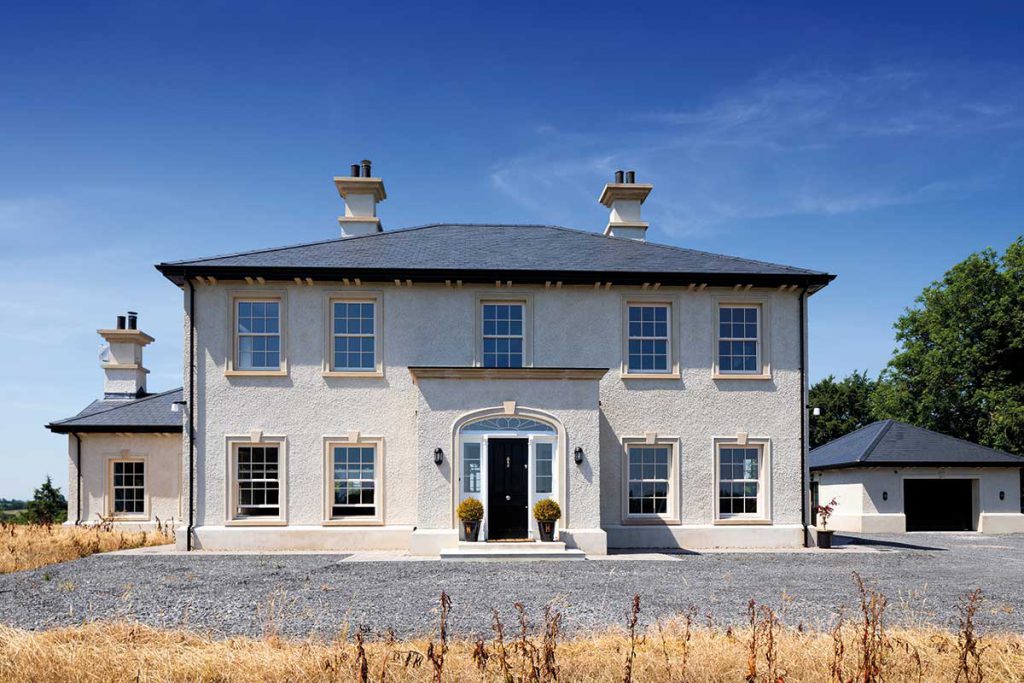 Evolution
As the house was being built there was a change to the configuration. "There was a wall between the dining area and sunroom; when we were on site we felt it was better to leave it open so we could have a conversation yet be in separate spaces – and keep an eye on the kids!" says Kate.
"We have two very young children and that was factored into the process – we had great fun picking out colours, the entire family was delighted to move in." "But at the time we didn't initially think of designing in a playroom," adds Lorcán.
"Now the front room with bay window which was meant to be a relaxing room for the adults, has been turned into the playroom."
"Everything evolves, we love the space we have now, having friends up here," says Kate. "It's airy, bright, we have lots of room. We're in a year now and there are still bits that need to be sorted but it's all relative. What we have now is our dream family home in our home county."
Even though they didn't change jobs, their commute is only an hour. "It's manageable, we feel an hour commute is reasonable. It's more than worth it."
Top Tips
Add 20 per cent to the tender price for finishes, landscaping, furniture and unforeseens, we had to bring in an electricity pole at a big expense. We only thought about the house, the physical build cost, but other things cost a lot too.
Keep the build in perspective. Don't get hung up or stressed out about things that aren't important.
Don't forget the fuse box. We thought the position of the electricity box was strange, it had to be near the front door. We negotiated and eventually got it to the side door but if
we had known in advance that would have been helpful.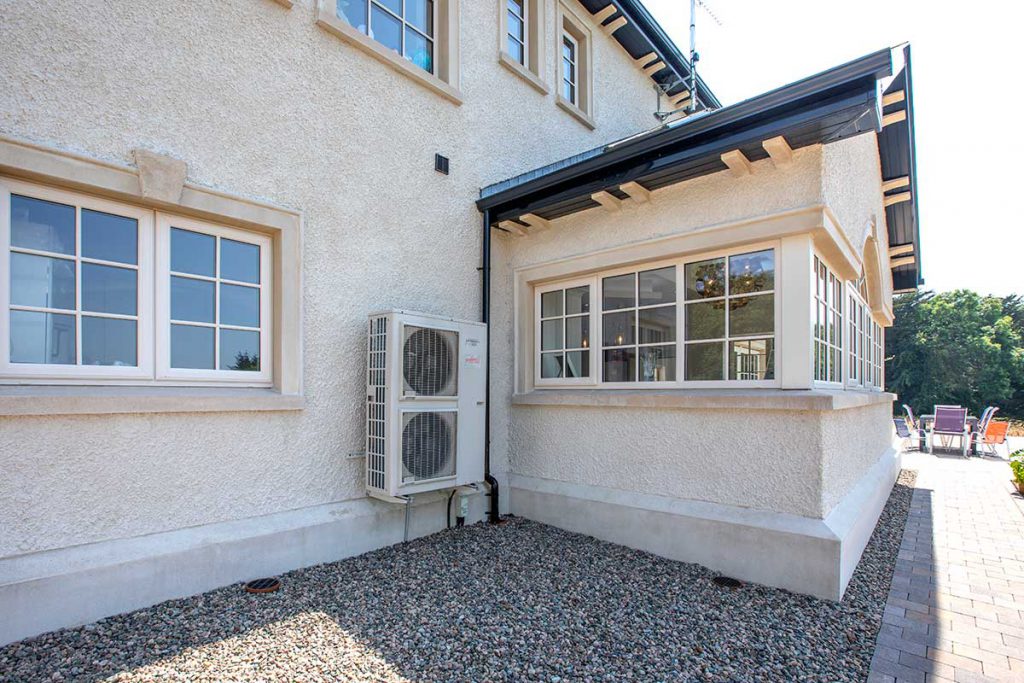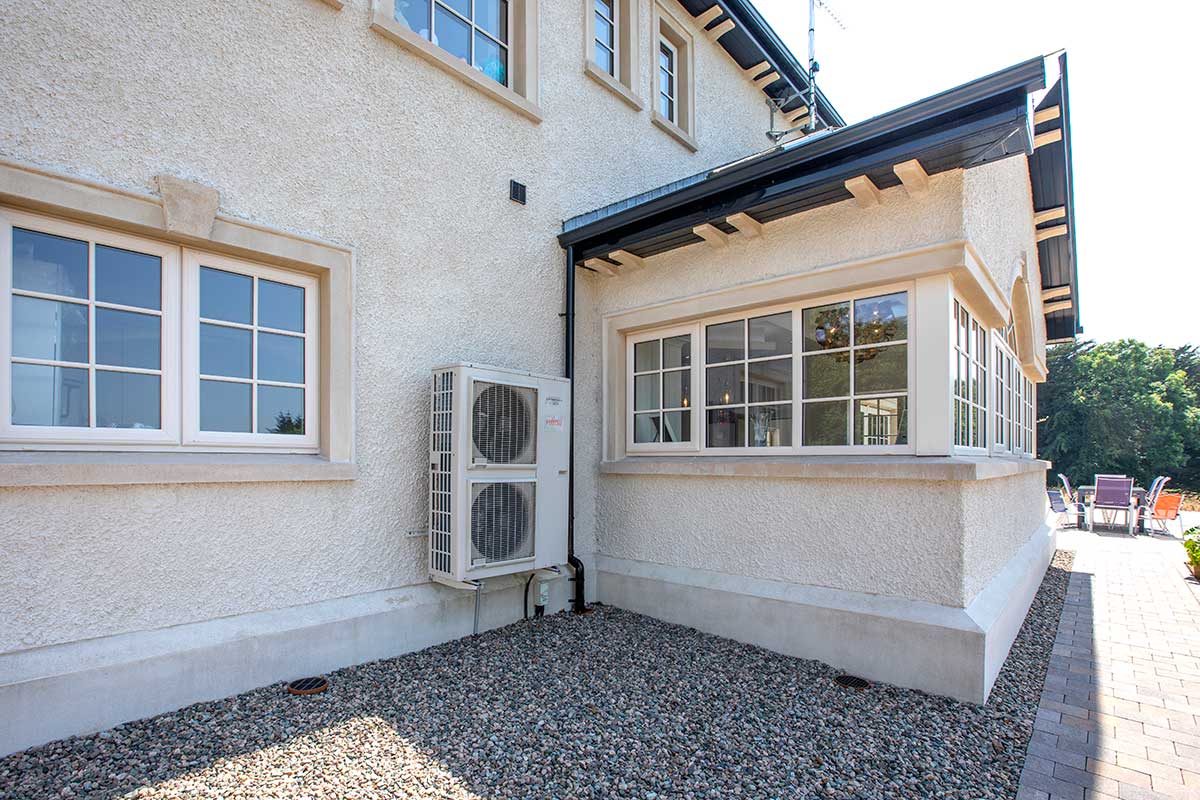 Spec
Roof: Insulated with 100mm insulation board between rafters, 37.5mm foil backed insulation board to underside of ceilings, natural slate finish with black ventilated clay ridge caps to match.
Walls: Cavity wall construction 150 mm cavity pumped with graphite EPS beads, 37.5mm insulated plasterboard to inner side of cavity walls, rough natural sand /
cement / lime mix render finish to all main walls.
Floor: 100mm fine concrete screed on 125mm extruded insulation board on 150mm concrete sub-floor over usual build up with radon membrane.
Windows: Cream uPVC frames; windows to living room and front elevation to be sliding sash, others hinged.
Suppliers
Architect: Donal McPhillips Architecture, Co Fermanagh, tel. 677 41813, mcphillipsarchitecture.com
Main contractor: McConnell & Dundas Building Contractors, Co Fermanagh, tel. 028 68641777
Kitchen: LA Kitchens, Glaslough, Co Monaghan, tel. 047 88214, lakitchens.net
Electrical Contractor: Seamus Stewart Electrical Ltd, Co Fermanagh, tel. 6638 6523
Structural Engineer: Derek Connor, Enniskillen, Co. Fermanagh, tel. 6632 5538
Granite (kitchen and fireplaces): Murray Fireplaces, Ballindode, Co Monaghan, tel. 047 89450, murrayfireplaces.ie
Staircase: Peader Greenan, Clontibret, Co Monaghan, tel. 047 80678
Sanitaryware: Mullen Domestic, Enniskillen, Co Fermanagh, tel. 6632 5278, mullendomestic.com
Windows: J&N Windows, Co Fermanagh, jandnwindows.com
Timber floors: Noyeks Flooring, Dublin, tel. 01 419 5700, noyeks.ie
Paving and patio: 30mm natural stone paving on blinding and hardcore base by Acheson & Glover, ag.uk.com
Photography: Paul Lindsay of Christopher Hill Photographic, scenicireland.com