When Belfast man Hugh McNally and his wife Elaine became custodians of a plot of land with a difference, the decision to relocate to County Antrim countryside and build their dream home made itself.
In this article we cover:
Design: Contemporary feel to a house that feels like it's always been there
Building into the slope for a two storey design with ridge height restrictions
Getting the design right and managing the budget
Finding a builder and entering a fixed price contract
What they sourced themselves outside the contract
Garden design and tips to bed a large house on a large site
Plumbing and electrics, how their bills compare to their previous home
Build cost and specification
Professional photographs
Overview
House size: 430sqm
Site size: 1.25 acres; beyond is a 6 acre field
Cost: £470,000
"We've had an historical connection to the location, since 1830," says Hugh. "My father was from here, my maiden aunts lived here, and the whole family, throughout the generations, came here to enjoy the open air, the space, and the quietness, including my own children. My father was born in the family home, so becoming custodian of the land in a sense represented going back to my roots."
"We initially considered a renovation of the existing cottage, where my maiden aunts used to live, we even had plans done up. But after considering the implications, we realised converting it into a modern home would have ruined the integrity of the building. There would have been so many compromises, we felt it rendered the conversion unacceptable. Instead we ended up with a new build, situated very close to the original house." The old cottage remains and is currently being lived in.
"Elaine and I owned two previous homes, neither of them new builds," adds Hugh. "The last one we lived in for 27 years, our six children were reared there. It was a red brick Edwardian home built in 1908. We extended into the loft area and I suppose that gave us a bit of construction experience."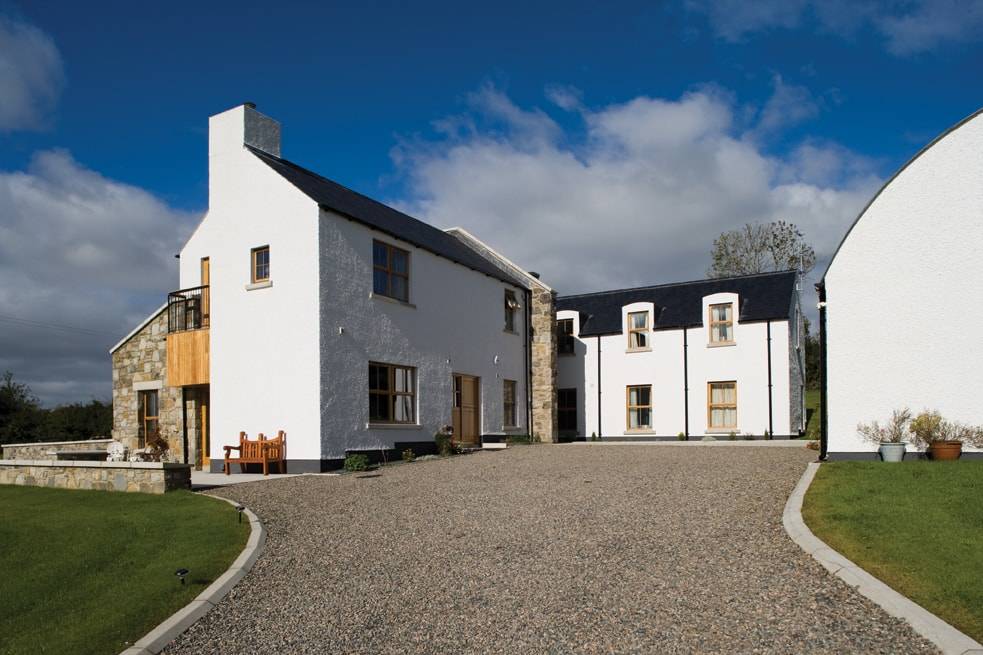 A new build that looks like a refurb
The McNallys' brief was one that insisted on getting a lot of light in bright open spaces, all the while retaining a cottage feel. "We gave our instructions to an architect but it didn't work out. He just hadn't seen the essence of what we were trying to achieve. Our son at the time was finishing up his architectural studies, and so we decided to give him the project. Soon after that he set up his own practice."
"We wanted a rural and old feel with modern features, and he gave us what we asked for. The main elements were that we wanted a working kitchen linked to the living room with a high ceiling and to connect the three different living areas off a main area with a large, grand high ceiling. What we got was an 8.5ft high room that's big and cosy."
Due to planning restrictions, the house should only have been one storey, or no more than 5.5m ridge height with a depth of underbuilding of 0.45m or less. The architects knew that these restrictions would make it difficult to realise the full potential of the sloping site so they made a full planning application rather than a reserved matters application on the existing outline planning permission.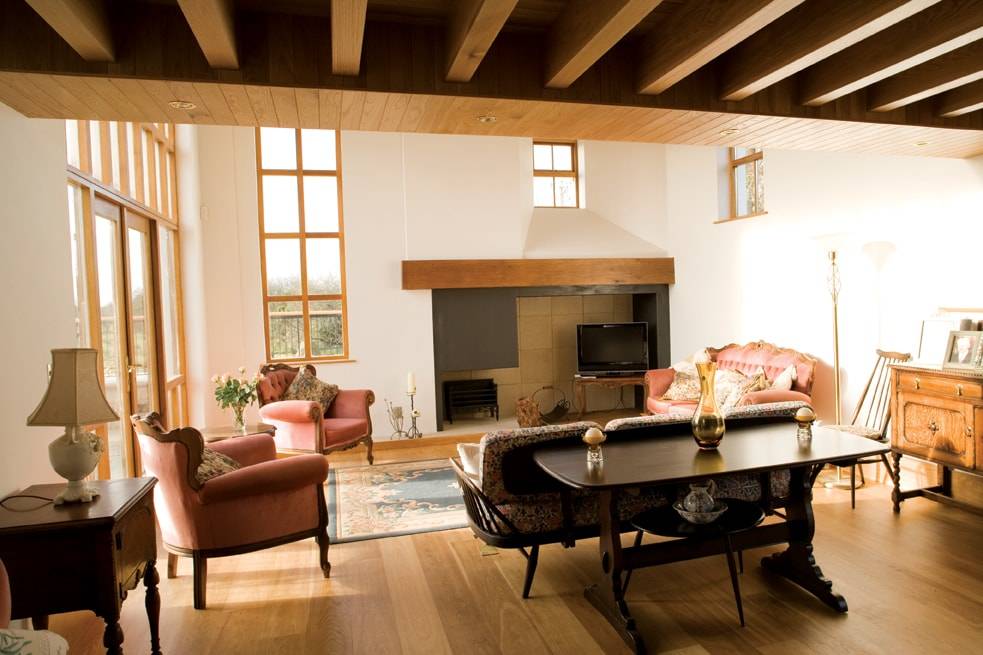 By building into the slope, Hugh's son felt they could achieve a two storey design. "This gave the appearance of a house with less height," says Hugh. "My son anticipated difficulties and outlined the reasons for which the design should be accepted. He also had a series of arguments ready for when the planners would object, but the design pleased them and we got planning permission on the first go. He was shocked it went through so quickly."
"Another main element of the brief was having a grand lounge, as we're very much into entertaining. We have quite a large immediate and extended family so we regularly have meals here. Christmas is a big time for us, as are birthdays, christenings, and other family events. We can now entertain anywhere from 20 to 60 people at a time, which is exactly what we need. We have our grand entrance, along with a nice broad staircase." The interior joinery uses white oak and the exterior joinery is of ayan, while the visible roofs of the house are clad in Spanish slate and the garage roof consists of corrugated aluminium panels.
And as could be expected in such a home, the demands put on it by its inhabitants are constantly changing. "The home is still developing as we go along," says Hugh. "Elaine is now looking at different furnishings to suit our requirements better."
The realisation of a lifelong dream
While the McNallys opted for a fixed price contract, they kept some of the key decisions to themselves, including the kitchen. The floor coverings are another such example; the tiles for the wet rooms were sourced directly, as were the oak floors.
"We also came across lovely limestone flooring to cover the entire length of the downstairs area. It's easy to maintain and is old-fashioned in appearance, which is what we wanted. When we found it, we put down a large deposit, and then unfortunately the supplier went bankrupt. Luckily they came good and delivered the limestone, but it was touch and go for a while."
The windows also caused a few headaches. "There were a large number of them, and the glass came in scratched," says Hugh. "We realised this when we were about to move in. I'd say 70% to 80% had been damaged. We brought it to the attention of the builder who investigated, and he accepted responsibility. He looked into getting a firm to polish them, to take out the blemishes, but the cost was prohibitive. It turned out the windows were cheaper to replace, so that's what he did." Since it was a fixed price contract, Hugh did not have to shoulder the extra cost associated.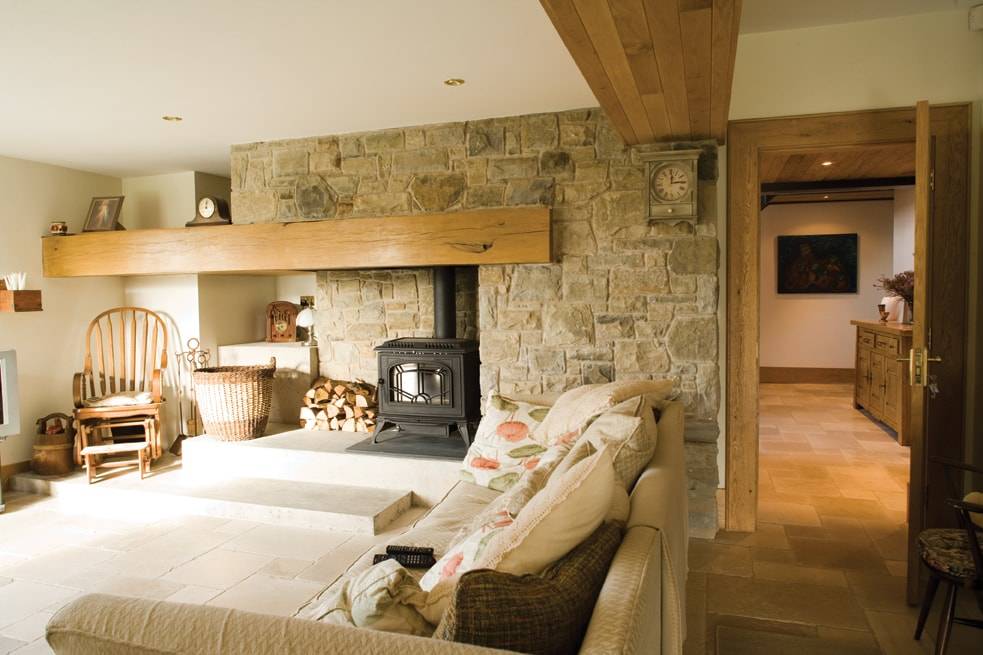 "From the beginning we had already decided on underfloor heating downstairs, apart from in the lounge and upstairs in the bedrooms. When the plumber was installing the radiators in the lounge he said he couldn't guarantee the temperature because of the size of the room, so we put in underfloor heating there too. Upstairs we have radiators because they're more flexible – if unexpected visitors come and stay the night we can easily crank up the heat. Underfloor heating is less immediate."
Hugh says he's more than happy with the underfloor heating and how it's been performing. "We keep it at a reduced level most of the year and it's surprisingly easy to heat up. That's in large part thanks to the amount of insulation that was specified, to keep up with the current building regulation requirements, and beyond. It's hard to judge fuel bills as the price of oil has come up, but they are probably only 10% to 15% higher than in our previous house, despite our current home being twice the size."
When asked what he would change, Hugh says he would have built his dream home much earlier. "I would have taken the plunge four or five years before we did. The reason we didn't was that we had children going through exams, so we thought it would be best to stay in Belfast. Apparently they would've accepted coming down, which I didn't realise at the time."
In practical terms, he says he would add a parking area beside the garage. "We'd like to add one parallel to barn's gable, just so we don't have cars parked opposite the kitchen window. Of course the alternative is to put up a sign saying No Visitors."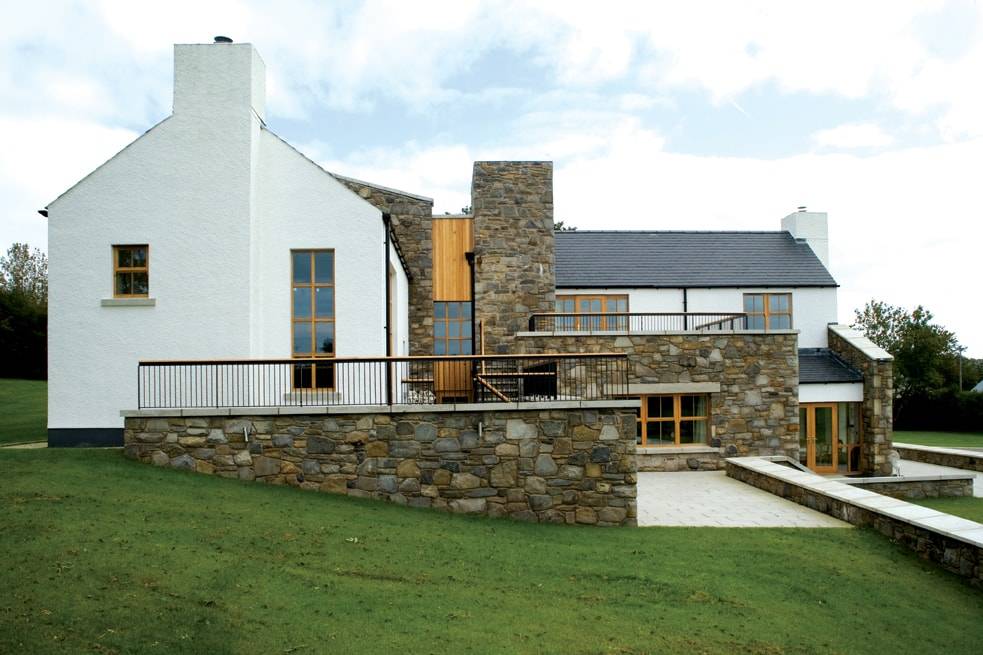 The McNallys also recently lined their driveway with Rowan trees. "It provides more privacy to the home, but we were also complying with what the planners asked of us, to be as concealed as possible. This meant keeping all of the mature trees, and we were very happy to do that. The house is not really visible from the road and this makes it even less so."
Elaine is currently thinking about landscaping, and she plans to add bushes as well as flowers. "If it were up to me I'd probably stick to the grass exclusively. That way the upkeep involves nothing more than going over it with the lawnmower.," says Hugh. "No doubt whenever when get the time we will add colour all around."
As for his advice to others thinking of building something similar, it couldn't be more straightforward. "Just go for it," he says, "and the usual, get three to four quotes, get to know your builder, sample their work."
Moved in for four years now, what's clear is that this truly is their home for life. "I don't want to think about the value of the house. We won't be moving anyway, they'll be carrying me out in a box before that happens" says Hugh. "It's not for sale."
Spec
Construction type: masonry, 100mm cavity wall construction; outer leaf alternatively clad in stone, timber and coated with rough dash render
U-values: walls 0.3 W/m2K, floor 0.25W/m2K, pitched roofs 0.25W/m2K, flat roof 0.29W/m2K
Insulation: cavity walls fully filled with mineral wool; ground floor 50mm extruded polystyrene (XPS); pitched roofs 150mm mineral wool; flat roof 100mm XPS
Windows: timber frame, double glazed, 12mm argon filled gap, low-e