Ciarán and Linda McManus built their new home in Co Offaly to deal with any eventuality, including water charges.
In this article we cover:
Building a large A-rated house with details of low running costs
Shopping around for windows with costs
Window maintenance
Choice of double height ceilings with tips to get it right
Details of pre-planning meeting
Design features to futureproof the house
Choice of build method
Dealing with the build going bust, tips to stay on track
Details of how the build progressed, from start to finish
Full details of geothermal system
Heat pump efficiency and underfloor heating teething problems
Details of solid fuel stove with backboiler
Specification and build cost
Interior design choices and tips to save money
Professional photographs and supplier list
Overview
Build cost: €425,000
Site size: 1.5 acres
House size (excluding workshop and garage): 4,200 sqft
When Ciarán and Linda McManus got engaged, they decided to build their own house, pledging that they would include everything they ever dreamt of putting in a home so that they never would need to extend. The result is a 4,200 sqft house built to cope with just about any eventuality, including water charges.
"Linda and I were both determined to do this once, and once only," says Ciarán. "We'll be here for the rest of our lives, so it had to be done right." Being from the area, they built on a portion of the family farm holding. But Ciarán's connection to the county also has to do with the fact that he's been playing GAA football for Offaly for 17 years.
He says this helped on the build to the extent that he had a wider network of contacts. "I suppose a good few people playing were working in the construction business, so I did get in touch with colleagues and was able to source certain materials through them," he says. "But it's like anything, if you know people in your area you can ask around and find the right people to contact."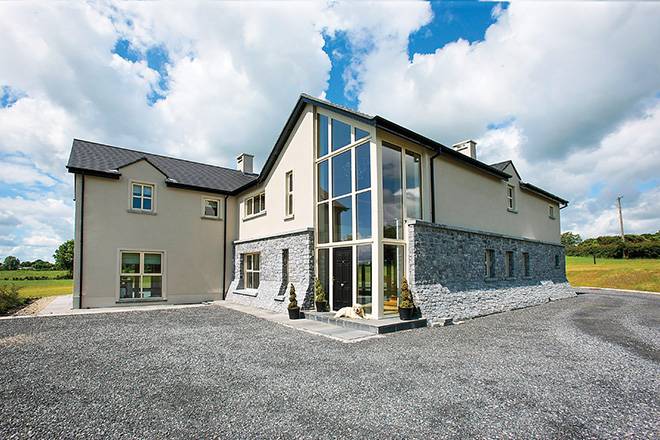 Built for all eventualities
"From the beginning we wanted a house that would blend into the landscape, and that would not look overly obtuse," he adds. "A house that would be unique." And so the McManuses put in everything they had ever dreamt of having, future proofing their home as much as they could.
"We put in a sound and lighting system, and for anyone building now, I'd recommend hard cabling the house, even if you can't afford installing the systems just yet, so that it's ready to go. It could save you a lot of money in the future."
The McManuses also learned from other people's experiences. "We heard of so many stories where couples built their home and then a few years later they had to extend, with more stress and higher costs. We built an office, workshop, garage, everything at once. This obviously added to the cost, but long-term offers the best value for money."
Ciarán and Linda even planned for water charges. "When we drilled the wells for the geothermal system, we went the extra mile and drilled a well to supply the house. We're connected to the mains on the local water scheme, and have the option to switch supplies."
The design of the house took place during the summer of 2008 and they went for planning permission in September. "The planners were mostly concerned about the site level and the entrance, to provide adequate access," says Ciarán.
"We went to a pre-planning meeting which was very helpful; we didn't want to waste their time submitting full plans without knowing what they thought of it. In the end they requested we drop the site level by one metre to reduce the prominence on the elevated site. The build then started in April 2009, and we moved in on Christmas eve the following year."
The elevated site in fact provided plenty of space, but it also threw them a curve ball. "You never know what your ground conditions are going to be like until you start digging. In our case, we couldn't get enough stability because of the very sandy soil. And rocks were popping up like mushrooms, which we had to remove. Finally, we were able to build our raft foundations." In total the difficult soil conditions added €25,000 to the build, as the raft design was not originally planned.
The McManuses hired their architect on the basis that he had done work for Ciarán's dad before. "We gave him raw ideas from the internet and had a sit down meeting to confirm a brief. He came back with something completely different to what we expected, but the design understood the essence of our brief and we found that it was actually more suitable to the site and local rural design requirements."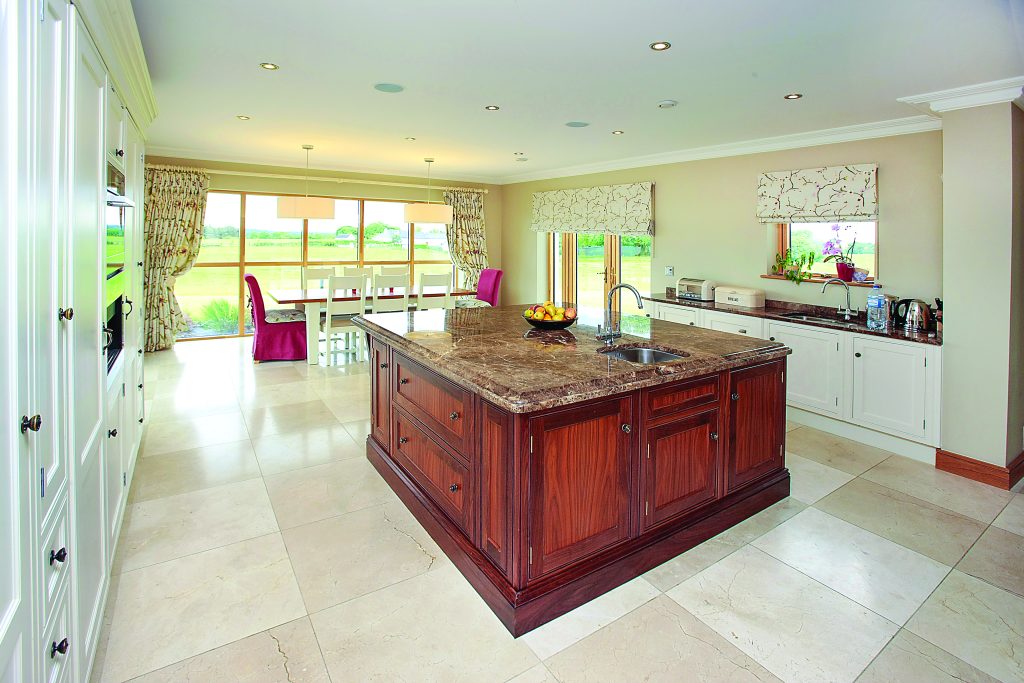 An A-rated Co Offaly Home
Ciarán and Linda wanted an A-rated house from the beginning, but one that would look truly unique. Another important factor was getting in as much sunlight as possible. "The decision to go for a very low energy house dictated a lot of the choices we made," adds Ciarán.
"An A-rated home was our objective, therefore airtightness was a necessity, to prevent draughts and keep the heat in, but it also meant we would need to put in a very good ventilation system, and we felt that heat recovery was the best option as it preheats the incoming cold air."
In fact Ciarán kept all of the major construction decisions to himself, taking time to research what was on the market and what they wanted. For example, he sourced the roof slates locally. "They're made in Offaly, and cost less than your typical Bangor blue or Spanish slate. We're delighted with how they look."
"Every single thing took time! But if you're doing it only once, you want to do it right, you want to make sure you get what you want. We wanted to make sure that our expectations would be met. Looking back, it's been great, I have no complaints."
Thanks to all of this shopping around, considering the specification, the windows came in at what felt like a reasonable price. "I got good value on the windows and doors, they came in at €54,000. I know this sounds high, but we have a large number of windows, and some are quite big with unique features. We chose a timber finish on the inside and aluminum on the outside for maintenance. The windows are installed two years and we are very happy with them."
They were able to retain their energy efficient rating thanks to the units being triple glazed. The only qualm is about maintenance. "At the front of the house we have a triple height, which is glazed top to bottom to catch the moving sun from morning to mid-afternoon. While we only need to get the windows cleaned once or twice a year, it does require time. For the first clean after the build we got a contractor to do it, but from now on it's my responsibility. It's a question of using a power hose and extendable brushes. Time is the problem."
The decision to build such a high ceiling wasn't taken lightly. "It took us two months to make up our minds," adds Ciarán. "The architect produced a lot of drawings and 3D images to help us decide, and that was really helpful. It's amazing how good the technology is nowadays. He also made a video for us so that we could visualise what the different options would look like; it's well worth the small extra cost to get it done. On the basis of this we ended up changing the ceiling to a vaulted one, and we did have to pay extra for the change in specification, but it was well worth it. The video didn't let us down, it looks like what we expected."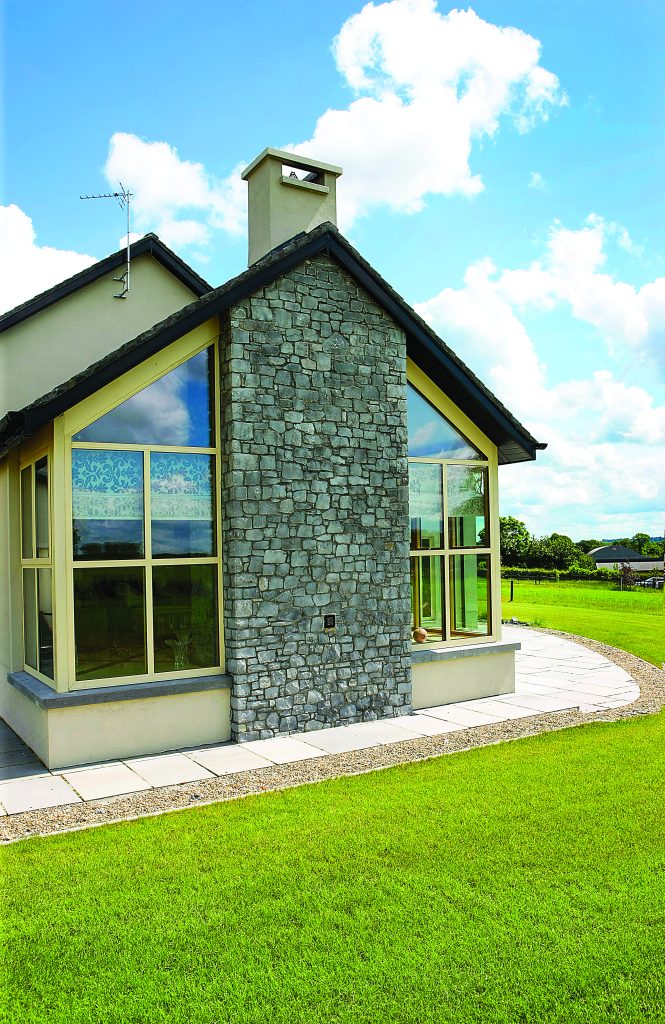 As for the construction method, Ciarán ruled out timber frame from the beginning. "I wanted blockwork for maximum heat retention and even though I know timber frame is a sustainable alternative, it boiled down to a personal preference. I felt a bit more could be done with block, especially when it came to structurally supporting the roof at the back."
Either way, a steel frame was required to allow for the open span. "I consulted a number of magazines to confirm that for an energy efficient house, a cavity of 150mm is often recommended. And since we were building a cavity wall, I felt it was best to have block," he adds.
The cavity walls were pumped with EPS beads and the walls drylined with 38mm insulated plasterboard. "It was recommended to put the insulated drylining on the northern wall but I thought I might as well do it on all the walls," says Ciarán. "It really helped the rating." Insulating his home to such a high standard certainly has paid off.
"As compared to the house we were renting before moving in here, the fuel bills are 50 per cent lower, despite the two cold winters and the fact that this house is much bigger. The electricity bill for our first year was €1,800, which includes heating, hot water and general electricity use. In the rental house we spent €1,200 on oil in five months."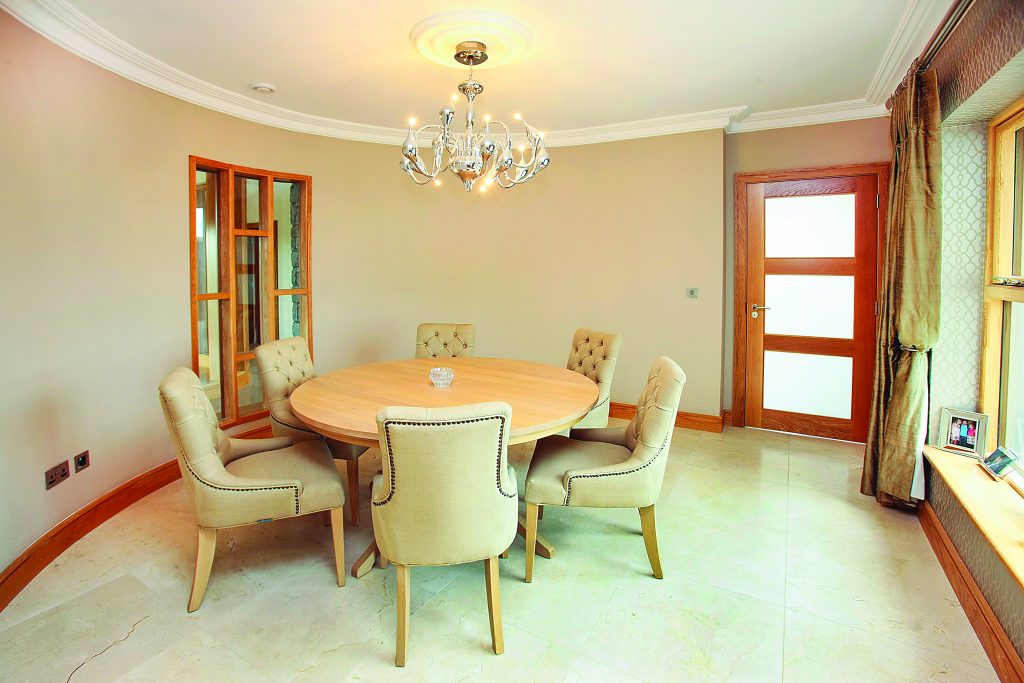 High spec heating
Of course to be energy efficient you have to consider what to use to heat your home. This is why Ciarán spent a year researching the topic, and in the end he felt that the 30+ years manufacturing experience of the Germans and Austrians was worth paying extra for. "From the beginning we had agreed on geothermal," he says. "From the results of the research we decided on the borehole design as it's the most efficient." The system they chose consists of two 120m deep bores, and the pump relies on a CO2 heat exchanger to make the heat pump more efficient, rather than on a circulating pump.
The 500 litre hot water tank also uses an ingenious heat recovery system. When producing hot water, a heat pump works best with temperatures not exceeding 50C (going beyond this temperature puts additional and excessive strain on the compressor which can lead to the lifetime being shortened significantly). However, water stored at this temperature can breed legionella bacteria, which is why in a typical system there's an immersion heater that brings the water temperature up to 63C to kill off the bacteria. This of course adds to the running costs.
The hot water in Ciarán and Linda's tank is circulated in a closed loop so never leaves the tank. It's used as an energy store to heat the cold, fresh water coming in from the mains (through a heat exchanger mounted on the tank). When the hot tap is opened, fresh cold water flows upwards through this heat exchanger. Simultaneously, hot water from the tank is circulated down through the heat exchanger on the opposite side. The hot water transfers its energy to the fresh cold water, which then arrives at the tap as fresh hot water (there's a heat loss of 1C so it reaches the tap at 49C).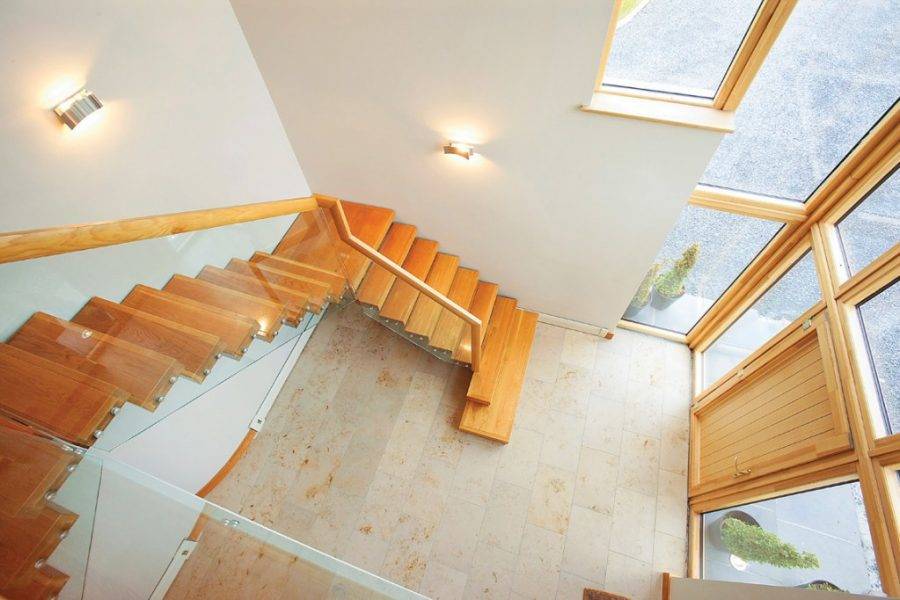 The water used for the underfloor heating is separate from the domestic hot water; there is a divertor valve immediately after the heat pump outlet which diverts the flow to either the underfloor heating or the domestic hot water tank depending on demand. It only flows to either one at a time. If the temperature of the hot water drops 5C from the setpoint (50C) then the heat pump switches the valve over to the tank and heats that back up to 50C. Once complete it will then switch back to the underfloor heating, which is kept at the minimum temperature (maximum 30C) required to produce the desired room temperature at any given time.
The McManuses chose underfloor heating because they wanted a warm, natural feeling throughout the house: "…..not the cyclical blast you get from radiators – and when you turn them down they go cold instantly. We're very happy with the underfloor heating, and cost-wise it worked out very well." The efficiency of the heat pump is further increased by installing the pipes close together so that less heat has to go through them to achieve the set temperature.
But that's not to say he hasn't come across some teething problems. "In the first few months, we were overindulging, turning the heat up too high," says Ciarán. "That's not how heat pumps work – it's best to keep the heat at a constant level so that it heats up the floor continuously at a low temperature. It's something to get used to when your point of reference is radiators blasting heat."
Linda always wanted to have a range, in particular one that had both solid fuel and electric options. "It was actually quite hard to find, but all the searching was well worth it, it's a brilliant machine. The solid fuel section is very nice to run during the winter months," adds Ciarán. "I think you have to make the most of what you're putting in, and since we have so much firewood on the land, it was a no brainer to get a solid fuel range."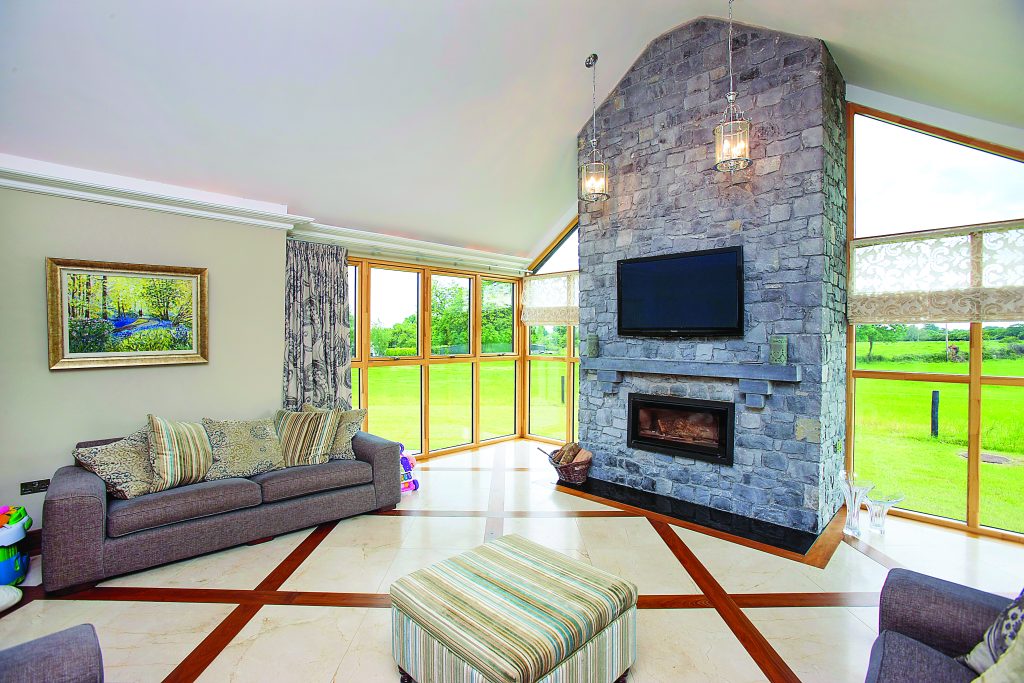 "I also thought we might as well add a back boiler to it instead of letting the heat escape up the chimney. We used it to supply heat to the bathroom towel radiators and then installed skirting board radiators in the hallways. The range also boosts the hot water supply in the winter."
In addition, they installed two insert wood burning stoves. "I did six months' research on them," he says. "What's crucial is to make your decision to install these at the beginning because you will need an external air supply and your plans need to allow for that – especially in an airtight home." Any hole made in the wall of an airtight house is best built into the house, otherwise if you simply open up a pathway for the flue, you could be compromising the insulation.
The units are 9kW each and Ciarán says it can get quite hot if all of the systems are on. "My wife loves the heat so I don't get any complaints from her." The ashes only need to be emptied every three to four days during the winter, which he says is a big plus.
Builder gone bust
There are some things that you just can't predict, and one of them is your builder going bust. On Ciarán and Linda's build, this happened at about the time the floor screeds and underfloor heating were going in. "At least the structural elements had been finished, and we were lucky to be able to keep the site foreman and a colleague of his on site to complete the build. It got very hands on at the end, I'll admit, but the lads were of brilliant assistance."
Ciarán was working in the UK when they started building their house, which is why he got a builder to take on the work, based on a fixed price contract. "I considered getting a project manager at first but felt it was better to hand it over to a local builder. We were paying him in stages," says Ciarán.
"There were lengthy discussions as to where to cut off the balance when the builder's company went bust, our architect was very helpful with this. In the end though, we just had to move on."
The fact that Ciarán was immersed in the build also allowed for a smooth transition. "I know it sounds obvious, but I recommend to always keep a very close watch on your project, even if you hand it over to a builder or project manager, question everything and get assistance when necessary. It's the only way to make sure you get exactly what you want, and it's a good way to keep on top of costs."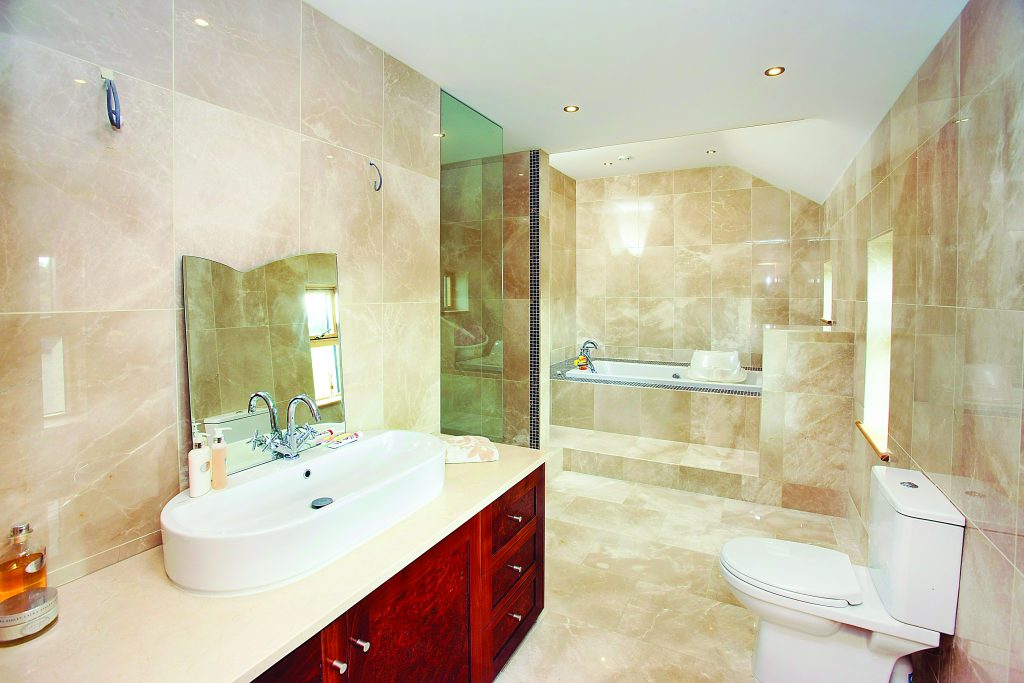 Of course, his relationship with his architect was also very beneficial to realising his vision. "Linda and I were always challenged on our ideas, and as could be expected we had our disagreements. But it was all part of a process to help tease out what we really wanted. The architect has great pride in his work and we were very involved in the project, so the partnership worked very well."
One of the elements that most assisted Ciarán was the amount of information that went into the detailed construction drawings, as they helped him accurately price various elements of the build early on. He asked his architect to provide a comprehensive set of drawings, so his designer made sure it integrated the specification from the structural engineer and BER consultant.
"We had every element specified, exactly how we wanted it built," adds Ciarán. "We also had a very detailed bill of quantities, we even specified where the materials had to be sourced. The spec of the screed was crystal clear; that's vital if you're putting in underfloor heating. The builder had to stick to the specifications, and our architect checked up on the build every two weeks to make sure it was done right. He inspected the crucial elements, which cut out the pressure from my end."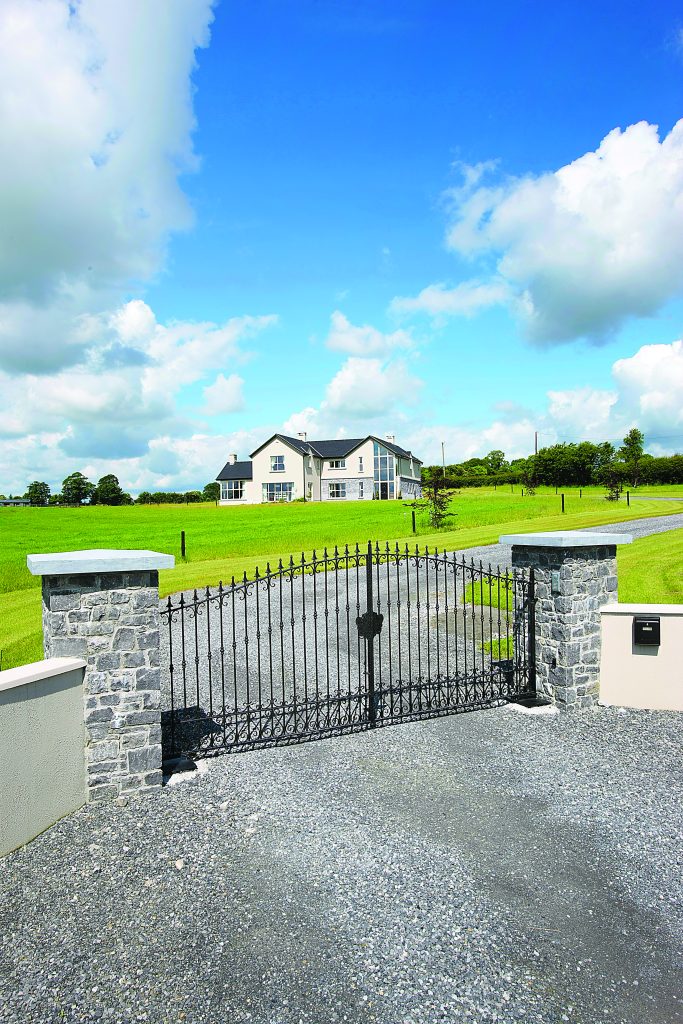 The finishing touches
Linda took over the reins when it came to deciding what to do for the interior finishes.
"A friend of Linda's is an interior designer, and the kitchen and stairs were bespoke, designed and fitted by the same company. My role was reduced to purchasing the materials and appliances." Ciarán completed the landscaping with the help of family and friends. "It was an enjoyable piece of work, for me it marked the completion of the project."
In fact, he has a few friends involved in self-builds at the moment, so he's full of advice. "There's definitely value out there," he says. "What I'd say is don't be scared to put the time in for what you want. Be prepared to travel around Ireland. We did it and found that not only did it allow us to find some bargains, it also helped crystalise ideas. For the appliances, floors, tiles, etc., I sent the designs to numerous suppliers and got prices, which also helped in getting great value. "
Ciarán advises prospective self-builders to visit as many houses as they can. "Our architect advised us to measure up rooms in other people's houses to get a sense of space. If you intend to build a room that's 4mx4m, go see a room that's that size to get a good idea of how big it is once all the furniture is in. It's time consuming but as they say: measure twice, cut once."
With so much foreword planning, it's little surprise Ciarán and Linda only have one thing they would change. "I'd make the utility room bigger," he says. "It's a bit too small, at 3mx4m, to accommodate the appliances, vacuum and heating systems. But that's a minor detail. We both love the house and wouldn't change it for the world."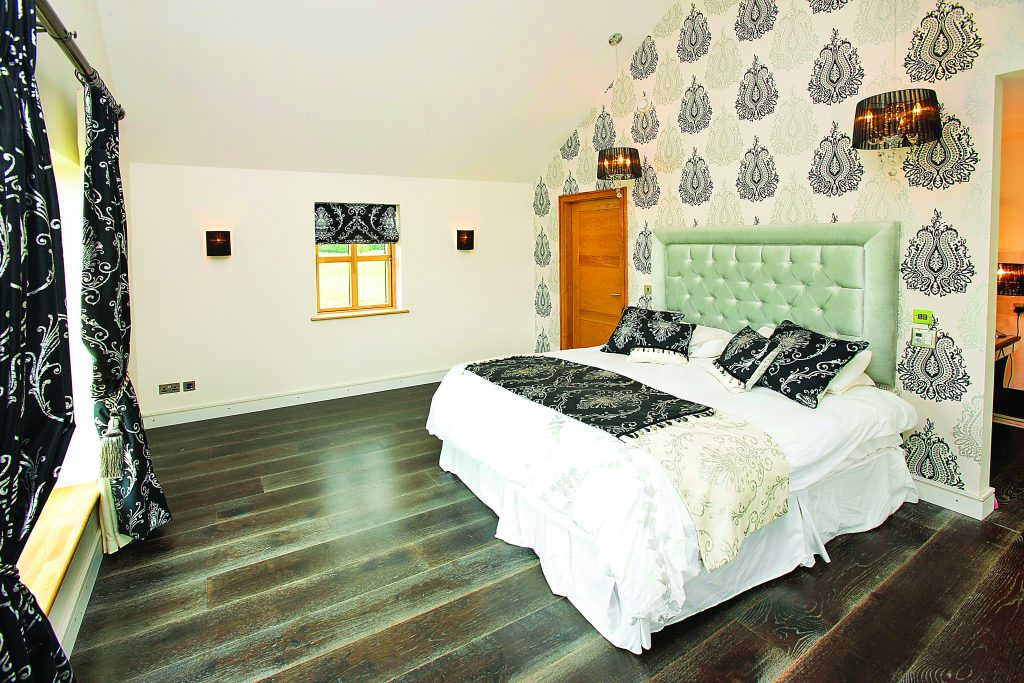 Specification for Co Offaly home
Building energy rating: Preliminary rating done pre-construction gave an A3 (54.63 kWh/m2/yr) but due to higher specification, hoping for an A2 on final rating (yet to be completed)
Build type: masonry, 150mm cavity wall, concrete first floor, cut roof
Insulation: walls: 150mm cavity filled with a polystyrene material which is injected in bead form with a binding agent into cavity walls and 38mm insulated plasterboard; roof: mineral wool insulation and 38mm insulated board; floor: 100mm PIR insulation
U-values: roof: horizontal 0.15W/m2K, sloped 0.19 W/m2K; floor: 0.15 W/m2K; walls: 0.16 W/m2K
Windows: triple glazed, argon filled, U-value of the unit 0.81 W/m2K, aluminium finish on exterior, wood on interior
Suppliers
Architect Murphy + McGerr Architecture, Athlone, Co Westmeath, tel. 090 64 60006, www.mmarchitecture.ie

Structural Engineer David Skene Consulting Engineers, Athlone, Co Westmeath, tel. 090 6488856

BER & Energy Consultant Michael Lyons, Future Energy Solutions, Oranmore, Co Galway, tel. 091 395603

Electric & solid fuel range with back boiler Esse, www.esse.com

Wood fired Stoves O'Rourke Fireplaces and Stoves, Glasson, Athlone, Co. Westmeath, Ireland. Tel: +353 (0) 90 6485094. Myfire.ie. 9kW wood burning, insert, Stovax, www.stovax.com

Cavity wall insulation Certainfil Graphite 27 Bonded Bead cavity wall insulation, Smith Bros Ltd, Tullamore, Co Offaly, tel. 0506 21068

Roof insulation Knauf rafter roll 32, www.knaufinsulation.co.uk

Floor insulation Xtratherm, www.xtratherm.eu

Windows Munster Joinery, Co Cork, tel. 064 7751151, www.munsterjoinery.ie

Roof slates Condron Concrete Works, Tullamore, Co Offaly, tel. 057 9321220, www.condronconcrete.com

Kitchen & staircase Wood Trends Unit E Acorn Business Park, Rathangan, Co.Kildare, PH: 045-252222. M 0872366515

Foreman P Keena, Horseleap, Co Westmeath, mobile 087 7566278

Electrician Joe Grennan, Tubber, Moate, Co Offaly, tel. 086 1737889

Ground source heat pump & underfloor heating Heliotherm HP12E-WEB CO2 unit, COP of 5.6, supplied by Climate Control, Tuam, Co Galway, tel. 093 28166, www.climatecontrol.ie

Shower and Bathroom accessories Proline agency, Colm Quinn 087 6376404

Lighting and Sound controls Connected Homes, at Gerard ODriscoll, http://www.connectedhomes.eu/omationsystem

Heat Recovery Flynn Heat Recovery, Wilton, Ballycumber, Co. Offaly, Ireland. www.flynnheatrecovery.com

Interiors Noelle interiors, No.1 High St., Tullamore, Co.Offaly. www.noelleinteriors.ie Ph: 057-9324555

Tiles World of Tiles, 26 Lough Sheever Business Pk, Mullingar, Westmeath. Ph 0449348910
Tiler Michael Mullins, Edenderry, Co. Offaly 0863607634

Timber Flooring trunkflooring.com

Vaccum System Sean Gavin Beam Vacuum & Ventilation Systems,. Newbridge, Ballinasloe, Co. Galway Ph 090 6660198