Seamus and Claire Clifford's direct labour new build in Co Kerry was managed with the help of family and friends.
In this article we cover:
Financing the project
What the budget was, overspends and how to keep a lid on costs
How the design came about and how they pushed it through to planning
Choice of timber frame construction
Who did the inspections on site
Choice of heat recovery ventilation and putting it to the test
Choice of wood gasification burner and how it's working out
Solar thermal panels and how they're working out
How much DIY they did to save on costs
Where family and friends helped
What the day to day was like on site and tips to manage the project yourself
Professional photographs and specification
Suppliers list
Overview
House size: 3,800 sqft
Site size: 0.75 acre
Total build cost: €320,000
BER: B1
Going down the direct labour route with a self-build is both hugely rewarding and incredibly time consuming. Despite working 300km away from his home-to-be, Sheamus Clifford still managed to do it thanks to his sheer passion and drive, as well as a lot of support from his wife Clare and help from his father who was down on site every day.
Even though Sheamus and his wife Clare enjoyed their time living and working in Dublin, they both dreamt of raising their children in their home county of Kerry.
"We were living in Dublin for seven years prior to the build," says Sheamus. "But we're both originally from Kerry and longed to move back to the countryside. Not having to change jobs made a big difference; Clare moved down first and I stayed in Dublin but six months later the opportunity arose for me to follow her."
They had bought the site in 1996 because it was close to Sheamus' home. "We could've sold it 10 times over the years but we held on to it."
Contemporary new build
"We planned what we wanted in the house two years before we got started, we were constantly looking at design books and layouts, and were avid readers of the 'Plan a Home' type of magazines. The result was an amalgamation of ideas pulled together, we went chopping and changing for about a year and then our architect put it all on paper."
The designer was a friend of Sheamus' from school and the structural engineer had done a lot of work for his uncle on agricultural buildings. "We all got along really well, which helped me a lot when it came to managing the build," he adds.
"The important thing is to get the basics right. The orientation was high on our list of priorities, which now means that the living room and kitchen get all day sun. There's actually no heating in the kitchen most of the year thanks to the solar gains."
Sheamus and Clare sold their home in Dublin at a good time and had some savings as well, all of which amounted to €90,000; they then took out an initial mortgage of €150,000 and by the end of the project spent in total €320,000.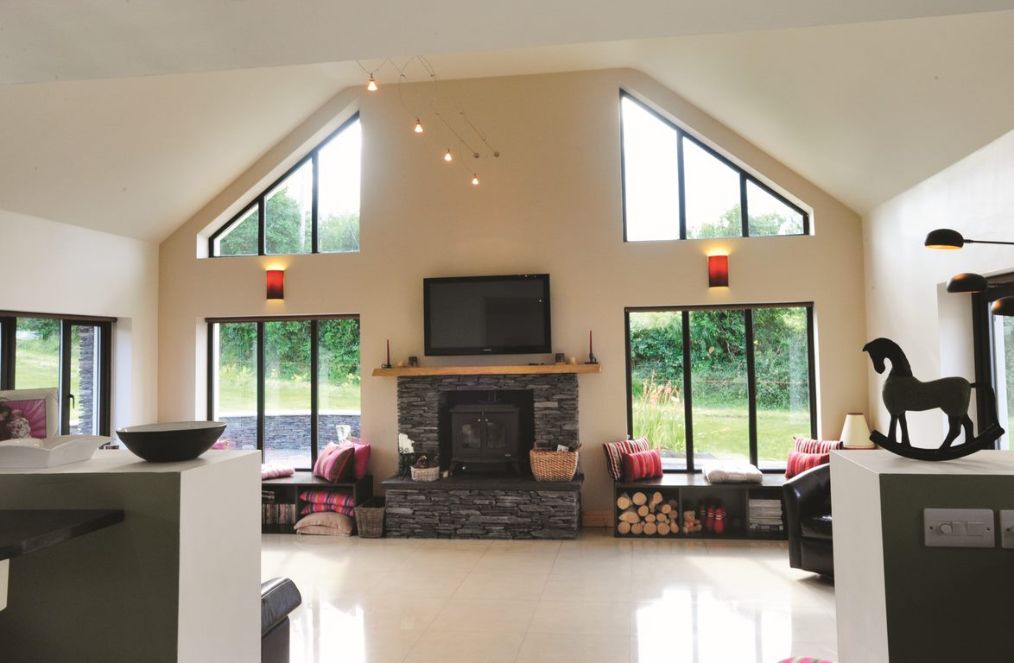 "We went for planning permission late in 2007 and it came through in October 2008. The timber frame was up mid-January, and our engineer said it was structurally one of the best he'd ever seen.
The timber frame company reinforced the open span with steel instead of timber, as would usually be the case." They hired a carpenter, recommended by Sheamus' brother, to box off the structural metalwork in the timber frame with oak beams.
"On the upper story, we used a joist system designed to reduce noise, insulated between floors to soundproof. You'll know there's someone upstairs, you'll hear walking and thumping, but you won't hear talking."
Planning permission was relatively straightforward to obtain. "We didn't have to change anything dramatically, there were a few things on the frontage, the stone had to come from the area, and there was initially a flat roof section which we had to get rid of."
Green choices
The Cliffords chose timber frame construction for energy efficiency. "We wanted a very good level of insulation and to keep our heating costs down. We used an eight inch frame, filled with insulation. The house is airtight and we installed a heat recovery ventilation system."
"Heat recovery ventilation is one of those things you don't really notice, there's no obvious heat coming from the ducts. So last summer I decided to turn it off… it was really stuffy and you could see the condensation appearing on the windows. For anyone who's not convinced, they just have to wake up in a house with the ventilation turned off and they'd know! Once every three months we take out the filters and rinse them in the washing machine, and buy new ones every year, so the maintenance is minimal.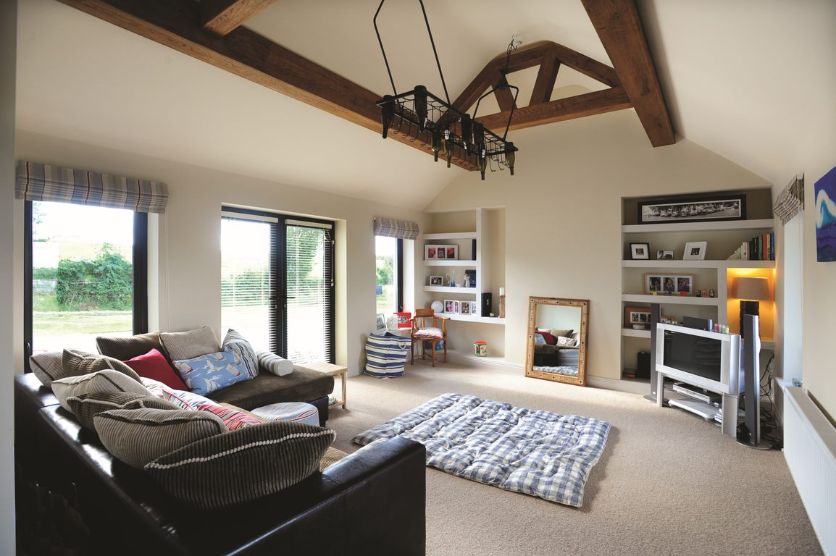 "For the heating and hot water we chose a wood gasification system, which is in the shed out back. We fill it with large wheelbarrows full of logs. It's attached to a 2,000 litre buffer tank, and to two solar panels, also fixed on the shed, to provide additional hot water."
"The first year was actually a bit of a nightmare," adds Sheamus. "The model was copied from a Finnish or Swedish design, and it never worked properly. We had plumbers scratching their heads trying to figure it out. The company said the temperature wasn't right, then they said the timber was too wet and finally targeted me for not cleaning out the machine often enough.
Their renewables guy wasn't there, and when he showed up nine months later he literally stepped out of the car and said 'your flue is too short'. We had to add an extra 1.5 metres – flue length is everything. Since then it's been working really well."
The timber is bought from Coillte by the truckload, costing them €600 to €700, which lasts the year and stoking the boiler is, as Sheamus put it "a good work out!" The solar panels provide hot water for about two and half months of the year, depending on the summer. The mixing valve brings the temperature to 40°C for the low temperature radiators. "It's a really nice heat that comes off them," adds Sheamus, although the electric heaters he added in the bedrooms and living area weren't necessary in his view.
Direct labour
Because he used direct labour, most of the decisions on the build were made by Sheamus, despite spending the first six months working in Dublin. When it came to the interior design though, his wife took the lead: "Clare had more of an input when choosing colours and the layout, she does have better taste."
"I was up and down at the weekends mainly," adds Sheamus, "During the week my dad, who is semi-retired, was on site every day. He really was fantastic, without him we'd now be living on a building site. We did have some arguments about how things were to be done, he's got a bit of an old school attitude that most things can be achieved on a straightforward basis and cheap, but I have a more of a 'do it once and do it right' approach."
"With direct labour, you have to run to get bits and pieces. So my dad was on hand to get what the tradesmen needed. I was doing the figures, and he cracked the whip.
There's a lot we did ourselves too, we got someone in for the airtightness barrier and for the skim coat on the plasterboard, but we did all of the tiling and put up the plasterboard. With hindsight I would probably now put down the radiators myself but I think it was a good idea to get it done at the time.
My brother's an electrician so he helped out as well." "For the windows, since our neighbour is a representative of a company for the area we got them through him at a good price. " As for the roof, they came across some issues with the concrete tiles. "A white residue started coming out of them so we had to wash them down with chemicals," says Sheamus. "Apparently it only happens in the Munster area. The representative had no explanation as to why. Since we've washed it, it has come back a little, I think we might need to replace some."
As with most self-builds, especially those that rely on the direct labour route and DIY work, it's very common for years to go by, (and even decades!), in between the time you move into your newly built home and the moment you put up the last picture frame. "Budget-wise we did enough for us to get in," says Sheamus. "We have the downstairs complete, the rest we decided to put on the long finger, we could've done more but we took a break. Both of us are working and we took some wage cuts, so it made sense to take a breather."
Picture perfect
Considering that the ground floor contains all of the living areas, kitchen, bathroom, two bedrooms, an office and plenty of storage, the Cliffords didn't find themselves short of space. But now that the family is expanding, they're tackling the upstairs, which has three bedrooms. "We're thinking of having one or two more kids, so we could do with one of the rooms upstairs," says Sheamus.
"It worked out to wait from the point of view that it gave us time to see what we wanted upstairs as opposed to what's downstairs. We're going at a leisurely pace, getting it done room by room. That way it works out to be less expensive and we can work away with what we have. We brought the carpenter back in and we'll be painting in the next year or two… Rome wasn't built in a day."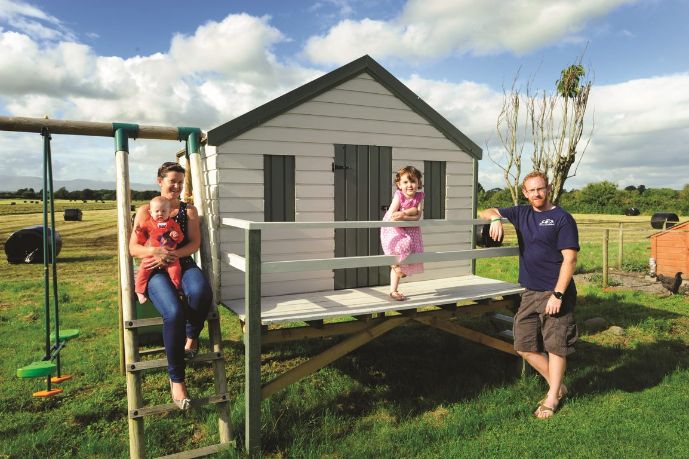 While Sheamus is glad he went down the direct labour route, he wouldn't do it again. "It definitely saved us money but it was a bit of a pain, I was getting 10 phone calls a day. You just need someone there all the time, and that includes tidying up after the tradesmen."
As for advice: "You need to get a price for everything well in advance. Our budget overran by €30,000 as things came in a little more than expected. You can quite quickly put more into structural things, and we didn't realise how much the finishes really would cost. We spent €15,000 more than we wanted to, easily, on light fittings, shelving, blinds. I couldn't believe how quickly it added up. But it is what you see at the end of the day." The result is certainly picture perfect!
Spec
Construction type: timber frame
U-values: walls 0.21 W/m2K, rest unavailable
Insulation: roof 150mm mineral wool and 150mm fiberglass, rest unavailable
Windows: double glazed, argon filled, PVC frame
Suppliers
Designer and engineer: Mike O'Brien, Co Kerry
Timber Frame: Dempsey Timber Engineering, Co Wicklow, www.dte.ie
Windows: Grady Joinery, Co Mayo, www.gradyjoinery.com
Structural engineer: Colm Lonergan, Killarney, Co Kerry
Carpenter: Brian McMahon, Killarney, Co Kerry