This Co Armagh split level family home is a modern take on the traditional farmhouse, and has everything Suzie and Paul Johnston wanted in a house.
In this article we cover:
How they got the site and what their first step was after that
How the design evolved around their choice of finishes
Design with young and older children in mind
Choice of windows, front doors, stone
Working with a quantity surveyor and going to tender
How the build was managed on site day to day
Types of decisions that had to be made off the cuff
Choice of heating and ventilation systems
Kitchen design with tips
Interior design choices
Landscaping and details of groundworks
Professional photographs, specification and supplier list
House size: 5,500 sqft
Site size: 1.6 acres
This modern take on a traditional farmhouse is, for Suzie and Paul Johnston, everything they wanted in a house, but it was Suzie's involvement during the build that gave it that personal touch which makes it very clearly their own family home.
"The site in Co Armagh was gifted to us as a wedding present," says Suzie. "Since we were living in England at the time we weren't sure what to do with it."
"But in 2007 we moved back to Northern Ireland, and decided to build. We originally thought of turning it into a holiday house, but as the site backs onto my husband's family field, and his parents and sister live nearby, we decided to turn it into our family home." Paul's sister's husband had recently project managed his self-build on another part of the family field and so introduced them to their design consultant.
Creative architecture
"We immediately established a rapport with our architectural technologist," says Suzie. "The preliminary discussions centred around the look of the house, I was clear about having natural stone somewhere and Paul wanted a see-through house."
"I was very specific about the kind of stone – I rather liked the idea of different shades of grey so we used a cladding mix of Donegal slate. They have a nice patina and there's a lovely texture to them."
"As for the windows, we knew they would need to have a very slim profile and once we got into it we realised we wanted frameless, to give us a clear view of the outside, which is one of the reasons we decided to stay here," adds Suzie. "The glass link between the houses is surrounded by the garden; I always pause there, it's a lovely view."
The Johnstons gave their designer a loose brief to work to, which they did on purpose. "We felt it would give him the opportunity to be creative, we have a beautiful setting which we wanted to make the most of, we were looking for something a bit different, not too traditional."
"We worked really well with him, he has exacting standards and was always available," says Suzie. "Ultimately the idea of three-buildings-in-one took shape – a very loose take on the Irish farmhouse or barn.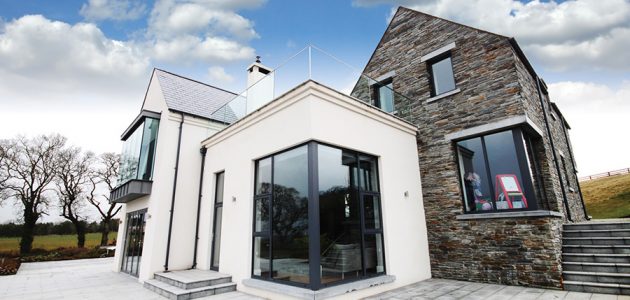 The site is sloping so the house was built into the land and is essentially split level. The design made the most of the site but it did cause the builders a few headaches when constructing it."
"When we started, the children were between three and five years old," says Suzie. "We built the house with them in mind – I wanted to be able to hear and get to them quickly, but we also thought of how the house would need to grow up with them. When they're older, they'll need their privacy; the design we came up with allows for that too."
The drawings were put together in 2008, in conjunction with the planners. "Our house is different, it's not your standard bungalow so we took our time with it," says Suzie. "We worked with the planners and once we settled on the design it was 2010 and the building slump had started. It was an opportune time to build from our point of view."
The open plan area is easily closed off with a glazed partition to create a lounge/sofa corner mostly used in winter. The living flame fire had a surround built for it; its flue is shared with the stove. "Great attention to detail went into that, we hid the chimney from the stove to provide clean lines."
"From the very start our architectural technologist was our design consultant, while the builder acted as the project manager. They coordinated a lot of the details between them but I still had a big involvement, there were lots of site visits and still an enormous amount of decisions to take quickly. I suppose we were very green going into it, we learned with time. Paul was working away from home quite a bit so that meant many late night calls"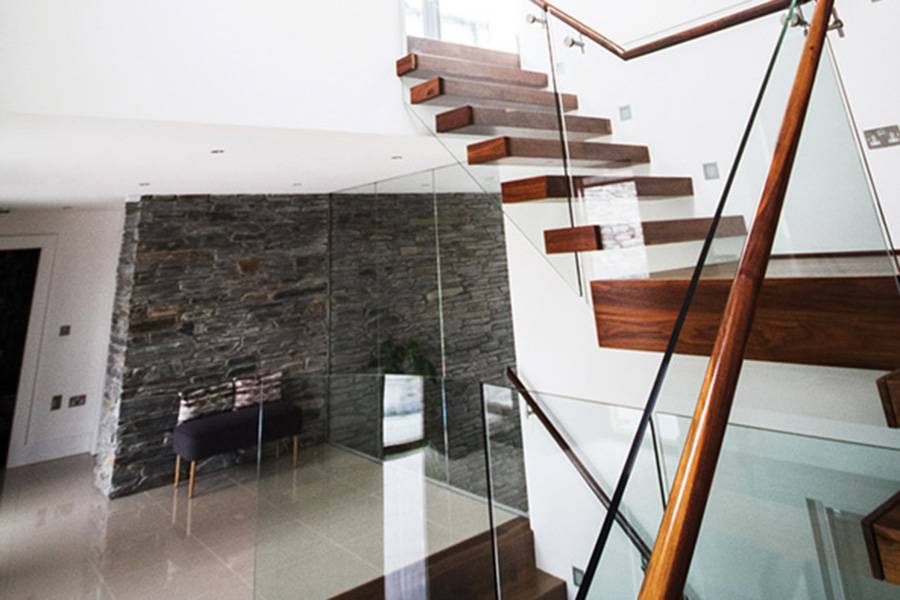 Decisions, decisions
"One of the best decisions we made was to hire a quantity surveyor – very quickly we knew what we were looking at for cost, especially as we went to tender. We didn't know anybody so we didn't really know who to appoint."
"What we did is choose a building company whose work we liked and they put in a decent tender. We struck gold with them.," adds Suzie.
"They're used to building unusual designs and were really good at communicating with the architectural technologist, as well as with the glazing company, which had a big involvement – they had to make the bespoke windows and glass for the staircase."
"The builder was a great help, I was never given a problem without three answers for me, it allowed Paul and I to make decisions quickly," she says. "He was on hand at all times come hail, rain or shine and he was always very easy to talk to.
For instance, we were going to have curved glass but that caused a problem with the structure, so we had to make a decision then and there."
"And yet we were spared a lot of headaches – when the build started in 2010 the weather on the hill was extremely harsh and I know it caused some problems with plant and machinery, but that didn't filter down to us."
"Still, I really was not prepared for the sheer volume of information I was going to be given and how much I was expected to provide in return. Thankfully we had the quantity surveyor on board and we made the decisions with his input so we would have no surprises."
Family and friends also provided much needed support during this time. "My sister-in-law's husband was great to tap into as he'd gone through the very same process as us, so it was very useful for me to pick his brains," says Suzie. "My father-in-law and mother-in-law were always there to babysit which allowed me to go to meetings and source products. Having them close by also meant we had pretty much constant security on site.
Also from a storage point of view their shed was tremendous – there's a lot of materials that need to be kept away from the weather."
Costs often mount at the fit-out stage; usually due to a change of mind during the build. In this case, time was the main factor. "Some additional costs arose because we wanted to be in by the summer," says Suzie. "The floors were quick drying screed instead of a standard pour, which had a cost implication, but we felt it was worth it." "Then there were the small but essential things like choosing the gutters – without them we couldn't proceed.
For the stonework I had to get samples made to make sure it would work. We also had to take our time choosing the windows. The sheer volume of things that have to be sorted out, down to the very last detail, is amazing."
"For the front door I didn't want two doors, I wanted a large one. On the internet there was a design I really liked; I then got a local company to make it. It turned out brilliantly, although the size and weight were an issue – they struggled to get it out of their workshop."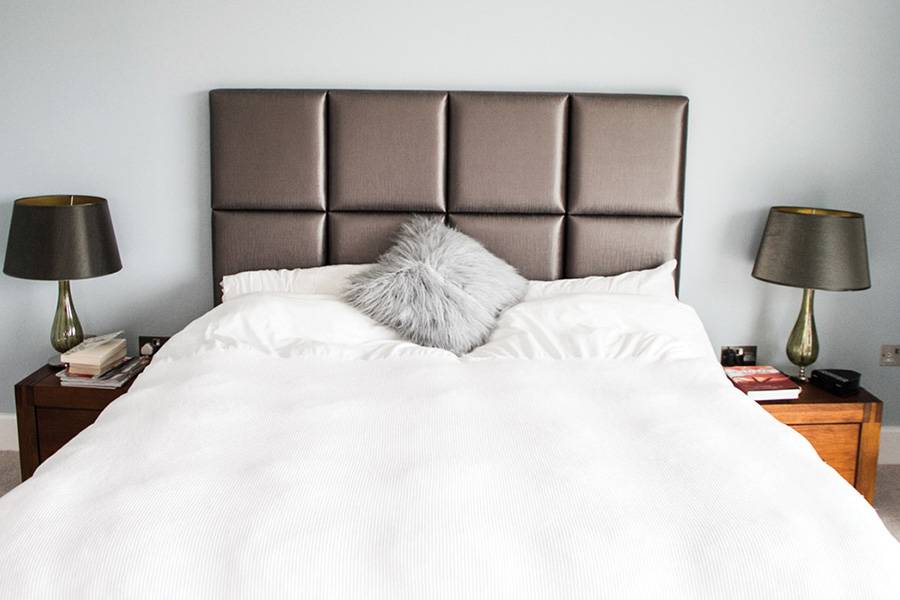 Evolving with the house
While the Johnstons weren't clear about what they wanted for the design of the house, they knew what they didn't want and by a process of elimination, the final list emerged very rapidly.
"I spent a good bit of time going around comparing products and finishes. My handbag was always full of samples. It kept getting bigger, carrying wood, tiles, fabrics…"
The tone of the house was to be kept calm. "Sleek and soft touches dictated the finishes," adds Suzie. "I wanted muted colours, a palette that would date well. What it comes down to is I love grey. It's a lovely warm, blending colour."
"I got my inspiration from lots and lots of magazines and the internet. I took time to collect clippings and always aimed to keep it simple. I love it, maybe the design needs more accent colours, but these can be added with time.
Sometimes I wonder if I chose well for the wallpaper but they're designs you can easily live with, they can be dressed up and down without difficulty."
In terms of the services, Paul and Suzie installed an oil boiler and a heat recovery ventilation system. "Our friend had gone with a woodchip boiler but they were struggling to get parts, at the time we felt the technology was still evolving," says Suzie.
For the heat emitters, they chose underfloor heating, which Suzie took a while to adjust to. "I'm used to radiators that provide a quick boost, this low temperature system is very different. You need to manage the temperature for each room, but what you get at the end of it is a lovely ambient heat. For my dad that would mean 16°C but he lives in Scotland. I think 20°C is lovely, especially when you're sitting in a room with high ceilings. To watch TV and sleep, 16°C to 18°C is probably about right."
"We need to fill the tank, at a cost of about £1,300, two to three times a year depending on the type of winter we have," says Suzie. "But we're still in the process of fine tuning the underfloor heating to maximise its efficiency and make further savings."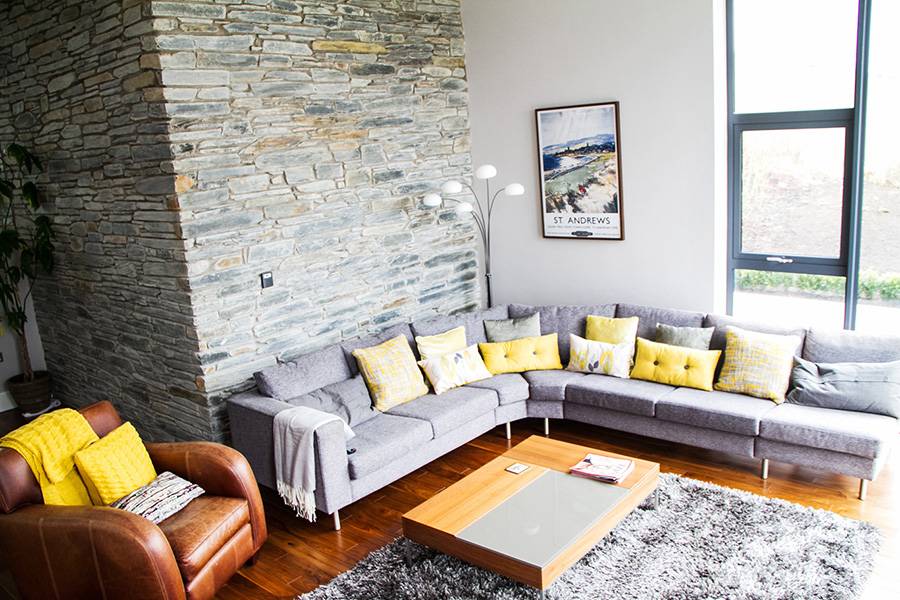 Light touches
The kitchen was chosen at the beginning of the project, with quartz top and walnut breakfast bar. "I wanted something contemporary, smooth and slick for the kitchen," says Suzie. "The grey gloss units reflect the view, they shine like a mirror. Although I might need to get the children to wear gloves! It does get smudged easily but one swipe of the sleeve rubs it down. I'm used to knocks and bashes and the house can certainly take it. The kids have so much space it's organised chaos."
As for the lighting scheme, the Johnstons chose quite a few LED downlights. "We also have spotlights but for some of the rooms the light from them is too white. It wasn't a kind light in the dressing room, which has no windows, so I had to change them there."
Suzie's advice is to remember that good communication is vital. "Also be prepared, know what you want to spend your money on, and know where you will not compromise. For us it was the stonework and the glazing." "And listen to your builder. The one time we went against his advice we were sorry.
We had drainage on the driveway and had the option to put much more of it but that would have added quite a bit of expense. Not doing it was a false economy – the runoff from the top of the field caused some problems during a spell of heavy rainfall so we had to dig it up all over again, even though the garden had already been sown with grass and the wildflower meadow seeded." There's a touch of irony in the fact that getting the landscaping right was a priority from the beginning.
"That was something we wanted to do, to finish the outside well," adds Suzie. "Our aim was to maximise the views and put in a lawn for football, we also wanted to be able to get around the house, but not make a design that was too neat. So we got a landscape architect to help us." (Since completing this project he has moved to Australia.)
"We're fortunate in that we have a row of oak trees that are hundreds of years old. We have 27 of them as well as many other trees and plants. The silver granite cobbles complement the scheme very well."
After living in the house for two years, Suzie can only think of one thing she might change. "I might add another window to the spare bedroom, at the front of the house, it only has one and I think it could use another. But the room is rarely occupied and all of our guests have loved it, so I can't say that I would really change it… To be honest it all just came up brilliantly, I'm delighted with it." All of that hard work certainly paid off.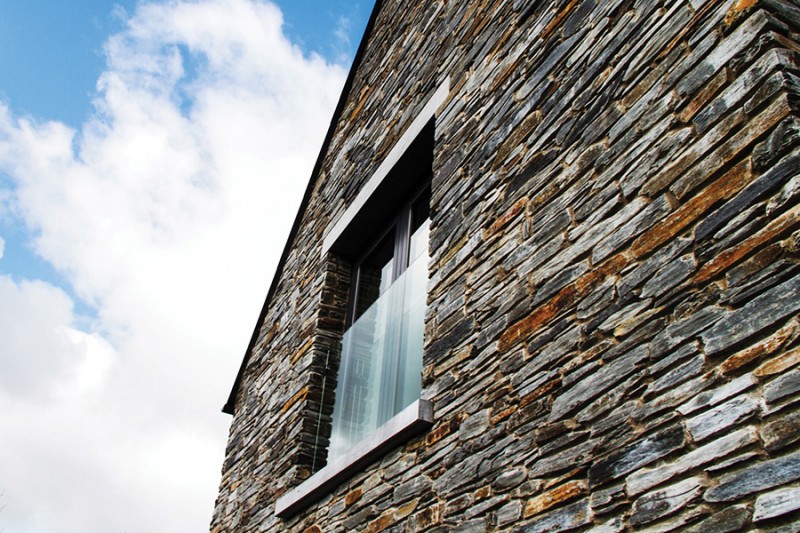 Build up: Blockwork walls (U-value 0.2W/m2K): internal plaster bonded and skim finish, 100mm blockwork inner leaf, 150mm cavity with 100mm PIR board, 100mm blockwork outer leaf, external render. Stonework walls (U-value 0.192W/m2K): internal plaster bonded and skim finish, 100mm blockwork inner leaf, 150mm cavity with 100mm PIR board insulation,100mm blockwork outer leaf, 215mm natural stone cladding (Donegal slate), Donegal blue limestone heads and cills. Floors (U-value 0.122W/m2K): 100mm sand/cement screed, DPM, 140mm PIR boards, 150mm concrete sub floor. Sloped roof (U-value 0.112W/m2K): internal plaster skim, plasterboard, 80mm PIR board under rafters, 120mm PIR board between rafters, 30mm ventilated space, roofing membrane, natural slates. Flat roof (U-value 0.162W/m2K): internal plaster skim, plasterboard, 80mm PIR board between rafters, 120mm board over rafters, roofing membrane, PVC membrane, zinc fascia and soffits. Balcony (U-value 0.192W/m2K): internal plaster skim, plasterboard, 22mm gap, 150mm deep precast concrete slab, 100mm rigid urethane insulation boards, roofing membrane, granite flags.
Windows: frameless glazing U-value of units 1.2 W/m2K, G-value 0.62; aluminium windows U-value of units 1.8 W/m2K
EPC (SAP rating): B (81)
Suppliers
Architectural designer
Glyn Owen, The Designworks Studio, Portadown, Co Armagh, thedesignworksstudio.com

Builder / Project Manager
Enda Brady, NARO Construction Ltd, Coalisland, Co Tyrone, mobile 07718588407, enda@naroconstruction.co.uk

Quantity Surveyor
Victor Trueman, Wheelan & Co Chartered Quantity Surveyors, Craigavon, Co Armagh, tel. 38325829, wheelan.co.uk

Heating & Ventilation
Handley Heating Services Ltd, Banbridge, Co Down, email handleyheating@btconnect.com

Electrical Installation
JH Dennison & Sons, , Gilford, Co Armagh

Windows
Paul McKillion, McMullan & O'Donnell Ltd, Benburb, Co Tyrone, mcmullanodonnell.com

Structural and Internal Glazing
James O'Kane, Topglass Contracts Ltd, Toomebridge, Co Antrim, top-glass.com

Stonework
Brian Rooney, Thomas Rooney and Sons Ltd, Kilkeel, Co Down, stonemasonsireland.net

Bathrooms
Brenda Hall, Bassetts Bathrooms, Portadown, Co Armagh, bassettsonline.com

Kitchen Fitted Furniture
Michael Grant, Robinson Interiors, Belfast, robinsoninteriors.com

Bedroom & Utility Fitted Furniture
Albert Tedford, Fairline Sales & Marketing Ltd, Richhill, Co Armagh, email fairlinesales@btconnect.com

Floor and Wall Tiling
Martin Mallon, Armatile Ltd, Armagh, armatile.com

Timber Floor Finish
JJ Hennebrey & Sons Ltd, Belfast, jjhennebry.com

Front / back doors
Neil O' Hanlon, Modern Windows and Doors Depot, Lurgan, Co Armagh

Stone supplier
McMonagle Stone, Mountcharles, Co Donegal, mcmonaglestone.ie

Sound/lighting systems
ESS Ltd (Electronic and Security Services), Belfast, ess-security.co.uk

Rooflight over kitchen
Velux supplied by the Rooflight Company, Dublin, therooflightcompany.ie

External Render
K Rend, k-rend.co.uk

Insulation (floors, roofs, walls)
Kingspan Insulation, kingspaninsulation.com

Flat roof PVC membrane
Sika Trocal, irl.sika.com