By knocking down an internal wall and reconfiguring her living space, Mary Johnston of Co L'Derry transformed her day-to-day life for the better.
We renovated three years ago and I still enjoy walking into our new open plan kitchen, dining and den area. I'm so happy we took that leap of faith, and can't believe the result for such a simple project," says Mary. The reconfiguration consisted of converting her dining room into a den, removing the wall separating it from the kitchen and adding two bifold doors onto a patio area and garden she upgraded.
"We'd had a bad experience when we moved into the house 20 years ago, which we'd bought on plans. There were many problems and as we'd just moved to the area that made things more difficult." "Even though this experience was truly behind us, we were still apprehensive and didn't want to go at it alone."
Once bitten twice shy, they found their architectural designer through a diligent search. "We rang architects we could find within a 30 to 40 minute radius, met Ben and hit it off. We visited previous work of his and liked his style; he was also available to oversee the construction and that was something we had our hearts set on."
"Being inexperienced in actual building work, finding an architect willing to project manage got rid of our worries. We were still erring on the side of caution," she adds.
[powerkit_collapsibles]
[powerkit_collapsible title="COSTS" opened="true"]
Project cost (everything except the landscaping): £27,000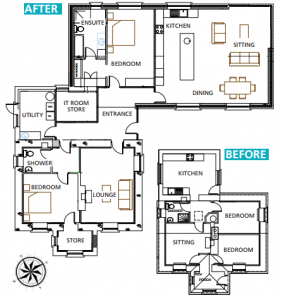 [/powerkit_collapsible]
[powerkit_collapsible title="SUPPLIERS"]
Architect: Ben Wilson of Wilson McMullen Architects, Portrush, Co Antrim, tel. 7082 5865, wilsonmcmullen.com
Builder: JJ Joinery & Construction Derry, Derry, Co L'Derry, tel. 71 357940, builderderry.co.uk
Landscaping: Friable Landscapes, Coleraine, Co L'Derry, tel. 7181 2248
Bifold doors: Sunfold Aluminium Bi-Folding Doors SFK70 with finger safe technology from Feneco Systems, Coleraine, Co L'Derry, tel. 702 20002, fenecosystems.com
Joiner: Patterson's Kitchens Ltd., Derry, tel. 71342050
Photography: Paul Linsay at Christopher Hill Photographic, Belfast, tel: 90245038, scenicireland.com
[/powerkit_collapsible]
[/powerkit_collapsibles]
Outside in
A by-product of their unfortunate experience was that they were never able to optimise the use of their patio – or of their garden for that matter. The patio is limited in size, a narrow strip sandwiched between the house and retaining wall. "The sun hits the patio from early morning to late afternoon so it was a shame not to enjoy it more," says Mary.
"As doors take up a lot of space to open, the bifold solution helped us overcome this obstacle and bring in much more light to the inside than what we used to have." "The open plan configuration also makes us want to step outside.
---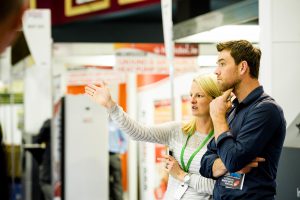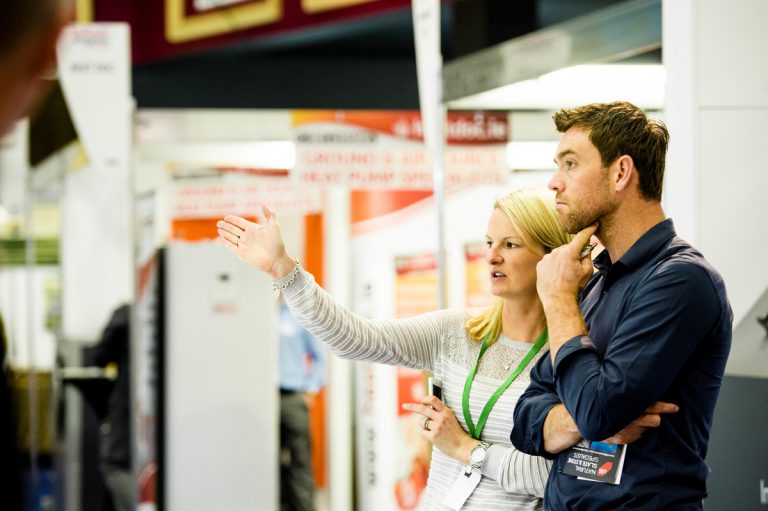 Selfbuild Live Cork is the ultimate showcase for people who are building, extending, improving or simply decorating their home. Selfbuild Live Cork, 10th-11th November takes place in the Green Glens Arena, Millstreet, Cork.

---
There's a completely different feeling; the patio and the garden above are more inviting." The garden had been neglected due to a lack of access.
"It was a steep hill we had to climb to get to the garden so we didn't make it up there that often! We waited for the renovation to be finished inside to tackle the outside area, adding steps to access the lawn. This made a huge difference. It basically made enjoying our patch of green possible.
The cherry on top was adding a seating and pergola area." It was however tricky to design due to the steep hill so the planting had to take place on different levels. To continue with the theme of bringing the outside in, the flagstones used on the patio match the neutral colours in the revamped space.
"We've added plants to the patio area too, including espalier apple trees up against the retaining wall. Hopefully we'll get them to cover most of the unsightly wall, and if we're lucky we'll get some apples too. Our garden doesn't lend itself to planting regular fruit trees so this is our only opportunity to grow our own."
Inside, they wanted to feel more connected to each other, to have more interactions within their living spaces. "We wanted to be able to enjoy spending as much time as possible with our grandchild, the old kitchen was shut off from everything whereas now we're all together. What I love is that the spaces are flexible – my daughters love to sit at the island while we relax in the den."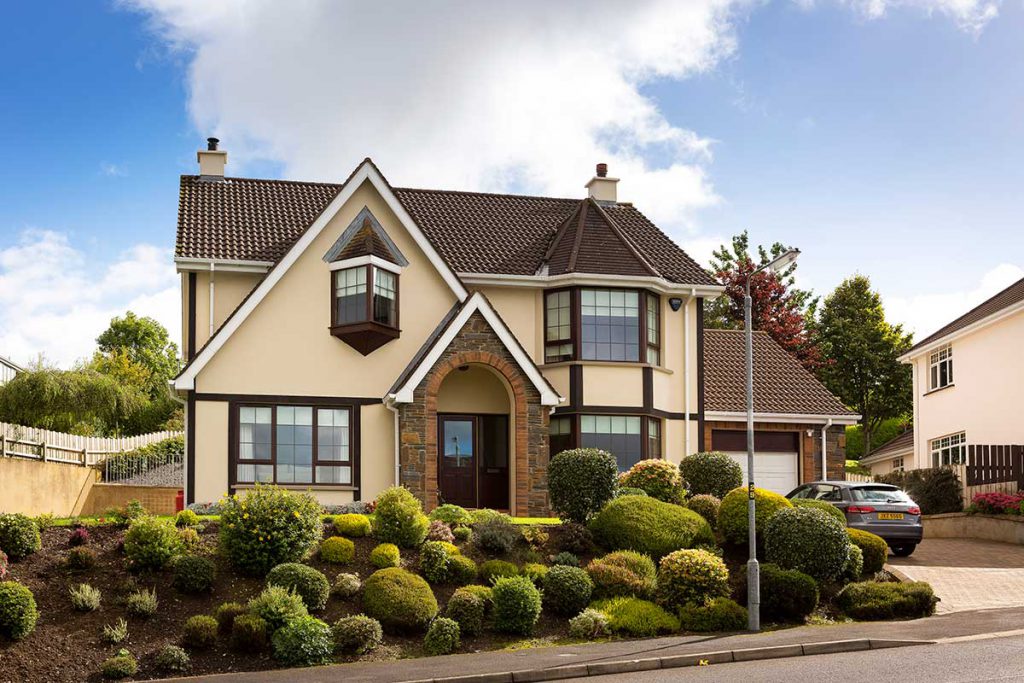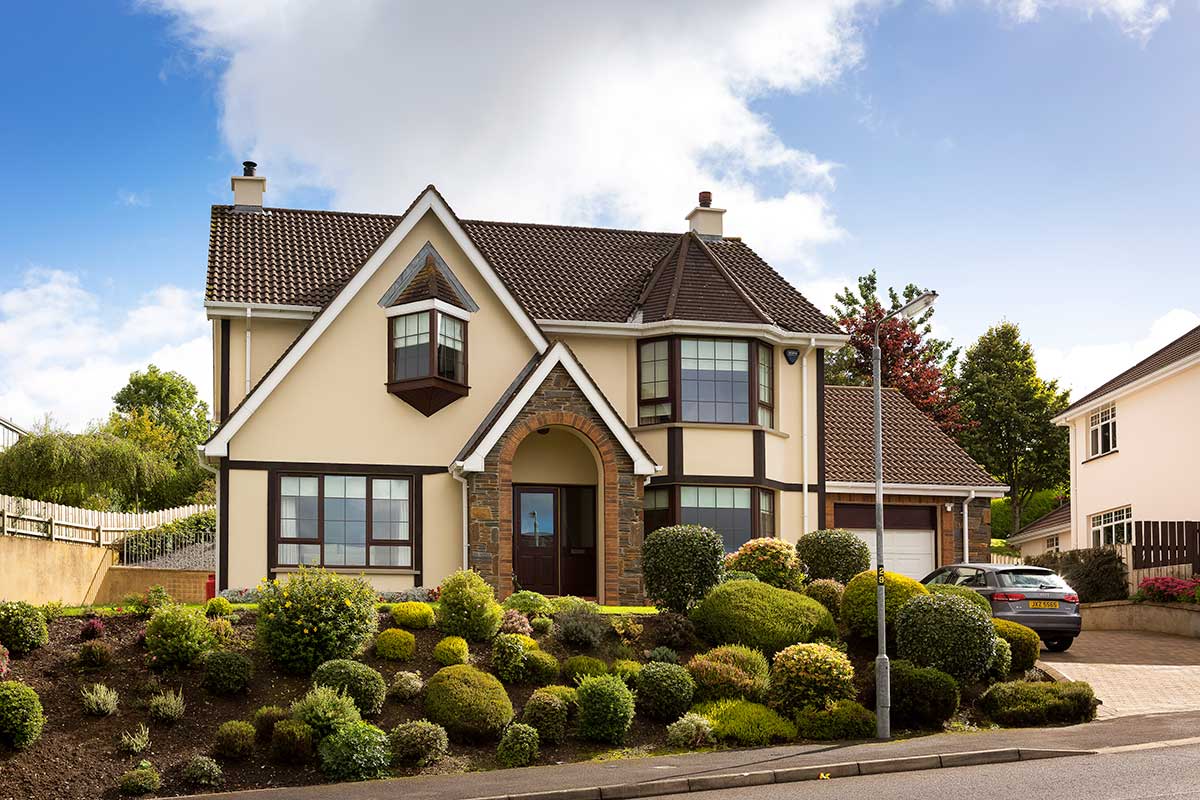 To enhance this feeling, the new flooring was kept uniform. "We wanted to keep it simple, choosing large format tiles, cream in colour." Vibrancy is provided by a powerful burnt orange theme throughout. "The three paintings behind the settee are by a Spanish artist; we knew long before the building work started that they would set the tone.
That's why our rug is the colour it is, and our kitchen references it too." The bespoke bookcase in the den was also an incumbent. "We used the same joiner to do our kitchen, we wanted the elements in the room to gel," adds Mary.
"For the kitchen cupboards we chose grey at the bottom and creamy white on top, with the timber countertop balancing things out. The kitchen cupboards echo the lines of the existing bookshelves." Mary had her heart set on the island facing out to the garden and the light, which she says has furthered their connection to the outside.
'Being inexperienced in actual building work, finding an architect willing to project manage got rid of our worries…'
Reconciled
During the planning phase their architect had directed them to various stores to source products and brought them to see other people's homes to decide what they liked and how far their budget could stretch. "This helped refine what we wanted and what would suit the space. It seems simple but a lot of work goes into achieving a balanced interior."
All well and good on the designer's side, but how did they got on with their builder? "We went to tender and one of the people we asked to submit a bid was on the back of a recommendation from our plumber," recounts Mary. "His dad had him build his house and had been happy with his work.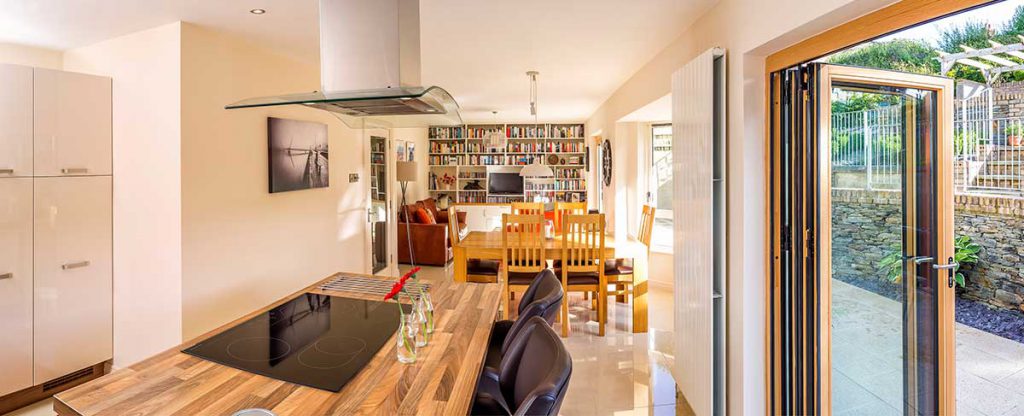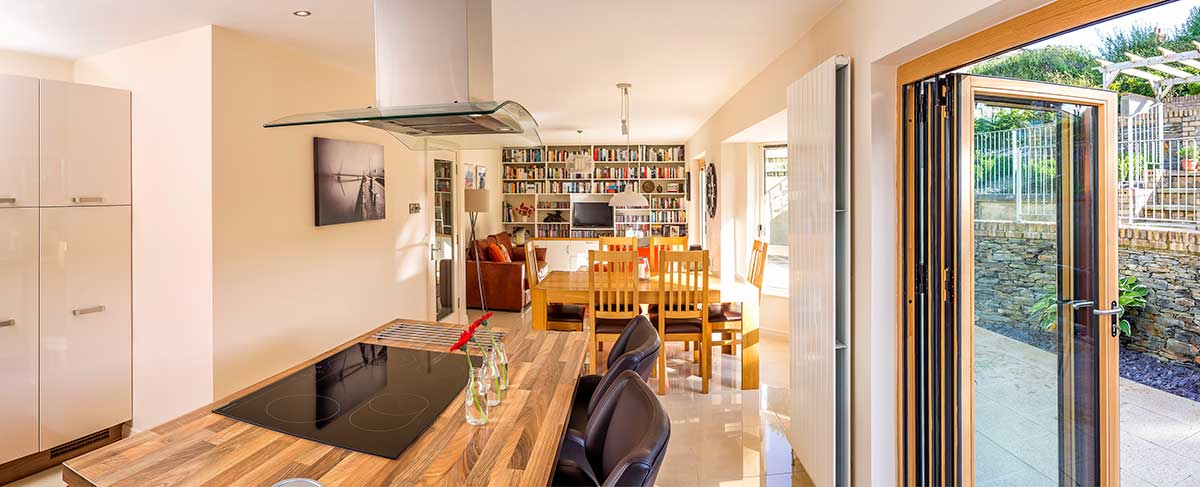 He was a bit dearer than the rest but we felt he was the one who could see what we wanted, and we were confident he could deliver. We were still hesitant at this stage but he was brilliant. He told us from the start he was happy to use our plumber and electrician, which was very reassuring to us, we loved his flexibility."
'What I love is that the spaces are flexible – my daughters love to sit at the island while we relax in the den…'
His attention to detail clinched it for Mary. But that's not to say the unexpected didn't crop up – one of the original walls wasn't straight so they had to fix it up before they could tile the floor. "With the walls all at 90 degree angles, having one wall a bit askew would have been a challenge to make the tiles look right. We just had to fix the wall. It's these little things you don't always think about that can swallow up the contingency!"

[powerkit_collapsibles]
[powerkit_collapsible title="MARYS-TOP-TIPS"]
Kitchen
Make sure there's a socket on your kitchen island; our family love to sit at it and invariably need to plug in their devices.
Design
Think about how the interior design affects your connection to the outside; we rarely went outdoors because it wasn't practical or very attractive. Having opened up the space into an open plan has let the outside in, we feel more connected, and the bifold doors entice us to go out. We feel there's more room than there used to be even though the area is the same.
Hire a professional designer that is willing to project manage the build for you; this took the stress out of the process for us.
[/powerkit_collapsible]
[powerkit_collapsible title="Q&A"]
What surprised you? In the original kitchen, a few years previous we'd employed a tiler to install new tiles. With this more recent refurbishment, when the builders went to put in the new floor they realised the tiler hadn't bothered to remove the original tiles! We were busy at work when he'd done the job, which explains why we never realised we were walking on two layers of tiles for all these years.
Would you do it again? I wouldn't be afraid to tackle a new job, but the first thing I would do is get Ben back on board. His involvement is definitely worth the cost, which is quite small when you look at the bigger picture.
What would you change? I might go with a slightly bigger island; Ben recommended we go larger but the kitchen designers' plans specified this size. It's not something that stresses me out, it's plenty big, but if I had to pick something this would be it. I would actually have loved to go with Ben's advice and incorporate the bay window in his design; he had redesigned it to match the bifold doors but it was too expensive. His design was of a rectangular shape with 90 degree angles and frameless glazing. As the bay window is wooden we painted it to match the walls and it blends in quite well. But I do dream!
[/powerkit_collapsible]
[/powerkit_collapsibles]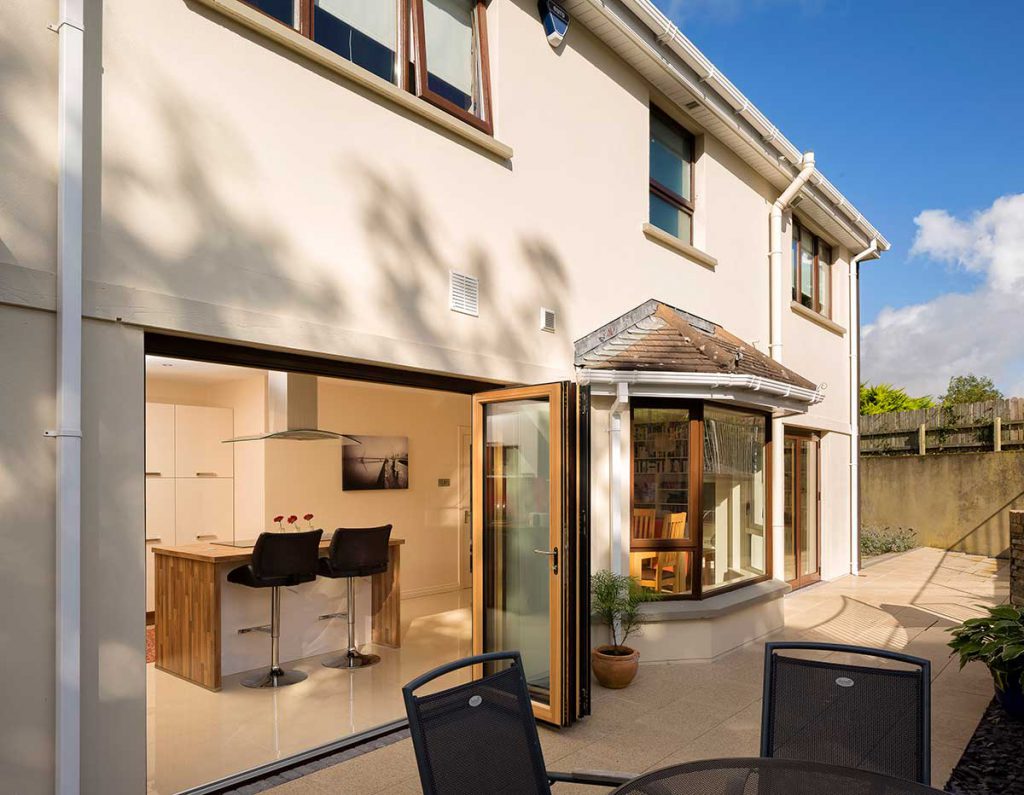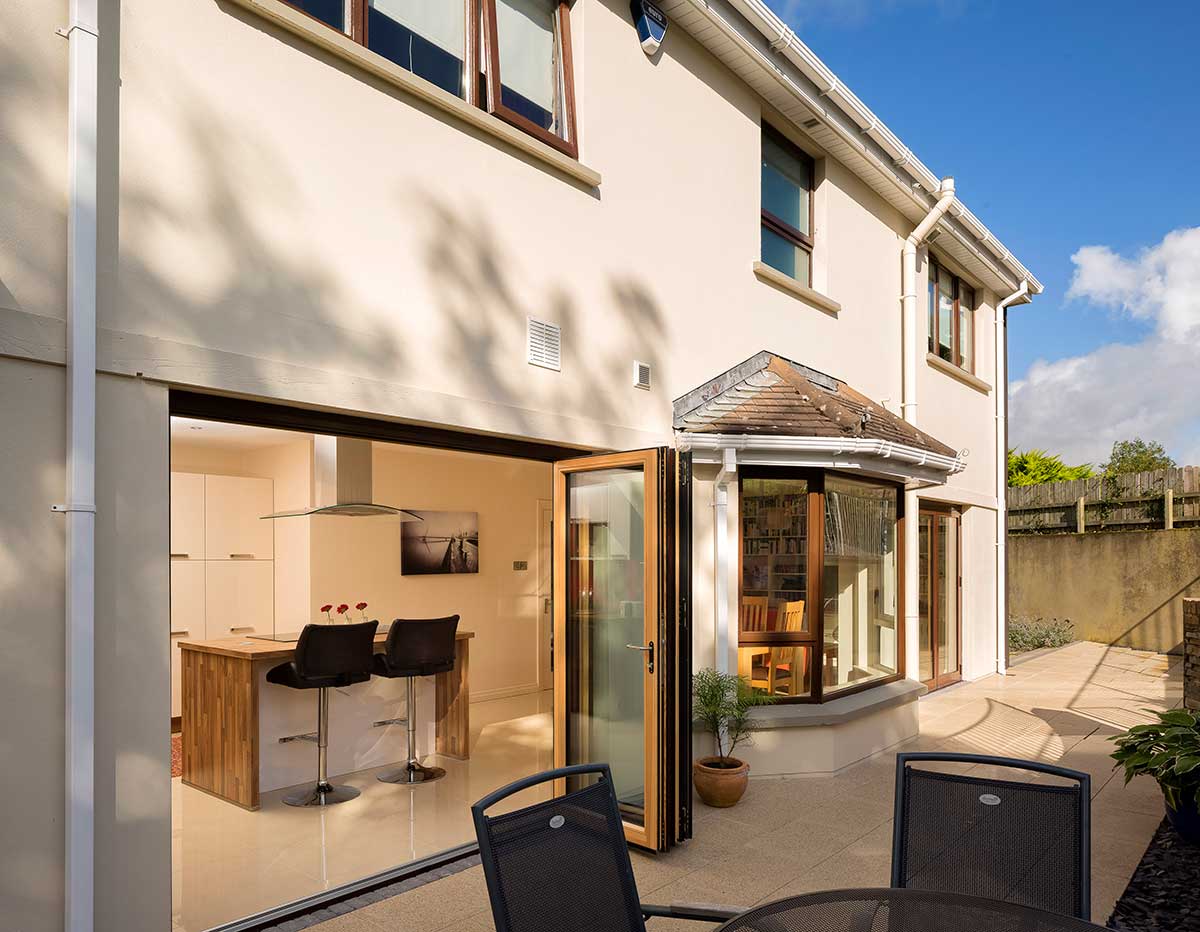 The existing set of doors in the den were replaced by one set of bifold door and the little kitchen window was enlarged to insert the other set; to prop up these wider openings steel lintels (RSJs) were used. Logistically the kitchen appliances and sink were moved around so they had to replumb and rewire.
They'd also gotten their heating system upgraded a few years previous, and they'd taken that opportunity to zone the house. The main change in this renovation was to replace the old radiator with a vertical one between the bifold doors. "There was a certain amount of upheaval but the build only lasted a month so it was bearable.
All we had to do was shut off the back of the house and use the utility room as our kitchen. It wasn't ideal because it was only accessible via the garage but it's something I could easily live with," says Mary. "The result was well worth the effort."