Mark and Aoife Ryan share how they went about their budget friendly renovation of their semi-detached home in Co Limerick.
In this article we cover:
How they went about the renovation
What their budget was and where they overspent
Thrifty design tips
Delaying the build and finding the right builder
How the project was managed and who signed off on it
Day to day to on site and changes made
Going from a D1 energy rating to an A2
PV panel set up
Lessons learned from the process with top tips
Professional photographs
Timeline and supplier list
Specification and floor plans
Overview
House size before: 123sqm
House size after: 146sqm
Bedrooms: 4
Original budget: €120k
Construction tender cost: €145k
Final cost, all inclusive: €185k
House value: €390k
Heating: gas boiler
Ventilation: humidity controlled
Build method (extension): blockwork
BER before: D1
BER after: A2
What do you do when you have a house that's big enough for your family, in the right location, but is a nightmare to get around? Aoife and Mark Ryan's answer was to stay put and reconfigure the space. But as is often the case, what started off as a modest refurb quickly snowballed into much more.
"If you had looked at the original house it was three rooms across the back, living room/kitchen/utility, and we brought that whole space together and reconfigured some of the other rooms," says Aoife. "One of us would be in the kitchen, one of us would be in the sitting room, the kids would be in the playroom."
"And none of us could see each other. Reconfiguring it was a big thing and having a bit more space, adding a home office, and making it more comfortable for everybody was our ultimate goal," adds Aoife.
In addition to the reconfiguration, they added two small extensions, the one downstairs accommodates a new dining area; did an energy upgrade, including boiler upgrade; bought new appliances and new furniture; and got the whole house painted professionally.
The budget
As it turns out, when it came to the budget, Aoife and Mark had a leg up on other self-builders. "Mark is an accountant and I was working in sourcing at the time, so budgeting was our day job. So we were down to the cent, we knew exactly how much we could spend and stuck to our budget," says Aoife.
"If we saved on one thing, we used that extra on something else, and we weren't going to go over our full budget. We were quite restrained in that sense," she adds. "Choosing the tiles and other finishings, you can definitely go really expensive for things like that so we had to be restrained. We had a budget for those kinds of things and for the construction as well."
That's not to say there weren't any budget busters. "The one thing we hadn't planned for was to get a painter in. That cost a lot more than we had intended or even thought about. I don't even know if we thought we'd do it ourselves," admits Aoife. "I think we hadn't thought about it at all. Because there was so much fresh plaster, new woodwork, we got a painter in to do every single thing, inside and outside."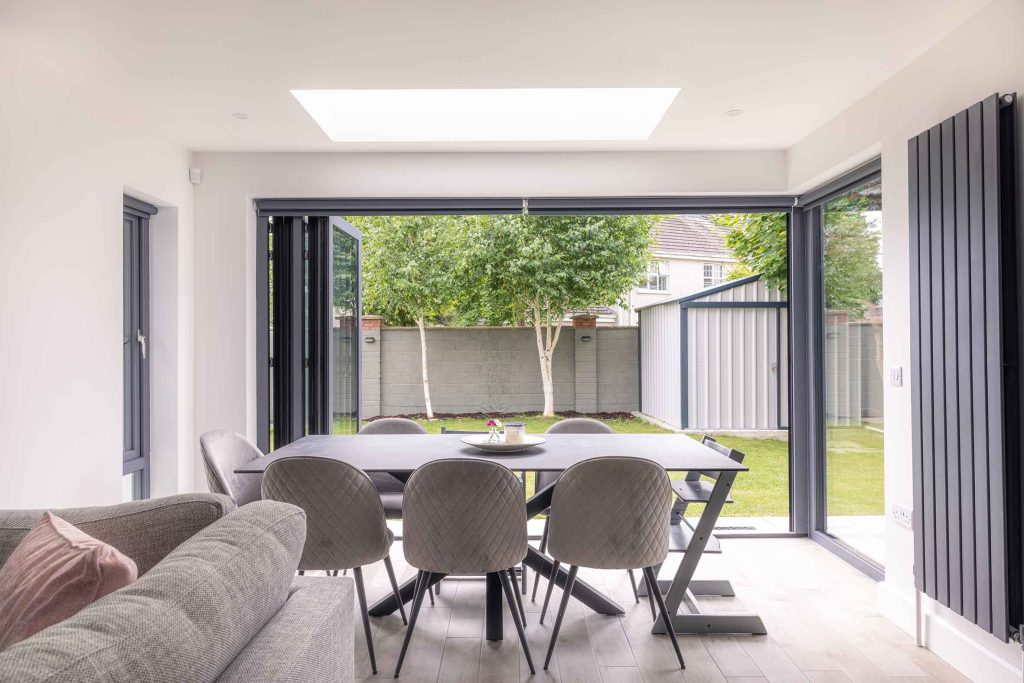 "If you include the painter and all of the paint, it was close to €6k and he was here for about three weeks. At the same time, it was absolutely well spent. We would have spent months making a mess of it. The technique, base coats, woodwork, I wouldn't know how to do all that."
Helping to finance the build was the green mortgage they got from their bank, which Aoife says was one of the reasons to upgrade the insulation and install photovoltaic (PV) panels. "We got an energy rating assessor in to prove we'd made the improvements; the building energy rating needed to be over a B3 to benefit from the reduced rate," says Aoife.
"When we bought the house we were a D1, then made a couple changes over the years, a front and back door, added a pull down ladder to the attic, that kind of thing," says Aoife. "But it's the energy upgrade and PV panels that pushed it up to an A2." The reconfiguration
"Before buying our home we'd been renting for years," says Aoife. "Mainly apartments, spice boxes is the best way to describe them. And with two small children, we were keen to create a comfortable family home."
"We did employ an architect and went to him with a very clear idea of the layout that we wanted, symmetry, glazing. We had that in our head. But we knew we would need to take down walls and we needed structural drawings to work that out for us."
The upstairs extension at the side of the house also required planning permission. "The architect did the planning process for us as well which was great – no issues on that side," says Aoife.
For inspiration Aoife went to social media. "I had a lot of ideas in mind over the years, what way I would like the house to look. Space and style wise," she says. "Since we've done the reno I've noticed people using suppliers from further afield to reduce costs, particularly from Poland which I wasn't aware of when we did the build."
"But to be honest we tried to use local places where we could, even for furnishings and finishes," she says. "For example, we got all of our appliances from the one place. When we bundled them we got some quite decent discounts – we went in to five or six different places, this is the list of appliances we want, give us your best price and we'll get back to you."
Finding a unicorn
"We had our planning permission notice up on the site and one random evening a guy knocks at the door and hands in his card saying 'I'm working on a house around the back'. At that stage our planning was just in, we thought what a chancer knocking and leaving his card in and put it to one side. Never thought about it, not even when we went to tender."
The tender process to find a builder was through the architect who gave them a shortlist. "We went to five or six but didn't go with any of the three bidders, as we didn't get the right feeling so we put the whole thing on hold for a couple months," says Aoife.
"When we decided not to go ahead with any of the bidders, we were literally cleaning out a drawer and found the card and got that builder to give us a quote. And he did but he was chock-a-block busy and couldn't start for six months."
"He actually held the price for us, at a time of material price increases, which is unheard of. I don't know where we found him, he's a unicorn," says Aoife. "We chatted with the owners of the house around the corner he'd worked on, and it was like it was meant to be."
"It was a handshake agreement, we had no contract signed and he said he'd keep the price for us, and we assumed that he would," says Aoife, and he did.
The quote, based on the construction drawings from the architect, covered all structural work (extension upstairs and downstairs, including creating a new corridor through existing rooms upstairs), replacing the internal doors throughout, window installation, insulation, plumbing, and woodwork.
"He told us it would take him 14 weeks but it was 16 weeks because of a delay with the bifold doors arriving, which wasn't his fault. That represented a three week delay so if that hadn't happened, he would have finished a week early."
"The builders who quoted for us at the tender stage said they couldn't guarantee it would be six months, they said it could be eight or 10, whatever way the chips would fall, depending how they were at the time."
The build
Mark and Aoife finished up with the architect when they pushed out the build from 2021 to 2022 but still had a structural engineer to sign off on the payments out to the builder.
The entire family did have to move out during the build. "Every single room was touched to some degree plus the whole back of the house was open for several month for the glazing to go in," says Aoife. "
Every Friday at lunchtime we'd meet the builder here and any of the trades that were on site and we'd check everything. And you know we might pop over to the house some evening as well if we knew something was getting done, we'd pop in to have a look and make sure it was being done right. We really didn't need to micromanage. To be honest, we needed to do very little. Nobody believes me," laughs Aoife.
Although it was a good thing she kept an eye on things. "I knew the tiler had been in, so I came over to see. We had a shower niche in the wall for shampoo bottles, and I'd said I want it to be exactly one tile wide so no lines down the centre. I came in to find there was a third of a tile at one side and the rest was two thirds of another tile."
"The tilers were telling me they couldn't see an issue, and I told them I'm not going to be able to live with it. The builder said we'll just take the tiles off that wall and restart. Then in the ensuite they'd tiled one of the walls with no shower niche at all. There had been a niche there the other day – what happened was when they put the tanking up, they'd slabbed over the niche and hadn't recut the niche out."
"That was all in the space of 12 hours. And the next morning it was all fixed and done. They were so easy to work with. Other builders could say there's nothing we can do about it now, it was an oversight, you'll have to work with it. It was never said this is going to cost you, no. It was a mistake and they fixed it."
Aoife and Mark got a separate quote for the kitchen, leaving the builder to deal with the manufacturer directly to coordinate the installation.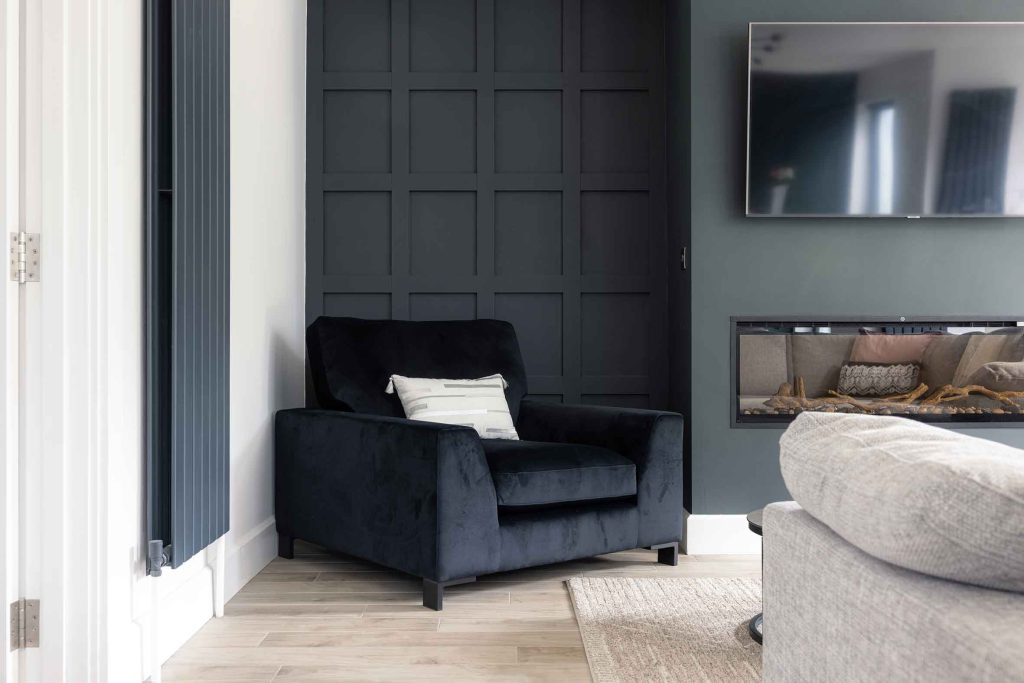 Insulation and PV panels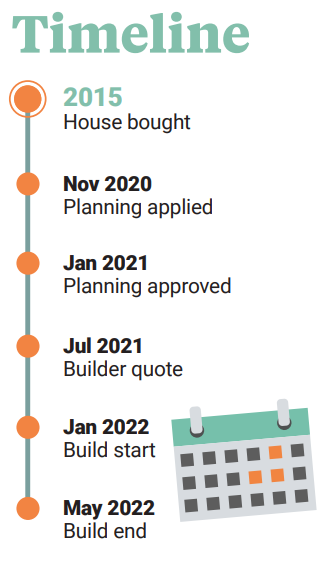 "We knew we were going to make some upgrades but we went over and above what we had originally planned," says Aoife. "We approached the builder and discussed getting a grant but he wasn't registered with the SEAI, the government body that administers the individual grants, which meant we weren't going to be able to get it."
So they looked at getting a One Stop Shop grant from the SEAI instead, which is administered by one point of contact and you get the grant through them for a full house renovation upgrade, major works including not just insulation and airtightness but also ventilation and windows.
"In the end we felt like we'd be paying out more. And because there were so few One Stop Shops around the country, it was going to cause delays to our build. It was important to us to get back in as quickly as possible so our builder went ahead and did all the energy efficiency upgrades for us and he got the best prices he could for the materials. It just worked out as the best option for us," adds Aoife.
"The only grant we got in the end was an individual grant, for our 12 photovoltaic (PV) panels on the roof and we hired a specialist company to install those for us, completely separate to the builder."
Comfort
The windows were a big part of the project, and they knew what they wanted from day one although the large expanses of glass can mean there is some overheating. "On days it's warm we have the back door open and we have demand controlled ventilation – one mechanised unit in the open area and one in the living room. It's not a centralised system, they're single units, but they're continually refreshing the house."
So what's the verdict? "Even before Covid when I was working from home in the colder months I could have the heating on from 9am to 3pm or 4pm just to stay warm," says Aoife. "Even the winter gone when we had the hard frost, over those couple weeks, I maybe had the heat on for an hour and that was it. It's a massive difference. And if I hadn't been sitting down working I wouldn't have needed it at all."
"We're calculating that we won't pay an electric bill until January 2024 thanks to a credit owed, the government credits, and excess electricity generation rebates, mixed in with vastly reduced bills thanks to the energy upgrades. If we look back at the coldest period from November to February our gas bills every two months were €180 to €200."
And they're already thinking of how to upgrade the boiler in the future. "Our boiler is hydrogen blend ready meaning it will be able to run on gas and hydrogen at an 80/20 ratio once the fuel is available," says Aoife. "Installing a heat pump and underfloor heating wasn't in our budget, so I'm happy to know there's an environmental alternative down the line."
Aoife is delighted with the end result but can't help but be swayed by interior design trends. "I'm trying not to think about changing colours or styles, we're only just in a year at this stage," she smiles. "I suppose it's just fun to think of how you would change different things, while trying not to get too carried away with it at the same time." The possibilities are endless.
Follow Aoife's renovation journey on Instagram @building_ashgrove
Q&A with Aoife
Favourite features?
The bifold doors. The house used to be quite dark and it's great to have it so bright now. We leave the bifold door open for most of the summer, we're in and out all the time, it makes everything so much more sociable. Our architect at the time was trying to convince us to go for a sliding door. It was one of the things we argued about the most. He kept trying to convince us not to get the bifolds, we thought
he must have shares in a sliding door company. We're so delighted we did, it's the best thing. Last summer it was open every single day and we've had no mechanical issues whatsoever.

What would you change?
The only thing would be to put a real set of stairs up to our attic. The pull down steps are awkward to get up and down and it means we can't use the space as well as we would like. Eventually we probably should shelve the attic properly and make it a more useful space.

Would you do it again?
Absolutely. But only with the same builder.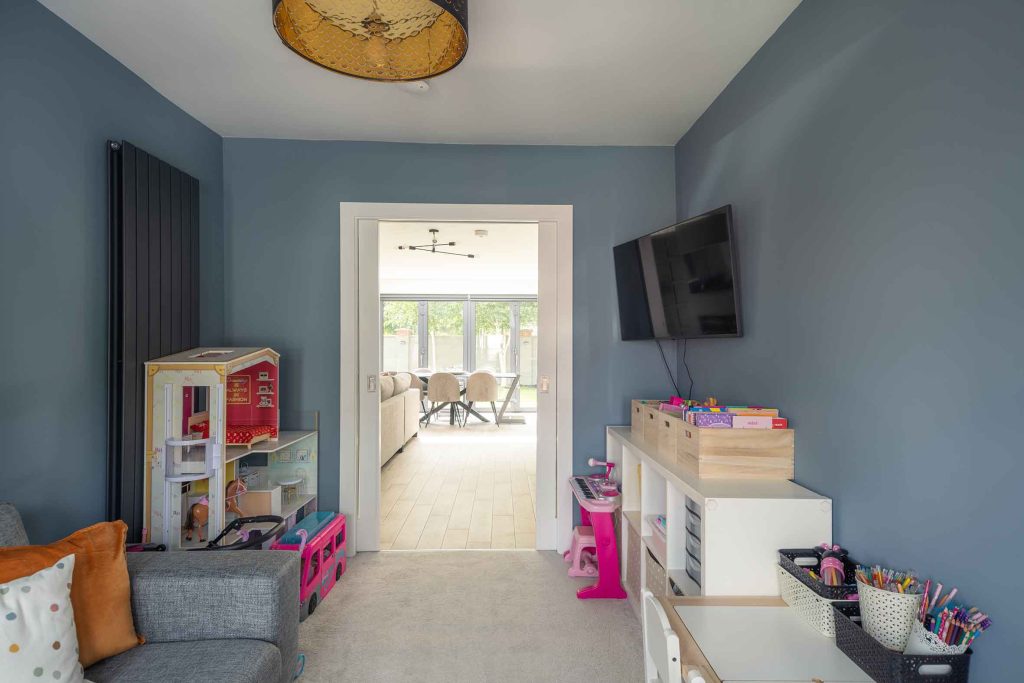 Aoife's top tip
Trust your gut. So many people will give you their opinions when you're building or renovating and by all means, take them on board. But at the end of the day you're the one who's' going to be living in the house, you're the one who knows how your family lives. You know how you're going to need to use the space so listen to what people have to say but don't them influence you if you're uncomfortable about the advice. Stick with your guns on the things that matter to you. For example we didn't really like the tenders that we received, or the advice we were getting from those builders. We decided to hold off even though we were so eager to get started. The tenders had come in over our budget but saying that, we ended up going to that level anyway. The reason we didn't go for it is we just didn't get the right feeling.
Spec
Existing house: small amount of insulation in the attic flooring was topped up, EPS boards in cavity walls complemented by EPS beads, internal walls drylined with 50mm insulated plasterboard.
Extension: cavity walls block built pumped with EPS beads, roof has 300mm rockwool insulation for U-value 0.139 W/sqmK.
Windows: triple glazed passive standard, overall U-value 0.7 W/m2K
Heat loss indicator (HLI): 1.925 W/sqmK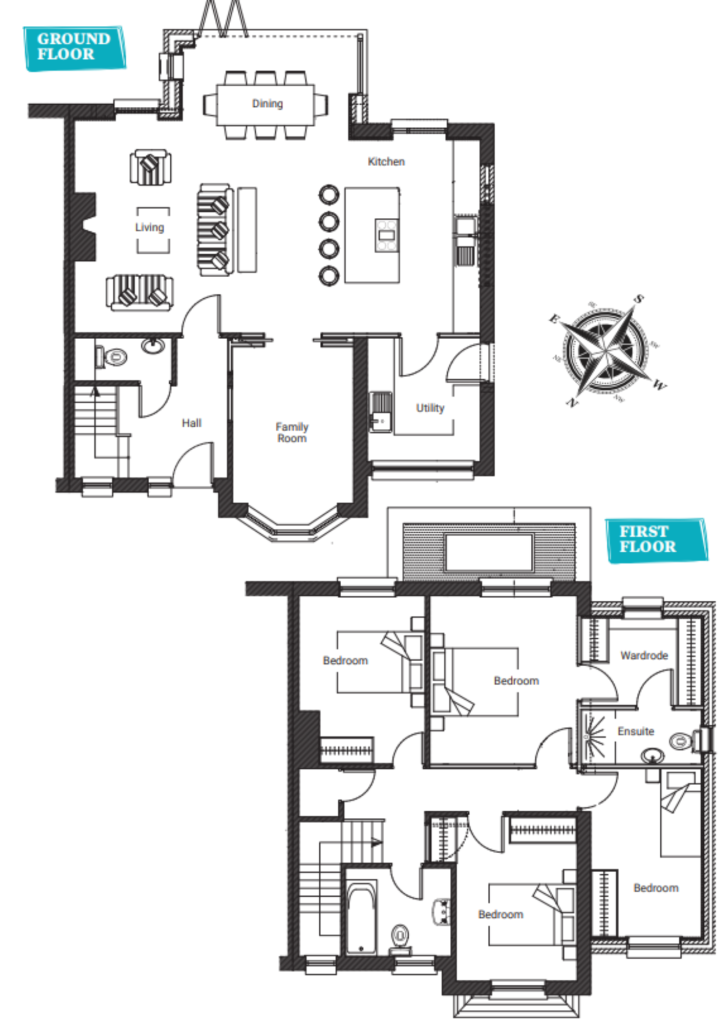 Suppliers
Builder
Anthony Griffin, Griffin's Builders, Limerick, mobile 0876863000
Kitchen
Zanwood Kitchens & Designs, Limerick, tel. 061 397526
Photovoltaics (PV)
12 Longi 350 & 375 watt panels SPV Energy (output 4.2kWh) + EDDI hot water inverter supplied by SPV Energy, Cavan, mobile 0877824799
Insulation
External cavity walls Envirobead, 300mm Knaufwool attic floor insulation supplied by Sheehy Insulation, Kerry, tel. 068 45305
Electrics
Finucane's Electrical Expert Ltd., Limerick, tel. 061 469467
Plumbing
PJ Matthews, Limerick, tel. 061 413722
Flooring
Limerick Tile and Wood Centre, Limerick, tel. 061 294573
Windows
Munster Joinery
Photography
Kirsty Lyons, kirstylyons.ie

NI calling ROI prefix with 00353
and drop the first 0