Find out what type of timber is used to build structural timber frame walls, from CLS to engineered wood.
In this article we cover:
Structural timber options
What is CLS and OSB
Types of engineered timber
Types of modified wood
What's most commonly used in Ireland today
Jargon buster for the component parts of a timber frame wall, from sole plates to spandrel panels
As with all structural timber, whether the timber is coming to you via a builders' merchants or a timber frame manufacturer, the timber producer's stamps on every item of timber should match the documentary certification. This also applies to any preservatives and processes used.
CLS timber
Canadian Lumber Standard (CLS) timber is mostly produced from trees such as fir, pine or spruce. The Canadian part of the name simply means that the standard for producing the timber originated in Canada, but the timber itself comes from not only Canada but Scandinavia, Europe, China and the US.
What makes it distinct is that it is regularised by planning during production to achieve better dimensional accuracy and consistency of size and strength than ordinary sawn timber. A piece of CLS
can be easily recognised by its characteristic your rounded corners which make it easier and safer to handle in the factory and on site.
Above images courtesy of Kudos
The regularisation of dimensions is ideal for timber frame structures, due to the fact that design strengths and stiffnesses are more accurately defined. Additionally, this dimensional consistency helps to produce timber frame products that are the same width throughout and each frame in a project will be produced to the same accuracy as the next.
As with any other type of structural timber, it is graded for strength and stiffness and we typically use grades such as C16 and C24.
Sheathing
This is usually plywood or oriented strand board (OSB) and is fixed to those wall panels which may be subjected to lateral loads such as wind loads. When fixed to the frame in accordance with the standards, it provides resistance to racking forces.
All external wall panels will be provided with sheathing and so also will those internal wall panels which have been designed to provide lateral support to the external walls. Likewise, the sheathing used on prefabricated floor or roof cassettes allows them to act as diaphragms to counteract lateral forces on the building.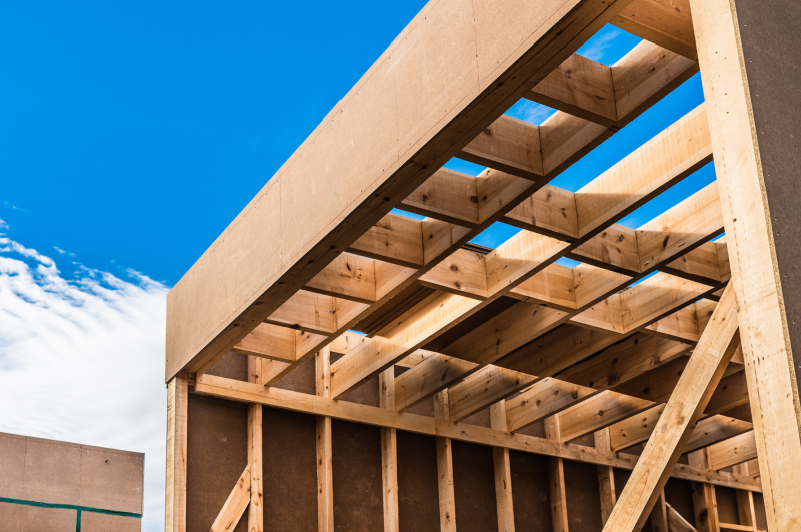 Engineered timber
Engineered timber or mass timber is a composite material which is manufactured using a combination of heat and/or pressure with glued-together particles, laminates or strands of processed timber, usually softwood. The resulting products are more consistent in terms of strength and density and can be made with less variable and larger section sizes than are readily available from ordinary forestry timber.
The use of a wide range of source material minimises waste by, for example, using logs which would otherwise be unsuitable for sawn timber. They are also produced with relatively low moisture content, reducing the risk of material deformation and faults developing during the drying process.
Structural engineers can maximise the use of engineered timber to create large open spaces in buildings whilst still ensuring structural stability, with transportation and handling of long and large section engineered timber members being the only real constraints on their use.
The two most commonly used types of engineered timber that we would use in timber frame structures are glulam (glued laminated timber) and laminated veneer lumber (LVL). Although each comes in a range of strength grades, LVL is typically stronger and cheaper than glulam.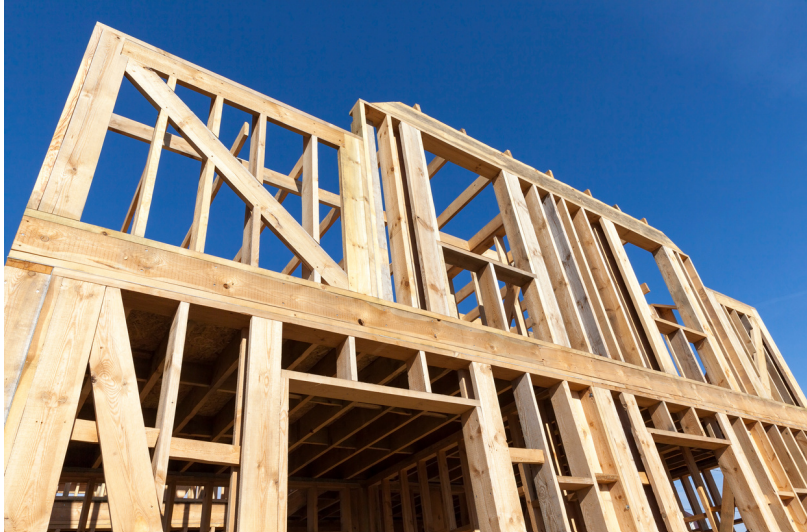 Another form of engineered timber which you might find is cross laminated timber (CLT). Producers in the UK and Ireland are scarce, so most CLT is still imported from Europe and should be manufactured in accordance with BS ISO 16696-1:2019.
To optimise transport costs then, it would be useful to design your house so that the total amount of CLT could be transported in preferably one full lorry load. It comes in the form of solid panels which have been created by pressing oddnumbered layers of solid timber boards with each layer laid a 90 degrees to the one next to it, with a structural adhesive between the layers.
There are a number of advantages of using the product. These include dimensional stability, strength, stiffness, fire resistance, aesthetics and acoustics. The panels can be precision cut with computer numerically controlled (CNC) routers to give very accurate openings and can be made in sizes up to 3.5m wide by 20m long.
The dimensional accuracy of the product means that glazing can be ordered directly from the drawings and joints are easy to make airtight, making them ideal for Passivhaus designs. Manufacturers can supply the panels in three visual grades (non-visual, industrial visual and high-grade visual), with the latter option offering the opportunity for impressively beautiful interior timber surfaces.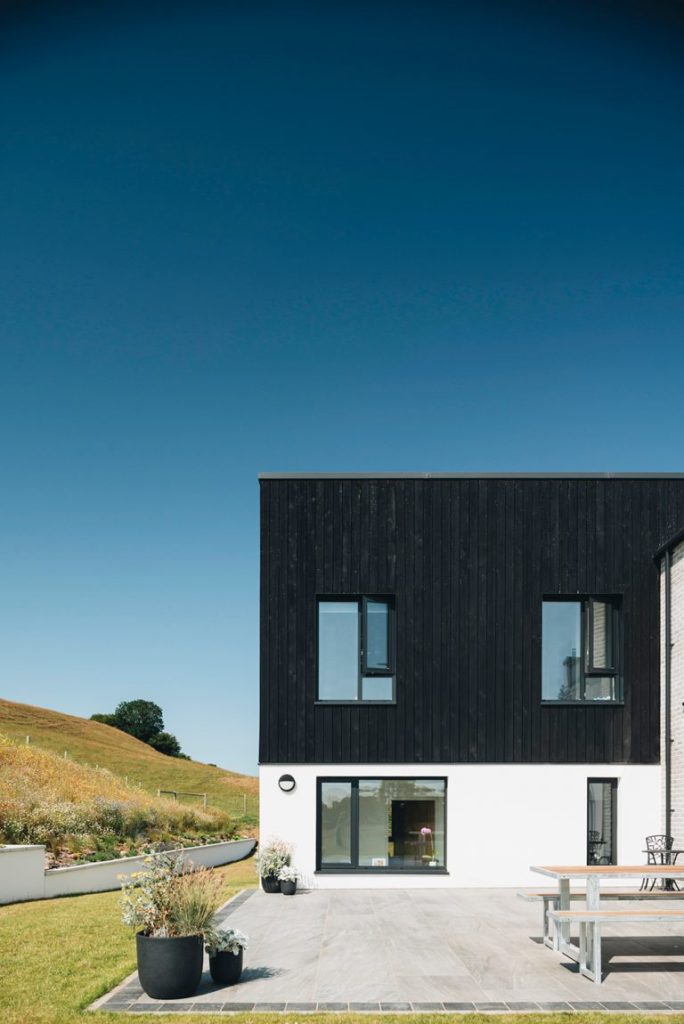 Modified wood
Technically speaking, modified wood includes any wood which has been treated chemically, biologically or physically, to make it last longer or perform better, so you could say that most of the wood in a timber frame dwelling is modified.
One of the main environmental credentials of modified wood is that with its very long service life, it locks in sequestered carbon for many more years than its unmodified relatives. It also has, in most cases, been developed to use softwoods or locally produced fast growing hardwoods for high durability applications, hence it is seen as an eco friendly alternative to tropical hardwoods from South America, Africa and Asia.
With ordinary preservative treatment at the simpler end of the scale, there are different levels of wood modification processes. Do take care to find out from the manufacturers' technical literature, precisely which types of fasteners, adhesives and fixings can be used with each product.
Accoya is natural wood that has been treated using a process called acetylisation, which requires heat and the addition of acetic anhydride to alter the chemical composition of the raw wood to make it into a nontoxic, very durable and stable timber product. It is best suited for external cladding, decking or other external joinery.
Kebony is a similar modified wood which uses furfuryl alcohol together with a process involving vacuum, pressure and heat to modify the cell structure of the wood. The result is, like Accoya, a durable and stable timber suitable for long term external use.
The ancient Japanese technique known as Shou Sugi Ban (also known as Yakisugi), of preserving Sugi cedar wood by charring the surface with a hot flame, can likewise be used on Accoya and Kebony to offer an alternative distinctive appearance to those products.
Thermowood, as the name suggests, relies on a treatment process using high heat with low oxygen and then cooling to create chemical and structural changes within the wood. A number of manufacturers in other countries use different processes and trade names to create their products in a similar manner.
The Oil Heat Treatment (OHT) uses oil, the Plato process uses hydrothermolysis, dry curing and conditioning, whilst the Reti process uses nitrogen and Les Bois Perdure uses steam. The main disadvantage of thermally modified wood is that the heat process tends to reduce its strength, however this is generally not a critical factor in most exterior cladding applications.
Tricoya is a modified wood panel product which has been developed as a much more durable alternative to medium density fibreboard (MDF) and with a 50 year warranty for use in above ground applications, it can be used for many external purposes such as cladding, doors, fascias and facades.
Timber frame jargon buster
Timber frame wall: A wall built of timber framing members, bracing and/or wall sheathing. The solid timber members are usually Canadian Lumber Standard (CLS).

Wall panel: A section that forms part of a complete timber frame wall.

Spandrel panel: Wall panel for a gable.

Racking resistance: Ability of an internal partition wall or external wall panel to resist horizontal wind forces in the plane of the panel. If you imagine a rectangular panel being pushed or forced at one of the top corners in a direction along the length of the panel, in effect trying to deform it into a parallelogram shape, that is known as a racking force.

Stud: Vertical member in a framed partition or wall.

Cripple stud: Vertical member that supports a lintel in a framed partition or wall.

Wall lining: A manufactured sheet product used to line a wall or partition.

Wall sheathing: A manufactured timber sheet product used as bracing.

Sole plate or floor plate: Horizontal timber member under the bottom of a wall panel.

Top plate or header: Horizontal timber member along the top of a wall panel.

Noggings (or sometimes 'noggins'): Pieces of timber fixed horizontally between studs or joists to add strength or stiffness. Also useful for providing fixing locations between sheet materials.

Bracing: Adds structural strength with timber elements. These can be added to internal or external wall panels where additional racking resistance is required. It is formed using CLS struts diagonally between the end studs of a panel, so that the end stud and bracing together resemble a capital 'K'