The coronavirus made us realise our home was too small for the family to be working out of; thankfully we had a shed in the back garden we managed to finish renovating for that purpose. And it yielded a tidy profit too.
Our house is a 1950s small three bedroomed former land commission cottage, which we bought in 2005. It came with an old milking shed at the back. Built of mass concrete with hay loft windows each side, the shed was originally divided into a barn and a byre topped with a rusty, leaky apex tin roof.
Parts of the concrete floor were missing and the old doors were in poor condition, allowing the wind to blow through. But it did have electricity, a water connection, and was home to our boiler and oil tank.
A stop-start project at its core, the big push on our barn renovation was from late June to September 2020. As we had previously done work on it, the total cost of doing up the shed from the ruin it was into a habitable comfortable space was around €13,000.
Recently I spoke with the estate agent who sold us the house and he reckons the project has added about €25,000 to the valuation, as we have created a mini house with further development possibilities.
Pre-lockdown work
Over the years, the outbuilding became a dumping ground for unwanted items, a sort of a no-man's land where things went before they were officially dumped. It was also where our cats slept. With small children and an even smaller budget, doing up The Shed was not a priority at the height of the recession.
Yet whenever work was done in the main house, I would find ways of completing a job that needed doing in the shed using the same tradesperson.
This saved on labour, and often the supplier would do the shed jobs at a reduced rate. For example when we were having new windows fitted in the main house, I asked the joiner to include vertical windows for the loft section of the shed in the deal.
Later still, when we upgraded our internal doors in the main house, we kept them to be upcycled in the shed. The odd Saturday my husband would patch a bit of the concrete floors, or the exterior walls, and eventually knocked through the interior partition wall to make one big space.
This took place over a period of years – there was no massive hurry or deadline because we were never sure what was going to be done with it. We had the oil tank moved outside, too, which created a great deal of interior space.
We trudged along like this, not spending too much money, time or stress on it. Eventually, about three years ago, we decided to finally put a decent roof on it. I would have loved a corrugated iron roof in a style more authentic to Irish vernacular farm buildings, but the square profile we chose won out on a practical level because it was fully insulated.
We got our local builder to replace the whole roof, and asked him to fit two used roof lights we had inherited from a relative. While he was doing this, he built walls around the toilet and boiler, creating an open attic space for storage above. He also built a closet-like room where we could store garden tools.
I then bought a new uPVC window and while chatting to the joiner sourced a perfectly good second hand solid wood front door. He fitted a new lock and delivered the lot for €200. Half a tin of Farrow and Ball Estate Emulsion later (I treated myself) and we had what looked like a new door.
To get that far in the project cost about €8,000, thanks to haggling, frugality and a willingness to wait.
At last, it started to take on a shape that was more pleasant to… do what exactly? The stop-start of jobs continued. While our boiler was being serviced, I asked the technician to fit a proper flue to alleviate any carbon monoxide poisoning concerns.
I also used up old ceramic floor tiles left over from the main house to tile the toilet floor, with the help of a borrowed tile cutter and a YouTube video.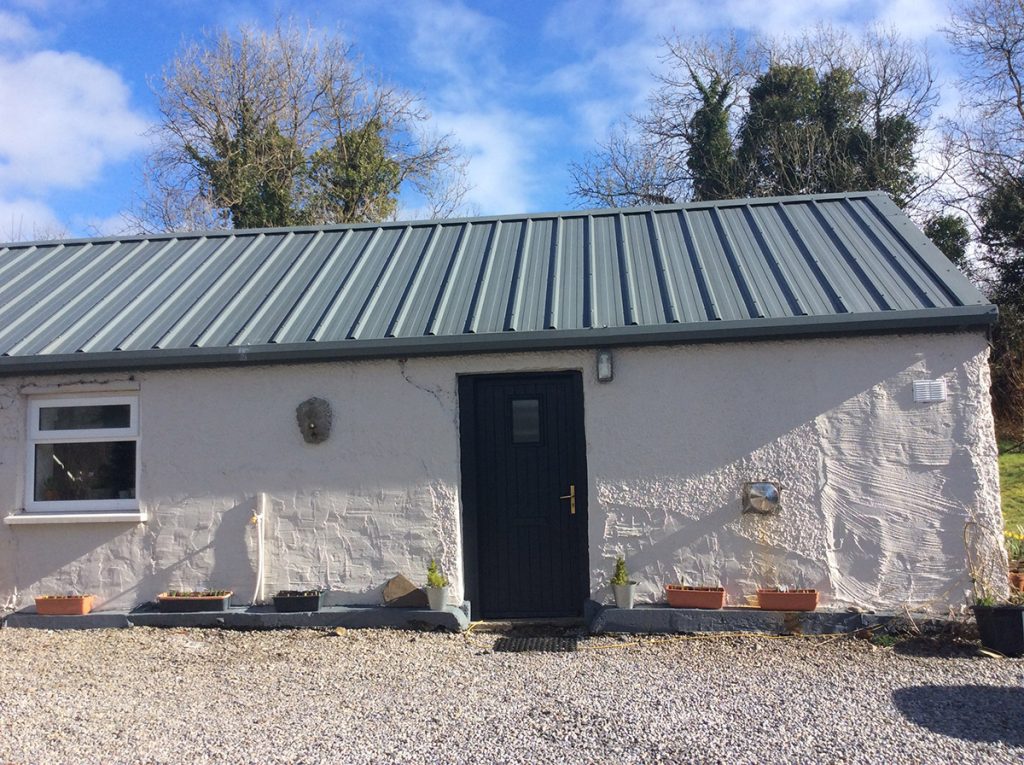 When lockdown struck
In March 2020, the whole family started working from home and it became clear we had to do something with the shed.
I continued using the only decent workspace in the house, in the spare room, but my husband sitting at the kitchen table was proving challenging. As the weather began to become milder in April he created an office space in a corner of the shed, using a very large old desk which we were grateful to adopt from his cousin.
There, between the chest freezer and the stash of lockdown toilet rolls, he managed to work, supplemented at times by an electric heater. With the help of a wifi booster he could attend meetings online.
It was a surprise to find that the interior was quite a pleasant spot to work on a bright sunny day, well lit, quiet and a bit of a novelty. The kids even started to migrate out there at the weekends to play.
But as lockdown stretched on, and looked to be with us for some time, it became clear that in order to be a viable and comfortable home office, especially in the winter, it needed more work.
When restrictions first lifted, our local builder drylined the interior using 50mm pre-insulated plasterboards, the electrician upgraded the electricity supply, adding sockets and proper lighting. We thought about getting a plasterer in to skim the drylining but couldn't justify the cost.
Thankfully the builder had done such a good job that all we had to do was tape over the joints and skim them, as well as fill in all the screw holes. Three coats of white interior emulsion on top meant the joins were hardly noticeable. With the drylining to frame them, the hay loft windows really came into focus, and the white paint made the space brighter.
I haggled with a supplier and bought cheap remnant of floor covering normally used in commercial interiors for the office space (fitting included), and then painted the concrete floors on the rest with three coats of floor paint. We kept the byre channel out of a mixture of nostalgia and stinginess and painted that, too.
To save money I took on much of the labour myself and outsourced to others when I could. In the true spirit of meitheal my brother plumbed in the sink and this was repaid by me doing work on his house. I must admit I had a path worn to my local builder's providers, who were endlessly patient with my queries.
The last job to be done was in early autumn and when money allowed, the electrician returned to fit oil-filled radiators. We opted for these as a hassle free and relatively inexpensive option. Programmed to come on if it goes below a certain temperature, the shed is now always comfortable to be in, whatever the weather.
Lockdown costings
Materials for drylining €1,000
Floor covering €250
Paint €250
Skip hire €265
Labour / builder costs €1,100
Electrical materials, lights,
radiators, and labour €2,400
Total €5,000