Finding the perfect site with dream views is everything, especially for an avid gardener like Rhona Irvine of Co Down. The trick in this case was to give the semi derelict house that was sitting on it a new lease of life.
We had been living in the area for the previous 10 years, in a small semi
detached house and we were on the lookout for a bigger garden," explains
Rhona.
"It was difficult to find but a site eventually came up; the house wasn't very attractive but it had views from the Lough to the Isle of Man and Slieve Donard, spread over 1.5 acres. The location was just too good to pass up so the possibilities with the house became our focus. It wasn't clear right away what we could do with it and its 1970s façade."
Size before: 105 sqm
Size after: 190 sqm
Existing house: floors concrete slab with 150mm PIR insulation and 100mm sand:cement screed. Existing stone walls thermally upgraded with proprietary system finished including glass mineral wool with plasterboard skimmed.
Windows: double glazed uPVC sliding sash. Timber cut roof with 100mm PIR insulation between rafters and 50mm PIR insulation below rafter and finished with natural slate.
New extension: floors concrete slab with 150mm PIR insulation and 100mm sand:cement screed. Walls maonry cavity wall with 150mm blown EPS bead insulation. Windows double glazed aluminium. Timber cut roof with 100mm PIR insulation between rafters and 50mm PIR insulation below rafter and finished with standing seam zinc.
Heating: oil fired central heating and a secondary wood burning stove.
U-values: Walls 0.16 W/sqmK, floor 0.12 W/sqmK, roof 0.15 W/sqmK, openings 1.4 W/sqmK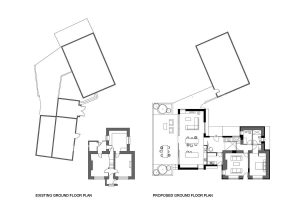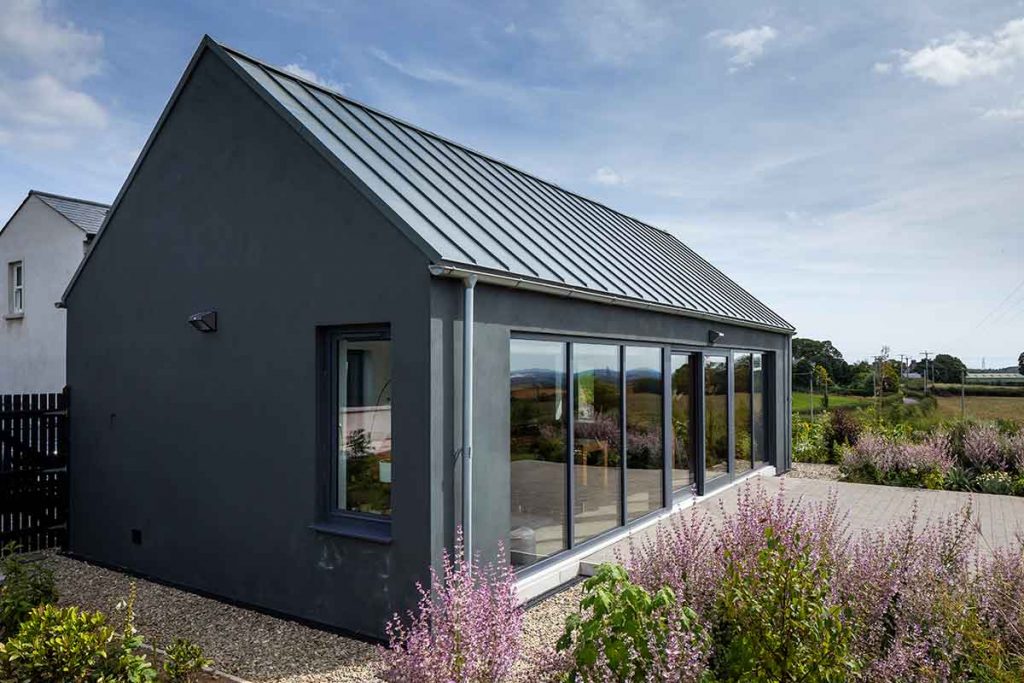 "I work in the National Trust, so I'm interested in history and I simply couldn't work out how to change the house or extend it. Because of the shape it didn't come naturally to me. With a blank canvas the possibilities seemed endless."
"The architectural practice we chose is well known locally and I was aware of John's projects which I really liked. He and Claire very quickly came up with the perfect idea: to keep the house as the hub for the bedrooms/bathrooms and to rebuild the barn beside the house as a new living area fully benefiting from the views."
"It seemed like the perfect solution. The overall footprint of the buildings isn't changed apart from creating a link between the barn and the existing house, with a utility room and hallway. This allowed us to integrate the garden as another room in the house; the muted style gives centre stage to the views. They're the star of the show."
"We actually started very early with the landscaping; the hedging came first with a mixed native hedge. In my opinion planting is what makes that house. The setting is ideal to create a woodland jungle at the end of the garden, a sanctuary for birds, hedgehogs and foxes. There's also a paddock for horses at the back."
"What was a bare field is now a garden; a neighbour of mine said we'd never be able to turn it into a garden. It's a challenge I was happy to take on! It's a lot of work but I enjoy it, I find it therapeutic."
"The design I came up with for the front of the existing house was a parterre which is a quad of beds separated by gravel paths. The boxed hedges add to the character and complement the roof rafter tails."
Planning and building
"I had no concept of what the barn would look like; again this is where the architect's style shone through. Even the kitchen gels with the overall theme with black panelling outside and inside."
"But there were delays because the planners said we were extending the curtilage of the building with our patio area. It was very frustrating and set us back by quite a bit; the category we were applying for changed as a result, which meant more money."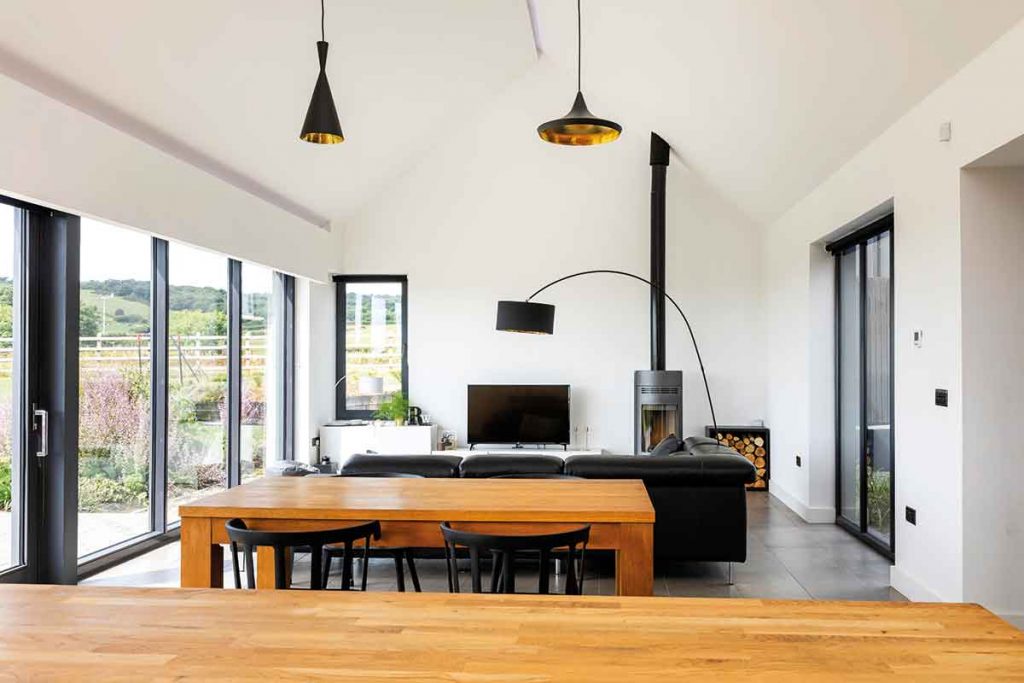 "In the end because of the levels we didn't make the patio as big as they were on the plans; I commandeered delaying us laying the patio and I'm glad we did. It's a space that's really enjoyable now and we use every inch of the house and surrounding garden area."
"Renovating the existing house seemed much easier when we defined its use; I had ideas in my head of wooden sash windows. For the extension we eventually decided to go for tilt and turn uPVC instead and I have to say they look very well are great for cleaning. We went for wide window sills at garden level."
"When the time came to go to tender, we didn't have much knowledge of who to go to price the project. People we knew mentioned a couple of contractors and we chose someone we had never heard of before. We went with a fixed price contract and along the way introduced some changes: one was due to having to go back to the planners to get permission to change the ridge height."
'I had no concept of what the barn would look like; again this is where the architect's style shone through…'

Rhona
"We wanted the 1.5 storey sloped ceiling to be habitable so we had to reapply for that portion. It had taken us a year to secure planning permission for the initial planning application but this change was thankfully much quicker to agree to."
"With a renovation there are a lot of unknowns; the roof was taken down and considering the state the walls were in, we simply didn't know what to expect. Quite a lot of it was rubble so we built it back up again from the level where it was sound. We had a structural engineer advise us. One of the chimney breasts had to be brought down and put back up again too."
"It's very helpful to have an architect by your side to do the project management," adds Rhona. "I could have tried doing it myself but with an existing building you will always come across a lot of unknowns. The structural aspects were dealt with by John and Claire entirely." But that's not to say Rhona wasn't very hands on.
"I was there for the decisions in relation to finishes and smaller aspects like that," she says. "For instance I was glad to be able to keep a wall exposed in the hallway to preserve a bit of the history of the house. You have to be present to make decisions like that."
Budget cuts
"I'd drop in to the site every day on my way home and would be on site once a week for any questions the builder might have for me or that I may have for him. He was very amicable and good at keeping us informed via a messaging app for choosing things like door handles."
"The builder also made some suggestions; for example he pared back the staircase design to make it more affordable.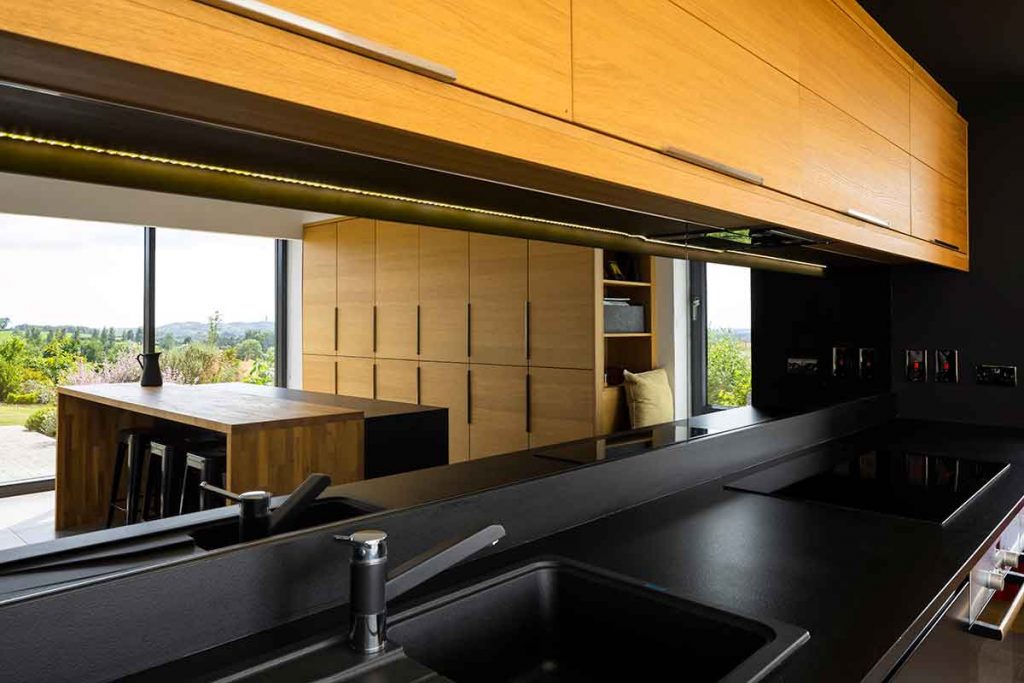 The stairs are fabulous from a design point of view; they're very simple but simple is actually hard to get right. Originally they had LEDs which we cut out of the budget."
"In the new part of the house the main change we made to cut on costs was to get rid of one of the two big sliding doors – we realised we would only really need the one," explains Rhona. "In the barn area, to keep costs down we took the rooflights out. We were worried it would be less bright as a result but I wouldn't want any more light living in it now. We did compromise to save but I think in the right places."
As for the kitchen the architect sketched out the layout complete with island unit and window seat, as well as the hidden cupboard to store everyday 'junk'. "The kitchen company gave us such a detailed spec, I was really impressed."
"What we came up against was finding a reasonably priced plain matt black worktop. I thought that would be easy but getting plain black is actually very difficult, especially because we didn't want it to become a big expense."
"The black cupboards are also all matt black. Matt can be hard to keep but all you need is to spray and wipe with kitchen roll as you would when cleaning a mirror or windows."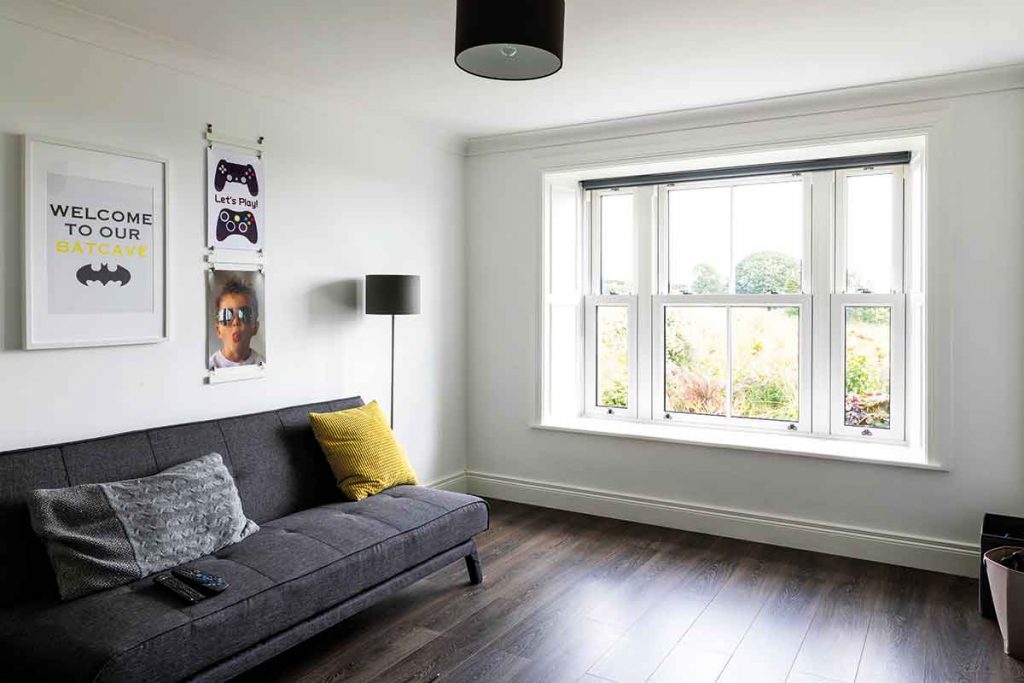 Keep the number of materials to a minimum. We have light oak wood throughout the house and have kept the type of wood consistent throughout. It's a very muted scheme to allow the panoramic views take centre stage.
Open up to the garden. We love how connected we feel to the outside; the link between the barn and existing house helps to achieve this and in summer the large glazed doors just stay open all the time.
Don't fret. I fussed over what tones and colours we might use; at the time it seemed like there were so many things to decide. But I eventually realised these aspects were less significant than I thought they were; they can always be changed. It's just about getting on with it.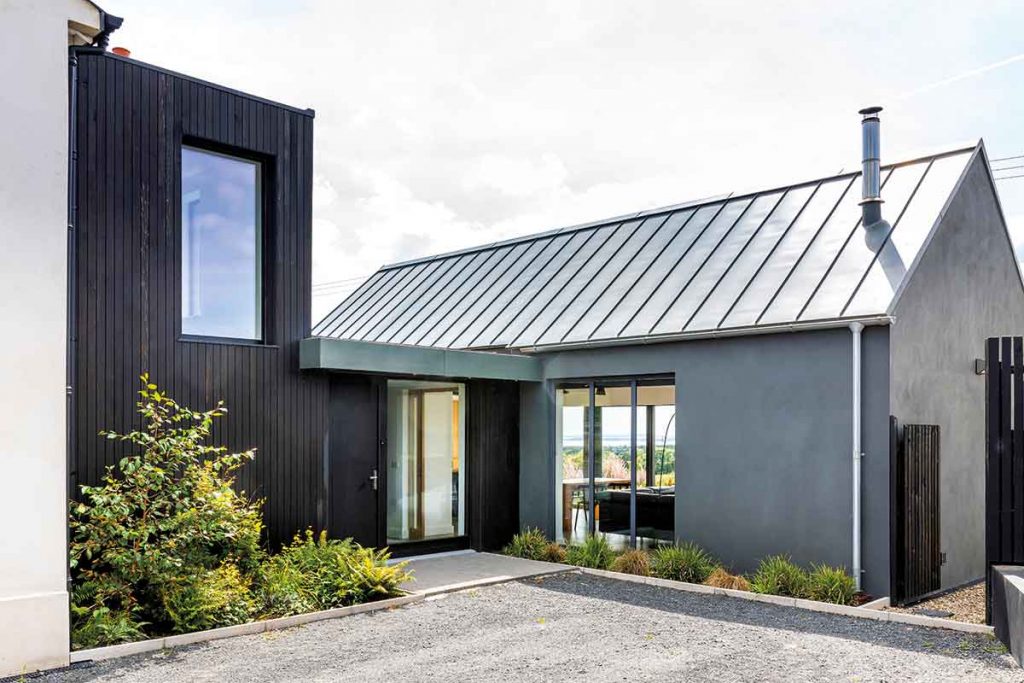 "On the other hand the concrete effect tiles are really easy to keep; we did toy with the idea of a polished concrete floor but we were too far in the process to get it done. I sourced the metro tiles in the downstairs bathroom which blend in with the old Victorian style sanitary ware we chose."
"If you were to ask me to decorate a traditional room, I'd go with a Chesterfield and choose period colours, easy! But for this contemporary build I had to turn to Claire the architect who directed us to design styles which we replicated with cheaper alternatives such as using flat pack furniture and refinishing them for a minimalist style."
Claire also took charge of the lighting scheme. "We debated whether to put recessed spotlights in the living area; the spotlights are good for reading and provide a warm effect. We also used hidden LEDs along the ridgeline and above the windows for a cosy feel."
"For the tones she also pointed us in the right direction with monochrome, we chose mostly greys and whites, throughout the house adding touches of colour with furniture. In terms of the budget we did splash out on some real designer items, especially for some of the light fixtures, and I'm not sure I'd do that again."
"It's funny how the experience has transformed the way I think, even the way I dress; I started to wear a lot of black and monochrome. It's even transformed the way I see design. I now love the contrast of traditional and modern."
---
Try our new 'Selfbuild Cost Calculator'. Fill in details and instantly get a rough estimate for your project